A bathroom holds great significance in a house. The interiors of one's restroom tell us a lot about a person's personality and lifestyle choice. For some people, the bathroom is all about luxury, while others think of it as just a necessity.
But everybody looks for proper sanitation and functioning as those are the prime factors that must be considered while making a restroom. With time our idea of comfort has changed, and so did the designs and accessories of the bathroom.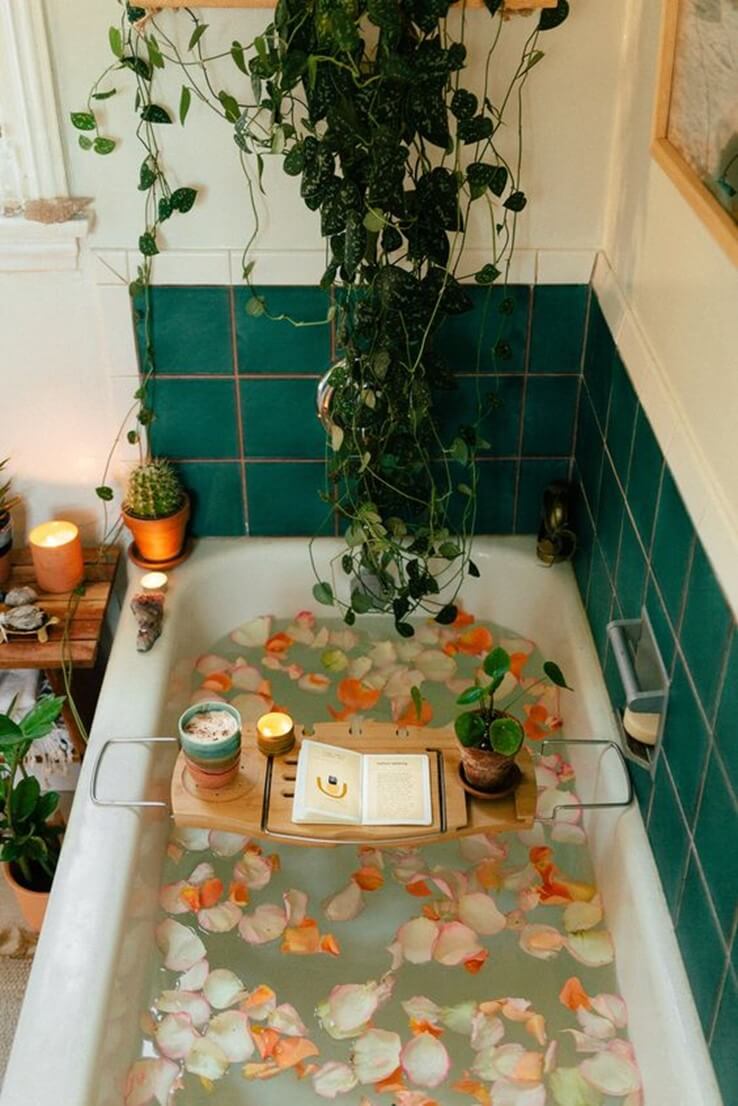 A present-day modern bathroom has everything from a sensor shower to an automated bidet. Voice control appliances are also in the trend in many luxury bathrooms.
Because of short life, people go for relaxation and not just to mind the other business. A scented candle and a long soak in a fragrant bath can almost fix any problem.
No one likes to take a bath in a stained and chipped bathtub, but remodeling and renovation of a bathroom take a long, long time. Removing old bathtubs can get messy and causes many complications.
Bathtubs are usually installed while the house is being built. The plumbing is done according to that particular tub. While replacing the tub, you might end up messing the flooring, walls, or worse, the plumbing.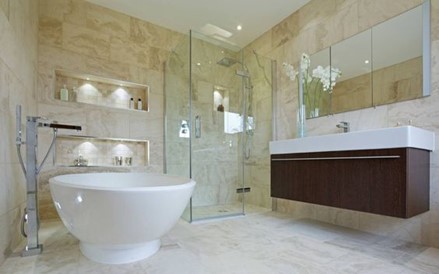 Fixing a new tub and taking out the old one can take a few days to even a few weeks. If you do not have another spare bathroom, it becomes quite challenging, if not impossible. A simple solution to this can be a bath liner.
Who Is the Bath Fitter?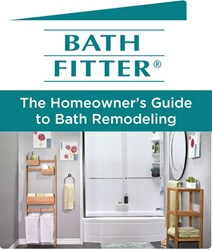 Bath fitter is a luxury Canadian company that installs bathtub liners and residential bathrooms. They are leading in North America when it comes to acrylic tubs, shower enclosures and, tub-to-shower enclosures. They have in total 200 retail locations where they manufacture custom-built products.
The company is old, trusted by many, and has done more than two million installations. It was established in the year 1984 and has carried their goodwill to this date. These luxury brands come at a hefty price, but it is much less expensive than fixing a whole new tub.
Since a bathtub is one of the essential items, most people do not mind spending a few extra dollars. It won't be correct if I say that Bath fitter is expensive. The exact quotation depends on the tub size and the condition. The cost also depends on what your requests are for the remodeling.
Cost
Now, how much does a bath fitter tub lining cost? Well, it's a callous question. But, on average, it will cost you something around 1300$ to 4000$ just for the liner. Extra charges would be added for installation and additional accessories such as faucets, showers, shelves, doors, soap dishes, etc.
You can also add on a beautiful seamless acrylic wall to go with your newly lined tub. The final cost depends on the designs and the initial condition of the tub. The cost can be pulled down a bit, but there would be consequences.
The tub liners are mostly made of acrylics as it is lightweight, easy to clean, and have an excellent finish. But you can also go for PVC Vinyl which will save you about 200$ to 300$ just from the lining. But it might not look as good as the acrylic finish, and the durability will be less.
The installation of a new bath costs around 1000$ to 5000$ and takes ages, whereas the bath fitter gives you demolition-free remodeling with a lifelong warranty. The installation takes only a day or two, depending on the size and condition of your Bath. The overall cost can come to somewhat around 7000$ with the installation, if not higher.
Yes, I know it is an insane amount for installing just a liner for your tub with a few other accessories, but if you compare it with your other options in hand, you will understand this is the cheapest and the safest option. Do not compare the available option in just worth but also in time. Bathtub liners are efficient in both.
You can install the liner of the tub all by yourself, but it is a suggestion to get a professional to do the work if you want a fool-proof renovation. Instead of the bath fitter service, you can call your professional contractor. This might help you save a few extra dollars if you get your plumber, as the service charge for the installation by bath fitter is relatively high.
Do make sure that the installation is done correctly. If there are any leaks, you might have to redo it by purchasing the whole liner again. I would suggest taking the full service from Bath Fitter as there won't be any risk. If you are already spending so much, then why not spend all the way. There is no point in taking the risk to save a few extra dollars.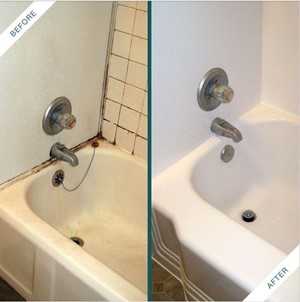 Bath fitter Vs. Replacement Vs. Reglazing Vs. Re-Bath
Let us take a deeper dive into the cost and compare it with your other options. Starting cost of a Bath Fitter is 5000$ to 7000$, which includes the tub liner and installation. It can go up depending on the size, work, and condition of the current tub.
A bathtub costs something between 300$ to 1000$. The cheapest option is Fiberglass, but the durability is less. It costs between 300 $ to 500$. Other options can be Acrylic, which is 500$ to 1200$, a steel bathtub which is 350$ to 1500$, and a cast iron tub that will cost something like 900$ to 2500$. It can go up to even 3000$ if you are looking for marble tubs.
This is only the cost of the tub. Replacing the bathtub is a whole different story. The cost is high and time-consuming. Nationwide the average cost of replacing a tub is 3873$. The contractor will take 500$ to 1600$ just for the installation of the tub.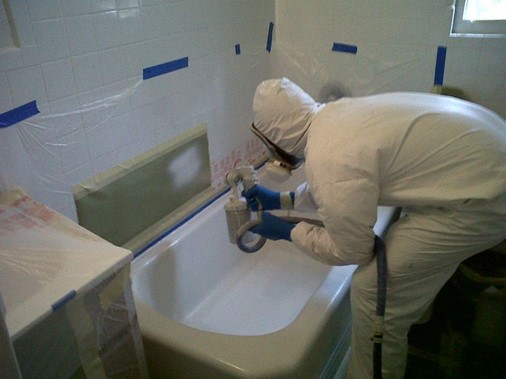 If you are removing your old tub, he will charge an extra 200$ to 500$. Apart from this, you have to repair the plumbing, tiling, wall, and other accessories as it will all get messed up. Overall, it comes to something like 6000$.
Reglazing or refinishing your tub is more like a paint job. But you will need a professional to do this work. The fumes produced are very harmful, and you might need to leave the house for a day or two for proper ventilation.
But it is the cheapest and fasted option to upgrade your bathroom. It costs only 350$ to 650$. The drawback of this process is that you can only do this once on your tub, and the work is quite messy. But it will stay on for 10 to 12 years which is a pretty decent deal.
When it comes to bathtub liners, Re-bath gives Bath fitter a head-to-head completion. They cost almost similar, but their specialization is a bit different. If you are considering a significant change in your bathroom because of a change in lifestyle and care about safety, re-Bath is an excellent option. They have a good collection of walk-in tubs with extra safety measures.
Installation
The liner's installation might only take a day or two, but the overall process takes some time. The process is lengthy and might take up to a few weeks. The bigger the project, the longer the time it will take. All the liners are custom-made and take time. Therefore, it is suggested that you do proper planning and scheduling for the installation.
Unlike reinstallation of the tub, this process only makes your bathroom unavailable for a day or two. But for a total renovation where you take out your old tub to replace with anew, it might take few days, if not weeks. The only time taken by the Bath fitter is when the liner is custom made according to the measurements of your tub. But the wait is worth it since the result is pleasing.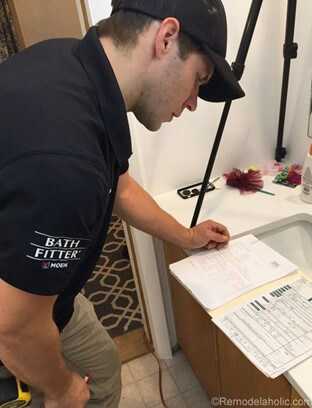 The whole process goes somewhat like this-
Consultation – The consultation might be virtual over a video calling to assist you in choosing the design best suited for your bathroom.
Measurement – A specialist will visit your house to evaluate the condition of your bathroom and tub. He would also be taking all the required measurements.
Pricing – The pricing would be based on the tub's size, damage repairing, accessories, and choice of material. After the calculation is made, the final cost would be disclosed.
Custom-built – The bathroom lining is custom built to fit your bathroom by a specialist in one of the warehouses. It is made according to the measurement taken during the home visit. This process takes a bit of time.
Cleaning & Repairing – Once the tub lining is ready, the installation takes only a day or two. The existing surface of the tub is cleaned thoroughly and repaired. If this step is skipped or not done correctly, the tub might rot underneath, and you might face severe complications later.
Installation – Finally, the tub's liner and the acrylic walls are installed over the cleaned and repaired surface. The other accessories are mounted, and the finishing touch is also done.
Pros and con of Bath Liners
Pros
Easy to install.
Fast installation
Easy to maintain
Lower chance of leakage
Lifelong warranty
Demolition free installation
Compact design
Latest designs with modern style
Cons
They can crack.
Needs retouch after three or five years of installation
It cannot be fitted in most clawfoot tubs
It cannot be fitted in tubs with jet spray
Regular cleaning needed
It needs exact measurement, or the result will not be pleasing to the eyes.
According to Bath Fitter, every renovation and lining that they do is unique and custom. No two bathrooms look alike. Therefore the price of their service is not fixed. For the estimation, you can book a free consultation virtually and overview the total cost.
It is a bit expensive but so are the other options. Remember, the Bath fitter won't be installing a new tub but will only be lining your previously owned tub and do renovation around it. If your tub is mossy and rotting away, it is best to install a new tub altogether.
Is Bath Fitter worth it?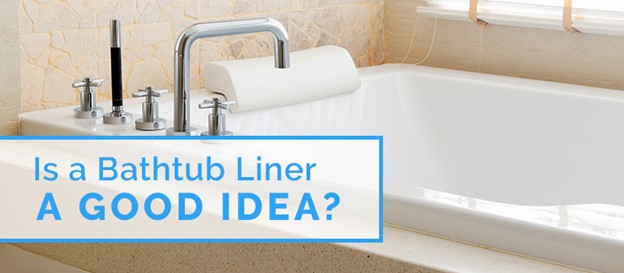 In today's fast life, no one has enough time. We always want everything fast and without any inconvenience. Time is more precious to us than money itself. Bath Fitter is perfect for such clients who are comfortable with a two-day installation.
Plus, it is demolition-free, and the risks of damaging the current bathroom are also significantly less. The non-invasive remodeling process is a fast solution to give your bathroom a fresh new look in style. Since the liners are custom made, it takes time, but the installation is done in a day or two.
It comes a bit heavy on the pocket, and the exact cannot be premeditated. If you find Bath fitter too expensive to afford, there are other similar service providers. You can check out Bath Planet, Custom Bath Liners, Liners Direct, or Miracle Method. Or you can do a bit of cost-cutting by getting your plumber and excluding extra accessories.
Hopefully, this article gave you a good idea about the cost and alternatives to remodel your bathroom. Happy shopping for your new bathroom!