A bathroom vanity plays an important role in how your bathroom design is going to be. The size and location and finding the right height are essential.
We live in an age where everything is customizable, and everything changes from individual to individual. A bathroom vanity height in a standard sense is 30-36 inches and 20-21 inches in width. But try the exercise below to find out your personal ideal height.
Today we are going to discuss the different type of vanity cabinets with different heights ideal for various areas. But first, we are going to discuss what is vanity, how to decide what height is best for you, how much backsplash area you need, countertop thickness and material, etc.
Let us understand what exactly vanity is and how it is different from cabinets. Then we learn about how to select the height that is perfect for you and your needs. And what all should be considered while selecting the vanity with the correct height.
So, let us dive into the world of bathroom vanities.
Difference Between A Cabinet and Vanity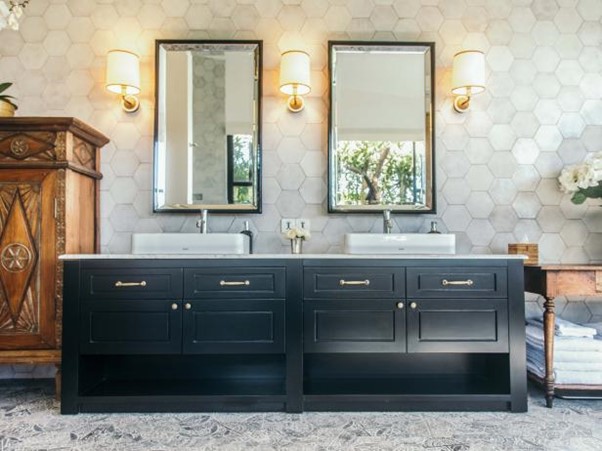 By definition: it is considered as a vanity when there the structure is topped with a sink and has a storage area in it. The cabinet below is not only storage but also helps to hide the plumbing, making your bathroom look cleaner and neater.
So basically, all the cabinets topped with a sink are supposed to be vanities, but all bathroom vanities are not considered as cabinets. So, if you have extra storage not connected to a sink, calling it a vanity would be wrong. 
In most cases, the only purpose of the vanity is to hide plumbing with minimal storage area. And if required, you can have a wall-to-wall cabinet area if your bathroom and your storage allow. Hence you should decide according to your needs.
The Comfortable Height for Individual
When you go vanity shopping, you see different varieties as well as varying heights. So, to avoid total confusion, what you guys can do is head to the kitchen counter with a tape.
See does it works for you or need an extra inch or two or reduce it a little. You can even try brushing in your kitchen sink to just see if it is comfortable or not.
This will give you a clear idea about what height you are comfortable with. In most houses, the kitchen counter and bathroom vanity counter height are the same. But as mentioned before, in today's era everything is customizable, and we should take advantage of it for our betterment.
Along with this exercise here are few questions that may help you in the search for your ideal bathroom vanity.
Questions to consider while deciding on the bathroom vanity –
How large is my bathroom?
Height of the user? Are they adults or kids? 
Location of the bathroom? (Bedroom or Living room)
Amount of storage space I need.
Accessibility to plumbing and electrical switches?
What kind of material do I want for my vanity?
Considerations of Thoughtful Vanity
How to select a vanity to suit your space? Here are few suggestions for designing vanity for a specific space:
Size – Depending on the size of the space, smaller bathrooms have an advantage if build with low-profile vanities making an illusion of a larger bathroom. A good option for this is floating or wall-mounted vanities. Visually the depth is increased by the hollow space below that can still be used with baskets or boxes if needed.
Use – As mentioned before, the location of the bathroom will also govern the type of vanity that is appropriate. The storage requirement for the master bedroom bathroom is going to be drastically different from the storage requirements for the powder room situated in the living room. So, plan and design according to the use and requirement of the space as well as of the context of the bathroom.
Sinks – if you are planning on having two sinks, the width will increase exponentially, considering elbow room and extra space to incorporate décor items on the counter.
Types of Vanity Heights
Standard bathroom vanity height
Comfort height bathroom vanity
Vessel sink bathroom vanity height. 
Floating bathroom vanity height
Standard Bathroom Vanity Height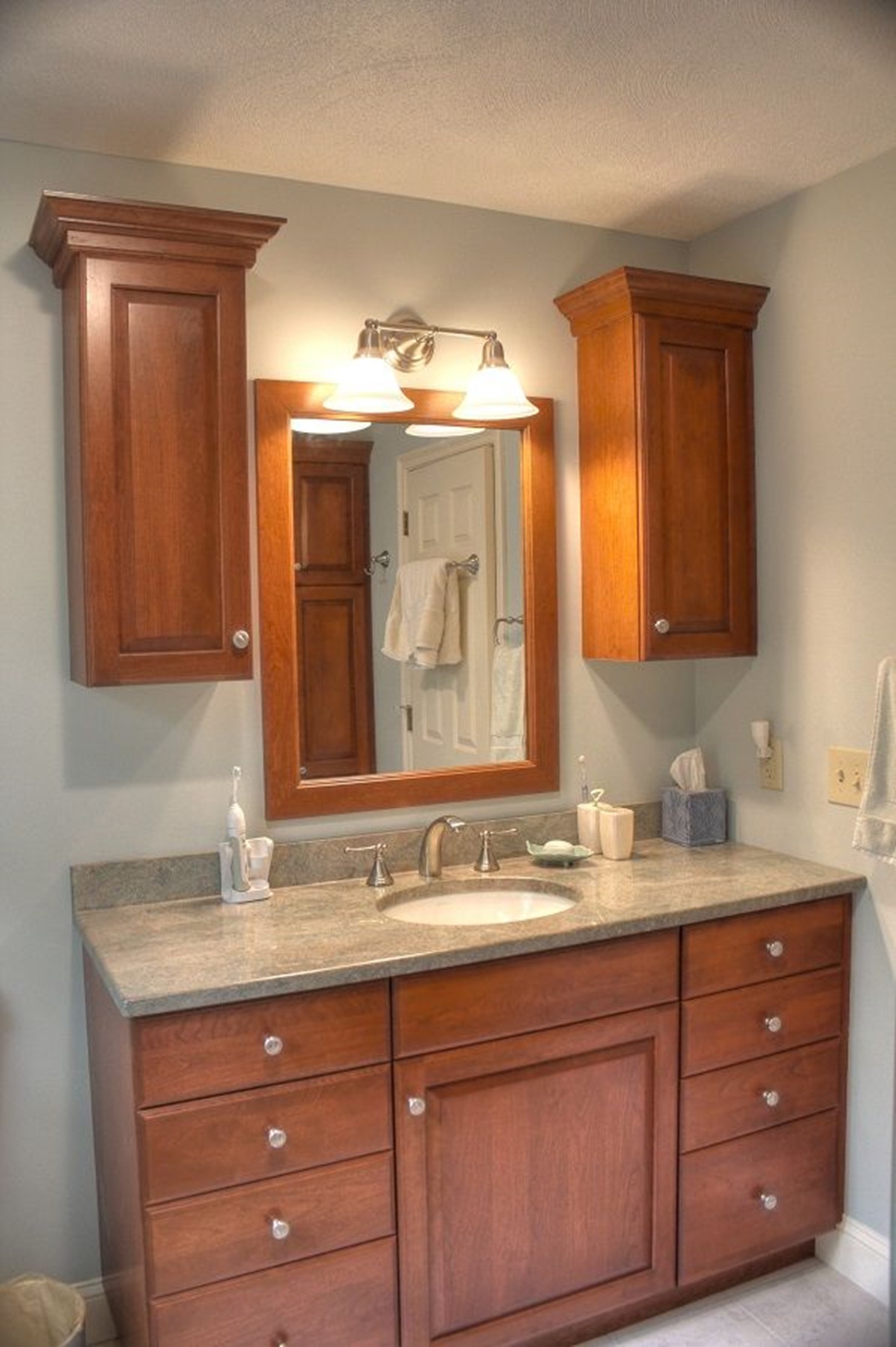 The standard (traditionally) used height in bathrooms is around 32 inches that are 2.5 feet. If you are one of those people who always like to go by the rule, then the standard height is the perfect choice for your house or place.
It is standard according to anthropology and hence been used for decades now. If there are more people in the house, like a big joint family or it is a hostel then this height is more favourable for that space.
As this height is accessible for kids, tall people as well as for medium stature people. The most basic thing to consider while using standard height is the footfall of the building. And the standard height for differently abled people will change, which is 34 inches and should be considered if it is a public building.
Other things to consider if it is a renovation project are the inlets and outlets of plumbing, also the existing feature and the proximity to decorative trims, electrical switches, and other electrical appliances. Because once these things are finalized and done, it is difficult and time-consuming to change or replace them. So, it is always better to plan everything thoroughly to save resources and time.
Comfort Height Bathroom Vanity
Not to be confused by the name but comfort height relates to comfortable for people in this era compared to the traditional or standard height that is suitable for everyone irrespective of to build and height of the person. The comfort height considered is 36 inches, around 3 feet which is much taller giving easy accessibility.
The new generation prefers this height more and hence newer houses and designs are more likely to use comfortable vanity height for their bathrooms. Just a note, as this height is mainly for medium and tall people, please use a small stool or a step for younger children to make it comfortable for them as well.
Vessel Sink Bathroom Vanity Height
The height of the vessel sink vanity depends on your sink, most of the time the vanity height is much lower than standard height. The extra height is needed to accommodate the vessel sink.
The main purpose of such vanities is to give a proper base for the vessel sinks so that accessibility to the sink is easier. As the name suggests this vanity completely focuses on the vessel sink and everything else depends on that.
While calculating the height of this vanity you need to consider the height of the sink which is approximately around 5-6 inches and hence the vanity height will be 29-30 inches tall. Making the total height comfortable for anyone to use.
Floating Bathroom Vanity Height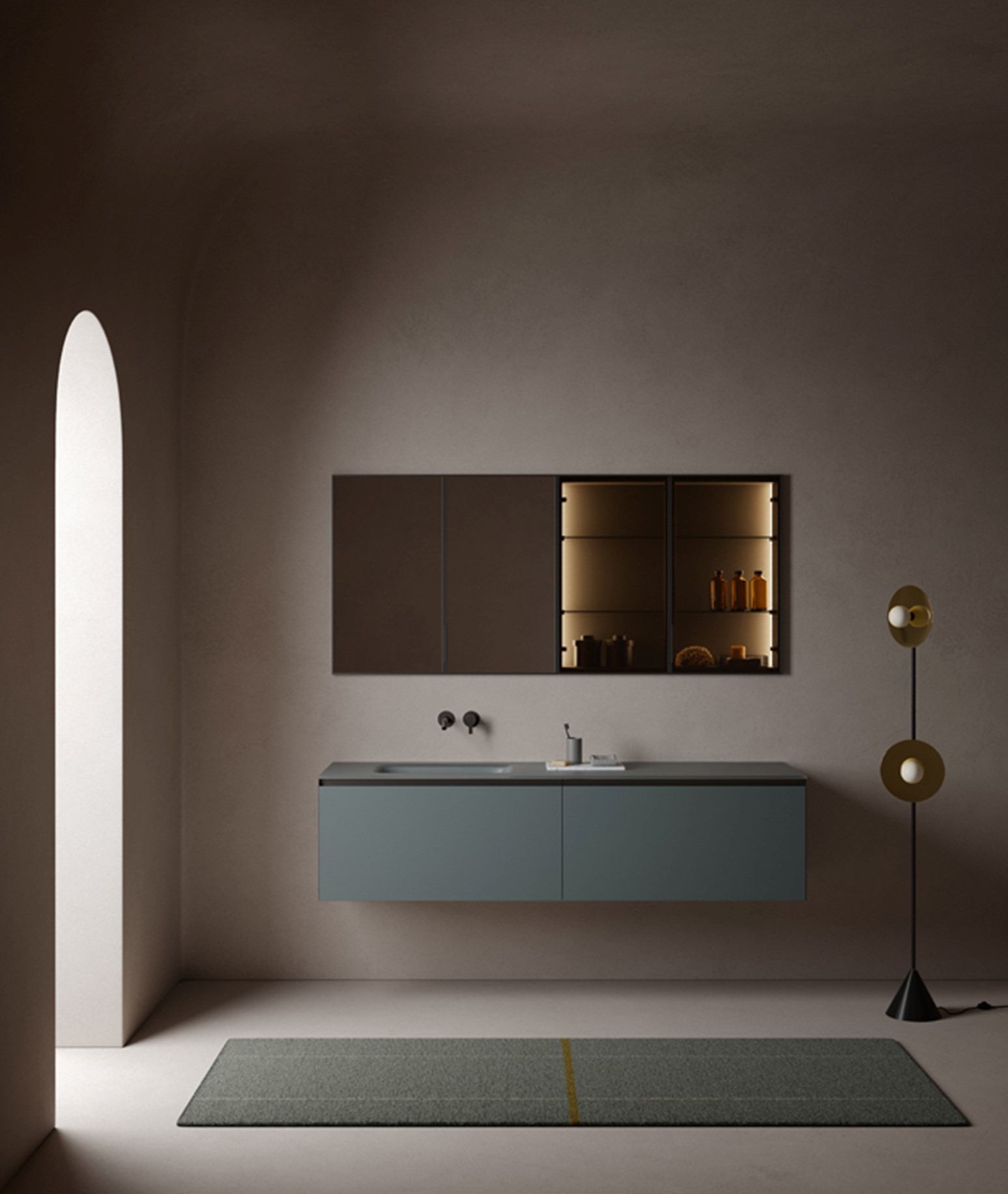 As the name suggests, the floating bathroom vanity has no grounding base to support it, it is cantilevered using the adjacent walls. There is no specific height for this kind of vanity as you can try standard or comfortable height according to your requirement.
There is more flexibility and freedom to install floating vanity as there is open space at the bottom. This kind of vanity is especially seen in the modern and contemporary style of homes as it accents well with them.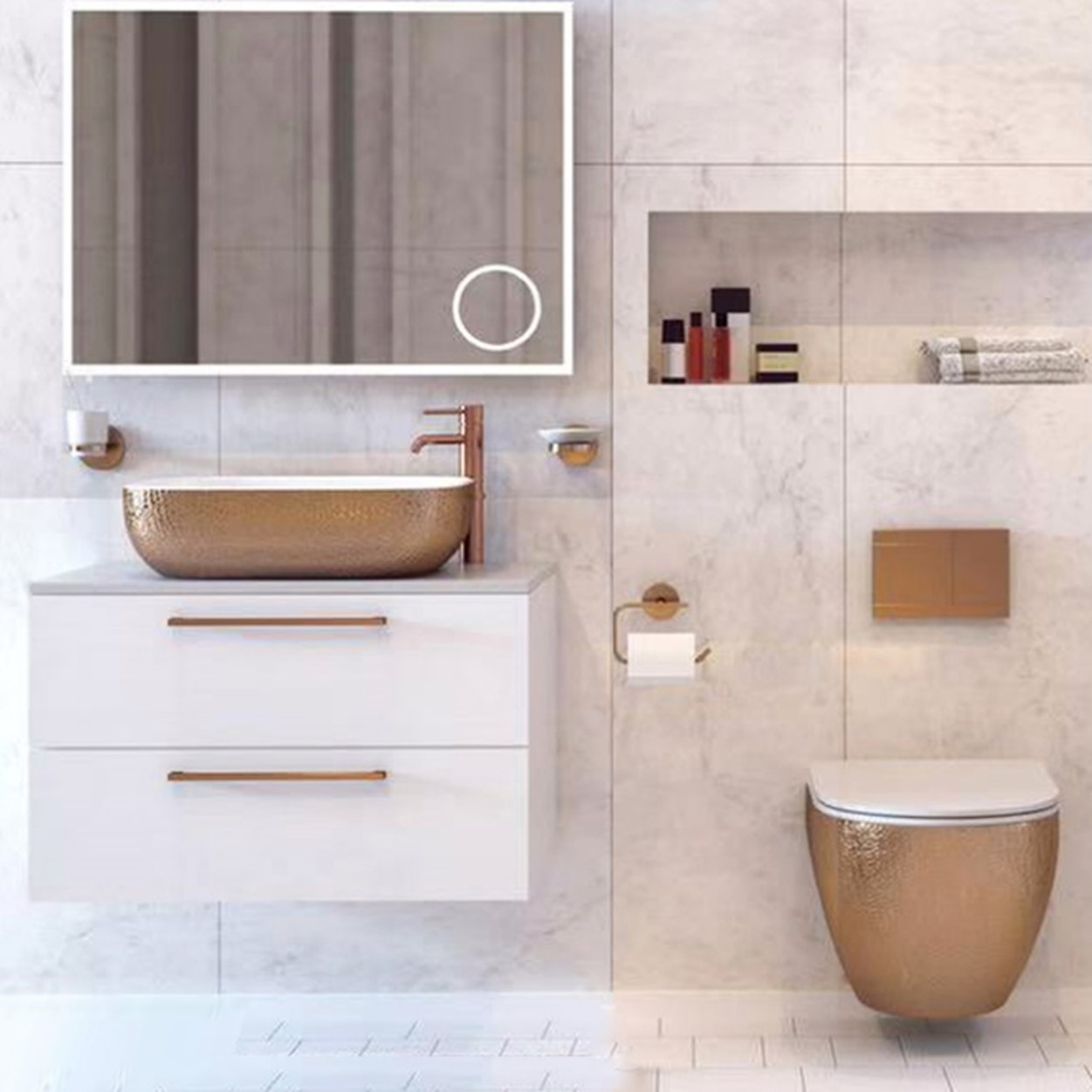 The con of this style is only that the storage space is limited compared to the standard vanity style. But, if you design properly, the additional level of spaces can be used wisely. The installation should be secured carefully using good quality bolts, as the whole structure is held on that.
Other Parts of The Bathroom Vanity
Backsplash height bathroom vanity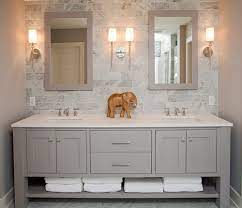 Backsplash height is not exactly a vanity height, but it is related to the height of the vanity. It refers to a barrier created between the wall and the vanity. The main purpose of the backsplash is to protect the wall from the water of the sink to eliminate any chances of mould or mildew growing. There are unlimited options to select what kind of backsplash you want to build.
You can build it with natural stone or glass with many other possibilities as well. The choice of how much back area you want to cover is quite tough. Mostly 3-4 inches is enough, but you can cover all the way up as well, or till the start of the mirror area, it completely depends on design and requirements. If you are planning on a backsplash, then plan the budget accordingly and planning of construction should be made with that consideration.
Countertop Thickness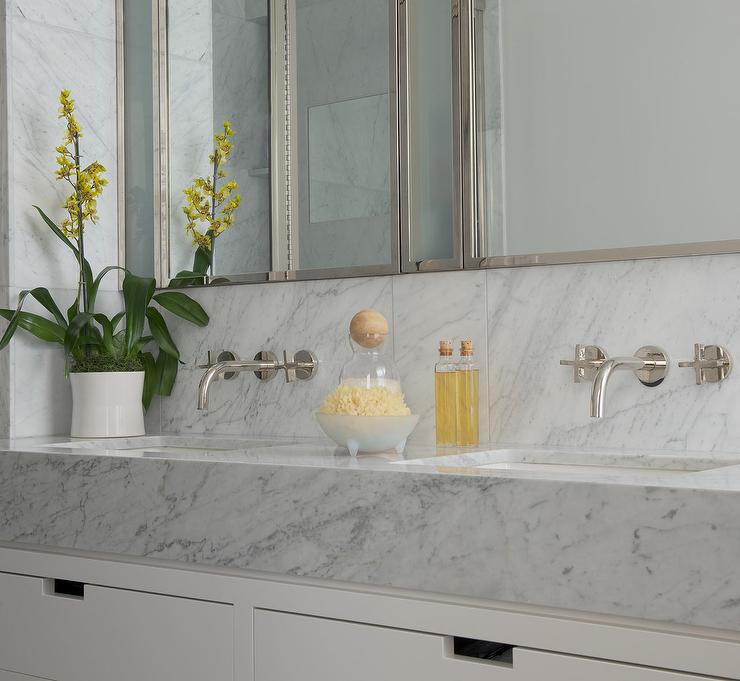 The countertop is an essential part, aesthetically as well as for practical reasons too. Many different materials can be used and depending on that the height of the vanity might vary. The most typical and standard countertops are ½ to 2 inches thick.
Selection of countertop concerning vanity should be done thoughtfully, if not then wrong combinations can create a disastrous design of the bathroom. For example, pairing sleek looking vanity with a thick stone slab would make the vanity look unstable and aesthetically not pleasing.
Here are few examples of different style of bathroom with complementing vanity design to enhance the look of the complete bathroom. There is a sensible use of material ranging from wood to metal and everything in between.
One of the examples is a minimalistic approach and yet has a very impactful design.
You can also do a mix and match of different types of vanity. My personal favourite mixer is a vessel sink with floating vanity.
This one is especially for a more modern and contemporary look.
But if you are more of an old school person, you may prefer wooden, full-length vanity with glass lights and top cabinets and all. Which also has unlimited storage and an ample amount of space on the counter as well.
For many people, the bathroom is their personal space with secrets only they know, it is a sacred space you can say in a way. And hence you must be very selective and specific on how space should be or should not be.