Do you wish to get a better and relaxing space to rest after a long and tiring day?
Our own house is a place where we find peace but having a space in our home that gives us more peace and relaxation can give you a quick break from your work life.
Yes, having Patios is all beautiful to spend time on several occasions until you must go through bugs, wind, excessive sunlight, and rainwater. If you have been dealing with all such problems with the outer space of your house, then let me suggest an awesome idea that can help you get rid of all such issues.
Having a space in your home for relaxation purposes while adding more value to our house is a better option by converting your own deck into a screened porch. Screened in deck can help you have a space in your home that will increase the value while providing a spacious place at your own home.
Can I Consider Converting my Deck into a Screened-in Deck?
While considering the conversion of your deck into a screened-in deck, you should always consider the type of region you live in. The temperature of the region and the humidity of that region should always be considered.
Screened in deck can help your house get a renovated feeling and re-designed deck that looks more attractive and has more benefits than a usual deck or a patio.
Your old space or an old deck can be renovated so your house has a great screened in deck or screened in porch.
Why Shall I convert my Deck into a Screened-in Deck?
There are many people that have a deck that they do not use during certain seasons like summer or monsoon. The reasons for not spending time at a deck is too windy climate, several bugs and insects, and humid climate.
Benefits that a Screened-in Porch Offers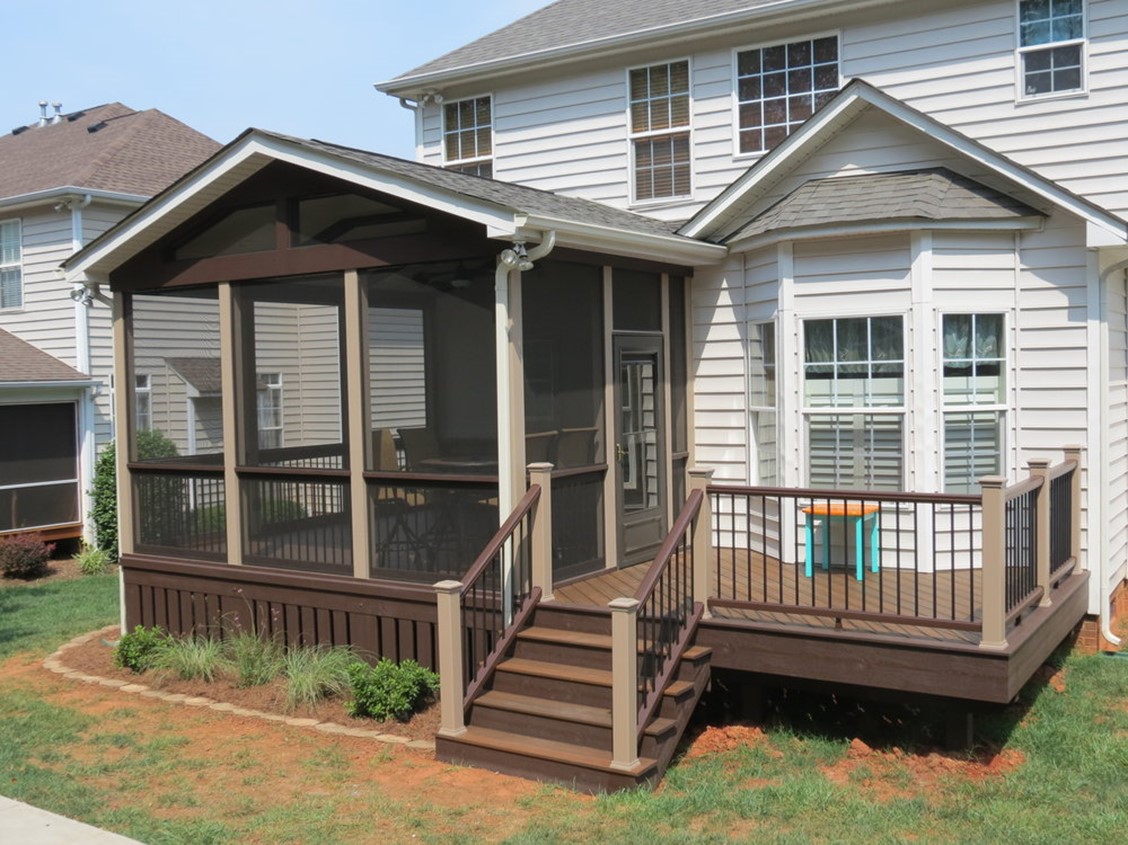 There are several benefits that a screened-in Porch offers but let us discuss the best benefits that it offers to your house.
Increased Value of Your House
The Screen-in Deck helps you increase the value of your house as the regular deck tends to suffer more wind and bugs but a fully covered and screened-in deck helps your deck get rid of such climatic and bugs problems.
If you are considering your house to sell it to someone then you would get the best resale value as buyers would prefer a screened-in deck over the regular deck.
Increased Durability with Screened-in Deck
The screened-in deck can withstand all sorts of climatic issues and bugs hence is a durable option to opt for. Your deck would be protected against all the bacteria and dust because of the roof provided that is opted for screened-in deck.
Increasing the durability of your old deck by turning it into a screened-in deck will help you have a great time after a long and tiring day.
Protects you against Elements.
The regular deck of your house may not have a roof to protect you against all the outer elements that are caused due to climatic conditions or excessive dust. But a screened-in deck will help you by protecting against dust, bugs, insects, climatic conditions, extreme heat and cold.
You would have a screened-in deck that allows you to witness the outer beauty without getting disturbed by the bugs or any other climatic conditions.
Let us Convert Your Deck into A Screened-In Deck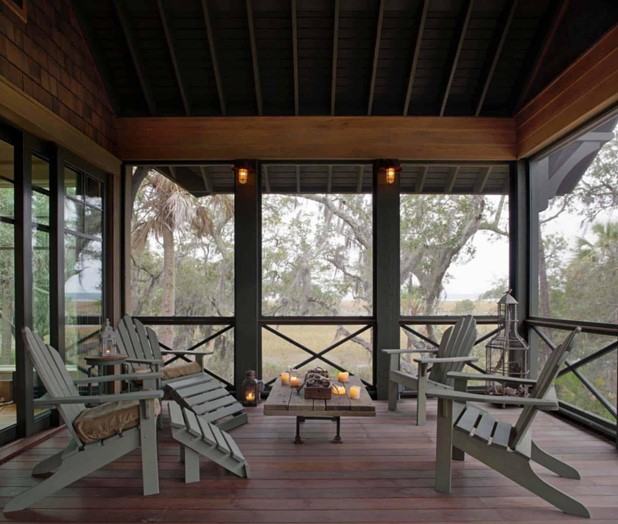 Once you have decided to convert your deck into a beautiful and attractive screened-in deck there are certain factors you are required to consider before conversions. Depending on your personal preference, the cost of the process, and the type of deck in your house.
1. Design Options for Screened-in Deck
There are several design options to design your screened-in deck according to your preferences and needs. Most interior designers who design these types of decks maintain a website where they create design options for their customers to choose from.
The website will help you choose for the design you would like to opt for, so you have a clear mind to choose from all the designs mentioned. The simplest way to screen in a deck with no roof is to go for a collapsible screen tent which is affordable enough but if you are looking for something better you can hire an interior designer.
2. Roofing Material Options
If you are looking forward to building a roof for your deck, then you would be required to choose from several options. You can choose from lightweight fibreglass panel, pressure treated wood framing and composition roofing.
Each option for the roof has its own benefits and costs that can differentiate from each other but you should choose the one that suits the best for your deck so the result should impress and satisfy your personal preference.
3. Material Option for Screen
The options offered for the screens of the screened-in deck also varies and you may need to make the right choice while choosing for the screens as they are the one that will protect you against all the outer elements.
You can choose from screen panels and premanufactured frames or you can even choose the wide-rolled screen type material screens. The amenities you choose for your screen will decide the final cost for your screened-in deck and if you decide to add more amenities the cost would be added.
Plan for your Screened-in Deck
Before you start building your screened-in deck you should always consider the points mentioned below so your deck stays strong for a longer period.
Check the Foundation of your Deck.
The first thing you should consider before converting your deck into screened-in deck is to check the foundation of your regular deck. The foundation of the deck should be capable enough to hold all the weight of the glass and roof as all these factors will double the weight of your deck.
The support structure should be solid enough to hold all the weight and if it is not then you should first focus on fixing it and fix any other deteriorating pieces in the foundation. It is always a good idea to have a specialist in this field, so you start your project effectively.
The Size of Screened-in Deck
As said before, hiring an expert in a field will help you understand and build your deck in a better way. But planning making an action plan for it is your call as the result is something that should look appealing to you.
Start off by considering the size of the deck or you can end up realising later that this is not you wanted. Ask yourself, would you prefer extending the size of your deck? How large do I want my deck to be?
Considering all the points you should act upon the project accordingly.
The Budget to Be Considered
Budget is the very first thing you should be considering before you go ahead and start building your screened-in deck. The raw materials and the labor cost shall be considered so you do not end up spending more than your estimated budget.
Consult your designer and ask them if the screened-in deck fits in your budget as experts may have an idea about the total or estimated cost of the screened-in porch. This will help you get a better idea to consider your budget before you plan for the screened-in deck.
You Should Know Your Expectations
Take your time and research well on the type of screened-in deck you would wish to see in your deck. Are you a type of person that likes their deck with large grills? Or are you someone that likes their deck with glass material?
Asking such questions to yourself and your family will help you have a screened-in deck of your choice, so you have a quality and relaxing time with your close ones. Also consider the furniture you would wish to see in your deck, TV, music system or even a mini fridge.
The Structure of your Deck
If you are planning to add some fans or electric lights in your deck, you may require consulting a licensed electrician to know if the structure of your screened-in deck will allow such appliances.
Consulting a professional will help you design your screened-in deck better and avoid future problems related to electrical appliances.
Conclusion
Screened-in deck will help your normal deck look attractive and appealing, allowing you and your family a space where you all can chill and spend time. A well-equipped screened-in deck that has everything you would need to have a chill time with your close ones is a great idea to get away from a busy schedule.
Seek help with an expert to have a beautiful and well-designed screened-in deck. A sunroom expert will help you design your porch in a unique and beautiful way, so you have a deck that matches your expectation.