As time is evolving, so are the design strategies and styles for providing better comfort. Let us take porches, patios, and decks, for example. People these days are concentrating on how to enclose a porch; patios and decks fall in the same category. Earlier, people were fascinated by just the idea of having a porch at the entrance of their house.
Gradually and slowly, the trends evolve. Now we see enclosed patios, porches, and decks as emerging trends. These do have different purposes. Spaces like this become hosting party places inside houses. Some people like to generally sit on a comfortable sofa and listen to music or read books over there, while some prefer to sit and watch their plants or enjoy the outside view without getting stung by ugly Insects.
If not all these, then some people might enjoy decorating that space into a place where they could spend time with their families. Decorating and creating an aesthetic entrance area of the house is also a keen interest of many people. Places such as these could also be used as additional storage space with correct planning and decor.
So, just sit back and grab a mug of coffee or your favorite snack and enjoy the further guide which will not just tell you how to enclose a porch, patio, or deck but will also give your ideas about what you can turn your own little place into.
Let us first look at technical ways of enclosing your porches, patios, and decks.
Screen Rooms
Screen rooms are created by installing a custom-engineered frame around your patio and deck. Rolling panels are added to ensure safety from insects and bugs but at the same time not blocking out the natural breeze and environment around. 
Glasses are also used with the frames, but this blocks the natural air and ambiance of the outdoors but is a good way of adding a design statement to your house. It looks stunning and lush if done with a little bit of creativity.
While comparing with other options of enclosing the porches or decks, screen panels happen to be the least expensive with giving you advantages of blocking unwanted creatures flying in and out. Black screen panels can help if you want privacy for it blocks the view from outside, but people inside can see everything going on outside.
Three Season Rooms
How to enclose a porch, patio, or deck? Another answer to this question is a Three Season Room. A three-season room, as the name suggests, allows you to have the comfort of an enclosed patio, during spring and all the way up to fall.
Single panel or double panel glasses are used to cover the area which will be the decision solely based on your personal choice.
Some appliances like a ceiling fan and a heating unit might be required to add as these do not control the climate around them. Since the space will be somewhat outside and different from the whole house, it would be vulnerable to the climate around which will directly affect it. Hence simple measures like adding a ceiling fan or a heating unit are suggested.
Three season rooms happen to work only from spring to fall because they are not specially engineer-made customs that tend to have the ability of heating and cooling on an ongoing basis. But rest assured, they will be extremely effective in case you are trying to avoid outdoor bugs and insects.
Four Season Rooms
If you want to enjoy the leisure's of an enclosed patio, porch, or deck all year long, then going for Four Season Rooms will be the best option for you. Four Season Rooms do not just protect you from the weather but also from insects and bugs.
A standard Four-Season Room is made by adding an insulated glass window with scrolling panels all around. You can also go for more advanced options which are available for providing better comfort and long-lasting effects.
Just like Three Season Rooms work best when added with a cooling and heating unit, so do Four Season Rooms. It can literally transform your patio into an extra living room in your house. You can add storage areas or can create a small living space for your pet, it will all go along.
It is true that Four Season Rooms are more expensive than Screen Rooms and Three Season Rooms but also have long-lasting uses.
Now, since we have covered the technical ways of enclosing porches and decks, let us move to yet another but creative way of how to enclose a porch patio or deck? There are numerous ways in which you could transform your porch area into a completely different place. Get ready to be inspired and envy your neighbors with some of these beautiful ideas of enclosing your porches.
Latticework Screen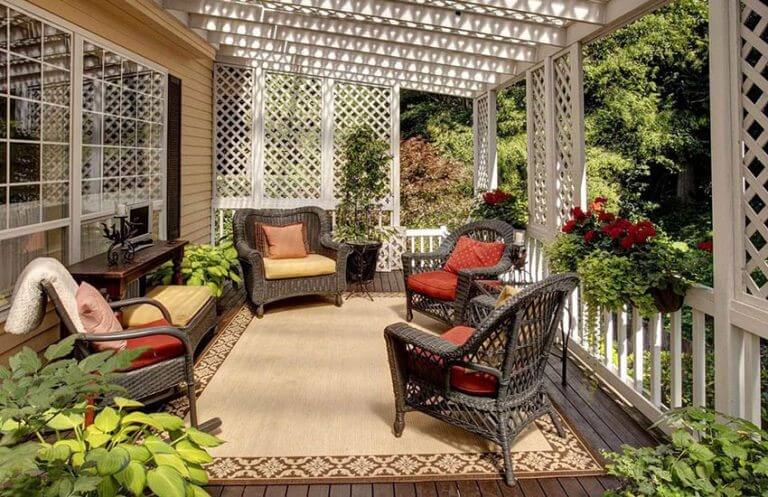 Lattice enclosed patios are unique and equally mesmerizing. You would rarely find any house with a lattice-enclosed patio. Going by the facts, a lattice screen that is made with cedar is the most convenient to use. Even vinyl-made lattice screens are highly operational.
This setup would help you to keep your outdoor ambiance as well as give a bit of privacy. For more advanced use, adding glasses could also be a way to cover the areas and still have the latticework but this would require suggestions from witty carpenters and engineers.
Tropical Themed Patio, Porch
After ensuring that the porch area or patio area is enclosed with whatever material you can suffice with, creating a tropical garden would be great too. This can be done if you have covered your patio area with glass windows, lattice screens, or any other means.
You can use artificial greenery which involves artificial grass, plants, vines, and flowers. Indoor live plants can also be used if you would like to have a real garden. In case you are going with works such as lattice one or which involve half-closed and half-open areas, real garden plants can be used to create a little garden.
Placing garden chairs and tables or opting for outdoor seating can create a wholesome tropical design.
Hobby Centers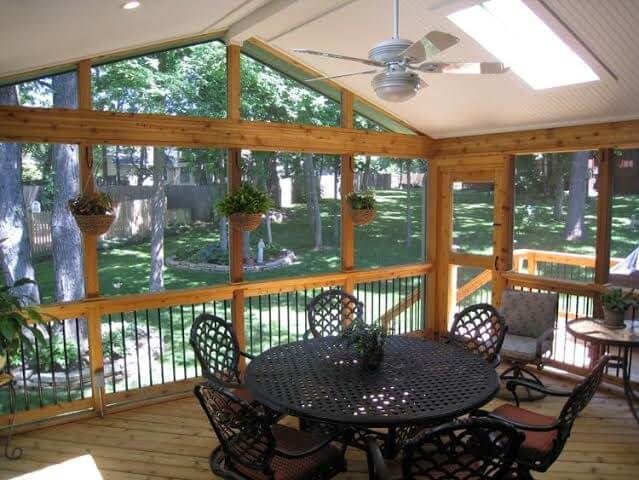 This is the most interesting and favorite idea for many people; having your own little place where you have everything to cool down your burning desire for something you love.
People have hobbies of reading, painting, dancing, listening to music. Basically, an enclosed patio can provide the area for every hobby a person has.
Like reading books. Just decorate the place with one or two bookshelves with some storage while placing a nice chair or sofa nearby to sit and read. Has a heart for music? Create such a seating or chilling space, where you can idly lie down or sit and listen to music peacefully. All these things while having a view of nature, sounds like heaven, doesn't it?
Workout Area
Being a fitness freak or a yoga buff and not having a proper space for carrying out the exercises or poses is frustrating. Yes, we know the ordeal. Going to gyms is a different thing but when you like to work out at home or do yoga then this idea should solve all the problems.
How to enclose a porch and turn it into a workout place? Ask us. After you have got the porch or patio area covered, you can have your equipment or yoga mats and books placed there too. It just requires some storage space and there is no need for heavy furniture. Light furniture like small shelves or a little wardrobe can do. Other than that, keep the space open. This would give ample space and room to perform the postures and carry out workout routines.
Patio Lounge
Enclosing the porches and patios and turning them into cozy lounges is highly popular these days. Even in your locality or somewhere, you would have seen this.
This is a simple yet great idea for having a cozy corner to entertain your guests and spend their free time. Covering up the place with glass windows or frames and adding seating and tables would turn your porch into a cute dining room. Adding fans and heating units would provide advanced comfort during unfavorable weather.
Having your own lounge inside the house gives a rich and luxurious look to the building. This idea is a must to consider if you are going for an enclosed patio and require interior designing tips.
Rooftop Beauty
Rooftop restaurants and lounges are famous these days but dig a hole in the pockets every time you visit one. What if you could just invest a bit and have your own rooftop space as such? You would not need to spend too much going to these expensive places and rather get the same experience at home.
If you have got an additional space over the terrace or patio and want to turn it into an operational area, then going for this idea will be un-regrettable. After enclosing the deck, adding some seating and a little decoration will work wonders in creating your next favorite spot in your own home.
Adding pretty, beautiful lights and some plants or decorating the area like one of your favorite rooftop restaurants can never go wrong. 
Sunshades (How to enclose a porch for cheap?)
How to enclose a porch, patio, or deck but with cheap methods? Ask no more. Using sunshades is a very smart way to cover up your porch space without spending too much. Therefore, worry no more about how to enclose a porch or a deck for a less expensive yet good-looking way.
Though a sunshade will not cover the sides of course it will be great to enjoy outside without getting directly under the sun and getting sunburned. Choose to have toned sunshade panels and you can also play a little with the design to add a classier and more stylish look.
Building a Solarium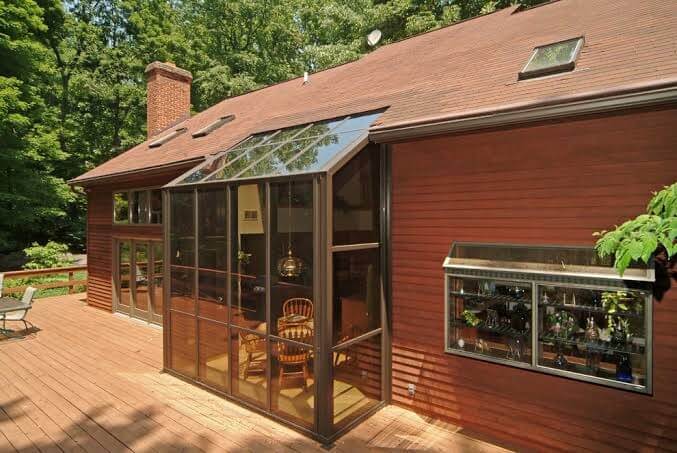 A Solarium is the prettiest and best thing you can have in your home if you love to observe nature during the day and stargaze at night.
A Solarium is like one glass room built with glass from top to bottom and from roof to walls. Everything is constructed with glass only. Although, Solariums are quite expensive to get built with investment comes future pleasures. You can get a Solarium constructed in a way that it provides both heat and cold for year-round use.
If you have a patio or a deck at the back of your house and want to convert it into something useful and fascinating, then creating a Solarium out of it will be the best you can.
Got some inspirational ideas out of this all? Wait no more then and get set to work out magic if this question of how to enclose a porch, patio or a deck is bugging you.