Our house is our biggest investment, and we need to make sure that our investment goes correct. Other than that, everything else that we add to our house is of great emotion and beauty. Because that is the place, we tend to spend most of our time. So, making our house look best in and out is what we really enjoy doing.
From choosing the best furniture to wall colors everything we do with great responsibility and care. As we take care of the interiors of the house it also becomes equally important to take care of the exterior of the house.
The Garden area, pool and other amenities should also be taken care of so that we manage to keep our house clean and attractive.
Sod is something that is of great importance if you are looking to enhance the look of your garden area. The Garden area specifically consists of flowers, small plants, shrubs, and a few other related stuffs. But growing grass and taking care of them is a very tedious job. So, do we leave the garden without grasses? Well, not really but we can find an equal worthy replacement for that. How? By using Sod.
Sods are great time helpers that can cut down your time and effort and still manage to give you vibrant and fresh grass for your garden. Although sods are costly, they are worth the cost if you are wanting to have an attractive garden. Sods also work great and instantaneous if you are looking to sell your house. If you want a flawless and hassle-free experience in laying SOD into your garden, hiring professionals with expertise in this field is advisable. For expert assistance, click here to connect with experienced professionals who can transform your garden into a lush and vibrant oasis.
Having sod spread around gives a vibrant and classic look and can help you sell your house at better costs. But how do we lay a Sod? Where do we get our sod from? Relax, all your answers and your perfect guide on how to lay sod effectively lies below. So just continue to scroll down and find every bit and byte on sod and their process of laying.
What Is Sod?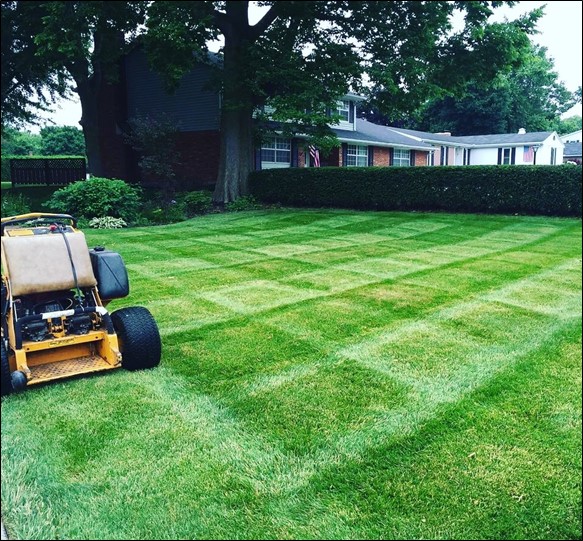 Before moving towards how to lay down sod, let us understand what exactly sod means and why is it that important.
Well, sod is a type of grass that is primarily pre-grown for 10-18 months. They are also known as turfgrass. The sods are grown under peak conditions. Once it is completely grown it is then to be removed using a lawn cutter. It includes a layer of soil that helps in storing the roots of the grass.
Later these sods are transported to other places and then used in lawns, gardens, or other outer spaces. Laying a sod saves enough time and effort. Although it is costly, it is worth the cost as it saves time and effort.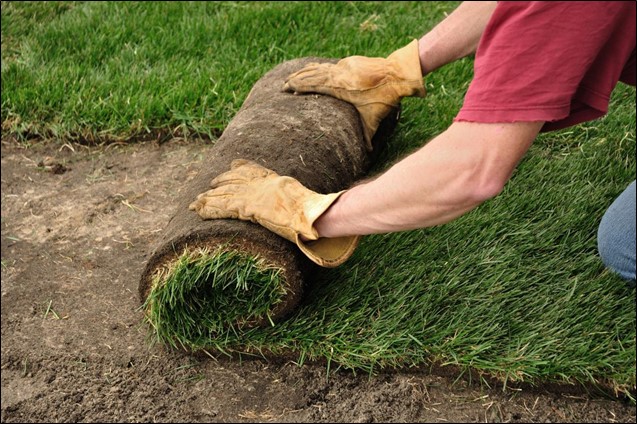 Advantages of Laying A Sod
Less Irrigation
Initially, when you lay down a sod it needs to water twice a day for a few weeks, to sustain the moisture. Whereas creating your own lawn will require you to water it 3-4 times a day to maintain the moisture. Hence, comparatively, sod needs less watering and caring.
Denser Lawn
Having a sod helps you create a denser lawn when it is laid properly. Without giving too much effort and cost you still manage to have a denser lawn with the help of the sod.
Prevents Soil Erosion
Laying a sod helps prevent soil erosion. Since the grasses are already maturely grown so they manage to control dirt, soil erosion and other similar factors.
Beauty
Laying a sod increases the beauty of your house. It gives a natural touch to your lavish designed house. So, sod increases the beauty of your house.
Heat Reduction
Sod works great in reducing the heat. It is well designed in a way that it reduces the heat and greenhouse gases by absorbing carbon dioxide and giving more oxygen. Laying a sod cools the air and hence this proves to be very beneficial to the areas that have a high temperature.
Great Money
Laying down a sod increases the cost of the property. If you are looking to sell your house at a good price, then laying a sod would add value to it.
Disadvantages of Laying A Sod
There are certain disadvantages of laying a sod too. A few of them are discussed below.
Costly
Sods are quite costly. Although they save your time and effort but also puts a little stress on your pocket too.
More Water
Taking care after having your sod laid is very crucial. You need to water it at correct intervals so that it maintains its moisture. Hence, maintaining sods requires too much water usage, which becomes a major drawback.
Shrinking of Sod
Sometimes due to lack of water, the sod begins shrinking too. So, one needs to be very particular with the watering part of the sod.
Limited Choice of Species
You do not get quite a choice while deciding which type of sod to lay down. The types in which the sods are available are very few, and therefore this also leads to a drawback in laying sod.
Speed of Routing Differs
The speed of the rooting differs with seasons.
Not Produced in A Shaded Environment
Types of Sod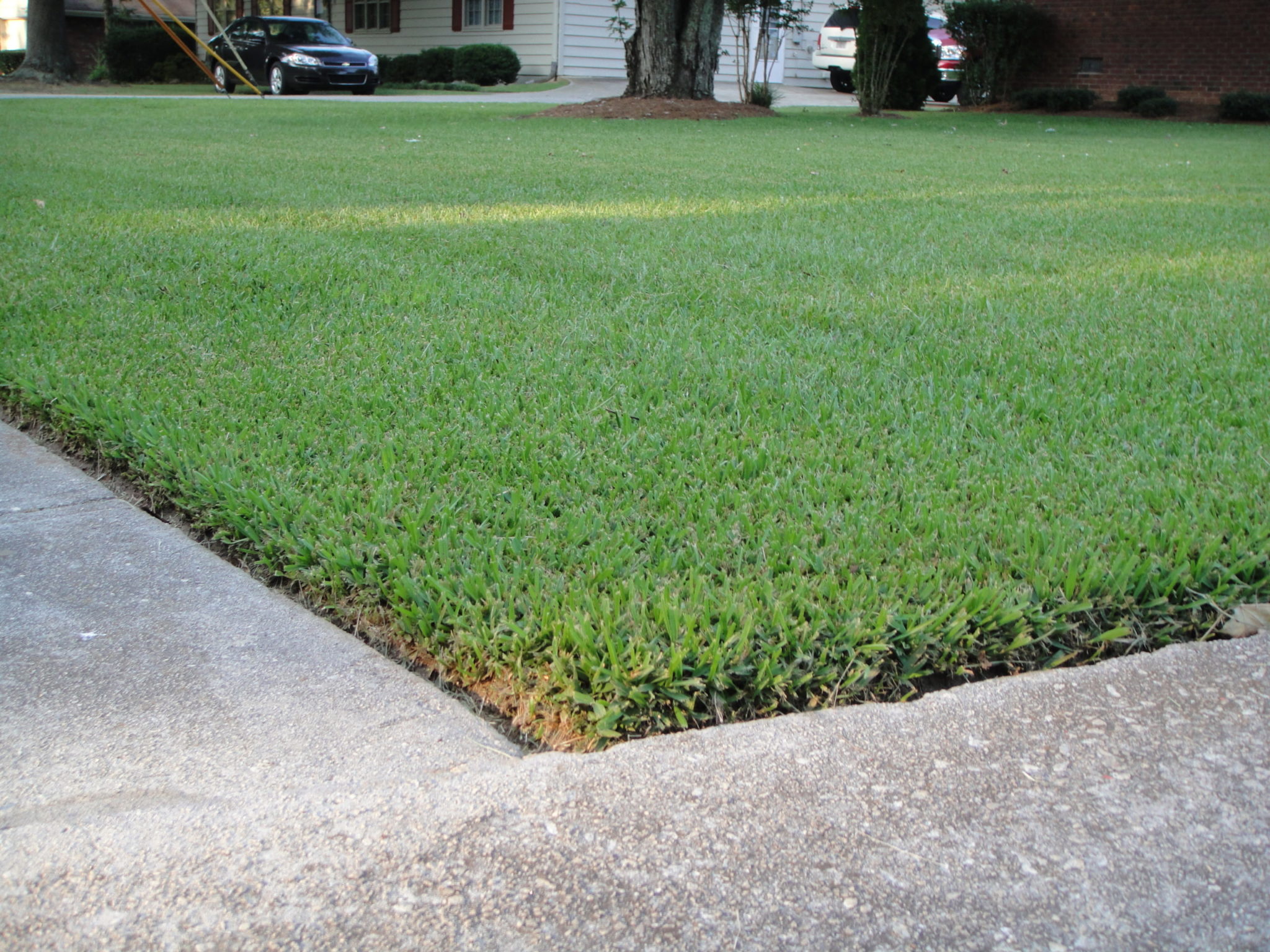 Sod is not just available in one type. There are various types of sod available that one can choose based on color, texture, and vigor. Below mentioned are a few types of sod that are available for laying.
Zoysia
Bermuda
Augustine
Fescue
Centipede
Kentucky Bluegrass
Uses of Sod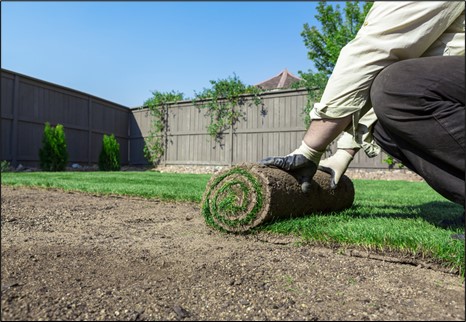 Sod is used to create a lawn. It is a one-time investment that saves enough time and effort and gives your garden a ravishing look.
Laying a sod helps you get rid of planting your grasses and looking after them. Sod is an already prepared grass that just must be laid and then to be taken care of.
Sod is expensive but one needs to understand that it is saving enough time and effort, so it is worth the buy. Buying sod means buying time. So yes, they are a bit expensive but are worth the cost.
Hence, sod is used in gardens and lawns that allows you to have quick and effective grasses all over.
Tools Used for Laying Sod
Learning and getting prepared to know about how to lay sod also includes knowing about the tools that will be required for an effective lay.
So, it is very important to make the tools available pre hand to have a smooth laying of sod. Below given are a few tools that you should always have checked to smoothly lay the sod.
Sod Knife
Spreader
Iron Rake
Compost
Fertilizer and related materials.
How to Lay Sod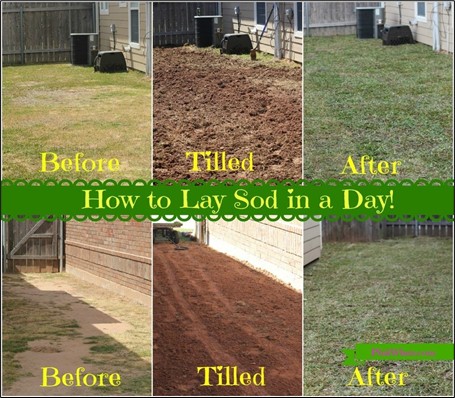 As we have already studied enough about sod and its uses, now we can move ahead and understand the laying process of it.
Well, laying sod is not that easy. There are various pre hand and post hand preparations that we need to comply with before laying sod.
While understanding how to lay a sod we also need to understand what are the prehand preparations that are needed before laying the sod.
Very firstly you need to have a quick view of your land/lawn that you are planning to lay the sod on. Check whether the land is even or not. Once you are done checking with the evenness of the land, the next step involves moistening the land.
Before laying down a sod make sure to water the land so that when you lay down the sod, the moisture of the soil remains which will help the grass to survive longer and better.
Also, check that all the extra grasses already present on your land is removed using a cutter or other tool too. The presence of those grasses can ruin the sod.
Once you have checked the pre hand preparations needed for laying sod, now you can begin laying your sod.
The first row of the sod should always be put on the straightest and the longest edge of the lawn. Do not step on the sod while laying it on your lawn. Do not forget to use a rake to level the area while laying a sod.
After you have laid your first row of the sod, follow the same process, and lay the next row of the sod just to the adjacent of the first row. Similarly, keep repeating the process and levelling the area with a rake and you are on your way to lay your sod.
Please make a note that you do not leave any area uneven. The other major concern that is going to bother you while learning how to lay the sod is placing the sod at the curved or corner areas.
Always remember to never cut the sod into small pieces and fill the curved, corner gaps. Rather use the fitting method. Take a large piece of sod and try adjusting and fitting between the corners. The smaller pieces of the sod will ruin the grass. So do keep that in mind while laying a sod.
That is, it is taking a few smaller steps with proximity and care will help you lay the sod and make your lawn look the most beautiful one.
After Care
Once you have learnt how to lay sod and has successfully laid a sod. Now your responsibility stays to maintain the sod. For a few weeks, you need to be very careful with the care you provide for the sod on your lawn. Below given are few ways to manage them after they have been laid in your garden.
Watering your sod is very important. First few weeks water it twice or thrice so that the moisture of the soil is maintained. Or else the grass might get dried.
Once the sod is laid, please make a point of checking all areas minutely and fill in the places of unevenness.
If craps of dust are left behind after laying a sod, please make a point of getting it cleared.
Make sure you let it grow before making your first mow.
Sod Buying Guide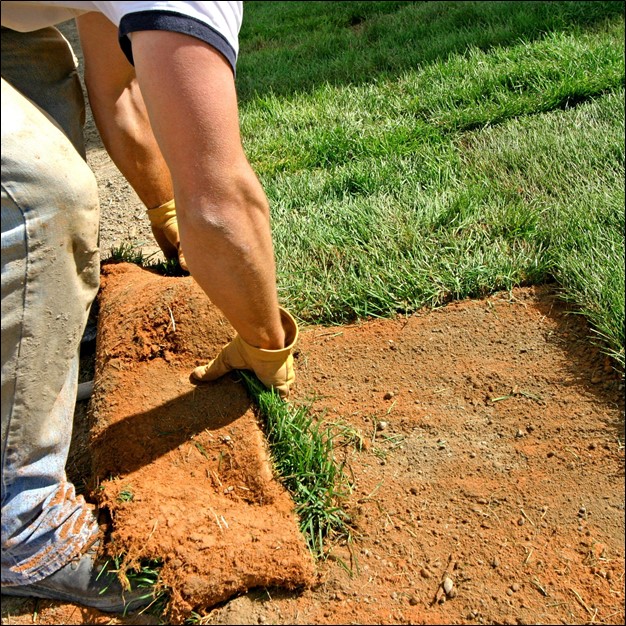 You can easily place your order on any sod farm and can get your sod BOOKED.
Now since we have understood how important it is to get a sod done, it is equally important to get home the best sod making it a perfect fit for your lawn. Below given are a few points that you need to keep in mind while ordering a sod.
Check for The Size
Always make sure to get your measurements corrected before ordering your sod. That will prevent the sod from falling sort. Because I am sure you would not want to spend a healthy amount and get a short sod to fix in your lawn.
Check for Cost and Quality
Always make sure to never compromise with the quality you bring home. Also, make it a point to study the cost details without placing an order. I am sure you would not want to get the same sod at a healthier cost which you could get at a little less one.
Look for Your Type.
Sods are generally made up of two or more turf grasses. They are available in very less variation. So, make sure to choose your species of sod that you want to lay on your lawn.
Conclusion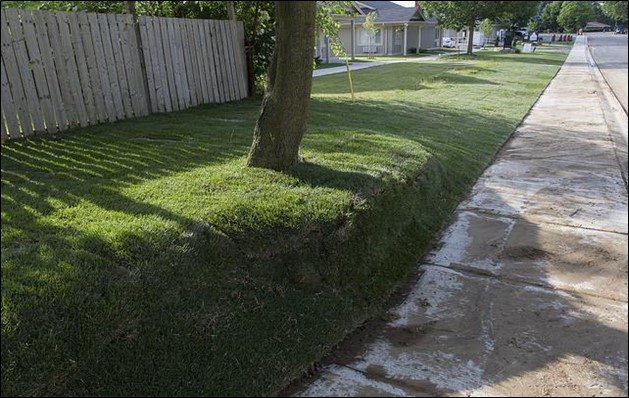 By far we have understood that laying sod is not just beautiful and exciting it also comes with various pre hand and after hand responsibilities and care that one needs to adhere to lay sod.
As critical, the laying process of sod is the same critical is after the caring process of a sod. We need to ensure that the grass stays healthy and keeps growing. We need to ensure that the moisture, texture, and other relevant things stay constant and correct.
Therefore, it is rightly said that learning how to lay the sod is exciting but critical too. But we hope this article helps you in the best possible way and keeps the laying of sod still exciting for you.
All you need to know and remember is that while laying a sod, be careful, patient, and responsible. Rest everything will follow on its own. We hope to see you ordering some great sod and creating your beautiful lawn.