Fridge is on the fritz again? Well, it is pretty natural to get worried when your fridge is not working properly. Increased cost of electricity, food spoilage and ample of error messages are the problems you face when your fridge decides to freak out.
First Thing on the Checklist If Refrigerators Stop Working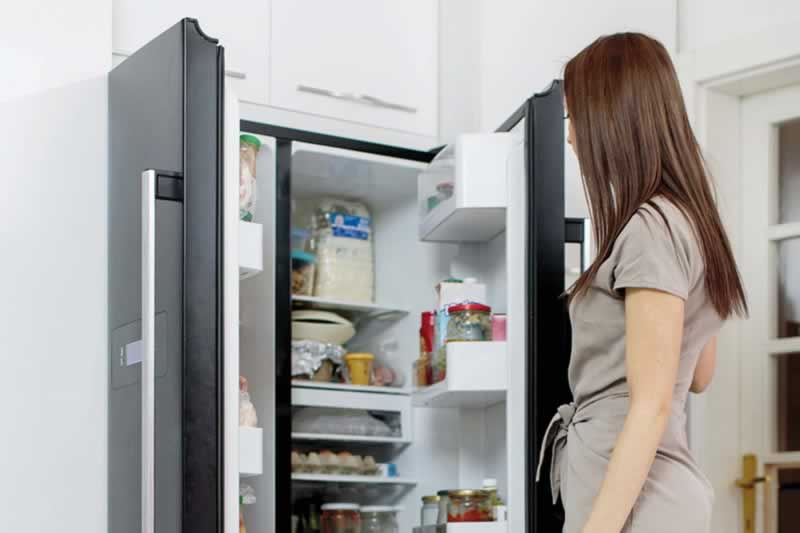 Check whether your electric circuit breaker is supplying power to your fridge without any difficulty. If you find a tripped breaker, immediately flip the same.
If damaged fuse is the reason, then you need to go and replace the fuse.
Check the outlet to which the wire is plugged. Try plugging another device on the same output and if that device also does not work, you know what the actual problem is. But if the device works the problem may be from your power cord.
Fortunately, sometimes simple reset is sufficient to get your Samsung fridge back to its normal working condition.
This statement is true in following cases –
If your fridge is stuck on Shop mode
Flashing or erratic temperature display
If you recently faced a power outage
To remove simple error message, you might need a reset.
Tips to Reset any Samsung Refrigerator.
There are few things you can try on almost any model of Samsung fridge.
Press the 'power freeze' and 'power cool' buttons at the same time and hold them for at least 5 to 7 seconds. These two buttons appear on almost all the models of the Samsung refrigerator.
While some models come with a reset switch which you can find on top of the door underneath a panel that can be flipped up. Press the same to reset the refrigerator.
Why do Refrigerators Require a Reset?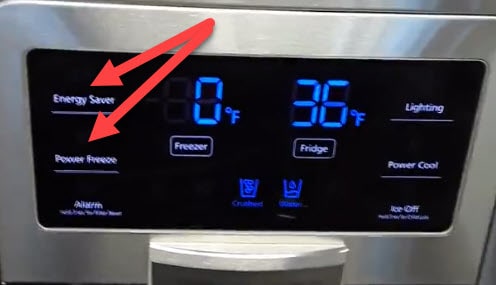 Every machine that has computer chip is by default vulnerable to computer bugs. The smarter your fridge, more are the chances of systems freezing up. These is not only persistent with Samsung fridge but with any smart fridge that are available in the markets.
When you try to give to many commands to a machine, it gets confused and eventually stops responding to anything and everything. This is one of the most common reasons that forces a reset, however there might be other reasons too.
From locating a reset button to how to reset your Samsung refrigerator within minutes is something we are going to simplify for you in the article further.
How do I Spot a Reset Button on a Samsung Fridge?
You can spot a reset button on a Samsung fridge either on the control panel or behind the ice bucket. But keep in mind that not all refrigerators come with a reset button. Refrigerators with an ice maker or a water filter are usually expected to have a reset button.
Get ready to get a handy reset button if you are thinking to change the water filter of Samsung fridge.
How to Restart Your Samsung Fridge Within Minutes
There are many ways to achieve this objective. Some of them are mentioned below –
How to do a General Reset?
Unplug It: Just like maximum of your electronic device's issue is resolved by a simple reboot, the same can work for your Samsung fridge. We do not know how this trick works like a magic, but it seems like all your refrigerator needed was a moment to cooldown to get refreshed and then it is all charged up to work like before.
However, in Samsung refrigerators remember to switch of the reset button and then go ahead with process of unplugging the plug.
Give it Some Time: Give your refrigerator some 'Me Time' to settle and refresh. It is advisable to leave it in that condition for 15 to 20 minutes and in some cases, experts suggest a complete shutdown for 24 hours.
Time to Plug In: We are expecting that by now your refrigerator has got a lot of time to rejuvenate and already to get plugged to power socket. Kindly do the needful.
How to Reset from Shop Mode
This feature is designed to make it easier for consumers to set their refrigerator on same settings that they have seen in the showroom.
To pull your Samsung fridge out of shop mode, press the power freezer and power cool buttons at the same time, hold it for at least 2 to 5 seconds. It's time to release the button now. Your fridge is all set to run the cooling function again.
How to Reset your Samsung Fridge from Demo Mode
Unlike shop mode, the trick of pulling out from Demo mode is little different. Press the energy saver and freezer buttons at the same time and hold it for 10 to 15 seconds. Your fridge is all ready to work properly.
In case, if you are dealing with the latest models, press energy saver button, freezer button and lighting button at the same time and hold it for about 10 to 15 seconds.
Once, the refrigerator is out of demo mode, you will be able to see the current temperature of it.
How to Reset the Control Panel of the Samsung Fridge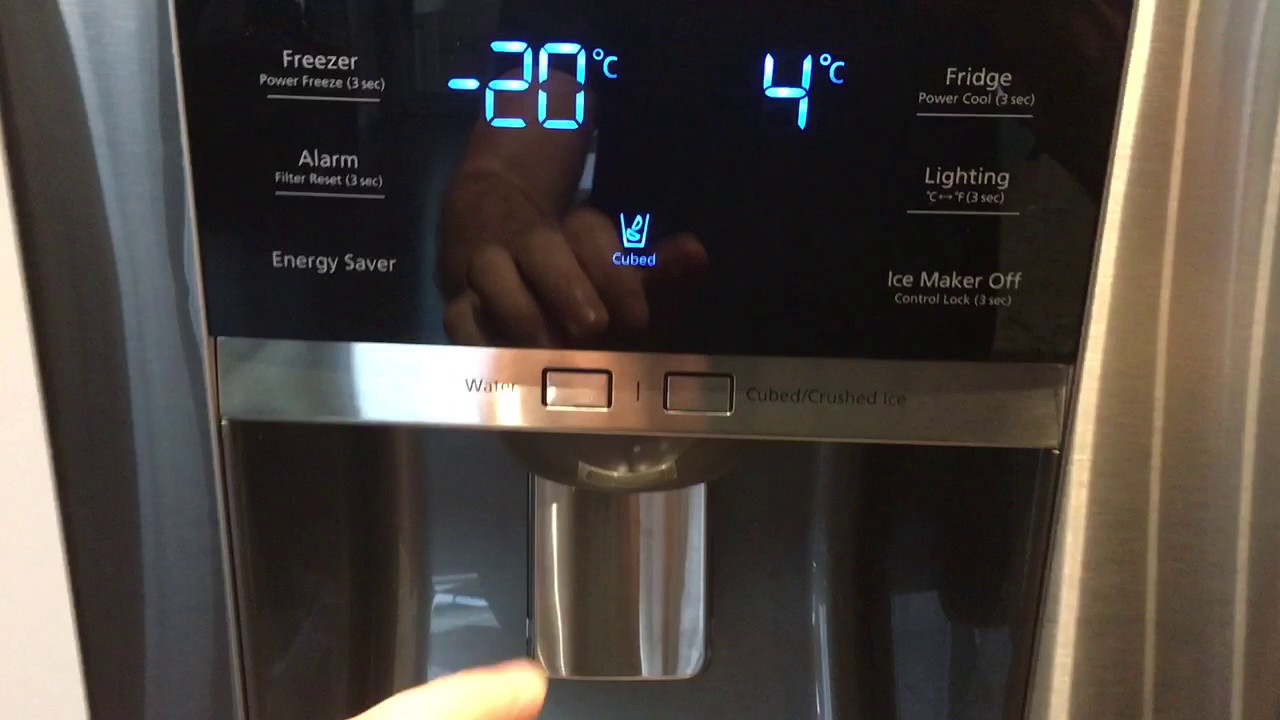 To reset the control of your Samsung fridge, press power freeze and power cool at the same time for about 8 to 10 seconds or until you can see the desired numbers on the display.
Is your control panel still not showing numbers? There are high chances that your fridge is in a child lock mode or your system is facing some technical glitch. In order to deactivate the child lock press and hold the child lock button for few seconds.
Another trick to reset the display of the control panel lies at the top of right door. There is a button on the interiors which needs to be switched off and then switched back on. The system will be rebooted, and you can see the Samsung logo appearing.
How to Reset if the Problem is Wire Harness?
If there is a communication problem between refrigerator and the main control unit, same will be conveyed to you by the flashing error codes. This might be an issue with the wire harness connected to them.
To reset, first step is to switch off the machine and unplug it. After few minutes plug it in and switch on the machine to see the error code gone.
How to Reset Samsung Refrigerator after a Power Outage
If power cut happens for long hours, there is a possibility that your processor might get locked.
Here is what you can do once the power is back –
Unplug the machine from the wall.
Give it a rest for a minute.
Plug the machine back.
The fridge is working fine but your temperature display is showing actual number over the one you have set. In such a situation, set the machine to 'Power cool' or 'Power freeze' mode until you can see the temperature set by you.
In case of an undetectable problem contact Samsung by registering for an "Online service center request".
How to Reset Samsung Fridge Touch Screen
You will find a red button on the top of the fridge behind a panel on the right door. The panel has a push instruction written on it, just press it couple of times and your touch screen will be back to normal.
However, the easiest and the quick way to reset a refrigerator is to go by your instruction manual. Are you wondering where you have lost your user manual? No need to worry as you can simply go to google chrome and search for Samsung refrigerator manual pdf with your model number.
You will see the instant results and in no time, you will be able to download the PDF.
How to Reset the Error Codes
Error codes are something that you will keep noticing every now and then on your display screen. Allow us to make it easier for you to crack them and then find a quick solution to say goodbye.
Error Code 22E
Error code 22E is flashed when your Samsung fridge is broken or not performing well. The problem can be any one of the following –
Error could have been caused by blade lock
Problem in the drainage due to water stagnation
Clogged up Vent holes
Regular damage in circuit Board
Disturbed Wiring
Failure in Melting System
Problems in motor
In case you face this error code, press the power and lighting buttons, one on the display and hold it for at least 10 seconds. If this doesn't work, then you will have to examine each problem on an individual level.
Error Code 33E
Error code 33E is flashed when your refrigerator is facing one out of the following problems –
The problems that are created due to power failure, physical impact or moving the machine manually.
Another possibility might be the issue in the water inlet pipe.
This error is normally found in side-by-side refrigerators.
In this case, you need to reboot the electronic control board. You can do this by plugging the refrigerator in to the main power outlet. Now press the lighting and energy saver buttons for at least 8 to 10 seconds.
If this doesn't solve your problem, that means the problem is severe than our anticipation. More serious action needs to be taken and there might be following possibilities –
Repairing or in some cases replacing the thin wire that is surrounded around the water inlet hose.
Replacement of microunit chip
If there is a damaged door than replacing the same
Fixing the damaged wiring can also be a solution
How to Reset the Ice Maker of my Samsung Refrigerator
Summer season demands a lot of ice and therefore you need a quick solution. If anything goes wrong with the ice maker, the first step is to pull out the ice tray. If this feels like an impossible task to do, go ahead with defrost.
Once you have got your ice tray out, press and hold the blue reset button for at least 5 seconds or until you hear the melodious ring. This button is usually located at the side of the ice maker. Put up the ice tray filled with water back to enjoy ice cubes later.
When to Replace Samsung Fridge Filter?
Samsung refrigerators are example of some of the smartest appliances you can domestically own. Fridge filters are designed to supply fresh drinking water with convenient smart living.
If you want a regular supply of clean and fresh water than make sure you change the filter every six months. The time span also depends on how much water you consume on a daily basis.
There is a light indicator that will keep you updated with how soon you need to change the fridge filter. The colours might vary from model to model. However, red is the sign of danger and also a reminder to change the fridge filter ASAP.
How to Reset the Fridge Filter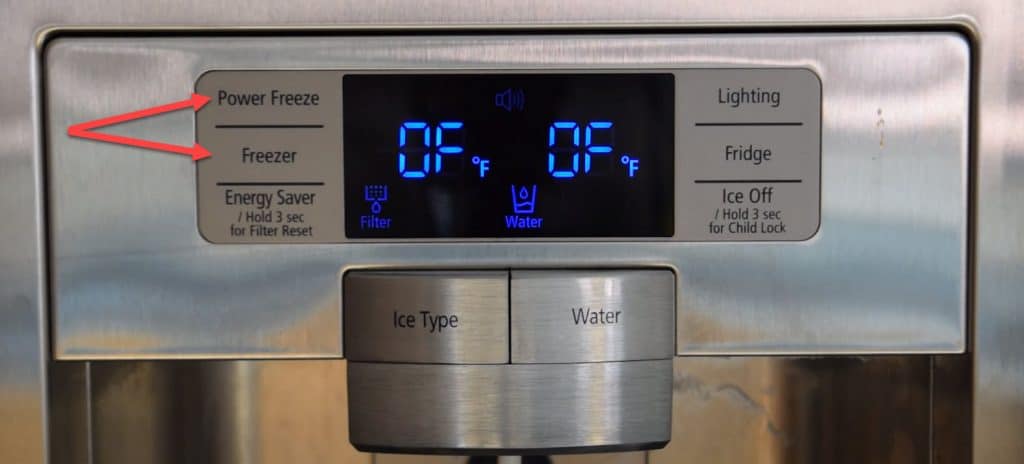 Once you have replaced the old filter with the new one, simple press and hold one of the following buttons for at least 5 seconds –
Alarm
Ice/ Water
Ice Type/ Water
This will reset the indicator of filter light and you can relax until the next red light.
Post Reset Responsibility
In the maximum number of cases, one or the other method will solve the problem. Once the problem is solved, monitor your Samsung fridge for few days in a row. If nothing weird happens, you have nothing to worry.
But if you are still concerned about your refrigerator than don't hesitate to call a professional and get the unit double-checked. Afterall, "Precaution is better than cure".
Conclusion
Smart fridge is a great way to utilize technology in day-to-day lifestyle. However, as mentioned earlier, more the technology more the chances of technical glitch.
We hope that we were able to answer maximum of your questions and if there are more questions that needs to be answered, our comment section is open 24*7.