Sometimes it is difficult to start a lawnmower that has been lying in the garage all winter long or an inherited second-hand lawn mower that hasn't worked in years. Do not worry if you are facing this problem.
You have just come to the right place! Here is a complete guide on how to start a sitting lawnmower. Whether you are using a gas or electricity powered grass mower. The most important thing that you should keep in mind while working with a sitting lawn mower is your safety. The most important thing that you should keep in mind while working with a sitting lawn mower is your safety.
You should follow all safety measures before you start to work with a lawnmower. Be careful with the engine parts and sharp blades and always wear safety gloves as well as safety glasses. It does not matter what type of garden mower you own; these methods will surely help you.
Oil Check and Change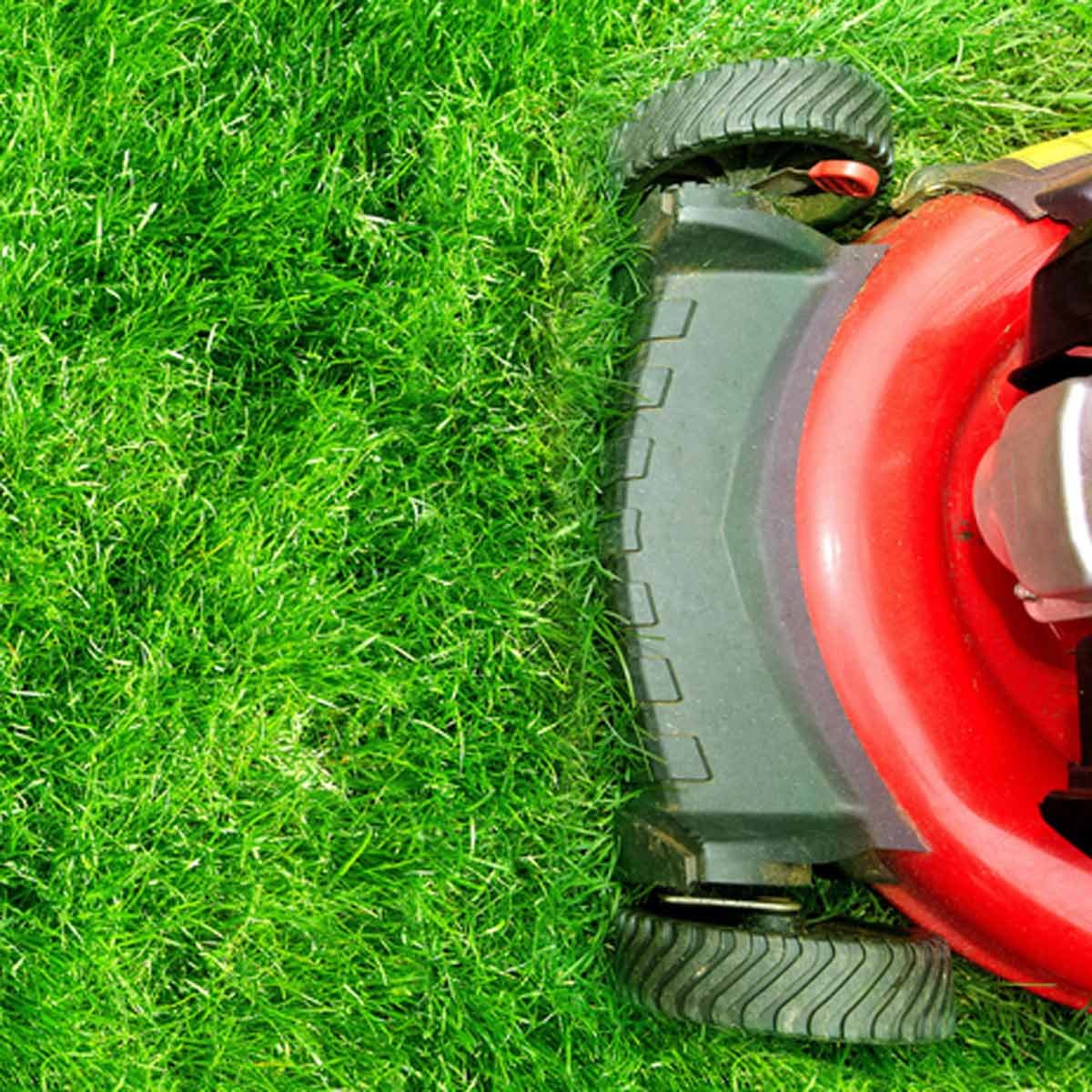 The first thing which you need to do to start your sitting lawn mower is to check the oil. You can change the oil in a mower after using it for an hour; this is considered the best time to change the oil. But if your mower was lying in a garage during the whole winter then first you should check its oil before trying to start it. While checking the oil you should make sure that there is enough of the oil in the mower and the oil does not have any residue in it.
The color of the oil is also important. If the oil appears to be black or very dark in color then it indicated that it is time to change the oil so that your mower functions smoothly. If you want your mower to be in excellent condition then you should change the oil of the mower twice the year, one just before putting it in the winter and once at the beginning of the season. If you have not changed the oil of your lawnmower recently then also you can change it.
It is not always necessary that this is the reason that your mower is not starting but it is surely an important contributing factor. The lawnmowers have a very small engine installed in them which does not require much oil. This makes this whole process inexpensive, and it can be easily performed at home. If you own a walk-behind mower then you can change the oil within 10 minutes.
How to Dispose of Old Mower Oil?
Make sure that you collect the old mower oil properly as it can harm your mower. You can use any empty container with a cap so that oil doesn't spill. You can always take this oil to the local auto shop for proper disposal. Local mechanic shops generally take this oil but if there isn't a mechanic in your area then you can always take it to the city dump disposal area.
Smoke from Mower
If smoke is coming out of your mower while you are trying to start it then this also indicates that your mower needs an oil change. A mower with smoke also indicated that there can be oil leakage in the mower. Due to this oil leakage, the oil comes into contact with the hot metal, and as a result, there are fumes. It also indicates that there is not enough oil in the mower and this can result in permanent damage to the mower.
Check the Gas Tank
It often happens that sometimes you call a technician to check your television or a computer and the first thing they ask you is to plug in the device. It happens sometimes that we forget about the power supply of the device.
The same thing applies to the lawnmower also. You should make sure the mower has gas in it! Gasoline which is used in mowers is highly unstable; this means if you haven't refilled your mower in the past 30 days then you need to empty the tank. You can easily dump the leftover gas just by tipping the mower. Another way you do the same is by siphoning it.
After you have removed the gas from your mower, put some fresh gasoline into the mower. If you do not use your lawnmower frequently then you should put a fuel stabilizer into the tank before making it rest for few days.
This will fix your mower and it will not be required to change the gas frequently. Always try to use good-quality gasoline for your mower (one without ethanol). This type of gasoline does not require a fuel stabilizer and your mower will start in just one pull.
Change Air Filter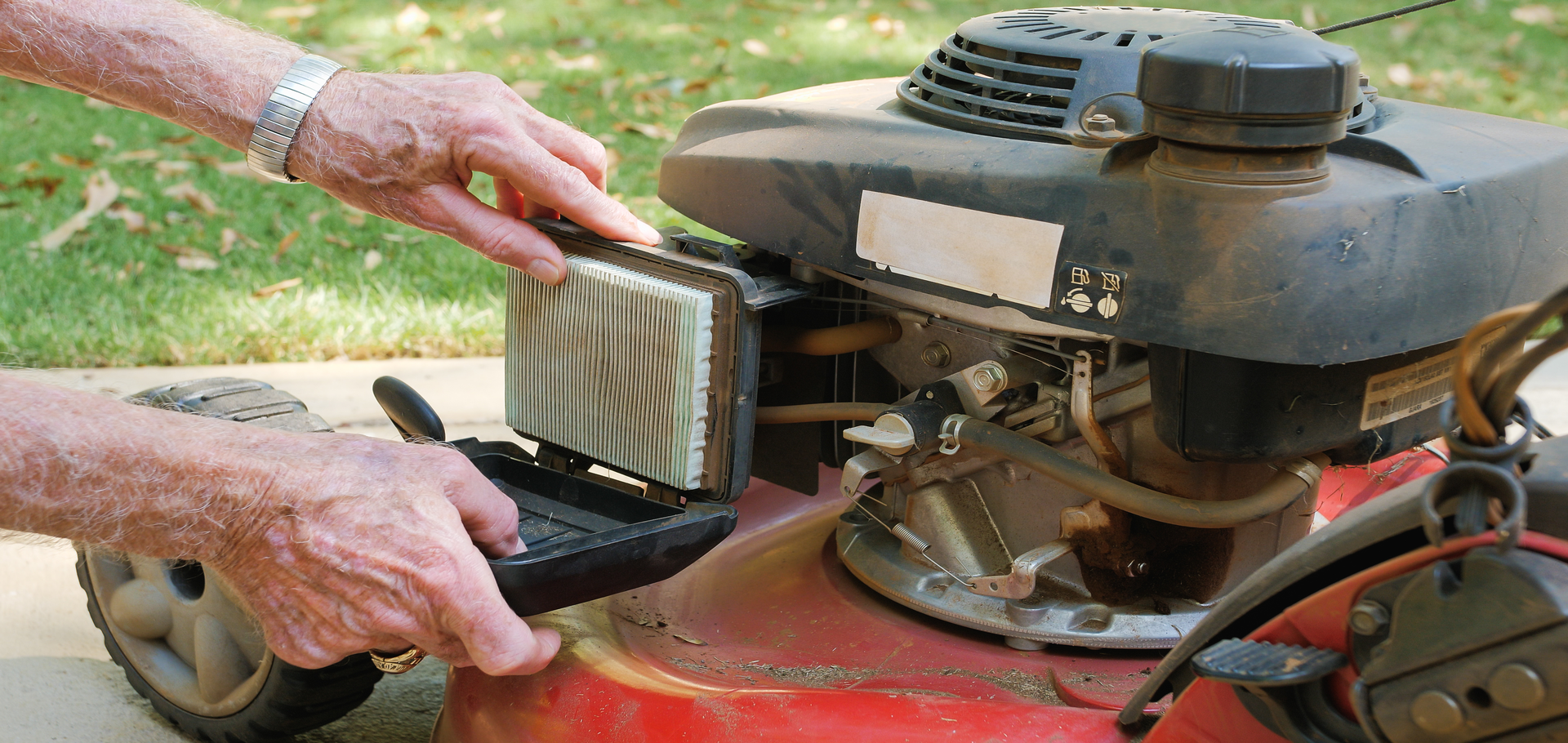 Once you have checked the gas and changed the oil, the next step is to check the air filter installed in your mower. These air filters can easily get clogged with the debris is often required to be changed. Oxygen is an important component for the combustion of oil in the engine. If the air supply to the engine is blocked due to a dirty air filter, this will disrupt the working of the engine and ultimately your lawn mower will not work smoothly.
It is always recommended to replace the air filter rather than trying to clean it. If there is even a small perforation in the air filter, it can let in dust into the engine and cause some serious damage. If your mower starts but it stops when you start mowing your lawn, this is the sign of a clogged air filter.
You can easily check whether the filter is needed to be changed just by looking at it. If it appears dirty to you then surely needs to be changed. It is generally recommended that air filters should be annually replaced as a part of regular maintenance. Do not worry, replacing the air filter from your mower is not a tough job. Just pick the old one and replace it with a new one.
Change the Spark Plug
The spark plug of your mower can easily be found at the front of your mower. It is not very difficult to locate a spark plug because it has a wire attached to it. The spark plug is covered with black rubber to keep it clean and away from dust.
Do not forget to check the wire and ensure it is in good shape and there is a proper connection. The next thing which you need to check is the spark plug. You will need a socket wrench to remove the mower's spark plug. You can try out a different wrench to find the perfect one.
These kinds of wrenches can easily be found in local hardware shops or you can order them online. With a little twist, you can remove the spark plug. When you take out the spark plug, you should check for the corrosion and decoloration at the spark plug.
You should particularly look at the end which was there in the mower (the one side having threads). If there is even slight corrosion on it then it needs a replacement. You can try cleaning it and then reconnect it again to see if it works. But if you have any doubts then it is always better to replace the spark plug.
How Can You Replace the Spark Plug of The Mower?
Just replacing the air filter of the mower, replacing the spark plug is also a simple job. All you need is a correct socket wrench. Make sure that you do not over-tighten the plug while you install a new one.
You should replace the spark plug once a year as a part of maintenance. If your mower had been sitting all winter and isn't starting and you have checked the oil and changed the gas then there must be a problem with the spark plug. Spark plugs do not cost much and can be easily purchased from a local hardware store or amazon.
If you are trying to troubleshoot anything then it is always advised that you disconnect the spark plug. This is advised because if the spark plug is connected engine can start and this can risk your safety.
Mower's Brake Cable Should Be Tightened
After you have checked the above things and still your mower is not starting then you should check the brakes of the mower. If the brake cable is loose then your mower may not start. In order to check the tension in the brake wires, you need to pull the brake handles, and then you can use your other hand to check the tension in the wire. You can easily fix this by using a crescent wrench and some vice grips.
Faulty Carburetor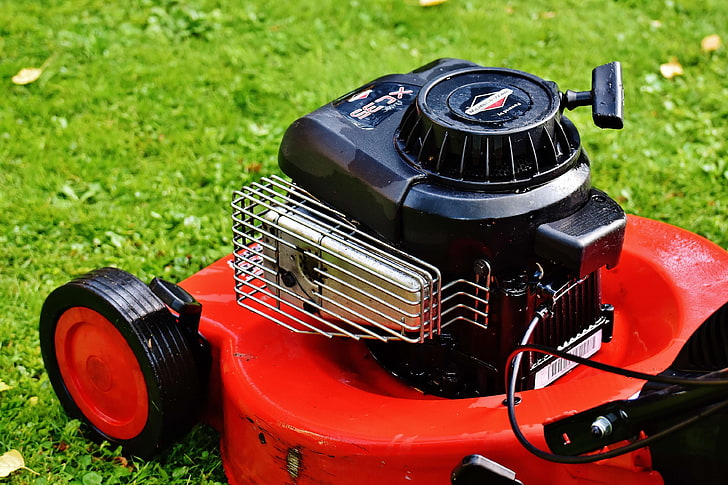 A faulty carburetor is another common reason why lawnmowers do not start. This is since the carburetor gets corroded and often clogged because of the fuel which is left in the engine.
This left behind fuel evaporates leaving behind a gluey residue inside the carburetor of the mower. If you find that your carburetor is dirty you can clean it using a carb cleaner or by soaking it in vinegar. If it still does not work, you can always replace it with a new one.
Check Your Fuel Pump
As the name suggests, the function of the fuel pump is to pump the fuel from the tank into the engine through a series of three ports. If there is too much oil in the engine of your mower then it can reach the fuel pump and make it defective. To check that if your fuel pump is working properly, you can check the pulse port line, diaphragm, and valves inside the pump.
Check for Broken Flywheel Key
A flywheel is a horizontal wheel incorporated in the mower. The flywheel starts spinning as soon as the starting cord is pulled in a walk-behind mower. If the mower hits a hard object, then it can cause damage to the flying wheel and this finally results in the mower not starting.
To check whether your flywheel is in fine condition, you first need to remove it from the lawnmower. This is not as simple as removing other parts as the nut which connects it to the mower is very tight and the flywheel should not move while you loosen the nut.
You should never use a broom handle or any tool between the blades of the flywheel. This can cause serious damage to the blades and will require an expensive replacement. It is always safe and secure to use a clamp for this purpose.
Conclusion
You should not just give on your sitting lawnmower. In most cases when a lawnmower doesn't start after winter is because of lack of maintenance. If you check the above-mentioned things in your mower then you effectively get them working again.
Once you start a sitting lawnmower then you will have enough knowledge about how to properly maintain it. You can easily find all the parts in a local hardware store or even online. This not only saves your mower from ending in a dump yard but also saves you a lot of money, troubleshooting your mower is surely a cost-effective solution and once you start it again, it will bring you immense satisfaction.
If your mower does not start even after doing all the steps and there is no option left other than buying a new mower, then you should take out some useful parts from your mower before taking it to the dump yard.