There are many things at our home which we don't use, so why not utilize those things into something beautiful and worthy? One of the examples of such a thing is a tire, anyone who owns a car or bike or even a cycle has a spare tire with them or a tire which is no longer in use, most of us throw away such tires, but how about you creatively use them to make something beautiful out of it? Check out the list below for some pretty tire planters
Best Handpicked Tire Planters Ideas
1. Teacup Tire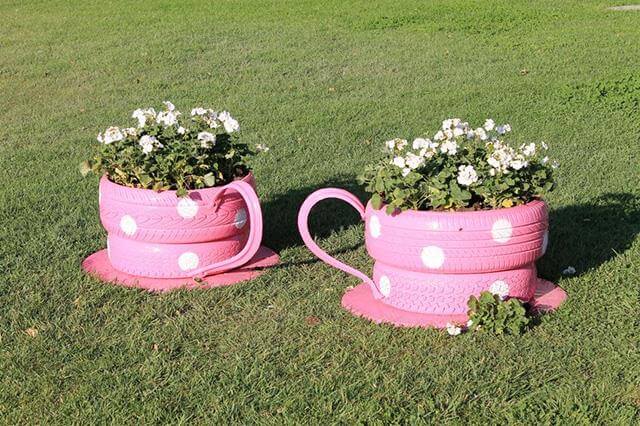 One of the things that you can do with your tires is to turn them into a teacup! You can use your creativity and paint whatever you wish on them and have a little tea party. Your kids will love them, and your neighbors will keep asking you questions as to how you did it. You can put flowers in these teacups and make your garden prettier.
2. Stacked Tire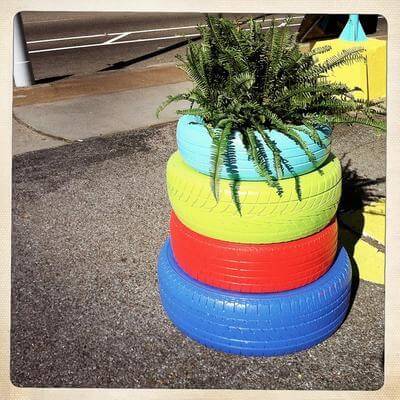 Here, you can stack up to four different size tires together to create a pop-up vase for your plant. You can paint bright colors on each tire, different on each one so that it brings out a popping color to it. Then all you need is your soil and your plant, and you are ready to go.
3. Cover the Vase Tire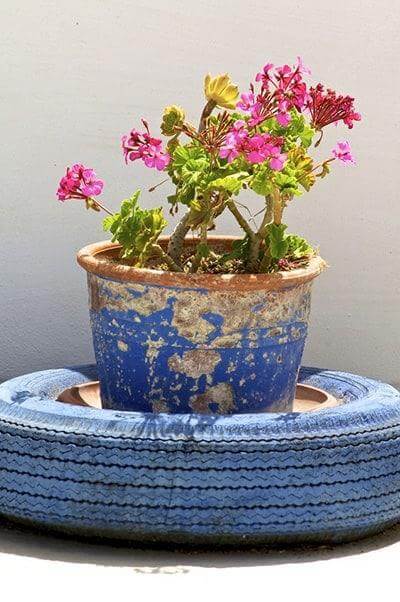 This is probably a very different approach to use the tire. If you don't want to take your flowers from the vase but want a creative and beautiful touch, then simply paint your tire with the color of your vase and keep it as shown in the picture.
4. Hanging Tire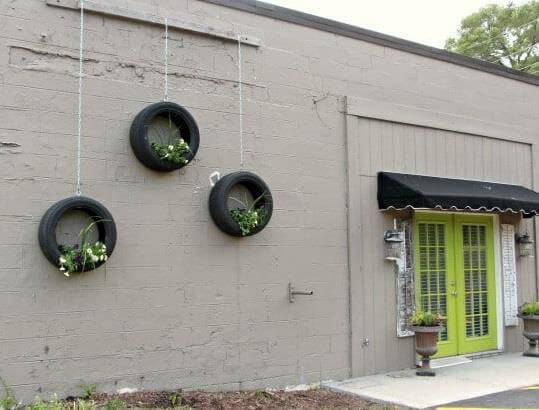 Take your DIY game to the next level by this hanging tire idea. It is your choice how to use the tires by painting or not painting them creatively, or doing whatever you wish to on them. And then just simply put in your beautiful plants/flowers and hang them outside your house. Such an eye-pleaser!
5. Tire Garden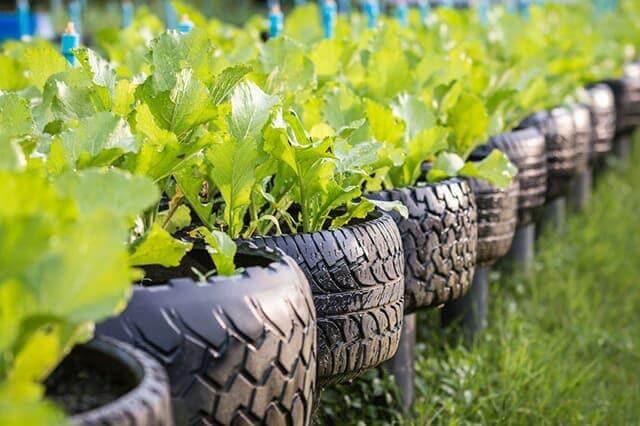 Everyone's fond of having their garden and grow vegetables or flowers in it. Why spend your money on buying vases, when you can easily use your tires. All you need to do is line up your tires, fill them with soil and start planting your favorite plants, and enjoy watching them grow.
6. Rope Tire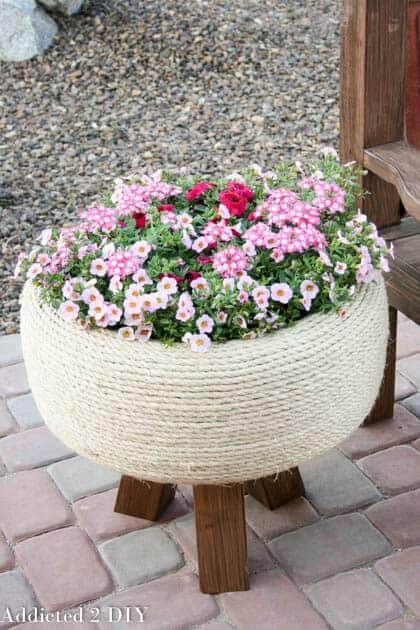 Have extra rope lying around your house? Use this technique, glue the rope across the tire, and spray it to give it a beautiful natural look. No one can figure out that it is a tire and not a table. You can use any type of flowers you want for it.
7. Edgy Tire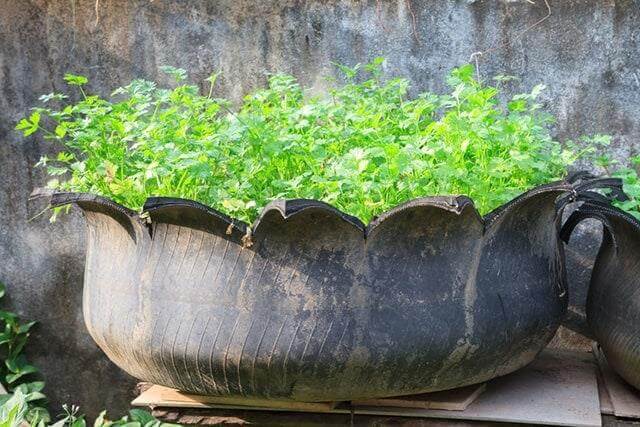 Bigger the tire, bigger your plant is. In this particular design, it is your choice to paint the tire or keep it simple. Make it a little unique by cutting off the edges of the tire in a unique pattern to up your game, any pattern you want, you can include in it, and make it pretty.
8. Blooming Tire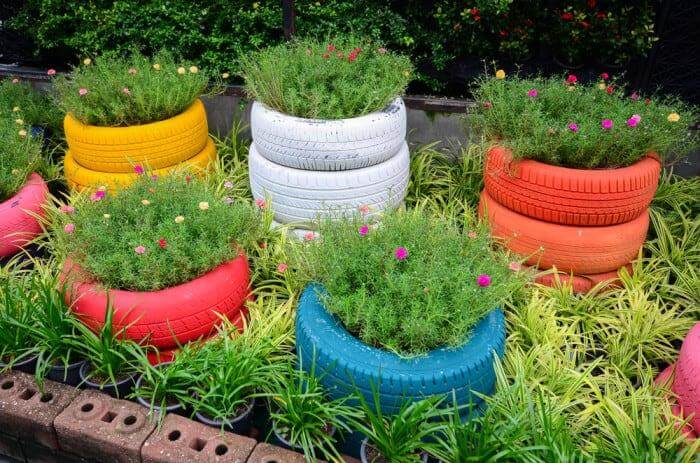 Here, you can spray paint and stack up against your tires and keep them in your garden. The best tires to use are the mini tires, which can fit more in your garden. Here, blooming plants are used to create a blooming effect. You can easily buy them. It creates a unique effect on your garden.
9. Pot Tires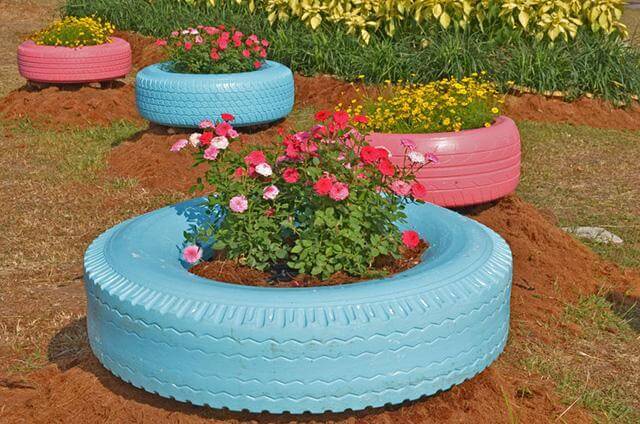 You have seen your kids get along with tires. These tire pots in your garden will keep your garden 'young,' and the kids are going to love it. Adding any color you want of your choice and any flower, this idea sure looks lovely for your garden.
10. Raised Tire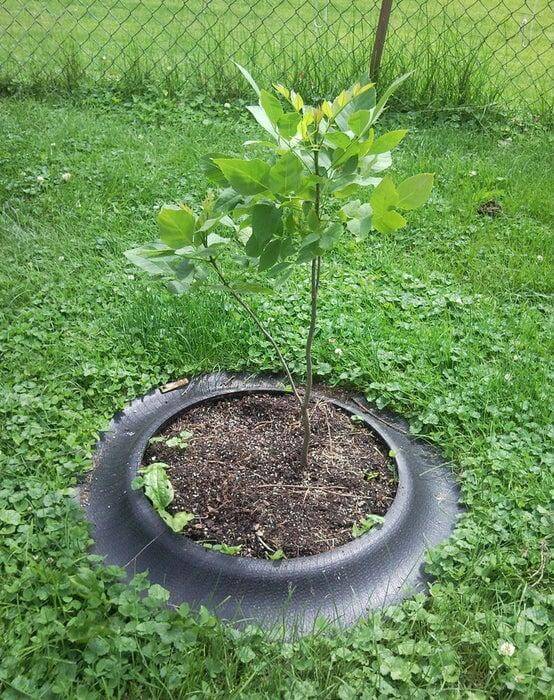 This is a 2-in-1 idea for using tires. One is where you place the tire in your garden, fill it with soil, and plant. The other method is to use the tire ring. The tire rings being small can fit one single plant; you just have to put it like shown in the picture and voila.
11. Flamingo Tire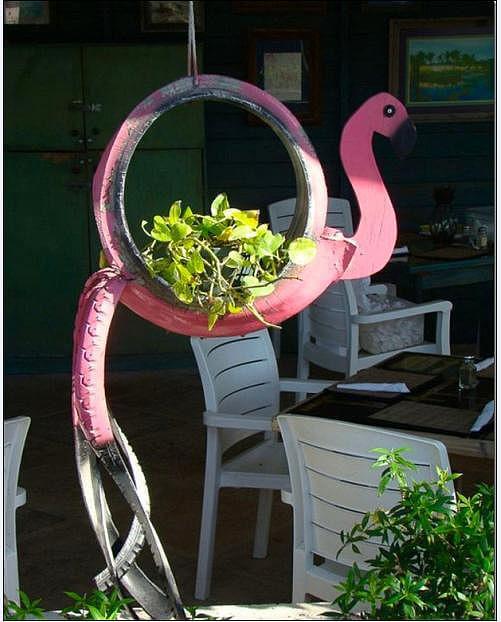 In order to create this type of tire planter, you will need a wide tire. All you have to do is scrape some parts of the tire while keeping the center part intact. You can put the soil in the center and grow some succulents or whatever small plants that you want.
12. Wishing Well Tire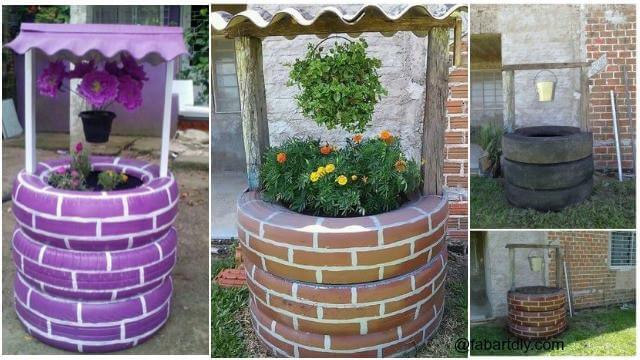 These well-wishing tires are made according to your personality. Choose. However, you want to keep them; all you have to do is stack them up real nice, make a hole on the sides of the tire and build a roof to create a well. You can also simply stick the roof on the sides of the tires if you can't make a hole in the tire.
13. Topsy-Turvy Tire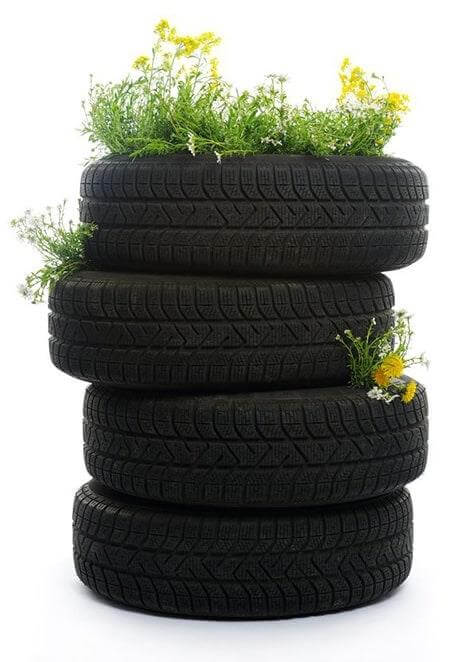 Instead of stacking them up straight, stack them in a topsy turvy way so that you can put in your flowers in every tire, except one. You can choose to keep the tires plain and add different colors of flowers or vice-versa.
14. Parrot Tire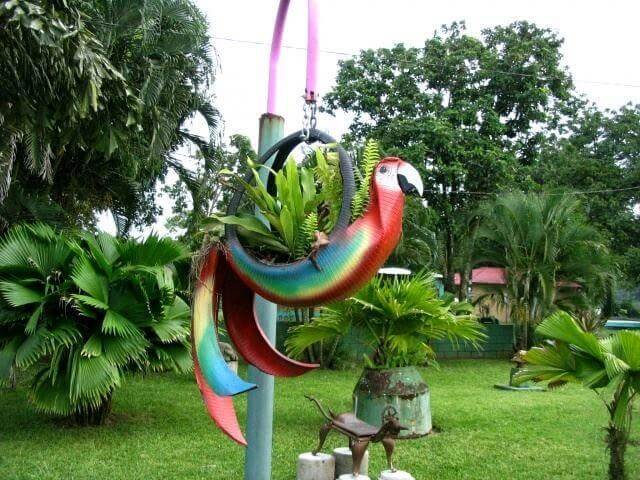 Everyone loves birds, and everyone will love this parrot tire too. All you need is a used tire and just start carving it into a parrot. Spray paint it, fill it with soil, and have a beautiful parrot tire planter.
15. Hanging Tire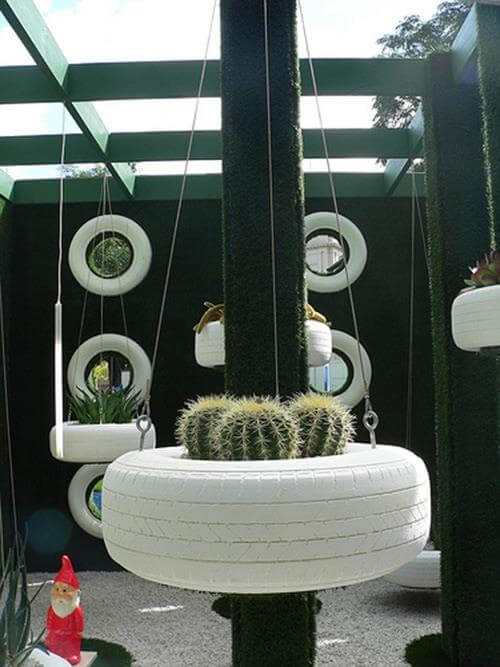 Either let your tire hang, or wrap them around your garden pillars. Keeping the colors plain white, add fresh plants into your tires, and create a minimalistic style that is classy yet elegant. Transform your outdoor area into something quirky.
16. Christmas Tire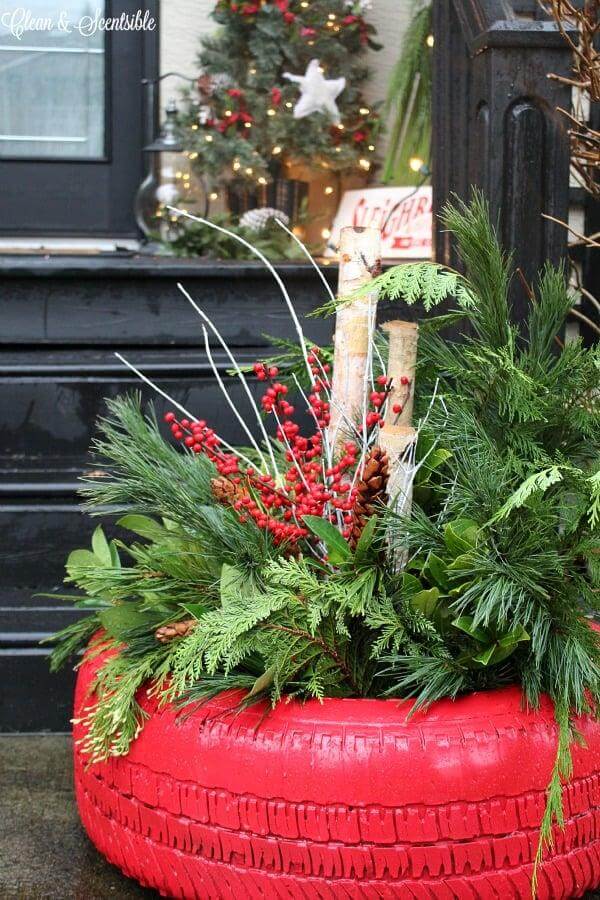 This Christmas Tire idea is going to look perfect for your outdoor seating area or even at your front porch. All you have to do is buy a perfect sized tire, spray paint it, then add a stick in the middle, then your soil and plants. To give it a festive look, add berries and pinecones.
17. Rim Planter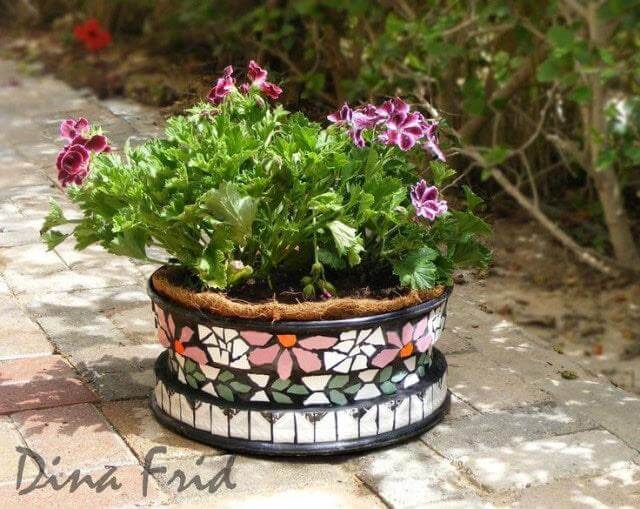 Just like tires, the tire rim also makes up for a great planter. All you have to do is replace the tire with its rim and create a mosaic style or any other style you wish to and plant your flowers. It looks just as good as with the tire.
18. Coffee Cup Tire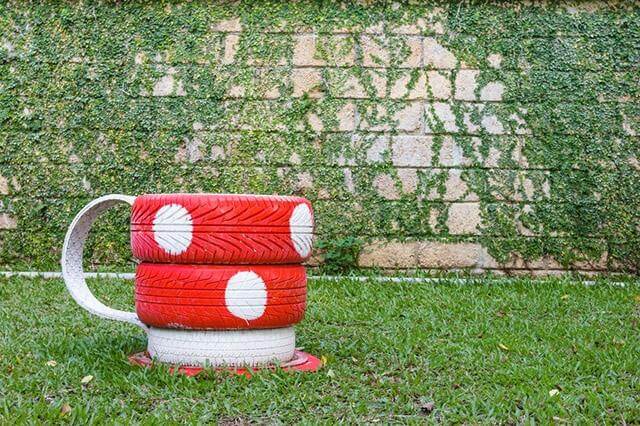 Just like your teacups, you can create a coffee cup tire planter. Here, you have to use two regular equal-sized tires, and one small tire is used, to create a coffee mug. Again, you can paint it as you want, even as your coffee mug.
19. Tire Vase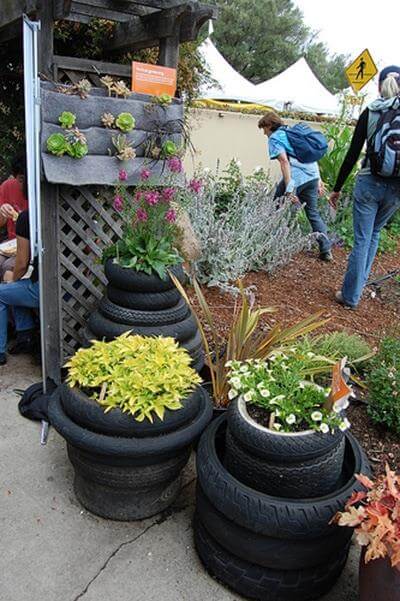 Fool your guests into thinking that this is an actual vase, and see their reaction when they find out that it is made up of tires. Create an actual vase by putting small tires in the big ones or using just the rim of the big tire, as shown in the picture.
20. Tire-Variety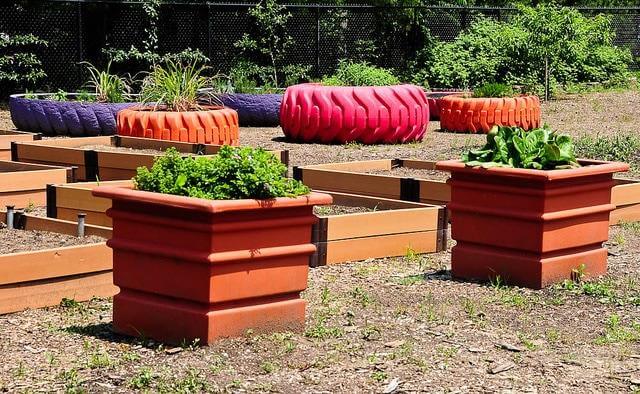 Using the different sizes of tires to create your garden is also a creative way to do it. You can use the regular-sized tires for your single plants or a bunch, and the big tractor tires you can grow many plants. In that way, your whole garden is made.
21. Deep Tires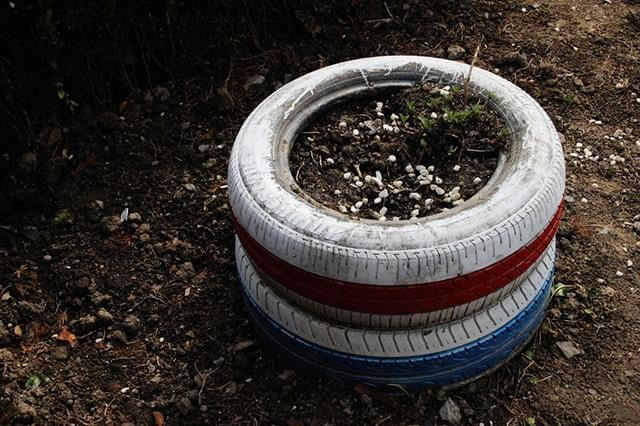 Stacking tires up together will help you in making your planter deep. You can put plenty of soil in it, make your pot deep and grow large plants in it. Tires are incredibly sturdy and will help in creating the perfect vase for your planter.
22. Tire Fun House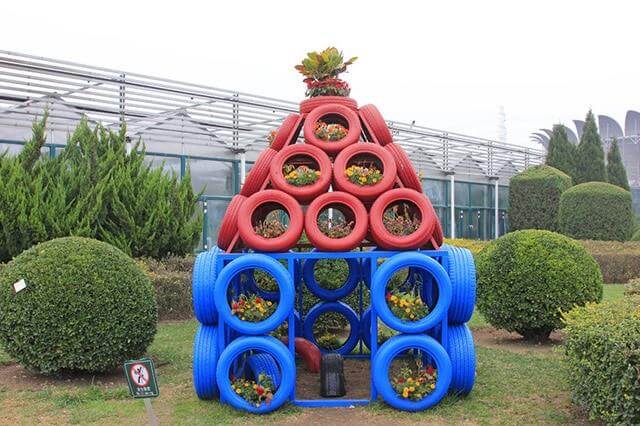 Its just as much fun as it looks in the picture. Take your stacking up game to the next level by making this fun tire planter house. No doubt your kids will love it and you too. It serves both purposes of fun/entertainment and a pretty garden.
23. Mushroom Tire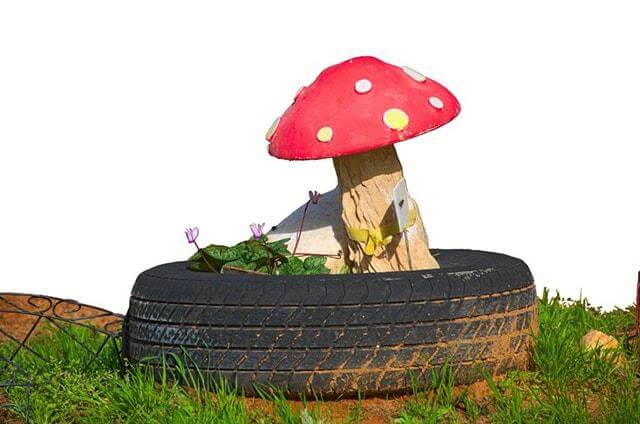 Make fun decorative items for your tire planter like this mushroom or rabbits or even big flowers like you see in Disney movies. Not only will it make your tire planter look pretty, but everyone will admire it too.
24. Rim Pots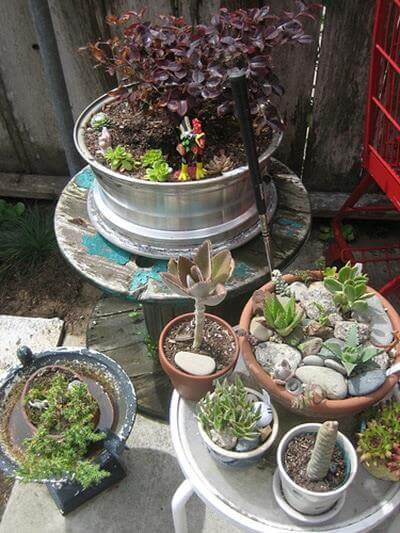 Again using tire rim, create these fantastic rim pots. Sometimes they are a bit difficult to paint, but you can also leave them as they are. In both ways, they create a fantastic platform for your plants.
25. Tire Wall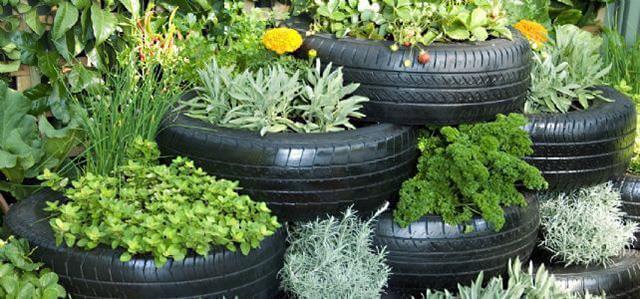 Just like you stack p your tires vertically, you can do the same horizontally, and it will still look perfect. Make a wall by stacking the tires up horizontally like in the picture and drop in different types of plants or even flowers.
Conclusion
These 25 ideas are perfect to use for your outdoor living area, front porch, or even as a table. Please don't throw away or sell your old tires or even their rims, instead creatively use them that will enhance your house excitingly and uniquely.