Are you in love with green lawns? But your lawn disappoints you with its pale yellowish and nearly diminished look? You wake up to vibrant sunshine but when you look at the ground all you see is pale yellow ness spread all around your garden.
Do not let the yellowness of your lawn destroy your vibrant mornings. Let me introduce you to a fact that deficiency of important minerals in your soil are the cause of your dull and pale lawn.
We all know plants need sun and water to grow. Then how does these minerals come in between the growth of grass in your lawn? Well, no doubt sun and water are required by a plant to survive, but minerals ensure its healthy and green.
Just like humans need water and oxygen to survive but nutrients to keep them healthy and in shape. Similarly plants needs minerals like nitrogen, potassium, and phosphate to be in shape. But whose got time to for these chemically intoxicated fertilizers?
After chasing hectic schedules and unbelievably small deadlines, who wants to negotiate with these chemical fertilizers. Fertilizers are a great way to enhance your lawn's quality, but they can turn out to be a curse for your lovely garden, if not handled with care.
That leaves us with organic fertilizers. Well, organic fertilizers prove to be a better choice as they are environment friendly and does not even curse the soil with salinity if used in excess but a little drawback of using them is wait. If you are patient enough for your garden to bloom, then organic fertilizer will serve you the best.
Even, the best thing about these fertilizers is that they can be prepared at the ease of your home with your kitchen waste. However, it is easy to produce and the best to use but all good things take some time. Well, this good thing will surely take so much of your time.
But you do not have spare so much of your time. Why wait for a week for organic manure when you can get the same amount of nutrients with the help of a substitute? Organic manure is sure to benefit your soil and your lawn grass in the best way without hurting an inch of it.
But the wait is too long to endure for you and for your lovely plants who need an urgent help. For this particular purpose, we have "Ironite". Ironite will benefit your soil just like an organic manure would but you do not have to wait that much as it is just one click away from you and can be purchased from the comfort of your home or from your nearby market.
Why wait a weeklong when all you need to do is buy an ironite and spread it in your garden or lawn and your grass will be green again. The grass on your side will always be greener when you have this ironite with you.
What Is Ironite?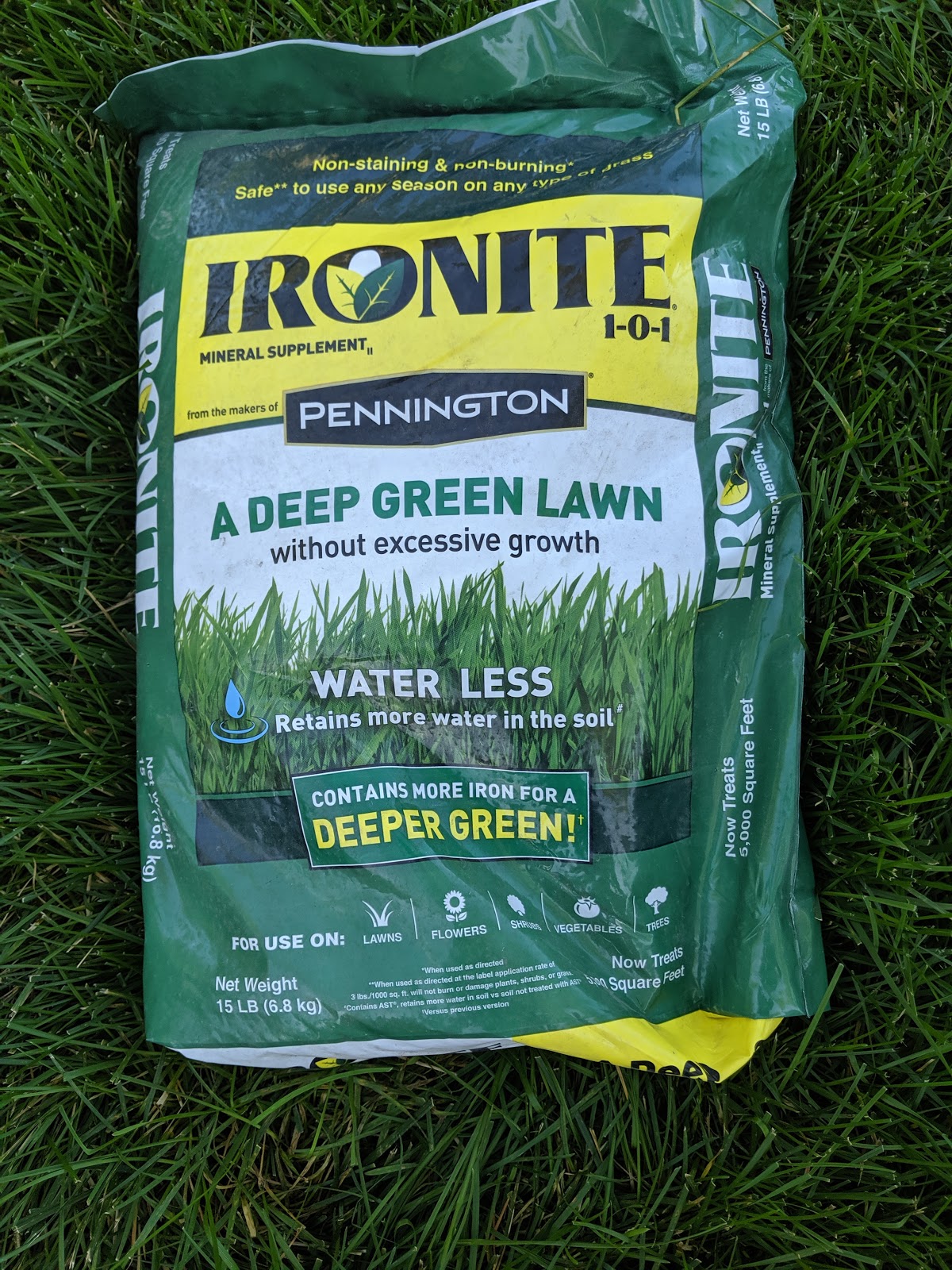 Ironite is a mineral nutrient rich in iron known to increase the greenery of your garden. Ironite also contains some micronutrients essential for plants such as potassium, nitrogen, and phosphate present in fertilizers.
Ironite marks its speciality in enhancing the green colour of your lawn grass. Not only this, it can also give you rich green foliage. It can be used alongside your favourite fertiliser be it organic 4 to 10 times a year to give you the rich green plants you admire.
You must be wondering how such a quantity of iron can enhance your plants colour. Well, it is purely scientific as it boosts photosynthesis, the process by which plant makes its food. Well, we all have been suggested to eat greener vegetables to increase iron content in our body.
Who knows the process can be reversed to give more greener plants? Well, it is true and tested and is surely the cure for your pale and yellowish grass. So, if you want more greener plants go for ironite.
Benefits of Ironite
Well, now that we know what ironite does and how it works, let us discuss how it proves better in comparison to those chemically intoxicated fertilizers.
It has a special combination of iron that makes it the best to take care of your lawn and the foliage you love be it flowers, vegetables, plants, its aura, and versatility expands to everything that grows on ground. It is sure to give you greener leaves and healthy vegetables with no hassle at all. The only thing you need to so is spread it in your garden and then wait for it to maintain pH level of the soil and give you the result you wanted.
Are you tired of watering plants morning and evening? With tight schedule and these unending hustles, the most important need of your plant may get ignored that is water. Why your schedules make them suffer? Well, ironite got it covered for you. Using ironite in your garden or lawn will benefit you as the plants will require less water to grow. So now you do not need to worry about whether plants ate getting plenty of water because they will grow well even if they do not get that much of water.
With chemical fertilizers at your service, you always must worry about whether it will benefit or deteriorate. With ironite, you do not have to worry about barren patches in your lawn as it does not make your saline or infertile. However, applying too much of ironite does have some consequences on your grass and gives them a greyish hue but it is sure not to leave your soil infertile and barren, by burning it.
Worrying whether your soil is compatible with this amazing supplement? Well, do not because ironite works well with every soil type. It is familiar with every soil type and is sure to benefit without discriminating based on your soil type. But you do have to consider which type of ironite to use with your soil type. Ironite comes in two types one is liquid and the other is granular.
Let us look forward to some type of ironite and see which type will suit your soil.
Types of Ironite: Liquid and Granular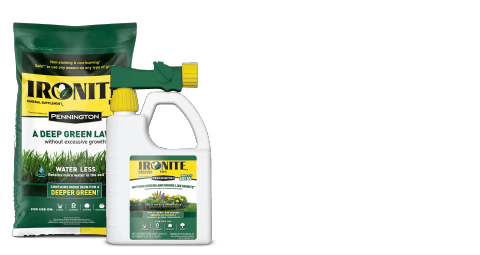 Liquid Ironite
If you have a sandy or alkaline soil, then liquid ironite is probably the best for you. As in the case of sandy soil, the ironite you spread will wash to the roots and will end up being absorbed by the roots. Well, this can be prevented by using liquid ironite which will be end up on grass blades and enhance their colour unless you want the roots to be green.
Why does your lawn suffer just because of some deficiency when they deserve to be green and flawless? But you can't spend all day ensuring your plant's health. Don't worry, this liquid iron won't take much of your time as it could spread along with drenching spray. All you must do is mix it with water and spray as you water them.
Southern ag chelated iron is a liquid ironite and will help your plants reach their full potential. It is suitable to use on any foliage you wish and will replenish their iron deficiency be it flowers, shrubs, or your lawn. It will help you achieve the perfect rich green colour you dream of. It is to be dissolved at rate 1 tablespoon per gallon.
Southern Ag Chelated Liquid Iron, 16 OZ
Size: 16 OZ
Corrects Iron deficiency in flowers, vegetables, shrubs and trees.
Use in lawns for a deep, rich green color.
APPLICATION: Mix with water. Apply as a drenching spray.
Granular Ironite
Well, if you have any other soil type except sandy and salty, then you can always go for granular ironite. It serves best for loamy soil and is also good to use with clay ones. Application is as easy as spreading it to your field or lawn.
Liquid iron may not be well suited for your clayey soil. Well, don't you worry as this granular has got you covered and will not hesitate to give your lawn and foliage its lush green colour. All you need to do is spread your ironite and water your plants immediately after that. This will allow the ironite to settle down and get absorbed by the plant.
The Pennington's ironite with 1-0-1 mineral supplement does this the best way for you. With its unique formula and some other micronutrients, your lawn is sure to spread its green lustre everywhere. It is a trusted brand and has benefited people from several years. Forget the hassle of acquiring the perfect green garden with the help of this amazing product which just at the ease of your click.
Dr. Iron
This product with 22 percent iron content in it is sure to give a green lustre to your garden. Why go through the hassle of preparing manure when you can its benefits from Dr. Iron. Dr. Iron is sure to give you all the benefits of organic farming as it is OMRI listed and approved product for the same.
This unique combination of iron and sulphur not only replenished your grass and foliage but also benefits the soils by reducing its ph. While ironite does its justice to grass it also does justice to your concrete sidewalks and does not harm them as ironite does.
But however, when it encounters soil moisture, it cannot be fully guaranteed to take care of concrete. But it is totally guaranteed to replenish your dull and yellowish garden into all new lustrous green lawn, and it will not even let it burn at the ease of your home.
Monterey LG7115 Dr Soil Acidifier Granules Iron and Elemental Sulfur Acidic Fertilizer, 7 lb
Corrects Iron deficiency - when your garden or lawn is yellowing in color, that's a sign of an iron deficiency. Dr. Iron helps to correct this...
Non-staining - Dr. Iron is applied in the oxide form, so it will not stain concrete sidewalks, driveways, patios, etc. Until it has been in contact...
Great for a variety of uses - use this product on turf, flowers, vegetables, ground-covers, shrubs, and more. The combination of iron and sulfur makes...
Reduce soil pH - Dr. Iron reduces soil pH and won't stain or burn like other iron products. It can be used on turf, flowers, shrubs, and more. It can...
Some Demerits of Ironite:
Well, it is a magic solution to your dying foliage, but it may prove a boon in some other of the matters other than foliage. There are always two sides to a coin. While it has an abundance of merits, you might have to disappoint yourself with some of its demerits. Here it goes.
Ironite may be a boon to your lawn but it sure a curse to your concrete sidewalks and can even stain them for life. Well, if you have little or no concrete sidewalks in your garden, then it clearly not an issue and you can have all the benefits of your ironite with no cons at all. But if you are the one who loves to have sidewalks and have an extensive network of them in your lawn, then you might have to risk them for your plant's health.
Well, you can use any other iron supplement for your plants to protect your precious sidewalks which may be affected permanently due to this product. However, Dr. Iron is also a great supplement which will also support your sidewalks until its protected by soils moisture.
How to Apply Ironite In Your Lawn?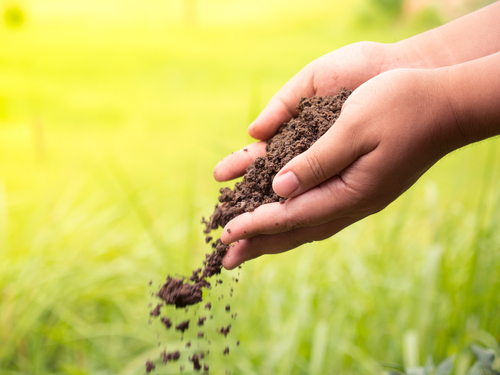 Liquid ironite is mostly applied by mixing it with water and then spreading it into your lawn with your spreader. But the step where we all get into jeopardy is how much amount of ironite to add? Well, you do not need to confuse yourself, first it used to be ½ pound per 100 square feet but now it has changed to 1/3 pound per 100 square feet.
Well, if you are using granular ironite, then you must spread the ironite where it is needed followed by watering them. You can also use ironite along with a fertiliser of your choice.
With this amazing composition, your plants are all ready to give your lawn a lustrous green look. This formula has its value for money and is sure to benefit you. Well, your guests and relatives will be all left to get awestruck seeing the beauty of your foliage just at the click of your finger.
This product has many benefits over the conventional fertilizers we use which more often degrade our soil and leave it barren. However, you must careful while using the product and be sure to use it accordingly, not more, not less.