Moss is a rootless plant that grows in the form of very fine and fragile threads. If not regulated, it can grow dense enough to cover the ground or water surface it is growing over and block the growth of other plants.
They are formed by spores that are brought about by the breeze or water currents. The growth of moss in lawn is a sign of underlying problems in the soil of your garden. Mostly, the growth of moss does not take place in areas where healthy plants prevail, however, it can keep growing even after removal if the soil quality does not improve.
As previously stated, moss can only grow in soil with poor nutrient quality. This kind of soil prevents the use of other plants and encourages growth of moss. Soils that have a ph significantly greater than 6.8 or below 6 can limit the plants' ability to absorb nutrients from the soil.
Soils with poor drainage result in concentration of clay, thereby encouraging an environment for the growth of moss in lawn. Any area that has is consistently wet dues to reasons like rain, irrigation, environment that limits the evaporation of water creates a favorable atmosphere for the growth of moss.
How to Remove Moss from the Lawn?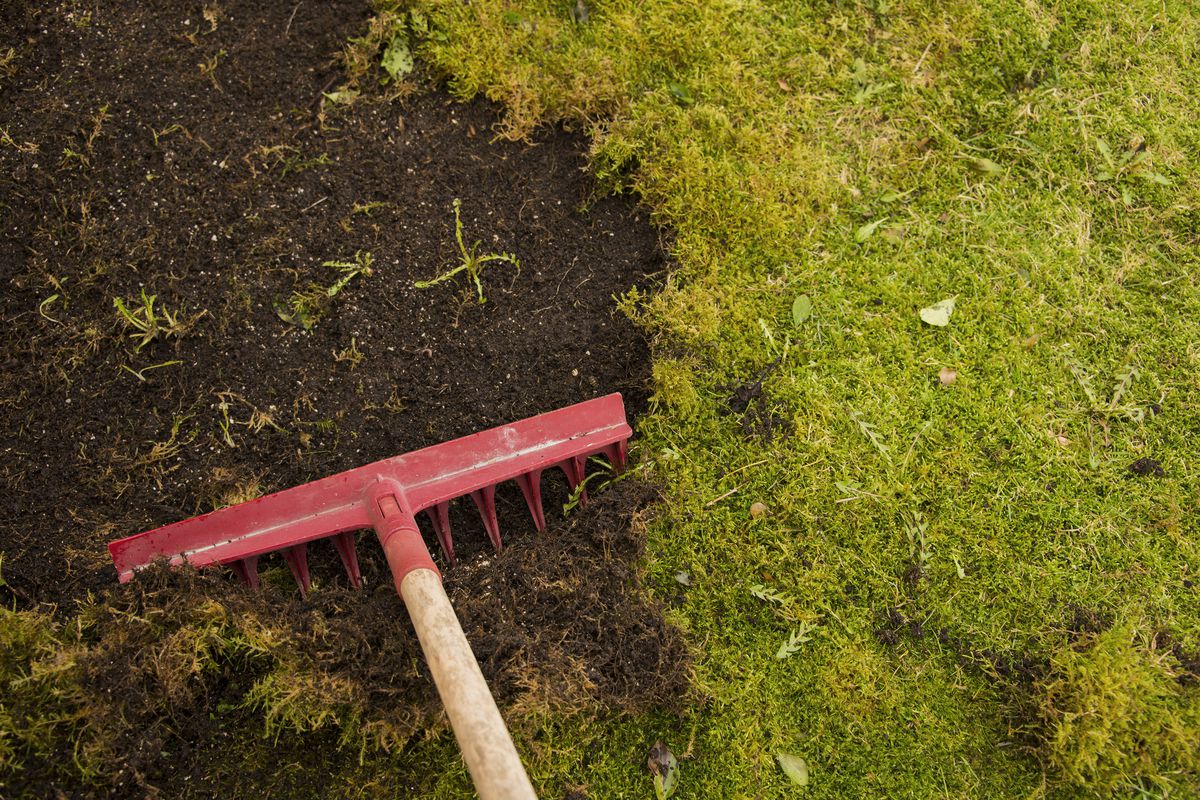 The best time to kill moss in lawn is during late spring or early fall and always before you seed your lawn.
Remove the Moisture Content
The easiest way to remove moss is to allow the penetration of sunlight into the surface of moss. Taking down any obstructions that block the pathway of sunrise or wind will make the evaporation of moisture from the surface easier and faster, thus restricting the growth of moss.
Improve the Quality of Soil
You can break the soil up by using a shovel and add fertilizers or compost to it to improve the quality of drainage of soils that have a heavy concentration of soil.
Sale
Mr. Pen- Heavy Duty Trowel, Stainless Steel, Rust Resistant, Garden Shovel, Small Shovel, Garden...
Built with high-quality, heavy-duty steel, Mr. Pen trowel is designed for durability and strength, ensuring it can withstand rigorous gardening and...
Featuring a comfortable, non-slip handle, the trowel ensures a firm grip, minimizing fatigue during extended use and providing superior control.
Mr. Pen trowel is ideal for various applications such as digging, planting, weeding, or mixing concrete, catering to both garden enthusiasts and...
With its smooth, rust-resistant finish, the trowel is easy to clean after use, ensuring it maintains its appearance and functionality for years to...
Another way to improve the quality of soils in lawn is by adding lime, called as the Dolomitic Lime. Adding alkaline material will lessen the acidity in the soil. Using this technique will kill the moss but there is little guarantee that there will not be another patch of moss in lawn in the future.
Use a Rake.
You can simply use a rake to rake the moss off the ground since moss is shallow-rooted.
TABOR TOOLS Adjustable Metal Rake - Collapsible & Telescopic - Garden, Yard, & Lawn - Ideal for...
QUICK LAWN SWEEP: This tool will allow you to quickly clean leaves, grass clippings, and small debris off your lawn. It's the versatility of this rake...
REACHES THE SMALLER PLACES AS WELL: The rake's teeth extend from 8" to 23" wide and lock in any position in between. This rake can be put to work in...
LIGHTWEIGHT TELESCOPIC HANDLE. Built to last with a high-grade steel structure that's guaranteed to withstand damage from sunlight and other...
EASY STORAGE in minimum space. The adjustable fan folds to a tight profile, so there's no need to struggle to try to fit a long handle into a small...
Use a Homemade Solution
For removing small patches of moss in lawn, make a mixture of two ounces of dish soap and one gallon of water in a garden hand sprayer. Make sure you use gentle liquid dish washers. Now, spray this solution over the patches of moss in your lawn until it is fully saturated.
Keep the nozzle of the spray bottle a few inches away from the ground while spraying the solution. Don't spray this on healthy grass. The solution will make the moss turn orange and then brown in color after 24 hours. The moss will then eventually dry up.
Dig up or rake the dead moss. Don't compost it, the moss spores could make their way back into your lawn this way. Wait until you re-seed the bare areas left by the dead moss, as the liquid soap can hinder the process of germination. Now, top the new grass seeds with new, loose soil that's devoid of any moss spores.
When it comes to making solution for killing the moss in lawn, there are various recipes that you can try out as per your convenience and the materials available in your region. Let us have a look at them:
Using Kitchen Ingredients
This recipe requires 1 gallon of warm water, 1 tablespoon of vinegar, 1 pound of salt and some soap. Mix the water, salt, and vinegar in a bucket. Now, add as much soap as required. Ensure that the amount of soap totals to less than 20 percent of the mixture.
The soap helps the moss to absorb the other ingredients effectively, which then help to dry the moss out and gradually kill it. If there are any patches of moss left on the ground, you can cover them with this solution.
However, be careful while using this recipe, as it can kill any plant. Do not spray it on fruits, vegetables, or living tree branches. Leave the solution on the moss for a couple of days, and when the moss is dead, dig up the dead moss in your yard and discard it. Scrape the moss from rocks by using a sponge or brush.
Using Iron Sulphate
Acidic soil being one of the main reasons for the growth of moss, Iron Sulphate, also known as Ferrous Sulphate, helps in curbing the growth of moss in lawn. You only need two ingredients for this recipe – 5 gallons of water and 3 ounces of Iron Sulphate. Make a mixture of water and iron sulphate in a large bucket.
It is best if you do this outdoors, because ferrous sulphate can cause indelible stains on wood, concrete, or other non-organic materials. Fill this mixture into a hand sprayer, watering can, or another container of your choice, that has a spray nozzle. Spray or shower this solution on the patches of moss, ensuring it is dampened thoroughly.
Meticulously avoid any contact of the solution with non-organic materials like patio furniture or any decorations you might have in your garden. This solution does not cause any harm to grass if made with the recommended ratio, however, it may turn the grass into a shade of darker green.
The moss will turn brown, about three or four days after application, you can remove it using a garden rake.
Natural Moss Killer
All you require to make this solution is 3 tablespoons of baking soda and 1 quart of warm water. Mix the baking soda and water thoroughly in a spray bottle. Shake until the mixture is well-mixed. Spray any moss patches in your garden with your natural moss killer. You want the moss to be soaked thoroughly, so spray enough cover it.
It is no secret that it is best to work with nature for obtaining results of the first order. Use this natural moss killer for lawns on a warm, sunny day. The heat of the sun rays will help to remove moisture content and dry out the moss faster. Repeat this process as/if needed until the moss is dead. Then, scrape it out using your gardening tools.
Using Vinegar or Chlorine
This is one of the easiest recipes to make for killing moss as it only requires you to make a 50/50 mixture of vinegar with water. You can replace the vinegar with chlorine. However, this mixture is equally effective in killing other plants as well. So, make sure that you do not spray it on other healthy plants inadvertently.
Using Other Eco-Friendly Materials
In addition to vinegar and chlorine bleach, there are ample of products available in the market that specifically aim for moss treatment. The eco-friendlier formulas make use of gentle ingredients, like baking soda or zinc salts, that are less likely to ruin your lawn or cause contamination of other water sources.
How to Prevent the Growth of Moss?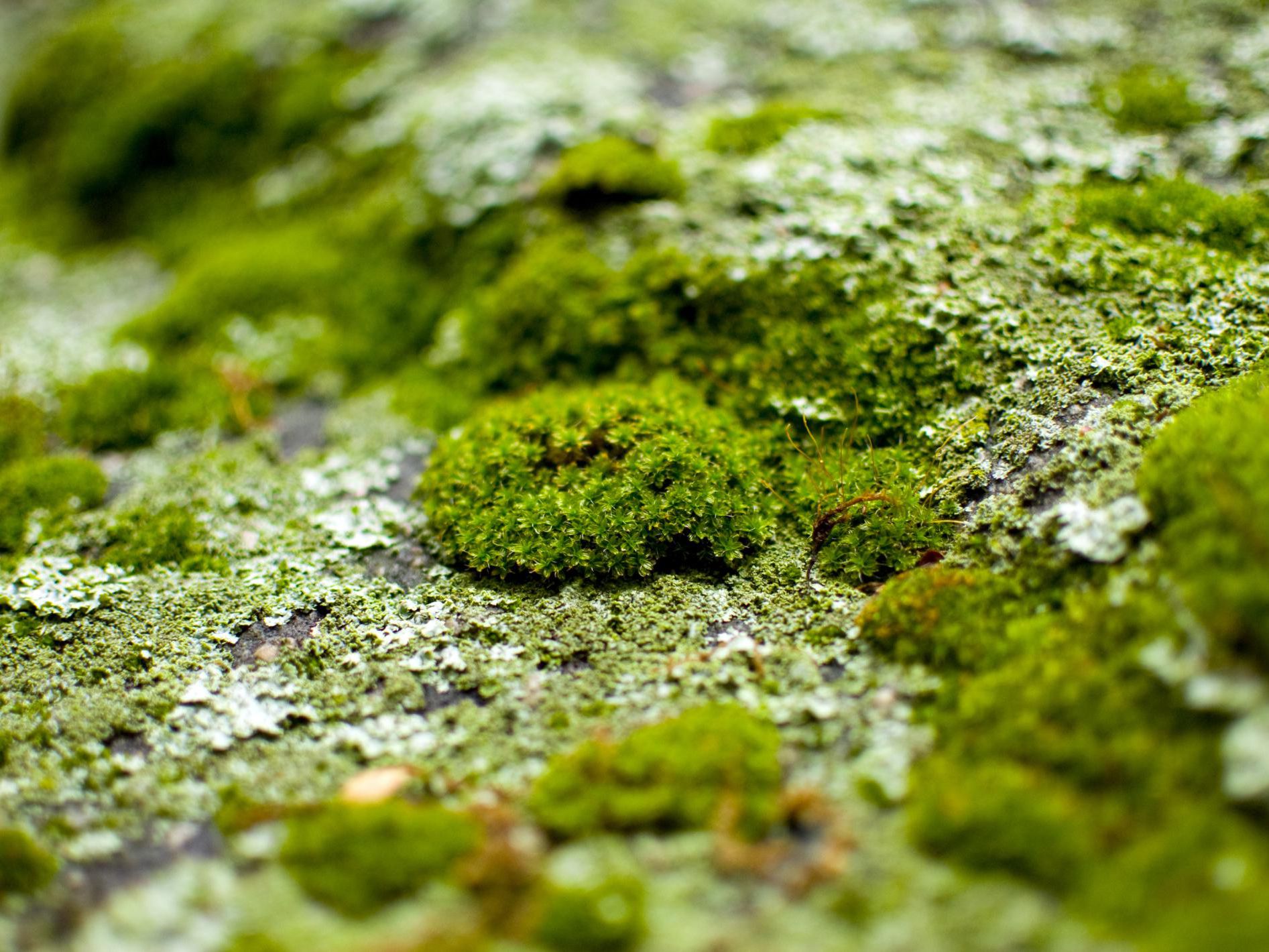 As stated previously, sunshine is one of the best natural deterrents for preventing moss to grow in lawns. Keep the trees in your lawn trimmed away from your roofing system to prevent shade and let the sunrays penetrate through the layer of moss.
Leaves, sticks, and other organic materials can attract spores. Cleaning your lawns and gutters regularly will help in preventing growth of moss spores from taking root on the soil in your lawn. It is also vital that you have proper and efficient drainage system to keep things dry and to maintain ventilation. Anytime there are patches of standing water in your lawn, it can lead to growth of moss.
These are the multiple ways you can make use of to get rid of moss in your lawn or even prevent the growth of it in the first place.
Make sure you bookmark this for whenever the growth of moss in lawn becomes your nemesis and you want to get rid of it.