A good pizza party is like the dough of a perfect pizza – it brings people together and leaves everyone feeling satisfied. We'll provide you with a comprehensive guide to throwing a pizza party that will have everyone talking long after the last slice is gone. So, put on your apron, channel your inner pizzaiolo, and let's dive into the world of pizza party planning!
Organizing a Pizza Party: Your Recipe for Success
Crafting the Guest List
The foundation of any successful party is its guest list. Start by determining the number of attendees, which will help you with decisions about the venue, menu, and seating. As you create the guest list, be mindful of dietary restrictions and preferences, ensuring that your pizza party is inclusive and enjoyable for all.
Picking the Picture-Perfect Venue
Choosing the right venue for your pizza party is crucial. Indoors or outdoors, consider factors like space, atmosphere, and weather. A lively rooftop or a warm, inviting dining room could both serve as ideal locations for your pizza extravaganza.
Selecting the Crème de la Crème of Pizzas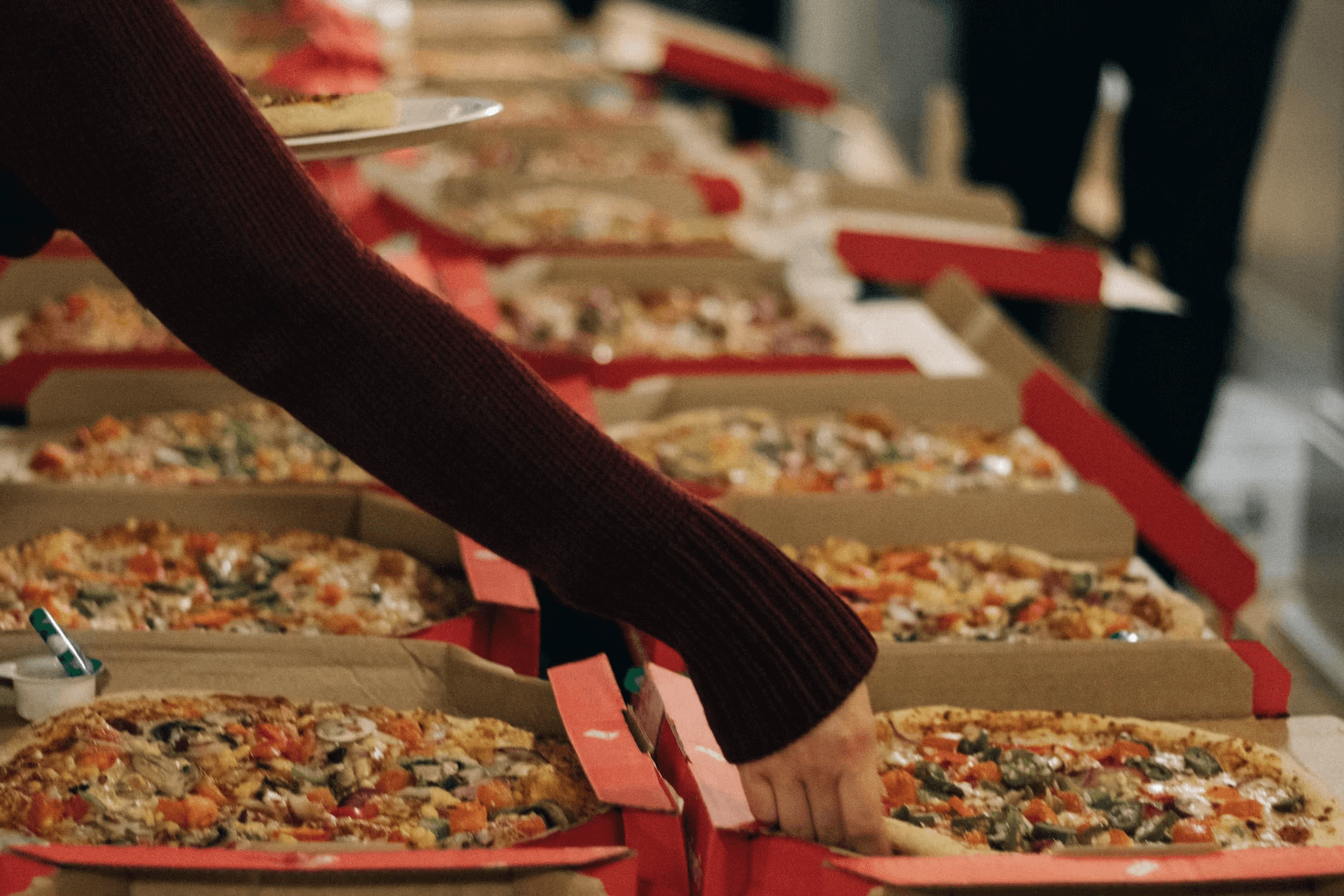 Source: Unsplash
Now comes the mouthwatering part – selecting the pizzas! Whether you're opting for delivery from a local pizzeria or making pizzas from scratch, do some homework to find the tastiest options.
A 14-inch pizza feeds how many, you wonder? It can cater to about three to four adults, so keep that in mind when ordering or baking. Offer a smorgasbord of toppings and ensure your pizza selection accommodates dietary restrictions and preferences.
Planning a Well-Rounded Menu
A pizza party isn't complete without an assortment of appetizers, sides, beverages, and desserts to complement the main attraction. Serve crowd-pleasers like garlic knots, Caesar salad, and an array of fizzy drinks. Add some flair by including unique choices like stuffed mushrooms, Caprese skewers, and a homemade lemonade bar.
Entertainment to Keep the Party Rolling
A memorable pizza party is about more than just satisfying taste buds. Curate a playlist that caters to different musical tastes, or get your guests on their feet with a dance-off. Plan interactive games and activities that encourage mingling and laughter, like a DIY pizza-making station or a pizza-themed trivia contest.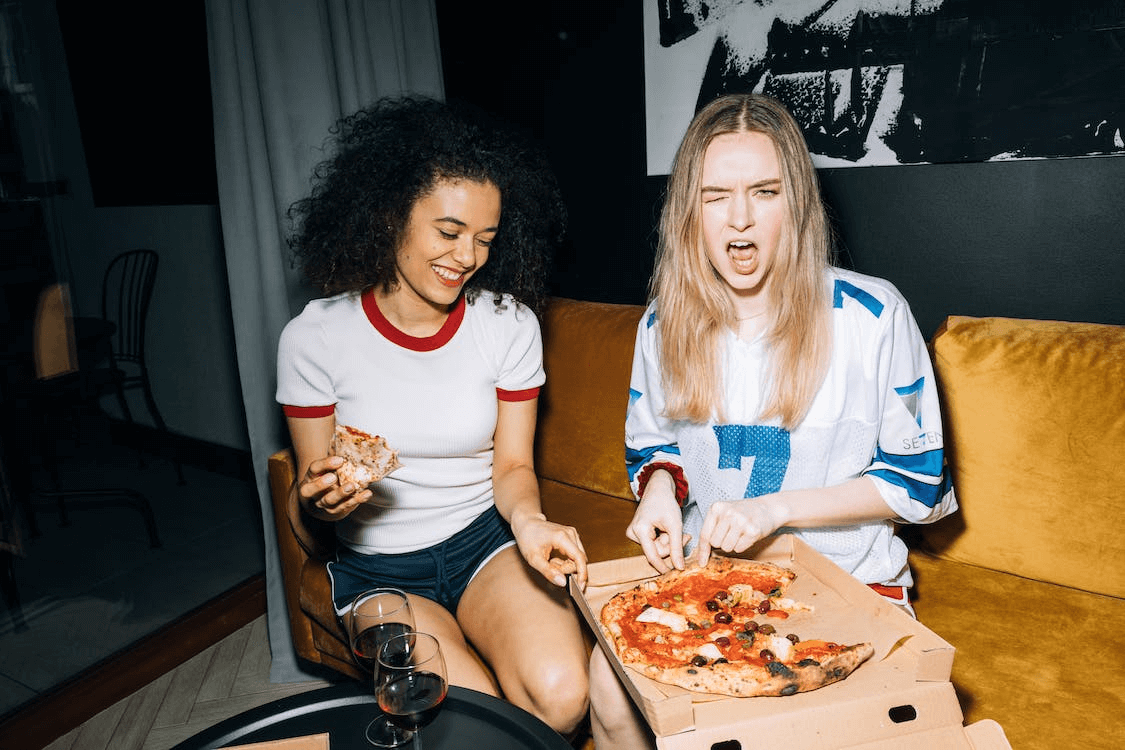 Source: Pexels
Set the Mood with Eye-Catching Decor
Your party's atmosphere can be enhanced with thoughtful and creative decorations. Choose a color scheme or theme, and use it to inspire your table settings, centerpieces, and lighting. From DIY pizza slice garlands to twinkling fairy lights, your decor will help set the tone for a festive pizza party.
Ironing Out the Nitty-Gritty Details
Once your pizza party plan is in place, it's time to execute. Send out personalized invitations, purchase supplies, and arrange the venue. Create a party-day checklist to ensure everything is in order, and you're ready to celebrate!
Savor the Party and Be the Ultimate Host
As a host, your role during the party is crucial. Welcome your guests with a warm smile and make introductions between friends who may not know each other. Stay engaged, keep an eye on the flow of the party, and attend to guests' needs. Encourage conversation and facilitate a lively atmosphere, making your pizza party an unforgettable experience.
The Secret Sauce: Bonus Tips
Personalize Your Pizza Party
Add a personal touch to your party by incorporating your own interests and style. For example, if you're a movie buff, host a pizza and movie night with a projector and handpicked films. Or, if you're passionate about travel, serve pizzas inspired by global flavors.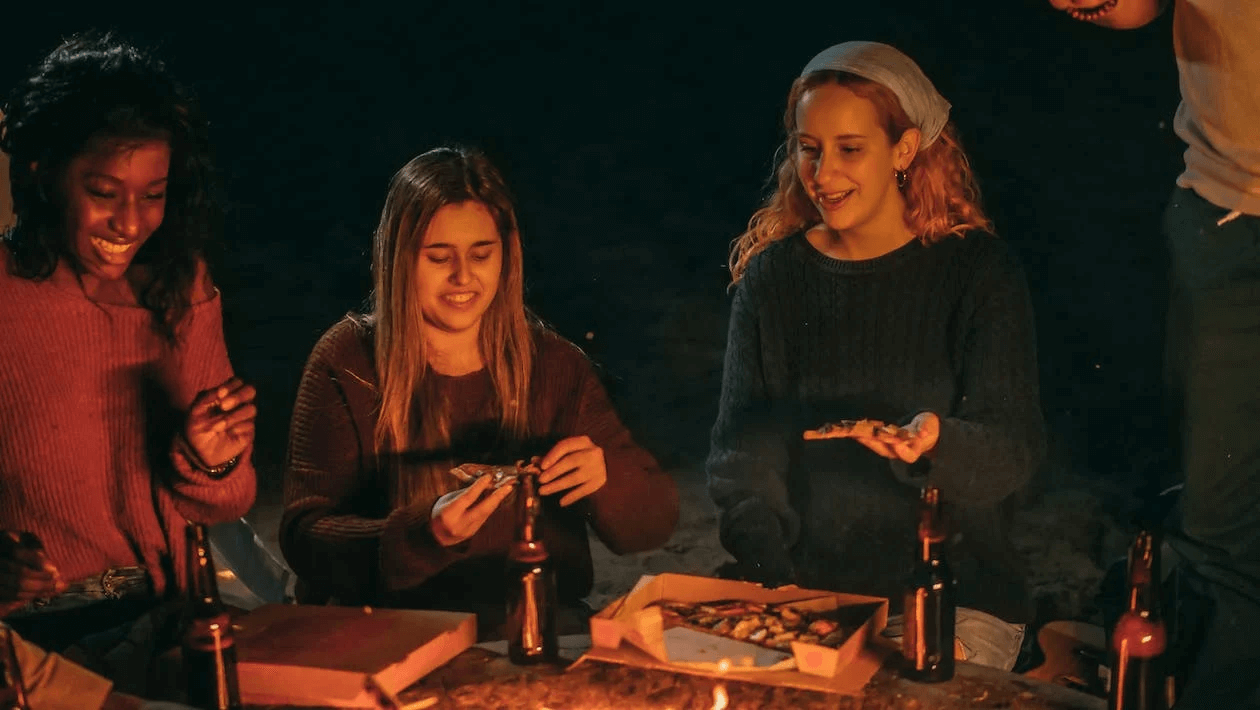 Source: Pexels
Have a Back-Up Plan
It's always a good idea to have a backup plan in case something doesn't go as expected. For example, if you're hosting an outdoor party, have a plan for inclement weather. Being prepared will help you stay calm and enjoy the event.
Create Lasting Memories
Capture the fun and memories with a photo booth, complete with pizza-themed props and backdrops. Encourage your guests to take pictures and share them on social media using a unique hashtag. After the party, you can create a photo album to reminisce about your amazing pizza party.
Don't Forget the Party Favors
Send your guests home with a memento of your pizza party. This could be a customized pizza cutter, a recipe card for your favorite homemade pizza dough, or a mini pizza-scented candle. Party favors will leave a lasting impression and remind your guests of the fantastic time they had.
Slices of Wisdom: Key Takeaways
To throw a pizza party that leaves everyone full and happy, you need to plan and prepare. The guest list, venue, pizza selection, menu, entertainment, decorations, and attention to detail are all vital components of a successful soiree.
Follow these steps and you can create a fun and memorable event that will have your guests raving about your pizza party prowess.
So, embrace your inner party planner, get creative, and delight your guests with a one-of-a-kind pizza bash. After all, life's too short not to enjoy good pizza with great friends!