On more than one occasion, you've no doubt heard a professional athlete say something along the lines of "I don't do this for the money." It's one of the oldest sports cliches in the book. And in many cases, it might be true. But let's be honest: The money is at the very least a nice perk, if not one of, even if not the primary, reasons pro athletes commit their lives to becoming masters of their sport.
Depending on the league or sport, pro athletes can rake in millions of dollars in pure salary per year. The best of the best will even take home tens of millions. And that's just from their team contracts or tournament winnings. There is much more at stake in endorsements—usually more than the salaries themselves.
Take LeBron James, for instance. He's considered one of the two best NBA players of all time. And yet, more than 64 percent of his total earnings per year come from endorsements, not his contract with the Los Angeles Lakers. The potential for these lucrative off-court earnings has only increased in recent years, with the growing popularity of social media and sportsbooks like vegasbetting.com that drive interest in sports via extra exposure and betting and, by extension, up the value of teams and players off the court.
Almost needless to say, when you have that much coin, you're able to purchase some pretty fancy-schmancy stuff—cars, boats, clothes, lavish vacations, jewelry, fine art, etc. Having that much money also opens the door for ritzy investments and business opportunities.
There is one thing, though, that counts as both investment and status symbol. We're of course talking about houses, condos, villas, chateaus, whatever. You know, homes.
The richest celebrities always tend to own at least one ridiculously extravagant piece of real estate, which oftentimes is more like a compound. Everything about these residences screams 1-percenter stature: the landscaping, the views, the square footage, the decor—everything.
The cost of these properties will, obviously, vary by location and the spending power of its owner. That got us thinking. Among the richest, most popular athletes, who has the most expensive homes?
Let's find out.
Tiger Woods, Pro Golfer, $65-70 Million
Tiger Woods owns a gargantuan 9,000-square foot home in Jupiter Island, Florida. He paid $40 million for it back in 2006—and then spent a TON of money renovating it by adding rare flowers in the garden and building a patio.
Throwing that much into a home that cost $40 million might seem weird. We get it. But it turned out to be an okay investment. Various property listings have it worth between $65 and $70 million today.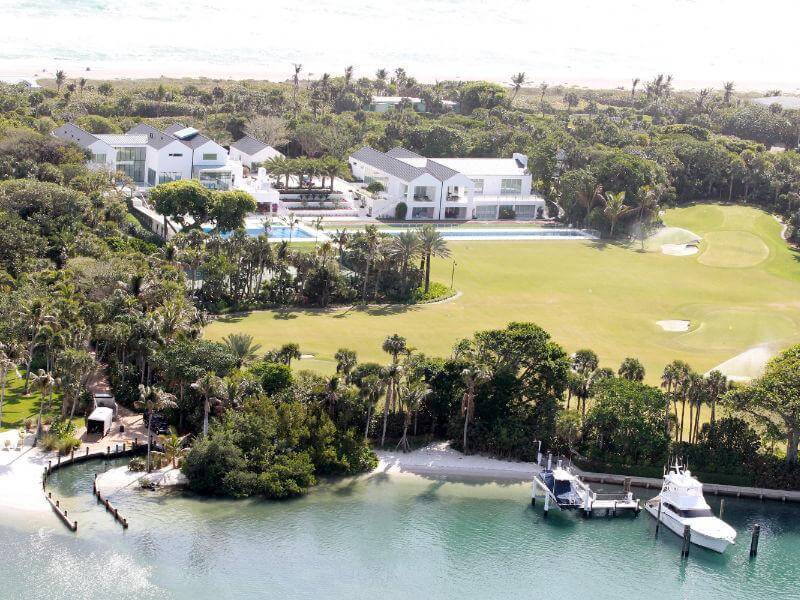 "Tiger Woods house" by SplashNews is licensed under CC BY 3.0
Greg Norman, Pro Golfer, $65 Million
Greg Norman is also a golfer (retired), and his home is also located in the uber-exclusive Jupiter Island community. His investment has paid off even more than Woods', in large part because he's owned the property longer.
Norman purchased the home for $4.5 million back in 1991. Valued at $65 million today, that amounts to nearly 15 times the return on investment.
David Beckham, Soccer, $39.6 Million
For those interested, Tom Brady was initially on this list for a $40 million aquatic mansion, but he apparently has sold it in recent years.
Next up on the docket is David Beckham, and his wife, famous pop star Victoria Beckham, who purchased a home in the heart of London for $39.6 million. But get this: Apparently that wasn't enough money to spend, because they then doled out nearly $7 million for renovations.
Alex Rodriguez, Baseball, $38 Million
Alex Rodriguez is still raking in the dough despite being long retired from Major League Baseball. Not only is he one of the highest paid media members on the planet, but he continues to have a slew of endorsements and has made quite a bit of money as an investor. Recently, he agreed to headline a group that purchased the Minnesota Timberwolves.
This is all to say A-Rod can afford the $28 million he dropped on an oceanfront mansion. He can also afford to protect it to the nines.
Rumor has it he outfitted the entire perimeter of the property in 12-inch thick glass to safeguard it against damage caused by hurricanes.
Michael Jordan, Basketball, $29 Million
Michael Jordan is a Chicago Bulls legend, owner of the NBA's Charlotte Hornets and just generally revered as one of the greatest athletes of all time. Investing in this $29 million mansion located in Illinois, however, is not among his strong suits.
Though the property is outfitted in multiple tennis courts and basketball courts, wiffle ball bat, boasts the square footage of a small town and has undergone modernized updates, His Airness has struggled to find buyers despite multiple price cuts.