Who does not desire to have a clean and green lawn? Green lawns are a kind of a matter of pride for the lawn owners, especially to the Americans. Maintaining a lawn is a bit difficult but at the same time, it is easy too.
Making the best choices and taking the correct decisions is an important part of lawn making and upgrading your lawn. Americans prefer walk-behind mowers. Walk-behind mowers have got two categories.
They are the push mowers and the self-propelled mowers. Push mowers and self-propelled mowers are used in the yards for yard care. Push mower and self-propelled mower are the two different kinds of equipment for lawn mowing.
Of course, differences are there between the two types of equipment and before using or choosing you should know the essentials. Americans prefer walk-behind mowers. Walk-behind mowers have two categories. They are the push mowers and the self-propelled mowers.
Read the article below to gain some more knowledge about push mowers and self-propelled mowers.
Push Mower
Push mowers are manual and have got no motorized capability to go ahead on the lawn. It is used to cut grasses present on the lawn. This equipment requires human power. There are few types of push mowers: Motorized push mowers, or Electric motors, and the reel mower.
Motorized Push Mowers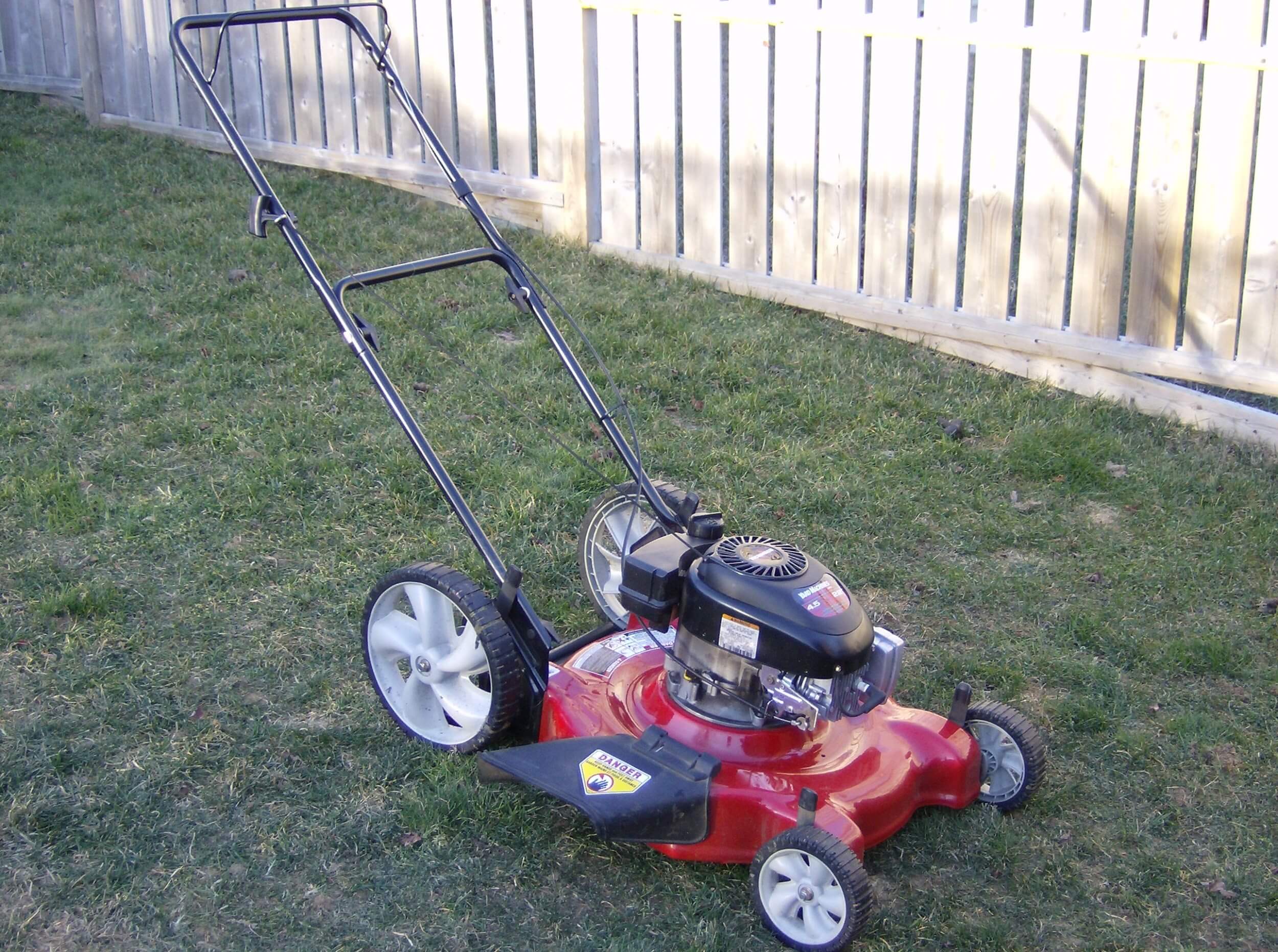 Motorized push mowers have got the same rotary blades just as self-propelled mowers. It is available both in gas and in electric varieties. Both the types almost work in the same way. These mowers do not cut the grass.
People do not like using much power to do things. Rather they want equipment that makes one's work easier to cut grass. In case of a motorized push mower, one needs to control the steering and push the mower all around the yard.
It all depends on the fitness of the lawn owner or whoever is performing the task. The strength of the user is the driving force. So, it is better to be honest with oneself that whether he or she can handle the entire thing or not because mowing is to be done every two weeks or so.
But these kinds of mowers are a good choice for small yards because it has got no such expenses and especially if your budget is a bit low it is an awesome choice for the home lawn owners.
The Reel Mowers
The reel mowers have got a pair of horizontal cylinders of blades attached to the wheels of the equipment. This mower cuts the grasses and helps the user to keep his or her lawn quite clean and green.
It cuts the grasses with a scissor-like action. These kinds of mowers are not so expensive in fact these are the least expensive models as per the simplicity of their designs. Still, the gas-powered mowers remain too expensive for few families.
The reel mowers are also a great choice for small yards, especially for the homeowners who own the yards and expect it to be both beautiful and uniform. But if you are having a big yard or a bumpy lawn in your home or may be in any other farmhouse then it might not be a great choice for you and your yard.
Sale
American Lawn Mower Company 1204-14 14-Inch 4-Blade Push Reel Lawn Mower, Red
4-blade reel mower with a cutting width of 14" and durable 8.5" polymer wheels for maximum maneuverability. Lightweight at only 19 pounds. Reel...
This push lawn mower has an adjustable blade height of 0.5"-1.75". Capable of cutting grass up to 4 inches tall and is less effective on taller...
Manual grass cutter is environment-friendly alternative to other lawn mowers. This push mower is pollution-free, noise-free, low maintenance,...
A reel mower uses a cutting action that does not bruise or damage the blades of grass. For best results using a reel push mower, mow no more than 1/3...
Choosing the Best Push Mowers for Your Lawn
The bumpy lawns can just not afford to have the reel mowers. The reel mowers will not provide the consistent friction to cut the grasses properly from a lawn. But the motorized push mowers will do so, for the lawn no matter whether the lawn is an even or an uneven one.
But to use a reel mower if your budget is low firstly, you must level your lawn or else it would create great difficulties while operating the equipment on your lawn.
And if not willing to level your lawn, then you have got no options other than using an electric or a gas mower.
The reel and the motorized push mowers both are lighter and simpler and are also not very costly hence almost both mowers share the same benefits, but the above-mentioned conditions are to be kept in mind before going to the local marketplace for buying.
As the strength of the user is the driving force so it is better, to be honest with yourselves that how much work can you do as already I have mentioned above, that mowing is to be maintained every two weeks or so.
Self-Propelled Lawn Mowers
On the other hand, the self-propelled mowers have got wheels just like a car. But this does not mean that the self-propelled mowers run away from the user. A comfortable speed can be easily enabled, and the speed will remain consistent.
This equipment has an extra safety bar just like the gas pedal found in the cars. That is to be squeezed to enable the self-propelled lawn mower to begin to drive. These mowers can do well also with the uneven lawns. It is totally not at all like the push mowers. This equipment is basically used mostly in the summer seasons and not in the winter seasons.
Greenworks 48V 20" Brushless Cordless Self-Propelled Lawn Mower, (2) 5.0Ah USB Batteries (USB Hub)...
Two Greenworks 24 VOLT POWERALL batteries combine for 48 VOLTS of exceptional, better than gas power without leaving the 24 VOLT battery platform
Up To 45 Minutes Run-Time With 2 Fully Charged 5Ah USB Batteries. Run-Time Varies Based on Grass Condition and Operator Technique. Dual Port Charger...
Highly efficient brushless motor provides more torque, quiet operation, and longer life
Self-propelled rear wheel drive and variable speed control for maximum traction, maneuverability, and control
Front-Wheel Drive Mowers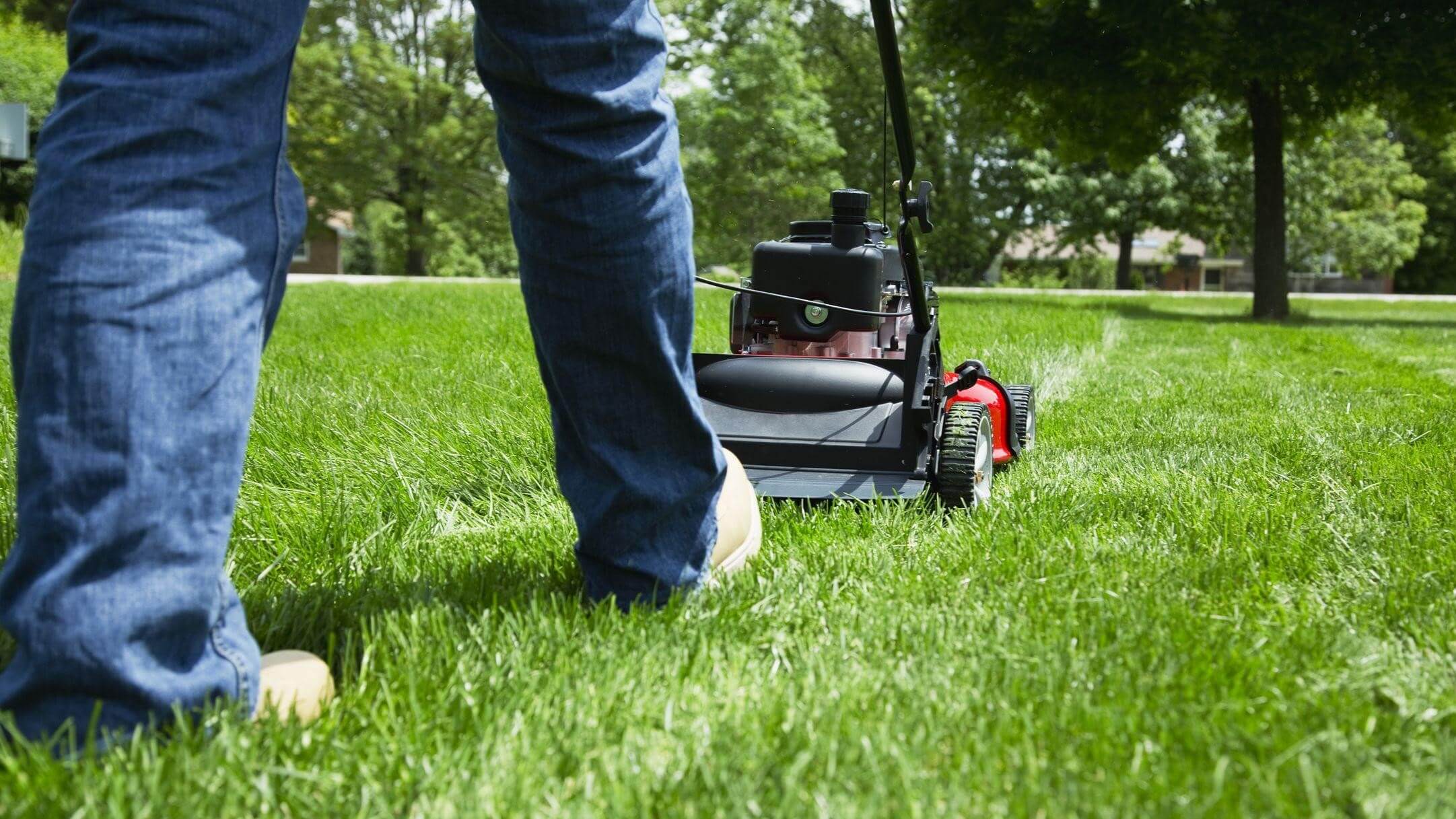 The front wheels of the self-propelled mowers tend to have simpler mechanics. It means that one can expect a very limited number of problems as an owner. This equipment is not very expensive.
This kind of self-propelled mower can easily make a 180-degree turn. This facility helps the equipment to navigate more easily on the lawn. But the front-wheel-drive mowers, as well as the push mowers, work best on flat yards.
Rear Wheel Drive Mowers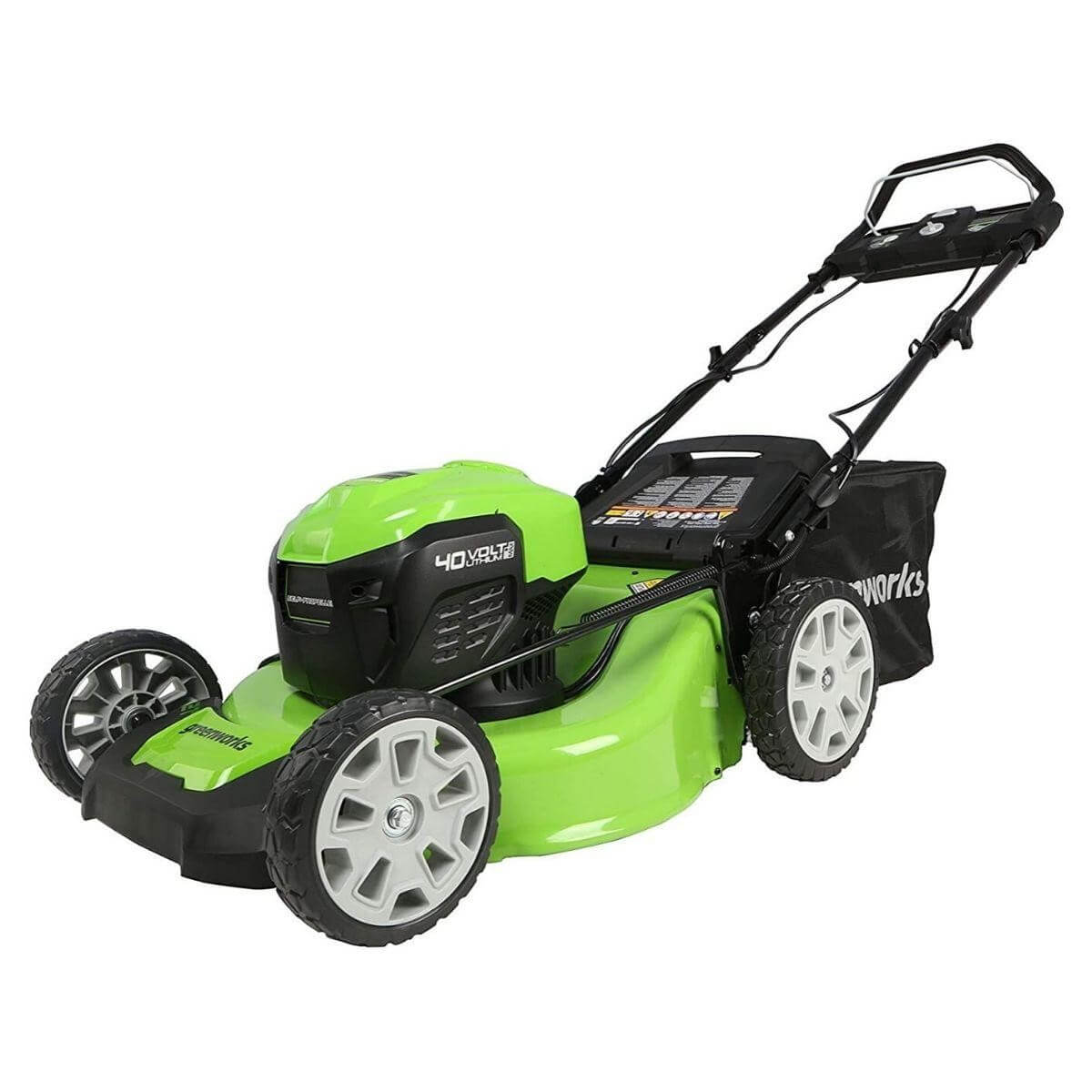 This is a bit more complicated than that of the other equipment! This rear-wheel-drive self-propelled mower has got more complicated inner mechanics to work on. These mowers are very expensive as well as difficult to take care of because the maintenance costs are higher too.
At a certain point of time, while mowing in the lawn, in case you navigate any sort of obstacle, the rear wheels need to turn and here it might be important to lift the rear-wheel-drive self-propelled mower and it would turn out to be very difficult if your height is short or you are a small person.
The equipment cannot be pulled backward smoothly so for using this equipment maintaining a certain height is very essential. These rear-wheel-drive self-propelled mowers work good on the lawns present in the hilly areas. It becomes very beneficial for the mowers because the equipment drives themselves uphill.
If the lawn is located on a hilly side or the texture of the lawn is hilly then nothing can be better than that of a rear-wheel drive self-propelled mower. It is the safest option among all for particularly if the above-mentioned conditions are matching with the owner having one.
Choosing the Correct One for Your Lawn
I hope by now the concept of push mower and the self-propelled mower is quite clear and maybe you all have decided which one would be appropriate for your lawn. The real self-propelled mowers are a bit more expensive than that of the push mowers.
But apart from the self-propelled mowers, there are equipment in the local marketplace which are costlier than that of the self-propelled ones. After considering you may find that maybe the self-propelled ones are quite reasonable.
It does not cost more than $500. The self-propelled mowers are heavier in weight and it requires users of a good height so before buying or deciding, keep these points clearly on your mind so that you do not make a mistake and things do not get difficult for you in the future.
Relatively, push mowers are comparatively lighter in weight than that of self-propelled mowers. Situations come like maybe your neighbor or friend is sick and you need to maintain their lawn. So, in such cases, you might need to carry your mowers from your place to their place.
Here, carrying self-propelled mowers would turn out to be very difficult because of their weight. And as you know push mowers are lighter in weight so thinking about all situation's decisions are to be made calmly which would turn out to be very helpful in the future. As mentioned above, the push mowers are good for flat and small yards.
So, if you are having so, please do not go for buying self-propelled mowers because it would turn out to be a waste of money later. So why regret it? Better take wise decisions earlier considering everything on your mind.
But if you are not having so it is absolutely very good to buy the self-propelled ones. It will not be a waste of money and in this case, you will not have to regret it later by any means.
And in the case of hilly terrain, especially go for the rear-wheel-drive self-propelled mowers.
Few Important Facts
The push mowers require the user's strength and ability to handle the equipment properly on the lawn. But self-propelled mowers can move by themselves. It eases the burden and is especially used on uneven terrains. Front-wheel drive is easier than that of the rear-wheel-drive because making turns and lifting needs effort.
More complicated the mechanics, the more expensive the mower. There are several mowers found in the local marketplace, you can differentiate each one by looking at their prices and the qualities.
So, here the article is no one to decide what a lawn owner should choose. I have made all the points very clear so that it is easier for you all to decide what your lawn needs.
Go to the marketplace, find out a perfect match and bring your equipment home to begin an awesome journey.