Are you a garden admirer? Want something impressive on your lawn which would attract passers-by? Your neighbor is having an amazing lawn and you too wish to have the same? What about having beautiful stripes on your lawn?
Worried about the expenses? Thinking that you might need expensive tools from professional lawn mowing companies to create an eye-attracting lawn? Chill! No need for all those things. Who does not like a striped lawn? It hides all the imperfections of one's lawn. It brings a clean and professional look to your home whereas these kinds of looks are usually found in stadiums or at universities.
It shows one's artistic skills and striped lawns help to maintain a certain elite status. It clearly does not take a lot to create such a kind. There are people all around the world who only know that the basketball fields or the golf courses have striped lawns for the game. Ah! such green and lush everywhere. Always they look up at those stripes on the lawns, finding it to be a wonderful creation.
But it is easier now! Striped lawns can be present inside your houses too. All you need to have is a striping kit. It will help you to create outstanding stripes on your lawn and the best part is all can be done by oneself.
It is not at all a difficult task to perform. It does need some practice and secret tricks to create an amazing striped lawn of your own. Read the article below to learn further!
Science
The striping takes place when the grasses bend in opposite directions. This happens better in chilly climates. The grasses have a waxy side which is known as the cuticle. It helps to maintain water directly from the roots.
So, especially in the winter season, the cuticle retains more liquid and kind of bends better. The summer season is not very ideal for the striping of the grasses. The stripping effect is properly evident when the grass is tall enough to bend which can be of a minimum height of 2 inches.
Short ones will always refuse to bend. So, a minimum of 2 inches is needed. The more the length of the grass the more of the dramatic stripes will appear.
The lawn striping process totally depends on the bending of the grasses. When the grasses are not so tall the effect does not make a real noise by its appearance. It is nothing but a game of reflection of the grasses.
Initially to Do Basics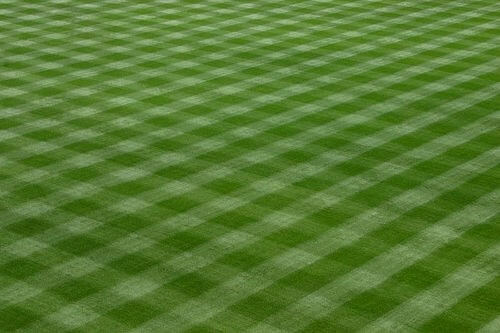 Before stripping a lawn, mowing the grasses is the most important thing to do around the perimeter of the lawn to make it a working zone. It is done to make the parallel lines uniform.
Picking a pattern is very important before starting off. Always decide first what you want to create or else you can end messing everything up. Simple stripe patterns are easy to create which could be done smoothly by turning around and oppositely cutting a straight line from the adjacent line. Here a row is lighter, and the other row is darker. This is a sharp contrast.
Creating diagonal and grid patterns has got almost the same techniques. After creating the simple stripes, you just must go perpendicular to the opposite side. And in the case of a diagonal pattern, it just must be a bit angled to the edges of the lawn.
Usage of a Striping Kit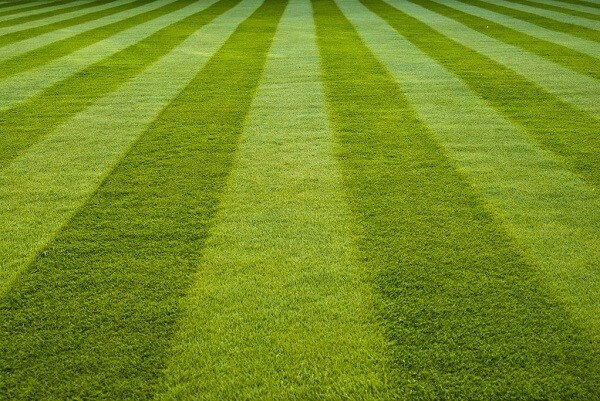 Striping kits can be attached to the back of the grass mowers. It can help the grass mower to press down the grass in a better way. It would bend the grasses more. Striping kits are not compulsory to have.
It is fine if you are not owning one. If you are already owning a grass mower and your budget is low, please do not go for a striping kit. Instead, if your budget is high and you want clearer and crispier stripes on your lawn, then you must surely go for having a striping kit. Or else such investments for your lawn is not mandatory.
Striping kits are found in online sites and are also found in the hardware shops at the local marketplace. The most expensive ones look like a cylindrical bar which can be attached behind the grass mowers. You can also go for the DIY options and make yourself comfortable along with the practice of striping. 
It Depends!
It is always not about buying the most expensive striping kits for creating the stripes on your lawn. At times it depends on the type of lawn one owns. There are several striping kits at different prices.
But before buying, the buyer should know the correct usage, or he/she might buy the wrong thing and come home back. Professionals naturally own the most expensive striping kits especially as a part of their businesses.
But there are a few homeowners who dream to buy these professional kits. It is a clear waste of money if you are choosing this path. Go with less expensive striping kits. They work very well in the smaller yards and buying less expensive kits is never a wrong decision because money is always not everything.
To get started, always go with less expensive ones. Make sure that the width of the kit is suiting the back of the grass mower you already own or are willing to buy. Go for buying both the items having the same width. This is very important.
DIY Striping Kits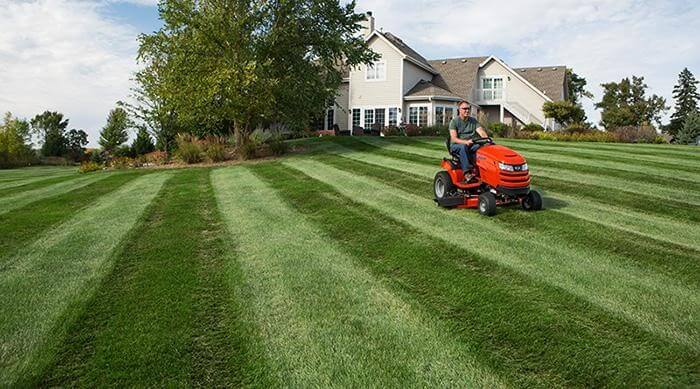 These kinds of striping kits for your lawns are very easy to assemble and create. The DIY kit just must match the width of the grass mower. Here all you need is a little amount of creativity and it does not consume a big amount of cost. Those who are DIYers totally do not prefer buying a striping kit.
If you enjoy DIY products, then you should surely go for creating one as it is easy to make them. So, waiting for what? Decide to make the kits of your own. Good striping kits are about weight. If you can create a kit that has got a good weight, then you can probably expect better stripes on your lawn.
Rubber mats and sandbags help a lot in creating such kits because of their thickness. The rubber mats are attached with iron and bolts. Do buy a lawn roller to create the stripes, it is the easiest technique of all. Get a slightly wider one which would be wider than the mower.
Brinly PRC-241BH 270 lb. Combination Push/Tow Poly Lawn Roller, 18 by 24", Black
NEW Easy-Turn Plug: Brinly Rollers now feature a new drum plug design, making filling and emptying your roller quicker and easier than ever
Push/Pull Combination: Convenient push or tow-behind design provides versatility for rolling tight areas or larger open spaces. Perfect tool for...
28 Gallon Capacity: Sturdy roller holds up to 28 gallons (270 lbs.) of water or sand and is both light enough to push through the yard and rugged...
Durable Construction: Sturdy poly roller drum won't dent or rust, and resists weather damage for use season after season. Measures 24" in width.
Boat trailer rollers can also be used. These are available in the marine trailer supply stores. These rollers are having dense rubber material on them, so these are quite heavier. The rollers should be connected to the back of the mower and chains can be used.
PVC Pipes can be used too. PVC Pipes should be cut according to the width of the mower. Then the rollers should be attached to the mowers. The chain must be added to it. Attach it to each end of the PVC Pipes which will serve as a lawn roller.
A few Maintenance Tips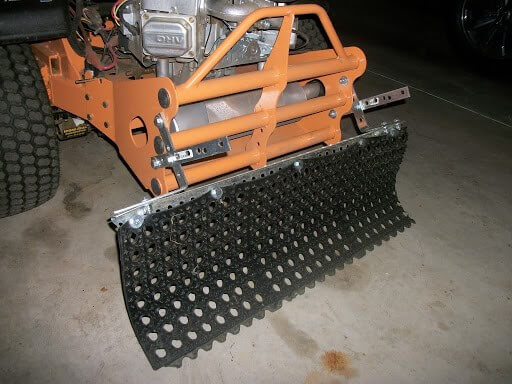 Lawn striping is the best for turfgrass. Winter season grasses are the most flexible among all and it tends to work better, and the summer season grasses do not comfort lawn striping because of its stiff blades.
Summer season grasses also do not last long like the winter season grasses. The stripes are also not so visible in the case of the summer grasses.
Practice mowing your lawn every two weeks. The blades of the mower should be sharp. This allows the grasses of the lawn to have neat and clean-cut.
Water your lawn regularly and never forgets to use compost and fertilizer on your lawn according to the needs of your soil.
Random Thoughts About the Kits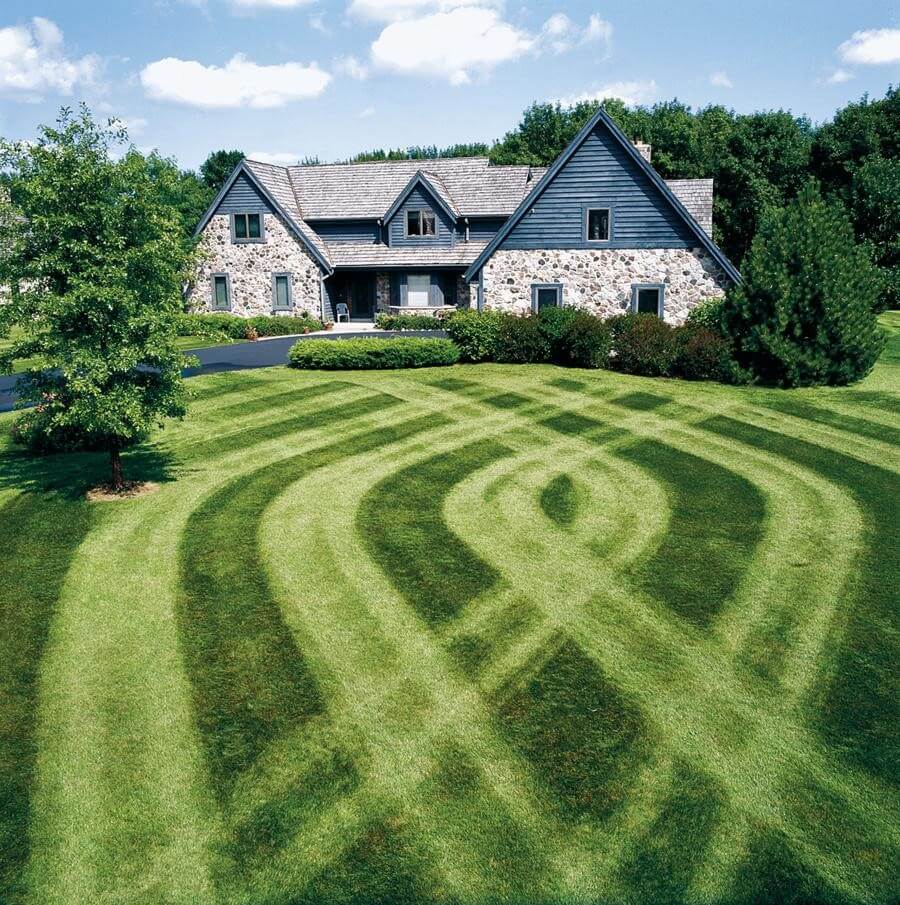 The technique of using the striping kits and what kind of pattern an owner is looking forward to are the two most important things when creating stripes on the lawn. The technique is important here and it totally does not matter whether the creator is having a professional striping kit or not.
Lawn striping also ensures good lawn health. This allows the Sun to nourish all the parts of a lawn. Never go in the same directions while striping a lawn. Do not stripe a lawn when the soil is wet. This will bring a matte look to your lawn and it is not the one which you have been wanting for so long.
Different routes ensure healthier lawns each time mowing is done. It allows the grasses to thrive. If you realize that your striping of a lawn is not being accurate then definitely treat the grasses of your lawn with a good fertilizer. A healthy lawn is very essential because it is one of the keys to achieving proper striping in your lawn.
And once already you are having a healthy lawn your efficient techniques and the striping kit will do all the remaining magic. Striping is nothing but a kind of practice. Initially, you may not succeed but there is nothing to get discouraged. Once you are a bit better at it you can try various sorts of interesting and amazing patterns on your lawn.