Rope Lights are perfect to use for any occasion. They are low cost, easy to install, and give your original backyard, stairs, or couch an extraordinary and exciting touch. Use them for surprising your partner for an anniversary, or use it for hanging birthday pictures, or just like that.
You can creatively use them over your plants, on your bedroom walls, or your pool, and many more. No matter the occasion, they look good on everything and anything. Here are some ideas for where you can use rope lights.
14 Best Light Ideas for 2020
1. Rope Pendant Lights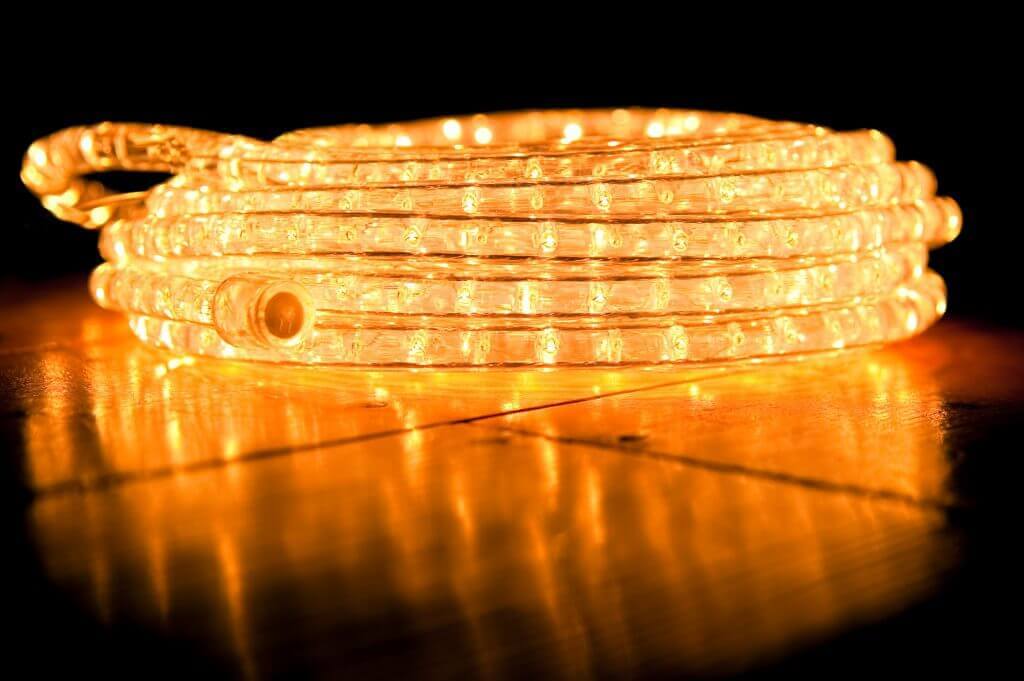 These are a unique way to use pendant lights, with rope lights. The rope is attached to the pendant lights, giving it a more beautiful look. It looks best in a barn or even for your outdoor. Grab your partner's hand and just dance away under these lights.
The rope light is 150 cm in length, but you can cut it accordingly, and is waterproof. It is also best to use if you have rustic furniture or wood ones. It creates an antique look for your backyard, and you will love dining underneath it. 
2. Star-Shaped Rope Light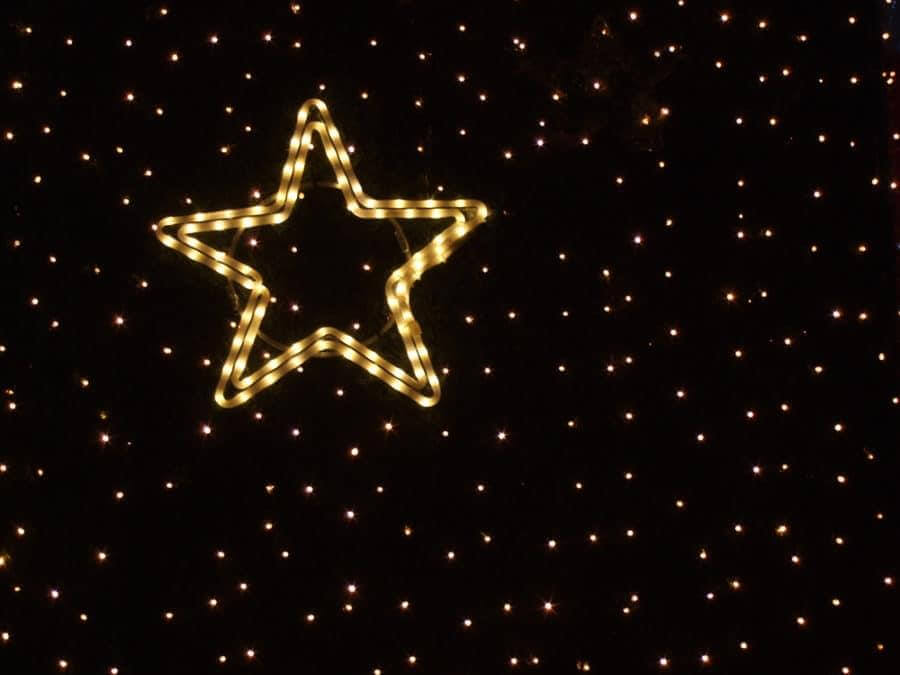 Rope lights come in various shapes and designs. One of the shapes is that of a star. The rope light's solid tubing is easy to shape than the other ropes. You can use this star shape rope light for occasions like anniversaries, birthdays, etc.
It is going to look magnificent in your backyard, and it will almost feel like you are looking at the stars. You can even hang them on your bedroom wall to create a sky effect, and your kids will just love counting the little ones.
3. Snowflake Rope Light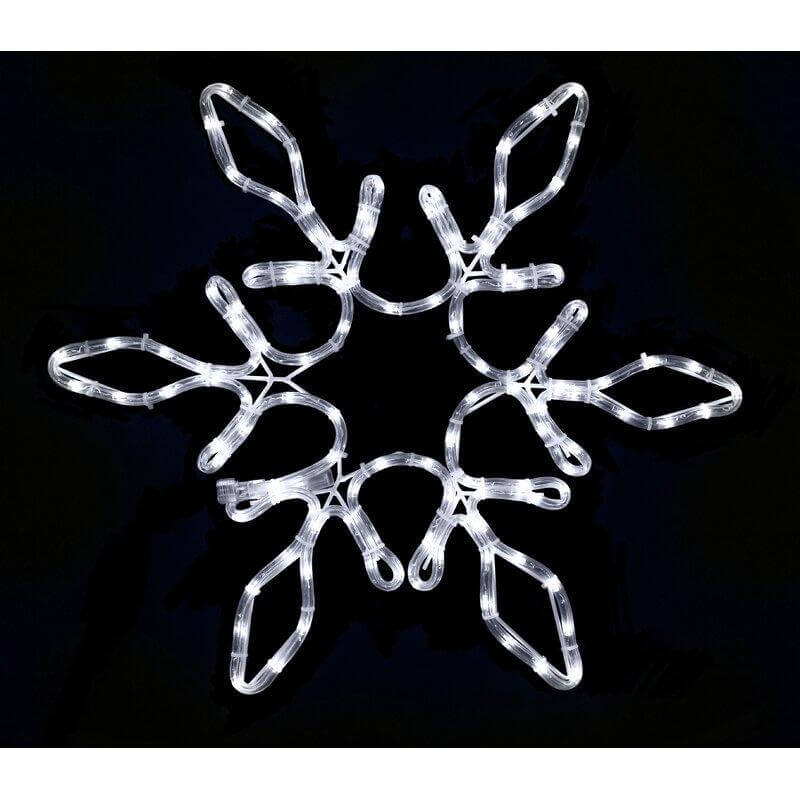 Just like the star, this is a snowflake-shaped rope light. I am sure everyone loves catching snowflakes in winter. Experience the same winter feels even in summers. It comes in both pure and warm white colors. It can be used for both outdoor and indoor decorations.
It consists of LED lights in them. Its unique loop design allows it to hang anywhere on a door, window, or wall. It also uses less power since it has LED lights in them. No matter if it is summers or winters, you can decorate your house with these lights at any time.
4. Clear Rope Light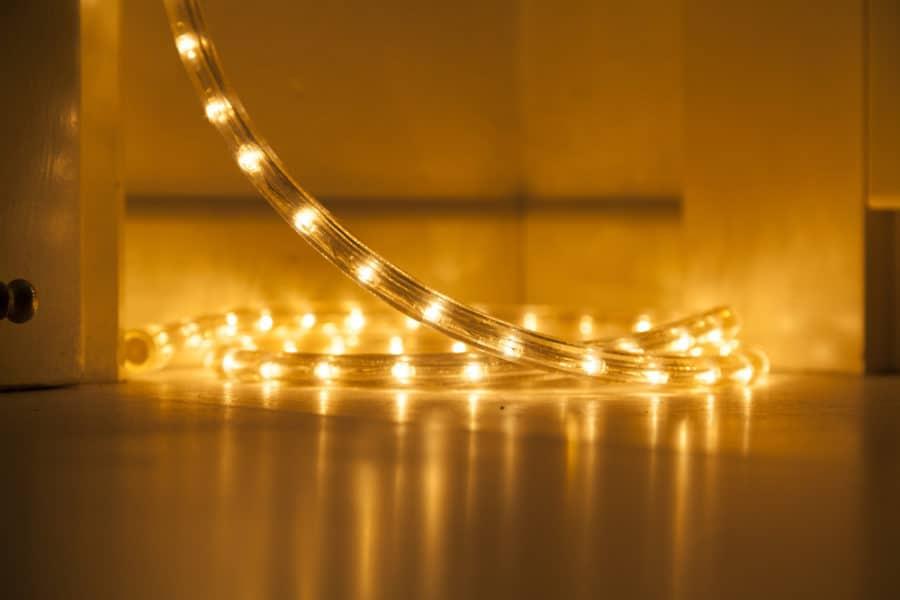 These are the classic bright rope lights. They are warm white and looks beautiful over anything. The lights are placed in a clear plastic tube; it makes them more weather-resistant, and you can even hang them on trees or plants, and it will look pretty.
They are easy to assemble into any shape or design, and the best part is that they can go with any of your furniture. Further ahead, you can see where you can use these lights to highlight the critical areas of your home, both indoors and outdoors. 
5. Colored Rope Lights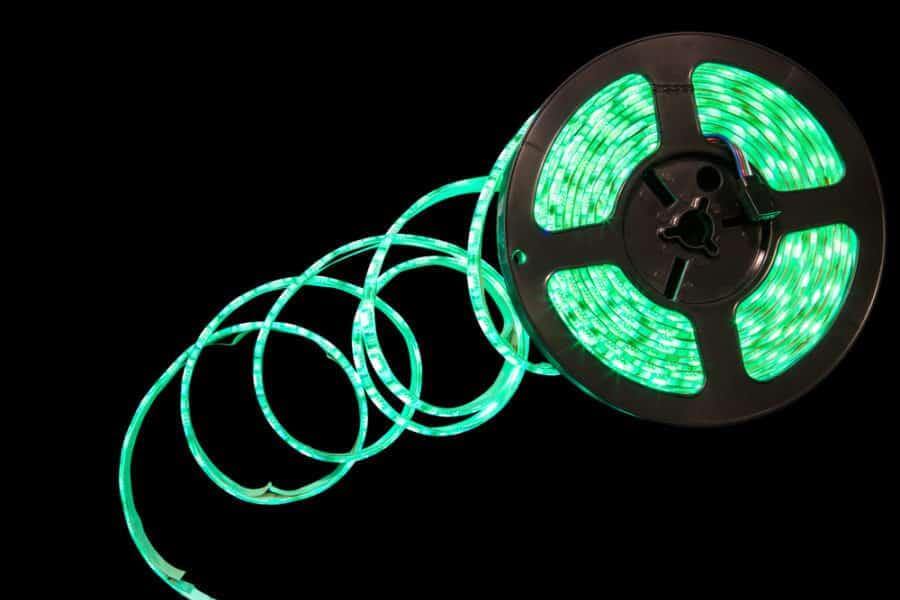 Just like the bright lights, these have color in them. They come in various colors, red, blue, pink, etc. These lights are best for outdoor decorations or larger areas. Since the roll is quite large, it can cover a lot of space on a single piece.
You can create a disco light with these different colored lights or a color-changing light for your night parties to give it that club feels you want. They will brighten your backyard and give the essential items a colorful touch.
6. Rope Light around Palm Tree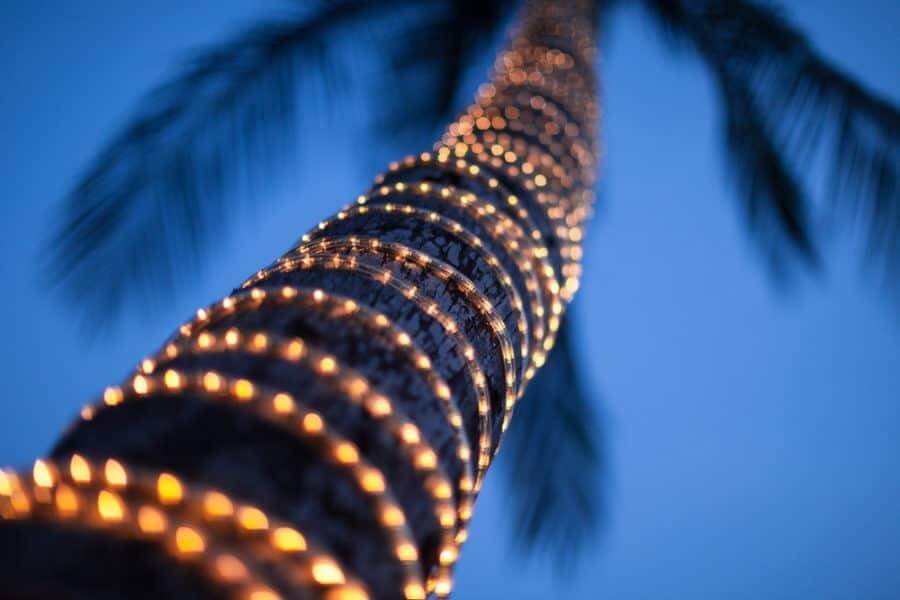 Use a yellowish or warm white rope light for this. Wrapping rope lights on a tree is quite simple and gives a dramatic look too. The LED's in the rope lights don't have much power, so the best you can do is to plug them on.
Make sure to use those which are waterproof, lights, and the extension cords, when you are putting them outdoors. No matter what tree you have in your backyard, it will look good on every tree. Just make sure to plug them carefully and adequately. You can even put two different lights on the branches and trunks of the tree.
7. Outdoor Kitchen rope light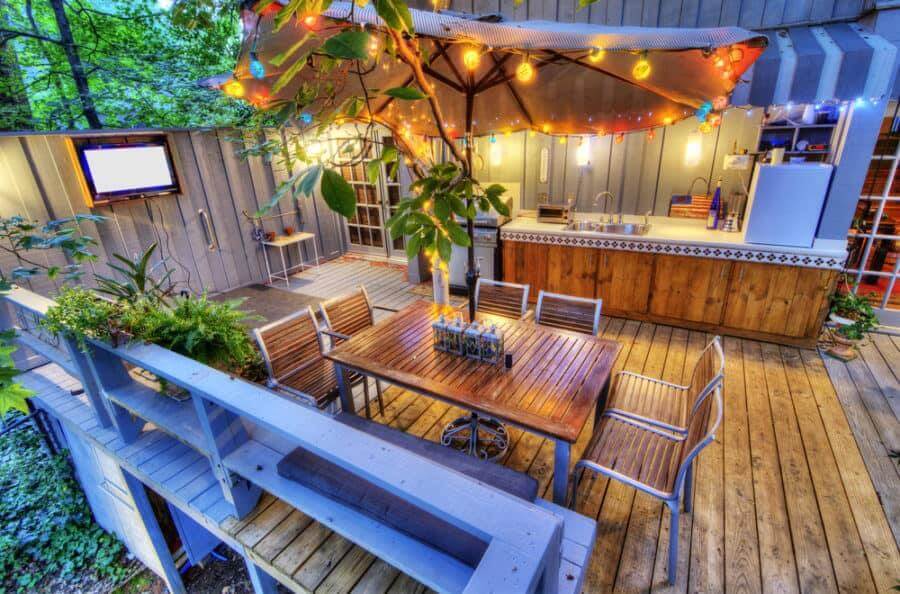 The bright rope lights are perfect to put up for your outdoor kitchen too. It will brighten up the ambiance and provide a beautiful look for your party. It is perfect for your barbeque nights, get-togethers, or even petite occasions, which are memorable and fun-loving.
 You can even use any colored lights if you wish. In the picture, they are decorated over the umbrella, giving it a beautiful presence to look at. It also highlights the bar so that all the eyes are on you.
8. Rug Rope Light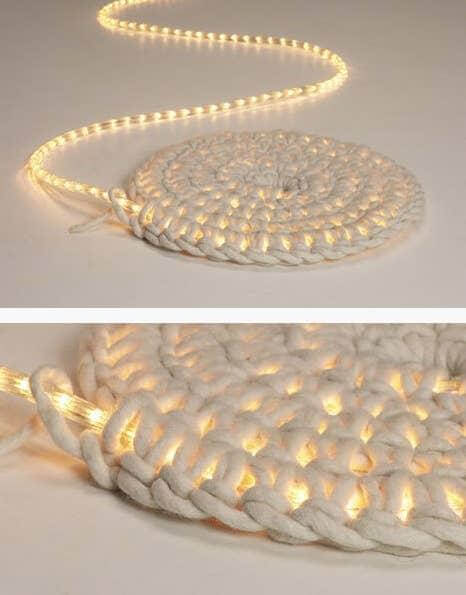 The best light to use for this type is white bright light. You need to wrap a rug around the lights like croquet, and place it on your living room, bedroom, outdoor, wherever you like. It will make your simple furniture look elegant and beautiful.
You can do this with every type of rug, or even any handmade cushion or anything that you can adjust the lighting to. Place a small table over it and just let the magic happen. You can even change the color of the rug or lights as per your own choice.
9. Garden Rope light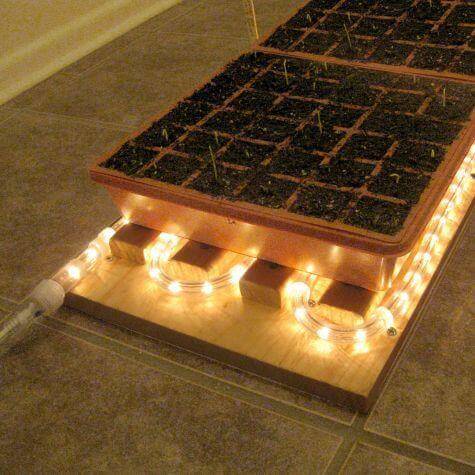 Take benefit of the warmth that the rope lights provide and use them for your garden. Keeping it below will create a heat mat for your needs and help them in growing. Not only does it look good, but it comes with quite benefits too.
You can change the color of the lights accordingly, make sure to keep a stable, wooden piece under the lights so that they don't move and be in one place.
10. Outdoor Steps Rope Light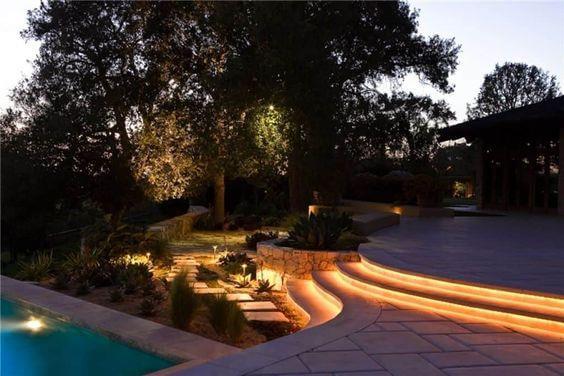 Use rope lights to highlight your outdoor steps. Not only does it help people to look where the steps are and avoid tripping, but it also gives a beautiful look to your outdoor area.
The best light to use for such type is the bright warm white lights. They create a minimalist and beautiful all-together look. The warm color of this light brightens the step, as well as its surroundings.
11. Walkway Rope Lights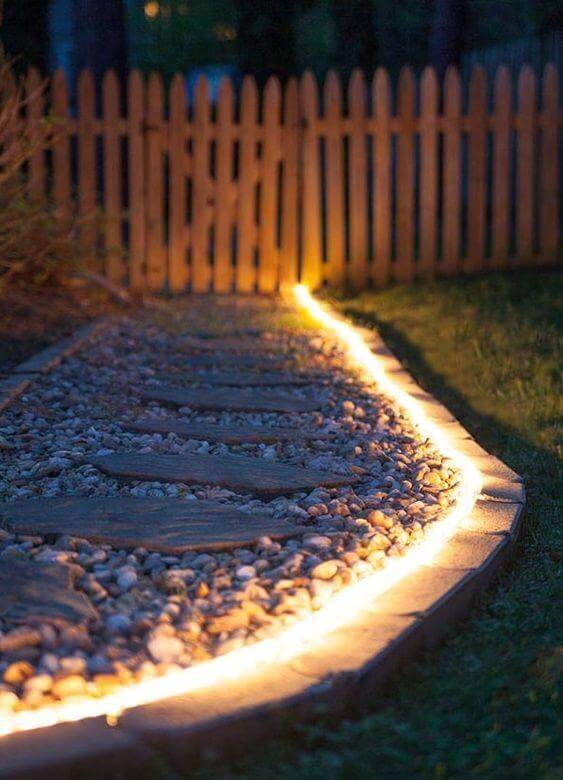 A perfect date-night look or proposal look, this will surely make you feel so loved and charming. Not only will it help you and your guests to walk over the edges without tripping carefully, but it also creates a very heart-touching look for your date nights, parties, special occasions.
You can install the lights on the edge of the walkaway with the help of steaks. You can even use them as a border for any other area you think people should carefully walk to at night.
12. Landscape Rope Lights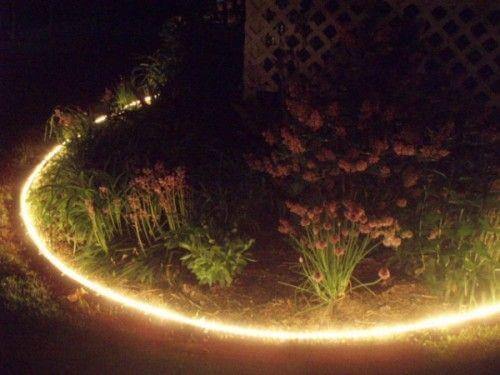 Creatively use rope lights to highlight your landscapes. During day time, everyone can see the beautiful plants and flowers that you have grown in your backyard, but what if when you want to show your guests at night? There come the rope lights.
Using the bright rope lights will brighten the landscape, and your guests can have a look at the beautiful flowers that you have grown even at night. It is an excellent addition to your landscapes, and you will surely love it too.
13. Deck Rope Lights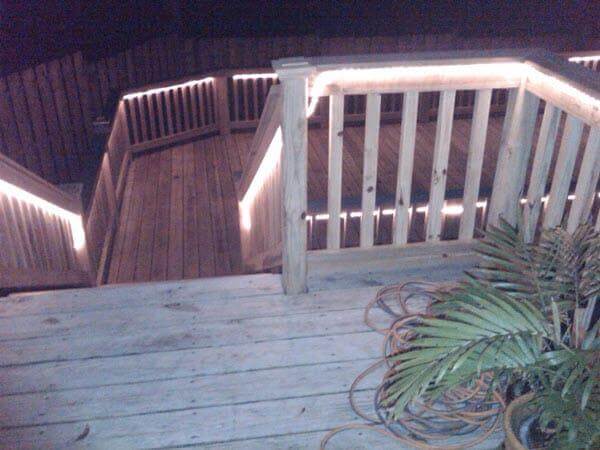 Having some light on your deck is a great thing you can have. Simply add the lights under the rail than above, it will provide a helpful walkthrough, and keeping it below won't let the bright light come to your face, so you can comfortably sit or stand.
For the deck, it is recommended first to measure it and then use the long rope lights. They will come in handy for this type of lightning. You can even put two different lights if it's fitting to create a warm and light texture.
14. Pool Rope Lights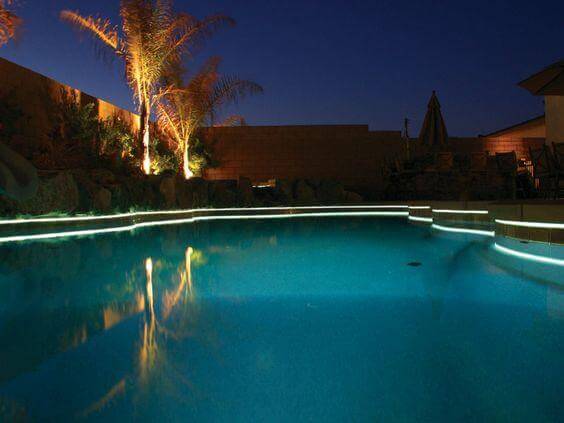 When you have a pool in your house, you might have already installed spotlights in them. Usually, you must install the lights as soon as you install your pool. But the spotlights majorly focus on one area whereas the other areas of the pool seem dark.
That is where you should replace them with the rope lights. Installing them on the raised edges of the pool will provide beautiful lighting on the edges and will showcase light on the entire pool rather than in one specific area.
Conclusion
These creative ideas are best to use if you have a rope light hanging around in the store or want to create magic in your home or backyard.
It will transform your house into a magical kingdom, your kids will love it, your neighbors will not stop staring, and you will be amazed by it. So, wait no more and transform your house into an amazingly beautiful and loving place.