Renovating houses has become a trend in every household, and families have started experimenting with the house's designs and interior. Many households have changed their house into a solarium or a sunroom house.
Homeowners are improving their lifestyle and interior of the house that they can benefit from in the long run. The popularity of sunrooms and Solarium increases with time, and homeowners invest in increasing their houses' value.
Individuals get confused between the two terms, Solarium, and sunroom. They do have some similarities but are different from each other. The type of house that you choose depends on your personal preferences as both are effective in their place.
What is Conservatory?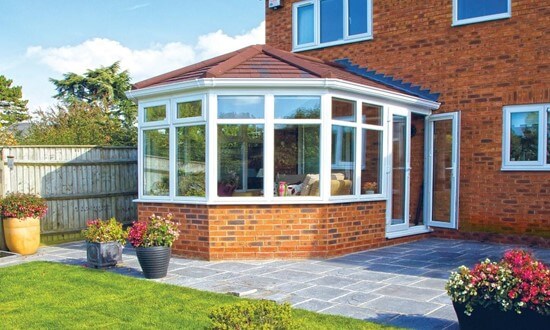 Sunroom or Solarium is also called a conservatory in some parts of the world, while they have similar structures that they offer but are different from each other.
A conservatory is a room with a roof and walls built of glass to capture maximum sunlight in the room. It is mainly famous for horticulture purposes to grow tropical plants or off-season plants in a climate that is not tropical.
Solarium and sunroom are mainly built to enjoy the natural sunlight and outdoor view from the house's comfort.
Sunroom Vs. Solarium: Which One Is Best?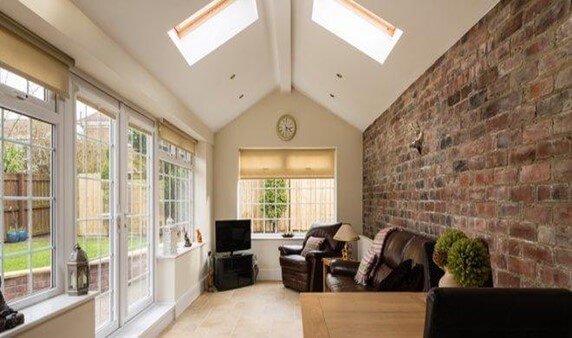 Compared to each other, sunroom and Solarium is best for the homeowners that are sure about their requirements. Every owner has a style that they wish to design their house as, when the homeowner is sure about his preference, sunroom, or Solarium, both are great choices. We will help you make your choice clear, so you have the type of design of your choice to renovate your house.
What is Solarium?
The Solarium is a room that has a roof and walls of the house made of glass and is also known as a conservatory room. Solarium's primary purpose is to get ample sunlight in the house, so everyone in the house gets constant vitamin C.
You are protected from the dust while getting a beautiful view of the outdoors sitting at the comfort of your home. The solarium is best if you are fond of plants and flowers as your plants will be getting sunlight. It can also work as a greenhouse for your plants as the roof and your house walls are of glass.
Pros of Solarium
Solarium is a modern way to have an outside view sitting at your home. They offer an unobstructed view of the outside world. You can have a beautiful experience seeing the sunrise and sunset.
 The beautiful colors of the sky can be witnessed just by sitting on your sofa and looking upwards. Imagine witnessing the rain while sipping your favorite drink and not worrying about rain wetting your clothes.
Cons of Solarium
The view that you get is undoubtedly impressive, but Solarium also needs frequent cleaning as the glasses can get dirty because of harsh rain. If you have many trees around your house, you may also get annoyed by birds dropping.
You would face constant sunlight, and according to the seasons, you would face extreme heat in summers, and in winters, you may face cold. You can get protected with the help of window shades that protect you against all the seasons, and you can open the shades whenever you want.
What is Sunroom?
Sunroom has plenty of windows in a house made of glass, so you enjoy your privacy as well as the outdoor view. The windows in sunrooms are not made of glass but other materials, making them different from Solarium.
Some new models of sunrooms have features like HVAC packages that add more efficiency to the house. The sunroom's added features are also known as four-season rooms as they can be used all year long.
Pros of Sunroom
A sunroom can be enjoyed all year long and requires less maintenance when compared to Solarium. The structure of the sunroom helps you gaze at the beautiful outdoor views while having your personal space. The installation of a sunroom is also easy as compared to Solarium.
The structure of sunrooms is designed with excellent efficiency, and the windows of the sunroom are functional and can be operated by a device. The technology used to design the sunroom structure is a thermo-insulated roof that can be used year-round.
Cons of Sunroom
Sunroom does not offer you a glass roof to enjoy the view of nature which is the most significant difference between the Solarium and sunroom. If you like gazing at the star in the nighttime, then Solarium is the right choice that you can make.
Pros and Cons: Solarium Vs. Sunroom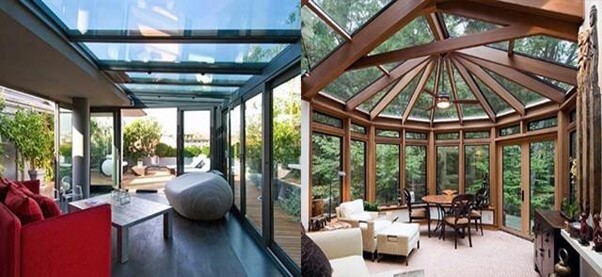 The Solarium and sunroom help your house look attractive and spacious with the glass material they offer. Knowing the pros and cons of both would help you understand them better, and you can decide wisely.
Which Structure Offers the Best Resale Value? Solarium Vs. Sunroom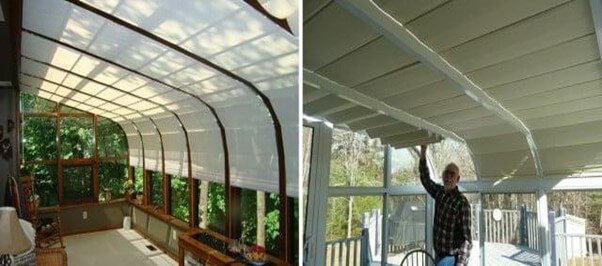 Whether you choose Solarium or sunroom, one thing is sure that your house's value will increase, and you would get the best price for the house. The one factor that every buyer loves in a house is the space that a house offers. The sunroom is very well-known for the space that it offers.
The value of the sunroom and Solarium may vary from each other as both are different structures. However, sunrooms have a higher demand than Solarium as installing Solarium is double the sunrooms' cost.
Sunrooms offer a better resale rate than Solarium as people enjoy having their privacy while enjoying natural lightings in their house with minimal windows. Sunrooms are not that expensive for a traditional home addition but are more likely to get sold at a decent rate.
The sunroom offers a long-term warranty to the owner, who can also be beneficial for the next owner. The sunroom maintenance is also less, which can be taken care of by every house owner. Solarium would require extra care and maintenance as the roof is of glass which can get dirty.
Solariums are famous for their roof glass, and some buyers love gazing at the stars and sky in their free time. Solarium adds a lot of aesthetics to every house installed in the modern structure that every nature lover can enjoy.
The warranty that Solarium offers is more minor than sunroom and values at lower rates. You may have to perform good research before investing in the Solarium, the glass's quality, and the warranty period.
Solarium Vs. Sunroom: Design Options
The solarium offers vast design and structure options that make your house look prettier. You can choose the roof style that you wish to go for in Solarium, and you can also choose from several frame options for the roof glass.
The sunroom has lesser options to choose from as the windows of the house are made of glass, the frames of the window glass can be changed.
 The solarium has various roof options, glass options, frame options, window, and door options. Many choices offer you to design your house according to your likings.
What is a Four-Season Sunroom?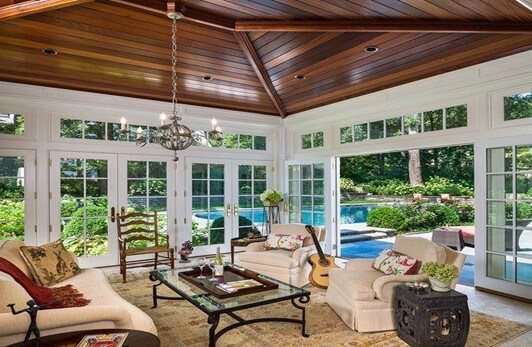 A home addition is a great idea to achieve more space in the house, and sunrooms help you achieve that by adding more natural lights. A room that can be enjoyed all year long, including all the season, is a four-season room. The name itself defines the room's importance as it is enclosed with glass that allows a floor-to-ceiling view of the outdoors.
A four-season sunroom costs less than Solarium while offering you outdoor views. But it will not offer you as much of the sunlight that Solarium offers. A solarium can be turned into a greenhouse for all the owners in love with plants or nature.
Which One Is Best for My Lifestyle? Solarium Vs. Sunroom
We have known all the information that is required for choosing the fitting room for your house. To increase your house's value, it is essential to choose the type of structure that would suit your lifestyle and needs.
Before making a choice, you can try noting your expectations or how you would want your house to look. Suppose your wish to remove a section of your house to maximize the area around your house. What would be the area that you wish to get extended for sunroom or Solarium?
Considering all the points can help you make better decisions. If you have a lifestyle that needs more privacy and enough natural lights entering your house, then a sunroom would be a better choice. But if you wish to have a glass roof to witness the beauty of nature, then Solarium can make the right choice.
Wrapping Up
Now, you are all set to decide what helps you change your house according to your preferences and desires. Once you have made a clear mind whether to go for Solarium or sunroom with the help of all the information in this article, you are all set to make a move.
Both Solarium and sunroom have their pros and cons, and it depends on the owner's choice that can turn their house into a beautiful spacious place for his/her family.
Solarium is for people who love nature and love plants around their house, and the sunroom is best for people who have a love for nature and like having their privacy in the house. Both solarium or sunroom will enhance the space and beauty of your house with their beautiful glass structure.