The best way to enjoy your favorite movie or end an exhausting or bad day is through a bottle/can have chilled beer. Your parties are incomplete without supplies of chilled beers. Beers are the best way to have the best time.
But beers are no special if they are served at room temperature and everybody prefers a chilled beer. Generally, we store them in our regular fridge just to realize that they are eating the space for groceries and vegetables. So, we are put in a situation where we either must reduce the stock of beer or leave the groceries out in the open to be spoilt. None of these options are good.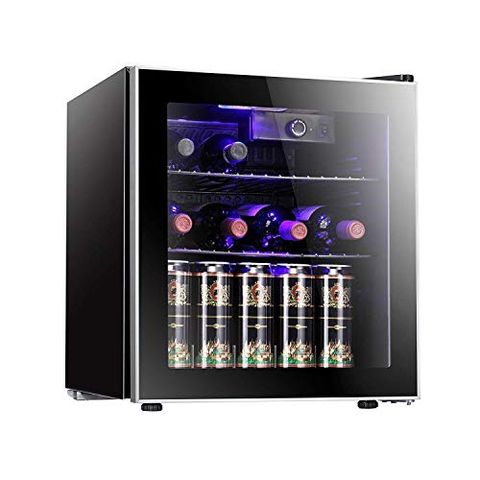 Plenty of houses these days have a small beer fridge where all the beer and wine are stored. These small beer fridges are very handy and can store months' worth of supply or keep a party alive. Beer fridges are a better way to store your beers as it provides the right temperature that your beer needs to give you the full taste.
This taste might be compromised in general refrigerators as you need to maintain a temperature that will not spoil your groceries and other food items. Also, a beer fridge is a handier as you can store different types of drinks and sodas in them.
If you are thinking of buying a new minor or spare fridge as the older one cannot fit all the groceries and beer in it, you should consider buying a beer fridge so that your beer gets the proper temperature needs. The beer fridge is also very satisfying to people who like everything in order.
Today we will be looking at some of the best beer fridges that you can get your hands on, but before any of that, you must know how to select the best beer fridge for you among many choices available in the market.
Best beer fridges in the market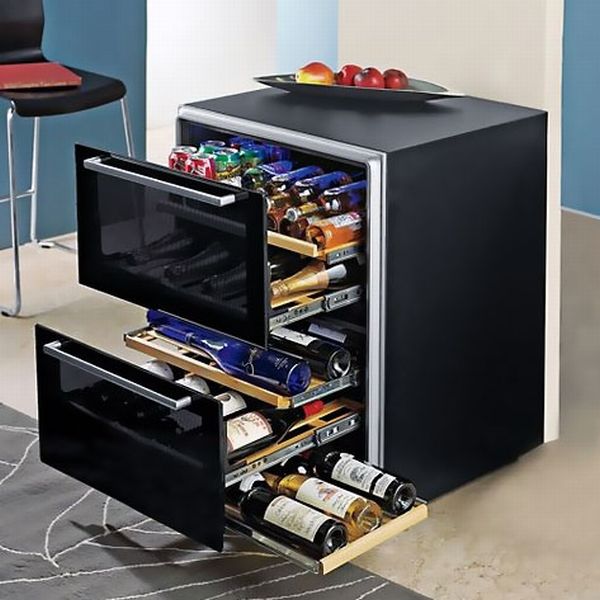 LANBO Compact Beverage Refrigerator
This is one of the best beer fridges in the market and you should get one if you do not want to go through a rigorous process of market research. The manufactures are already very famous for manufacturing beer fridges and wine coolers and you can rely on the brand for quality and performance.
The fridge is high and hence can store more bottles. In total Lanbo compact beverage refrigerator can store up to 3 racks of bottles. It can store 70 cans at a time, making sure you have a month's supply.
It is 34 inches in height. This beer fridge looks quite modern and adds a modern flair to your kitchen. This fridge can be used both as a freestanding fridge or as a built-in fridge. It has a double pane glass door, and you can see the stock from outside.
It has digital touch controls to help you control the temperature, a fan to maintain the desired temperature, security locks to prevent children from opening it, and adjustable shelves to make the most out of it. It is expensive but it is the quality and features you are spending on.
Pros
It has a fan to maintain the temperature.
Trusted brand name.
Cons
Danby Beverage Center
Danby beverage center is another cool item on our list that can help you store and cool beer. It has a storage space of 3.3 cubic feet, which is the same as any average beer fridge. It has a temperature range of between 43°F and 57°F.
It has a total of 3 adjustable shelves that help you store 120 regular-sized cans in it. It consumes less energy than normal and hence it is environment friendly. It comes with a blue LED light in its interior.
This beer fridge has a reversible door hinge so that you can help you from either left or right side. The door is made up of glass with a metal frame. It has a metal body and thus has a very strong built quality.
It has a button locked door feature which helps you prevent kids from opening the fridge. This beer fridge comes with a mechanical thermostat allowing you to control the temperature inside the fridge according to your desire. Though the build quality and features are very good, it comes at a very high price (more than $600).
Pros
This comes with a button safety lock.
It also runs on low energy, helping you save money on electricity bills.
Cons
It comes at a very high price.
hOmELabs Beer Fridge 
This beer fridge comes with three adjustable shelves giving you enough space to store a total of 120 cans (which is a lot). It looks very simple and modern and easily fits in the kitchen or office environment.
It can be used both as a built-in fridge or as a freestanding fridge. It comes with an automatic defrosting feature making sure that the beers are not cooled for too long and preventing them from freezing. It comes with a powerful compression system and its temperature ranges from 34°F to 50°F.
It comes with features like a digital display and touch interface to control the temperature. It has LED lighting in its interior and comes with a glass door. It has a total of 4 racks and 3 adjustable shelves fitting all sorts of requirements.
This product falls in a very affordable price range and is a good buy if you are purchasing a beer fridge for the first time. Like other beer fridges on our list, this product is also made up of metal promising you a strong built quality and durability. If you are looking to buy a fridge for your office or any formal ace, then hOmELabs beer fridge is the best fridge to buy.
Pros
This product looks very sleek and formal and suits the office environment.
It comes at a way affordable price.
It has a strong built quality.
Cons 
It is not as effective or efficient as other beer fridges on our list.
EdgeStar VBR440
https://www.lowes.com/pd/EdgeStar-172-Can-Capacity-11-2-cu-ft-Commercial-Silver-Beverage-Center/1001305066
These are very tall beer fridges that are almost the size of a regular fridge. They are mostly used for commercial purposes but can be used in big offices or at home – if you do not want to update your stock monthly. It has 11.2 cubic feet of space which is thrice a regular beer fridge.
This means you can store 3 months of supply in them. They are more powerful than regular beer fridges and have all the features that a regular beer fridge has. They have a digital display along with touchscreen temperature controls. The interior LED lighting of the fridge helps you see the contents in the fridge.
It comes with a glass door. The ventilation is on the front side of the cooler. These are freestanding beer fridges. Because of the size, they consume more energy, and you should refrain from buying one if you fear the spike in your electricity bill.
This product also features a temperature alarm that beeps every time the door is left ajar or when there is a fault in the electricity supply line. These are commercial refrigerators and hence are very expensive, well over $1000. It also has a safety locking feature that prevents kids from opening the fridge. But given its size, it can be very big for your house.
Pros
It is very powerful.
It has more space than regular beer fridges.
It comes with a temperature alarm. 
Cons
It comes in a huge size which might not be fit for your house.
The electricity bill that comes along it is very high.
It is also very expensive.
NewAir Beverage Cooler
NewAir Beverage cooler is a very unique-looking beverage cooler that will force you and your guests to gaze eyes on this product as there is nothing like this you or they have ever seen before.
Instead of a beer fridge, this product looks like a work of art. But do not get swayed by its looks, because you have the performance to help you do that. It can reach a temperature of 34°F and makes sure that you get your beer cooled up instantly. Moreover, it is also very spacious and provides you room for 3 racks of bottles.
The shelves in this cooler are adjustable helping you make the most out of the available space. It comes with five shelves. This cooler is only available as a freestanding cooler and its design makes up for it.
Your best pieces of furniture might get overshadowed by this refrigerator. NewAir Beverage cooler offers you all these features at a very affordable price point. It has a glass door and is made up of metal. The interior of the refrigerator has LED lights. All in all, this cooler has a well-built standard.
Pros 
This beverage cooler comes with an out-of-the-world design.
It comes at an affordable price range. 
Cons 
It is not available in a built-in variant.
KUPPET Beverage Cooler
KUPPET beer fridge is one of the smallest beer fridges that you can own. They are highly effective and very compact. It can easily store 2 racks of beer in it which can easily last more than a week.
If you are buying a beer fridge for the first time and are not sure of whether you should invest in the regular size or if you want your beer fridge to acquire less area, then you should go with this model fridge. Despite the size, this beer fridge is as effective as a regular-sized fridge and can keep your beer cool for a long time.
Because of its small size, it can be placed anywhere around the house. It will also consume less electricity than other beer fridges. This cools up to 37.4°C. They are not as powerful as regular or big beer fridges.
They are extremely affordable and come at approx $100. Its shelves are adjustable, and you can store both cans and bottles at the same time. It has a glass door, and the body is made up of stainless steel. The overall built quality of the product is up to the mark.
Pros
They do not consume much electricity, so your electricity bill will not spike up.
You can place it anywhere around the house because of its small size.
It is very cheap.
Cons
This beer fridge has very little space, so you would need to refill the stock more often.
It is less powerful than other machines.
Antarctic Star Wine Cooler/ Beverage Cooler
This beer fridge is not just a beer fridge but also functions as a wine cooler. So, this can satisfy both your thirst for wine and beer.it comes in standard built quality and is made of stainless steel, making sure that it would stand the test of time.
It has adjustable shelves to store bottles and cans. The shelves are high enough to store the bottles. The wine shelf is flat, and you must store them horizontally like you are supposed to. It has a glass door with double pane glass which protects the beer and wine from harmful UV rays.
It comes at a price that is quite like other beer fridges on our list. They have a blue LED light in the interior. The minimum temperature it can reach is 40°C which is good for the wine but not that good for the beer.
Therefore, you will not get as good an experience drinking beer out of it as you will when you drink the wine. The ventilation is present on the front side.it can be used both as an inbuilt beer refrigerator and a free stand refrigerator. They have safety alarms and locks. 
Pros
It has a good build quality.
It is equipped with a convenient digital thermometer.
It comes at a good price.
It is very easy to use.
Cons
It does not have a temperature reader.
It can only go up to 40°F causing the beer to be less chilled.
Cooluli Classic Fridge
This adorable-looking beer fridge can be a very useful machine when you hit the road or go camping. These are easily portable and hence you can take them with you anywhere you like. They are extremely lightweight and weigh only about 12.4 pounds. It has 3 shelves, 2 of which are adjustable and removable. It is also very eco-friendly as it has an Ecomax mode which helps it to prevent frosting and it switches to eco mode if consuming extra electricity.
You get a 1-year warranty with this product and it is quite a lot considering the price you are required to pay. This costs only $100. Because it costs so little and is so light, it has its own set of limitations which only a non-portable beer fridge can fulfill.
It is not as powerful as a non-portable beer fridge and it cannot store wine as it is continuously on the move. You should go for this if you like traveling and drinking beer. But if you do not plan on traveling any time soon then you would want a non-portable beer fridge.
It is easily portable.
It is eco-friendly.
It can run in both AC and DC supply.
It is very cheap.
Cons
It is not as powerful as portable beer fridges.
It does not have much space.
Beer Fridge Buying Guide
While purchasing a beer fridge there are a lot of factors you need to keep under consideration so that you make the best decision. Assessing and analyzing all these factors will help you get a picture of what you are trying to buy and then you can easily find beer fridges matching that description.
The factors that you need to think about are-
Capacity
The biggest concern while buying a beer fridge is deciding the capacity. It is the storage issue from the previous fridge that made you buy a new beer fridge, and you do not want to overlook this concern.
While deciding the capacity of the beer fridge you want to buy you should first look at your existing beer stock and ask yourself whether it is less than what you usually want to have in your house. If it is less, then decide the regular amount you would want to have and add it with the anticipated occasional increase in the stock in times of a party or a get-together.
You will also need to decide whether you would store your bottles upright or horizontally, if the bottles will be stored upright then it would require more space and you will require a bigger fridge than expected. The details regarding capacity are generally mentioned in the purchase box itself.
Temperature
When dealing with beer and other drinks, the temperature is the most important aspect, and you should pay the most attention to it. Drinks only taste best when they are served at a certain temperature otherwise its essence is compromised.
Different drinks have different temperature requirements. beer needs to be served within 35F to 60F. The darker beers should not be served that cools whereas the lighter beers should be served cool.
Wines do not need much cooling as red wine is served at room temperature and might only need some cooling. Make sure that the fridge is flexible with the temperature requirements. There are beer fridges with two cooling sections that you can use separately for two different drinks, but one would also do just fine.
Shelving
Shelving is also a very important concern while purchasing a beer fridge. If the fridge has non-adjustable shelves, then you are forced to store your beer bottles horizontally, which might eat up a lot of space. So, look for adjustable shelves that can both store beer cans and beer bottles efficiently.
When it comes to storing wine, some beer fridges go a step ahead and install a smooth-rolling shelf that would store the wine properly and prevent it from frequent disturbances. The rolling shelves give you the feeling of using a wine cellar.
Built-In or Freestanding
Beer fridges are mostly of two types – freestanding and built-in. Built-in fridges are hardwired under cupboards of the kitchen whereas a freestanding fridge is not fitted into a wall and can be placed anywhere. You should go with a built-in fridge if you do not want your beer fridge peeping out of your well-furnished house. This would certainly require more time and money. On the other hand, free stand furniture can be stored in any room and gives you a sense of portability.
Built quality.
Your beer fridge should have a strong built quality so that it can stand the test of time. Make sure the door of your beer fridge is made of double-pane glass (if you are buying a glass-doored fridge) so that it can reflect the UV light.
When purchasing a metal door fridge, make sure that the. The door is made up of stainless steel so that it does not corrode or gets rusty with time. Check for built quality standards that the beer fridge can fulfill.
Price
Last but not the least, one of the most important factors deciding the type of beer fridge you want to buy is the price itself. Your budget is the only constraint that is stopping you from purchasing the costliest fridges out there.
So, plan out your budget judiciously and make sure to set upper and higher limits which you will not cross to buy a product. Once you can find the best product, check whether it is in the price range and if it happens to be, then go ahead and buy it.
These are some of the factors essential in deciding which beer fridge you should buy. Try following all these factors. Here are our best picks for you that you can select from, by using the buying guide discussed above.
Noise
Noise too is a very important aspect of deciding which beer fridge to buy. In fact, noise production is given a thought while buying any electronic appliance. If you want a beer fridge for your office then you would want it to be noise proof or otherwise, it may lead to attention issues in the office.
FAQs
Here are some frequently asked questions about beer fridges and beer in general.
Can I Use A Beer Fridge to Store Food?
The beer fridge ate just like a fridge, but less powerful and smaller. You can put food in the beer fridge as the fridge would prevent the food from degrading. But when you store light beer and decrease the temperature to a minimum, your food will freeze, making it difficult to consume. Also storing food in the beer fridge is not the best way to use your beer fridge as you have a full-sized fridge for that. You can store food in your portable beer fridge when traveling.
Can We Use Wine Coolers to Store Beers?
Both wines and beer taste best at different ranges of temperature and by storing both together, you might have to compromise on the taste of either of the two drinks. Also, a wine cooler temperature does not touch the freezing point and so it is not good enough if you want a chilled beer.
What Happens If Beer Gets Too Cold?
If beer gets too cold, it will make your taste palettes numb because of which you will be unable to enjoy the true flavor and aroma of the beer.
Conclusion
These are some of the best beer fridges in the market and you can choose one of them after comparing their prices at different retailers. Make sure that the fridge does not make much noise and operates smoothly and most importantly, it fits under your budget.
Also do care to check the warranty period of the beer fridge and compare it with other models. If you do not need a portable model do not buy a portable model as they can be less powerful and may have less space.
After you have purchased the right beer fridge you do not forget to call over your friends and offer them a sip of beer from your brand-new beer fridge. You will also not be required to worry about your stock as you already know how long your stock would last.