Nature is our biggest gift, and parts of it that we can gift, celebrate, and worship with are the flowers. Imagine waking up to a beautiful sight and an incredible scent. Flowers are just what you need for your fresh morning startup.
Flowers are symbols of hope, love, and, most importantly, joy. And adding orange flowers to your garden will brighten up your garden in a beautiful way.
Orange flowers are bright like the sun and warm like sunshine, adding bliss to our lives. Flowers are always a better decorative option rather than those toxic plastic decorative products and balloons.
Those bright and bold flowers not only add a splash of orange color to your yard, but some of them also have some medicinal properties too.
Yes! You read that right. Some orange blossoms are rich in antioxidants and can support the immune system too. Some other orange flowers are also used to heal wounds, burns, and rashes.
So, let us have a look at the types of orange flowers you can plant in your garden, yard, or even pot some of them on your balcony.
Stunning Types of Orange Flowers
1. Chrysanthemum (Also Known as Mums)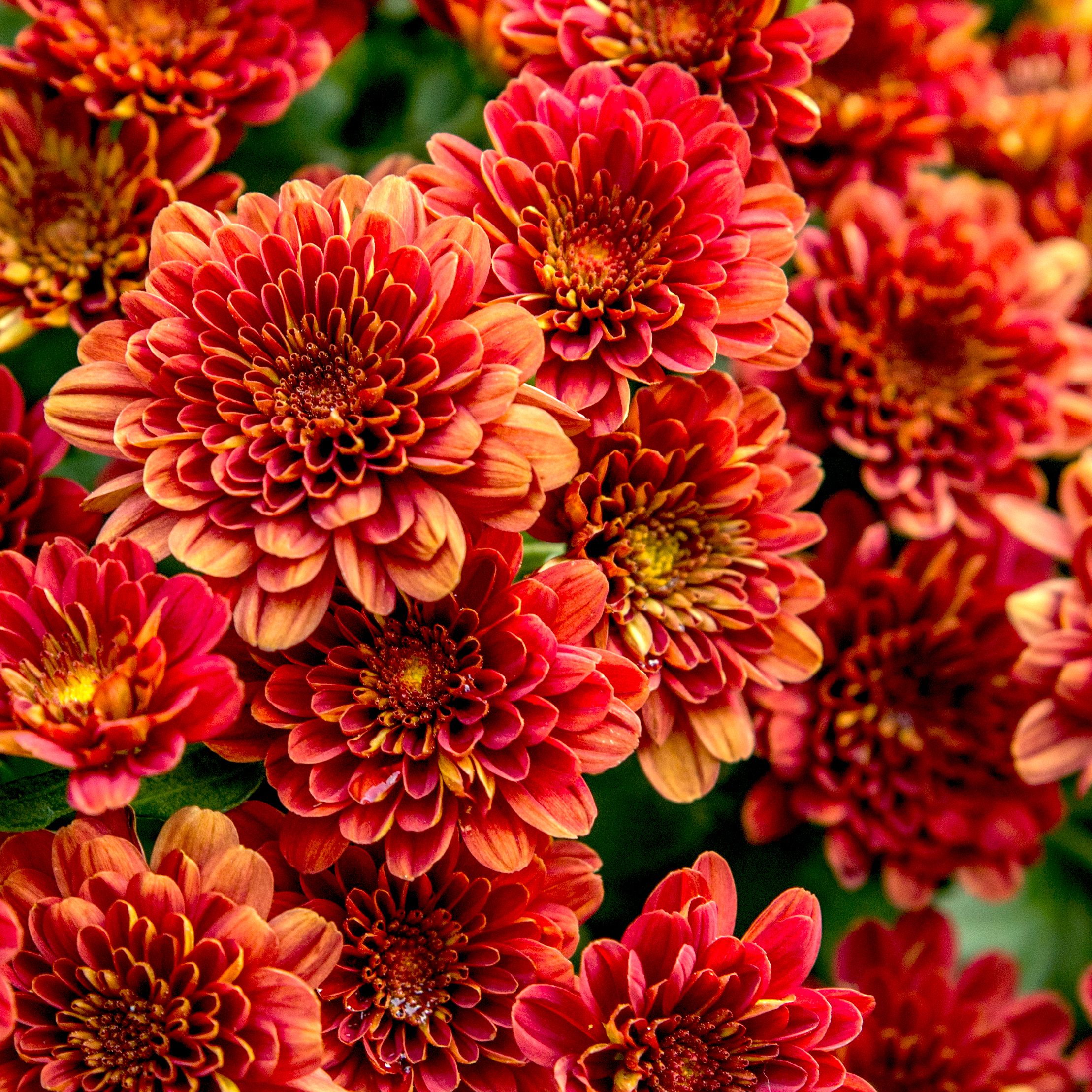 Chrysanthemums symbolize fidelity, optimism, and long life. Therefore they are popularly known as florist flowers. These orange flowers grow insufficient sunlight and well-drained soil with a PH of about 6.5.
These perennial flowers grow nearly in 3-9 growing zones. They need a moderate amount of water. Orange chrysanthemums grow about 2-3 inches in size and require at least a 12-inch container.
Their scent is earthy and herby rather than the typical sweet aromas. And in addition to it, they are used to repel insects too.
One thing to keep in mind is that Pinching is the most critical care technique for chrysanthemums. It involves removing the tip of the main growing stem, which aids in axillary branching and keeps the plant's size checked.
2. Orange Rose (Rosa Tropicana)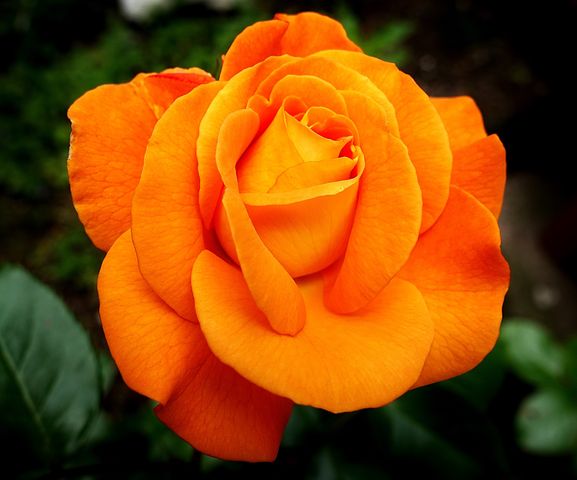 Want a more familiarly known flower? What's better than a rose? Yes, this one is your all-time celebrated flower, and that too is your favorite color! This Orange flower is an excellent source for the warm welcome of your guests.
The more you add, the more you feel full of enthusiasm. And there you go! Ready to celebrate with your loved ones.
Also known as 'Super Star,' this gorgeous orange flower grows on long stems with thick glossy leaves. It requires full sun (at least 4-6 hours of direct sunlight).
It grows in 3-11 growing zones. The soil has to be well-drained, fertile, and rich in nutrients. The good thing is that you won't need to water it too much or else it will die due to excess watering.
3. Autumn Orange Tulips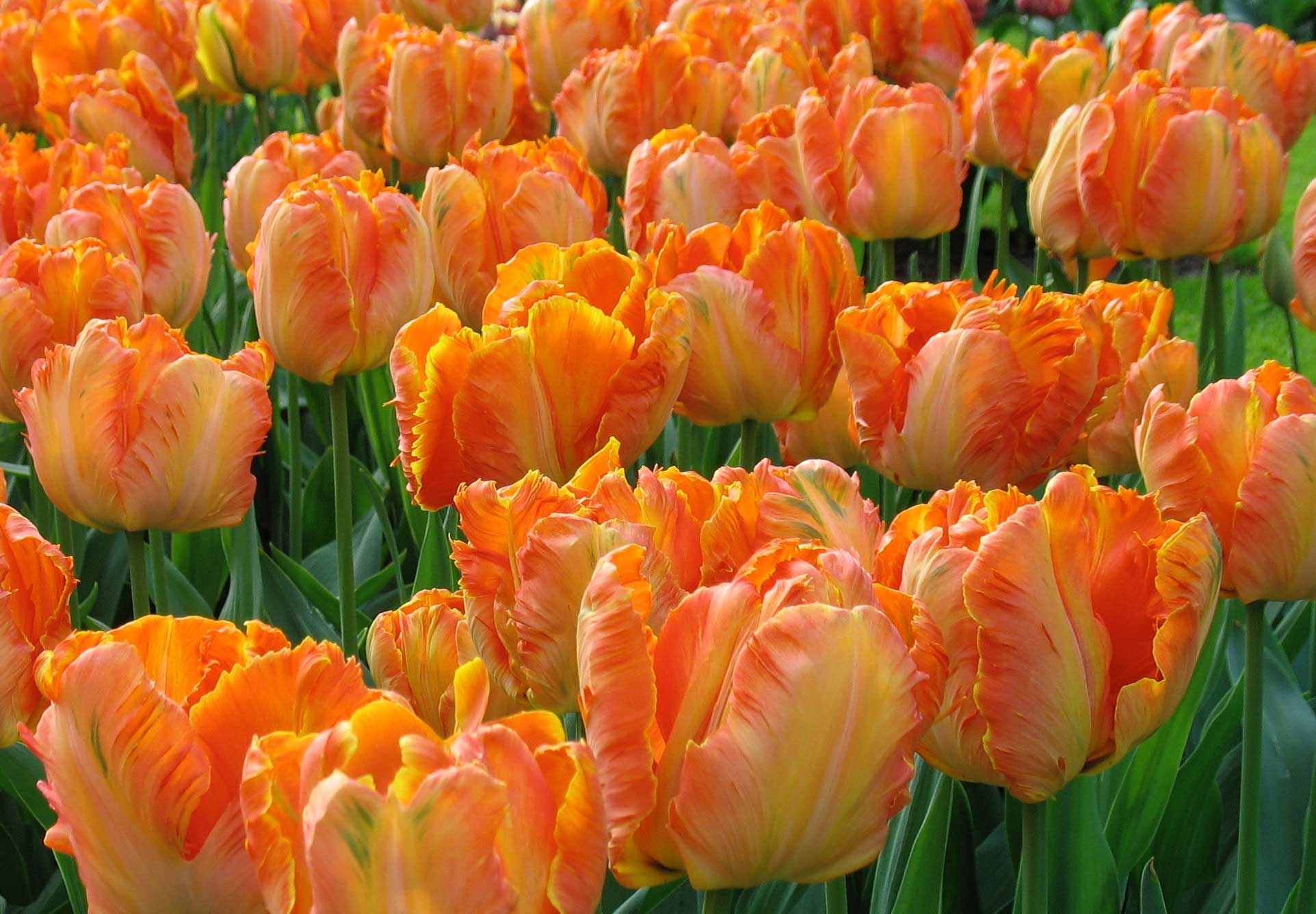 As suggested in the name, it is perennial and goes best in a garden or a backyard. This particular variety of orange flowers offers big blooms that add a pop of orange to your garden.
It needs a well-drained, sandy loam and moist soil but not excessive moisture. The pH of the soil must be 6-7. Growing zones are 3-8. Some zones need a fair amount of sunlight, while others can work with a partial shade.
But keep it safe from harsh winds. It requires a minimal supplement of watering. Usually, tulips have a sweet scent, but this orange flower has a somewhat spicy one.
4. Ranunculus Asiaticus'Elegance Orange'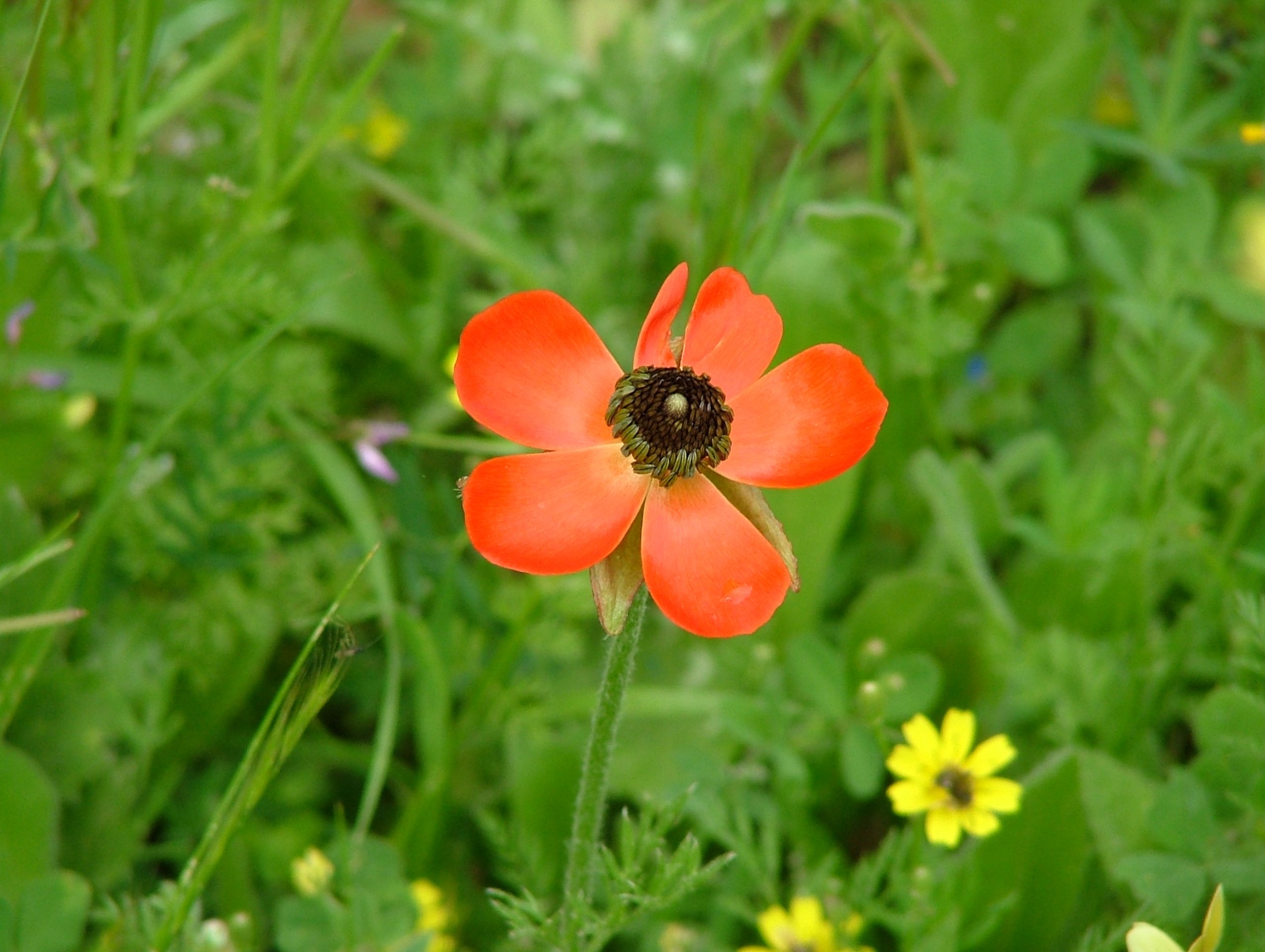 This adorable variety of orange flowers is a unique and widespread butter cup of gardens with very tough and tenacious roots. Its flowers are decorated with layers upon layers beautifully designed, soft salmon orange petals. Plus, it is low maintenance.
It grows best in average moist and well-drained soil. It grows up to 16-18 inches. Growing zones are 7-11, and water needs are moderate. Acidic pH is required. An adequate amount of sunlight is considered necessary. This beauty does not have a scent, but they are an eye-catcher.
Whether treated as perennial or annual, they are sure to add glory to your garden.
5. Trumpet Honeysuckle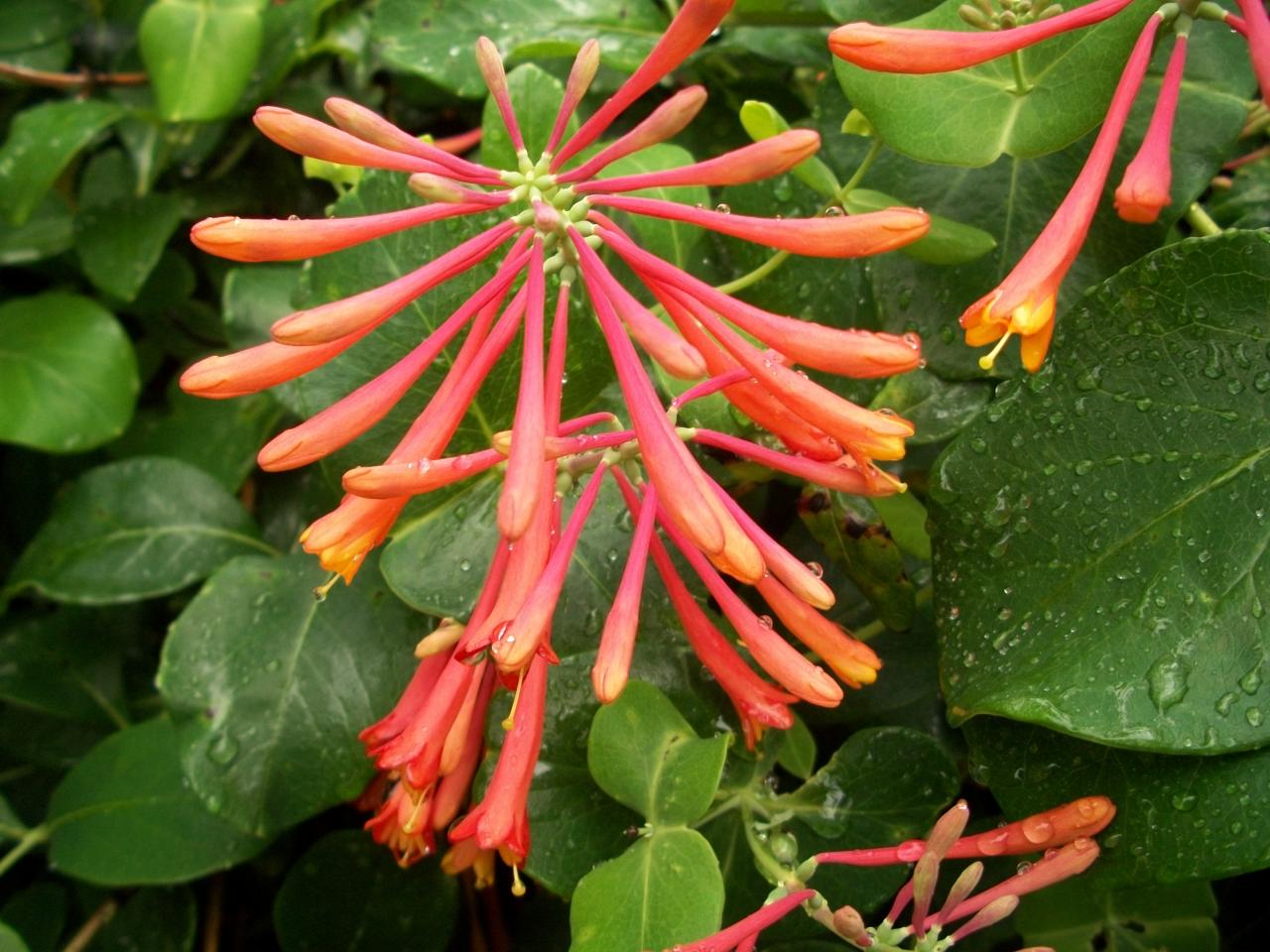 Its scientific name is 'Lonicera sempervirens'. This beauty is a perennial type. This one is undoubtedly one of its kind because of its hanging nature.
It needs to be pampered very well because of its water needs. Keep watering consistently until the flowers are established. Growing or hardiness zones are 4-9. Required soil pH is from 3.7 to 6.8. Grow them in full sun, but sometimes partial shade is acceptable.
6. Dahlia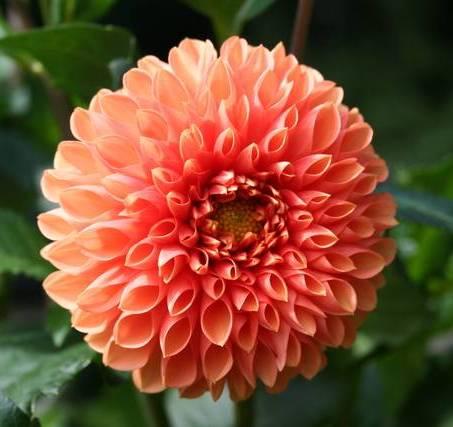 It is native to Mexico. This orange flower has somewhat spiny petals. And it belongs to the aster family, the same family that includes sunflower and daisy. Better try planting it during spring, and it will brighten up your garden beautifully.
Please make sure the temperature of the ground is about 60 degrees or more before planting it. An adequate amount of sunlight is needed, maybe a full sun. The soil has to be moist and well-drained. It grows in hardiness zones ranging from 8-10. Their scent is floral and sweet. Excessive watering can put your plants in danger, so refrain from doing so. But potted dahlias need a little bit more water.
7. Poppy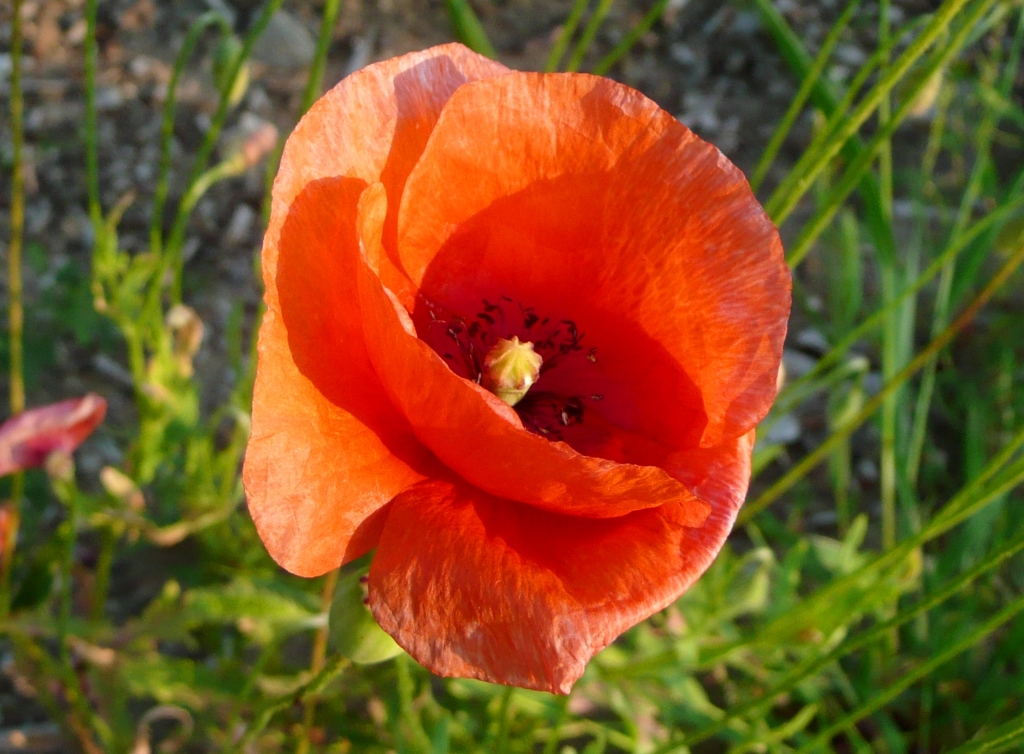 This attractive orange flower will sure do its work as suggested in its name. It will surely pop up the warm orange color in sunlight. It can be treated as both perennial as well as annual.
It needs an adequate amount of sun but a comparatively minimal amount of water. Growing zones are from 5 to 11. Soil's pH has to be from 6.5 to 7.4. It smells somewhat musky. The soil has to be well-drained. These orange flowers do not like too much warmth or heat, and it has to be moderate.
8. Kalanchoe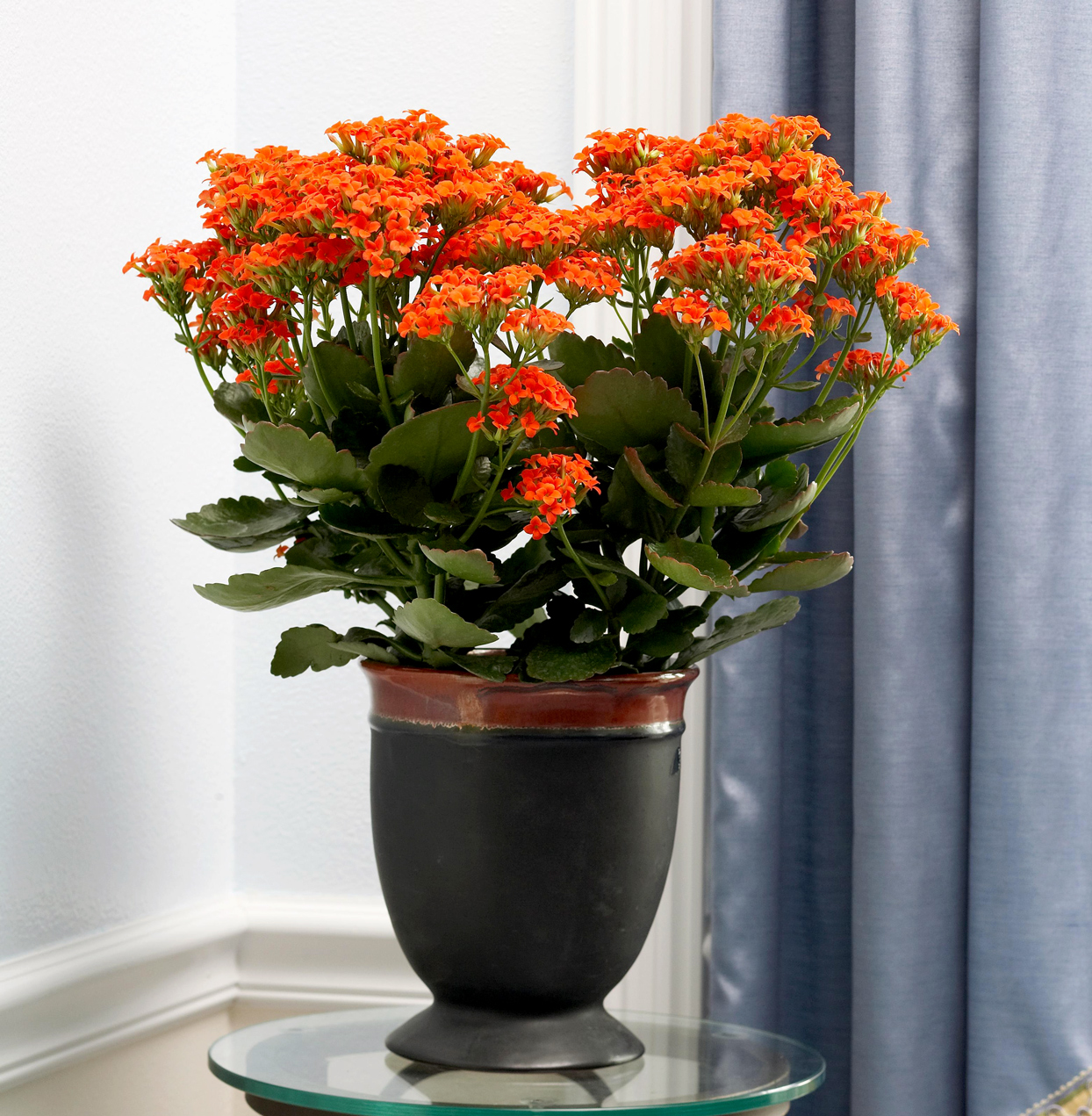 Unlike the former one, this is a heat-loving plant. These tiny beauties will surely grab the attention of your guests, making your yard look adorable.
It grows about 12 inches tall. Plenty of light is a must, making it a warm lover. Soil type has to be sandy. It needs a little more care, so don't forget to fertilize it periodically. Unlike others, it is a succulent perennial. It can tolerate mild winters. Kalanchoe has unusual growing zones like10, 11, and 12. It requires a minimal amount of water, so watering it two-three times a week will prove to be sufficient.
9. Kniphofia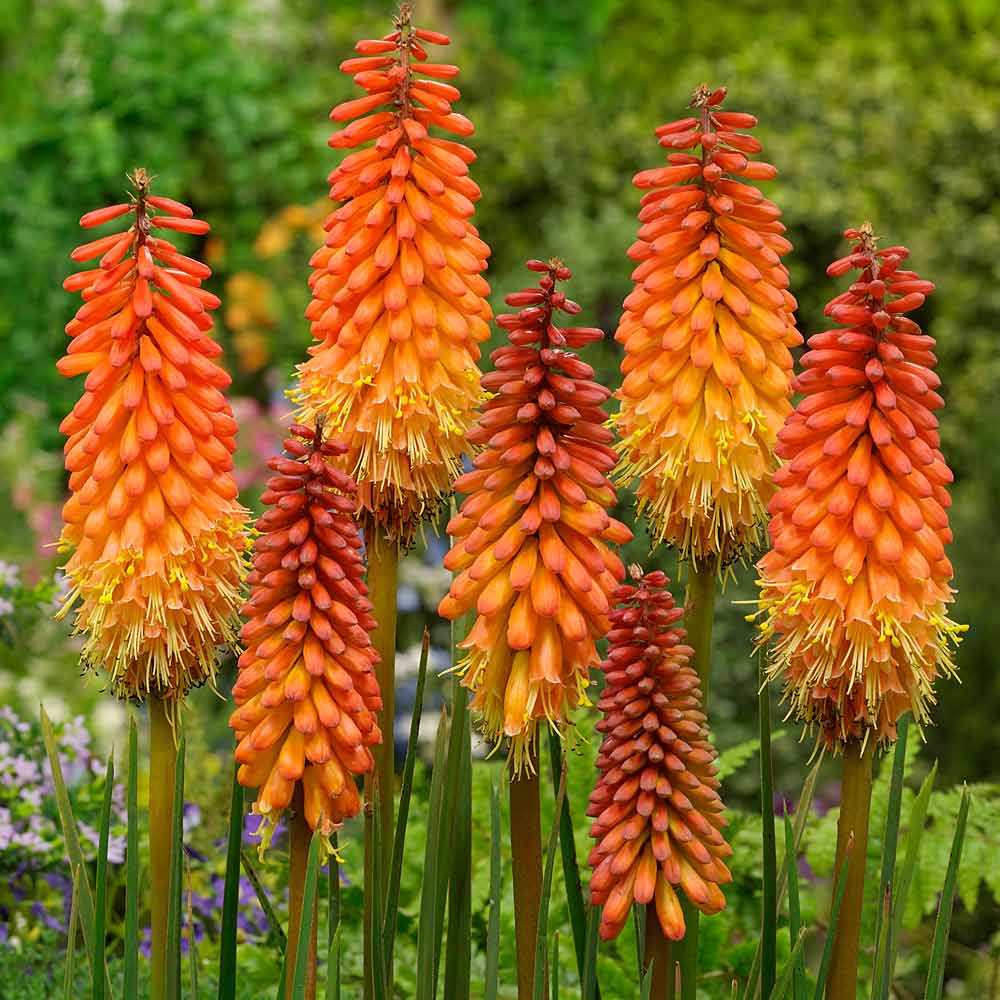 Based on its appearance, it can also be called torch lily. If you are someone who loves butterflies and birds and would love to hear pleasant sounds of their chirping and humming, then you've got to adopt this magnificent orange flower on your lawn.
Kniphofia grows well in full sun. It grows in well-drained and fertile soil. Hardiness zones are 5-9. It smells spicy similar to orange tulips.  Soil pH has to be from 6.0 to 7.0. It is native to South Africa. The watering capacity of this orange flower is one inch per week.
10. Strelitzia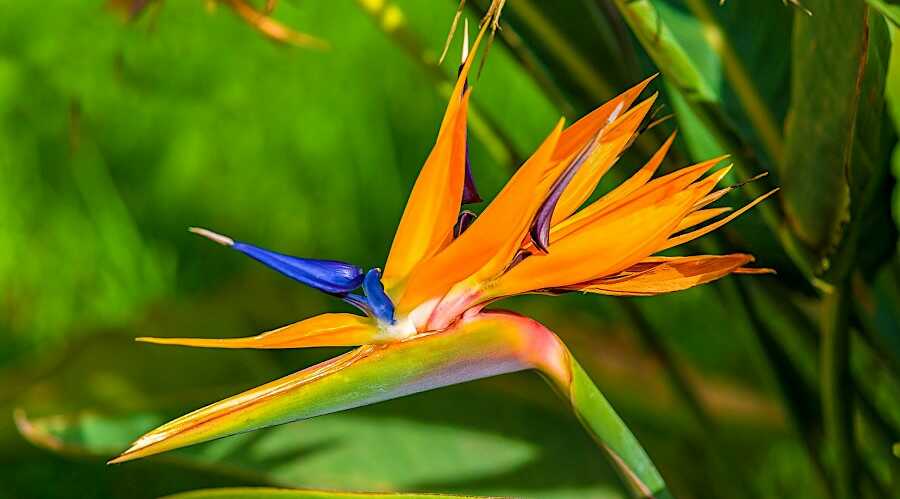 Are you looking for an orange flower that grows best indoors and does not require a good deal of sunlight?  Then this attractive piece of nature is for you. You can keep them potted or can adopt them in your backyard. But make sure you do not expose it to harsh cold temperatures.
Provide an adequate amount of water to keep the soil moist annually. But keep in mind that you should not overwater it or else you may damage your plant. The soil has to be well sapped.
It is popularly known as the 'bird of paradise.' Strelitzia also contains other colors in the same flowers. It has a strong and sweet fragrance. This is our most favorite orange flower on the whole list.
11. Hemerocallis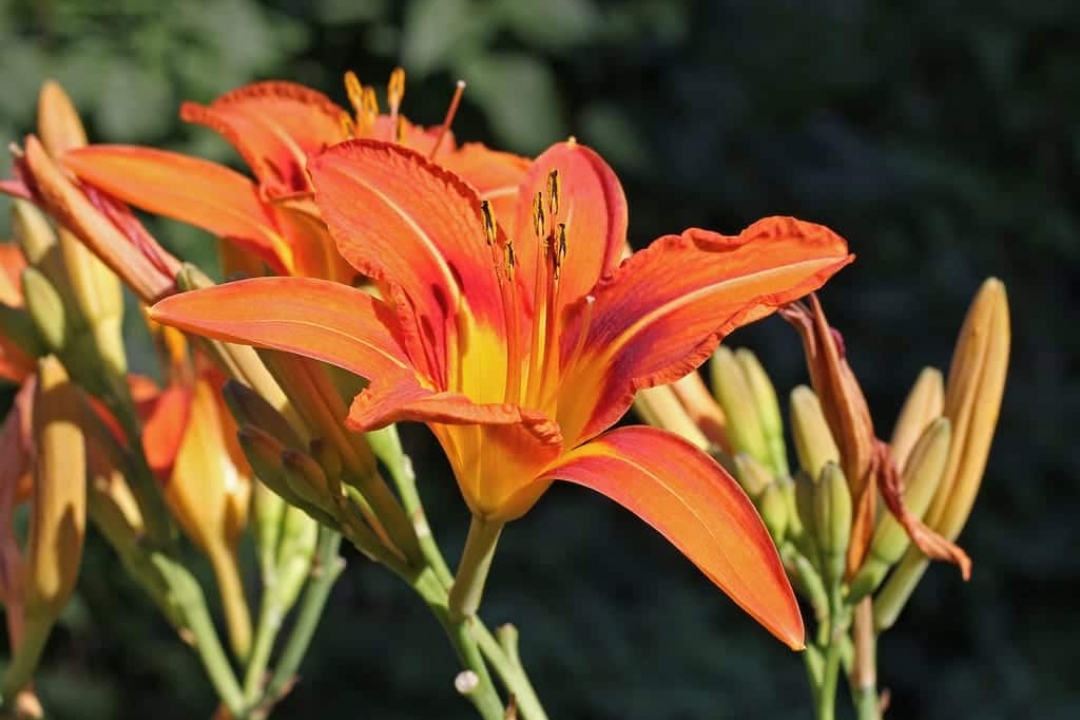 It is also known as daylilies. This one is undoubtedly a perennial. It has distinctive varieties, including diploid, tetraploid, miniature, reblooming, etc. You can choose the one of your liking and the one which suits your surrounding climatic conditions the best.
It spaces around 12 to 18 inches. It usually matures in moist and well-drained soil. These orange flowers necessitate sunlight and shade in moderate amounts. Try planting it during spring, and you will get gorgeous blooms. Remove the wilted flowers so that the new flower heads get space. Hemerocallis is native to Asia.
12.  Marigold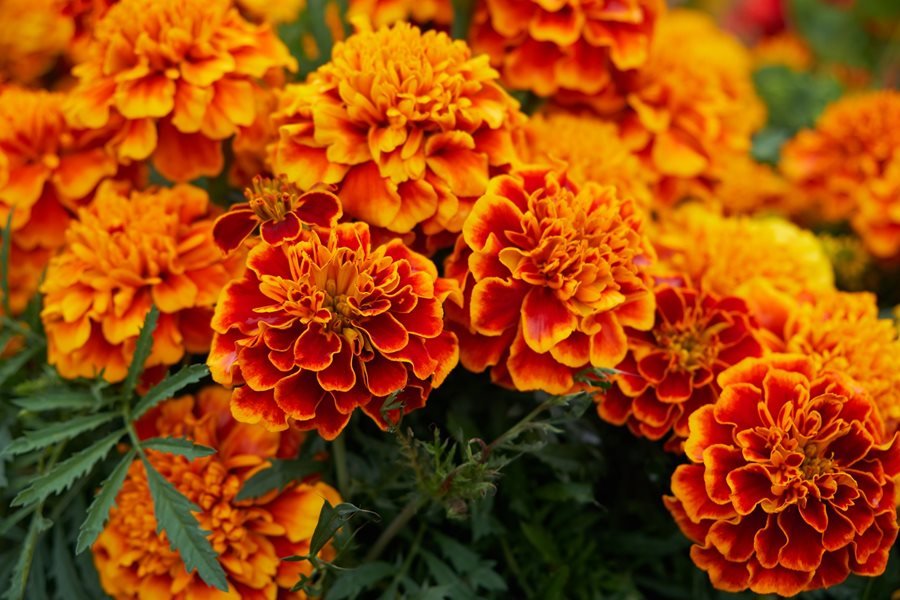 No wonder they are named so right. Marigold has its gold shine. Which is the brightest orange flower we see in nature? Yes, you guessed it right. It is the aesthetic marigold! A bunch of marigold flowers will enhance the beauty of your house, outdoor and indoor! It is widely used in India to offer it to god.
Water the roots more rather than its head, and don't overwater it. Growing zones are 9 and 10. It exists as both annual well as perennial. It was introduced in 1753 by Carl Linnaeus. Sow them from December to February.
They have 3-foot tall stems and about 3 to 4 inches of head. They need more time to develop flowers. You can plant it easily if you live in a sunny climate. Pinching has to be done for pretty and bushy blooms. It has an intense and alluring scent.
Apart from being pretty at sight, marigold has medicinal properties too. It contains essential oils and some other substances that can help to heal rashes.
13. Viola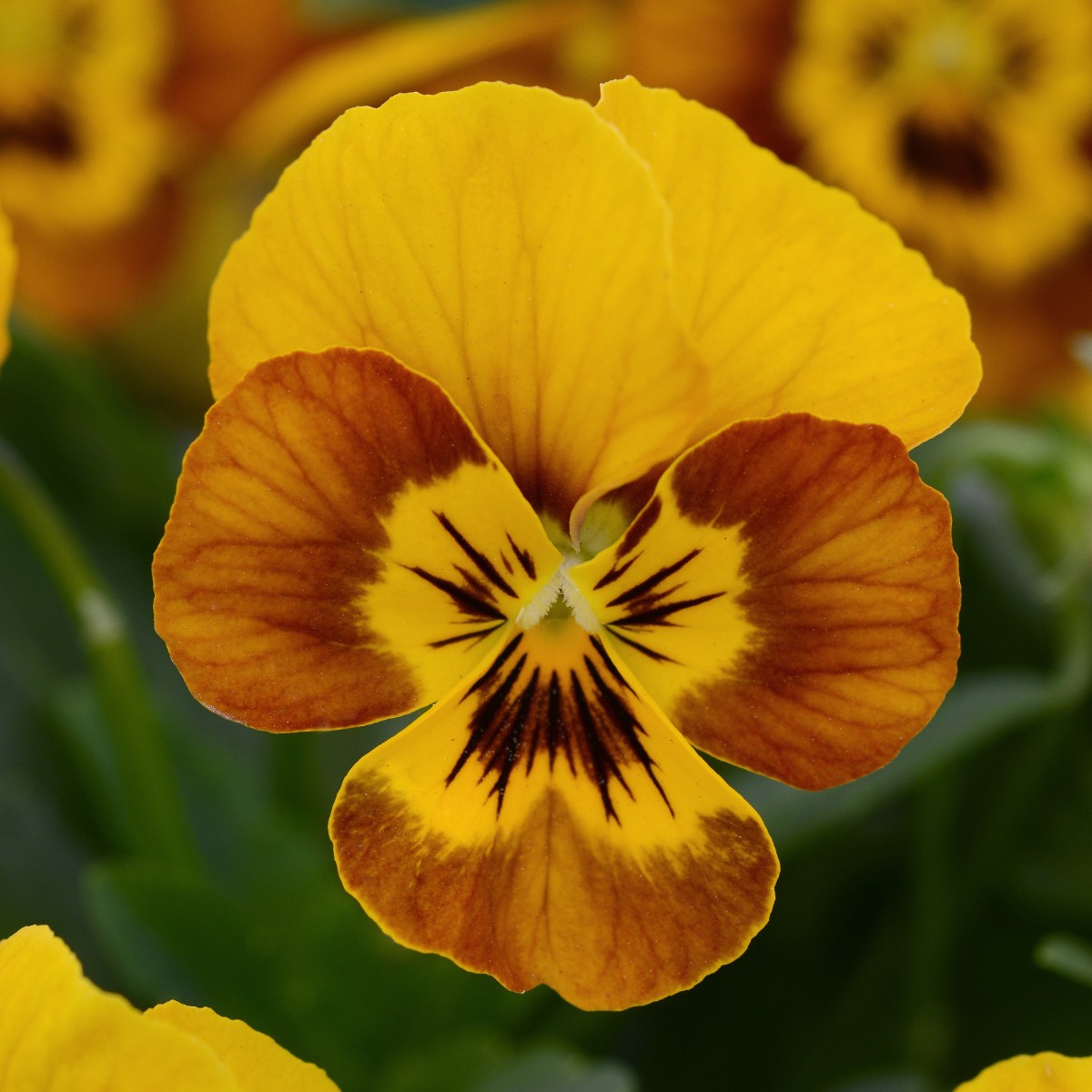 These tiny little treats can lift your spirit if you are having too much stress or feeling down. Seeing them can bring a smile to your face making you forget all of the negativity. Another factor that affects your mood is its fragrance. It has a beautiful blend of sweet and misty scent which will make your soul dance.
They grow up to 9-10 inches tall, and sandy loam soil works best for them. They mature in cool and moist surroundings. They need care during rains because too much water in it can damage these tiny treats.
They are perennial. And here's a piece of great news! They can survive in a full shade, too, not needing too much sunlight if you prefer an indoor plant. We say this orange flower is a must-have.
14. African Daisy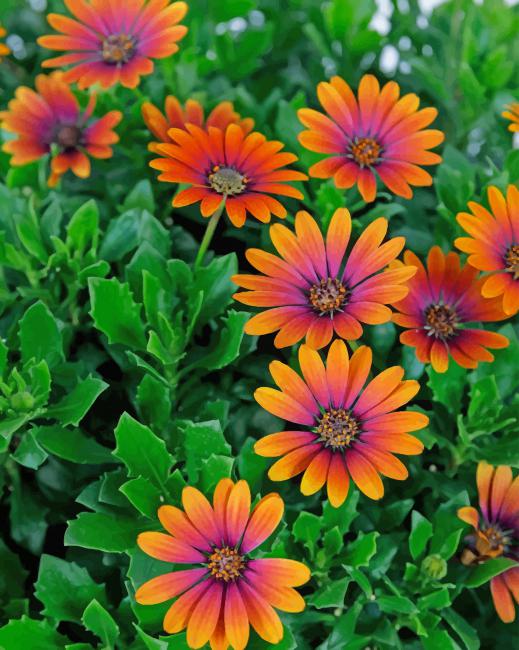 This one is a virtual bluff. It appears as one flower, but it is a cluster of many minute floral beauties forming gerbera (its other name). It is a vibrant big flower and is sure to add beauty both indoor and outdoor.
It needs a little more care. An ample amount of sunlight is a must. It requires a sufficient amount of water too. You will need to add fertilizers to the soil to ensure proper growth. Pluck dry flowers regularly to make space for new blooming ones.
15. Milkweed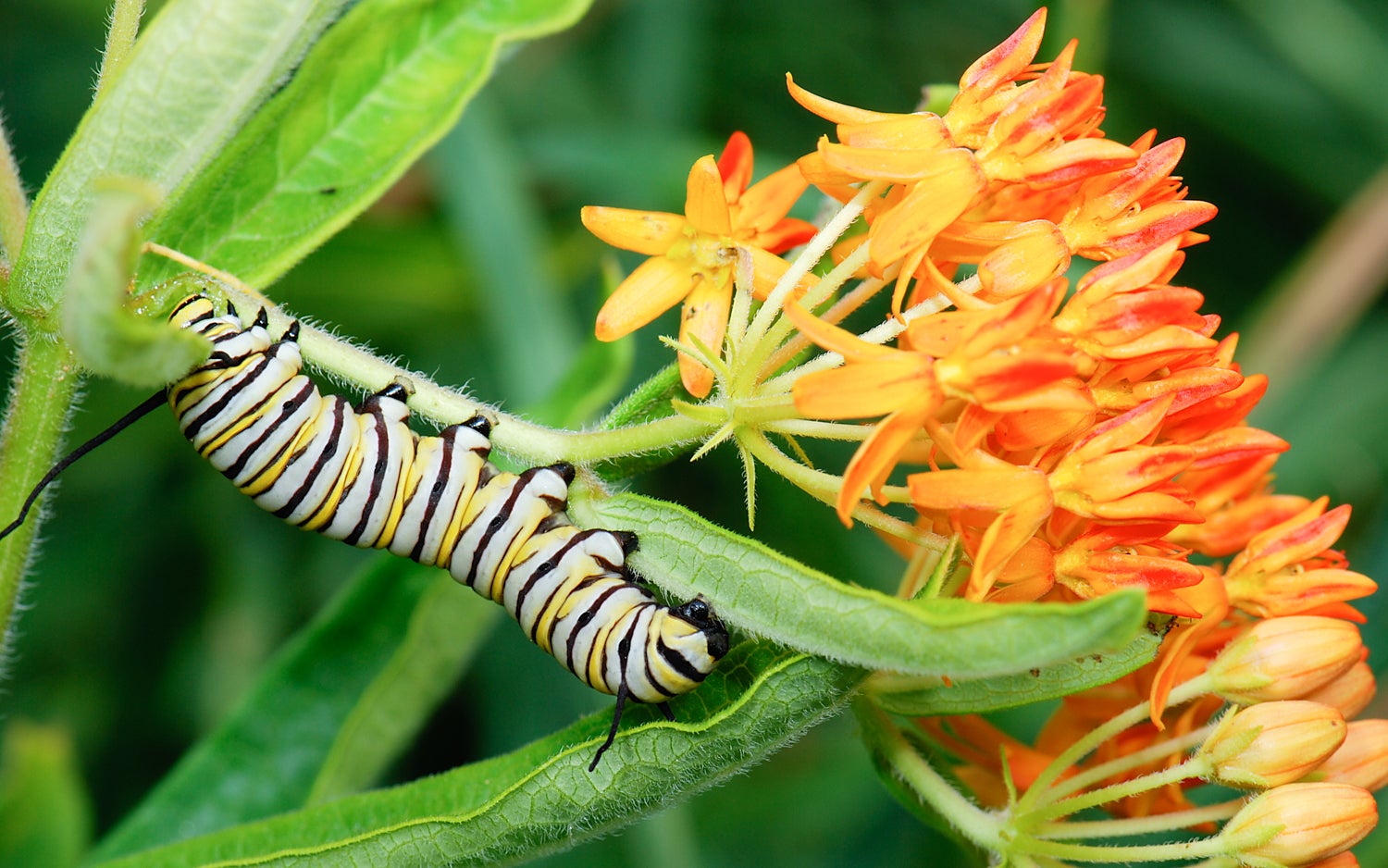 It is well known as 'butterfly weed.' True to its name, butterflies find it fascinating (so do we) and get attracted to it. So you can find a fantastic sight of butterflies in your yard, especially during summer.
It needs a significantly less quantity of water. Its need for soil is a bit different than other orange flowers on the list. It needs dry soil, and thus, it is suited best to grow in summer.  It smells sweet; this is a fantastic sight for butterflies. It grows about 3 to 4 feet tall. Growing zones are 3 to 8.
It might look tiny but can survive in harsh climatic conditions. Even in Droughts! Proper, it is said, "Don't judge a book by its cover."
16. Blooming Globeflower (Orange Princess)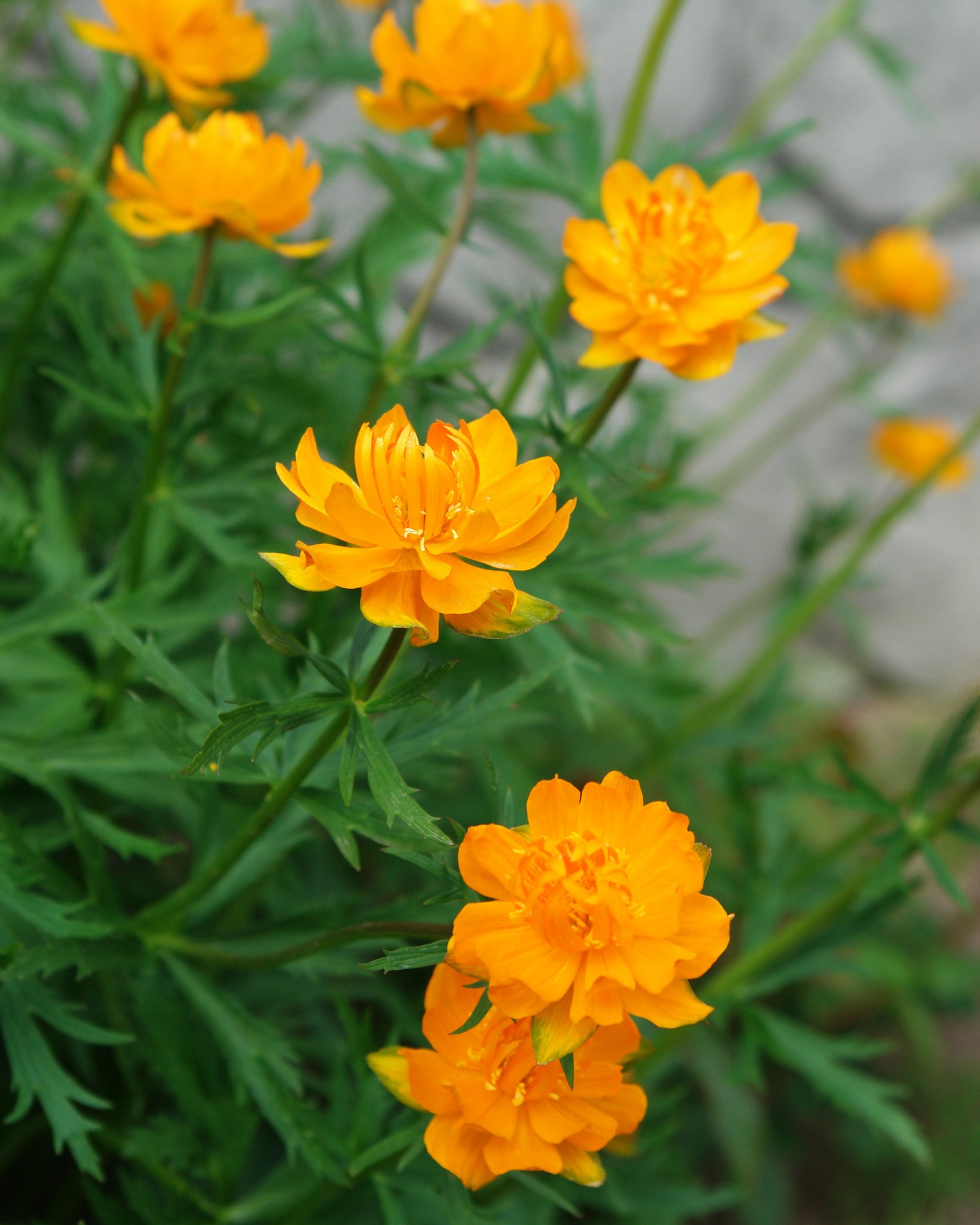 This variety of orange flowers is undoubtedly a delight to your eyes. It has an out-of-the-ordinary, yellowish-orange tint which makes it stand out. As the name says, its intricate floral parts are outstanding.
It needs partial shade to plant it under large trees, and it is good to go. Soil should be very moist and well sapped. Apart from others, it develops well in wet areas and can hold large quantities of water. Thus grows well in monsoon months. The neutral pH of the soil works well. It grows very properly near riverbeds. It grows above 2 inches. The hardiness zone is 5 to 8.
17. Trumpet Vines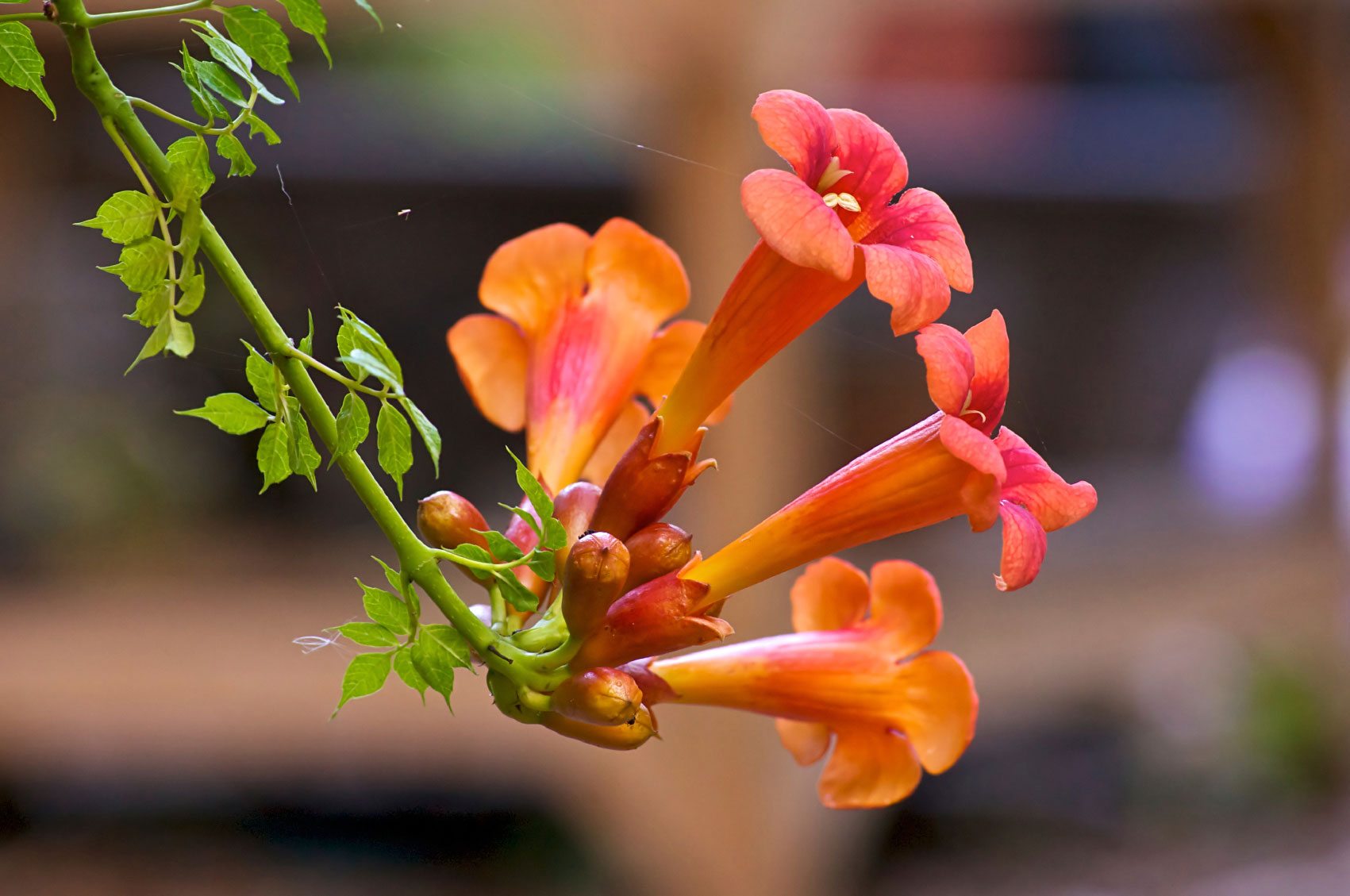 This pinkish-orange flower can bear harsh climatic conditions. It is also known as Campsis. It has a delicate pink outline on its corals, making it look cutest.
Water needs are minimal. It's better to grow them in a garden because potting will require large containers and a larger deal of care. Make sure the soil drains well.
18. Potentilla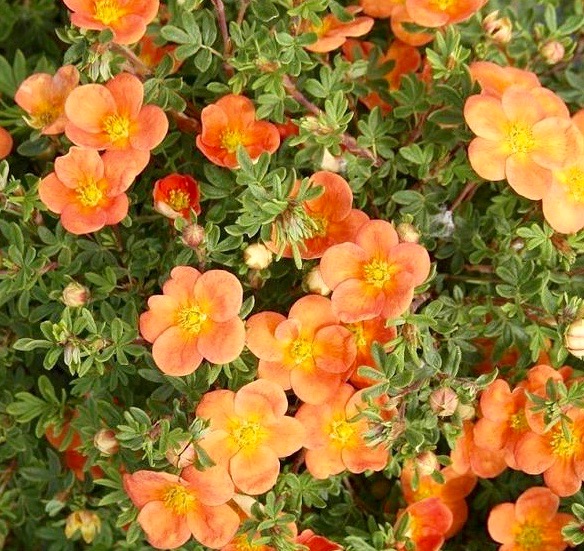 They bear little orange flowers. They can grow wildly and don't form a typical bush. But the bush can be maintained with proper care and regular trimming. You can adopt them even if you live in urban surroundings. Their wild nature makes them pollution resistant. They can also survive drought conditions.
They attract a wide range of butterflies and other insects, making it easy for pollination. Periodic pruning is needed. The soil has to be moderately fertile and should have a pH ranging between 5.2 to neutral. Fertilize it regularly. Initially, it needs to be watered adequately to establish the flowers. These orange flowers grow better in open areas rather than pots.
19. Cock's Comb (Celosia Argentea)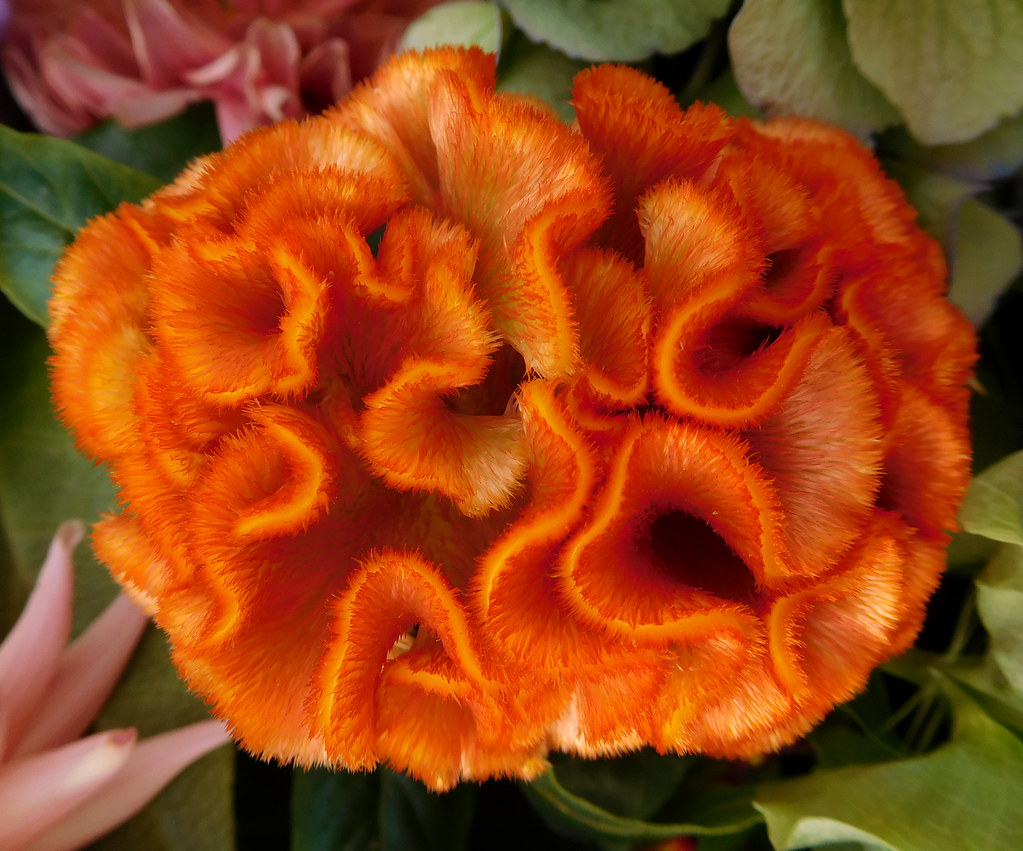 These are incredibly sun-loving orange flowers. Their strange appearance is its unique feature. This orange flowering plant will make you feel carefree just by having a look at its wild yet fragile beauty.
It is generally an annual orange flowering plant. You can plant it during spring or summer. You will get striking blooms if taken proper care of. Celosia cannot survive in cold conditions. It precisely needs warm climatic conditions and will die if the temperature drops below 15 degrees.
It can grow in well-drained sandy soil with fewer nutrients. The pH of the soil must be around 6 to 6.6. The need for fertilizer depends upon the time taken for growth.
20. Zinnia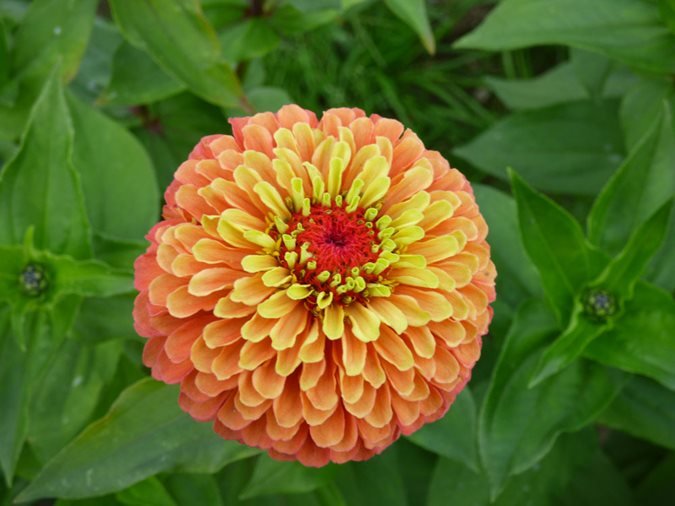 Zinnias will certainly flare-up the orange flowers in your house, offering a warm welcome. Hummingbirds and butterflies get finely attracted to them, making them your daily visitors. This is a perfect match if you are just learning gardening and are not much experienced. They are easy-peasy to grow.
Provide fertile, well-drained, and humid soil to your orange flowering plants with a pH ranging from 5.8 to 7.3. Initially, water the plant regularly. Try to keep your zinnias away from pests and some diseases. They are an annual type of orange flowers.
21. Beberis Darwinii (Darwin's Barberry)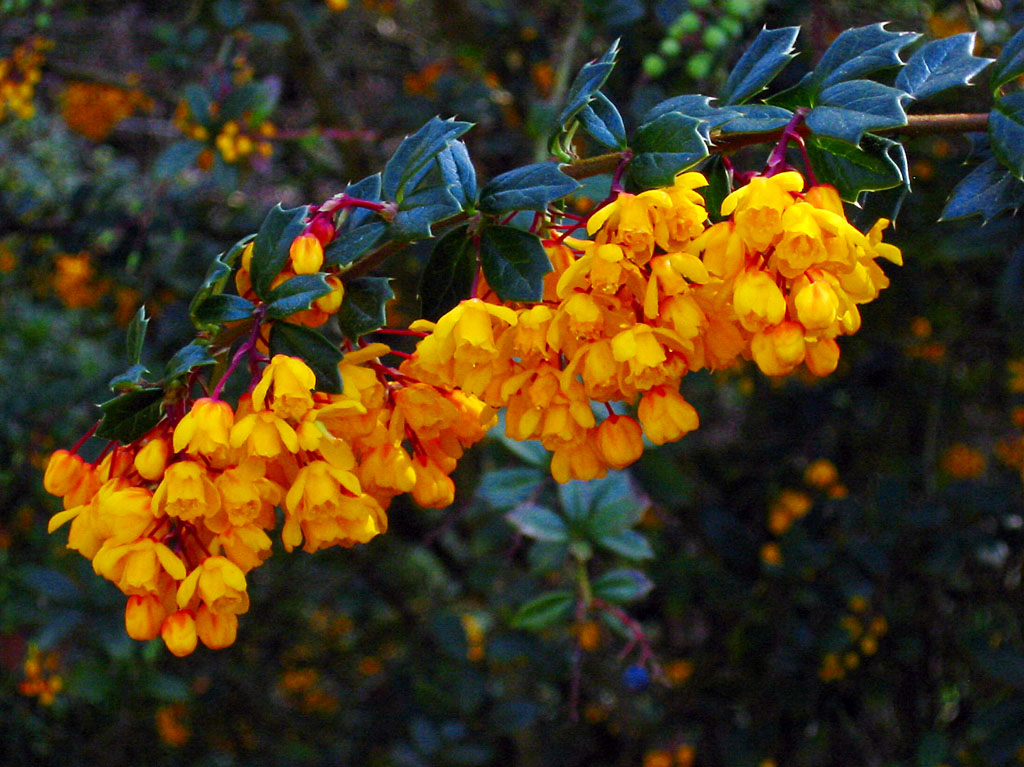 They produce tiny and fragile orange flowers, which you can add to your garden to spice it a little with a bloom of orange color. But the overall plant is tough. It is an evergreen shrub. They start to bloom significantly in summers, especially in April and May. They can also bloom during the spring season.
 They stop growing after reaching the height of 1.8 to 2.8 m. They require well-drained and moist soil. Full sun and partial shade both work for Berberis darwinii. They bear berries which can sometimes be used to make jams and jellies. They don't need large quantities of water, but when you water them, try to water them thoroughly.
22. Pot Marigold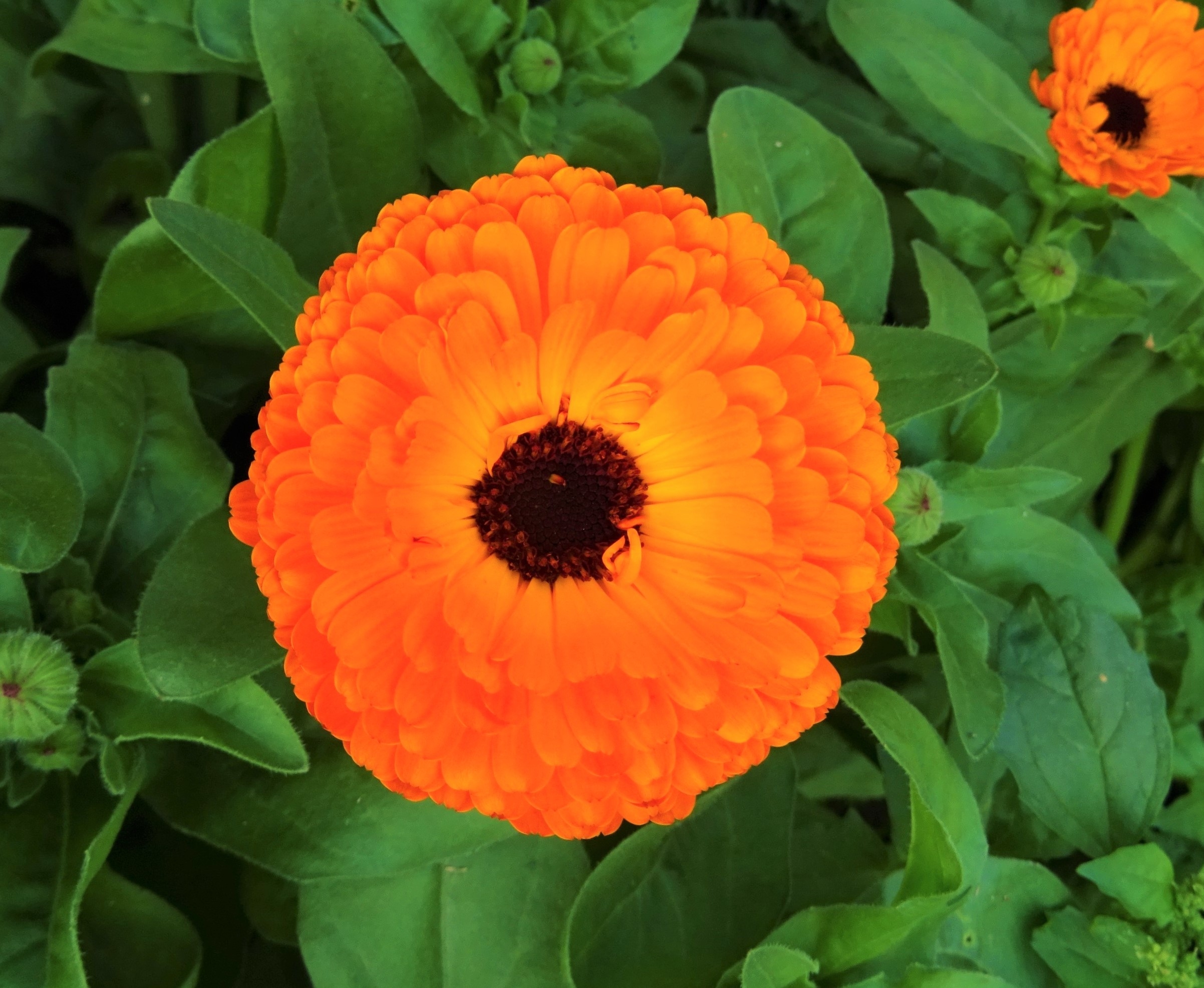 It is also known as 'Calendula.' This eye-catching orange flower belongs to the daisy family, similar to Chrysanthemum. It is perennial and undoubtedly is a sweet pleasure for your yard or window.
https://www.eathappyproject.com/wp-admin/post.php?post=1110&action=edit#
It usually needs full sun but requires shade during hot summers. As usual, it needs fertile and well-drained soil with a pH ranging from acidic to neutral. It would help if you watered them often initially so that the plants are correctly established. But once their roots grow deeper and when the plant matures, water it occasionally. Do not over-water it.
23. Miss Huff Lantana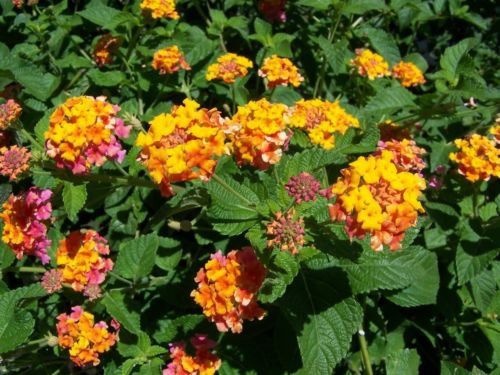 Finally, this orange flower is accessible easily and will add colors to your dull mood. This orange flower is wild enough to handle harsh droughts. They are both annual and perennial. It bears fruits that are not suitable for consumption, and prolonged contact of skin with the leaves causes minor irritation.
This shrub requires full sun and occasional watering. It can grow up to 6 feet in height. It has a fantastic blend of citrusy, fizzy, and sweet scent. This orange flower can tolerate extreme climatic, from sunny days to winters with low temperatures.
This little delight indeed goes in your garden as it has the lowest maintenance.
So, we conclude our list of stunning orange flowers suitable for you. You can adapt the ones you like and those that suit your surrounding climatic conditions the best. These flowers will not only add beauty to your yard or window, but they are sure to bring joy, success, and enthusiasm to your life too.
You can use your creativity with them and pair those orange flowers with other flowers to make the best combination that suits your garden the most.
You can gift these flowers to your loved ones who will always remind them of you and your love whenever they look at them. Thus these orange flowers undoubtedly make the best gift for anyone.
Their exotic fragrance will lighten up your mood and brighten up your soul. And do you know that maintaining plants with care can make you responsible? They bring balance to your life too.
And did you think about the fresh air which they will bring on their way to your house? Yes, these orange flowers will undoubtedly clean up the surrounding air, giving you the great feel of a fresh breeze. So many benefits and a teeny-tiny investment!
What are you waiting for, folks? Go, get those orange flowers, and spice up the look as well as the scent of your garden!