No house is complete without some beautiful plants in the garden, backyard, or on the borderlines. Most people go with foundation plants, planted beds that are installed along the house foundation in the front. Most people prefer low-growing shrubs for the front of the house; however, the choice is always yours. These plants can be low shrubs, bushes, or dwarf trees.  It does become a challenge looking for the right plant for your house. To make things easier, let's look at some of the plants that will liven up your home.
The Best Landscaping Plants for The Front of Your House!
Winter Gem Boxwood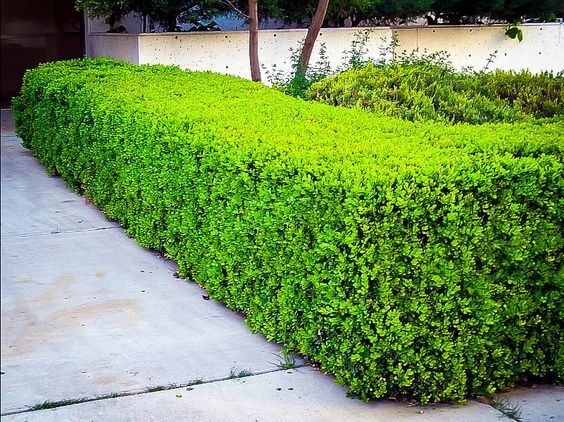 Boxwood is one of the common types of low-growing shrubs, one of them being the winter gem. This is a dense, bushy  evergreen shrub that makes  great foundation plant for any house. The winter gem shows glossy green leaves and grows up to 4 feet. However, Winter Gem has a slow-growing rate as compared to other landscaping shrubs. You can trim it according to your choice, and eventually  takes a pyramid-like shape.
Japanese Boxwood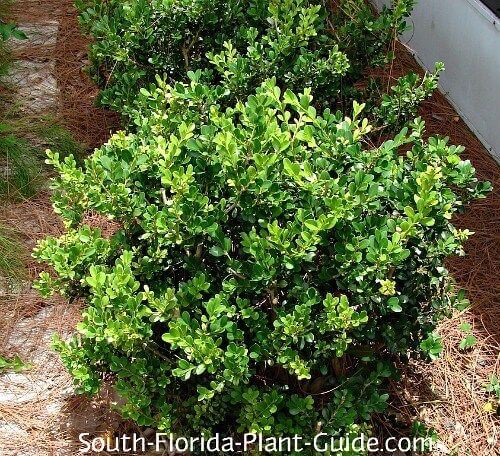 Also known as Green Beauty, this shrub is another type of boxwood. It is a dwarf tree or shrub that can grow up to 1 m tall and wide. This shrub has lush foliage and shows lanceolate leaves, which grow an inch long and equally more expansive.
This loose and rounded evergreen shrub grows well under the sun and in shade. Also, these shrubs need loamy and well-drained soil to thrive well.
Anglo-Japanese Yew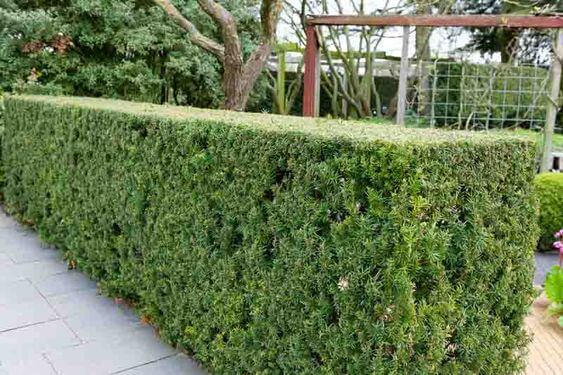 The Anglo-Japanese Yew is a semi-dwarf foundation plant that needs minimum maintenance. Moreover, this shrub has glossy green needle-like leaves, which grows up to 3 to 4 feet tall. This evergreen shrub grows well in both full sun and partial shade and is extremely drought tolerant.
Cavatine Dwarf Japanese Pieris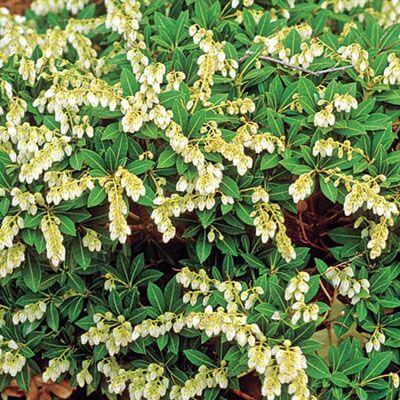 The Cavatine Dwarf is an evergreen shrub that offers beautiful flowering. It is one of the best low-growing shrubs for the front of the house due to the white flowers. Chains of little bell-shaped white flowers make an attractive combination with dark green leaves. Also known as 'Lily of the valley,' this informal shrub grows not more than 2 feet in height.
Rhododendron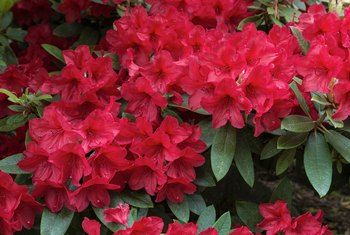 Rhododendrons are an attractive evergreen, flowering specimen. If you love colors in your foundation plants, this is one of the best low-growing shrubs. You can choose your color from various types that it offers- white, pink, purple.  These shrubs grow between 2 to 4 feet in height, making them an ideal foundation plant. They usually live for around ten years.
Inkberry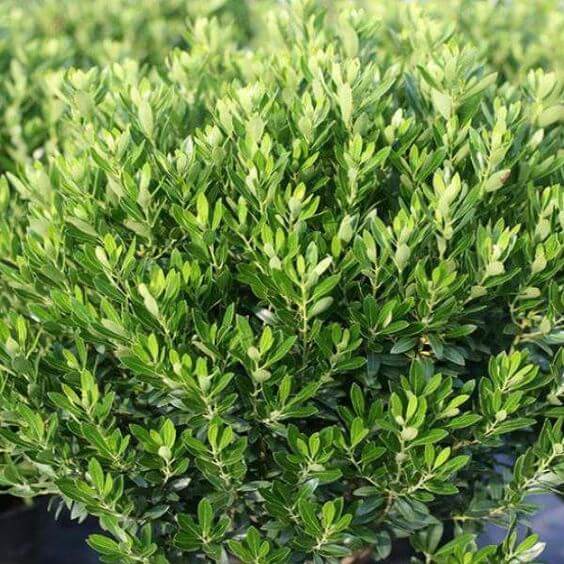 Also known as Gallberry and evergreen winterberry, this shrub is an evergreen plant.  All the types of Inkberries grow not more than 4 feet in height and 6 feet wide. Shamrock, a variety of Inkberry, is the most popular low-growing shrub that offers thick, dark green leaves year-round with flowers in summer and blackberries in the fall. Inkberry shrubs thrive well in both full sun and partial sun positions.  Moreover, these shrubs adjust with almost all kinds of soils and  in both dry and wet conditions.
Emerald N Gold Wintercreeper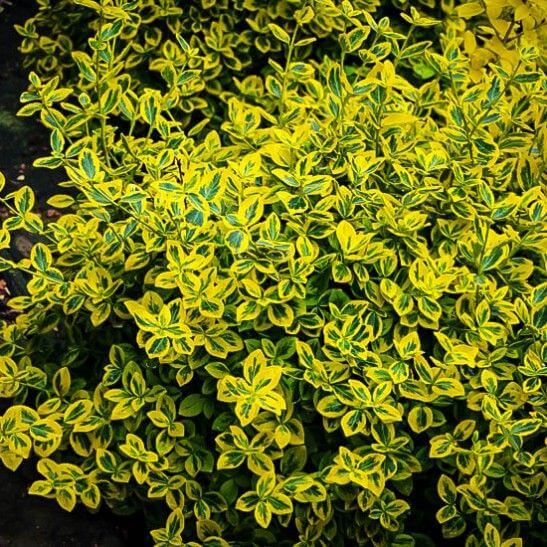 The Emerald N Gold shrub is an evergreen shrub that belongs  to the family of Winter creepers. These shrubs show excellent foliage in bright yellow and green colors. They grow only 1 to 2 feet in height, making them ideal for edgings, garden borders, and house borders. Emerald N Gold's leaves also change their colours to the shades of pink and red in the fall and winter, offering a delightful visual.
Bird's Nest Norway Spruce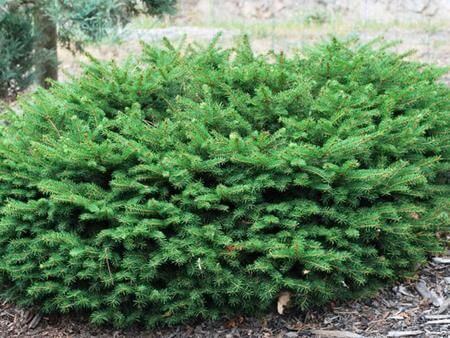 As the name suggests, Bird's nest spruce is  nest-like  in appearance. This dwarf shrub eventually makes a dip in the center with a rounded mound, making it look like the nest of a bird.  This Bird's nest spruce is a beautiful light green foliage that takes time to grow. The evergreen multi-stemmed shrub grows up to a height of around 3 to 4 feet. It requires moderate acidity and  soil for efficient growth.
Dwarf Black Spruce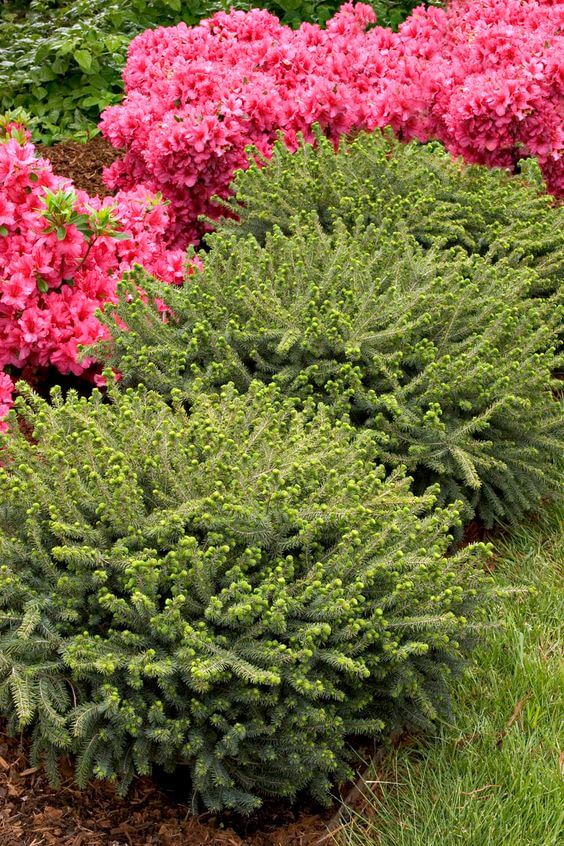 The Dwarf black spruce is a small evergreen shrub that grows not more than 2 feet. It is a multi-stemmed shrub that demands low maintenance and yet provides an elegant landscape. Its small structure provides a delicate texture to the overall view.  This ball-like shrub is considered hardy  and fills out right to the ground. This does not need facer plants in the front to cover the ground. The black spruce is a slow grower and can live upto 50 years in the right conditions.
Little Giant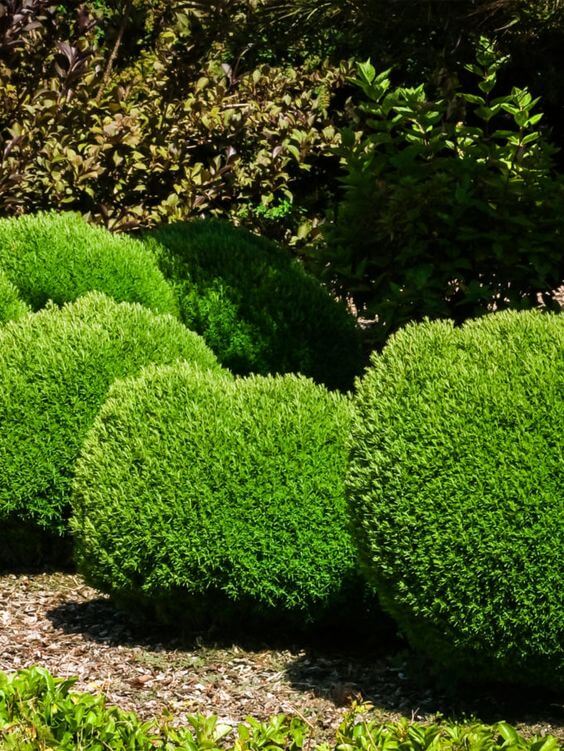 The Little Giant is an evergreen shrub from the family Arborvitae. Among the conifer species, this is one of the best low-growing shrubs for front of the house. It grows in a compact dome shape with feathery green leaves. It naturally grows into a medium-sized green ball without major trimming and pruning. This shrub grows its most to 4 feet in both length and width and takes around ten years for this growth. With proper pruning, this shrub can make an excellent accent plant in your garden. It is considered hardy and loves the sun.
Dwarf Golden Oriental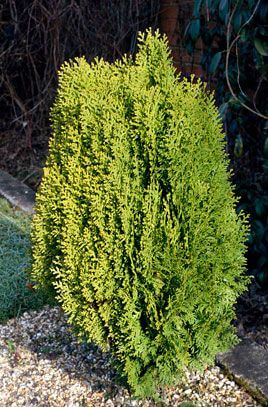 The Dwarf golden oriental is an evergreen shrub that belongs to the Arborvitae family. This shrub shows bright and soft needle-like foliage in the golden and yellow shades and makes a perfect foundation plant for all types of houses. These leaves turn orange and bronze as the winter arrives. This dwarf grows not more than 1.5 metres, and you can plant them in both full sun and partial shade positions. This is a low-maintenance shrub that can also be planted in containers. Moreover, it is one of those carefree shrubs that do not need pruning to maintain its shape.
Moonshadow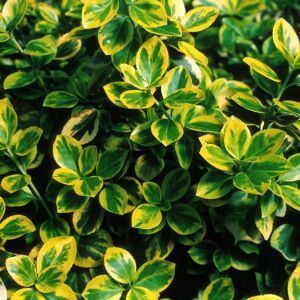 Moonshadow is another winter creeper that provides any landscape  a beautiful  lush green foliage.  This evergreen shrub looks so pretty that it can be planted as a single accent plant too. You can also plant several of these as low hedges.
Moonshadow grows up to 3 feet tall and spread up to 5 feet wide. This shrub can be grown in any moist soil and grows quickly if watering is done 2-3 times a week. It is also said to be drought-tolerant and needs protection from dry winds and cold climates.
Oakleaf Hydrangea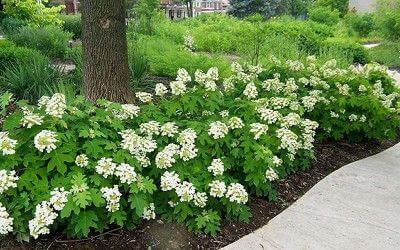 The Oakleaf Hydrangea is a deciduous shrub that shows big pure green leaves in the shape of oakleaf leaves. These leaves look fuzzy when young but look great once the shrub is mature. The shrub experiences beautiful foliage in the fall when the green leaves turn red and purple. The flowers that this shrub offers grow in bright white and turn to shades of pink or purple with time.
This hydrangea grows to a height of 4′ to 6′ and equally spreads. One is needed to plant this shrub in sunny locations. It thrives in shaded locations, but the more shade the less intense fall foliage is seen.
Ogon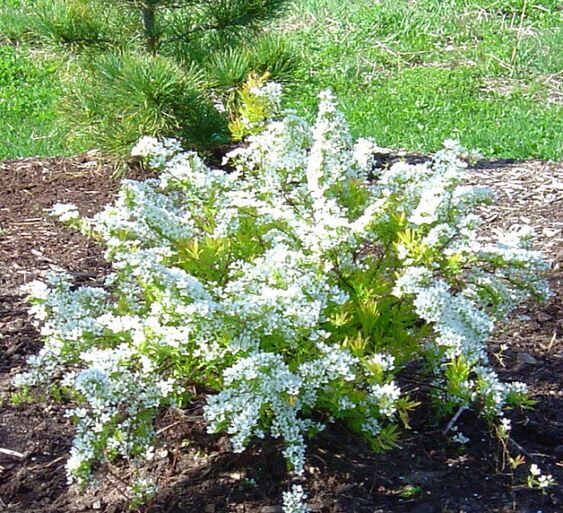 The Ogon Spirea is a deciduous and woody shrub. This shrub is popular among the low-growing shrubs  due to its beautiful lanceolate golden leaves and early spring blooming time. The shrub offers petite white flowers in clusters that resemble tiny English roses. It also shows off unique bronze tones in the fall. Pruning and trimming are needed to maintain the shrub at its best. The shrub can be planted as a single specimen in the garden or included with other shrubs in borderlines. The shrub can grow up to a height of 5 feet and spread around 3 to 5 feet.
Smoke Bushes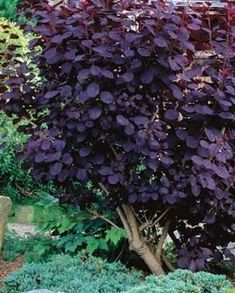 The Smoketree is a dense deciduous shrub or small tree. This woody shrub has multi-stemmed branches with green, purple, or golden leaves. The varieties of smoke bushes experience fall foliage in different shades of pink, purple, red, and coral. Also, these shrubs offer creamy-white flowers in spring. You can grow them in both full sun and partial sun locations. However, their fall color and blooms come at their best with at least six direct sunlight hours. Pruning and trimming are not recommended at the initial stages of this shrub.
Knock Out Roses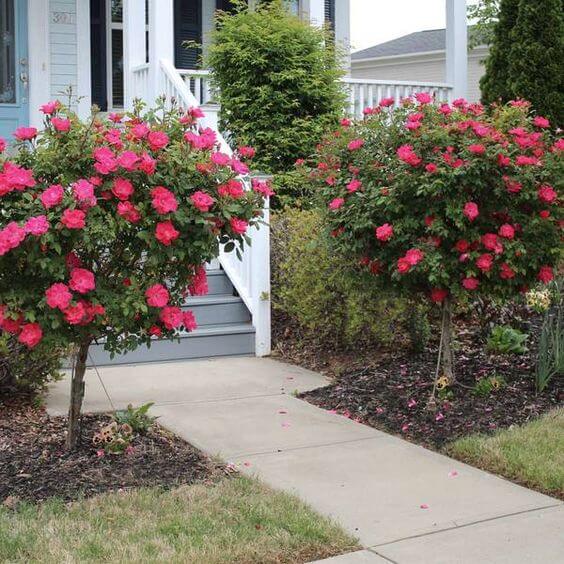 The Rosa Knock Out is one of the best low-growing shrubs which simply means it  needs very little care and maintenance.  This is a fast-growing compact shrub that grows not more than 3 to 4 feet in width and height. The shrub blooms in shades of red, yellow, pink, and white from spring throughout the fall. Moreover, they prefer slightly acidic and well-drained soil with little pruning and trimming.
Elegantissima Red twig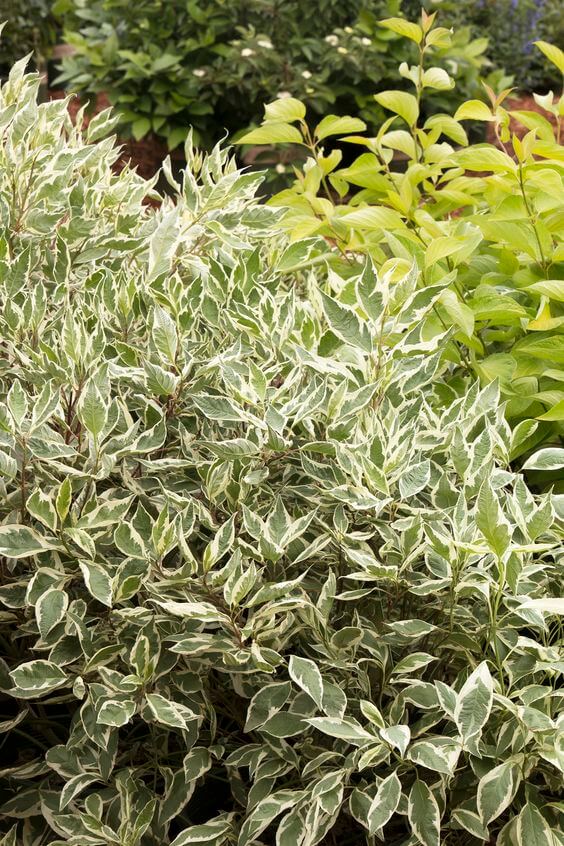 The Elegantissima Red twig is a fast-growing deciduous shrub. This shrub provides year-round visual interests with its berries, variegated leaves, and fall foliage. The berries come in white color, often with tinged blue and green, and the flowers bloom in white color for a long time. It experiences foliage in the fall in shades of rich-red, apricot, and golden. The stems of this shrub turn red in winters, giving it the name 'red-twig.
You can plant this shrub in all locations, but the colors enhance only in direct sunlight. This shrub grows around 6 to 10 feet in height and width.
Japanese Skimmias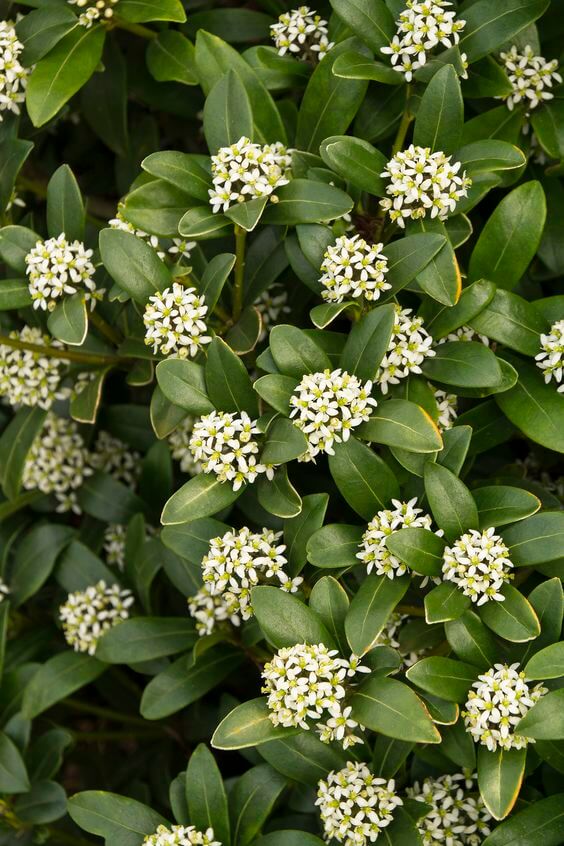 The Skimmia Japonica or Japanese Skimmia is an evergreen flowering shrub that grows rounded. It can be seen cultivated widely as an ornamental plant in gardens and parks. The shrub shows glossy, and leathery green leaves and blooms almost all year-round in shades of white and pink. It also offers attractive bright berries which attract hummingbirds. This evergreen shrub thrives the best in shaded locations and grows up to a height of 20 feet tall. If you plan to add some color to your garden, this shrub will do it in the best way for you.
Blue Star Juniper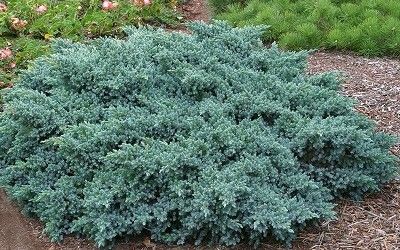 This is a dense, evergreen, needled shrub with elegant silvery-blue foliage. The blue star juniper gets its name because the shrub looks like stars in clusters from a far-off view. The needles on this shrub come in all shapes. This is a slow-growing shrub that reaches up to a height of 1 to 3 feet and spreads equally. It is best to plant this shrub in full sun locations.
Cherry Laurel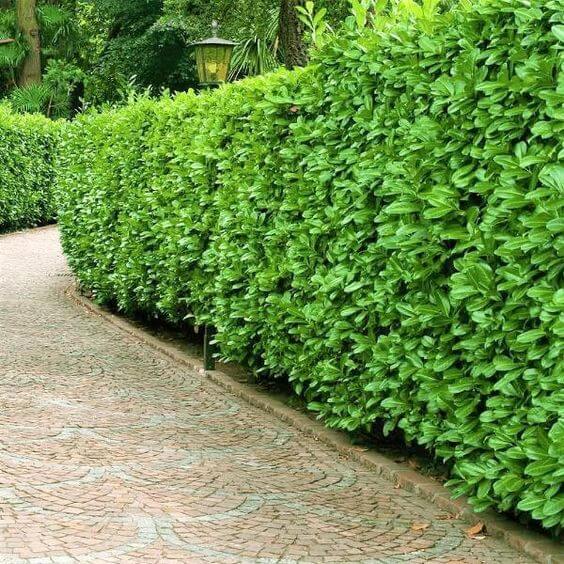 The Cherry Laurel is a handsome evergreen shrub or small tree. This shrub produces white flowers in erect racemes of around ten to12 inches. These flowers bloom between May and June with a sweet fragrance, and then cherry-like red fruits grow on this shrub. The red fruits turn black with time. These fruits also attract various birds to the garden. Cherry Laurel can grow up to 20 to 25 feet of height.  However, it is also easy to maintain this shrub with proper pruning and trimming.
Leucothoe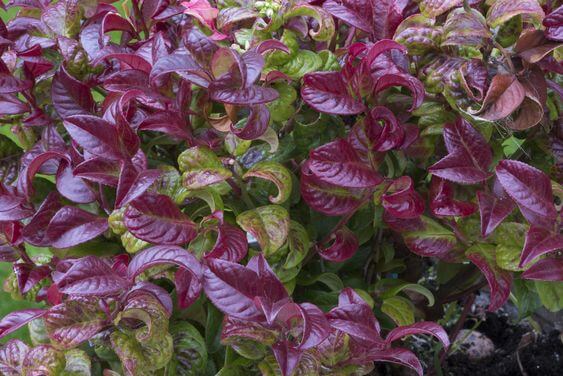 Leucothoe is a genus of around six species. Some of these species are evergreen, while some are deciduous. Many of its species are also known as dog hobble. These shrubs grow glossy green leaves in medium to dark shades.
These leaves turn into shades of  bronze and red in the fall. All its species bare bell-shaped flowers in white with shades of blue. These tiny bells are said to become five-lobed globular flowers.
All its species grow in a vase-like shape from 2 to 5 feet tall. Both full sun and partial sun location work for this shrub. They require plenty of moisture and moderately acidic soil.
Azalea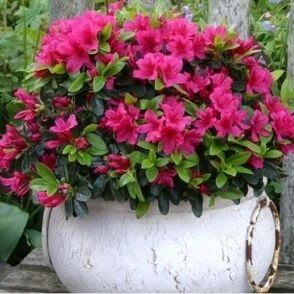 If you are looking for some colorful low-growing shrubs for the front of the house, you should go with Azalea shrubs. These are popular flowering bushes and easy to care for and maintain. This is a deciduous bush that  bloom in  shades of pink, white, red, purple, orange, and lavender shades. Most of the Azalea varieties grow from 2 to 8 feet tall, though their height can be maintained. These bushes prefer moist and well-drained soil with acidic content. Moreover, these bushes are not suitable for cold climate. So, protection and care is needed.
Taunton Spreading Yew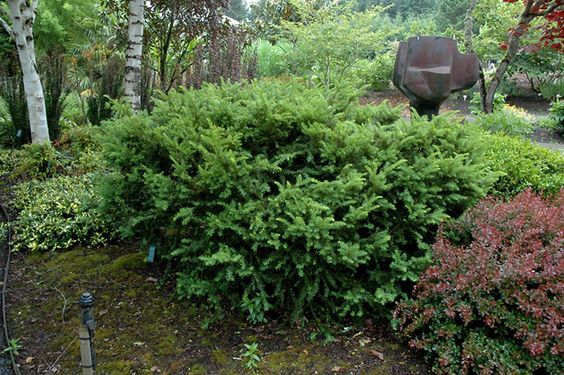 The Taunton spreading yew is an evergreen shrub that grows and spreads upright. You can use this shrub for mass plantings for ground cover or at hedges and screening. This densely compact shrub has bright green foliage dark green needles throughout the year.
It is a very adaptable plant as it can be planted from locations with full sun to complete shade. Also, this Yew takes pruning and trimming very well. They start filling out right from the ground and grow around 3 to 4 feet tall and 5 to 6 feet wide.
Burning Bush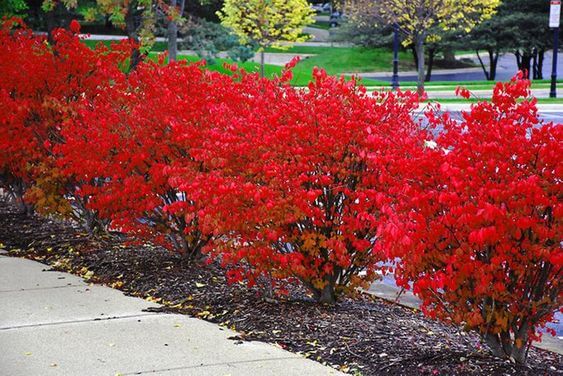 The Burning bush is a beautiful deciduous shrub that belongs to the Celastraceae family. This flowering shrub gets its unique name from the bright red foliage it shows in the fall.
It grows up to 15-20 feet tall and spreads 8-12 feet wide. The shrubs grow in partial or complete sun and in any kind of soil. The burning bush is said to have a slow growth rate.
Mugo Pine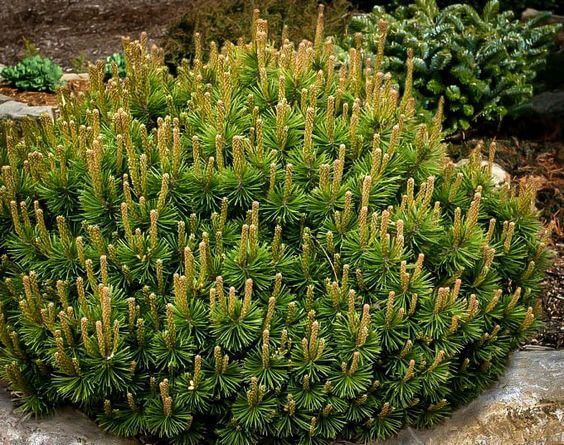 The Mugo Pine is an evergreen shrub that can be grown carefree at any landscape place.Mugo pine offers short and dense varieties of shrubs that look neat in appearance.
The shrub can bear both hot summers and cold winters. They are preferred to be planted in partly shaded locations and will thrive in full sun zones. With proper care and mulching, this shrub grows around 3 to 5 feet tall with a base spread of 5 to 10 feet. However, the size of this shrub depends on the type of Mugo pine one has chosen.