While growing up, you must have probably noticed houses with different porch lights like blue, white, yellow and a red porch light. People usually go with only one option and that is pale yellow. This has always been a common choice and is still among people. However, did you know that different porch lights indicate different messages? Well, yes! Different porch lights give out different messages and meanings.
Since porch lights also give messages and indicate something, it is important to choose them wisely. Are you wondering what messages do different colours give out? Keep reading to know. Because here is a whole guide on porch lights and their meanings for you to explore.
Blue Porch Light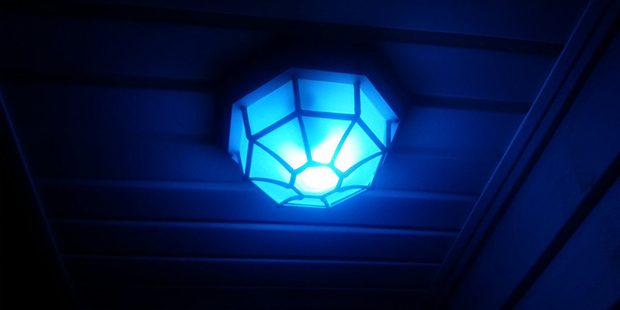 Seeing or having a blue porch light can mean anything of the two- Autism awareness or Police respect. According to the Enlightened Landscape Lights, the blue colour represents Autism awareness. The reason for this date back to 2007 when the United Nations General Assembly officially declared 2nd of April as World Autism Awareness Day.
The Autism Speaks, after three years of the declaration, started a campaign called "light it up blue" to spread more awareness about World Autism Awareness Day. Since then, people have been lighting blue lights in their porches on every 2nd of April to show their support for Autism awareness. The month of April is also celebrated as Autism.
Awareness Month. So, it would be normal to see blue lights in the porches for the whole month.
Now, let us know about the beginning of 'Police Respect'. In an article of 'ABC 10' dated 2017, Placer County, the residents of California showed their respect for police officers and their loved ones by turning their porch lights blue. This is the second reason one might see blue lights in the porches.
If any of these two reasons interest you, you can light up your porch blue.
Red Porch Light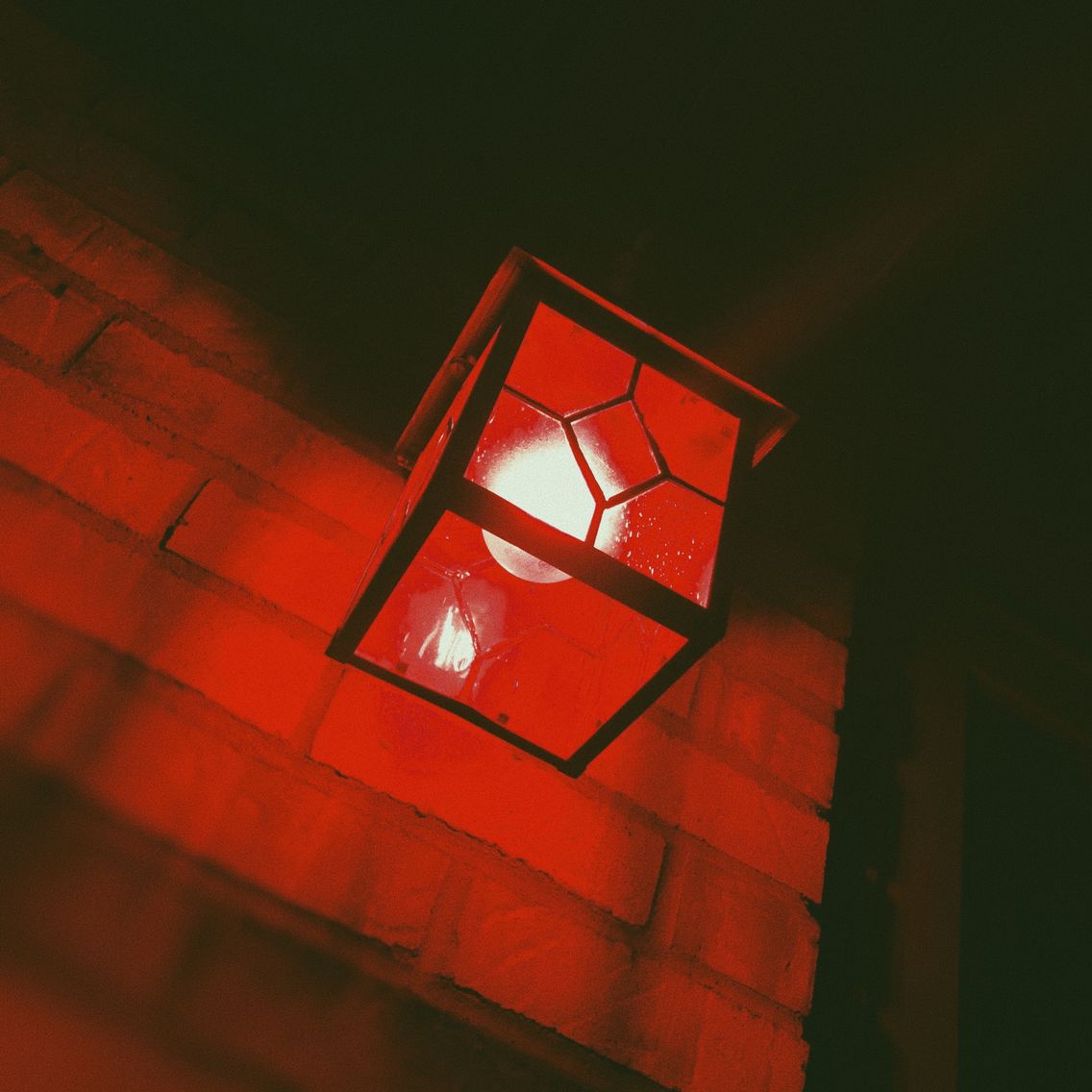 Red lights are one of the common lights you can notice in the porches of your neighbourhood a few times annually. Most of the porches can be seen red in the month of October as Halloween is celebrated in the month. Another month for red lights is February. Yes, one might light up his porch red due to Valentine's day. However, another major reason for red lights in February is American Heart Month.
The idea of lighting the porches red in February was approached by the American Heart Association. The Association asks people to turn their porch lights red in the month to spread awareness on heart health. They did not particularly ask everyone to change their lights to red but asked for turning the cities red. So, you can either do a red decor in your house or put red lights outside your house, it is your choice.
Green Porch Light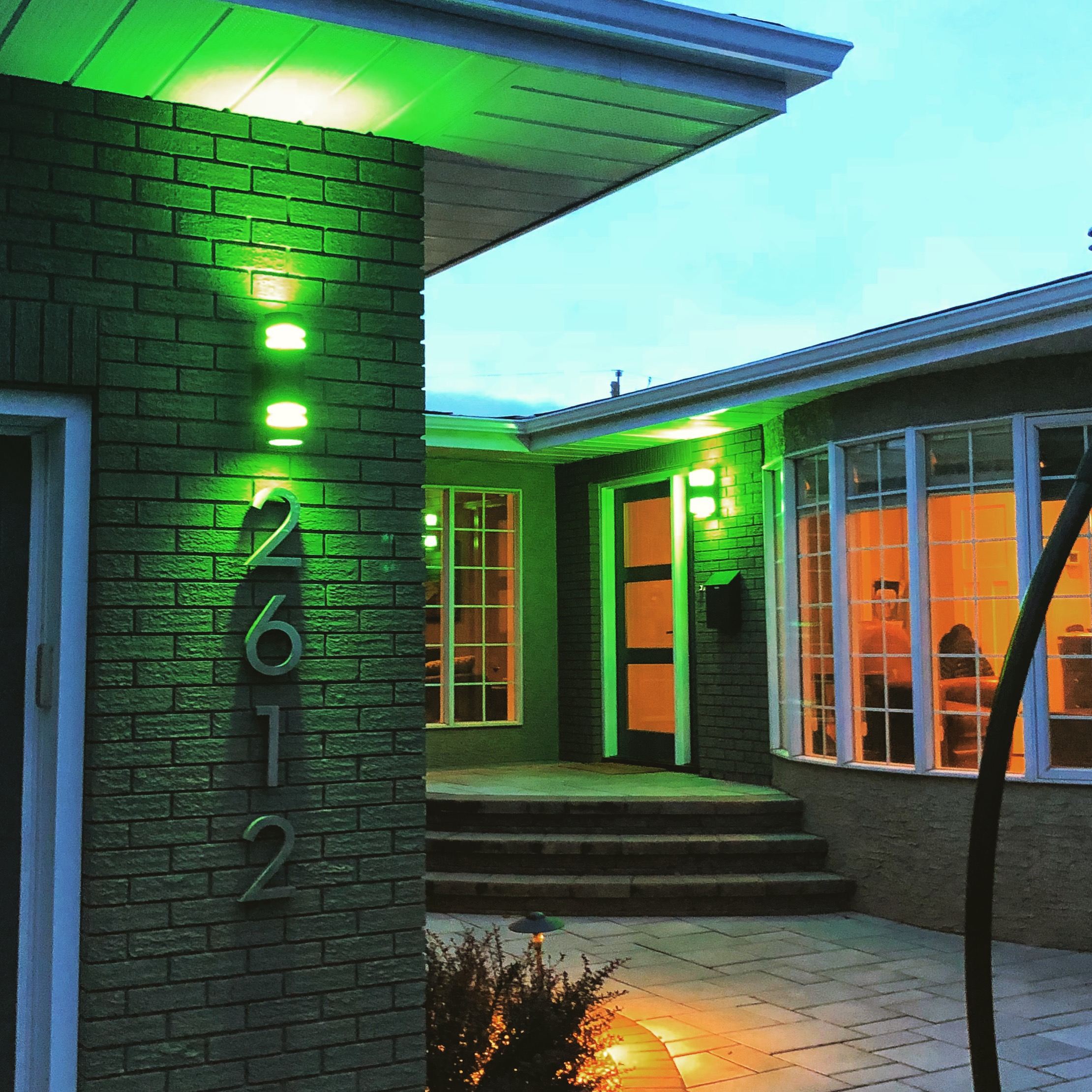 Green lights in the porches signify honor for Veterans. Every year on 11th of November, the citizens of the United States honor the country's veterans by turning the green lights on in their porches. Not only celebrations, programs, and memorials but the citizens also show their respect through lights. So, if you find green lights in the porches in November, know that it is the respect for Veterans.
You might find some green lights on even in March. Some people celebrate St. Patrick's Day in March by turning their lights green. Another month in which green lights can be seen in the porches is May. According to Enlightened Landscape Lights, the 'Light Up Green' campaign asked people to turn their green lights on in May to raise awareness for lyme disease. The month of May is celebrated as Lyme Disease Awareness Month worldwide.
So, you may see green lights on in the porches quite a few times in a year. The reason of the lighting would depend on the month in which you see it.
Purple Porch Light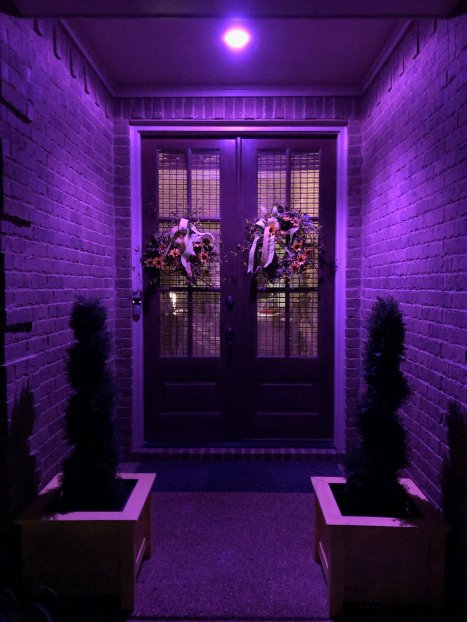 >
Another unique colour you might find popping up in porches is purple. The purple colour is lightened up for Domestic Violence Awareness. According to Enlightened Landscape
Lights, this practise began in 2007 by the Domestic Violence Task Force in Covington, Washington. A campaign known as Purple Light Nights was started by the task force to raise awareness towards domestic violence.
This campaign is followed in October every year. People who follow the campaign also accept it as an honor to people who have survived domestic violence and as a way of remembering those who have died of it.
Blinking Porch Lights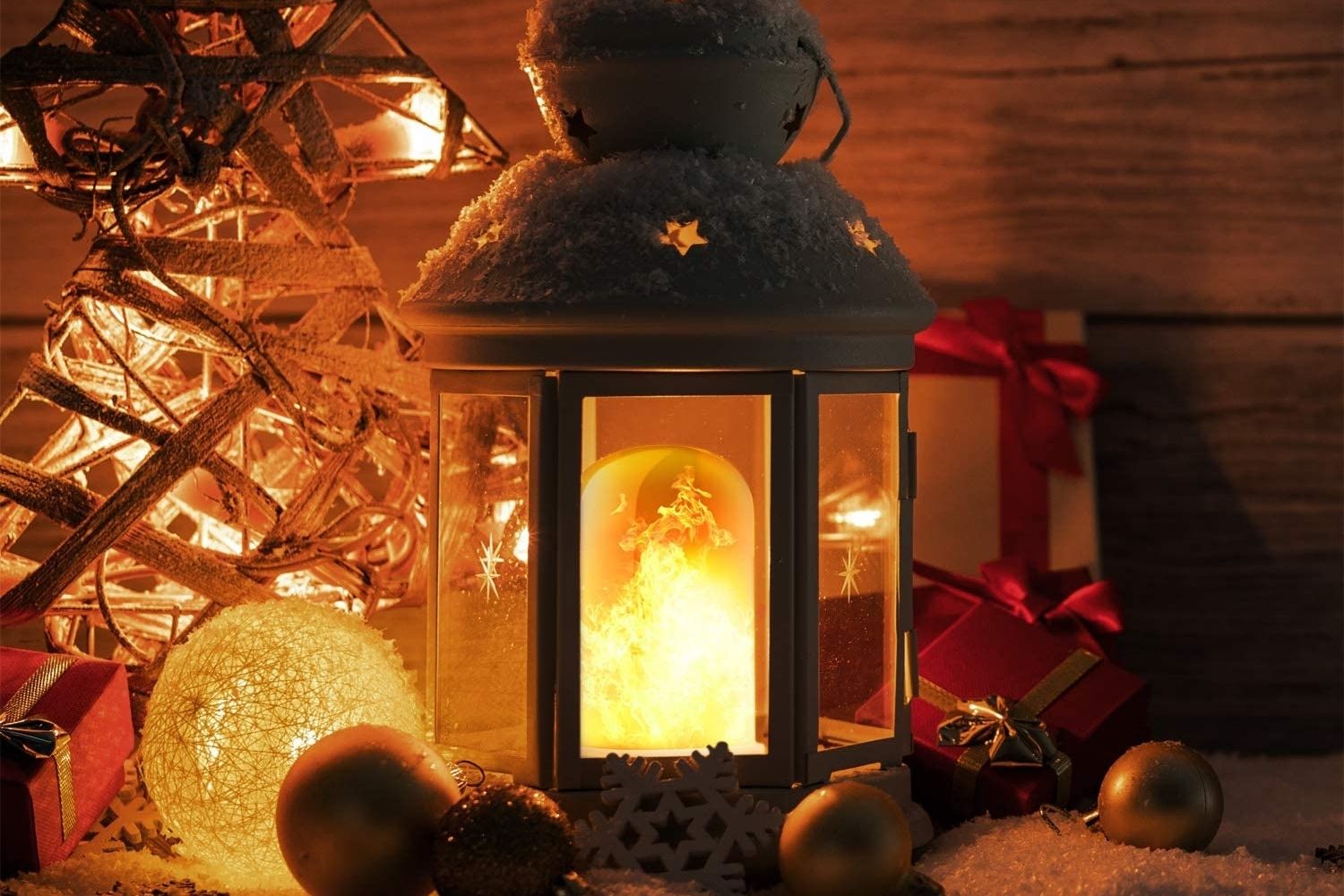 In general, blinking, or flickering lights are usually lightened in porches when something is being celebrated. On occasions like new year or halloween, people light these kinds of lights. Not only others, you also probably do the same. And if this is not the case, one might assume that the light has gone bad. However, there is something more than a blinking light may mean.
Blinking lights are usually seen as a signal of emergency. One might blink his porch light to quickly attract a police officer, firefighter, or an ambulance to the premises. When emergency services are called, they try to come as quickly as possible and finding the right house in such a hurry gets difficult. In such cases, when they see a light blinking, it makes it easier for them to find the correct house and help quickly.
However, most people do not blink their lights for emergency services. It is, almost every time, the case of a celebration or a bad bulb.
Are These the Only Reasons?
After going through the above information, you now probably know that bue, green, purple or a red porch light is used to indicate a particular message. However, these are not the only colours you might see glowing in the porches. In fact, these colours are not common to find lighting all year in porches.
The most common colours are white and yellow. While there is no major reason for these lights as there is for a red porch light or a blue porch light, there are still some psychological reasons. Every colour indicates something more than just a moment or message. The colours we choose to play an important role in how we think, react and act. Your mood and well-being can be affected by the colour you choose for your porch light.
How do different porch lights affect us?
No matter what the environment is, colours play an important role in changing the ambience and the mood anywhere. You can convey any message by just choosing the right colour for it. Only lightening up an area is not what matters, how you light it up and with what colours tells everything.
Colours not only help in showing our support for moments, represent holidays or any other purposes but they also affect us, our thinking, and our daily life.
Colour Psychology
If you are even a little bit into psychology, you would know that every colour denotes something. For instance, white shows peace, red means danger and so on. Have you ever wondered how these colours denote the traits or feelings? Well, keep reading to know tye answer.
Humans have associated different colours with different feelings and emotions with the help of materialistic connections. An important part in this is also played by the temperature of colours. Each light source possesses a specific colour temperature. These colour temperatures highly influence the human psychology of colours.
The colours either have a low colour temperature or a higher colour temperature. These temperatures affect the working of our mind and body accordingly. For instance, the colours yellow and white have low colour temperature and are classified as warm colours. These colours are associated with sunshine and sunset, often making us feel relaxed.
On the other hand, shades of blue are classified as cool colours as they have relatively higher colour temperature. With higher colour temperature, blue increases our concentration and makes us feel energised. Knowing about the colour temperatures helps us make a more precise decision on the colour for our porch.
Every colour affects the human mood in a different way. For understanding this concept here, we have listed a few colours with their meanings and purposes below. By reading about them, you will know what colour will get you in a better mood. This will also help you make a much better decision for your porch light.
Yellow Porch Lights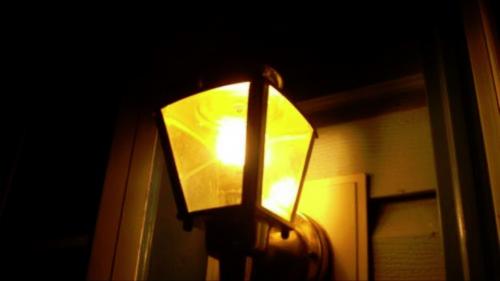 Yellow is legit the most common colour chosen for porches. Yellow lights promote brain functioning and optimism. This colour encourages positivity, unity and resembles sunshine and happiness. These reasons make it a great and wide choice for porch lights.
White Porch Lights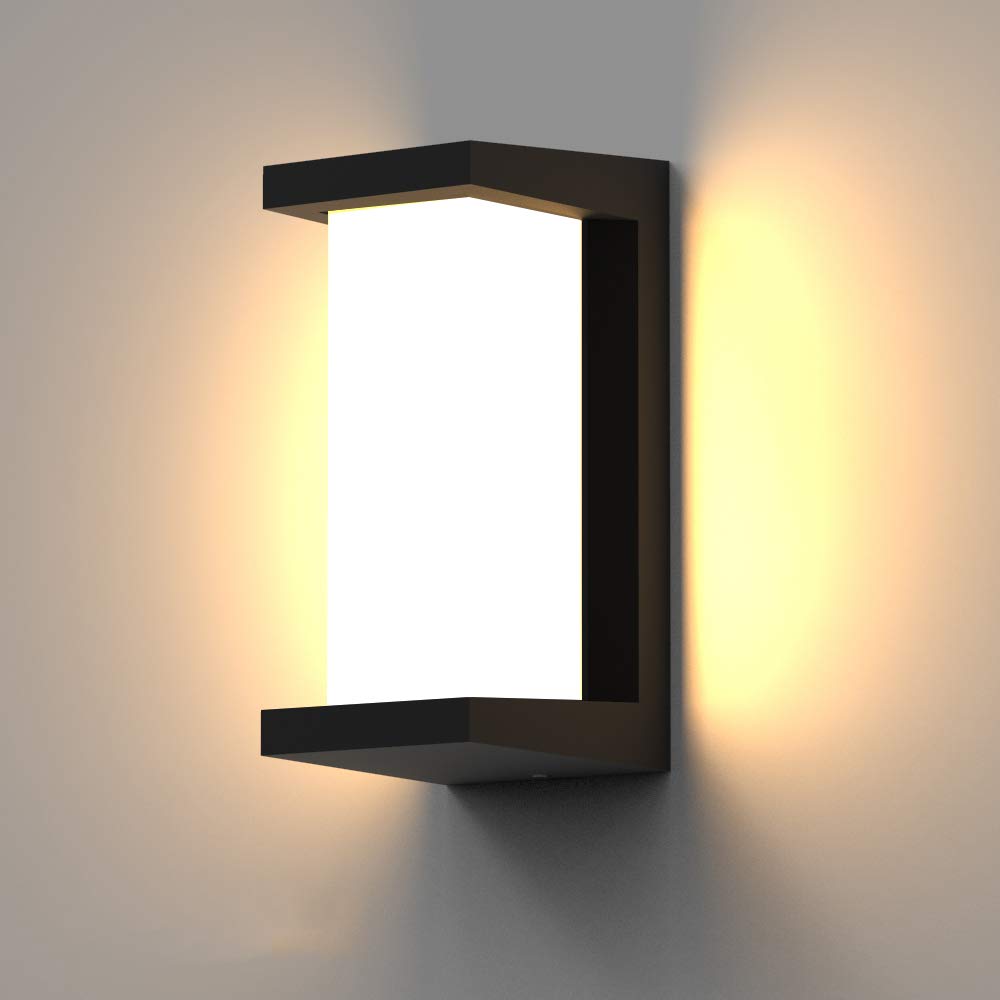 The colour white represents purity, cleanliness, and innocence. It is a common choice for porches because it relaxes you. It resembles sunlight and peace. This is the reason people prefer white lights in their houses. However, some people think of white lights as boring or bland. Although, there are shades available of whites such as natural or warm white to choose from.
Orange Porch Lights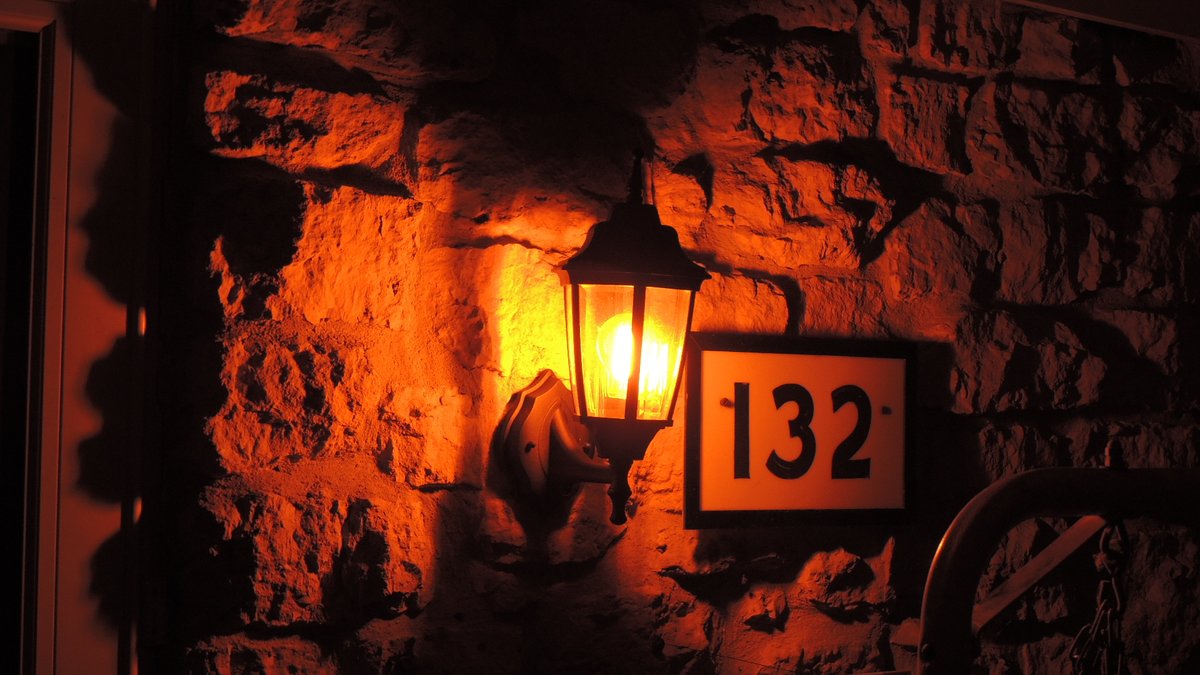 Orange colour is also one of the colours people often choose for their porches or gates. This colour makes a friendly and welcoming aura. So, when you choose an orange shade for your porch light, you attract people softly without those overwhelming feelings that come when you choose a red porch light.
However, if you are planning on an orange shade, make sure you choose something soft and relaxing rather than a bright shade. A bright shade of orange would look the same as a bright red porch light.
Pink Porch Lights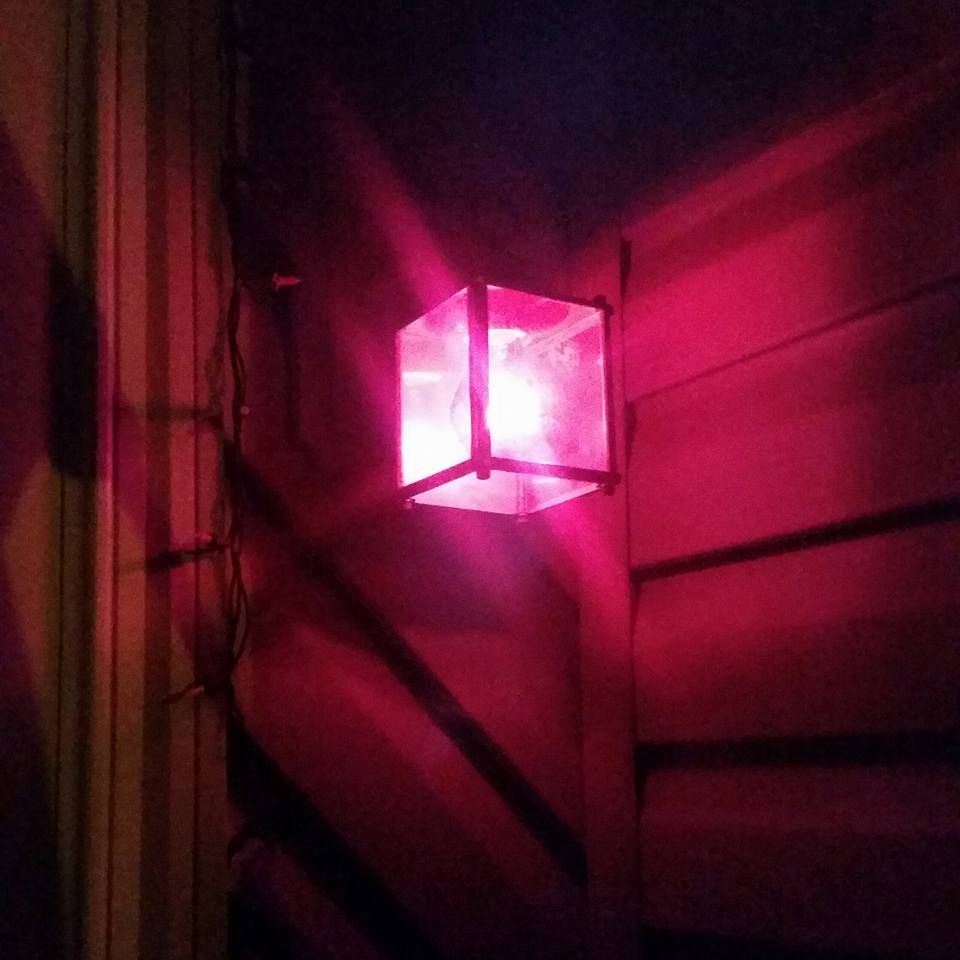 Having pink porch lights look feminine and bring glamour to your house. However, it is quite rare to see pink lights in the porches on normal days. People mostly prefer pink on celebrations and occasions. But if you are willing to have pink lights in your porches for a long period, it is recommended to select a soft pink light rather than the bright ones.
What Did You Choose?
All the colours mentioned above have their own meanings, messages, and indications. At last, what matters is your choice. It is your house and when it comes to a porch light, you can choose anything that interests you, depending on the size of your house and the surroundings. A yellow, white, blue, or even a red porch light, no matter what you choose, you should love it.
Conclusion
After knowing about the indications given by a porch light in colours like blue, green, purple and a red porch light, you are probably now aware of what light to use and when. From a red porch light indicating heart health awareness to purple indicating domestic violence, all these are important matters of concern. Everyone should know about these indications.
Now that you know everything about porch lights, their colours and meanings, you will be able to read the message when you see colourful lighting in someone's porch. Also, when you change the lights in your porch, you will know the reason and the message you are giving out to people. Moreover, having the right porch light in general is also important because the colour you choose for your porch light will affect your mood the most.