If you are sick of your always buzzing pedestal fans or always squeaking ceiling fans and want to find the right alternative that can both give you the gentle and cool air and is also not intervening with your work or sleep due to its reckless noise, then you have come to the right place.
Many pedestal fans in the market promise you quiet operation, but only when you use them for real, you get to know that all of what was being said was just a big bluff.
Pedestal fans are convenient equipment that has been in use for decades. Although there have been many technological advancements and innovations around the globe, these remain irreplaceable in many aspects.
Pedestal fans, although they function the same as they used to decades ago, have become more effective and energy-efficient and are also equipped with modern technology like remote control, sensors, WiFi, voice assistant, etc. All these features have made these fans even more loveable.
Pedestal fans are also way cheaper than an air conditioner, and unlike air conditioners, they can be moved from place to place, and you can also use them when you go out, say camping in summers.
This does not imply that they are better than air conditioners, as air conditioners are sophisticated machines and cannot be challenged by a simple machine like a pedestal fan. But at a quarter the price of an air conditioner, pedestal fans are a very effective way of keeping cool, not to mention that they need less energy. Therefore, I call them quiet window air conditioners.
The 10 Quietest Pedestal Fans That Blow the Competition Away
Rowenta VU551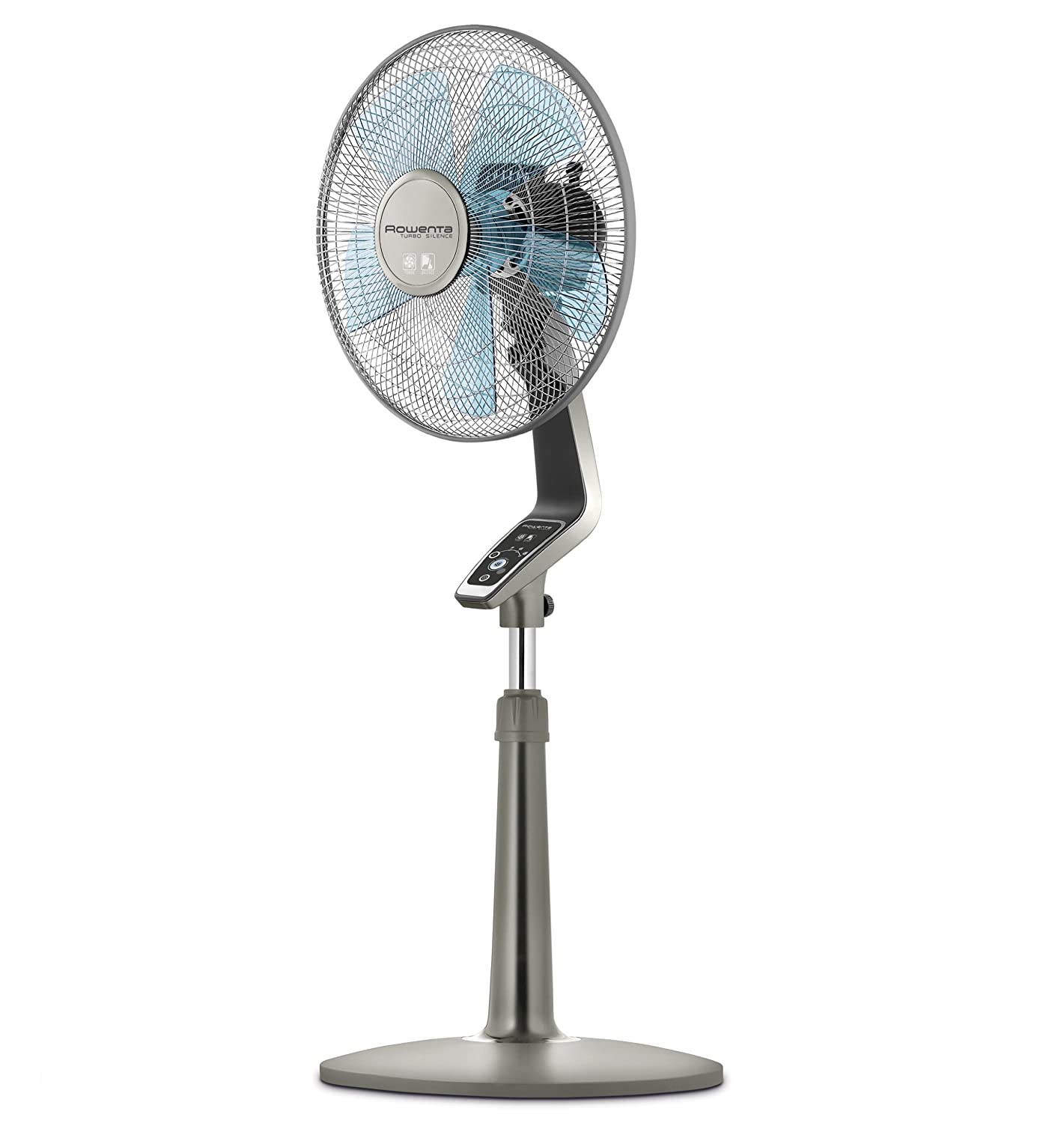 The first pedestal fan in our list is also one of the quietest pedestal fans you can buy online. The Rowenta VU551 model is one of the first pedestal fans manufactured by Rowenta in the U.S. This model also happens to be the selling pedestal fan of this company, so social proof.
Rowenta VU551 fans are high-end fans for which you will have to spend more than $100. But with six months easy E.M.I. scheme, you can pay it off in installments of $16.
This fan is very famous for its quiet performance as it produces negligible sound in the first two modes. This makes it an excellent option to go with if you want a fan for your study room. The fan has a total of 4-speed options, and the sound produced at the top speed setting is also significantly less.
Rowenta VU551 offers a lot of features to justify its high price. You get a remote-control option along with the machine control option. The remote-control option can save you the pain of getting off from your bed or from your work to switch on or off or change the fan's settings.
Rowenta is equipped with five custom blades that are of way higher quality than any other regular blades. The fan can move 1695 cubic feet of air. Its fan can also pivot 90° in all directions giving it a lot of flexibility.
This means it can cover 180° in oscillation mode. The fan's weight is 19 pounds, and its height can be adjusted between 42 inches to 54 inches. Its appearance also compensates for its price.
The product has also received an excellent response from its users and has been rated 4.5 out of 5. 76% of the total purchasers from Amazon have given it a five-star rating.
Klarstein Silent Storm Pedestal Fan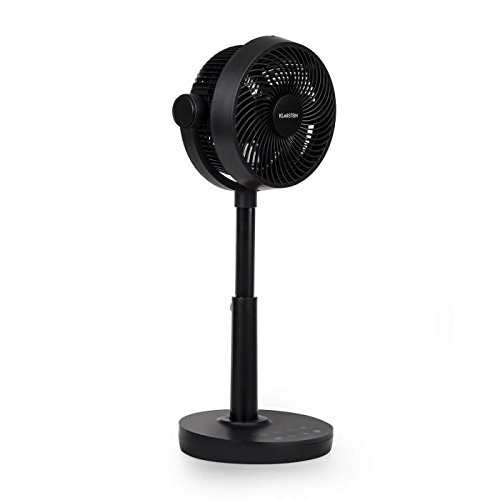 Klarstein silent storm, the second pedestal fan on our list, is also a high-end product and thus has a plethora of features. Both Rowenta VU551 and Klarstein Silent Storm are around the same price range.
Like any other product at this price range, Klarstein is equipped with a remote-control system that makes things a lot easier and more convenient for you. It also has an LCD screen that helps you control the Machine even better to add to your convenience.
This Machine also has an optional 90° oscillation. The best part of this Machine is that it is quiet and yet very powerful. It has 12-speed options and a total of 5 modes, all of which can be controlled through the remote on your hand. Like Rowenta, Klarstein is also available in easy installments.
Klarstein silent storm has a very stylish look, and the LCD screen makes it appear a modern, sophisticated machine. It has an adjustable height of 54 inches and comes with a one-year warranty, which is not much for the price it asks for. But it has received good ratings on Amazon, and it can be concluded that the fan is reliable. So, if you have a big budget, then you may want to consider buying this product.
Pelonis Turbo Silence Pedestal Fans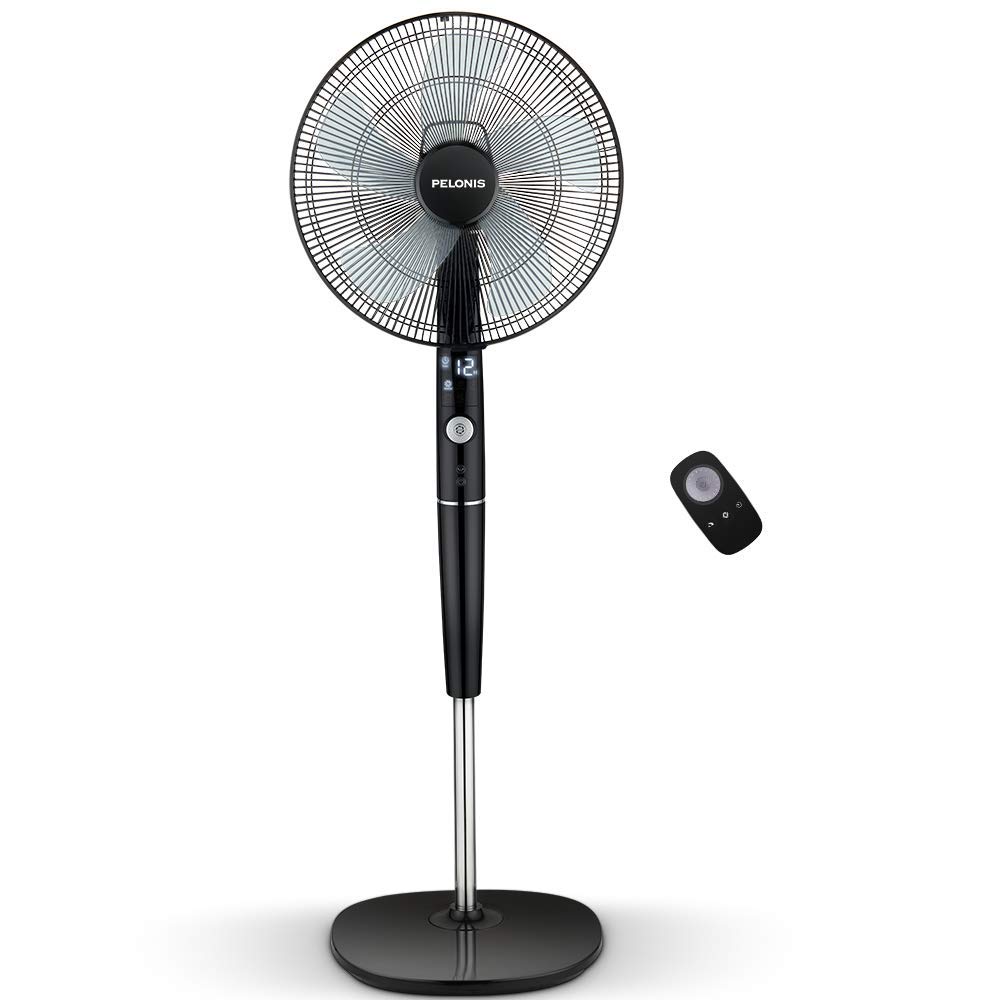 Pelonis turbo is just like the Rowenta VU551 in terms of many features but is cheaper than its counterpart. This is because the quality of parts used in the Pelonis is not as high as it is in Rowenta.
Pelonis Turbo Silence, as the name suggests, does not make much noise and comes with 12-speed settings. The speed settings are also segregated according to the person using the fan. If the fan is used in front of the baby, then 1-3 is the way to go. In the case of kids, it is 4-6, in front of older adults, it is 7-9, and in the case of young people, the speed can be from 10-12.
This pedestal fan has a remote-control system, a machine dial, and a 30s L.E.D. Screen to monitor the speed. It also does not require much energy. Moreover, it is considered a very great option considering its mid-range price.
It weighs around 17-18 pounds and comes with a standard one-year warranty similar to Rowenta. The buyers of this product have given it a very positive response, and almost 70% of the total viewers have given it a five-star rating which makes it even more reliable.
If you are low on budget and want to have a Rowenta like pedestal fan at that same budget, then Pelonis Turbo Silence is your way to go. 
No products found.
Costway Whisper Quiet Pedestal Fans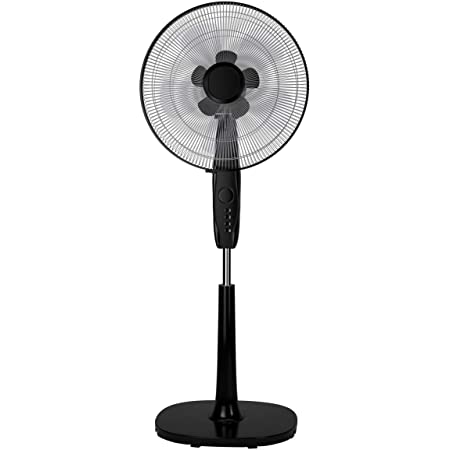 Costway whisper quiet is the next product on our list and is also among the mid-range products you can buy if your budget is not crazy. This fan is equipped with five big blades and has a reputation for producing very little noise even at top speed.
The height of this fan is adjustable and can be between 44 inches to 53 inches. This pedestal fan has 3-speed levels which are also the average speed levels in pedestal fans. You can also choose between two airflow modes: the natural mode and the normal mode, by only using a button.
This product is also equipped with a remote control which is excellent for a mid-range product. So, you can alter the settings at the comfort of your bed or sofa. This fan is also equipped with a sleep timer and automatically switched off once you fall asleep. It is also appreciated for its professional look. It has only got a one-year warranty.
When it comes to customer satisfaction and reviews, this product is killing it. It has five stars out of 5 for silence, and 77% of the total reviewers have a 5-star rating.
Nash CoolSmart WiFi Oscillating Pedestal Fans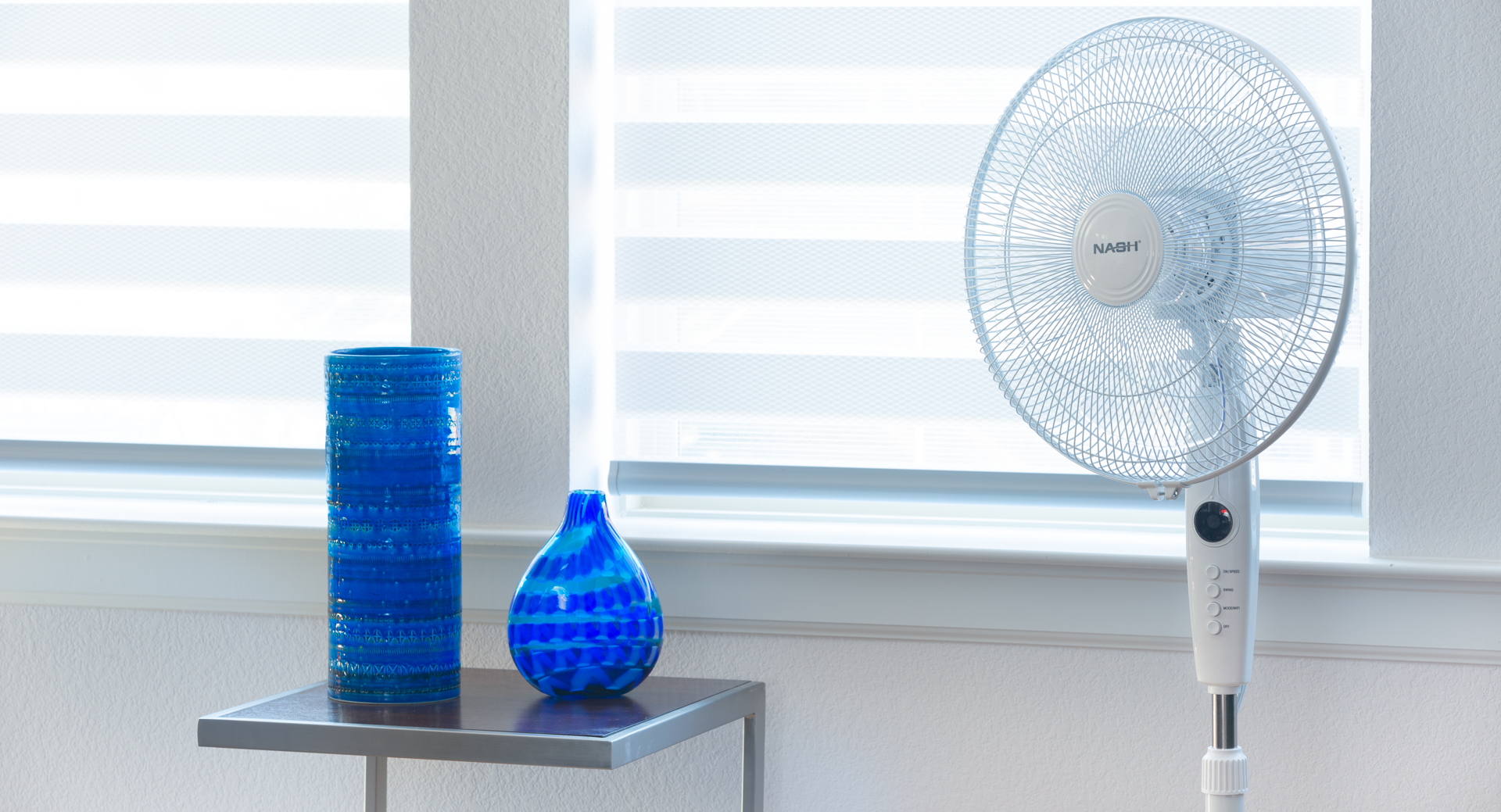 The next fan on our list is a real smart fan. Nash CoolSmart WiFi Fans are termed smart fans because they can be controlled through your smartphone or any voice assistant device like Google Assistant or Amazon Alexa.
They have a total of 3-speed modes and are very quiet when it comes to operation. Like all the other fans on our list, Nash CoolSmart also has a remote-control system, but the app's control is even more convenient. It also is equipped with a sleep timer like other fans.
It can also change its speed depending on the external environment. So, if it gets hot outside, the speed of the fan will be increased automatically. This fan weighs around 15 pounds and comes in a 53 adjustable inch height. Considering all the advanced features and technology, it is evident that this product's price is more than $100.
So, it is a high-end product on our list. If you do not want the smart feature that this product boasts, then there is no point buying it because the other features are quite mediocre, and you could get better of those features at the same price range.
Lasko 1827 Adjustable Elegance Pedestal Fans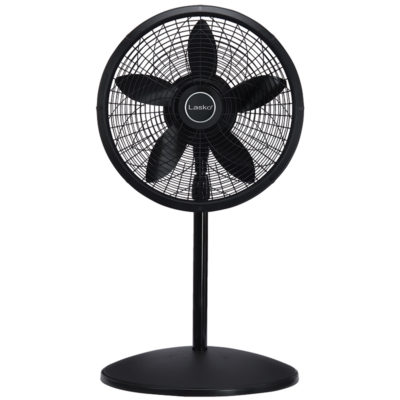 Lasko is among the simplest of the quiet window air conditioners on our list. They do not have any sophisticated features like remote control or smartphone integration, or led screens. And it is this simplicity that makes them the highest purchased pedestal fan on amazon. Well, the simplicity is also supported with low prices which is very appealing to our budgets. This fan has five blades and a very elegant grill that increases its aesthetic value.
It has an adjustable height; the oscillation can be controlled, and it has a total of 3-speed settings. This fan is also liked for its quiet performance as pedestal fans could produce noise, disturbing you from doing your work.
Some parts of these products are made from plastics, which hampers its durability and increases its lightness and ease of moving it from one place to the other. It can quickly come under $50 and last for as long as a $100 fan would last. This fan is considered very economical and hence purchased a lot.
No products found.
Vornado's Pedestal Fans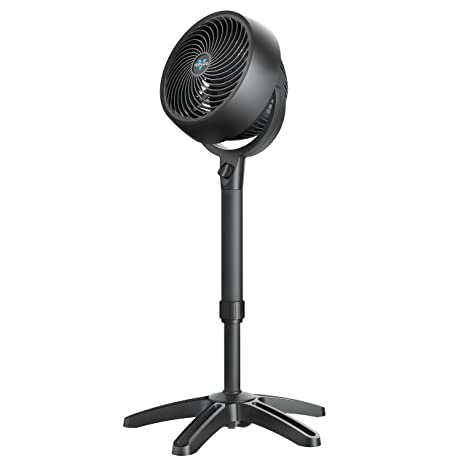 Vornado Pedestal fan is also a high-end product. It is the most expensive product on our list. Its height is not Adjustable, it cannot oscillate or tilt, but it could do one thing that the last two features fail to do effectively- cool the whole damn place. Vornado has a unique vortex technology on its side that can produce and give out spiraling air that bounces on the room's walls and spread in the whole room. This way, the whole room gets cool.
This Machine is worth the price. It has a total of 99-speed levels so that you can exclusively choose the level that you find is the most appropriate. Also, no oscillation means no worries of losing the breeze of cool air at regular intervals. Like any other high-end pedestal fan, Vornado also comes with a remote-control system and L.C.D display.
If you think that this is all the product has to offer, then hold on to your seats because it offers a whopping 10-year warranty period. That means if you find something wrong with the product within the first ten years, then you can easily
Hunter 90438 16″ Retro Stand Fan with Brushed Nickel finish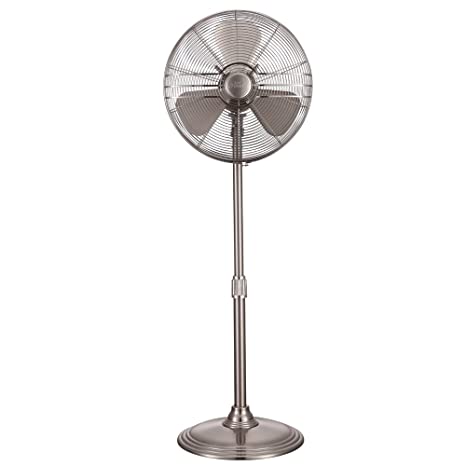 This fan is also very similar to the Lasko model we discussed earlier, the only difference being that this product is entirely made of metal, aluminum to be precise. This makes it quite heavy at 18 pounds.
The height of the fan is adjustable between 37 inches and 52.5 inches. It does not have remote controls, and you can only alter the settings using the button controls. It has 3-speed levels and is quiet at all levels, making it an excellent place to have a fan for the study room.
The fan supports 85° oscillation and has a rubber pad at the bottom, preventing it from shaking and preventing scratches on the floor. The fan has a retro look and serves as a decorative item.
Pricewise this product costs nearly $100, and you should only buy one if your budget allows you to do so and when you want the aesthetic value it offers. It comes with a one-year warranty which is significantly less for a product made entirely out of metal.
Honeywell Double Blade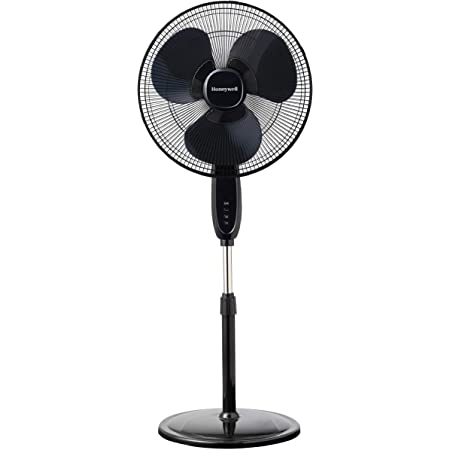 Honeywell double blade is a mid-range pedestal fan and is one of the highest-selling remote control pedestal fans on amazon. There is a total of 3-speed settings in the fan, and it runs quietly and smoothly across all the settings. Moreover, it also has three breeze options, namely, variable, breezy, and constant. The remote-control system makes it easier to alter the settings from across the room.
This Machine also has a timer facility to switch off the fans in the future automatically. It is available for around $50 and is a value for money. It has an adjustable height of up to 48 inches. The fan has a total of 3 blades.
The product comes with a one-year warranty and is quite decent for the price you will be paying. One more benefit of this product is the removable grill, which will help you clean the fan from inside once it accumulates dust. This fan is also made of plastic and steel and is light in that manner.
Smartmi Standing Oscillating Pedestal Fan
This is the last Pedestal fan on our list and is also the unique one. Smartmi Standing Fan is also a high-end pedestal fan costing more than $100. It has seven blades and produces very little noise.
It runs on a D.C. motor and is cordless, so you can quickly move it from one place to another and at extreme places where you do not have circuits. The fan supports 40° tilt and 120° oscillation. It can quickly run for about 20 hours on a full battery, and thus, you can easily switch it on for the whole night.
It also has a smartphone control system. All you must do is download the MI home app and connect with the WiFi. With the help of your mobile, you can alter different settings. This fan has staggering 100-speed settings providing you the most suitable speed options. Apart from all these features, it is also very light in weight, weighing only 11.3 pounds.
This makes moving this fan a piece of cake. The 7-blade fan is a quiet window air conditioner but with less electricity usage and more jaw-dropping features. It usually comes in white color. You can go for this if you want a heavily featured fan and are ready to keep a hefty budget.
These are some of our highly recommended fans that will feel no less than a quiet window air conditioner. All of them are variable in price, but they have one common attribute – they function quietly, precisely what you want.
The purchase links for all these products have also been provided. So, make sure to check out their prices, and in case you like one of them, and it is under your budget, you can also order it online. If the product is out of stock, check out on other online platforms or wait until the stock refills.
Pedestal Fans Vs. Tower Fans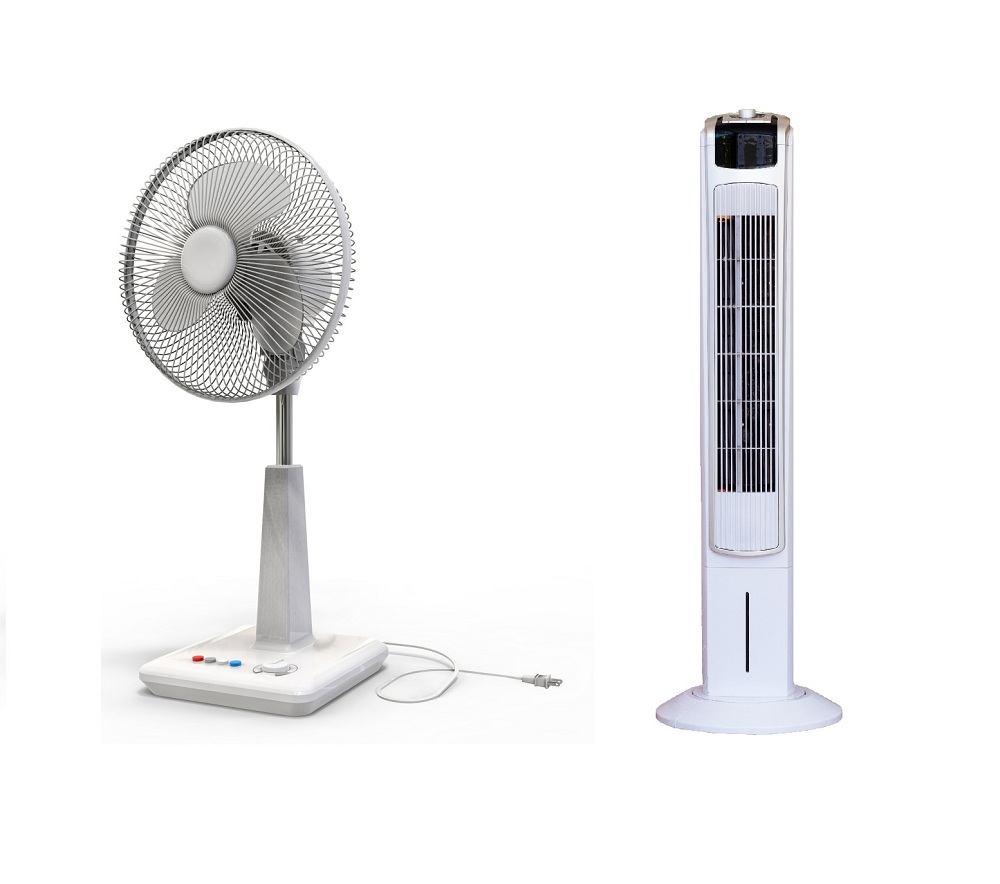 If you are thinking of purchasing a pedestal fan, then the chances are that you must have considered purchasing tower fans instead and are confused. Well, to end your confusion once and for all, let us look at the difference between pedestal fans and tower fans and know which is better.
Both pedestal fans and tower fans can be mighty, and therefore, power is not a big issue. But when it comes to adjustments, pedestal fans are way ahead of their counterparts. You can easily adjust the height, oscillation, direction, etc., of your pedestal fans. These features are not available with tower fans.
With tower fans, you get attractive features WiFi support, remote control, timer, etc. Some of these are also available with pedestal fans. Though tower fans serve an aesthetic purpose for cooling pedestal fans, again is in the lead. Pedestal fans can provide cool air to a larger area. Watch this video to know more about the differences between the two.
If you wanted a pedestal fan from the beginning, you should only go for a pedestal fan.
Well, now that you have made your mind to buy a quiet pedestal fan, there is one last step that you must take before making a purchase. It would help if you always analyzed the different factors that will determine your purchase model. Know how to go through all these factors from this extensive buying guide for pedestal fans.
Buying Guide for Pedestal Fans
As already mentioned, there are a lot of factors that determine the model you want. It would help if you looked at all these factors to come to the right conclusion and not lose your money by making a wrong decision.
These factors are-
Budget
Although pedestal fans are way cheaper than air conditioners, there is an amount that you would want to spend on it. If there is a slight difference between the price of an air conditioner and a pedestal fan, it would be naive to go with a pedestal fan. Right? So before purchasing a fan, always give yourself a budget. Pedestal fans can vary from $35 to more than $100 in price, and the one most suitable for you is dependent on your budget.
Brand Quality
After you have established a budget, you should search for the pedestal fans available in that range. To filter out from here, look at the products' ratings and reviews and do not get swept by the brand name. This is because a famous brand for making generic appliances might have an inferior product that a brand that specializes extensively in manufacturing pedestal fans.
Features
These days pedestal fans come with a plethora of features – from a degree of oscillation to WiFi connectivity to remote control to voice control. Try to fit the features that you need or want and do not look for products with extra features as it may cost you more money and may not even be worth the money.
Warranty
Warranty is also an essential aspect of electric appliances as they have higher chances of getting spoiled due to electric disturbances. So, you need a warranty cover that could protect you from these uncertainties. Look for products with the most extended warranty period under your budget. Naturally, pedestal fans come with a year's warranty period.
Weight
Weight is not a very big factor, but it is essential to plan to move the fan from one place to another inside your house. If you will go for high-end products that are made from metal, then you would have to settle for heavier products and vice versa is also true.
Looks
The last thing you should give a thought is the fan's looks, as you also would want it to serve as an aesthetic piece in the house. Simple-looking fans are also an excellent way to go if you do not want many glitters.
If you have selected your product and do not bother about the looks, you should go with it. Therefore, looks should be the last thing you should care about when buying a pedestal fan.
Now that you know about the factors you need to keep in mind, try to implement them when buying a pedestal fan of your own. Also, make sure to decide the most crucial factor of all for yourself as your options may get confusing if you have not prioritized these factors right.
I believe some pedestal fan models are the best in the market and the quietest (remember, a quiet pedestal fan is always one less thing to worry about).
Conclusion
Pedestal fans are a lifesaver and consume a lot less electricity compared to their other counterparts. Quietness is the one extra feature that you want from these products so that they do not disturb you while doing your work or while reading, especially while reading as you need a lot of concentration in doing so.
Fans today have come up with exciting and helpful features like timers. The timer is very helpful in using the fan efficiently and saving electricity. The remote control is also one of the features that will save you the pain of getting out of bed or sofa to change the fan's settings.
But these features come at a cost, and if you are willing to pay the cost for these features, then it well and useful, but if you do not think that these features are of much use to you, then you should buy a simple low budget pedestal fan unless you want to go high end by spending on aesthetics.
Always remember to prioritize and analyze the factors according to your own needs to buy the best pedestal fan for you. Best of luck on purchasing one of these fans, which are as unique as quiet window air conditioners but less costly.