Grass seed is the heart and soul of a beautiful garden. One needs to be very careful while watering the seed. It is not everyone's cup of tea. There are some guidelines and techniques to follow which are very important in the growth of the seed.
The way you choose to water a new seed results in either turning land into a beautiful green garden or a messy and ugly place. Many factors like climatic conditions, sprinklers, and a perfect balance of amount and frequency that suits your soil, etc. are taken into consideration for watering. The best advice is to keep the soil moist all the time which helps in the better growth of grass seed.
Two important things need to remember whenever you water a new grass seed which is mentioned below:
Lack of a sufficient amount of water can kill the sprouts.
An excessive amount of water can destroy the growth of seeds which gives less expected results than the original result.
Reasons for why Careful Watering Is Required for a New Grass Feed:
Each seed requires a certain amount of humidity and temperature before going to the germination process. For every seed, there is one germination process. Once the seed is planted and the process begins no one can stop it.
While the germination process if there are any climatic conditions changes it might affect the speed which can lead to death. To prevent this, you need to provide adequate moisture all the time. Generally, the period is between 5-30 days which might extend depending on temperature.
The most important time to take extra care is when the sprouts come out. As seeds are buried at different depths of the soil, they absorb different amounts of water. This leads to the growth of new sprouts at different times.
Never stop watering until the new grass is completely out. Ensure sufficient water reaches the ground level. We can increase the percentage of the germination process by Grass Seed Germination.
Watering a new grass seed can be explained in how and when terms.
When to water:
The best time to water a new seed is early morning and evening because of the cool temperature factor. During mornings, the ideal time is between 4:00 a.m. to 10:00 a.m.
As there are less wind and less sunlight which does not affect the watering. Lack of proper sunlight helps water to remain for a longer time which is beneficial for seeds. The wind might blow the water away which is minimal during early mornings.
One needs to know how to decide when watering is required. Three techniques can help you know that your grass seeds or grass water. Extra care is required while watering late nights, especially with high humidity.
Heavy watering is not required at the time of new grass as the seeds are less in number which depends on how much you plant. So, it might take 20 minutes for watering.
Step Test
Curled Blades
Change in Color.
Step Test:
Once you step into the garden if it pops out (grass growing inside and coming up because of foot moment) indicates that there is sufficient water. If there is no spring-back action it indicates that there is a lack of water. It is time to water the grass and grass seeds.
Curled Blades:
Have a look at your grass. If you find out the grass is having a curled blade, then you must change the water. As grass will have new grass seeds to increase the area of garden which might get affected.
Change in Color:
If your grass loses its green texture, then it is time for watering the grass seeds or grass.
For effective watering, a water timer can be used which simplifies the process of when to water a new grass seed without any troubles.
How Often you Need to Water:
Watering should be done before planting the seed and after planting as well. Before starting to plant grass, seed watering is essential as it helps in keeping water moist.
Before Seeding:
Plan and fix a date to plant new seeds. For example, if the date is on March 20, 2021, you need to water the place from March first week. You need to ensure there is a depth of six to eight inches. Measuring depth is very easy. Just use a screwdriver or measuring tape and place it inside the ground. It easily notes measures the depth without much resistance. By doing this you can have proper water saturation.
After Seeding:
As soon as you plant the seed into the soil watering for five to ten minutes is necessary. It keeps the planted region with more moisture required for newly planted seeds. If you miss this the seeds can die.
Once you plant new seeds the amount of rainfall at your place decides how much watering is required. If there is sufficient rainfall, then less watering is required. If no rainfall keeps the soil dry, then you need to water twice per day until the top couple inches of soil are moist.
Once the seeds are planted, they require continuous care for some time. As time progresses seeds germinate and develop roots constant watering helps in creating a well-established lawn. Constant monitoring will give a clear picture of which areas need more water or less water.
As a layer of the bed is developed from time to time there is always a possibility of patches of grass seeds shaded. Such patches water from time to time. Never miss a single day to monitor the growth of seeds and your garden.
Once the seeds are established, they require less amount of water. Still watering is essential until they die. Give the lawn about an inch of water per week which helps the roots to get adequate water from preventing drought conditions.
One or two sessions can help in giving one inch of water. Sprinklers play a vital role as it decides the amount of water coming and how much distance it covers. The force of water coming out from the sprinkler will decide the above two factors.
Sprinklers: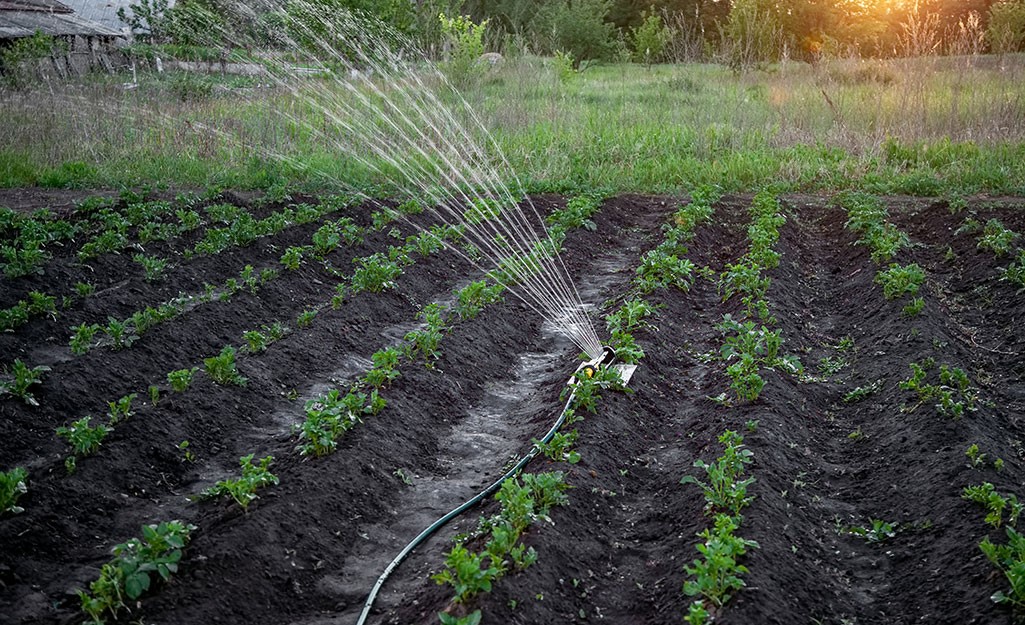 Before purchasing the right sprinkler, please consider factors like soil type, size and shape of the area chosen, budget, water usage, and connection. Sprinklers play a vital role in this process. The soil used for growing grass seeds differs from place to place depending on various external factors.
If the lawn is big then you need to purchase a sprinkler that can cover most of the area at once so that water can be preserved. Always prefer buying a sprinkler that has a strong metal connection. Such sprinklers withstand for a longer period. Spend wisely on sprinklers and consider every possible angle to decide which is beneficial to you and grass seeds.
Types of Sprinklers: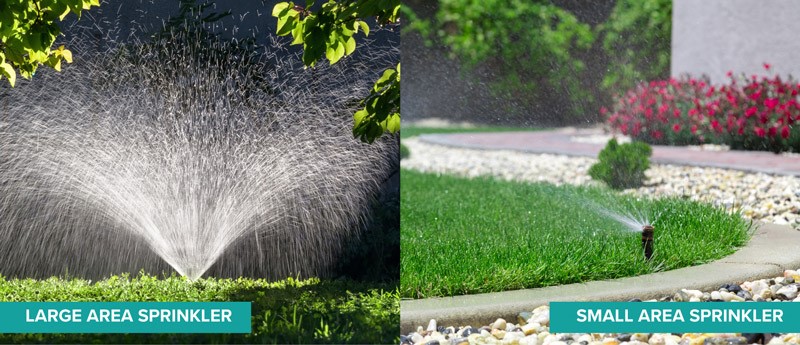 Various types are available in the market. Out of them, four sprinklers are best for watering grass seeds with the best results. They are.
Stationary Sprinklers
Oscillating Sprinklers
Rotating Sprinklers
In-Ground Sprinklers
Fixed Sprinklers is one of the best sprinklers as it covers a single pattern over a fixed area. It has a feature of fast-precise water which is suitable for small areas like flower beds.
Oscillating sprinklers gently cover a large area either in a rectangular or square pattern as it has long tubes with huge openings both back and forth. This is suitable for medium and large areas.
Rotating sprinklers are one of the best ones to use in large areas because of their even distribution of water and ability to work quickly. It is perfect for lawns or backyards for kids. Can be used even in medium areas.
In-ground sprinklers have automatic operation and timers which helps in watering the grass seeds in the best possible manner. Recommended for the front, back, and side areas of the home and for landscaping and gardens.
Tips for the best way of watering: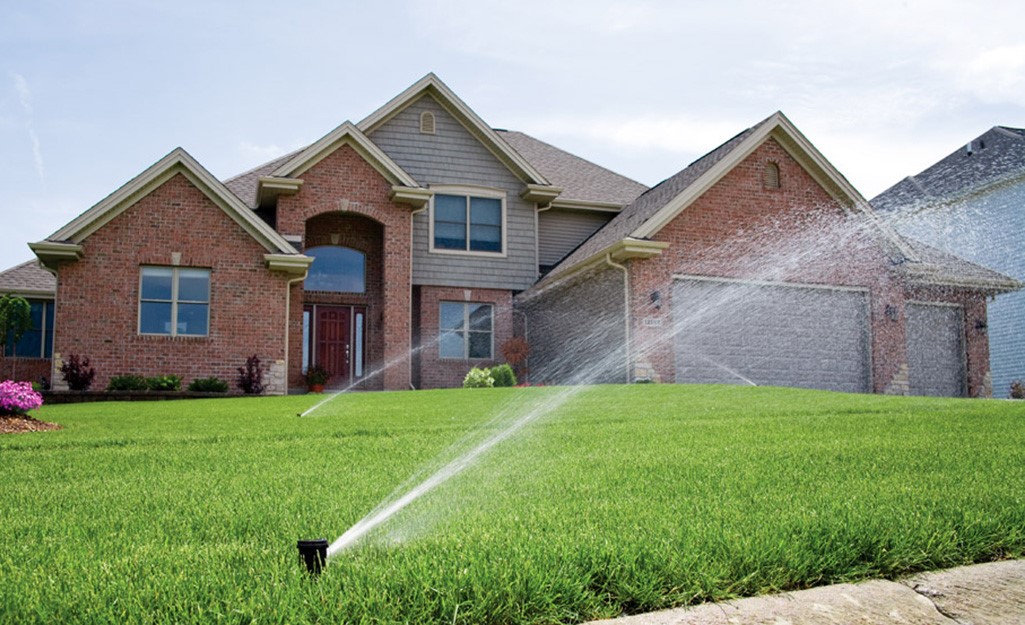 Use sprinklers more frequently on hot summer days. Due to hot weather rate of absorption is high which keeps soil dry. Sprinklers at frequent use will solve this problem.
Intermittent watering over several hours provides thorough root penetration into the soil which makes the grass healthy.
Water at regular intervals of time which keeps moist and dry.
Continuous watering is risky as the soil remains wet which attracts many insects, germs, etc. This led to diseases that might cause the death of grass.
Before watering the new grass seeds even once, cover them with mulch.
For small patch projects, some seed brands are coated with a covering that holds moisture which is perfect for this kind of garden.
The above approach cannot be applied for longer areas because it is very costly and risky. It is time taking too.
Never purchase cheap sprinklers as it gets damaged easily. This kind of sprinkler cannot cover a good number of areas, distribute water uniformly. In the end, we are at the losing end because of the death of grass seeds and the loss of money. Hard work goes into vain.
Kindly prefer one of the four mentioned sprinklers above for good output.
Be ready with requirements for watering from season to season.
Never water the grass seeds at high or low rates. Maintain a consistent rate of watering.
Nowadays, in every home, there is a small lawn or garden. Remember one thing maintaining is very crucial. Never neglect a day for watering the garden, grass, or grass seeds. Greenery is the best medicine for all problems as it removes our stress and tensions. It gives fresh oxygen which is vital in today's polluted world. By watering the grass, we are saving many lives.
By perfect watering, a normal land that turned out to be a beautiful lawn becomes the chill-out spot during holidays. Memories and moments can be made by watering the grass seeds. Please water the grass by keeping all the points in mind. If you are busy in lives please appoint for watering. It takes a lot of time to change plain land to a lawn or garden. Never compromise while watering the garden or grass seeds or grass.