If you are planning to move from one area to another, you need to look for the best way to do it. Can you manage the moving process or do you need professional movers?
Every person knows that professionals charge for their services. To some people, the amount is a bit expensive and not everyone can manage to pay for it. However, compared to the charges and the services offered, it is helpful to engage professional movers.
Professional movers execute the job without any challenges and you can be sure the process will be well performed. People who decide to handle the moving process on their own encounter a number of problems from taking care of clusias to moving heavy objects.
To help you make an informed decision, here are five main reasons why you need professionals when you move.
1. The moving process will be done faster
If you decide to involve your family or friends, you can be certain the process will take a long time. It is not possible to handle everything in one day. But when you hire experts, they can manage to move all your belongings in a day.
Also, there are options. For instance, you can choose to pack your items and leave the moving part to the experts. Or you can hire them to pack and move. Here, they will organize themselves to ensure everything is done within the shortest time possible.
Since they are pros, they are well-trained and skilled to execute packing, disassembling, and moving the items. They pack and transport things on a daily basis. Therefore, they will move your items fast, accurately, and without difficulties.
Also, if you do not have enough time for packing and moving, hiring commercial movers is the best option. Some companies have a package known as a complete takeover. They may give you a two-day break and when you are back, you will settle in a new home or office.
2. Your items will not be lost or damaged
Since you do not move things often, you are not experienced in moving items. Even if you think you are strong enough to lift a sofa or a table, you cannot be sure if you will handle the job without damage.
A professional moving company has trained people who move items every day. They are familiar with weak spots and how to move large and small items. Moreover, they have been trained on how to handle even the most fragile items.
If you involve your friends or family members, for example, to move a bathtub downstairs, you can be sure someone will get hit, leave some marks on your wall, or you will have to replace the bathtub which will cost a lot more.
But experts will not have such problems. They have many ways on how to move sofas and other large furniture downstairs and they will be cautious not to damage the wall or the sofa.
3. Professional movers are insured
 No one can be 100 percent sure that your office or household items will not suffer any damage. Valuable items such as a piano, paintings, pictures, and jewelry can get damaged.
Due to unexpected situations, movers are well insured. Therefore, you do not need to worry in case an unexpected event happens. They are licensed and insured to cover the damages.
But if you decide to move on your own and your valuable item gets broken, there will be no compensation. You will have to take responsibility for the damage. Even though there is personal insurance, not all of them can cover some damages. It is therefore wise to hire professional movers.
4. They have special equipment to help with the move
Imagine you are moving to New York and you need to move a special piano from a five-story building. You will have so many problems.
However, hiring NYC movers is the best decision you can make. They have the equipment for handling valuable items such as the piano.
Even if you have many friends who can help you move the piano, it is not worth the risk. Most people cannot get a big piano down from the 5th floor.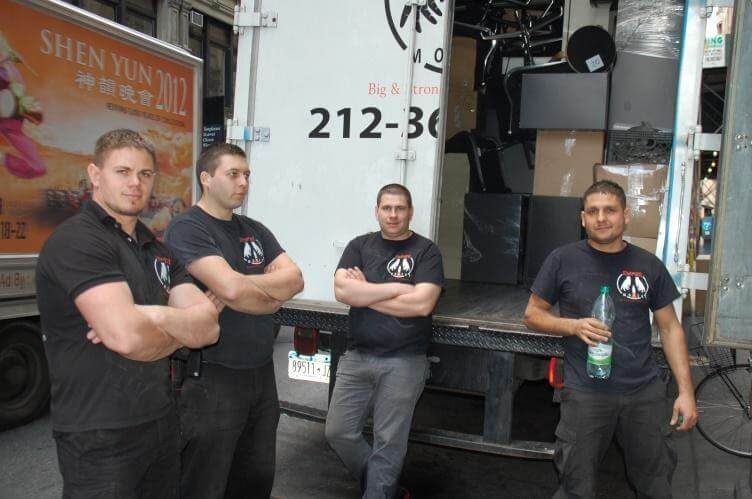 Luckily, a moving company has the special equipment to get your items such as pianos from the 5th or 8th floor down to the ground. The equipment is similar to the firefighter's machine. They can get any kind of item from the top floors to the ground.
Since you do not move items every day, you do not have the special machines for such a move. However, trained movers have the knowledge, experience, and tools to get things done the right way.
5. You will keep your friends and family safe
There are many cases of people getting injured when moving items. For instance, someone can end up in hospital if a couch fell on him while moving. It is also very dangerous moving a sofa from the 8th floor to the ground floor without any kind of skill. You can get injured.
In addition, people break friendships because colleagues refuse to help with the move. But it is understandable if a friend can refuse a call because moving items is a difficult task and not all people have the muscles to carry large items.
On the other hand, office movers can easily move office cabinets, chairs, and tables from one place to another without getting hurt. They will pack and handle everything with care. Thus, you can keep your friends and family safe.
Bottom-line
The above five reasons are enough to hire professionals when you move. If you do not contact the experts, you will be risking your life and that of your friends. In addition, you will spend more hours or days doing a simple task that can be handled by the pros. Professional movers are skilled, have the right tools, and know-how to pack large and fragile items.