Setting out to do your own work in the backyard or the garden is fun, but when you are starting, you need to take care of all the equipment that you will require, including their costs. After all, when you are the supervisor of your own work, you have all the responsibilities.
Speaking of the backyard, today we are going to discuss woodchipper rental prices along with their use and pros and cons. A lot of you who might be looking to clear up the backyard, get rid of all the waste by converting it into something eco-friendly like compost might also want to try out a woodchipper to ease their job, and that is what we are here for today.
So, let us discuss in detail, woodchipper rental price and everything else related to it.
What Is a Woodchipper? 
Before we dive deep into the topic, let us explain what a woodchipper is and what it does for those new to gardening and backyard care. A woodchipper is basically a machine that is used to get rid of garden waste.
Wondering how they do it? Let us explain. A woodchipper is a heavy power-equipped machine that has two kinds of mechanisms built in it. The first mechanism works like a chipper which converts and chips the big trunks and branches of a tree into tiny little wooden chips. The second mechanism works as a shredder that further shreds those chips and leaves that might have entered a cloud of sawdust, which can be used to make a compost pile.
So here you get two works done in one machine. You get to clear up the yard waste as well as make a compost for your garden that will enrich the soil, retain moisture, and help you to deal with plant diseases and pest attacks (they really suppress plant diseases and pests to a great extent)
Why Use A Wood Cheaper Over the Other Tools?
The next question that you might have before you head to a woodchipper rental place is why you should use it over all the other tools and options that you have and what other options do you have exactly. The simple answer is that it is cost-effective and efficient. The other option that you have is to dump the waste from your garden in a landfill. 
But here again, you have two big disadvantages. First, you will have to take the waste from your yard to the landfill, which will be time-consuming and laborious. Not just that, landfills often charge you before they allow you to dump your waste there.
Landworks Wood Chipper Shredder Mulcher Super Heavy Duty 7HP 3 in 1 Multi-Function 3" Inch Max...
This 3-in-1 wood chipper shredder mulcher design has a reduction ratio of 15:1 when using the top hopper for 1 by 2 inch max volume chipping or...
The slanted housing design reduces jams, unlike other chippers, hook up your ATV, lawn mower or small tractor, for easy transportation with a tow bar...
This Chippers powerful recoil starting 7HP horizontal 4-stroke single cylinder OHV gas powered engine, handles up to 3 inch diameter wood without a...
Always operate according to the directions outlined in the user manual, always wear the appropriate hand and eye protection, it can be used to aid in...
Apart from that, landfills are generally not situated in the middle of a city, so you would probably have to drive to the outskirts of the city to dump your backyard waste. In that case, the price of your car's gas will also add up to the fee that you will have to pay for using the landfill.
Let us say, to save time and energy, you decide not to do it yourself and hire someone to take away the waste for you. Even in that case, the person will charge a good amount in addition to the landfill charges.
In a different scenario, let us say you do not want to go through the hassle of taking it to the dump yard, and you decide to convert it into compost all by yourself and without the help of the woodchipper. In that case, you will have to cut the branches into small pieces with the help of an ax or a saw. Although this method will not cost you much, it will take away a lot of your time and a very laborious job.
So, the best option is woodchipper rental to rent a woodchipper. If you are not a professional, then buying a woodchipper might not be the best option for you, but woodchipper rental services will help you get your work done and go easy on your pocket.
Where Will You Find Woodchipper & How Much Will It Cost to Rent One?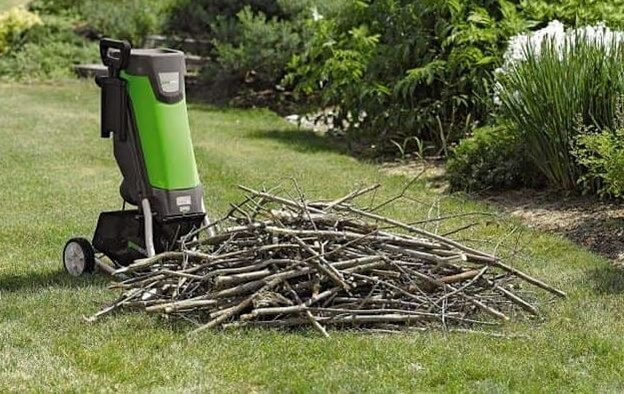 Moving on to the next part of the woodchipper rental discussion, let us talk about where you can find one. You can easily get them from any home store, contractor desk, and gardening and landscaping centers. Finding one is not a difficult task, but you have to check whether they agree to give it to you on rent. If yes, what are their criteria, and if it is meeting your requirements.
Generally, the minimum woodchipper rental time is about 4 to 5 hours, and you can rent it for a longer period if you want. If you are an individual, you will probably get your work done in a day itself, but if you are a landscaping company or work with one, you might need to rent it for days. On average, woodchipper rental cost daily is about $100, but if you are renting it for a longer period, you can also get a discount.
Let us say, instead of a day you are renting it for the whole week, then you might get it at a discounted rate of $500 to $600 as well. The price also depends largely on where you stay and the place you are renting it from as different places have different policies regarding their rental services. 
There are several woodchipper rental websites as well that allow you to rent a wood chipper, so if you do not find one in your local home depot or hardware store, then you can also check out United Rentals, Sunbelt Rentals, Rental Yard, etc.
Buying A Woodchipper Vs Renting a Woodchipper
SuperHandy Mini Wood Chipper Shredder Mulcher Heavy Duty 7HP Compact Design 3" Inch Max Capacity
EFFICIENT PERFORMANCE - This Mini Wood Chipper Shredder Mulcher design has a Reduction Ratio of 15:1, capable of high volume...
UNIQUE DESIGN - Built to be compact and lighter than other steel chippers, this design has a highly desirable Vertical Extended Discharge Chute with...
POWERFUL - This Chippers powerful recoil starting 7HP Horizontal 4-stroke Single Cylinder OHV Gas Powered Engine, handles up to 3" diameter wood...
SAFETY - Always operate according to directions outlined in the user manual, always wear the appropriate hand and eye protection; This machine is...
Now that you know how much it costs to rent a woodchipper, you might as well think that you could invest some more money and buy one. So that this one-time investment becomes cost-effective in the long run. If this is on your mind as well, let us talk about which is a better option, buying a woodchipper or renting one.
Now, there are various models, and depending on that, the price range also varies. There are some small and low-quality models that you will easily get for under $250, but neither are they durable, nor can they take much load. In fact, most of them have a limit on how much load they can take. Although these models seem like a cheap investment, in the beginning, in the long run, they are not cost-effective.
The good ones are more power-packed and heavy, and they can take a lot of loads, work several times a day and run for years, but the cost of these high-rated models can go up to $2500 and even more. So, coming to the question, whether you should rent a woodchipper or buy it, the answer to this totally depends on your use.
If you are a gardening or landscaping enthusiast and you need a woodchipper quite often, then buying one will be a better option for you because the prolonged use over the years will compensate for the initial cost but if you need it rarely, then renting is a more suitable option for you as there is no need for such a high investment when you are hardly going to use it.
However, there is one more thing that you need to keep in mind while buying a woodchipper, and that is the space. These machines can be very heavy and large, and they will take up a lot of space in your garage or gardening shed. If you were planning to buy one, you would also have to think about enlarging your garage or garden shed or creating a new space for the machine.
Pros & Cons of Having a Woodchipper
Pros
Now that we have talked about what these machines do, their rental price, and whether you should get one or rent. So now let us discuss the advantages and disadvantages of these machines.
You Get Natural Fertilizer – Personally, we feel that one of the biggest advantages of having a woodchipper is that you get access to natural fertilizers which you can use for your garden. Basically, what you need to do is put all the garden waste like tree branches and leaves into the machine and let it shred them.
After that you can use it as compost which will be very nutritious for the soil and hence your trees will be benefitted from it. Here, you are getting two advantages, you are not just providing a natural fertilizer to the plants of your garden, but you are also saving money from the fertilizers you had to buy from the stores.
Good for The Environment – Wood chippers so not just take care of you and your garden but also of the planet. They are highly eco-friendly and safe to use. By using these machines, you are recycling your garden waste and converting them into something that will be useful and beneficial for your garden.
This constant cycle will continue, and you will not have to dump the waste on some open area of any landfill. This will reduce land pollution, take care of the environment, and get the best out of the waste. Also, recycling the waste right on the spot will save your effort of carrying it to the landfill.
You Can Save Money on Food – With your garden being clean and under control, you will be able to harvest more plants and vegetables, which will grow back way stronger and healthier with those fresh and organic fertilizers. With the help of these machines, you will be able to cater better to your garden and harvest fresh fruits and vegetables that you can later eat fresh or cooked.
So, with the investment in the woodchipper, you are not just giving your garden a makeover and a healthy life; you are also saving money on the food. Plus, the benefit of eating from your own garden is that you will get it fresh, and you can be assured that it is 100% chemical-free and safe to eat.
Cons
Now that we have discussed those 3 significant advantages of using a woodchipper, we will discuss the disadvantages of the machine.
Takes Up A Lot of Space – As we were discussing earlier, although it serves multiple purposes, it also takes up a lot of space. So, unless you have a huge garage or shed, you will find it difficult to fit it in. In that case, renting one is the best option for you.
The High Cost – Another big disadvantage is the cost of the machine. If you are buying it, then the cost will be compensated in the long run as these machines are quite durable, but if you are renting it, the price might seem a little high for some.
So, this was all that you needed to know about woodchipper rental, its prices, and work as well as its disadvantages in comparison to buying one. Also, remember that, as mentioned above, the prices can vary a little depending on the location you belong to and the policies of the stores in your region.
We hope this article was helpful for you and you got all your doubts cleared, but if you have any further queries, you can reach out to us in the comment section below.