While we are deciding to design your bedroom, everything about it is important, from the color of your curtains and to the design of the carpet. If we know anything about colors, we know that the color orange is not usually anyone's first choice when they decide while deciding bedroom colors.
However, orange is a color that is quite adaptable but also versatile which completely crosses over a lot of various manners, aesthetics, and dynamics. If a traditional setting of a bedroom is something you would desire, you should preferably go for orange color shades that are profound and deep while using orange color shades that are brighter for more of a modern styled orange bedroom.
Orange color schemes should be preferably one of the top choices if you prefer a very cheerful and optimistic kind of bedroom. If you know the basics and the method to do it right, the orange looks very bold and forward making the bedroom look very outstandingly beautiful that is both lively and unexpectedly very relaxing.
An orange bedroom must be made of combining various aspects like the shades, the accent colors added, and the style of furniture which helps in the visualization of the design and the aesthetic of the customer.
Although, it is quite easy to miss the aesthetic due to the wrong combination of colors, like using too much darker shades of orange, and different dark shades can make the bedroom gloomy rather than pleasant; however, some people do prefer a gloomy bedroom as it helps them in their way just like some people prefer a lighter and brighter room.
This also works in the opposite way where if you use a lot of bright colors, it will be overwhelming or very stimulating to some people.  To help with you choosing how to make your very own orange bedroom, here are some ideas and tips –
1. Bright and Bold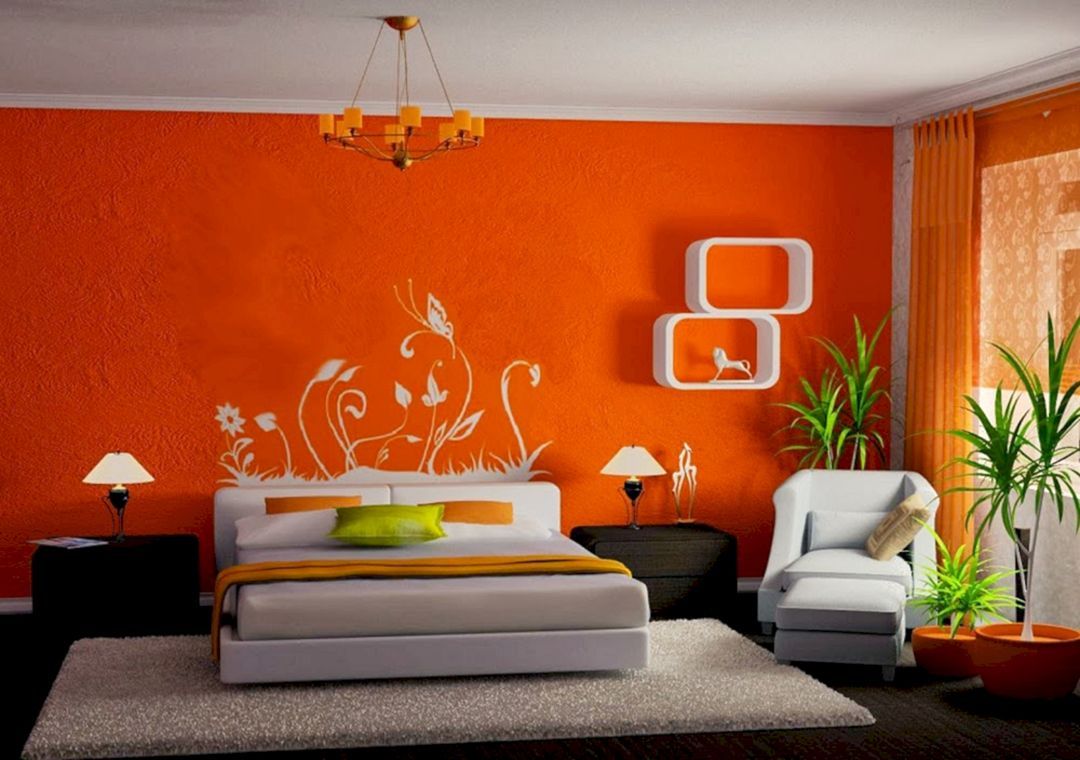 If you are someone who wants to show how much you love the color orange, you should own it and always flourish and show your love for the colors as much as you prefer to. While choosing very vibrant shades of orange, the use of a brilliant shade of white will always help in making the orange pop up and give the shade its main attraction.
Simple lines of clean and minimal furniture also make it an important detail that it is an orange bedroom mainly rather than being too overwhelming or hectic. This idea gives the bedroom a very invigorating vibe and a very modern space with light.
2. Apricot Orange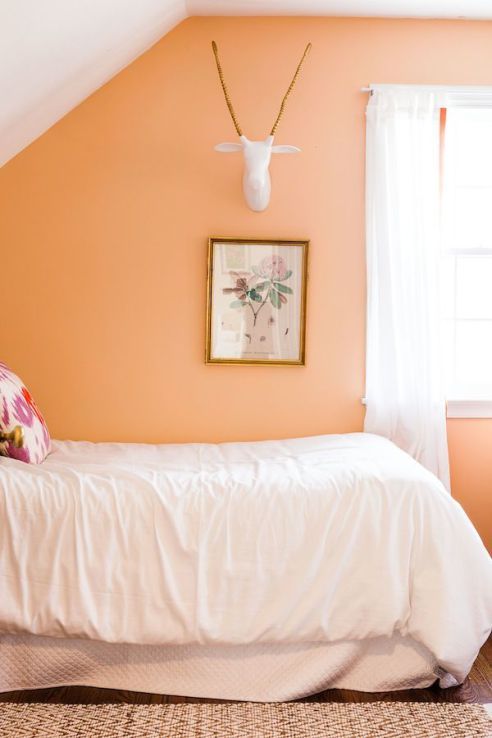 Two of the best colors that always contrast well are black and red, whilst adding an element of orange to it only enhances it more. If we focus on designing of a reddish shade in the spectrum of orange shades, it will help in making the room look like a visual treat in comparison to the walls looking neutral or the dark furniture. This is also helping in making the room have warmth which could have ended up looking dull without the extra design and dimensions which you get while adding orange.
3. Spooky Shades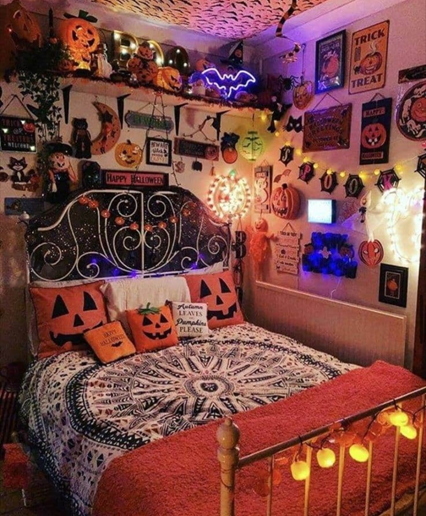 A deep-shaded black and orange bedroom is quite a dream for so many enthusiasts of Halloween. Keeping the room, a darker shaded orange all over, as we mentioned before, making it almost gloomy purposefully gives a spooky and blue spirited vibe which is a very wonderful aesthetic for a lot of people.
We can design this bedroom by combining shades of black and darker shades of orange. Orange lights in different shapes, wall posters, and other merchandise collect the room together and this is something a lot of the millennials and kids would love in an orange bedroom.
4. Pastel Orange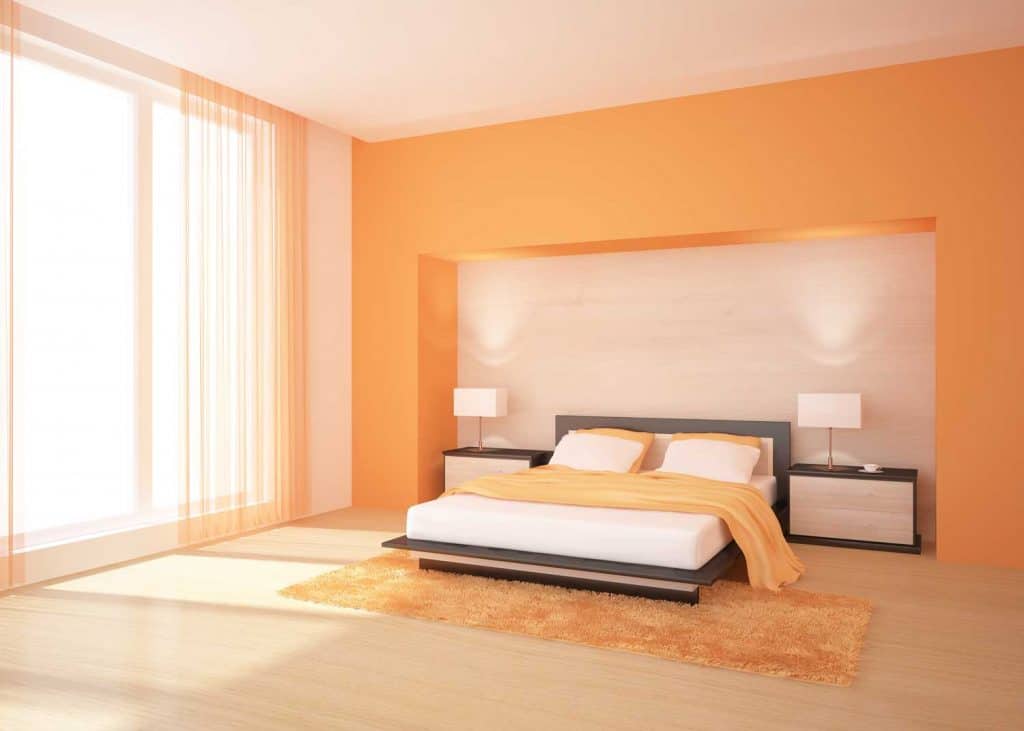 The use of very soft and pastel shades of orange and white helps in creating a very peaceful and soothing ambiance for the bedroom. While orange is the central point in the room, the pastel shades make the color a lot calmer, while the usage of white soothes you.
This room is usually only covered with furniture in a very minimalist manner which gives the bedroom the space to breathe. This is a great way to make the room feel organized also while we add the room with your favorite color.
5. Indie Pop Pink
The combination of another bright color shade with orange shades is expressed through this aspect and design. Pink is another bright and overwhelming color like orange and if we do this in a very aesthetic and right way, it will look very artistic.
While we mainly use orange throughout the room, these shades are not very bright as well, the combination of pink in a minimal way somewhere around the room like the rug, carpet, or accessories around the bedroom helps in creating interesting visuals throughout the room at the same time without losing the main color's importance or making the room overstimulate for people.
6. Curtains of Mandarin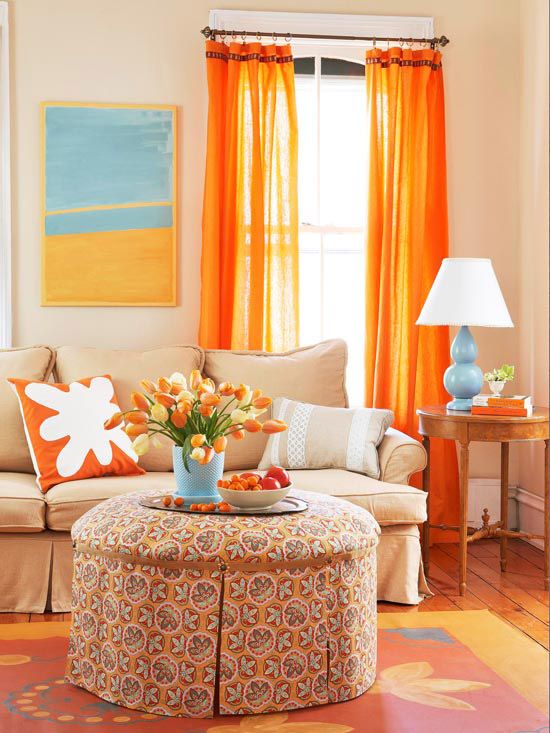 A lot of oranges are used in this room, usually outstretched with curtains just to display the number of shares used which almost creates a cabaret of beautiful walls. The usage of orange surrounding the objects in the room like the sheets, blankets, or lamps helps the room to bond together with the bright orange curtains.
If you do not prefer to paint the walls orange, adding a good amount of orange shades around and in the space and keeping the walls white or lighter shades helps the room seem unified and tidy.
7. Neutral Tints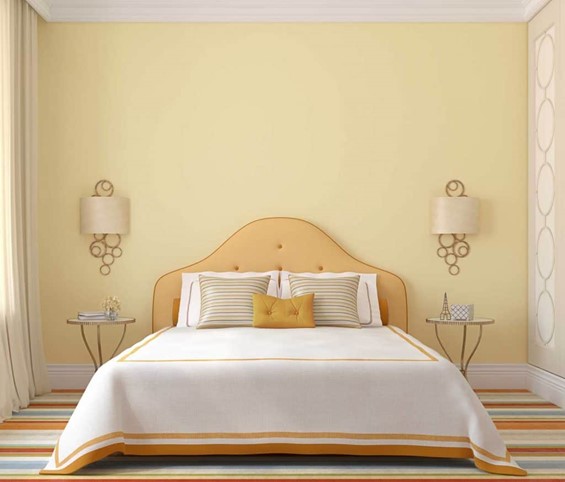 A lot of neutral shades of colors are used in these rooms but the inclusion of orange around different parts of the linens, carpets, and pillows or even the furniture or flooring adds some extra minimalist appeal making it very inventive. This way of combining orange all over without any notice helps the room bring a positive and wonderful vibe that could also be easily passed on as tasteless or plain.
8. Smidgen of Orange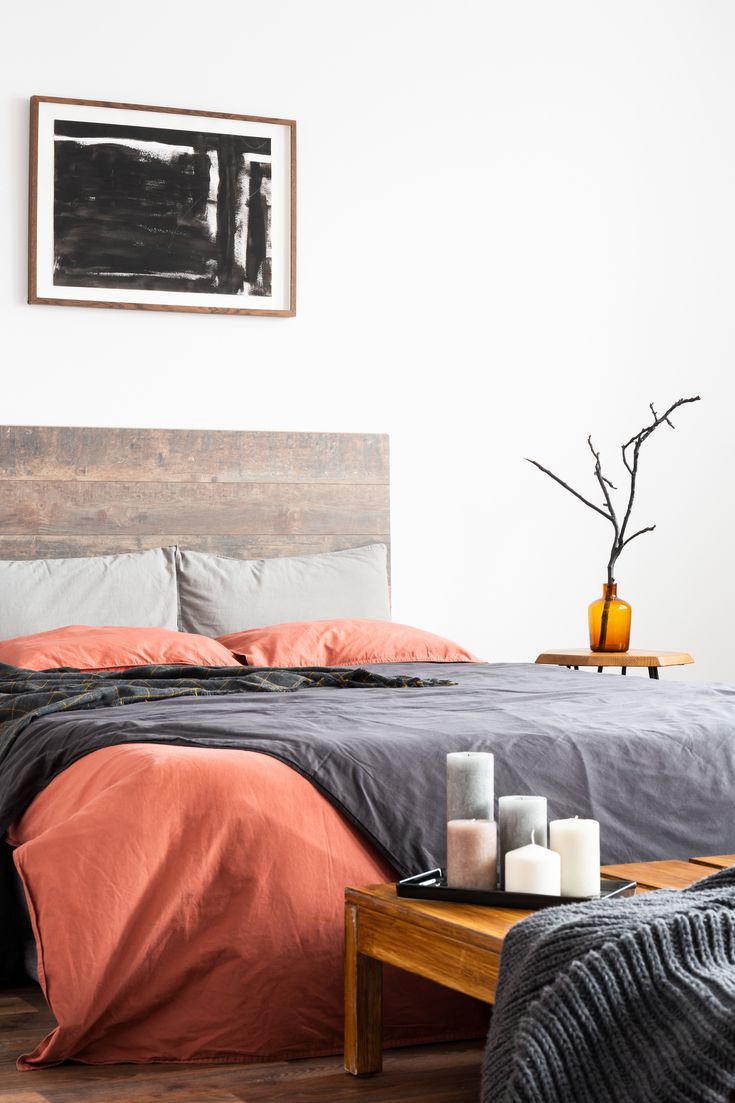 Since now we talked about the use of orange shades largely, maybe in some places or going all in; but this idea is about how you choose to only use orange shades in a very small amount rather than using it everywhere.
While we stick to making the background and the main shades as grey, black, or white; we can focus on where to splash the orange on to make it an eye-catcher. Deeper shades of orange bond with the shades of greys making the room peaceful while using the light shades for other objects in the room like the flooring or electronics.
9. Terracotta Dye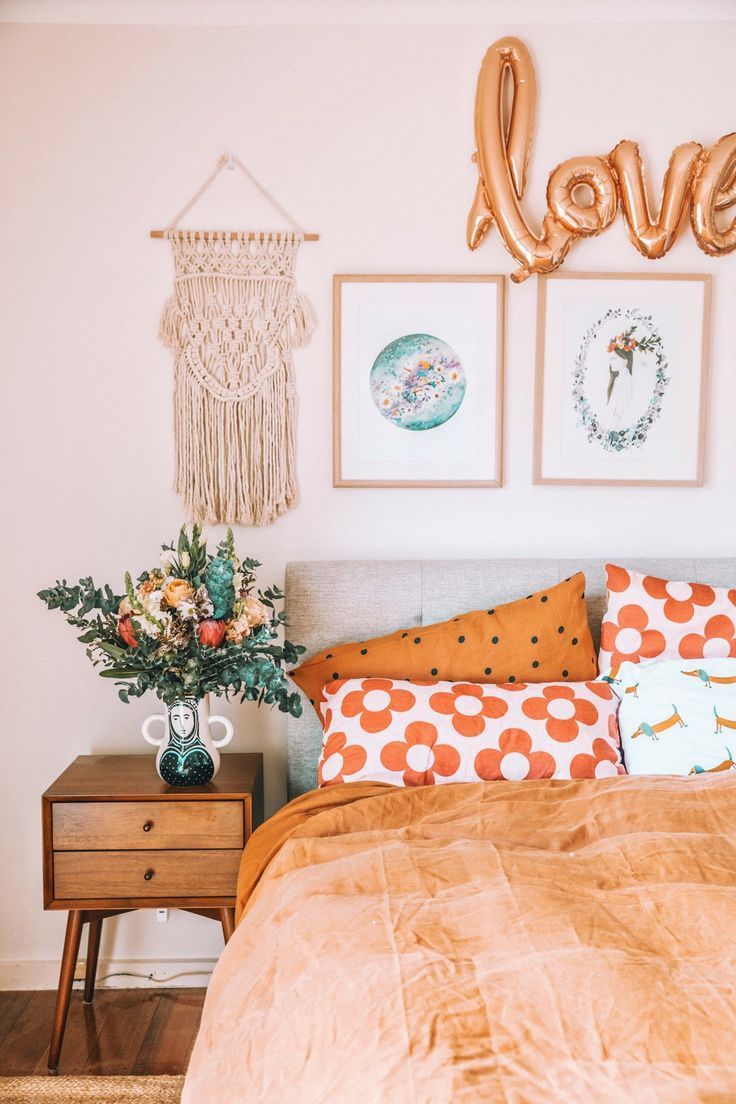 An orange bedroom should be having shades of color like a spectrum, there should not be a limit to creativity to it. Using a deep shade of oranges like terracotta orange around the bed, headboards, and curtains gives an appreciation to the elegance of the room.
When you include furniture with these shades matching with a lighter shade of color (usually preferred) helps in producing a traditional vibe. Orange is an exciting color and so when you use a darker shade of this color, this provides a whole different environment in a good way, more often classy in this situation.
10. Wall Tangerine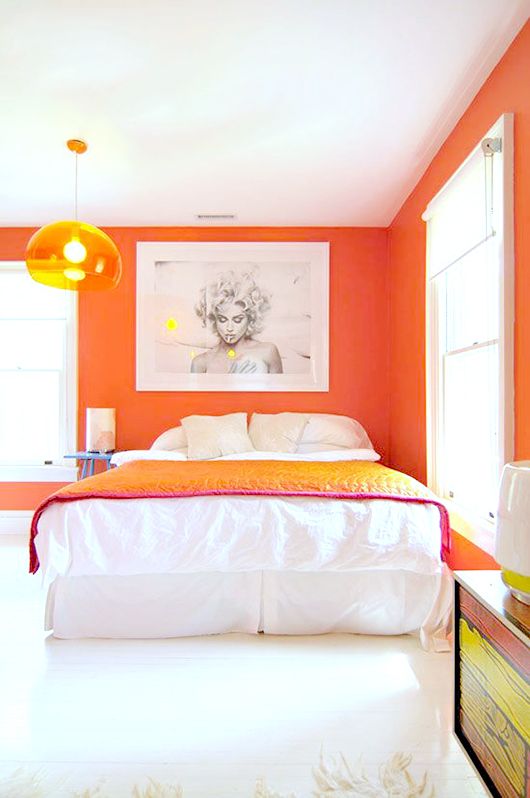 The major emphasis in an orange bedroom is usually the shades of orange and in this idea, we focus on one part of the wall only. You can choose in whatever shade you want to make this part but if we add on the bed where the headboard is facing backward, it helps in making the bed an eye-catcher.
The spotlight is given to the bed and the wall at this point but do not just keep the bed solid plain, add some level of orange in some parts like pillows, sheets, etc. while decorating the remaining part of the room with paintings or lighter shades of other colors help in tying up the whole room together. This technique helps keep the main color as the focal point.
11. Hippie Bedroom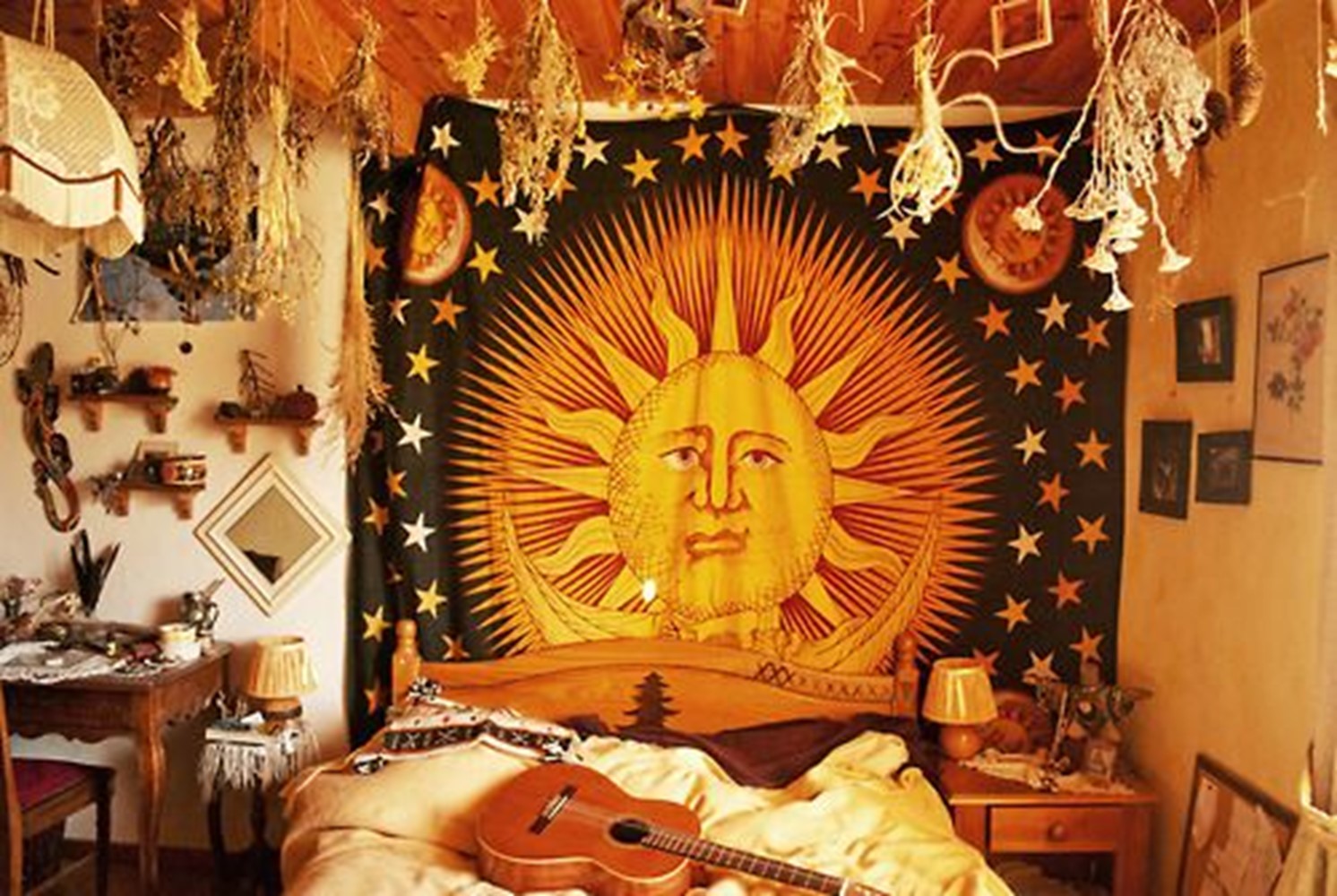 A hippie bedroom is where you choose every little single thing surrounding you to be your interest. The difference between these preferences is just how your taste in music or pop culture is. If you consider yourself to be a 'hippie' or anything along those lines, you can make the bedroom look like your core interests but with the shades of almost light but relaxed orange shades.
Adding scriptures, carpets, and lights that match the brightness of the selected orange shades will make it look more visually appealing. Mostly focusing on making the objects surrounding the room rather than making the walls or roof orange will help in giving the room artistic value.
12. Rusty Shades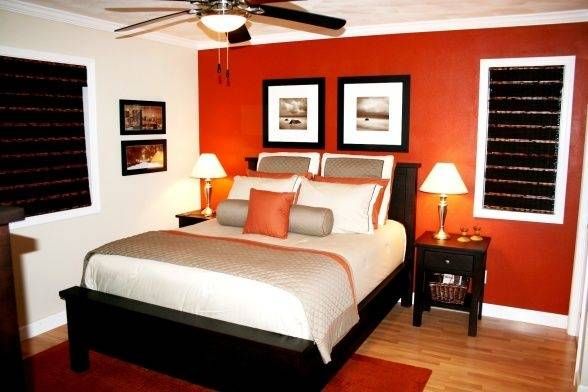 In this type of room, the orange acts as a source of brightness to the room where it is usually dark. The rusty and dark shaded furniture and the addition of another rusty colour like green on the walls makes the space very cozy. This type of idea where the use of wooden equipment all over the room is an important element which helps in making your orange bedroom look dark and edgy at the same time.
13. Soft Shades of Orange and Grey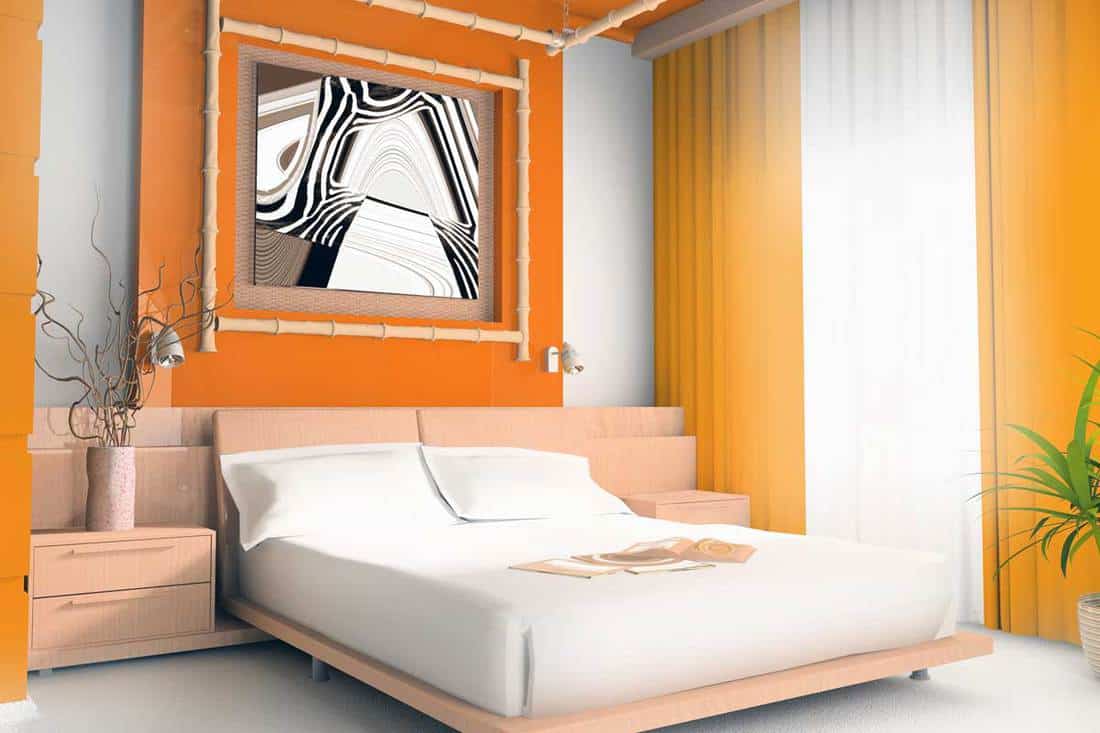 This room gives off a very cool element because of the use of softer color palettes of grey and orange where both the colors work together very well without making it look overwhelming. If you use brighter or darker shades of the said colors, it will not perhaps portray a calm and comforting space.
Warmth is added by orange and the fresh vibes is added by the white and/or grey elements in this room, showcasing how we can use and balance two different light colors to make it look great.
14. Peach and Salmon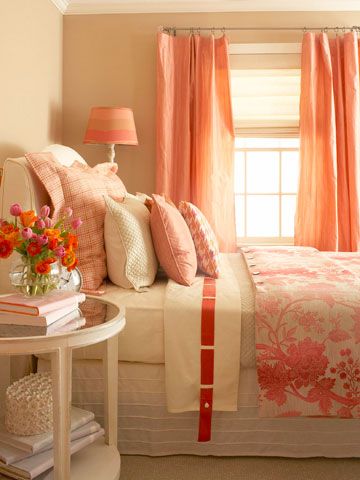 This is probably the cutest orange bedroom you would come across and we are using very soft orange shades with a lot of layering, just like a peach. This color palette can be shared with white as well to make the room look lighter weighted and not so hoarded. The usage of throw pillows, bed-side table lamps and devices, wall clock, and beautiful curtains the color of salmon – you could see how it just looks like a school girl's dream room as they add warmth and serenity to the bedroom.
15. Dark Romance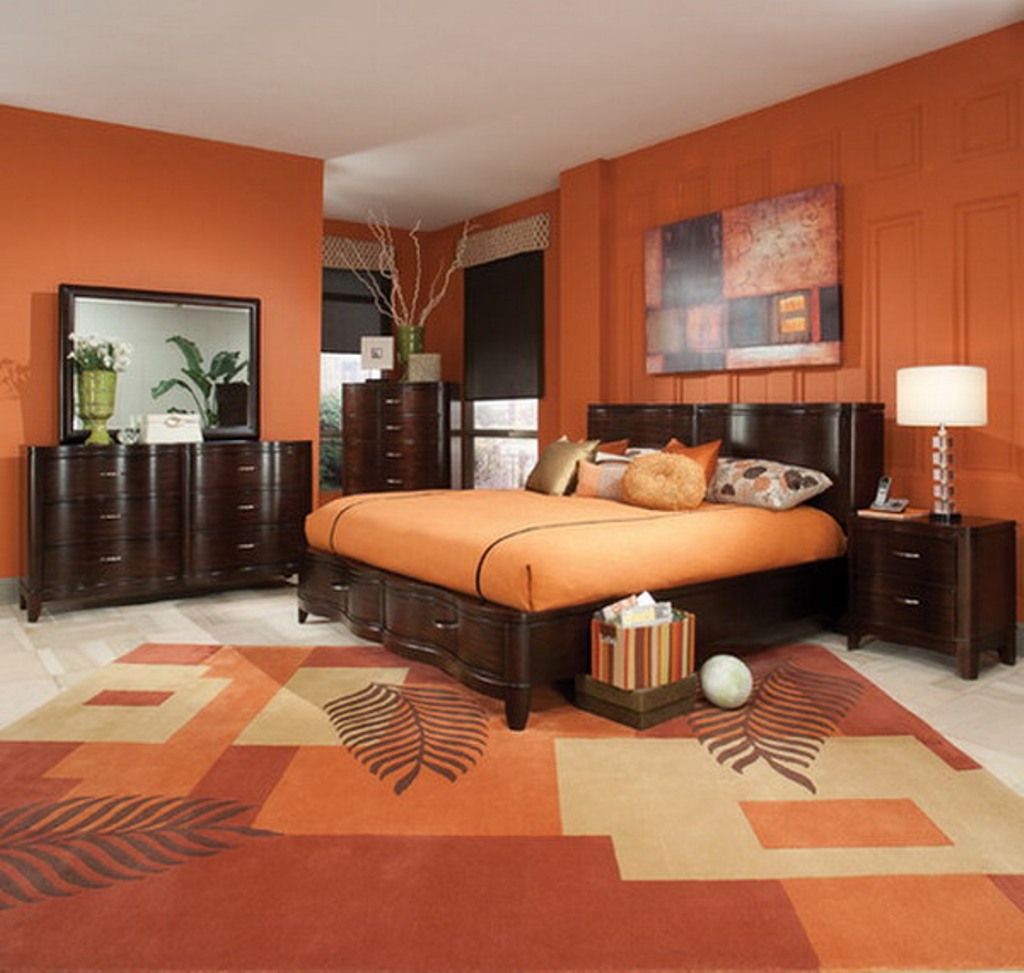 This bedroom is blended with rich and duskier orange tones which gives off a gist of romantic and graceful aesthetic. The walls are more focused in using the orange rather the furniture or the headboard which fuses the room with other parts like the shelves and lights. The designer is focused on not to overexert the use of the color and create a mysterious atmosphere.
Using orange as dark as this might make the room look depressed so we should be careful in the blending technique within this bedroom; if done right, the room looks very vintage. With the use of dark aspects we use the lighter components as well, for example, gentler and neutral walls, softer colored flooring, lampshades, etc.
Conclusion
As we can see, the color orange is in fact a very adaptable and flexible while being a fun color as well to add to your bedroom. We can use it in so many shades and it says a lot about each person's choice of shade and how their orange bedroom looks like; from subtle and soft to bold and deep shades.
By creating a comforting as well as energetic space for your teenager and young children, a beautiful romantic space for your partner or companion, you can help in making you and your loved ones comfortable and at peace in the surroundings of you.
Hopefully, this will help in making decisions on which orange shades and palette you found to be your favorite and which ones you will use in your room, you can have your own beautiful orange bedroom and enjoy.