Sofas and couches are something that can go with any type of room or home. Be it a farmhouse for family, a playhouse for your kids, or a luxury bungalow, sofas can never be a wrong choice. With increasing interest in interior decors, leather sofas have become a massive go-to choice, especially in brown color. However, the task of brown couches decorating seems difficult for many people.
The reason behind the enormous demand for brown-colored leather sofas is obvious, for they give a luxurious look with elegance. How you style your brown leather couches decides the vibe of the room. However, if you are finding it difficult to create your vibe with brown leather sofas, do not worry at all. Because there are 17 brown couches decorating ideas so that you can give your home the perfect beautiful interior.
Complimentary Pillows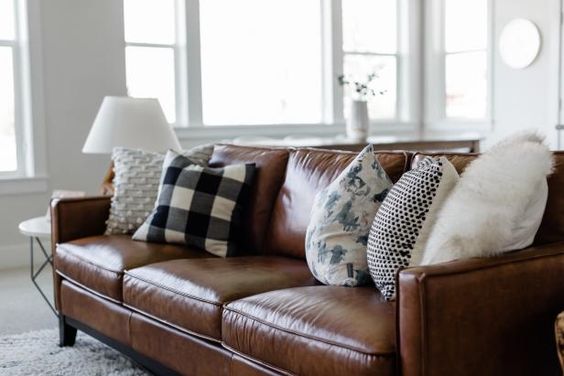 Brown leather sofas can get super boring if no funk element is added to them. Now, when talking about a funk element, the simplest thing to do is to add some complementary throw pillows to your sofa set. You just must assure that you add only one big complimentary pillow or two, too much of them will make the interior look congested.
A complimentary pillow in light shades like cream or white would look gorgeous with leather sofas or couches. While working on brown couches decorating, adding light shades in silk or the same material will make the whole room look elegant and perfectly paired. Not only gorgeous, but this simple decor is also under budget.
Statement Lamps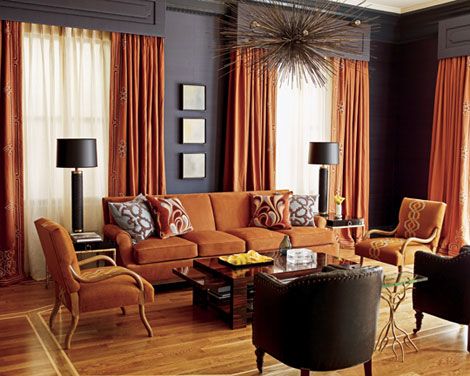 The luxurious look that you would get after adding beautiful statement lamps with brown leather sofas is worth all the money you would spend. You can add a single big lamp near your sofa set or can add a pair of lamps around. You may find a statement lamp on a minimal budget. However, even if your lamp goes a little out of budget, it will not be a waste for sure.
If you have a brown sofa set in a light shade, classic lamps in dark color with detailed design would look perfect. However, if your sofa is set in a dark shade, you can add simple statement lamps in a light shade to make a perfect interior landscape.
Spacious Brown Interior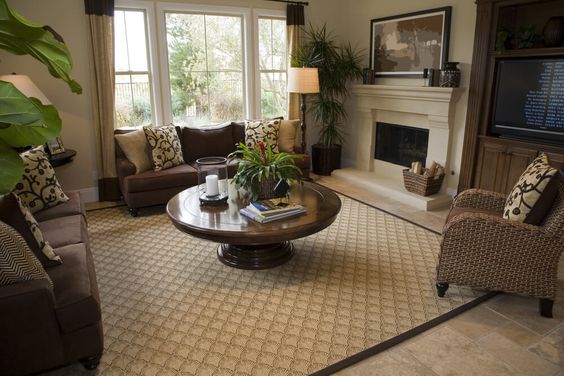 If you have a luxurious house with a lot of space, then this decor idea is for you. Among all the brown couches decorating ideas for big spaces, this one is legit the simplest. Also, it will be right under your budget.
All the couches in the same shade would look great if paired with the right-side elements. Also, you can mix and match the couches of different shades of brown leather in the same room. You just need to make sure that you add perfectly matching cushions with your couches.
Fireplace in Brown Shade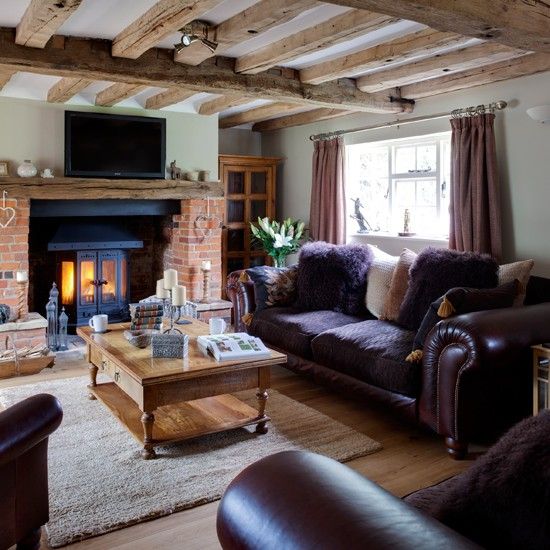 For the people who live in freezing areas, having a fireplace in the house is a necessity. If the fireplace gets paired with rich brown leather couches, it will become the center of attraction.
Add a beautiful shade of brown leather sofa in your living area with a cozy fireplace. You can add cushions in dark shades or curtains in white to keep that cozy vibe alive. You can add wooden borders to your fireplace for more fun. This cozy place with the right colors paired would make up a great place for your visitors to relax.
Cushions Overload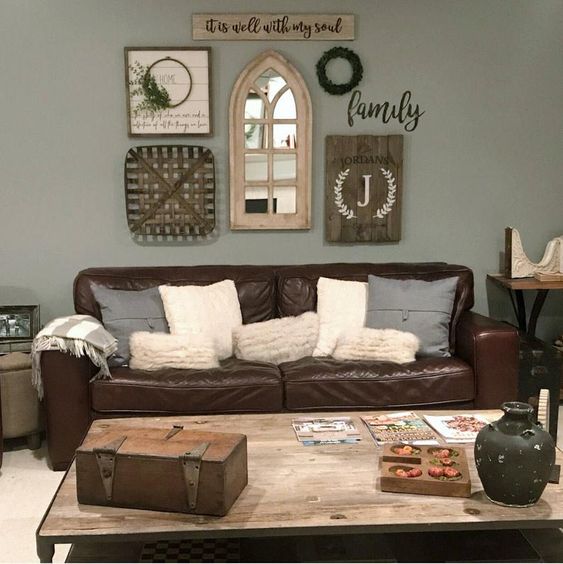 Loading up any couch or sofa set with loads of big and small cushions can give any interior a beautifully attractive look. These cushions can be of any color that you wish to have. Neutral, dull, or attractive and bright, any kind of color, in contrast, will work with brown leather couches.
When it comes to the size of cushions, you can add all sizes together. Pillows in multiple colors and sizes with some side elements like a statement painting or flower vase will make up a great living room.
Mix and Match with Patterns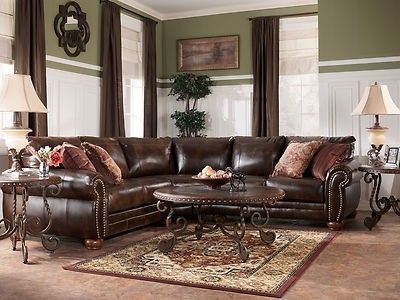 If you are not a fan of all the funk and brightness, you can always go with a sober-looking interior. When trying to do some brown couches decorating, it is better to go sober if you like simple things.
Just add brown leather cushions in different patterns to your existing brown sofa set. You just must change the patterns. You can also mix and match colors by adding a different leather cushion set with those brown leather couches. Moreover, you can add up a little funk in this sober look by changing your curtains or adding a wall painting.
Single Shade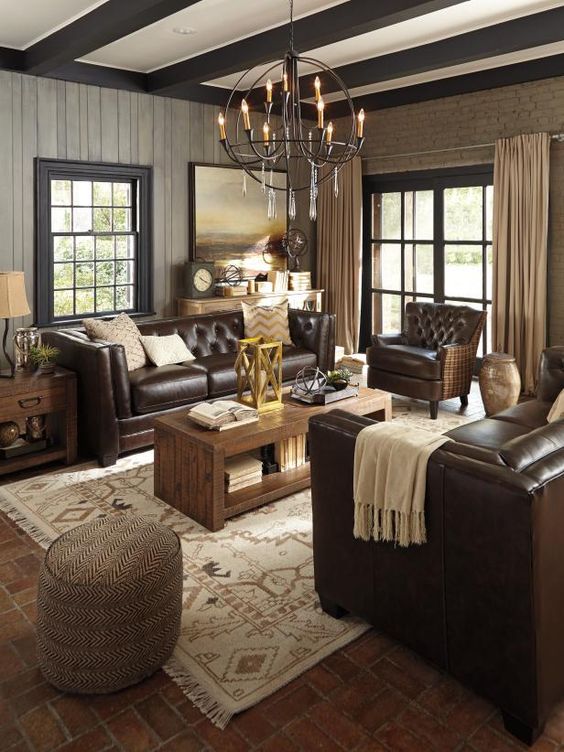 Who said you need multiple colors to make your living area attractive? Sometimes, having everything in a similar shade catches the visitor's eye. Having decor in a single shade is easy and comes under budget. You may have to spend a little or maybe not at all.
While working on your brown couches decorating, try to tune every other element in the same shade. For example, you can add a big brown rug on the floor or other furniture in the shade of brown to get an aesthetic look. This look can be paired with other lighter shades like white and cream to add some attraction.
Furniture Consistency Around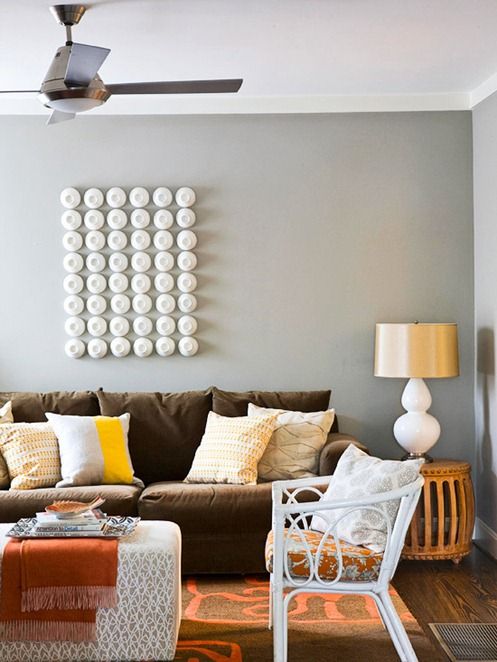 Sometimes adding contrast cushions or curtains in the background may not work for brown couches decorating. However, you can keep the brown leather pieces sober and instead add funk around the main elements.
You can add other furniture in a light brown shade with rich and dark brown leather, like bamboo chairs or a table. However, if you have a light-shaded leather sofa set, you can go with some classic dark furniture for an aesthetic look.
Brown and Green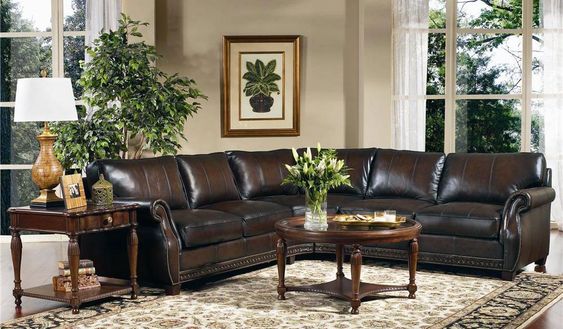 If you are a greenery lover, then there can be no better brown couches decorating idea for you out there. Many people love growing tiny, beautiful plants in their houses, which can add funk to your leather sofa set.
You can add a grass rug on the floor or place some home-grown plants in the room. This simple change in the area will glow up the whole interior for sure. You can add plants to the table or put them around the sofa set to make them the center of attraction.
Statement Art Wall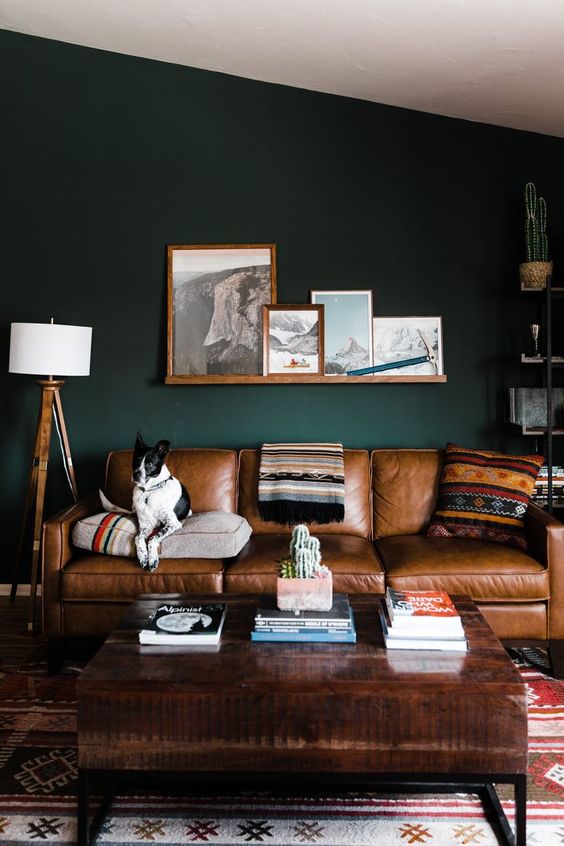 Simply letting the walls make the statement with a brown leather sofa set will look sober and rich and grand. If you have a plain wall in the room, decorating the interior with numerous side elements will not work.
Rather than placing everything on the floor, it would help if you went with something that can be placed on the wall. For example, a great statement painting on a blank wall with brown leather sofas will catch anybody's eye. With a wall painting, you can keep the surroundings of the sofa set simple by adding only statement curtains or a simple table in the center.
Bold Patterns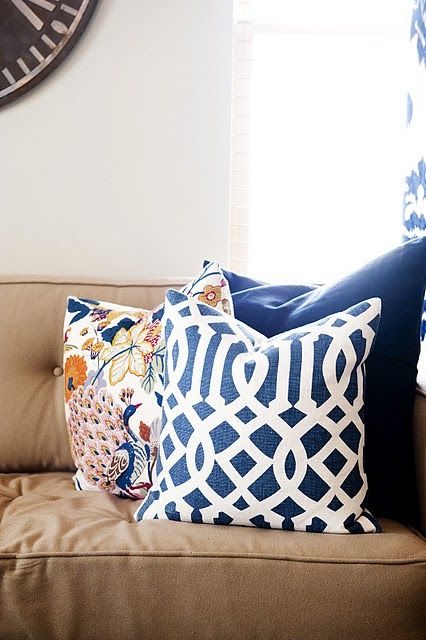 Nowadays, people love adding funk to their modular houses with bold patterns and colors. No matter which shade and pattern your leather sofa set is in, you can always find a bold pattern to match it.
A throw pillow in the bold pattern will incredibly go with a leather sofa set. Other than pillows, you can also add bold curtains if your room has windows. No matter what you add, you need to make sure that you add something different from your sofa set yet mixes well in the room.
Dark and Light Contrast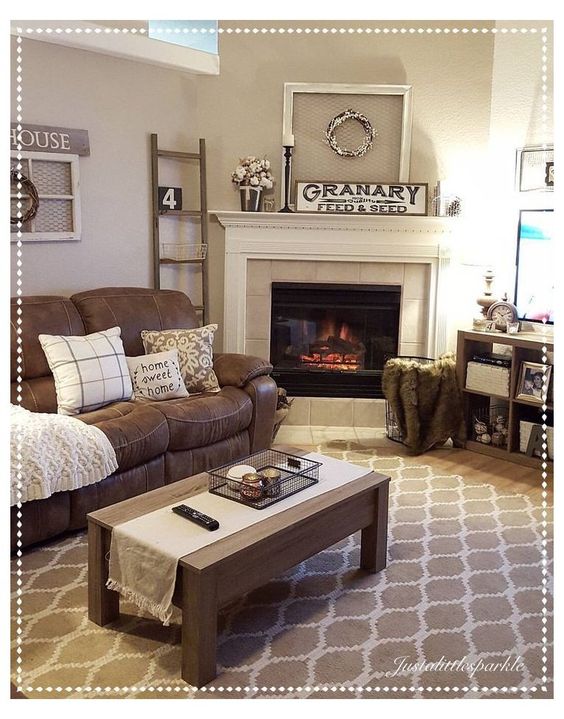 If you have a dark rich leather sofa set in a brown shade, you can match it with light surrounding in contrast. Light wall colors, other light furniture, curtains in light, dreamy shades, you can pair anything light shaded in the room.
In the same way, try to pair light brown leather sofas with dark cushions, dark furniture, or any side element in dark shade. This brown couch decorating idea is simple to do and yet gives an attractive look to the room. Also, this decor would be possible even with a small budget, depending on the side elements you already have.
Dark and Dark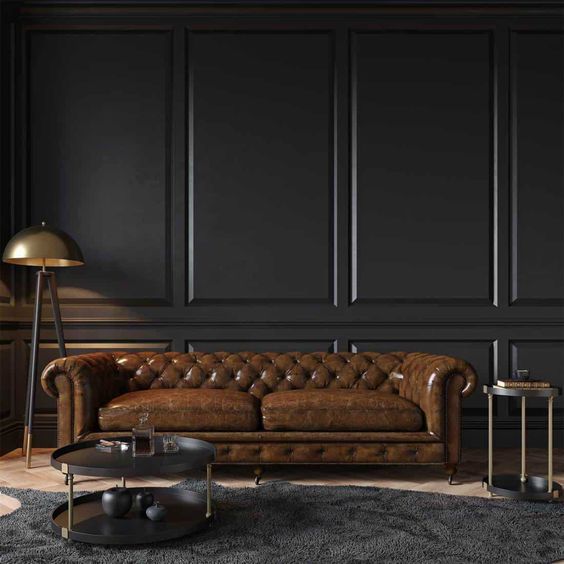 Always putting the darker shades with light and dreamy shades does not work well. Sometimes, dark with dark also works wonders when thinking of a super cool interior. Having everything dark with light shade walls gives the desired cozy vibe and lets you relax peacefully.
You can add elements in similar dark shades like wine red, navy blue, or black with your dark brown sofa set. Also, add throw cushions and other furniture in dark colors. This brown couch decorating idea will give your interior a cool and relaxing vibe and will catch your guests' eye instantly.
Statement Window Curtains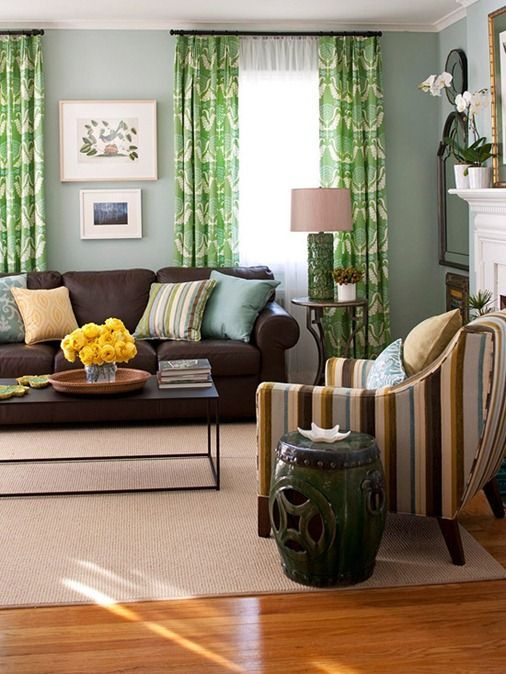 If your room has windows that can be paired with gorgeous curtains, this decor is for you. People usually match their curtains with their sofa set in a room. However, curtains in contrast colors also go beautifully and give the room a rich and royal look.
You can add curtains in dreamy colors like white and cream in a room with dark brown couches. You can also add bold curtains in colors like pink and wine red. Moreover, your curtains can be plain and can also be with bold patterns that mix well with your brown couches.
Character Furniture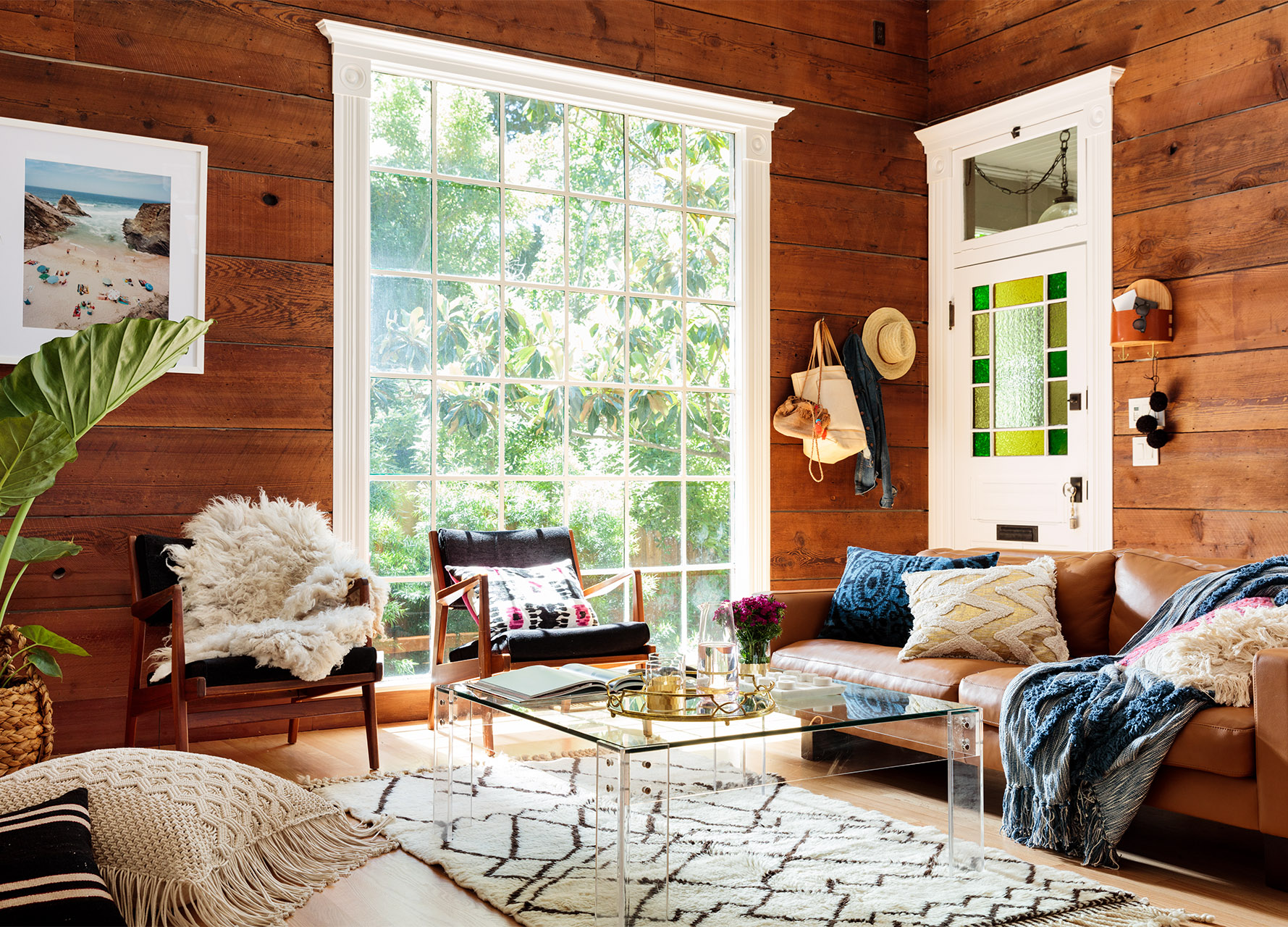 Having a simple leather brown sofa set can get boring if you do not have enough space for side elements and wall paintings. If this is the problem with you or if you love experimenting with your living areas, then you can try character cushions or character sofa sets.
You can easily find character cushions or furniture at a good furniture shop. Character cushions and furniture have classic prints and embroidery that give the room a rich and warm look. Brown couches decorating will be fun if you plan on this decor.
Statement Wall Patterns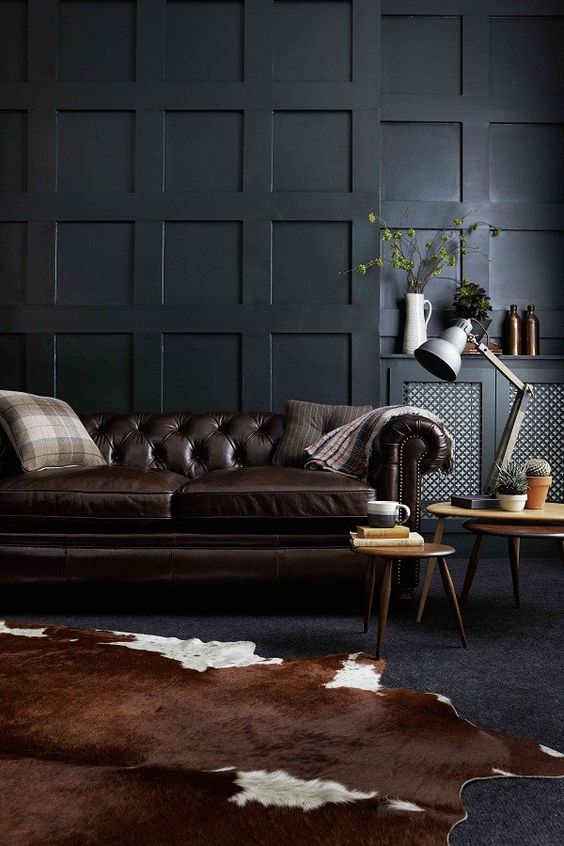 If you are renovating your living area, then instead of getting new furniture to pair with your dark brown leather sofa set, you can experiment with your wall. People nowadays love having patterns and textures made even on their interior walls.
Brick-textured walls in bold colors or patterns made in contrast colors also go great with leather sofa sets. It would help if you chose something that mixes well with your furniture. Depending on the kind of room you are renovating, you would choose the color and pattern for the walls. However, if you like sober brown couches decorating, you can give your wall a nice plain bold color.
Accent Sitting Arrangements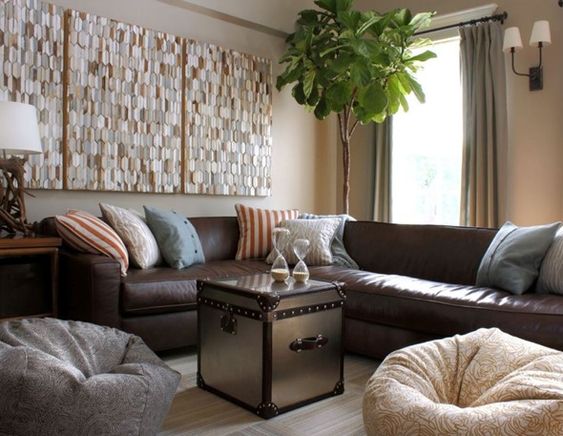 If you wish to do the work of brown couches decorating in your living area, you would probably need more sitting. Now, you do not need everything in leather to do that.
With the leather couches, you can add one different chair or two for visual interests. It can be a bold-looking chair in bright colors like yellow or red. It can also be the set of a couch and a table in a color that mixes in the room.
Conclusion
These brown couches decorating ideas will probably work with all kinds of houses or rooms. Also, these decor ideas will work with all shades of brown leather sofas, light or dark. You just need to find the right decor for your interior.
Before you decide, go through the room you wish to decorate with brown leather. The walls, the side elements, the shade of your leather sofa set, even the minor details need to be noted for deciding the best brown couches decorating idea.
Moreover, no matter which decor you decide to have in your interior, you always must be creative. Make sure you add your creativity to the decor because your inner satisfaction after the complete brown couches decorating is what matters at last.