Living rooms are the best part of any house. They offer you a great place to spend time with your family and unwind after a tiring day before you go to sleep. So, what should your living room have? Apart from a comfy couch, a TV is a must.
To have movie nights with your family or to watch an excellent show before going to sleep. But what you also need along with a TV is a fireplace. After all, it is not warm and cozy without a fireplace.
Today, we will talk about 17 living rooms with a fireplace that you should check out and take inspiration from. Let us Begin!
1. A Compact Step Up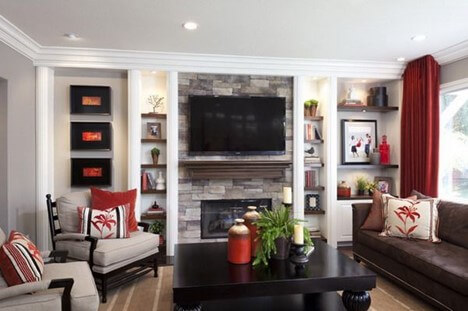 We understand that finding enough space and rooms for your entire family in your houses is a big deal in today's times. So, in a situation like this, if you do not want to use up too much space for your TV and fireplace separately, we completely understand. What you need is a living room with a fireplace and TV that is stacked upon one another and is compact. This style does not just save space, but it also looks great and neat.
2. Something Big and Grand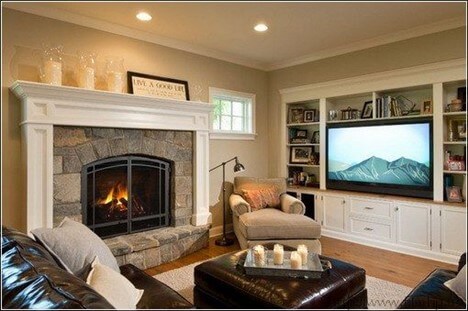 The previous one was for people who do not have enough space in their living room and do not want to devote the available space to a TV and fireplace. But if you have both space and love for living rooms with a fireplace, then this one is for you. Your TV no more must share space with your fireplace, and you get a substantial grand fireplace keeping you warm from the side set with rocks and white pillars to bring in a Victorian feel without disrupting your view of the TV in any way.
3. The Classic Black White and Grey Palette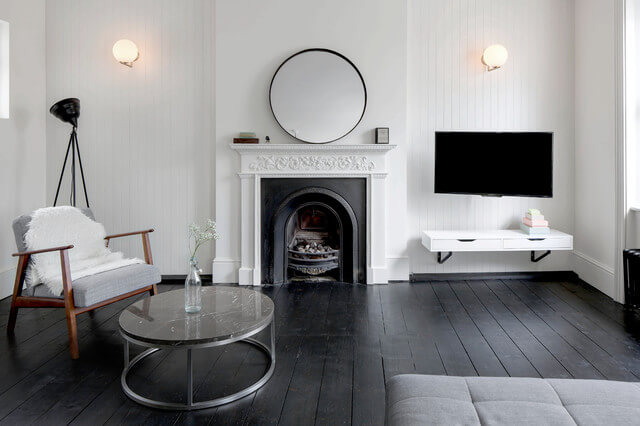 People's love for simple yet modern and chic and décor has been increasing every day, and the result of that can be seen in their living rooms as well. If you are one of them and looking for something in the black, white, and grey category, your search ends here.
Check out this elegant and delightful living room with a fireplace and TV. The room's entire color scheme is very light and sober, and each décor item of the room, starting from the couch, and the cushions, goes well in contrast with the fireplace, TV, and the entire set-up.
4. The Stone Wall Backdrop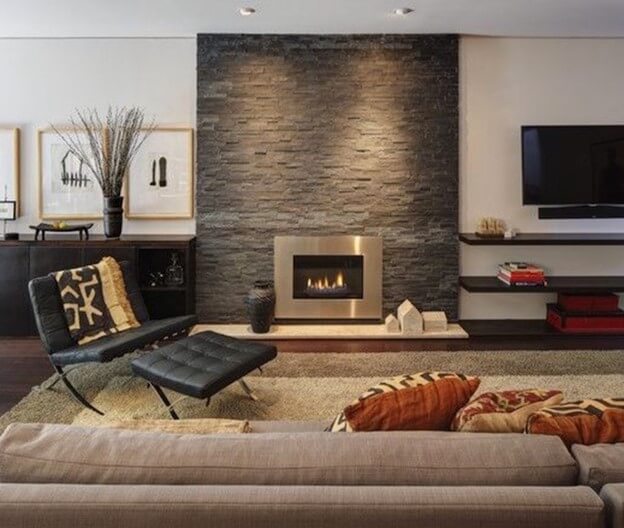 Another classy way to set up the fireplace in your living room is to have a backdrop of a classy stone wall that brings is a medieval feel to your living room. Maintain a minimalist design by keeping the fireplace and the TV separate.
After all, why not let your guests appreciate all the efforts to plan and build the beautiful stone wall. Also, keeping your TV and fireplace separate in a design like this will ensure that the space does not look too clumsy.
5. A Cute and Cozy Living Room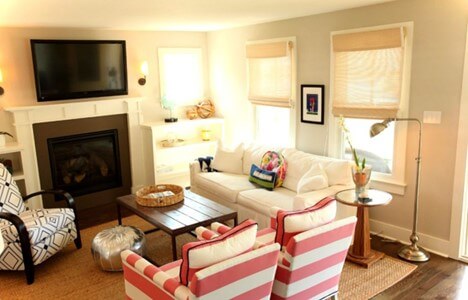 It is not always the space that makes a house beautiful. Sometimes, some houses are built and decorated so tastefully, even in the small available space, that your heart leaps with joy, and the first thing that crosses your mind is that you need to copy this design for your own house. This living room with the fireplace and the TV is set so tastefully, syncing well with the chairs and the wall's color and the floor giving the entire room a warm and cozy ambiance.
6. A Contemporary Black and White Theme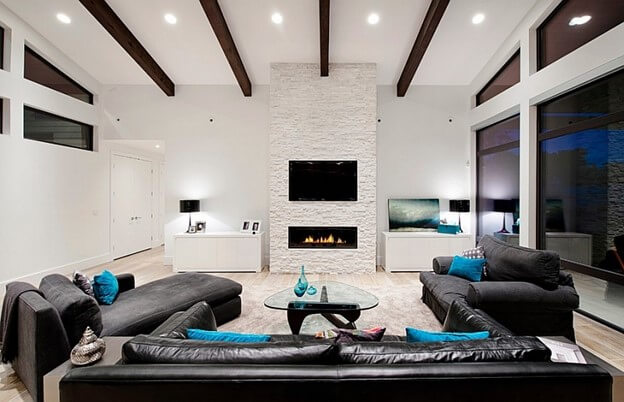 Modern contemporary décor themes have been a raging trend much because they are very sober and have a different calming and comforting vibe. If you are looking for a contemporary themed modern living room with a fireplace and a tasteful color scheme, then this black and white-themed living room with fireplace and TV is the best option for you. If you decide to style It up like it is shown in the picture, the occasional hints of blue will look stunning in the overall black and white theme.
7. A Gorgeous Outdoor Fireplace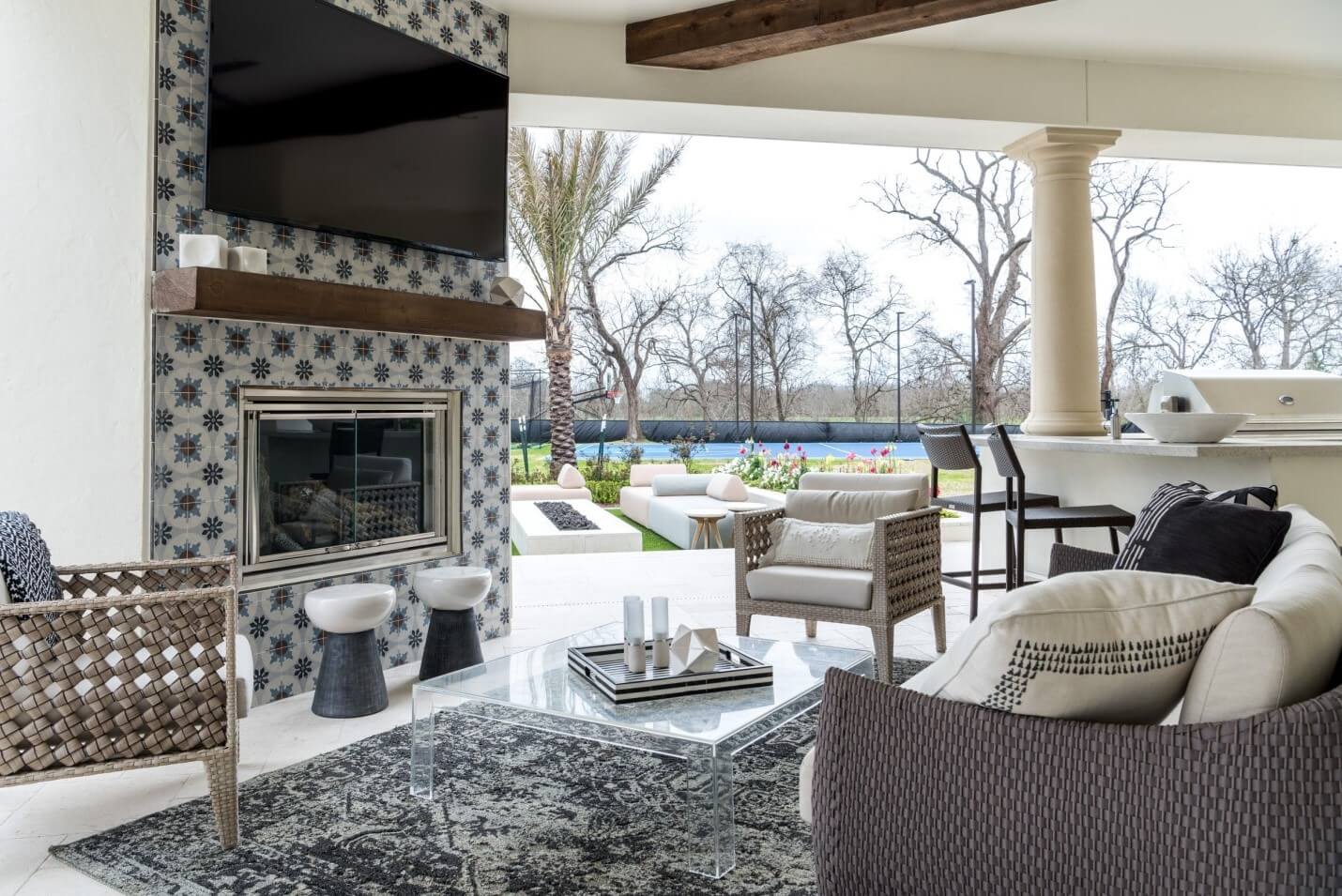 When you plan your own house and its décor, managing to get your own outdoor space like this is a blessing! So, if you have the option of getting yourself an outdoor space like this with a beautiful view, then make sure you turn it into a beautiful living room with a fireplace and TV like this so that you can enjoy a lazy Sunday afternoon on the couch. You also have late movie nights with a warm fireplace that will keep you cozy and protect you from the cold of the night.
8. A Chic Living Room with Wooden Finish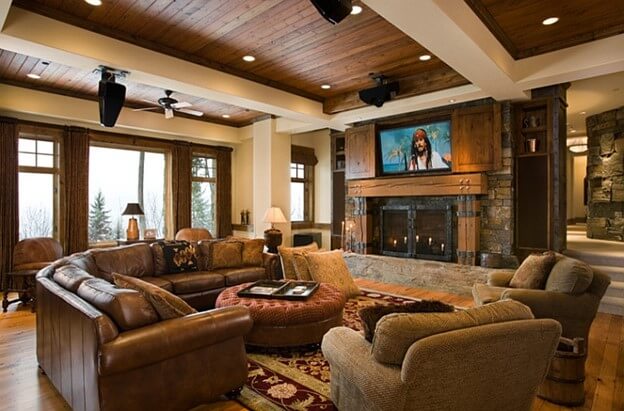 If class and elegance are something you swear by, I am sure you will love this living room. It has got everything that describes an elegant, classy living room. The wooden fireplace, along with the wooden walls and floors bring in a rustic cabin-like feel in your living room and the matching couches and the outside view (views are always a plus point, agreed?) make this living room with a fireplace and TV a piece of heaven on earth that is legit #livingroomgoals.
9. Saga of Rocks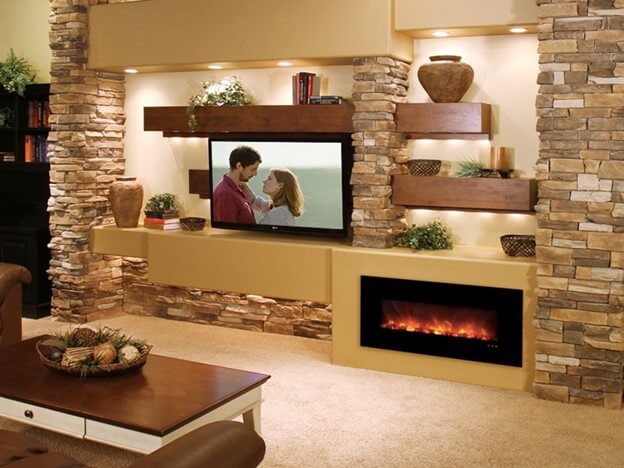 Hands down, one of the best ways to decorate your living room with a fireplace and TV is to get these stones embedded on the walls. The medieval vibe that they bring into your room is simply unbeatable. Along with a stone wall, where they have also tastefully used the stones to create pillars on both the sides of the TV and the fireplace is making the entire living room look even more cozy and enchanting. They have smartly separated the TV and the fireplace and utilized the space above the fireplace with wooden racks that add a great finishing touch to the décor.
10. Simple and Compact Set Up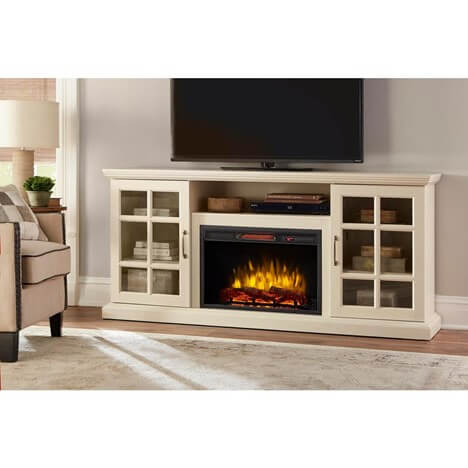 One for the bachelors here! We know that bachelors do not always luxurious live-in spaces and often need furniture's to be compact to fit everything in one place. Suppose you are looking for something like that. This one is for you. The smartly planned TV and fireplace set-up not only looks elegant, but the attached showcase helps you store things in a neat and organized manner. So, you get a TV, a friendly and warm fireplace, and a compact place to keep your little, small stuff neatly all in one place, isn't that great?
11. Dark Ambient Set Up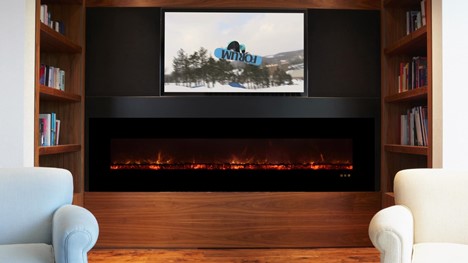 If you too love black and the air of mystery, It brings along with it as much as we do, then you should check It out. The complete black background with the big LED TV and a matte finish black wide fireplace surrounded by the wooden frame looks classy and mysterious at the same time. It is better how they have utilized the space to keep books alongside the TV and fireplace. With the books, warm and cozy fireplace, and the TV, you have all the comfort that you want sitting right on the couch.
12. Holiday View Set-Up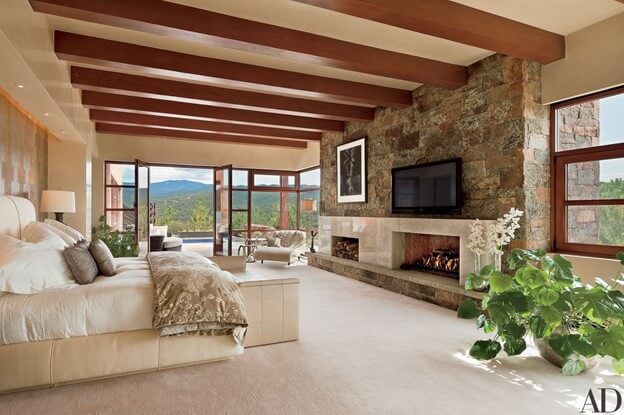 Do you know what is more relaxing than a nice living room with a fireplace and TV set-up in front of you? Having the same set-up with a view and space makes you feel like you are on an expensive holiday, even on regular Thursday nights.
So, what should you do? If you are yet to plan your house, you should take some serious inspiration from this living with a fireplace and TV set up and customize your place to match it. Because we are sure that when you plan to relax after a tiring, a view and ambiance like this is something you will appreciate!
13. A Small Corner Fireplace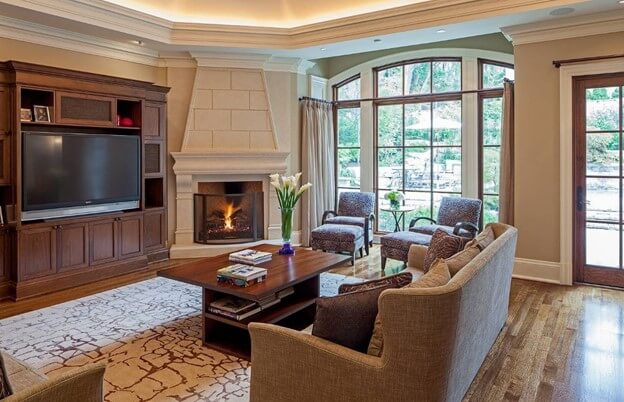 If you are not a big fan of massive fireplaces, then this one is for you. Have the TV at the center and relax by watching your favorite movie while the fireplace in the corner keeps the room warm and cozy. You can also opt for a brick texture wall above the fireplace and the TV, and you can embed it in a wooden showcase just like it is done here. It will not just make the whole set-up look great, but it is also a great way to decorate your place and save space.
14. A Mansion Like Ambience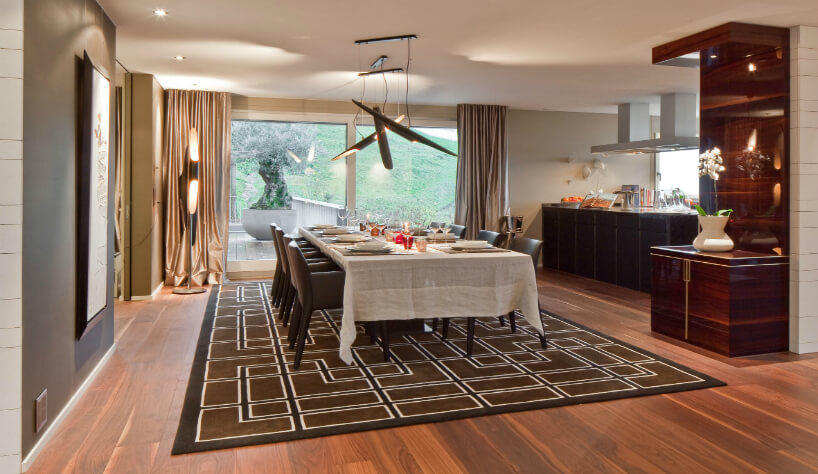 Love everything that looks royal and grand? Then you must check out this stunning living room with fireplace with the TV that is honestly the grandest living room set up that we have seen so far. The elegant rug on the floor matches the color theme and the floor, walls, windows, and couches. The black TV and fireplace look brilliant in contrast to the pastel-toned walls. And the best part is, being attached to the wall without any extra cabinet or showcase, it also saves some floor area for you.
15. A Medieval Retreat with Your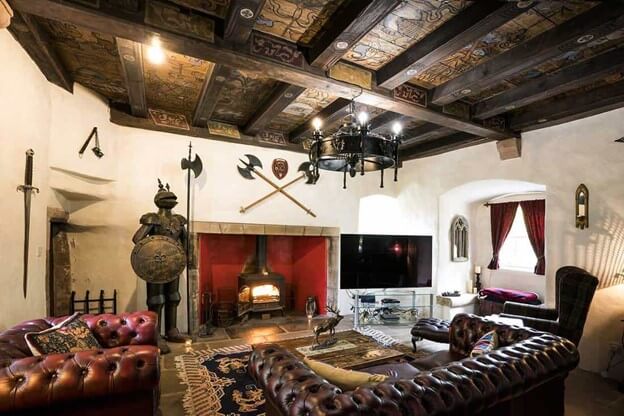 Would you like a medieval retreat right from your living room? Then this one is something that you would love to check out! The red curtains over the fireplace, guarding it along with the interior decorated with swords and amours and a wooden ceiling with matching brown sofas, will make you visit the medieval era, right from your living room. The TV is kept on the corner to make sure that it does steal away the glory of the stunning fireplace. Isn't this whole set-up beautiful?
16. Have a Sunset Like Ambience in Your Room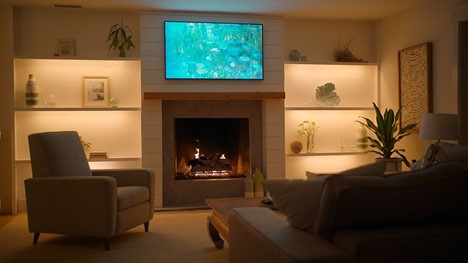 Sunsets are so calming, and having one right in your room is a blessing that we all wish to have. What if we told you that along with a living room with a fireplace and TV, you could also get a sunset-like ambiance with the dim yellow light show here in the picture.
This ambiance is excellent for spending some quality time with your partner or relaxing watching your favorite show after a long week of hard work. The adjacent racks also play a significant role in making this design so perfect with offering space to keep stuff and adding to the overall artistic beauty of the room.
17. A Cute and Cozy Living Room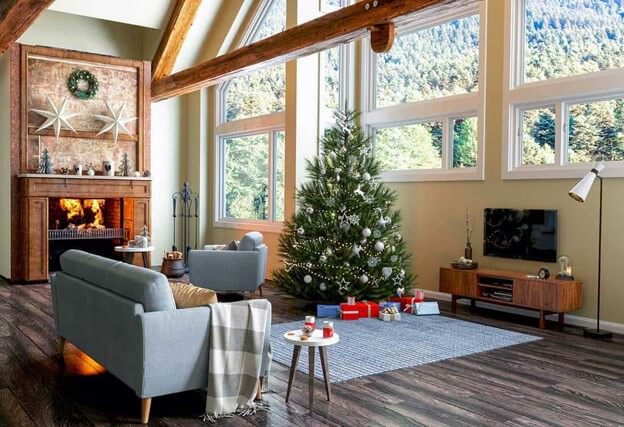 A cozy living room is all that we want. Something that does not just impress the guests but also makes us feel comfortable and calm, especially when we are alone. This living room with a fireplace and the TV and the Christmas tree is the perfect definition of cozy and comfort that we all crave when we are tired.
After all, home is not a sweet home unless each corner of it feels like heaven, and nothing can give you that experience and ambiance more than this super adorable and comfy living room set up.
So, these were the 17 living rooms with fireplace and TV that you can certainly take inspiration from to decorate or plan your living room. For each time and each requirement, for families and for bachelors, this list has something for everyone.
So, we hope you went through this list and found the perfect match for your own sweet home. And if you have anything that you would like to add to the list then reach out to us in the comment section below!