Home should be specially designed to provide a luxurious retreat for the people who live there. It should also have aesthetic value, and help people reconnect with themselves and get away from the outside world. You can make your home feel less like a place to live and more like the refuge you truly deserve without spending a fortune. Your living room, for example, is an important part of your lifestyle, so you must give it extra attention by making changes as you can. You may not be able to completely revamp your space, but it doesn't mean that you shouldn't make the effort.
There are plenty of ways to make your home look more luxurious, spacious, and attractive, so continue reading to come up with some ideas to help you do just that.
Introducing Unique and Unexpected Textiles
If you want to transform your space and turn it into your own unique environment, decorating with textiles is one way to do it. Adorn your home with rugs, vintage carpets, pillows, and cushions. You can search for reputable vintage stores, for instance, to find antique Persian area rugs. Persian rugs have been around for many generations and those who buy them often find them to be a cultural connection.
As a rule, use statement-making rugs that match the color scheme and overall appearance of your room. Create pieces that have a unique and unusual appearance. This will help to convey the place's personality and make it feel more personalized.
Large Scale Wall Décor
Another way to give your home the 'wow' factor is by using oversized pieces of beautiful art. You can create a high-style statement simply with what you already have. The best thing about oversized pieces is that they exist in a wide range of options and prices.
Design experts agree that good design speaks for itself and will more often than not turn heads. Local bazaars, thrift stores, and flea markets are great places to bargain shop. You can find a good deal on all sorts of items with some creativity. A fun way to pass the time is by creating your own large-scale wall painting – it's impossible to go wrong when you have so many options!
Try to Mix it Up
Mixing different textures and materials can give your home a sense of elegance, too. Avoid using the same theme or style throughout the whole house to make it appear more varied. Mixing wood, glass, metals, and leather along with various other design pieces will give your room a welcoming and dynamic appearance.
Playing with different designs and mixing things up may make your house look good. But it's important to do it carefully so that the pieces are complementary or match with each other. Just think about the design of your space before you start any construction, and consider how it'll impact your living experience.
Keep It Simple
Make sure your living room is affordable, clean, and organized. A cluttered or disorganized furniture set can be the complete opposite of a luxurious one.
You can make your room appear cleaner and less cluttered by removing some items that aren't necessary. However, be careful not to remove those pieces that have sentimental value. Don't forget that a spacious and simple living space is essential to a luxurious home.
Use What You Already Have and Go Green
Get creative with things you already have, because they can often become incredibly useful. You can use different types of materials like acrylic, silver, metal, or trays to create texture or depth when you place them on tea carts, luggage racks, bedside tables, trunks, or coffee tables. Adding books, frames, candles, or art to homes can also be fun and create a sparkle. But, if you have tons of money and want to go all out you can completely transform it with wall art made from children's books.
Adding plants to your living room is another way to make your home look plush. Not only do they bring the outdoors in, but they can also add a splash of color to any interior. Trees are cheaper to plant and maintain, camouflage your house, and help with air circulation. They boost your property value too! Additionally, plants help remove pollutants and they can also give your home a luxurious and chic look.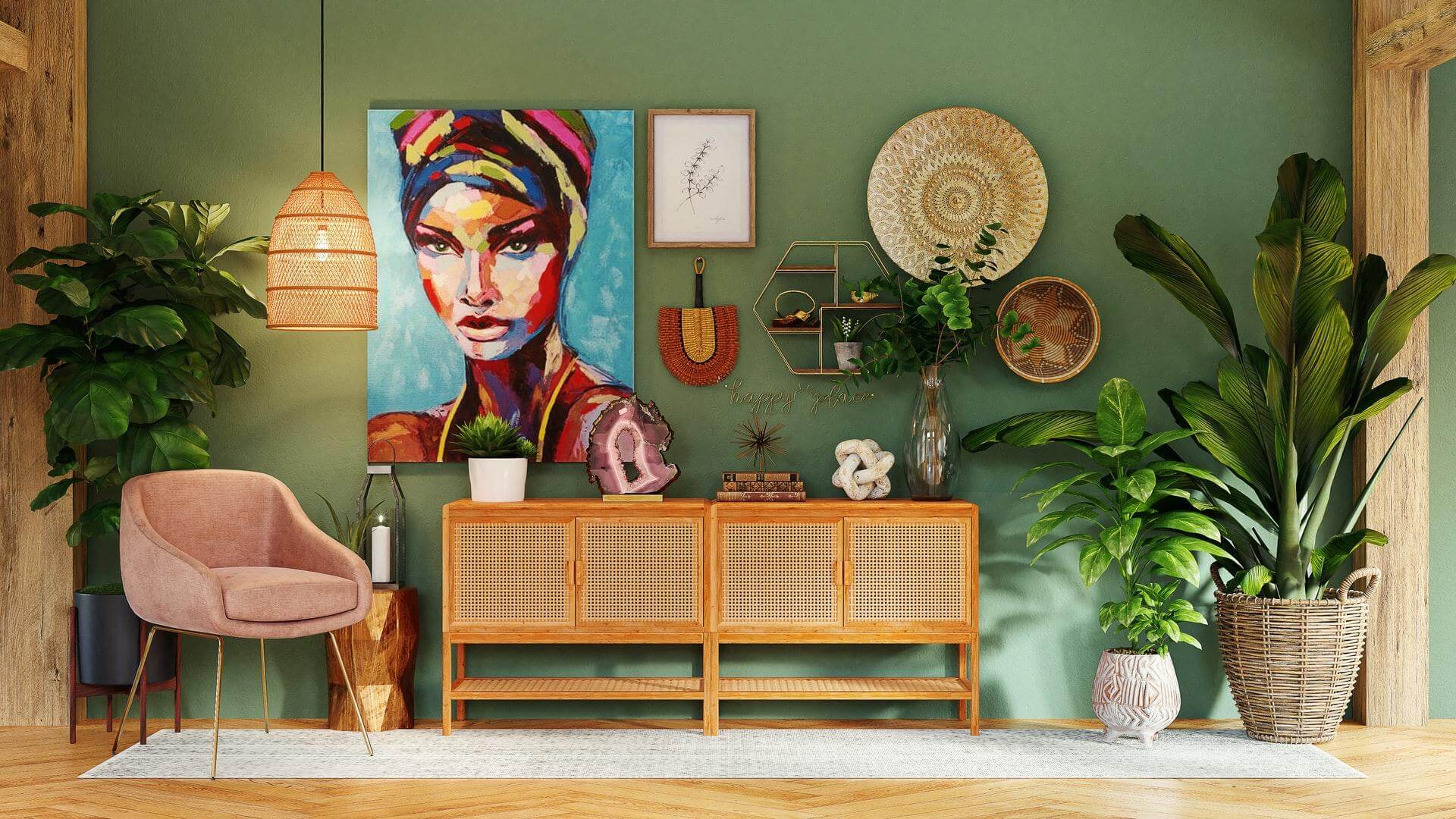 Prepare a decoration for your front door.
Fixing a wreath on your door is a fantastic way to make a great first impression and set the tone for your home's overall aesthetic. They come in a variety of styles and materials, making it easy to find one that fits your personal taste and the overall aesthetic of your home.
Plus, wreaths can be changed with the seasons or for special occasions, providing a stylish way to celebrate holidays or certain milestones. You can make one yourself or purchase one at your local or online store.
Final thoughts
Interior design can be complicated, but with the help of a professional designer and some research, you will see a luxurious look in your space. Seek assistance from experts and work with a budget you are comfortable with so that you can see your dream interior. There are many things you can include to make your home look stunning, without having to break the bank.