When it comes to adding colour, beauty and elegance to any garden landscape, they say Columnar trees are perfect. The tall skinny trees offer a stunning visual and most small columnar trees can be grown in containers and kept at the gate or in a doorway.
Western Red Cedar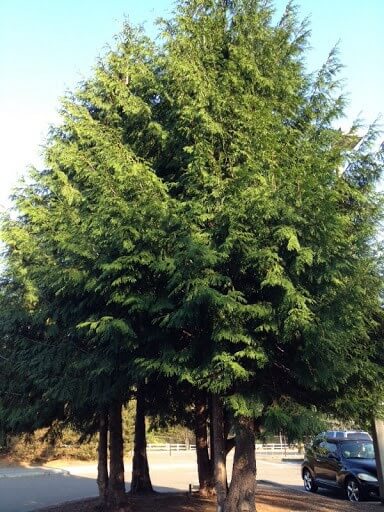 Found growing in the coastal region of mainland British Columbia and the islands, the Western redcedar is known for its reddish- brown to grey bark and its branches that droop and curve upwards at the ends. These trees thrive in moist soil and shady forests.
Facts to Know
It has scale-like leaves paired opposite to each other at 90 degrees. These leaves are strongly aromatic in nature and when crushed smell like pineapple.
The seed cones of this tree are shaped like eggs and 1 cm long. They are small in size and reddish in color.
The bark of this tree is grey and fibrous. There is a noticeable tear-off in the long stripes of the mature trees.
An average life span of western redcedar is somewhere around 1500 years.
Why is it a Perfect Fit for your Landscape?
Western Redcedar is blessed with evergreen foliage. So, no matter what season is on the run, you will always experience a good lush of green. Also, the pineapple-like smell will add an aroma to your garden that will help you enlighten your mood. It is a tree that requires very little maintenance and is a safety net for birds and wildlife.  The old woods can be cut down without any damage and can be used to build  things like boxes, baskets or clothing. It can also be used for construction purposes.
American Arborvitae
Dark American Arborvitae is conical featuring flattened sprays of dark green foliage.  It retains good green color throughout the year including winter. Dark American Arborvitae takes pruning well, does best in sun, but should be protected from drying winds. Ir makes a great evergreen hedge or can just stand alone as an accent evergreen in any landscape. It will tolerate clay soils and prefers moist but well drained soil. It can tolerate standing water for a short time. Dark American Arborvitae will tolerate some shade, but not full shade.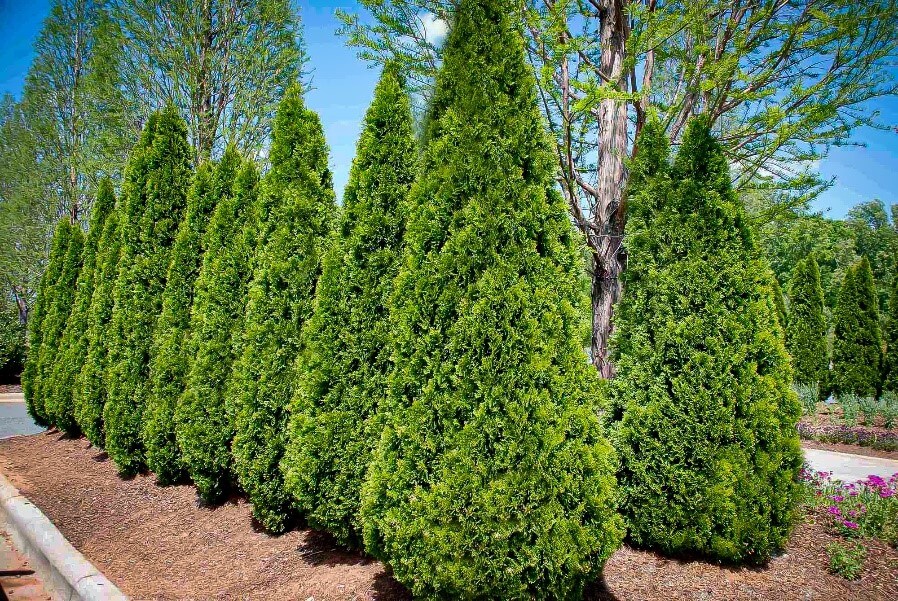 Facts to Know
It has tiny scale-like leaves that are assembled together in an overlapping manner to represent a flattened fan lookalike spray.
From staying light green in summer to changing hues of yellow-brown-green in the winter, it gives a rich multitude effect.
The seed cones  are oblong shaped and is around 0.5 cm. The cones are tipped bluntly and prefer to stay separate at the base.
The barks are in the tones of red and brown. It has narrow, longitudinal stripes.
An average life span of American arborvitae is observed to be around 50  to 150 years.
Why is it a Perfect Fit for your Landscape?
If seen from an architectural point, the tree gives an entrance a royal touch. If put in the corner it will give your home a soft look. The colour changing foliage gives you a different comfort with each season. The leaves are mildly aromatic, giving you a forest-like feel. It is a low maintenance tree except that it requires a direct sunlight for at least 6 hours a day. it does offer birds and squirrels food and is known to be used for  medicinal purposes, crafts and constructions. It also provides essential oils for cleansers, insecticides, room sprays and soft soaps.
Weeping Persimmon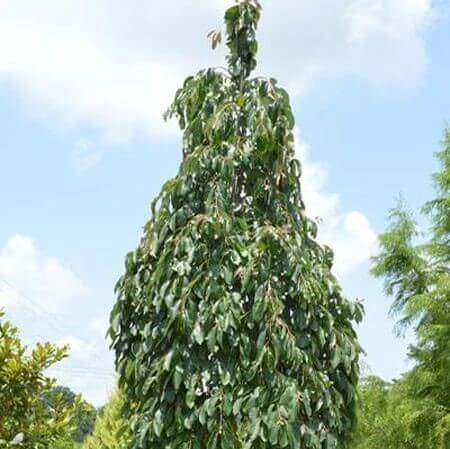 The rare Japanese persimmon, the weeping  permission is known for its weeping form and offers medium sized, conical shaped fruit that hang off the tree like teardrops.  It is seen ripen in late October till Mid November.
Facts to Know
The leaves will take you on a journey of seasons from dark green in springs to blooming flowers by the end of it. The shades that you will witness  are – red, fresh yellows, and acute oranges.
A persimmon can offer  you an orange color fruit which is a sweet treat for you.
Depending on the season, the colour of the bark changes from a dark brown to dark gray.
An average life span that a weeping persimmon is around 70 years to 75 years.
Why is it a Perfect Fit for your Landscape?
Persimmon is a one-of-a-kind shaped tree. The majestic look  it offers, can uplift the landscape of your garden in several ways. It's time for you to make your kin and kith jealous with a unique gift from nature. We call it organic jealousy – It's harmless. You can give your taste buds a treat to the sweet fruits. It is no ordinary tree is it?
Slender Hinoki Cypress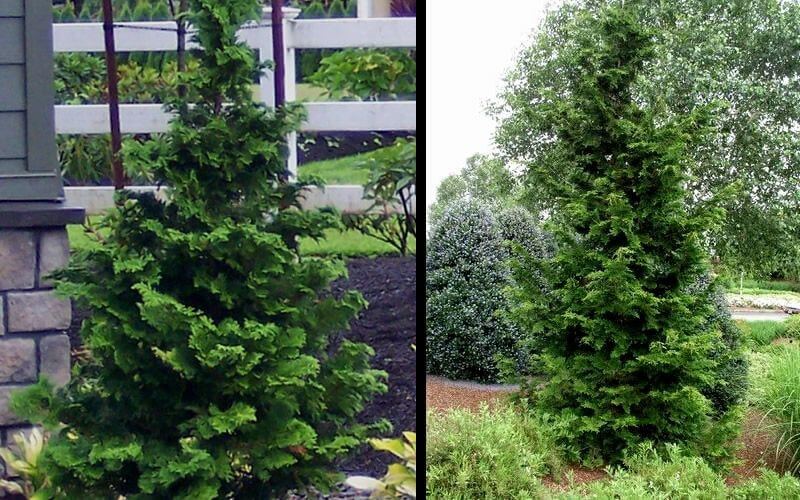 The medium sized evergreen bush, with branches to the ground and narrow habit, the Slender Hinoki Cypress forms a slender column of soft foliage, a rich green color that becomes red in cold weather. It is the ideal choice for foundation planting and doesn't need any trimming. If allowed to grow natural, it is highly attractive.
Facts to Know
The ferns of a Hinoki Cypress are dark green and a little reddish on the ends will be noticed with the regular growth. In winters, a shade of bronze can be enjoyed.
The seed cones are short, stiff and spherical in size.
It has open pyramidical branches that gives soft look to arching branchlets.
The best time to sow seeds to get beautiful hinoki cypress is early spring.
Why is it a Perfect Fit for your Landscape?
Hinoki Cypress is a delicacy from southern japan that will add an authentic touch to your landscape. Also, due to its denseness, it can be used as a privacy screen. If you are someone with a big garden and loves to host barbeque parties, then hinoki cypress is one of the best choices for  its ornamental and bonsai-like look.
Italian Cypress
Italian Cypress tree is perfect for those looking for style, elegance and height. It is a tall narrow tree that grows up to 50 feet in height. The tall tree does add beauty to a space and is one of the most popular columnar trees. The trees need very little water and can with stand severe heat.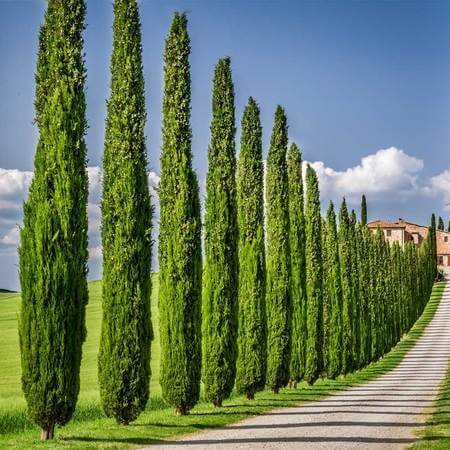 Facts to Know
The leaves of this tree are scaled to grow in a round shoots unlike the other tress where the leaves are flattened.
The seed cones are oblong in shape. The colour of seeds are initially green but once the pollination happens and the tree is matured it turns in to brown.
An average life span that you can expect from an Italian cypress is somewhere around 1000 years.
Why is it a Perfect Fit for your Landscape?
The Italian cypress is one-of-a-kind tree that brings a touch of Mughal and European culture in your orchard. The wood is highly scented, which brings a fresh aromatic air to you.
Walter's Columnar – Red Maple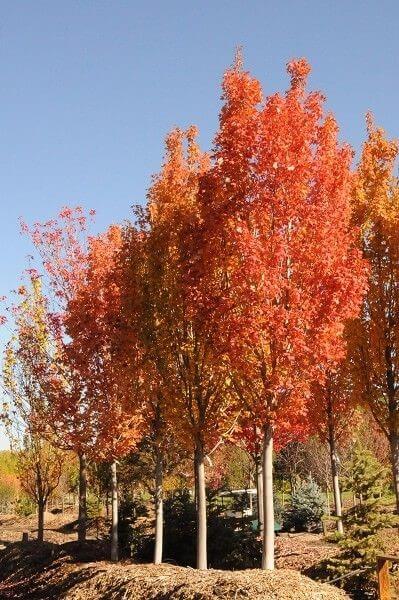 Known for its columnar form, the Columnar Red maple features clusters of red flowers. In spring, the tree blossom into a dark green deciduous foliage. The silver bark and brick red branches offer the landscapes a unique dimension.
Facts to Know
Maple leaves need no introduction. It has its own unique shape and cutting that is very popular among the nature enthusiasts or a layman.
The cone seeds of this tree come in the shades of the red and are generally round in shape.
The branches of red maple tree are initially empty and but turns up in to thin long branches once matured.
An average life span that can be expected from a red maple is 60 years to 90 years.
Why is it a Perfect Fit for your Landscape?
One thing that makes this a special deal is its deep red coloured foliage in autumn. It adds a colour and boldness to your landscape. The shredded leaves will inspire you to take a walk around and feel the nature right in your heart.
When talking about suitability or coverage, red maple is very flexible and is one of the most adapted trees in eastern north America. If you by any chance happen to have a pool in your garden, this will just add an unbeatable flavor to your whole experience of luxury.
Flagpole Cherry Tree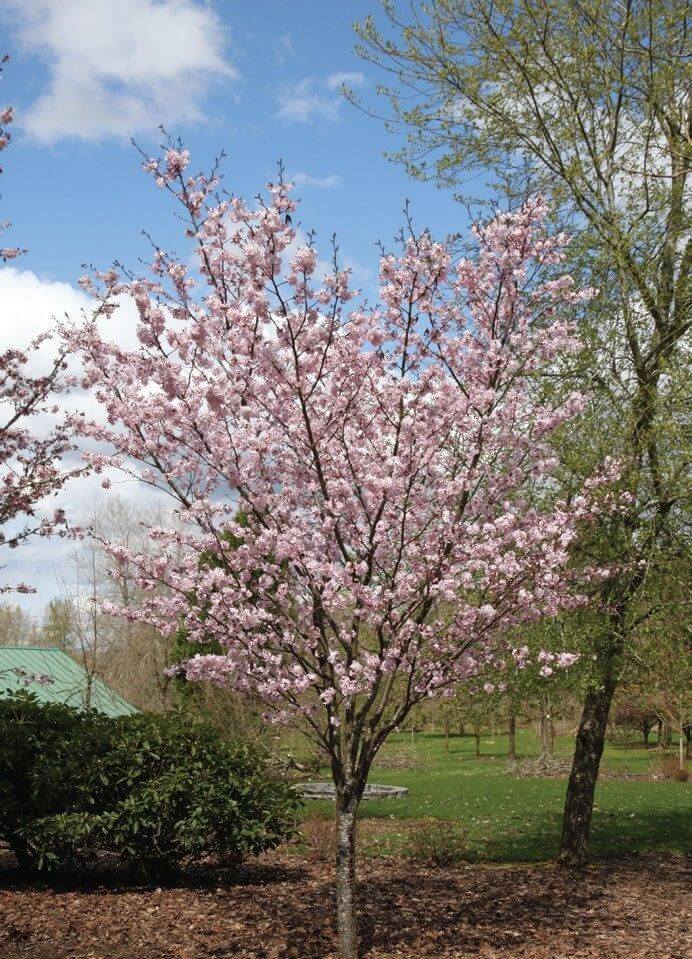 The narrow and columnar Japanese cherry tree, Prunus Amanogawa is the ideal for a garden with limited space. It is known for its cluster of pink flowers and stunning foliage.  The tree comes to life when the foliage takes on a diverse range of colors in autumn, right from burnt orange, deep red and crisp yellow.
Facts to Know
Get ready to witness the most beautiful spring. Spring is the flowering season and flagpole cherry tree will fill your yard with aromatic pinkish-white flowers. It is one of the most eye soothing experiences in the books of nature.
To get the best outcome, make sure it gets ample of sunlight.
In 20 years, you can have a fully matured tree. However, you can enjoy the benefits from the initial years.
An expected lifespan of a Flagpole cherry tree is 20 to 25 years and if taken a little extra care, it can survive for a longer period.
Why is it a Perfect Fit for your Landscape?
If you have a big devoted space for your garden, then this cherry tree is your go-to option and for small spaces, you can always go for a compact columnar tree that grows up to 6 meters tall.
This cherry tree will not only withstand the toughest of winters but it also has an added sense of resistance from a number of pests and diseases. This tree is one of the most adaptable ones and fits perfectly for the most modern gardens to the most traditional ones.
Skyrocket Juniper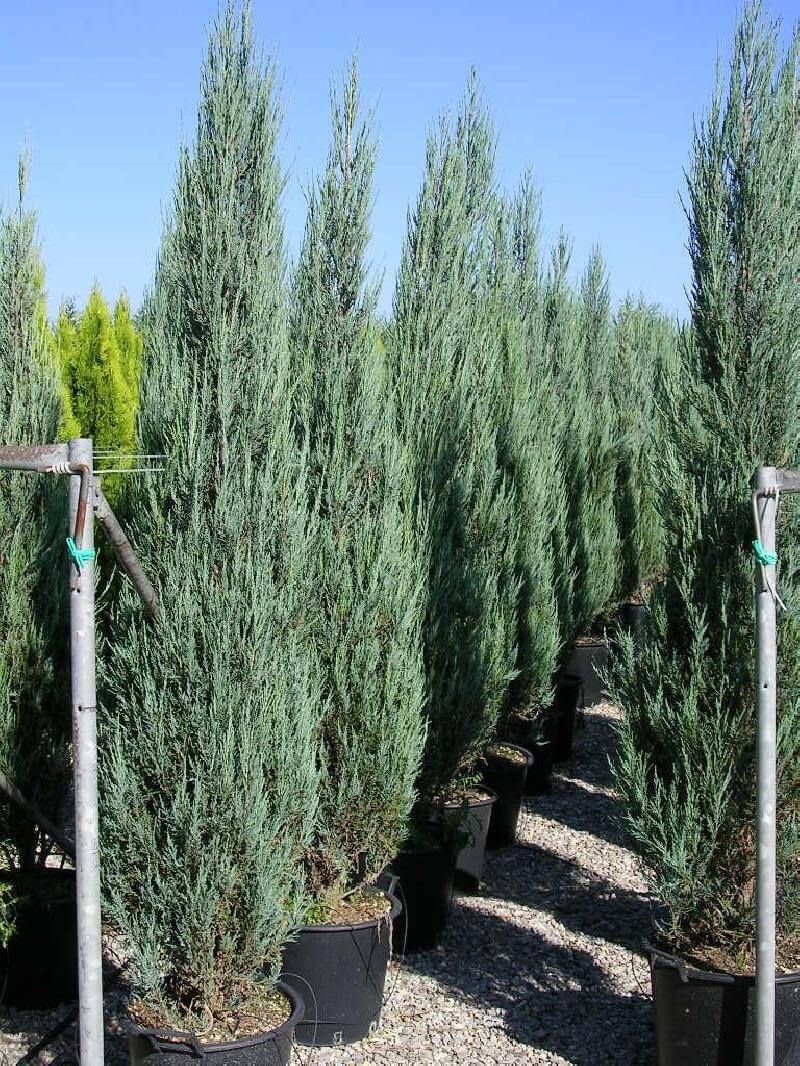 Skyrocket Juniper (Botanical name – Juniperus Scopulorum) is a native to North America and grows up to 15 to 20 feet. It has an impressive ability to create privacy screens because of its narrow and tall skinny structure.
Facts to Know
Juniper skyrocket is possibly the narrowest juniper. To have a fully matured juniper, you will have to invest 50 years because that's the amount of time it takes up to grow.
The seed cones are really tiny and round in size. The seed cones are generally mistaken with berries. But, that's okay because birds and squirrels will feast on them anyway.
Even the bark of Juniper is an attraction to eyes. It offers an amazing shredding experience and comes in the shade of reddish-brown.
Why is it a Perfect Fit for your Landscape?
The Skyrocket Juniper will make a beautiful focal point for your landscape because of its widely known characteristics. Plus, it has this unique bluish-green foliage which creates a very subtle and a little fancy outlook for your open yard. It takes a long time to mature  as it is a self-maintained tree and requires minimal pruning. The woods and leaves of juniper have an aromatic characteristic as well. This adds a beautiful aroma to your landscape and helps you in keeping up with your mood.
Lombardy Poplar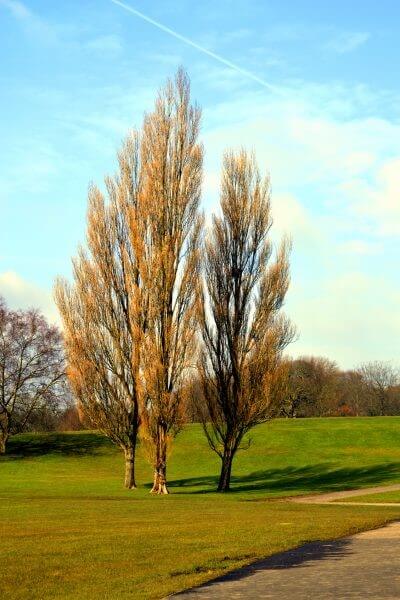 Lombardy Poplar (Botanical name – Polpulus Nigra) is a native to southwest and central Asia. It is also known as black poplar and grows up to 40 to 60 feet. These are widely used by the properties to create windbreaks and to avoid blowing off farms by topsoil.
Facts to Know
Lombardy poplar is deciduous in nature. The leaves are in the shape of diamonds and happen to go from bright green to a beautiful golden yellow as per the seasons.
The blooming of flowers can be experienced in the season of spring. Do not confuse it with one of the ornamental trees because it is not one of them.
When the tree is young, the color of the bark is between grey and green. But as time passes the barks turn out to be black in color and that is why it is also known as black poplar.
An expected lifespan of Lombardy poplar is somewhere around 40 to 50 years.
Why is it a Perfect Fit for your Landscape?
Lombardy poplar is a Rockstar of tall skinny trees. If planted carefully, it will create a beautiful piece of privacy screen. They grow up really fast but have become extinct due to catching on canker diseases.
This is one of the biggest disadvantages of getting involved with Lombardy Poplar, it attracts a lot of pests and diseases. Therefore, many of them die in 15 to 20 years of timespan. This also puts them in the category of high-maintenance trees.
If you choose Lombardy poplar to be a part of your garden, make sure they are open to full sunlight and a soil type that has good drainage.
Colorado Blue Spruce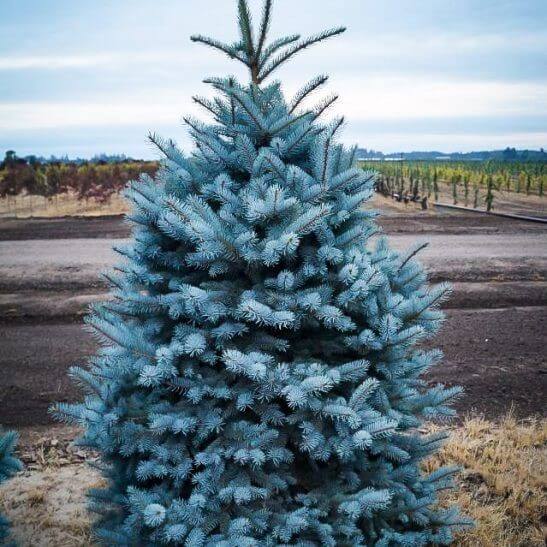 Colorado blue spruce (Botanical name – Picea Pungens) is a native to North America and grows up to 45 to 50 feet. This is one of the best-suited columnar for regions that tend to stay cold for most of the time.
Facts to Know
The leaves are crossed sections on quartered angles and are rigid in nature. The foliage is silver but the color of the leaves is bluish-green in shade. Hence, this is a perfect fit for a fancy-subtle category.
Seed cones are generally found on the upper crown and are pale green in the beginning. Post ripening, it turns in to red color.
The bark of this columnar is greyish-brown in shade. Branches grow from slight to strong droops and are usually yellow-brown in color
An expected lifespan of a Colorado blue spruce is somewhere around 600 to 800 years.
Why is it a Perfect Fit for your Landscape?
If your home is in someplace like Sweden, where sun is a rare miracle, Colorado blue spruce is a perfect choice. It can easily tolerate temperature of up to -40 degree Celsius. It keeps growing the whole year and gives a beautiful shade of silver and blue.
This is one of the low-maintenance trees and is often mistaken for a Christmas tree. So, if next time you forget to buy a Christmas tree, you can always light up this beautiful blue spruce.
Swedish Columnar Aspen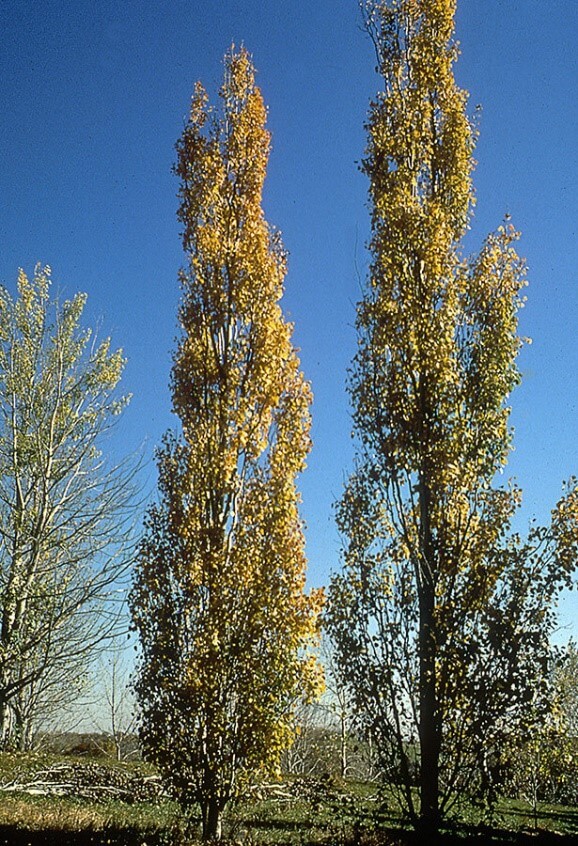 Swedish Columnar Aspen (Botanical name – Populas Tremula 'Erecta') is a pole-like stunning tall skin tree that grows up to 25 to 30 feet. This tree is really popular when you are planning for a mass plantation.
The distance between the trees in case of mass plantation has to be calculated very professionally so that there is enough room for the roots to grow.
Facts to Know
The foliage is blessed with a beautiful shade of emerald green that turns into golden yellow during the fall season.
The barks are striped with the shade of grey and brown. The bark also contains an element of lenticelsthat serves as open pores for gas exchange.
An average lifespan of Swedish columnar aspen is somewhere around 30 to 50 years.
Why is it a Perfect Fit for your Landscape?
To get a perfectly brown Swedish columnar aspen, make sure that it gets direct sunlight. The most suited soil type for aspens is well-drained and deeply moisturized.
The aspens are very deciduous in nature and therefore provides a heavily shaded site to your open yard or orchard. However, the plantation of Swedish aspens increases the spread of Bronzel leaf disease. Stay Aware!
Dwarf Alberta Spruce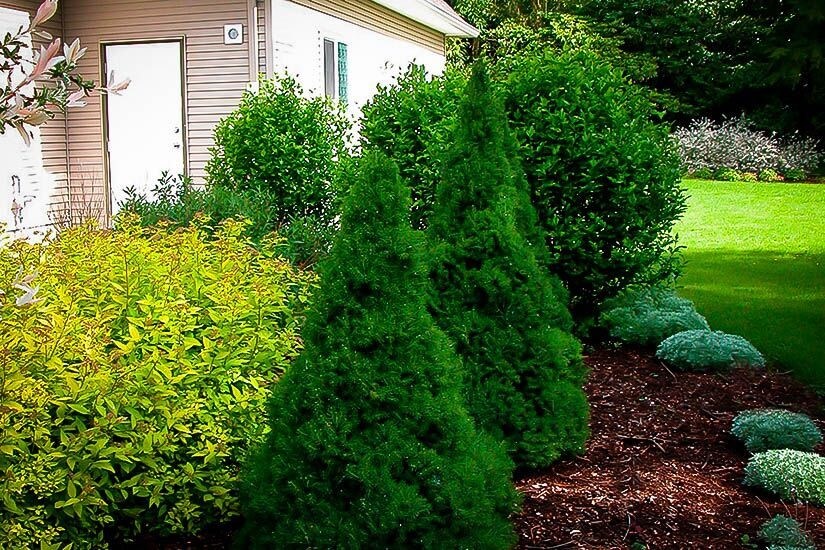 Dwarf Alberta Spruce (Botanical name – Picea Glauca 'Conica') is a native to North America and grows up to 10 to 13 feet. If you desire a columnar tree but don't want a tall skinny tree, then Dwarf alberta spruce is a lifesaver.
Facts to Know
The foliage is lush green and due to the heavy density in growth, it gives an authentic green shade of nature.
The barks are greyish-brown in color and are structured in a scaly manner and are very thin.
Being a non-flowering plant, it doesn't produce any flowers or seed cones.
Why is it a Perfect Fit for your Landscape?
Whether a cold winter or a cool summer, dwarf spruce is designed to sustain in both. It gives a lush green look to your space. You can also grow them in containers and keep them in your windows or right outside your door in the corner.
The dwarf spruce is a sunlight baby that means it requires direct sunlight and a soil type that is neutral in pH level. It is categorized under the low-maintenance tree. So, the good news is that you can prune it at your own sweet time.