A wooden desk reflects the personality and habits of a person. You may feel that desk organization takes time and it is a hustle to keep it organized, but it is quite easy to sort your desk and make it more efficient for your use.
Increase your productivity by organizing your desk
A messy desk with a pedestal fan will lessen your productivity and the clutter will make you feel less focused and more frustrated. Sometimes you might not find your important notes or a favorite pen that you need. Desk organization will also help you achieve your goals and deadlines easily without getting overwhelmed. To make your desk as favorable as possible, read this blog for some inspirational desk organization ideas that will save your time.
Ideas to Organize a writing desk
If your writing desk is small and is always cluttered, it's time to re-evaluate the organization tips. Keep all of your important things near to your dominant hand. Moreover, make the best use of the drawers of your writing desk by storing only the important things. Make use of the space under the desk by placing a stackable desk tray.
Ideas to organize a computer desk
The computer desk often looks messy because of cables and other gadgets. Make optimal use of the drawers and keyboard tray of your computer desk to be efficient and save space. You can tie all the cables up together and label them to secure and hide them. Cable management holes on the desk's top are a game-changer in the storage and arrangement of electric wires. Get dividers for your drawers to store different gadgets and make sure the top stays clean for a tidy overall appearance.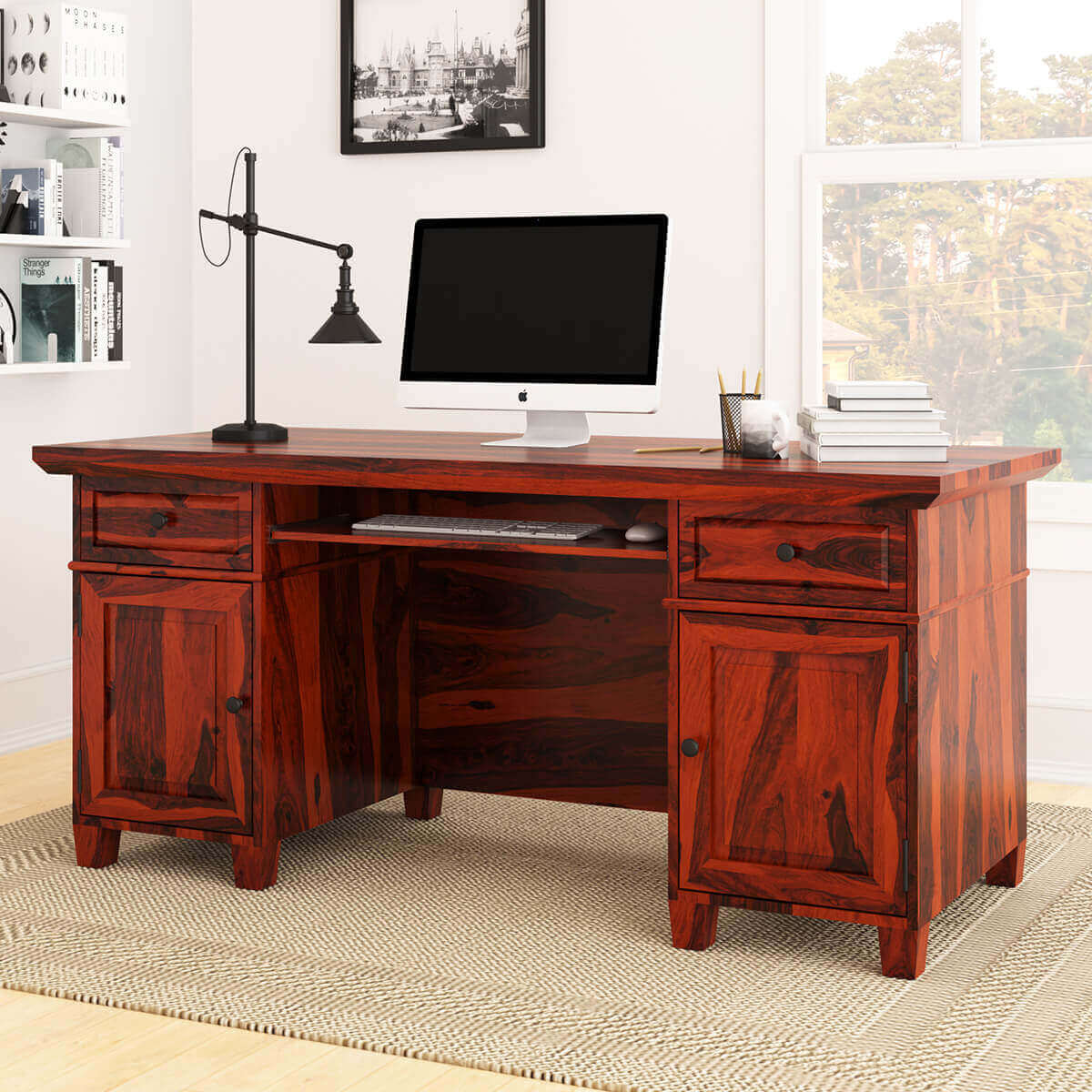 Ideas to organize an executive desk
A modern executive desk for your home office must look professional by all means as this will reflect your personality. Make sure you have the computer right in front of you and all the necessary items within the reach of your dominant hand. Be sure to buy file holders, paperweights, trays, beautiful flowers, and pen holders for easy management. Keep only the things you use daily on the desk's top; everything else has to be stored off your desk in drawers and filing cabinets.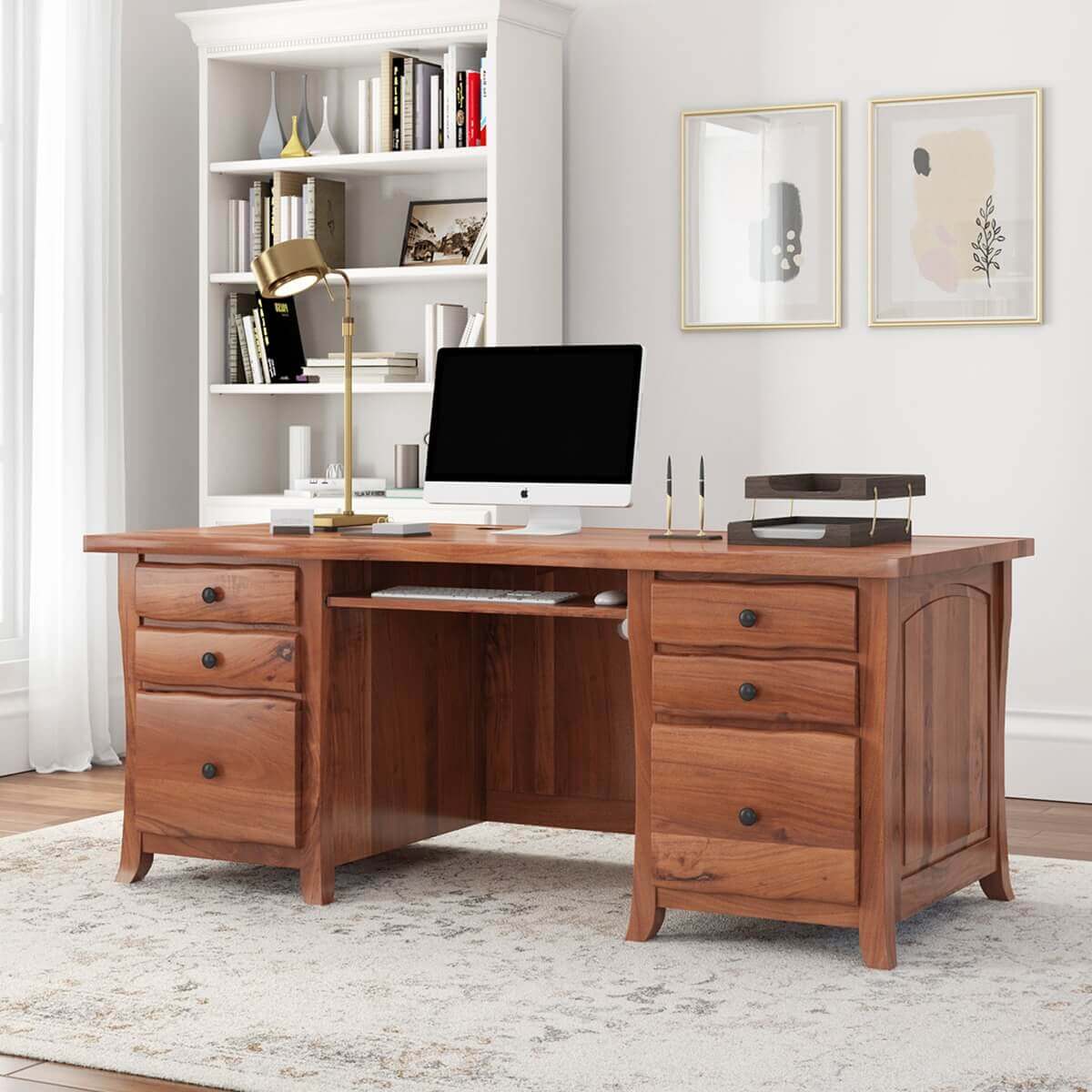 Ideas to organize a secretary desk
Secretary desks are easier to organize as they often come with multiple storage compartments – pigeonholes, cubbies, recesses, and drawers that are revealed once the writing surface is folded out. An antique secretary desk with a hutch will give you ample storage space as you can use the space above for storing books, files, trophies, and other usable or decorative items. All the bulky office items can go into the drawers and add dividers for a systematic organization of the items inside the drawers. A great thing about secretary desks is that they don't necessarily have to go into the office. They are versatile and can be placed in any room. With all the under-the-desk storage in the form of large
drawers and cabinets, secretary desks can double up as a dresser when placed in your bedroom.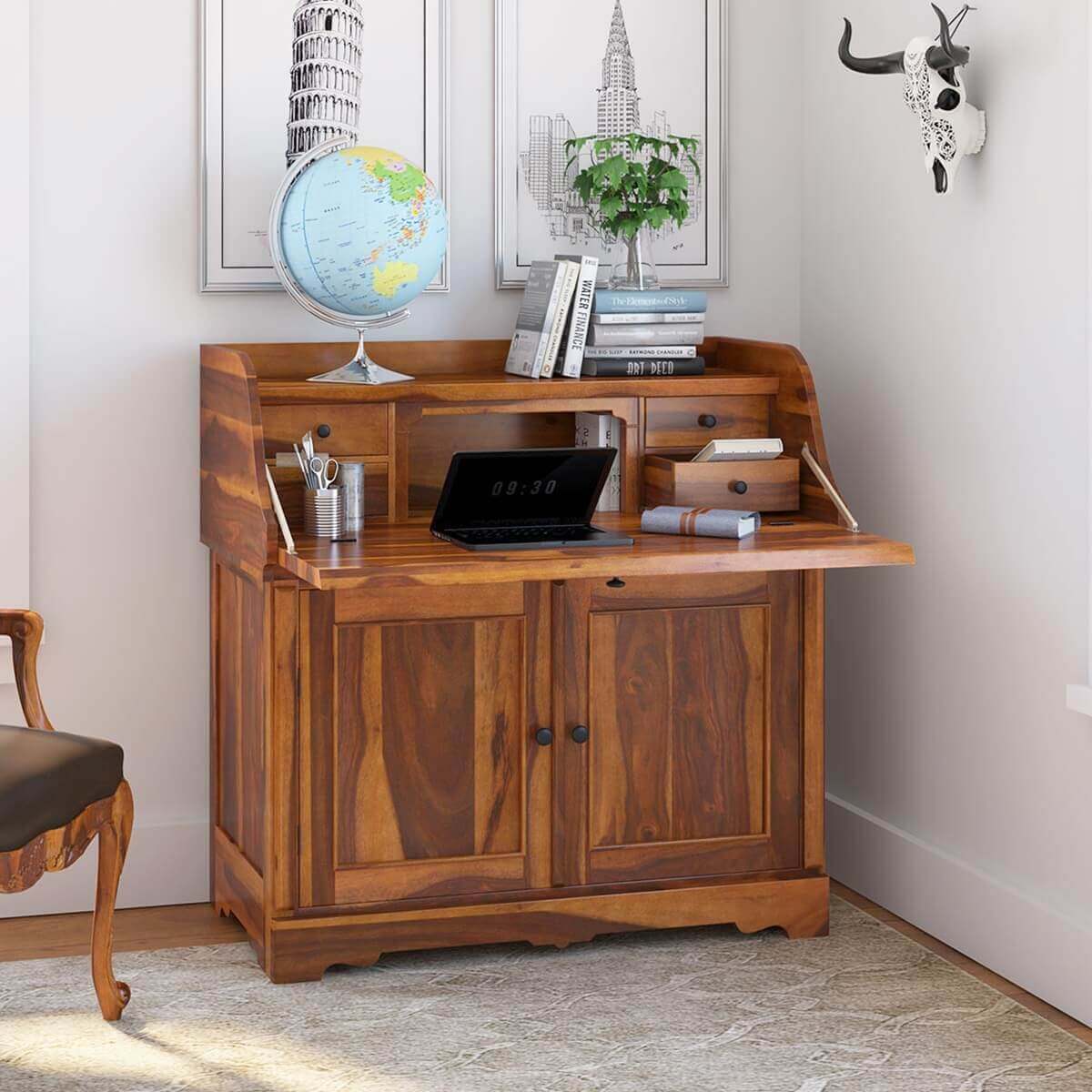 Adding extra space for organizing
Sometimes the storage space in your desk is not adequate for storing and securing your files, books, and stationery. The best option here is to upgrade your existing desk as per your requirement to add beauty and value to it.
Opt for a desk with drawers
A desk with 5 or 6 drawers might be the right option for you if you want to add that extra storage space. Apart from extra space, this desk will improve the aesthetic of your place and you can store several things in the drawers without making your space look messy.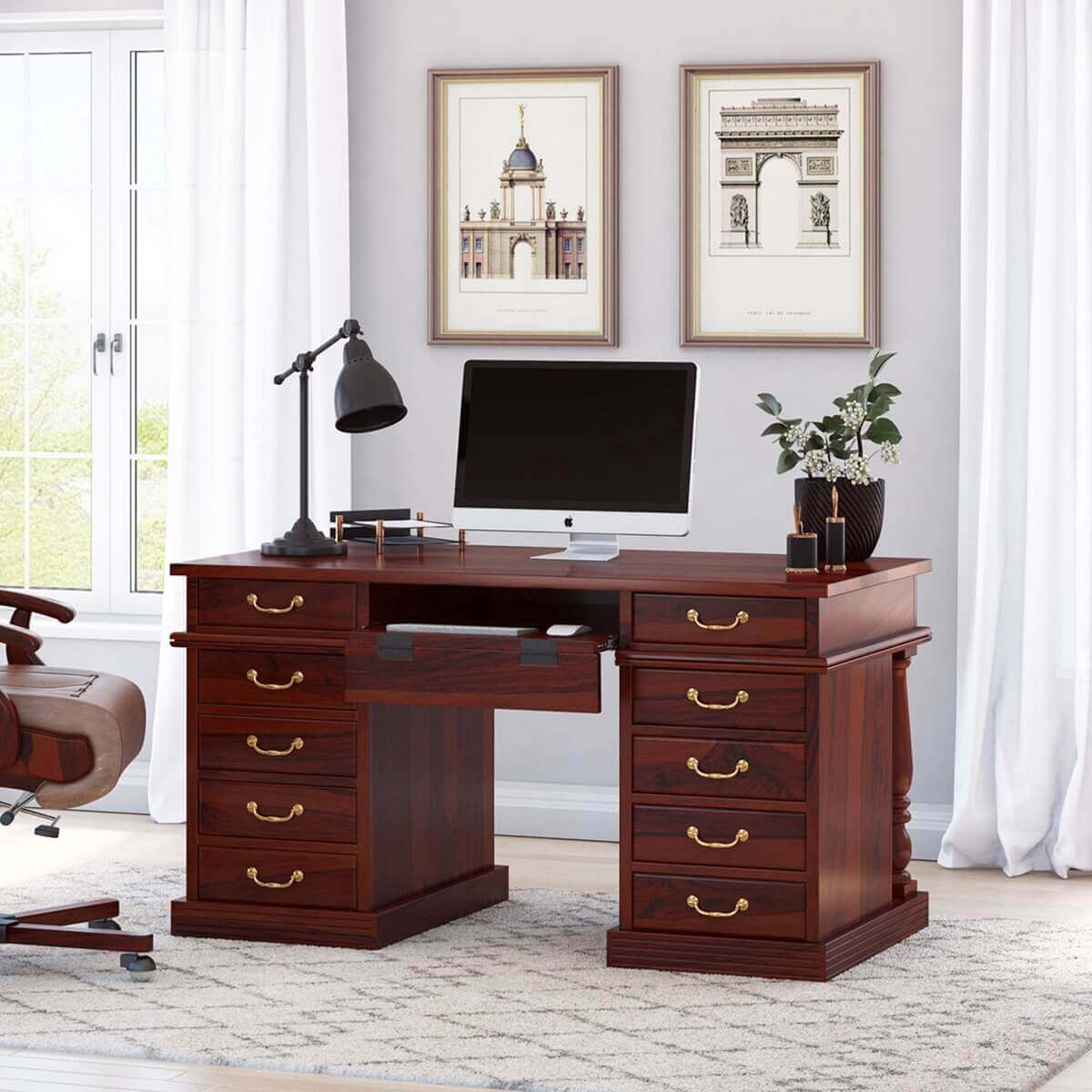 Buy a desk with hutch
If you need more space, a hutch desk is perfect for you. Store your books, magazines, stationery, etc. on the hutch while the bottom drawers can be used for your files and documents. Overall, a hutch desk will keep your room well arranged.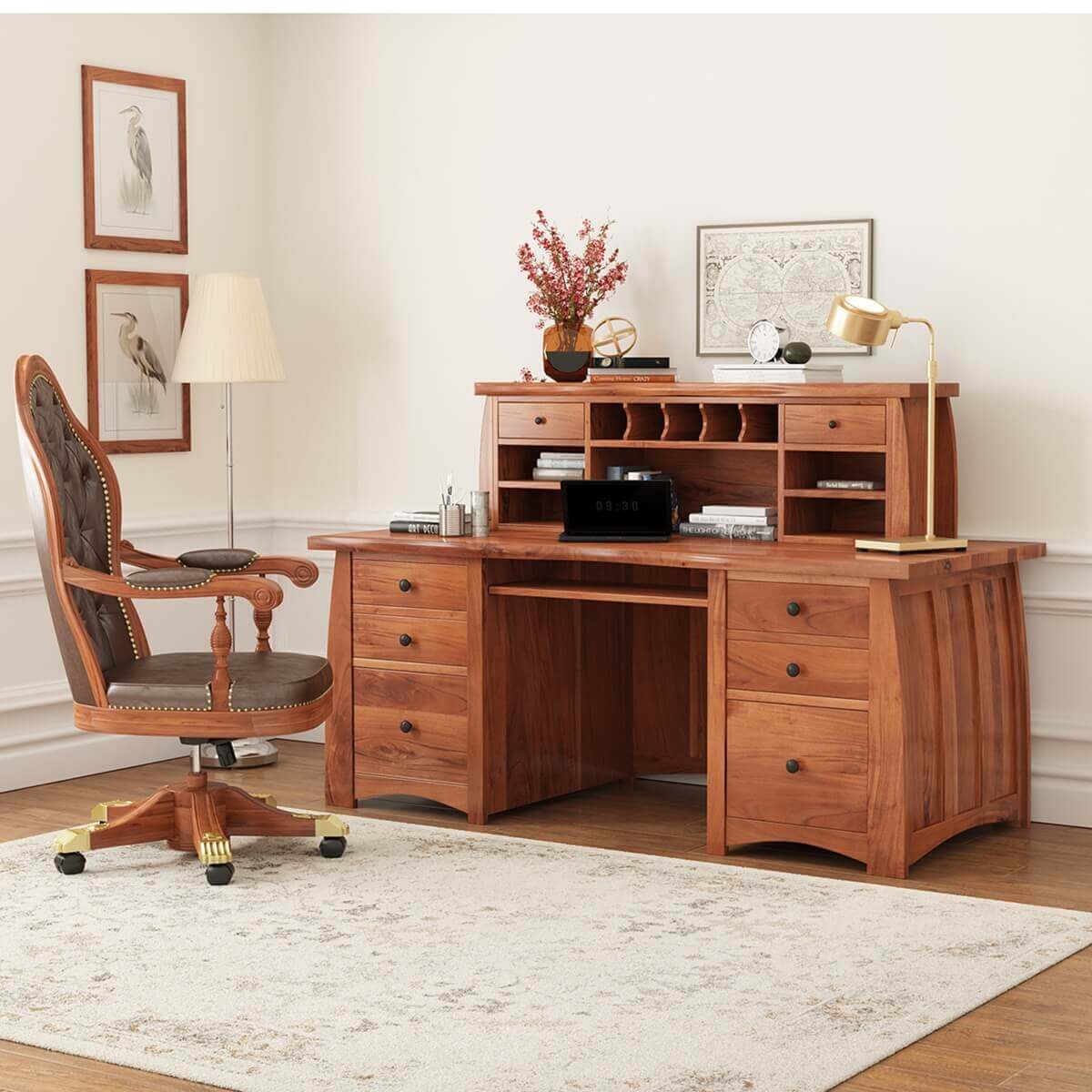 Choose a large desk
Choosing a large desk can give you a number of options to work with. You can either use this desk for writing or in your office room as an executive desk. Either way, a large desk with drawers will never make you feel helpless regarding the storage space you have.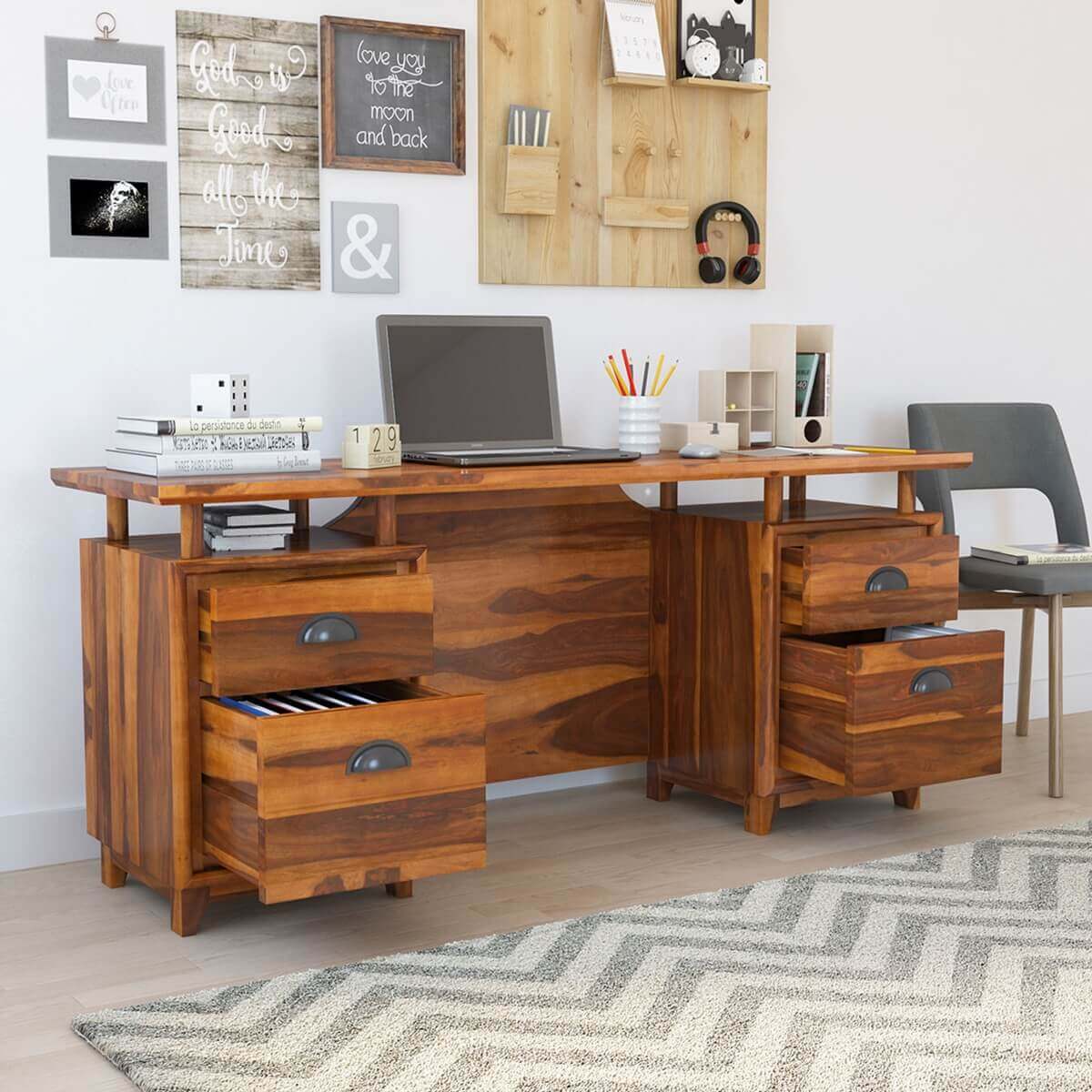 Go for file cabinets
Your daily work routine may involve a lot of paperwork and managing which can get quite confusing. A file cabinet with 2 or 3 drawers will help you keep all the important documents safe, accessible, and well ordered. Additionally, it will enhance the beauty of your space and will store things effortlessly.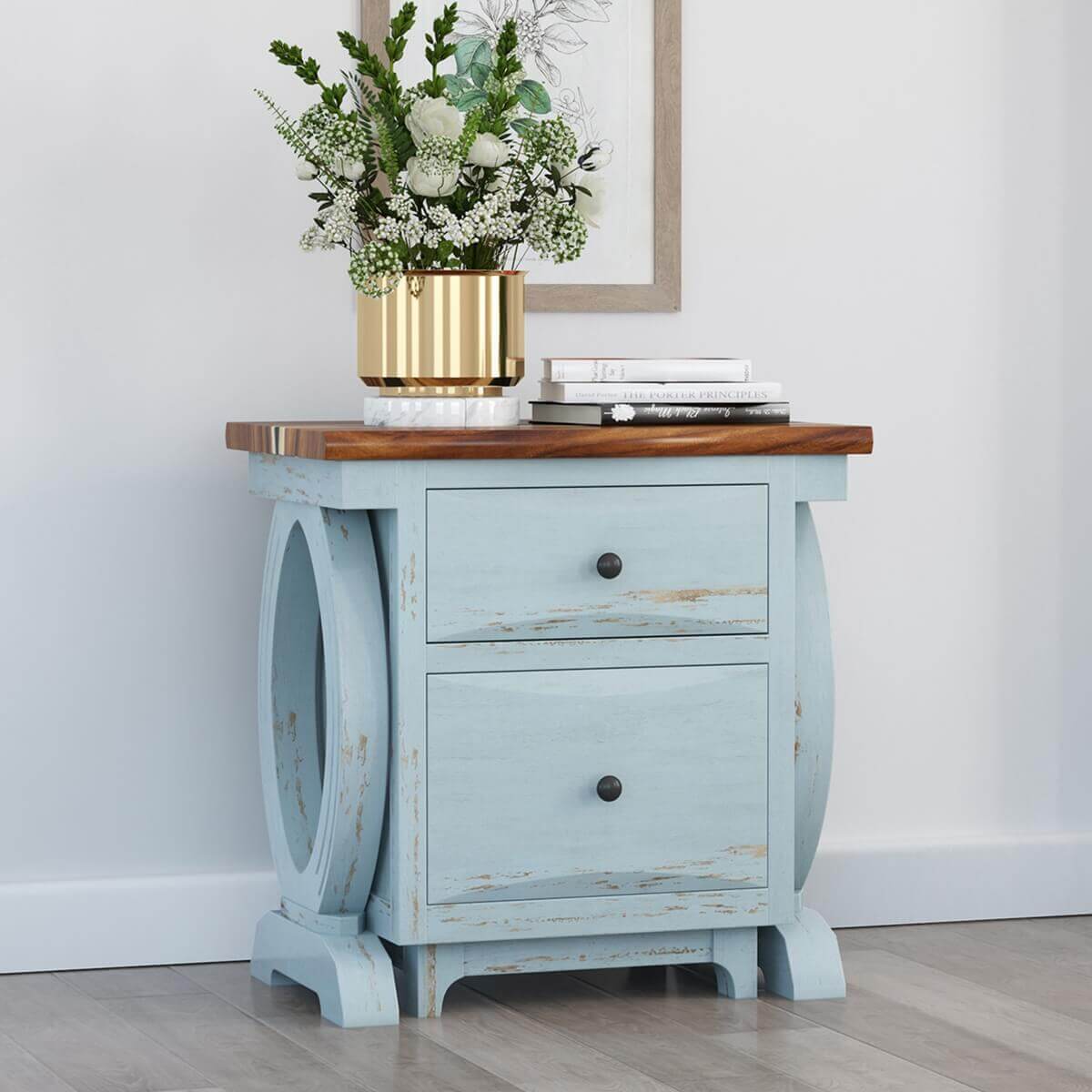 Invest in a high-quality desk
A premium quality desk holds the power to completely transform the look and feel of any space and improve the workflow. Your workspace could be neatly arranged, but the sight of veneer chipping or bulging out from the surface, or particle board peeking through the sides could be highly off-putting. We thoroughly recommend investing in quality materials like solid wood for your desks and other office furniture as it is robust, long-lasting and visually stunning. Besides, natural materials are known to induce positive feelings and a renewed sense of energy. A well-crafted solid wood desk will ensure consistent functionality, convenience, and beauty in your workspace for years and decades to come.
Bonus Tips
6 Tips to organize desk
Now, take a deep breath, and let's dive into some tips that will help you through the process, both at home and office.
1. Rearrange
"Remove unnecessary things." This should be your first motto. Take your time and keep aside all those things that might not be needed, especially piles of paper and unnecessary stationery items. The best way to make this happen is to create two piles- "Keep" and "Throw".
2. Classify
After you have decided what you want to keep, classify all the items into different categories and keep them in one place. This will help you find things with ease and on time.
3. Replace
Keep all the necessary things in the top drawers for easy reach whereas other less frequently used items can be placed at the bottom. Try to keep the surface of your desk as bare as possible to make it look clean.
4. Create space
Create space by using trays and boxes to hold small items like push pins, paper clips, erasers, and pencil sharpeners. Use pen holders to keep your pens, pencils, and marker pens. Use file racks, bookends, cardholders, and memo holders to free up the space.
5. Make the best use of space
Another efficient way to organize your desk is to attach clip-on organizers to the side of your desk. Make wallpaper files to sort out and secure bills and other important paperwork. You can also opt for a pegboard on the wall.
6. Organize everyday
Once you are done with your work, make it a habit of cleaning and organizing your desk every evening so that every new workday feels fresh and you stay motivated. It doesn't take much effort to keep your desk clutter-free when you have a system in place.
Finishing lines…
Follow the above tips and ideas for desk organization to increase your productivity. Moreover, If you want to upgrade your desk then Sierra Living Concepts is a great choice to buy a desk that helps you boost your efficiency, and also the visual appeal of the workstation.