Broke your favorite Mug and want to glue it?
But do you not want those chemicals to get into your delicious coffee?
Love one's gifted potteries, mugs, etc., are broken by mistake?
I have a game-changing solution for you. Now kick all those harmful chemicals out of your morning coffee.
Food safe glues!
It is not always the material that matters, but the feelings and memories attached, breaking a mug like that can almost break your heart. But do not worry, we have got it covered, food-safe adhesives.
You must be wondering around the question; what is the difference between an adhesive and a food-safe adhesive? Can we trust them? Yes, of course, you must use these food-safe adhesives. This food-safe adhesive is food contact safe and can be used to manufacture, packaging, or hold food.
Do not worry, and you can also use it in your favorite ceramics, be it your Mug, your plate, etc. I know your favorite crockery holds a place in you, but your health is important too. As per FDA other adhesives, indirect contact regulations can be harmful to your health.
What happens when your child's favorite milk mug is broken, and he is all into tears, and you stand helplessly in the corner? Or think about those costly crockeries you keep for guests that are broken. Now what? We understand that hearing loss is very challenging, be it come in any form.
Now, what if the utensil is broken every time you could spell some magical words and get everything back in place. Here is what we are bringing for you: the best food safe glue that you can buy and stick all your utensils back again.
All you think is if something could be done but cannot expose your child to those harmful chemicals' adhesives. Your child is precious, and so is his Mug.
Well, glues can range from a hot glue gun to superglues, from resin ones to simple ones. But not all are safe for you. After all, your child's health is above all. You cannot risk his health to make him smile.
Super glue adhesives are so strong that you must use gloves to use them. Although the range upon which it works is vast, it is not safe for your health.
Here is where the use of food-safe glues comes into place, and here we are to tell you everything necessary for you to know.
How Can One Tell That It Is Food Safe?
Food safe glues follow the FDA's guidelines under section 175.105, while other adhesives do not follow these. Your safety is essential. That's why there should be someone checking it for you. Therefore, the FDA has issued guidelines to check if the food-safe glue you are using safe or not. FDA has built its trust and proven that it cares for your safety.
FDA also lists how and in what quantity these adhesives are to be used by manufacturers under section 175.105.
FDA also issues guidelines for packing food so that the Ink glue and other materials cannot meet the food. Therefore, tetra packing is done in many food items, so when the FDA approved it, your health is in safe hands.
So, why suffer pocket money loss or get scolded by your mom? Order a food-safe adhesive now and get away from this situation quickly.
Why Use Food-Safe Adhesives?
Does the question arise why not use any other glue? Why use only food-safe glues?
The answer to this is simple you cannot just risk your health for a memory. Your health is essential. The chemicals in standard adhesives are so strong that they can even damage your skin. You can think about what will happen when they reach the inner system of your body.
You wake in the chilly mornings to maintain the shape of your body. You carefully design your diet to be healthy. How can you risk it all just for some moments of belongingness?
Of course, you cannot.
That is where the food-safe adhesives come into play. Here we have all the food-safe glue you need to know about. We have listed almost every possible loss you might wish to fix the order which one suits you. There are your memories, money, and love for everything you buy, and so even broken is beautiful, and you still always want it. So, see the list of food-safe glues and get one for yourself.
Best Food Safe Glue You Can Buy
1. Food Contact Safe High Strength Silicone Sealant
This food-safe glue has a high resistance to temperature, weather, and moisture and thus is perfect for any of your ceramic. It comes with a temperature range of –35 to 145 F. Therefore, and whether hot or cold, it will never leave your side.
So, this product from Silco incorporation is best to suit your crockery requirements. This glue can be blindfolded be used on any of your cracked glasses. This glue does have a strong bond like your very much admired fevicol, but it also favors your most precious health.
Now you can preserve and take care of small things your life has been your Mug, your tea set, or that special plate you adore. Not only has this its varied temperature can suit all the requirements for you. So, even if you to Antarctica with your favorite Mug, this will glue it for you.
This product is fevicol of your ceramics.
Sale
2. Food & Drug Medical Grade Epoxy Adhesive
Got a broken handle? Don't worry, and Epoxy food glue will fix it. This glue fixes not only your favorite ceramics but also metals and plastics. Now you don't need to manage your pan's small broken handles when you have this glue on your side. It comes with a temperature range of -70 –145 C. Thus, and it is suitable for every weather and climate. Whether you are in the hot climate of Chennai or the cold Himalayas, this glue from Epoxy International is just for you. If you are the one with that artistic instinct inside you and love to give things your taste, this epoxy glue is for you. You can also decorate metals with this. Give the handles of your house a taste of your own.
Not only can you innovate your handles but also metals. We all know that our favorite glue gun cannot work on metals, but we have this epoxy glue for you that can even work on metals. So, what is stopping you? Create something stunningly unique with this great epoxy glue.
This epoxy glue also can be used to create something ornamentally beautifully. What are you waiting for?
3. Ceramic Glues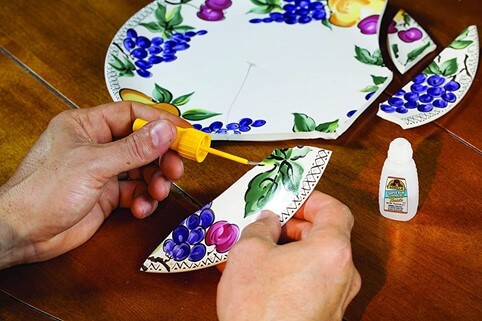 Also, this does only work on ceramics and none of your other kitchen items, but this is also highly efficient and suits your requirements to a limited extent. Therefore, this is also useful if ceramics is all you need to fix.
Moreover, its glue only sticks to ceramics without affecting any of the food kept in it. So, if you cannot use your favorite tea set just because of that one cup that has broken, then this is just the product for you.
Not only this, but you can also fix your child's favorite Mug and bring a smile to his face. This is one of the best items to bring a smile to your child's face without spending on an all-new ceramic. This is a must to keep in your kitchen.
Buy the best ceramic glue, take care of all your crockeries, and happily give them to your children because secure ceramic glue is always there.
4. Hot-Melt Glue
These types of glues are mainly used to stick labels onto food items. It is tested for direct and even indirect food contact and therefore can be used for packing materials. It is also used to pack certain materials. It applies to metals and is perfect for fixing all those broken handles you have in your house.
So, the metals, get your hot-melt glue and stick all the metallic items.
No products found.
5. Agriculture Food Grade Adhesive
It is used to glue paper, plastic, and wood and pack agriculture materials from 1 to 3 kg. It comes with a wide temperature and weather resistance. It is resistant to moisture, heat, and water.
Therefore, it is used to pack your wheat and other agricultural materials. Get one of these for yourself and make your life in the kitchen and serving your kids more stress-free. Now, you can buy those costly crockeries and use them.
6. Resin and Epoxy Glue
Epoxy, as we all know, is food safe. Resin can be used to add an artistic touch to anything you use. It is sure to give you all the creativity you need. Why drink coffee in the same boring Mug, every day? Why not give the Mug a little bit of your taste.
Here, these are the best and food-safe glues you can find for your kitchen.
Are you also bored with the mundane crockery set you possess? The same old Mug, the same tea set.
You can change and add your imagination to your pottery. Like Harry Potter, why not show it on your Mug. Not only this, but you can also design yourself your pendants. I must be wondering how to do this?
Epoxy Glue - Clear 2 Part Glass, Plastic, Jewelry, Ceramic, Metal, Stone and Porcelain Adhesive...
Pratley Quickset Glue is an high strength adhesive which sets quickly and adheres to most rigid materials like ceramics, stone, concrete, glass, fibre...
Can be used where a more runny consistency in close matching joint is required.
Very versatile adhesive which every family will find useful in the home.
Can be used in applications where the adhesive should not be visible e.g. on ornaments.
Well, epoxy and resin are here for you. Now, you can design your flower jewelry, and no one will ever know. Just pluck the flower you like, add some resin to it, and you are all ready to go. Now you can create fantastic shell necklaces with your only resin. I always adored the kind of necklaces worn in Harry Potter. Now you can make it with only resin. All you need is your imagination and a little bit of resin.
Conclusion
So, what is better than these food-safe adhesives? You must get one for yourself and be ready for any miss fortune in the future.
Take care of your health as well as your favorite ceramics with these fantastic foods' safe adhesive. If you are the one who is in life with epoxy glues, here it is for you.
Not only can you fix your favorite mugs, but also design them a bit to more of your taste with this epoxy glue. You can try out various epoxy design hacks with this epoxy glue.
Food-safe adhesives are also used in packaging and holding food together. Now, when you have food-safe glues in your house. Why would you go for packing food by outside agencies? Why not do it at home with the safety of your own hands? Your family is precious. Why to handover their safety to anyone else when you can do it yourselves.
Now, you can save your Mug and your memories and some share of happiness you deserve.
With this, everything you own in your kitchen can fall in place, and the best part is without deteriorating your health. They are always more to what you can see. Food-safe glues not only will glue your ceramics but also help in packaging and presentation. Glues like water and sugar glue help you in the presentation of food. Are your children more drawn to street food than home-made food?
Do not worry because now you have this great glue that will fix everything and help you make your look as delicious and tempting as any of that street food. You need to buckle up and get ready to bring these exceptional items home.
So best of luck and be ready to fix everything that breaks. Come on, and you are all set to become the genie of your house.