Looking at old tiles in the bathroom or kitchen can be very devastating or making you feel outdated because of the surroundings. The same feeling can affect your mental health as well as your work.
So here we are with an article to help you make some changes in the bathroom making it a proper refreshing space that you can enjoy once again. The one you really deserve.
The biggest challenge in bathroom remodel is replacing the tiles, as it takes most of your budget as well as time and efforts. So here are few alternatives that are pocket-friendly and less labor intensive comparatively.
The most important aspect you need to keep in mind is to see for waterproof solutions. Something that can withstand high humidity and moisture levels created by showers and sinks.
Here are some easy ideas that need as little as a possible effort to remodel your bathroom in almost no time.
Waterproof Painting
Wall panels
Quick setting cement
Beadboard panels
Shower curtains and surround kits
Wallpapers and wall stickers
This is a quick list just to give you an idea of the content. Please read further to learn about each solution in detail.
1. Painting the Tiles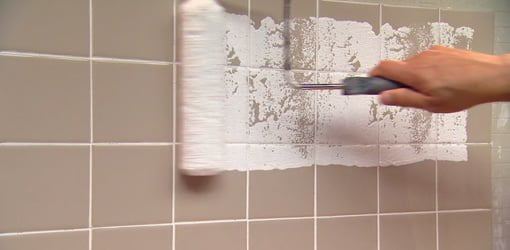 If you are tired of the colour palette of your bathroom or the tiles have started looking old and grubby, here is the easy and inexpensive solution- 'Paint them'. With advanced types of paints, waterproof tile paint is available in the market, which is perfectly designed especially for bathrooms.
There are options in textures like glossy, satin and matte according to your choice or the requirement of your bathroom needs. There are few options offered for bathrooms to prevent mould growth in the grout.
Before starting any task, reading and preparing for it is always a good idea particularly if you are going to do it on your own. So here are few steps that you should follow:
First clean the tiles: You need to clean old tiles from dirt, layers of soap or any previous decays. Use a good kind of cleaner for your bathroom to remove all scum before cleaning it up with a wet sponge. Let it dry completely before the next step.
Sand the tiles: You can use grit sandpaper (180-220 grit). Use it evenly to reduce the glossy texture so that the new paint can simply sit in the grooves created by sandpaper. Working with a sander can make your job easier but if not available, hand sanding will also get the job done.
Clean the Sand: Wipe the sand as the dust will be produced because of sanding. Clean it with damp a cloth and allow drying thoroughly.
Apply a primer: Select the colour of your choice of an epoxy paint primer to protect your tile surfaces from cracking and peeling in future. Use it on entire tiled surfaces with the waterproof primer so that the paint is safe, using a foam brush. Wait for the recommended amount of time for it to dry.
Latex paint: If you are going with acrylic latex paint remember to do two coats for better effect and allow it to dry as asked.
Epoxy Paint: Epoxy paint is like latex paint; it should also be done in two parts, especially for tiles. There are always instructions on such things, so read them carefully and follow them. The con of epoxy paint is its limited colour accessibility.
2. Wall Panels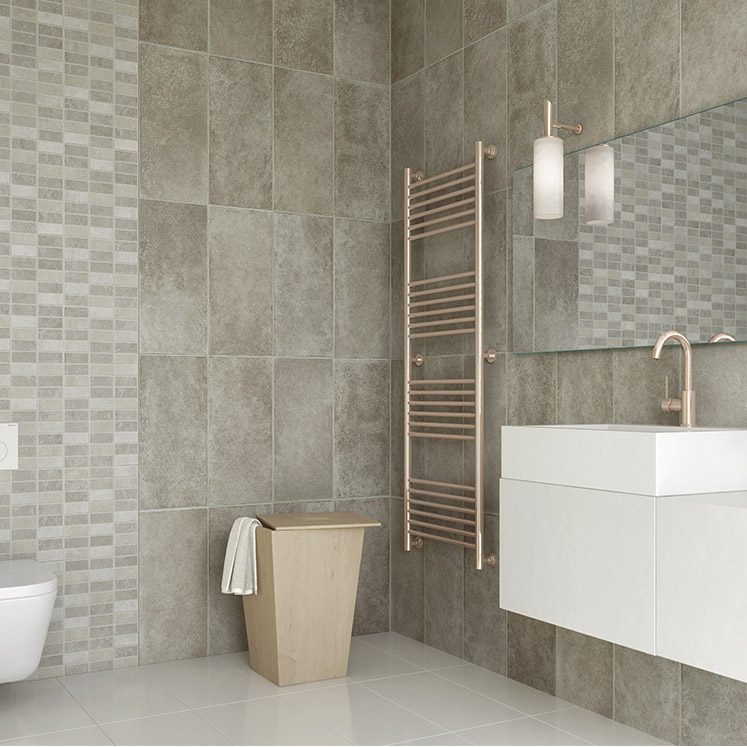 One of the most effective methods to cover bathroom tiles is less cost, less time, and the most durable way. Tile-effect bathroom wall panels made of PVC making it 100% waterproof. They can be used in multiple places in the house shower enclosure, bathroom, laundry area and even in the kitchen if needed.
They are offered in countless design, style and dimensions. The workmanship can be done through local carpenters or it can also be one of your DIY projects. It is definitely much cheaper than replacing bathroom wall tiles.
Properties of Wall Panels
Durable Quality: Wall panel is a great choice as it is waterproof and hence water and moisture do not affect this type of covering. It is also moulds and mildews free that easily appear in the grout in tiles.
Cost-effective Compared to Tiles: The construction cost of wall panels is much cheaper than tiles and therefore, makes wall panels more affordable.
Aesthetically Pleasing: The best thing about wall panels is that you can get a clean and professional finish by improving the seal by fitting a wall panel trim at the ends.
Easy Installation: There are only three steps to get wall panel work right. There is no need for grout or cement also. You need proper measurements, clean cuts and sealant application. With the method of tongue-and-grove installation of the panels it is very easy and fast.
Countless Choices: Everyone has a different taste and there are unlimited options available for different tones. From high-end style to more minimalistic design. You just need to know exactly what are you looking for.
How to Install Wall Panels?
Step 1: Using the hacksaw or the Stanley knife, measure and cut the panels precisely. To fix the panels at the right angles, put corner trims and then seal them into the wall with silicon glue. If extra reinforcement is needed, use nails, screws, or staples.
Step 2: Use the same procedure as mentioned above and then cut the edge of the tongue using the craft knife making a slot into the profile.
Step 3: Spread a substantial amount of the silicone glue on the backside of the panel and fix it into the internal corners and ceiling profile.
3. Quick setting Cement
The other way to cover tiles is to use quick setting cement, also known as fast setting cement. This is a different kind of cement which especially formulated to set in 10-15 minutes. It is mainly used to give rapid shape as required. And it also makes it a good method to cover your bathroom tiles. It is labor-oriented work, yet it is inexpensive if you select the right type of concrete sealant.
Usually, this kind of cement is used in under-water construction, cold weather concreting. It can also be used in repair work without unsettling the existing structure. Even if it sets faster compared to Ordinary Portland cement (OPD), it has the same strong and robust qualities as OPD. It has high resistance against water as well as it requires very little water for hydration.
4. Beadboard – Something More Unconventional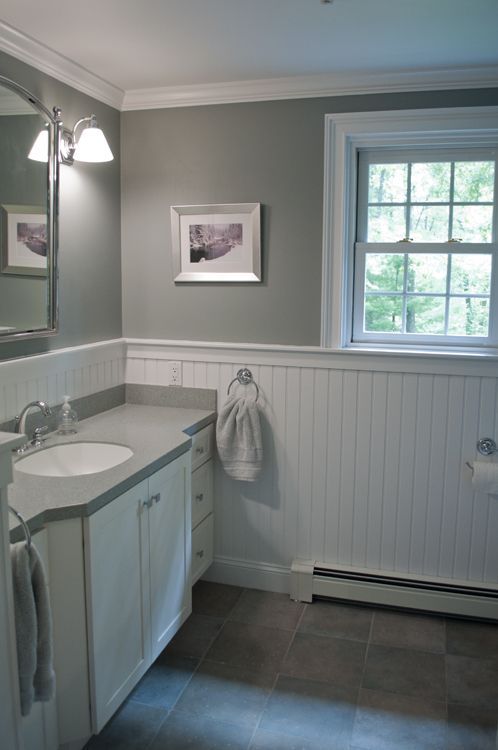 This is an example of a classic wall panelling style using wood strips. It is traditionally used as wainscoting in the kitchens or dining areas of the house, but it can also be used in bathrooms. Obviously, you need to take some measures before doing it such as pre-treat the beadboard with waterproof paint before installation.
Also, complete the installation by finishing the edges with grout to make it completely moisture-free. Note to keep in mind if the moisture gets trapped between the board and the wall then it will damage the structure and weaken it completely.
For installation, you can buy large sheets of beadboard and paint them as you like or according to your bathroom requirements. Then just measure and cut the board according to the tile area to be covered. After that apply enough layer of liquid nail adhesive on the existing tiles and press the board slowly to attach it.
Use traditional nails as support to keep edges in place. It will give you an updated and unconventional look to your bathroom. It will give amazing visual texture at a low cost and with less effort. You can make it a DIY project if you have basic carpentry knowledge.
5. Shower Curtains and Surround kit
Compared to other solution this is more of a temporary fix, it is more suitable if you live in a rented place and cannot make any major changes in the house. Then try hanging shower curtain liner, it is waterproof as the material is solid plastic or PVC that perfectly fits the conditions for the bathroom and should be professionally installed for clean and long-lasting results.
There are many countless designs available on the internet. Read out another article on matching shower and window curtains for further information.
If the damages on walls are too much then you can also use a kit which is also known as bathroom wall panels. In this need to get them installed by professionals only. There are few precautions you need to take care of before installing surround kit.
Check walls for mould and remove them completely because just covering them up will not help, if you want to prevent it before it gets worse, remove them carefully. You can use a scrub on the wall with bleach and water to remove small residues of mould. Add a layer of anti-mould and mildew paint for extra protection.
You need to be very sure that there is no moisture content trapped between the wall and the shower liner because that will give rise to mould, and you will be in the same or worse situation again. Check the seal properly if you are getting it done professionally and if you are planning on doing it on your own, then use the best adhesive possible for good results.
6. Wallpapers and Wall Stickers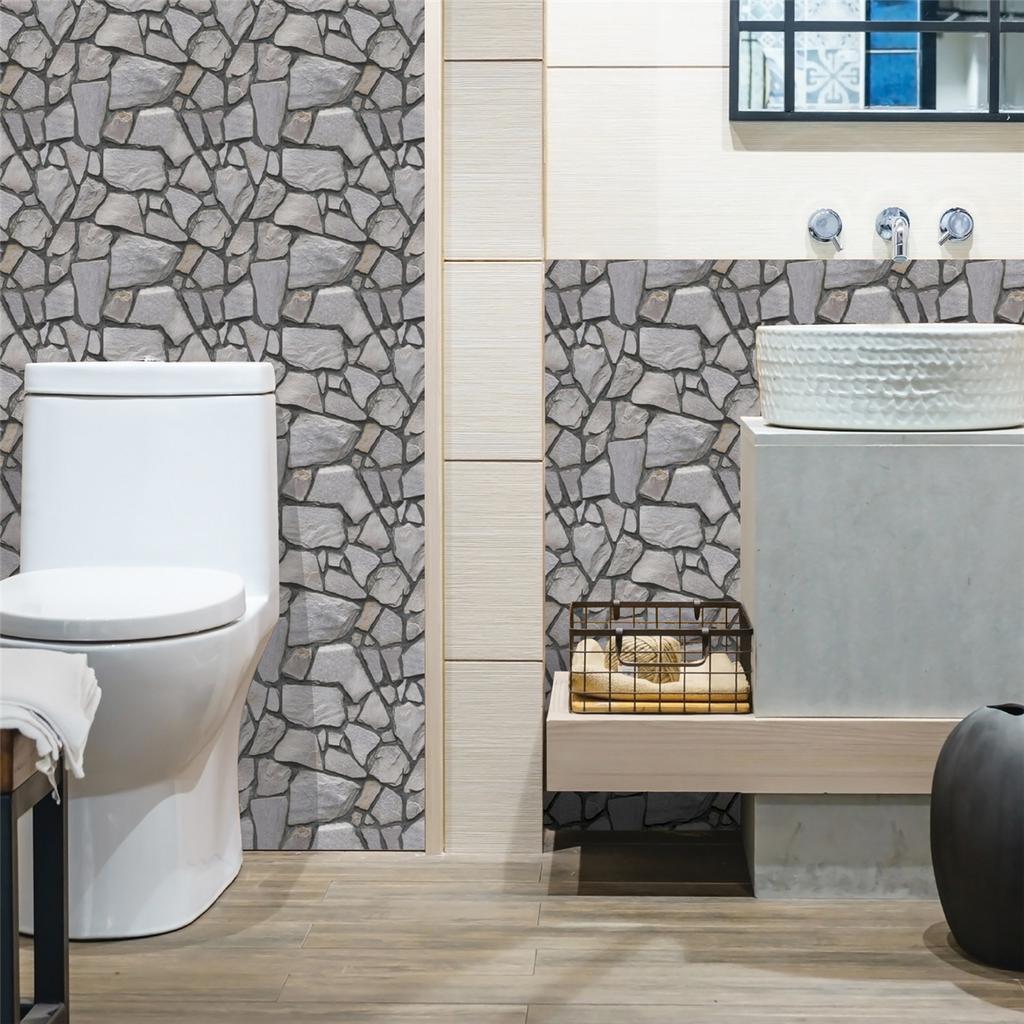 This one is most easy and almost without any effort. It is as easy as sticking labels because it is exactly what it is. Wallpaper stickers are a good option to give your bathroom a simple makeover in no time.
One thing to take care of while opting for this method is that, not all wallpapers are suitable for bathrooms, so select the one which is ideal for high moisture content making it the right fit for your bathroom. The use of modern pattern and darker shades will be better suitable for space, yet there are many options available for you to decide from.
Properties of Wallpapers
If you are planning it for the long run say ten to fifteen years, then this is the most cost- effective option.
It is easier to hide any flaw with these wallpapers as they adhere quickly.
You can add style and pattern through wallpapers which is not possible through single-tone paint.
There are many designs and patterns possible that you can decide according to your taste and choices.
The only con with wallpapers is, it gets tedious to remove when they get old. But we think that is a problem for later.
The methods and ideas mentioned above are of different range in cost as well as the amount of effort they will need.
You have the flexibility and freedom to explore different design or combine two ideas. We have explained the properties of each solution to make your job easier that help you to select with confidence.
The limit is your own imagination and creativity. Planning is also a key element in designing anything.
Let's cover some tiles now!