Most of us are now working or studying at home, at least part-time, and, for now, it seems like that will not change. Many have seen the benefits of remote working, with 77% of remote workers stating that they are more productive when working at home.
However, to be effective and happy while working from home, you need the right environment. Setting up a home office does not necessarily require an entire room, but even a small dedicated space can make the perfect home office. Here are some tips on creating the ideal space for your home office.
Businesses Thrive in a Functional Office Space
First, you need to consider the needs of this space and who will use your home office. This will impact the size and location of your home office space. Placing your home office in an area with the least distractions and noise is vital.
if you are a freelancer aiming to create an Ecommerce business in order to sell online, investing in a dedicated home office space is especially important and should be part of your business plan. If you're creating an online store, human customer interaction is essential. For example, eCommerce businesses that sell products to buyers via chat yield 71% more sales. Therefore, having a well-planned professional space that is not noisy and has little distraction is vital.
If you have the space, a second monitor will make your work a lot easier too. It might sound like a simple thing, but not having to toggle between tabs or screens will significantly increase your productivity while working from home. Of course, if you are going to work from home effectively, you need good Wi-Fi. Choose a space with the best Wi-Fi if possible. You can also invest in a modem that boosts your Wi-Fi if you need it.
You Need to Be Comfortable to Work Well
Having a well set-up, ergonomic office is essential not just for your comfort but also for your health. It decreases your chances of repetitive strain injuries and back pain. Your computer monitor or laptop should be placed directly in front of you at eye level. Also, think about how you position your computer screen, make sure there is no glare from the sun. Your chair is really important, so be sure to get a good adjustable chair. There are now lots of excellent office chairs that are not just functional but also incredibly stylish and don't require you to spend a lot of money. Make sure you have the correct posture and are comfortable even around the wood paneling.
Don't forget your smaller office equipment, such as your keyboard and mouse. Although there are lots of sleek and stylish options to choose from, choose equipment that is designed for comfort. For example, larger mice, such as the ones used by gamers, are often more comfortable.
Lighting is also essential, so be sure to choose a space with natural light and add a well-chosen desk lamp. A study has found that productivity is improved by up to 40% when your workspace is situated in an area with natural light. If your space does not get great natural light or you work when it's dark out, add some ambient lighting, strip, or rope LED lights to bath your office space in soft light.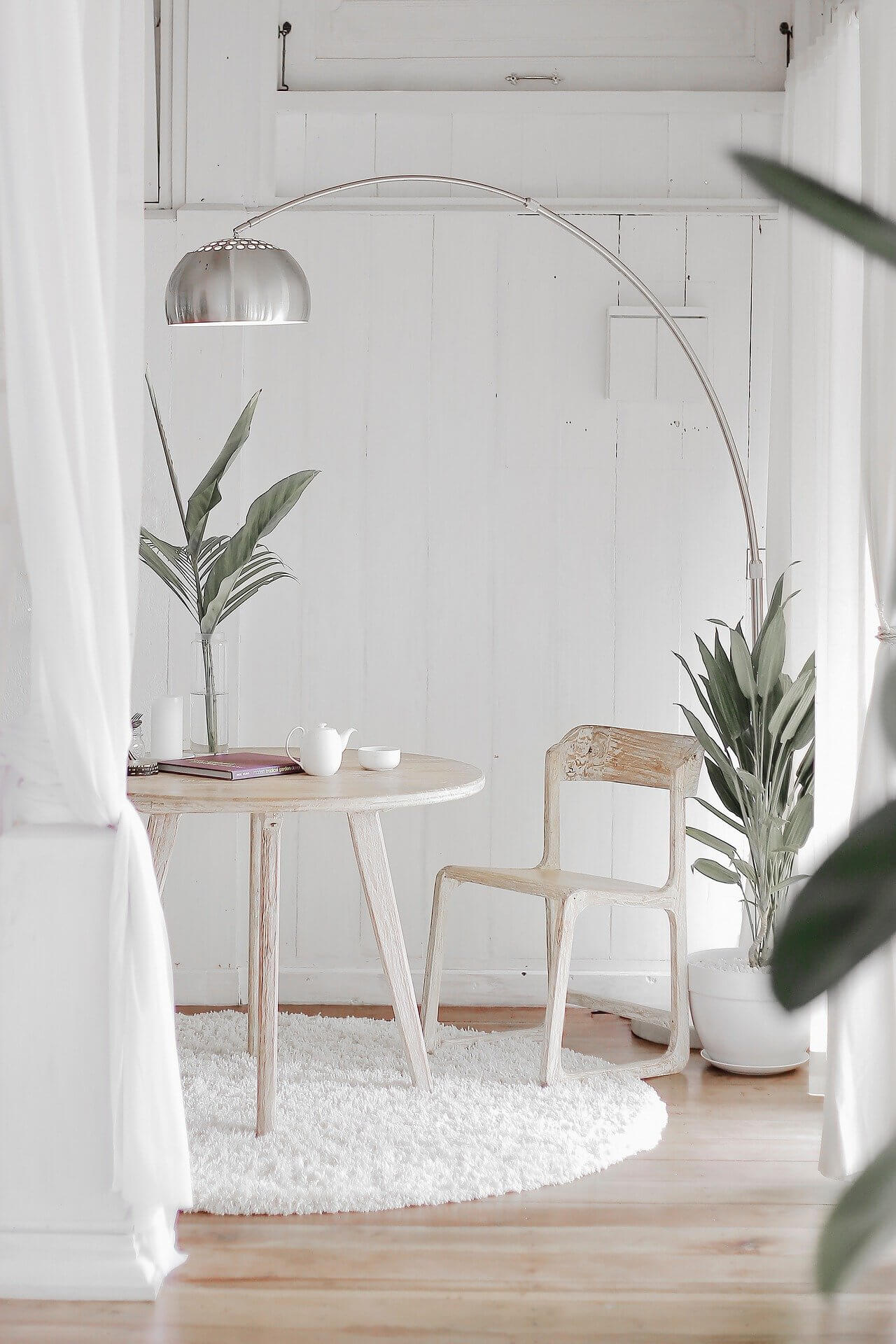 Stylish Spaces Can Keep You Organized
One of the best things about having your own home office space is that you have a chance to design a personalized, stylish, and creative space. First, decide on your budget, style, and color palette. Measure the area and carefully plan how you will position everything.
Opting for a minimalist style in your office will help you not just stay highly organized, but will help you create a high-end look. 'Japandi', a mixture of Japanese and Scandinavian styles, is one of the biggest trends in 2022 and is an excellent choice for your home office. This style merges functionality with minimalism while remaining warm and inviting, using a warm color pallet and lots of natural materials like wood, stone, and linens. Add to the relaxing atmosphere and a healthy environment with well-chosen plants and fresh flowers.
When choosing your room color, take into consideration color psychology. Light neutral colors are associated with increased organization and are a good choice if you require concentration and focus. A muted color such as warm grey is also an excellent option for an office space. The color of choice this year, green, is also a great choice, as it evokes a feeling of calm but also vitality. Studies show that setting up a comfortable and warm environment improves productivity, so don't underestimate the style and decoration of your home office space.
The eCommerce market is growing at an incredible rate, and there are many exciting opportunities for freelancers and entrepreneurs to start their businesses. Create a space that is not just well organized and functional but that you love to spend time in, which boosts your creativity.