Mushrooms are one of the most interesting things present on the earth. They come in a variety of sizes, shapes as colors. The species of mushroom which are not toxic are not only healthy but also tasty. The term mushroom identifies edible sporophores. In simple words, mushrooms are just edible fungus.
For many years, the mushroom is known for its unique ability to add luscious flavors to multiple cuisines. These are some great things about mushrooms. But they are not always good as they sound. There exist many poisonous varieties of mushrooms in nature.
The mushrooms which are grown in the yard can be an eyesore to your beautiful yard. It is sometimes difficult to understand how to get rid of mushrooms in your yard. The main reason behind this is that they are a by-product of something happening under the soil. This makes it very difficult to figure out that what is the source of these mushrooms.
Do not worry if there are mushrooms in your yard, this is a common problem faced by many people. Most of the species of mushrooms which are grown in the yard are harmless and do not cause any disease.
Mushrooms can be beneficial for your lawns because they break down the dead material and supply tons of nutrients to the soil. The main concern with the mushrooms is that do not look good in a green yard and can create a problem if there are small children or pets in your house. It is impossible to kill these mushrooms simply by picking them up.
Mushrooms can be compared to an iceberg aas the mushrooms are deeply rooted in the soil and only a small part of them is visible on the ground. Mushrooms truly destroy the beauty of a well-cared lawn. The other problem with the mushrooms is that some mushroom species have an unpleasant odor. One example of such a variety of mushrooms is "stinkhorn". 
Why Do Mushrooms Grow in Your Yard?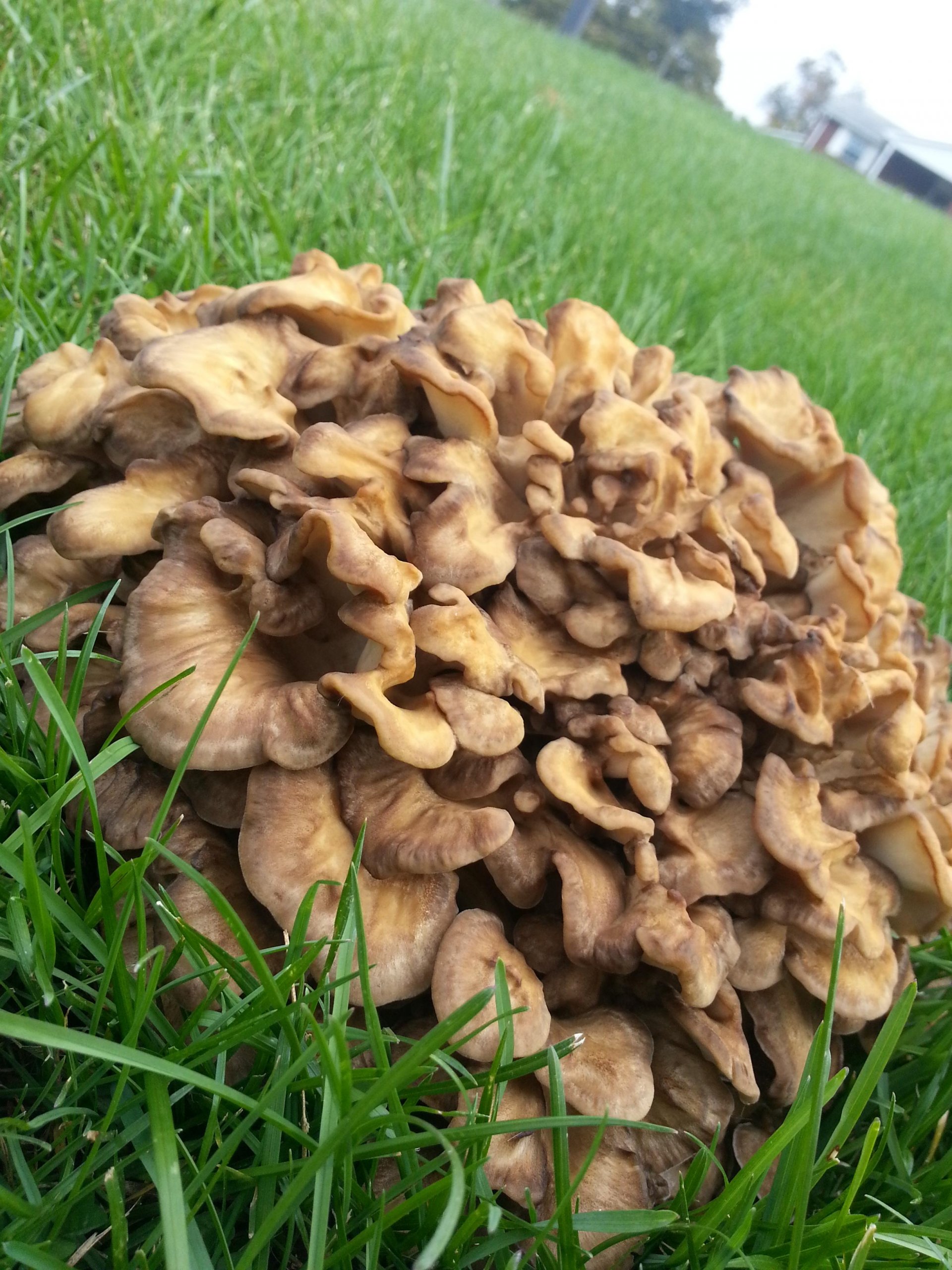 The main reason behind the growth of mushrooms in your yard can be the improper drainage of the soil underneath the grass. Wet conditions are developed beneath the soil if water is not drained properly. If the mushrooms are growing in form of moss then it indicates a deficiency of nutrients in the soil and soil is also suffering from problems like low pH. Mushrooms can easily thrive in dark and damp conditions with a lot of decaying organic matter. This matter can include rotting leaves, animal waste, tree trunks, etc.
How Do Mushrooms Spread?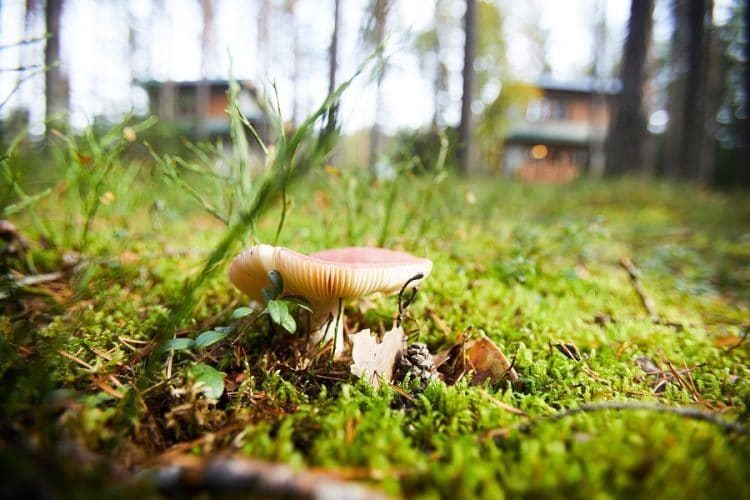 When a mushroom is disturbed or it is broken and picked, spores of the mushroom spread. These spores lead to the growth of new mushrooms. These spores can easily be carried by insects, birds, animals, and wind. When these spores reach the soil they begin to form a thread-like structure known as "hyphae". These hyphae establish under the soil in the form of mats if there are suitable conditions for its growth. If you want to check out these hyphae, then you can just simply cut out a small piece of lawn and you will be able to see these mats.
Are Mushrooms Valuable to Your Lawn?
As explained mushrooms have good qualities too. They are responsible for the digestion of decaying organic matter as a result they provide nutrients to the soil as well as plants located in your garden. The most important purpose served by these mushrooms is to prevent the piling up of organic matter.
If there are ideal conditions for the growth of mushrooms, then surely there will be mushrooms in your yard formed by thriving fungi. Mushrooms are a symbol that fungus is thriving under the soil of your lawn.
Excess of Fungi Can Cause A Change of Grass Color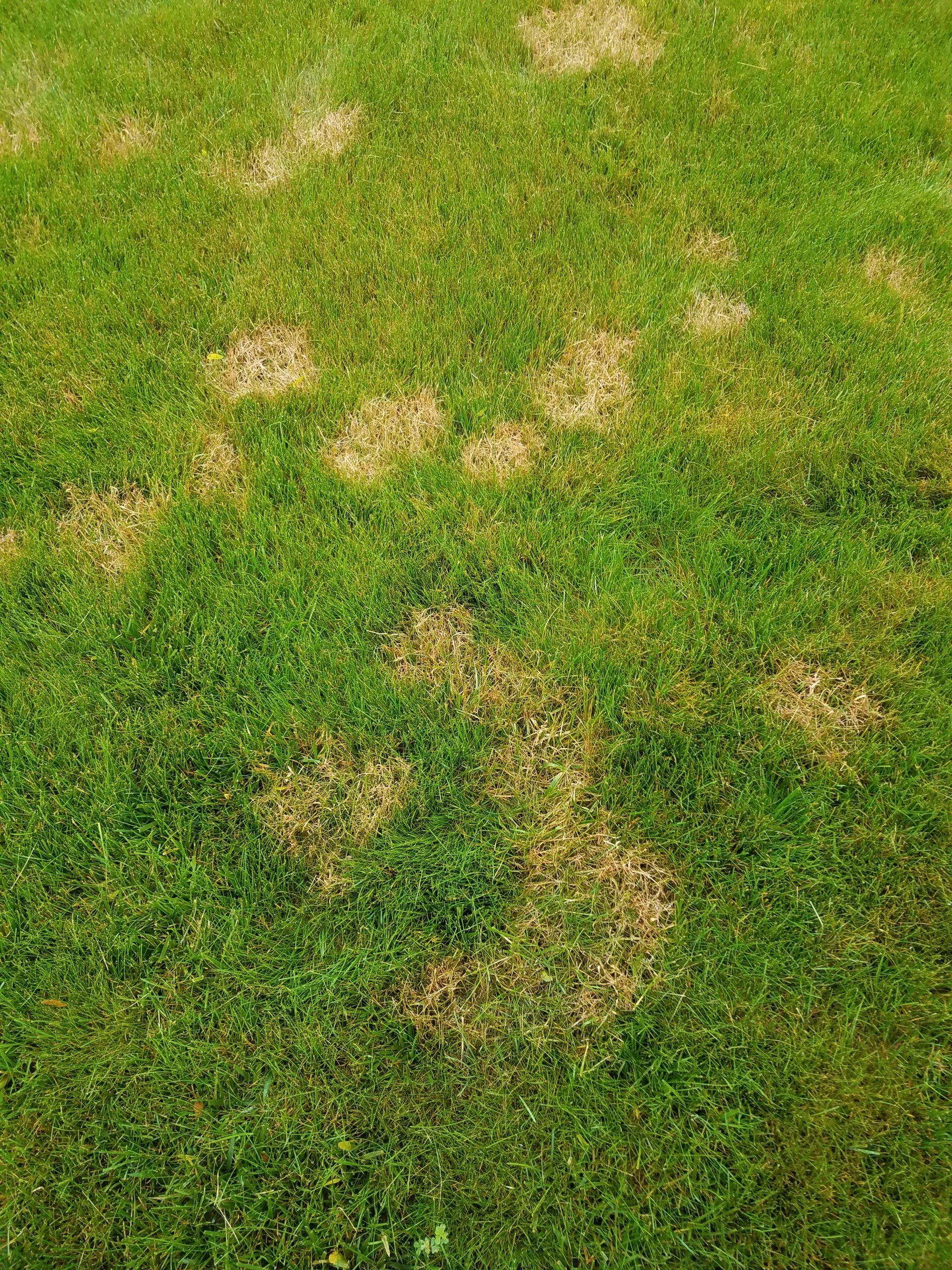 These fungi can sometimes be problematic as when the hyphae grow thick, it can prohibit nutrients from reaching the soil. As a result, the grass in your yard may turn brown. The indication of this process is a circular ring pattern in the grass. This ring pattern is often referred to as a fairy circle. If you see such a circle in your yard, then it is an indication that you need to get rid of mushrooms from your yard.
How to Get Rid of Mushrooms in Your Yard?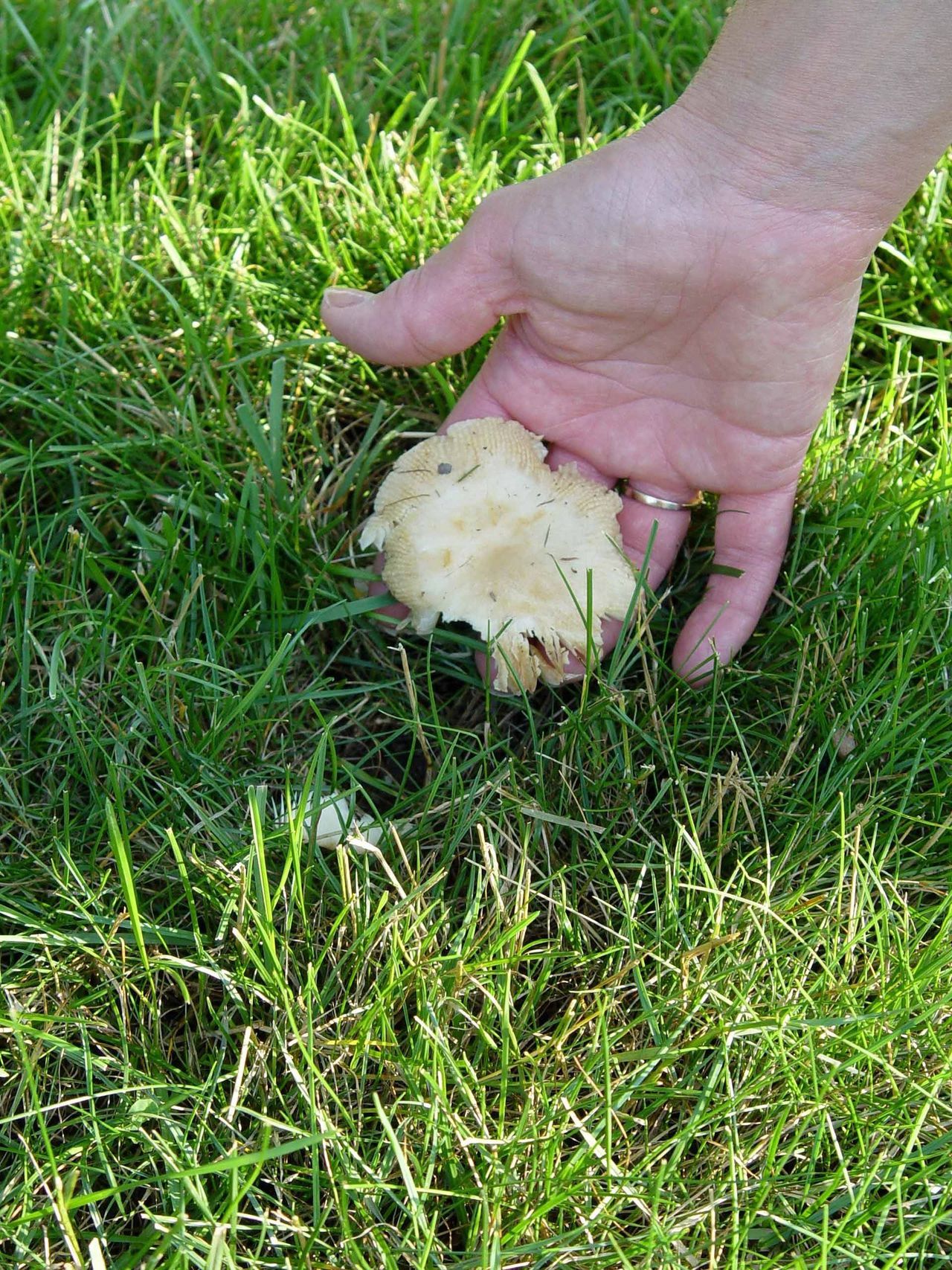 Let us go back to the main question that how to get rid of the mushrooms from the lawn. The homeowners often struggle while getting rid of mushrooms from their yards. The main reason behind this is that they do not treat the cause of mushrooms and just simply remove mushrooms from their yards.
You should focus on treating the symptom and not the cause.
If you just remove mushrooms from the surface, it will not solve the fungi problem rooted deep below under your soil. Mushrooms are the fruiting bodies that spread spores and increase their outreach by doing the same. The old-school way of permanently removing mushrooms from the yard is by digging up the mushroom entirely using a spade.
Steps You Need to Follow in Order to Remove Mushrooms Form Your Yard
If you are wondering how to get rid of mushrooms in your yard, then you should focus on that necessary environment for the growth of mushrooms in your yard is not created. Mushrooms are known to thrive in a dark environment where there are humid conditions and a lot of organic waste. The best method to get rid of fungi is by creating a less ideal environment in your backyard.
The few methods which will help you to create a less favorable environment for mushrooms are:
Regulated Watering of Shady Areas
The areas in the yard which come under the shade should be less frequently watered. You should also give enough time to dry fully before watering next time. You should focus on watering deeper and infrequently rather than watering frequently and for a shorter period. The time at which you water your yard is equally important.
You should always water in the morning as it allows grass to absorb water easily and excess water can be dried out by the sun during the afternoon. You should always avoid watering in the night as the temperature is generally low the night and water will stay in the lawn. This creates the perfect humid condition required for the fungi to thrive.
Aerating of The Soil
The soil in your yard should have proper airflow. You can achieve this by removing any thatch in the soil. This will increase the rate of water penetration and soil will be able to dry up quickly. Another advantage of aeration is that it can also penetrate through existing hyphae and prevent any further growth. Make sure you also mow your grass from time to time; this will keep grass shorter and will also prevent the accumulation of moisture.
Another benefit of short grass is that it tends to dry up more quickly as compared to long grass. This also prevents excess water accumulation in the area and at the same time allows more sunshine and air to reach the soil. Before mowing your lawn just make sure that you pick all the mushrooms because mowing with mushrooms can lead to the spread of spores and ultimately will make your problem even worse.
Use Nitrogen-Rich Fertilizers
You should use nitrogen-rich fertilizers in your lawn. They provide the soil with all necessary nutrients and at the same accelerate the decay process of any organic matter in the soil. This can significantly slow down or even prevent the growth of fungi in your yard. If you still haven't got an answer to the question that how to get rid of mushrooms from your yard then these fertilizers will surely help you. One example of such fertilizer is ammonium sulfate. It should be properly spread in your lawn in the ratio of 5 pounds per 1,000 square feet.
Remove Any Decaying Organic Matter
If there is any decaying organic matter such as rotting wood, leaves, or grass clippings lying in your backyard then you immediately remove them or at least bag them until the problem of mushrooms is resolved. This organic matter acts as a primary food source to the fungi. You should focus more on shady areas where organic matter is lying.
As these areas can have accumulated water and when this combines with a food source, a perfect environment for the growth of fungi is created. A compost pile requires a balance of nitrogen as well as carbon to decompose quickly, when you supply nitrogen to the soil, the decomposition process speeds up. 
Should Fungicides Be Used to Kill Mushrooms on Your Lawn?
Generally, fungicides are not much effective when it comes to killing mushrooms in your backyard. This may sound the opposite of what most fungicide companies claim but this is the truth. The main problem associated with these fungicides is that they do not penetrate enough to reach the hyphae below the surface of the soil.
These fungicides are effective only on the surface of mushrooms and molds. They do not kill the fungi as the name suggests. Fungicides just act as a coating to the existing fungus and prevent the further spread of spores.
Like these fungicides only help to contain the issue. But they are ineffective on lawn fungus as it is more prolific and long-lasting compared to normal fungus. Most of the fungicides and other products which were initially marketed to kill mushrooms are illegal now so should focus on more approaches listed above.
Still Worried About Mushrooms in Your Yard?
By following the above solutions, you will be able to get rid of mushrooms from your backyard. But if you still find it difficult to remove then the best option is to dig up that part of the lawn. This can be considered a nuclear option as you will have to dig up a big portion of your lawn to get rid of just a few mushrooms.
Most people find this solution too troublesome. But if you have made your mind to go on this route then you should follow all necessary steps so that your efforts do not go to waste. The factors which you need to keep in mind are:
You will need to dig at least 12-180inches deep into the soil.
You will be required to remove 18-24 inches outside the area which is affected so that you can remove all the hyphae which are living beneath the surface of the soil.
After completing the above two steps, you can spread some fresh soil and seeds to encourage some new growth in the area.
Make sure you follow these steps correctly otherwise you will again return to square one.
Conclusion
You can always learn to love mushrooms. It is a well-known fact that mushrooms don't look great on your lawn but they are not generally dangerous and problematic. They are a sign that the soil in your yard has complete nutrients. Like every other living creature present on this earth, their aim is also to achieve a balance.
If you will accept that they are important for your soil to achieving balance, then you might not hate them. If you don't have any children or pets in your house then it is alright to leave the mushrooms where they are in the yard. They indicate good soil health. But if they are affecting your lawn such as grass is turning brown then you get rid of them.