Are you looking to buy a heater, but not sure which one to get home to? Well, we truly understand your concern. There are so many heaters in the market which vary in size, space, function and cost and they are normal to get confused when choosing one. After all, it is a one-time investment, and I am sure you would not want to risk it at all.
Heaters are our best friends, especially in winters. They work like saviours at places where the climatic conditions are not uniform. Heaters provide warmth and comfort between the four walls and make our living easy and worthy.
Today, we get a lot of varieties in heaters that are much more advanced and simpler as compared to the olden times. There has been a complete renovation in the world of heaters if we compare the old and the new.
Infrared heaters and Convection heaters are really making homes and are becoming a daily conversation between the buyers before buying. There is a lot of chaos and confusion about both the heaters and today in this article we will be discussing some major points of difference that make them better and different from one another.
Few heaters are designed in a way, where they give out hot air to maintain the warmth while others are designed to warm the objects. Few take too much space while few do not. Few uses too much electricity while few uses much less. There is a lot of wide difference in each heater that we see in the market. And finding out which could be our perfect match is always a little effort taking but not impossible.
Today, in this article we will be talking about the most discussed heaters that confuse and at the same time influence a wide range of audiences. Yes, you guessed that right! We will be talking about the differences between an Infrared Heater and a Convection Heater, and at the end of the article, I am sure you will find your own better and favourite.
So, hoping to be your best guide that helps you get the best heater and spreads warmth and comfort to your four walls.
What are Infrared Heaters?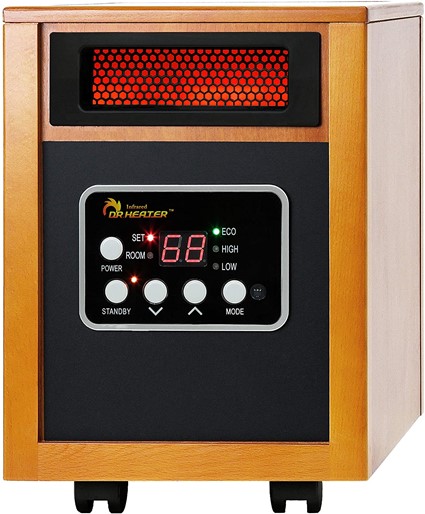 The heaters that have high temperature and transfer energy to a body with a lower temperature, using the electromagnetic radiations produced are said to be Infrared Heater.
The transfer of the temperature depends on the wavelength of the emitting body. Infrared heaters warm up the objects and people by emitting warm air to space where it is used.
To find out more details on infrared heaters check out this YouTube Video:
Infrared heaters are usually used to provide warmth and comfort. It provides warm air only to the focused place which means it emits warm air only to the places required. It is designed in such a way that it reradiates warmth and provides a comfortable environment.
Types of Infrared Heaters: 
Infrared Space Heaters
Infrared Patio Heaters
Portable Construction Infrared Heaters
Electric Infrared Heaters
Advantages
Less Noise
Infrared heaters are designed in a way that as compared to the other heaters it makes less noise. Infrared heaters do not pump-up air and thus the level of the noise is low or manageable.
Less Electricity
Most Infrared heaters use less electricity while functioning, which makes them very affordable for a lot of users.
Healthy and Comfortable Environment
Due to the focused emission of heat and reradiating property of the infrared heaters, they manage to bring a healthy, calm, and comfortable environment.
Variety
Infrared heaters come in different shapes and sizes which gives buyers the choice of getting the heater according to their convenience.
Portable
Infrared heaters come in small sizes which makes them be installed at any place of the consumers choice without caring too much for space. Hence, infrared heaters prove to be very comfortable and promising.
Disadvantages
Less Programming Functions
Infrared heaters do not give you too many programming functions. It only provides you with an " On and Off " button, that is it.
Gets Heated
Infrared heaters get too much heated and can cause problems to your children and the pets around. This is the biggest drawback that infrared heaters have.
What Are Convection Heaters?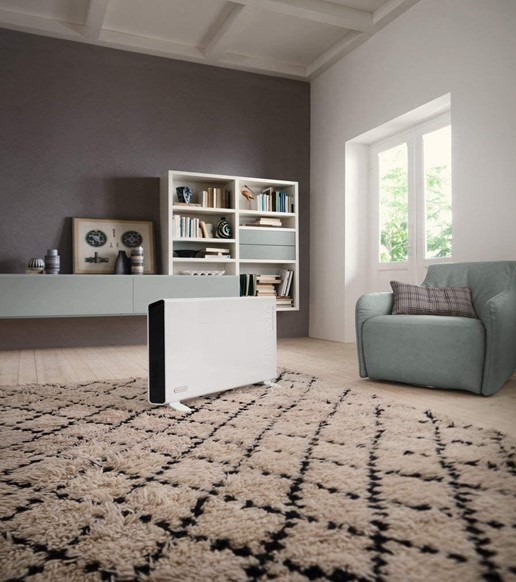 Convection heaters are also known as convector heaters. Convection heaters are designed to use convection currents to heat and circulate the air. Convection heaters warm up the air of the surrounding where it is being used. As compared to the other heaters, Convection heaters are cheaper at cost.
Convection Heaters are usually used to keep the environment warm and comfortable. The heater warms up the entire space from top to bottom. Convection heaters tend to raise the room temperature a lot faster than other Radiant heaters.
Types of Convection Heaters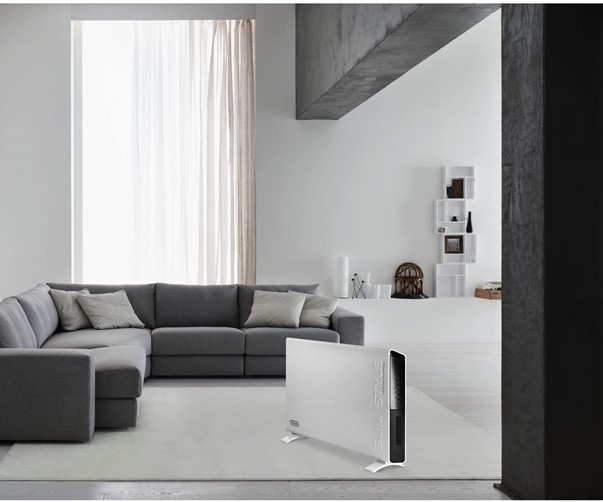 There are 5 types of Convection Heaters, they are listed below.
Oil Filled Heaters
Ceramic Heaters
Water Heaters
Fan Heaters
Furnace Heaters
Advantages
Functions Quietly
Convection heaters do not make noise while in operation, which proves to be a very advantageous point. Because a lot of heaters have that buzzing sound or something like that. 
Even Heating
Convection heaters provide even heating at all the places in the room. As it circulates its warm air throughout the room, one could experience an even share of temperature in every corner of the room.
Can Be Customised
Since convection heaters get installed in individual rooms you can always customise the heater according to your own need.
Low Cost
Convection heaters are affordable and durable than most of the other heaters. This allows you to have the best product at the best cost.
Disadvantages
Allergies
Convection heaters do not move the air of the space in which it is being used through air filters or other stuff. There are chances of accumulation of present dust materials that can cause allergies.
Less Effective
Convection heaters tend to be less effective as they take time to emit warmth. Convection heaters also find it hard to warm the temperature of a larger space area.
Infrared Vs Convection Heaters: Differences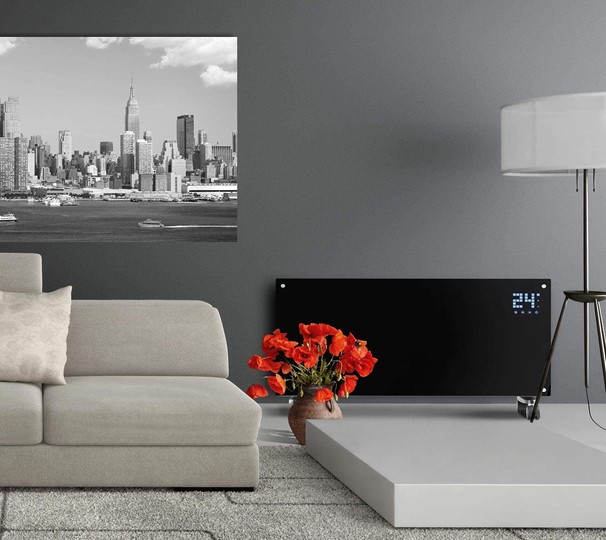 Now since we have studied enough about Infrared and Convection heaters in brief, we can further move on and try to understand what makes both the heaters different from one another. 
Before buying any product, it is very important to understand and analyse its pros and cons. Below given are a few pros and cons of Infrared Vs Convection which will make it easier for you to choose the correct and effective heater.
A convection heater usually costs less than an infrared heater.
Talking about the maintenance of both the heaters, infrared heaters are quite well manageable, and their maintenance does not cost much. On the other hand, a convection heater costs too much in its maintenance.
Infrared heaters use very less energy, whereas convection heaters use too much electricity.
Infrared heaters heat the object while convection heaters heat the air. So, when the windows are opened the air can be easily passed and the warmth will not stay for a longer period.
Infrared heaters produce no sound while operating, whereas convection heaters produce fan-like sound while in operation. The sound increases as your demand for temperature increases. Sometimes a humming sound can be emitted by infrared heaters but most of their operations are in silence.
Infrared heaters cause the objects to heat. This can cause a problem for the children and your pet around the heater. Whereas convection heaters do not warm up themselves that much. And their fanning sound keeps you alarmed of not touching it.
Infrared heaters do not provide you with too many options in functioning. It only allows you to have on and off access. Whereas convection heaters give you several functions. The temperature controlling function in the convection heater is the greatest asset.
What Is Better?
Since now we understand various concepts and features related to both the heaters. We need to choose between both the heaters and decide which one is better to get home. But how do we do that? Each of the heaters is extremely fine and appropriate in their original spaces.
Well, then the only thing that will make them different and easy to choose is your own need for the heater. Understand why you are looking for a heater, which of the above two features meet your expectations the most and which as a user will satisfy the most. After you have answered all these above questions you will seem to have made your decision then and there itself.
So, the end word of advice is the heater that satisfies your needs and demands and provides comfortability is the one that you should be buying.
Which of the two is better can only be answered by your need for the equipment and the comfortability that you are looking for from the equipment.
After studying some wide aspects, now it is time to order your heater and beat the cold days with the warmth and comfort of a heater. Below given are the few most recommended heaters that can be an amazing addition to your home appliances.
5 Best Infrared Heaters Reviewed
EdenPURE CopperSMART
The heater is designed to have dual high limit sensors. The temperature of the heater ranges from 40 F to 90 F. There are two power settings (1) 1500 Watts High // (2) 1000 Watts Low. The heater is designed with remote control and a lifetime filter included. You also get a one-year warranty. Since the equipment is wheels designed it becomes easy to move from one place to another. So, add this well-advanced infrared heater to your home appliances today.
Portable Infrared Heater
No products found.
This heater is featured with various advancements like remote control and overheat protection. The heater works on 1500 W / 700 W / ECO mode. The heater is designed to be adjustable as per our desire. It makes no noise and allows you to have a peaceful sleep. So, make this amazingly modern crafted heater yours today.
Dr Infrared Heater DR-978
The heater is designed to have a larger blower that pushes out larger air volume with very low noise. It is completely safe for small children and pets to be or play around. The Heater comes with Energy-saving ECO Mode, a high-1500W and low-1200W setting. 120V 1500W, 12. 5A, 60H. It also is certified by Underwriters Laboratories (UL) and Canada, ensuring the highest safety standard.
Patio Heater-Trustech Space Heater
This infrared heater is designed with 24 hours timing function and remote and temperature control which makes it very effective and efficient to use. The heater warms up the room very soon, which makes sure that you do not have to wait in cold rooms for a longer period. So, what are you waiting for, get this amazing piece of equipment today?
Taotronics Space Heater
No products found.
Get this super slim infrared heater, that will be a perfect fit for your interior. The heater is extremely well designed with temperature customization and auto power-off feature. It has a timer of 1 to 7 hours and the power of the heater extends to 1500 watts. The rated voltage is 120V while the rated frequency is 60 Hz. Get this amazing warmth and comfort provider at the best possible cost.
5 Best Convection Heaters Reviewed
De'Longhi Convection Panel Heater
Get this amazingly sleek, stylish convection heater that will beautifully complement your home decor. This heater is designed with instant heat and dual fan systems that can warm up your coldest rooms. The heater would not occupy too much space and can be an easy fit to wherever you place it. One can customize the temperature according to his or her need, and this convection heater does not even overheat.
Lorell 33558 17″ Ceramic Tower Convection Heater
Get this amazing convection heater that seems promising and trustworthy in providing the correct warmth and comfort. The heater is featured with an adjustable thermostat with safety overheat protection that can warm a room up to 100 square feet. The heater also has two settings of 800 watts and 1500 watts.
Klarstein Bornholm, Convection Heater
Make this luxurious convection heater a part of your home decor to enjoy style, warmth, and comfort at one go. The heater is designed with 1500 watts of power and has 2 heat settings and a child safe. This convection heater spreads warm air throughout the room evenly.
The heater has comfortable operations and has an independent on / off by 24 -hour timer. The temperature can be adjusted accordingly. The convection heater works great for premises up to 430 ft². So, what are you waiting for, order your piece of heater now?
Amaze-Heater DUAL 400-Watt Electric Convection Room Heater
Get this amazing ultra slim convection heater that is going to be an amazing addition to your interior. Get delighted with its warmth and comfort which allows you to moderate the temperature according to your need. The heater saves up to 50% or even more on your heating cost. It can efficiently warm up a room up to 160 square feet. The heater is ETL listed and is approved to UL standards. This heater will not dry the air or will cause no air to burn up. So, this winter fights the cold with the warmth of this amazing convection heater.
Honeywell VersaHeat Digital Two Position Heater
This heater will be a perfect match for your house decor and will emit extreme comfort and warmth throughout. The digital display of the heater allows you to easily select between 2 heat levels (High and Low heat). You get a customised feature of adjusting the temperature as per your requirement. Overall, this heater is a great choice that perfectly fits any home.
Buying Guide for Heaters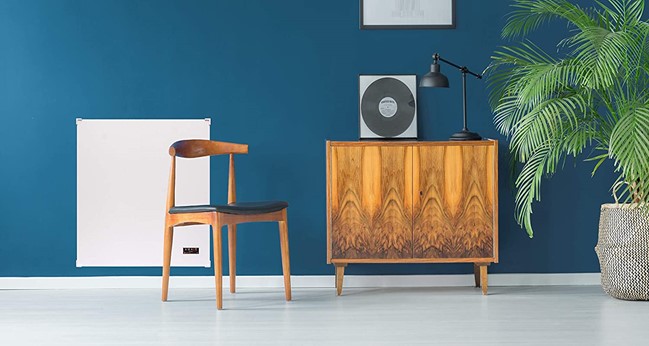 Check Price
Check for the price that suits you the most. The market offers you a variety of range in price and quality. Choose wisely and pick the one that comforts and satisfies you the most.
Check Quality
Understanding the efficiency and functioning of a heater is very important. Check every detail of the heater and ask every why and what possible. Make sure the heater proves to be worth the investment.
Understand Your Need
Understanding why you need a convection heater, or an infrared heater is very important. Your need defines what is going to satisfy you. So, check whether you are wanting your heater for a large space area or a small space area and accordingly get home what suits you the most. Check for all the possibilities.
Size and Installation
The other thing that you need to be concerned and alerted about is the size of the heater you want to bring home. Check for the space that you have or the space that you can make it. Accordingly, get your heater. Another aspect that concerns the installation process. Look for easy installation heaters that can be installed at a cheaper rate.
Durability
I am sure you would not want to spend such a hefty amount to get home a heater that ruins everything within a month or so. Therefore, always check and enquire about the durability of the heaters and buy accordingly.
Conclusion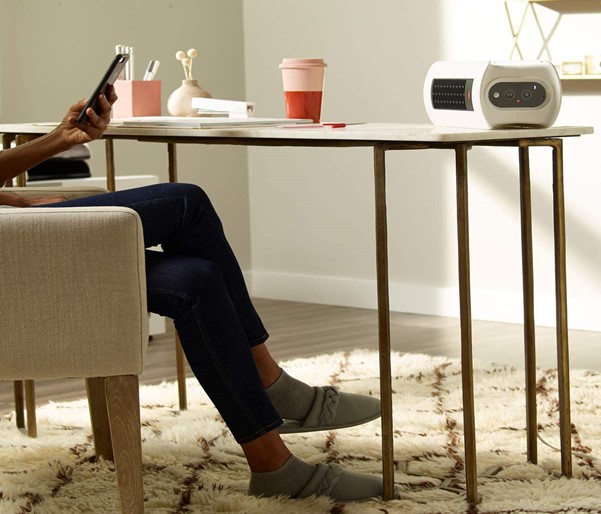 As we all thoroughly understand how important it is to have a heater that can provide us with the right kind of warmth and comfort, so we would not want to take any chance of bringing any random heater that later makes us regret our decision.
In this article, we thoroughly studied the two different heaters known as Infrared heaters and convection heaters. Both the heaters are well advanced and worthy at their own places. While they also have their own disadvantages, respectively.
Now choosing out of the two will depend strictly on your need and comfort. So, choose the one that satisfies your primary need and provides you with utmost comfort.
For better choices, you can read the reviews of the heater you are buying or talk to a person who is already using it. Or the best way is to find it on your own. Get the heater that pleases you the most with its features and make it your permanent partner for warmth and comfort.
We hope this article was of some help to you, that allowed you to get into the smaller details of the two heaters and will eventually result in helping you buy the best one.