Round-net games have become a prevalent type of outdoor game in the past two decades, and it is like every day we see people playing these games with friends and families in the parks and the beaches. Like any other famous outdoor game, they have their fanbase, their tournaments, and their communities.
Round-net games are a great pass time with friends and family and help you stay active. They have become a must in camping trips and picnics. Moreover, the game is also played at competitive levels. It has professional players who have aced this game, and they battle it out in a gruesome tournament full of athletic wonders and adrenaline rush.
Although they confuse quite a lot of people who are not oriented with them beforehand, the game rules are simple. Its rules are derived from the game of volleyball, but it is not played similarly. Instead of a vertical net used in volleyball, a Round-net game has a trampoline-shaped round net where the ball is supposed to be bounced.
A Round-net game can be played between two teams (on opposite sides), each consisting of 2 players. Like volleyball, a player must do service towards the opponent team so that the ball bounces on the net.
In the game, a team has three chances to bounce the ball back on the net before it hits the ground (a single player cannot touch the ball back-to-back). If the ball hits the ground or bounces twice on the net, then the opponent team is awarded a point. The same is done when the ball touches the frame of the net.
The game's trick is not to let the opponent team bounce the ball on the net, which is generally done by preventing them from even touching it. So, after the game starts, there is no side for a team, and the members can revolve around the net to grab the best shot. Apart from being a fun pass time, Round-net games are also known for enhancing a person's reflexes and improving his response time.
But unlike volleyball, Round-net is a relatively new game that was first played in 1989. It was not until the 2000s that the game got the fame it deserved. Spikeball pioneered the game of Round-net, but because the company could not patent the game, many new companies entered the market, presenting the players with an even wider choice.
The biggest of the two companies are Spikeball and Slammo. Spikeball, though, is significantly more famous than Slammo as it invented the game, and many people know the game by the name "Spikeball." Spikeball is so famous that it can organize ESPN tournaments for Round-net. There is no other Round-net company in the market that can do that.
Let us look at some of the striking similarities between the two brands and the significant differences separating them from one another.
Similarities Between Slammo And Spikeball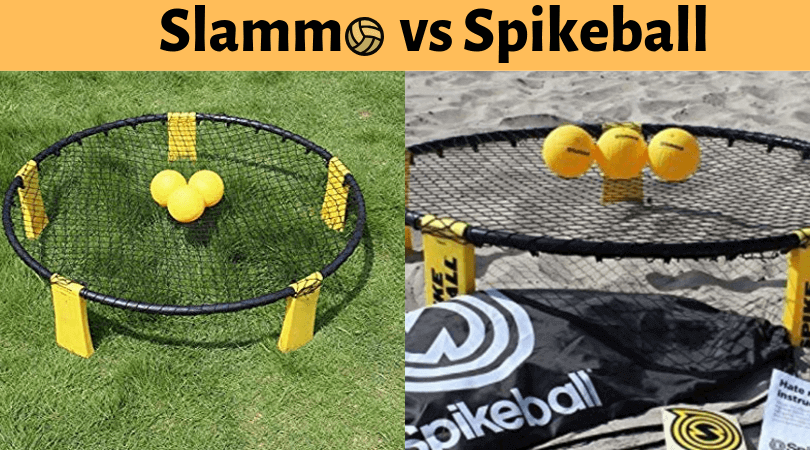 Slammo and Spikeball are very similar products. They are used to play the same game, meaning that they are used in the same manner. Both Spikeball and Slammo come with a lifetime warranty, meaning that you can quickly get the broken parts of your Round-net replaced if it comes to that. This also implies that both brands have a lot of confidence in their products.
Both products come with an air needle for adjusting the air on the balls according to your wish. They come in different varieties for different types of players ranging from beginners and amateurs to professionals and sizes.
The customer support facility of both brands are top-notch, and they listen to your complaints within a short amount of time. Your product can easily be replaced if it is under the replacement period, and the refund scheme is also very systemic.
Both are readily available online and offline stores, so you do not need to go the extra mile to get these products. Now that we are aware of the similarities between Spikeball and Slammo, let us investigate the differences between both brands.
GoSports SLAMMO PRO Game Set - New and Improved PRO Set with 3 PRO Balls, Pump and Carrying Case
SLAMMO SET MADE WITHOUT COMPROMISE: Stronger frame, reinforced legs, high bounce net
LOW PROFILE RIM: Innovative hook system allows for a low profile rim that minimizes rim shots and hides net hooks
IMPROVED LEGS: 200% Stronger than standard Slammo and also include rubber feet for maximum stability on any surface (grass / sand / concrete / gym...
HIGH BOUNCE NET: Improved net allows for higher bounces and more Slammmmmmos
Sale
Spikeball Standard 3 Ball Kit - Spikeball Game Set - Outdoor Sports & Outdoor Family Games -...
Competitive Spikeball Game Set: Experience the thrill of using this Spikeball game set with your friends and family when you play this outdoor lawn...
Fun Outdoor Game Set: You can set up your Spikeball game set and play Roundnet on any surface, whether it's grass, sand, or indoors
Outdoor Game for Adults & Kids: This game comes with 3 Spikeball balls, a Spikeball set, a drawstring bag, and a rulebook to use if you're into that...
Outdoor Lawn Game: Set up the Spikeball net quickly and start playing; this spikeball set is made with durable materials for a long-lasting, outdoor...
Slammo Vs. Spikeball
Although Slammo and Spikeball look the same and have so many similarities, they still are two different products manufactured by two different brands. Hence, they do have a lot of differences too. Let us look closely into all these differences one by one.
Slammo Comes with An Air Pump
Slammo provides users with an air pump to inflate the balls, whereas Spikeball does not. This means that you do not need to worry about getting an air pump if you have purchased a Slammo kit, but you need to do the same if you have purchased a Spikeball kit.
If you have bought a Slammo while you are on your way camping with your friends, then you do not need to spend extra on an air pump or do not need to carry one with you. The air pump provided by Slammo is small and portable. It is in the shape of an injection. The pump is not of the best quality, nor does it look the best, but it certainly does the job you want it to do.
You can get an air pump with a Spikeball set too. But for that, you will be required to purchase the professional variant, which, not to mention, is very expensive. Slammo, on the other hand, provides you with every variant.
If you are looking for an air pump along with the Round-net kit, you should consider going with Slammo.
Spikeball Legs Are Foldable and Adjustable
The legs of the Spikeball Round-net are foldable inwards. This means that you can fold them inwards for easy transportation. This feature is not available with Slammo or any other brand, for that matter. This feature's benefit is that it will not break if you accidentally step or jump on it.
The adjustable legs also enable you to play the game in rough terrain. With older variants, the Round-net did not remain stable in rough terrain, but the net can easily adjust according to the terrain with the foldable legs. We are providing you the best experience at the worst places.
If you do not have a flat place for playing the game or are planning to go camping, you should buy a Spikeball as it would be difficult to find perfect terrain while camping. Slammo is not fun when the terrain is not flat as it is unadjustable.
Spikeball's Frame Is Sturdier and Yet More Flexible
The frame of Spikeball is way better than Slammo's, even though Slammo is continuously improving its built quality to excel in the market. The frame of Spikeball is reliable and will not break easily even after a player falls on it. It is more, providing it with more strength.
So, when it came to framing and built quality, Spikeball is the industry leader, and therefore, it is way ahead of Slammo. So, if you think that your family and friends might play rough, then you may want to have a Spikeball with a flexible and robust frame.
Spikeball Only Comes with One Ball Whereas Slammo Comes with Three
The basic variant of Spikeball only comes with a single ball, and you will have to spend a few extra bucks to get a pack of three balls. Slammo, on the other hand, offers three balls even with the lowest variant. This means you do not need to spend a dime on getting extra balls.
The single ball in the Spikeball is 50% bigger than the original size and is meant for rookies, and you will have to buy ordinary-sized balls to play a professional game.
Slammo Comes with A Training Ball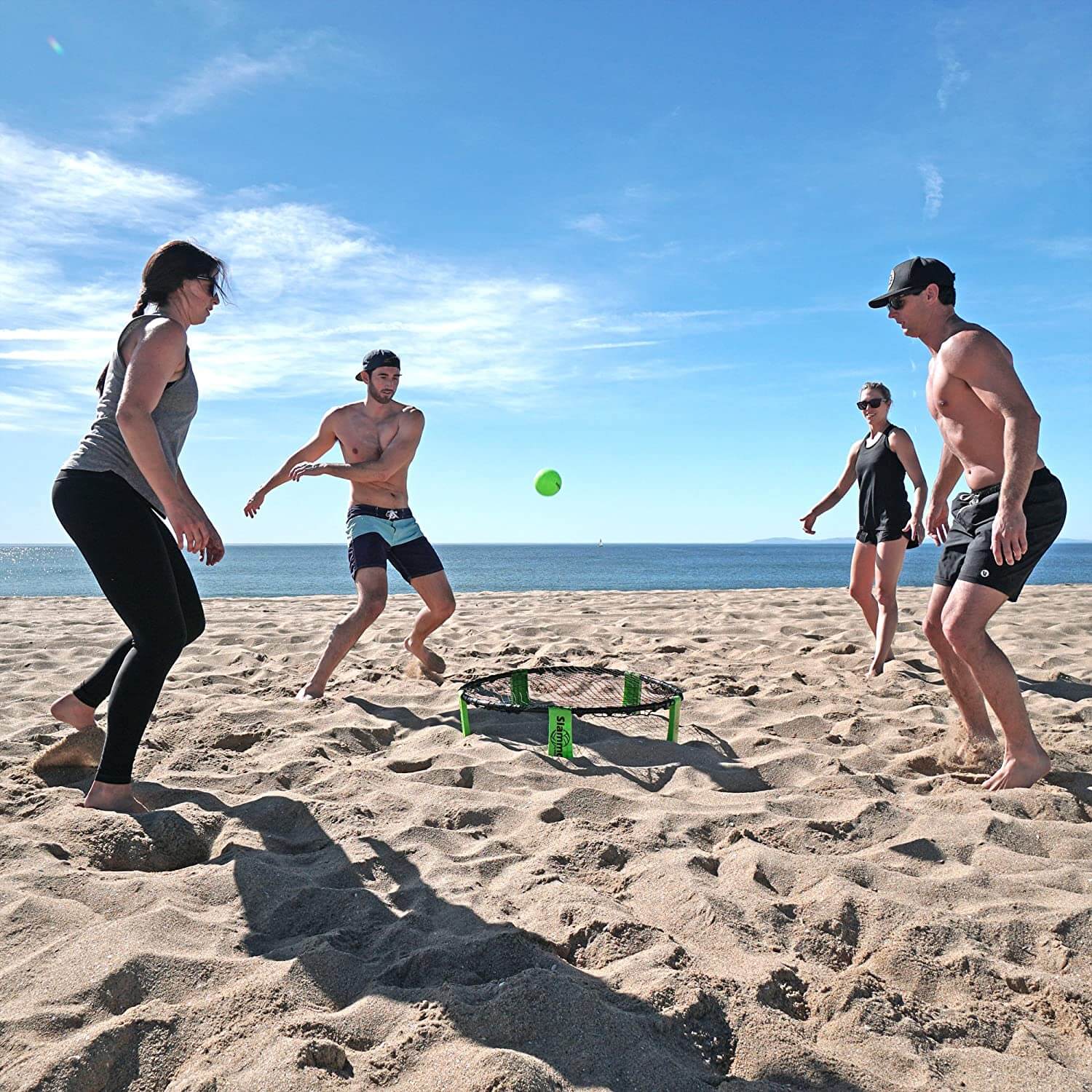 Apart from the three balls, Slammo also comes with an extra training ball which is relatively more significant than the other balls. This training ball is meant for training beginners who do not have a grip on this game.
Spikeball does not come with a training ball, and hence this is another attraction that Slammo has to offer. The training ball is heavier than regular balls, and most people prefer not to play with it once they know how to play the game. This is not much of a deal as you can purchase a training ball while purchasing a Round-net kit.
The Difference in Ball Quality
The next vital difference to look at while researching Slammo vs. Spikeball is the balls' quality, as it is the balls that you will be playing with. The balls of Spikeball are more durable and have the right weight.
They are heavier than Slammo's and feel comfortable in hand and while playing. They are composed of a thicker material than their counterpart and hence are preferred the most by professionals and serious players.
Slammo, although it does not have that premium quality ball, it is better than every other company in the market leaving Spikeball. Slammo's balls have better bounce and compensate for their weight there.
So, if you prefer a well-designed ball, you should go with Spikeball, but if you want to go high on the bounce, then Slammo is the one to go with. The ball quality of Slammo will be significantly improved in the coming years as they are also aware of the issue and are working to make their product the best.
Spikeball Is More Costly Than Slammo
Here is the factor that matters the most- price. Spikeball has a slight disadvantage when it comes to pricing. They are more costly as compared to their counterparts. This is because they are made of higher-grade materials and are a bigger band.
Slammo is relatively a new brand, and hence it has to offer low-priced products to remain in the market. The difference between Slammo vs. Spikeball could be between $20-$30 for mid-range kits and $50 for the professional kits.
So, if you are a beginner or want to buy it for your kids and are short on budget, you can buy Slammo as it also has a training ball for beginners. But if you have a bigger budget and have a thing for a premium experience, buy a Spikeball.
Spikeball App and Community
This is where Slammo does not even stand a chance against Spikeball. When purchasing Spikeball, it offers you the opportunity to join the community of Spikeball players. You can download the Spikeball app on your phone or join the Spikeball Facebook group.
You can learn easy tricks from the community members and get updated about tournaments and matches being organized in your area. Through Spikeball you can enter a Spikeball association, and it becomes easier for you to join big tournaments if you are a professional.
The most significant advantage of this community is that you can find people around you who want to play Spikeball and this way you can also make new friends. This way you can also join people playing Spikeball when camping.
Slammo does not offer any of these benefits. If you consider that the Spikeball community is what you want, you should go for Spikeball.
Which Is Better?
As already discussed, your choice depends on many variables, and the best one out of the two could be different from person to person. If you are low on budget or want it for kids or are a beginner, you should consider going with Slammo as it is cheap and provides value for money. But if you have a big budget or are a professional or want to be in the Spikeball community, you should go with Spikeball. Remember to look at the variables to come to the perfect conclusion.
Conclusion
Slammo vs. Spikeball has no clear winner as both have their own sets of advantages and disadvantages. So, it is always better to know what is best for you instead of knowing what is best in general, as it may be misleading.
Both Slammo and Spikeball have become big brands, Spikeball bigger than Slammo, and you can trust their products' quality.  Also, as already mentioned, they have an excellent customer support team, which makes the customers happy about their purchase, and they do not hesitate while inquiring about the products.
GoSports own Slammo, and hence it can be available in their outlets. But you can also find them at Walmart and other offline stores. Spikeball is also available both offline and online. Make sure to check the price of the variant you want at different locations to get the best deal. Have a great game!