Kitchen windows are like ornaments for the kitchen, serving a window and beautifying the whole kitchen if treated well using some kitchen window ideas.
Depending on the sizes as well as requirements, kitchen windows can be decorated and emblazed to look like one of those exotic spaces in restaurants or one of those lavish areas of hotel kitchens without digging a hole in your pocket because all that, a good design requires is, just a bit of creativity than money and of course, who does not like to cook or eat in a beautiful place like that?
And if that place is in your own home? It is more than anything. Additionally, it is no alien fact that a neat and charming working place also offers excellent and happy results while working over there.
If you are moving into a new house or your old kitchen windows ask for a makeover, think about treating them well.
Let us look through some of these kitchen window ideas that might add a spark to your kitchen and enhance its overall look.
1. Shelving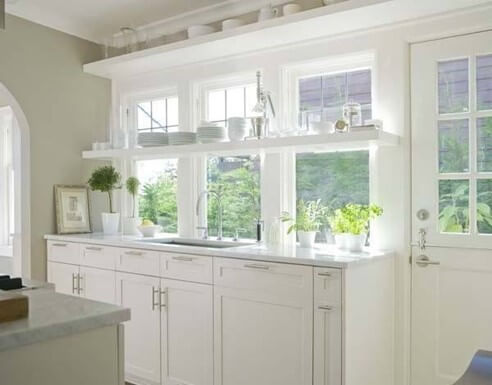 Putting up shelves near your windows can create a finished look to throw light on the chosen pieces placed over there and directly create the accent of your kitchen.
You can put glass jars with colorful candies or some dry fruits; glass would shine under bright sunlight, reflecting it to create a stunning look.
Small plants and small showpieces and frames would be as great looking as the glass jars.
Pastel jars or colorful jars look elegant too. You can place decorative mugs, storage boxes, or baskets as well.
2. Fantastic Fabrics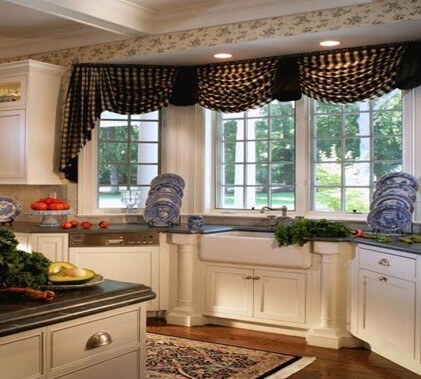 Using some right fabrics can modify the windows looking as ever. Kitchen window ideas include a smart play of fabrics as in curtains or drapes.
Contemporary or contrasts all depend on your style and taste. Showing off with this a bit can create a statement.
Using pop colors in curtains and drapes would dramatically look to your kitchen and kitchen window while using contemporary colors would be modern, straightforward, and elegant. Choose to place the fabric as far as possible on the stove and keep in mind using materials that do not catch fire easily.
Also, a valance is used to conceal the topmost part of a window as valances are safe and serving.
3. Shades and Shutters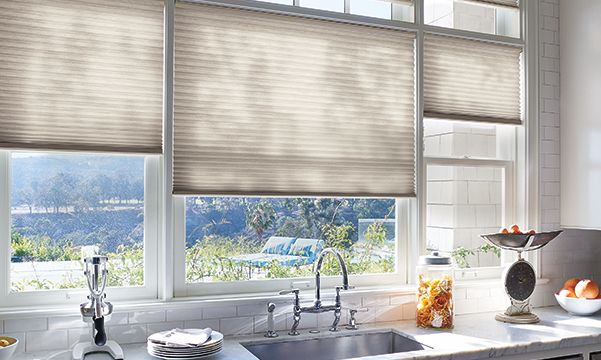 Shades and shutters are safe and better options if compared with curtains and drapes. Shades and shutters are elegant window coverings.
They do not entirely block the whole of the light and keep the kitchen as lit as you want. They do block sometimes unwanted insects which might enter through an open kitchen window.
While being so useful, shades and shutters also beautify the kitchen window. Choosing a color or type which enhances your overall kitchen window look can contribute to good kitchen window ideas.
Roman shades are good options too. They are unique and slightly different from standard shades and blinds.
4. Tinted Glass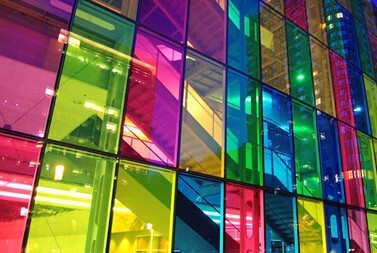 Tinted glasses look lovely and cast colorful light making the room look extraordinarily vivid and glowing. 
Light is not blocked entirely, and the window looks merely gorgeous. Tinted glasses also come in different designs and shapes. You can choose them as well if you like.
No other glass could give out the same dramatic and lively look to a window.
5. Artificial Greenery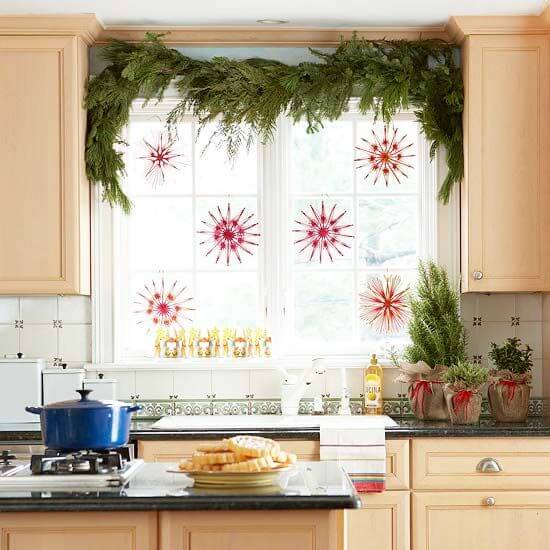 Putting up real plants in a kitchen window can invite different sorts of insects and dust. Hence, artificial vines and plants could do the trick.
Artificial greenery usually looks the same as real plants, but the advantage of using them is their low maintenance, no insects, and no dust. You can wash them when required.
Everything that cascading green vines do is give your kitchen a fresh and green look adding to the whole decor.
Little pots of fake plants are available at mostly all kinds of stores; even general stores keep stock because of the increasing demand. You can buy them online or from any home decorating shop.
6. Wall Hanging.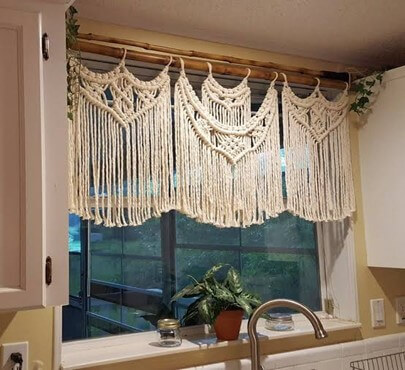 Hanging a beautiful piece on the window will give a boho-chic vibe. It will not block out the sunlight and will add to the kitchen aesthetic.
Types and colors of wall hangings can play a significant role in the kitchen window's overall decor. So, choose wisely.
7. Jars Arrangement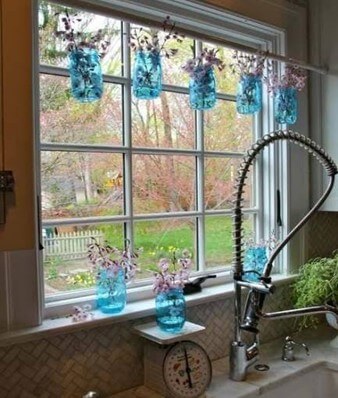 Hanging jars with ropes through the window in a zigzag pattern will convert the window into a whole new look.
These arrangements are great for kitchens and dining areas. Occupy the jars with some flowers matching with the occasion, and you are set to make a statement.
8. Unique Iron Rods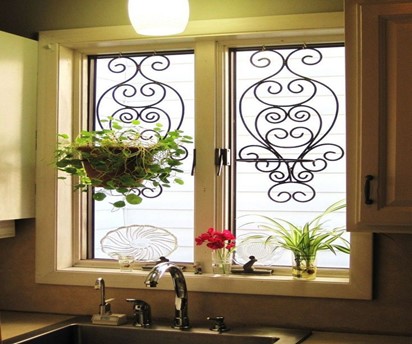 Add a little character to your kitchen window ideas with some uniquely designed iron rods. This will offer an antique or industrial look to your kitchen window.
You can give a custom order for having one of these or can buy one from an antique shop.
9. Hoods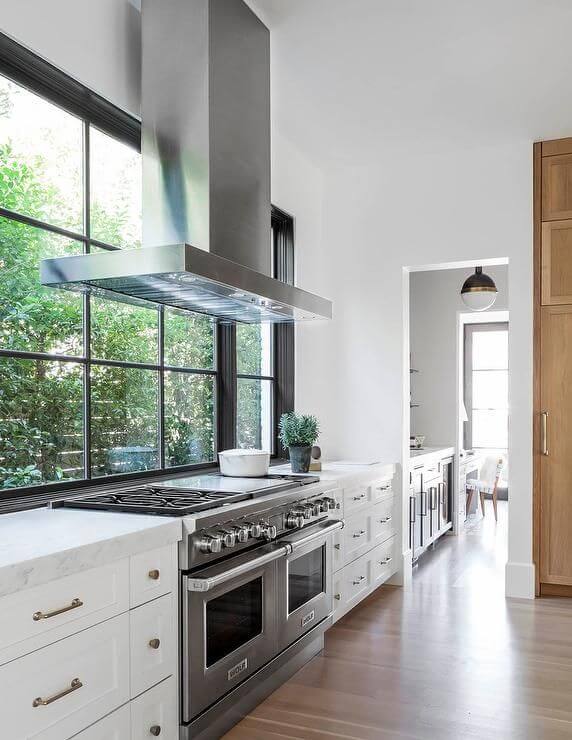 Get the look with that hood. You can choose a rustic one or a modern one; both will do. Just go with one style, and it will be alright.
Hoods are in fashion these days. Having one above your stove in front of that kitchen window will give you a sophisticated and warm design.
10. Lamps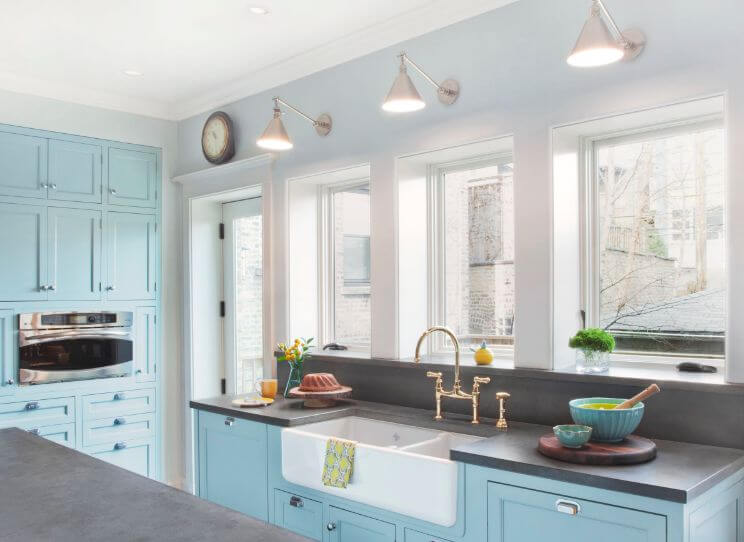 Adorn your kitchen window space with some ornamental lamp shades. You can go out of the box by choosing something different from the usual floral and showpiece setups.
You might choose tall lamps if you have tall windows and enough space. Similarly, if you have short windows and small space, you could choose small or miniature lamps.
Going for lamps with shades, unlike your kitchen lighting, would create a unique and decorative spot in the same area.
11. Overhead Storage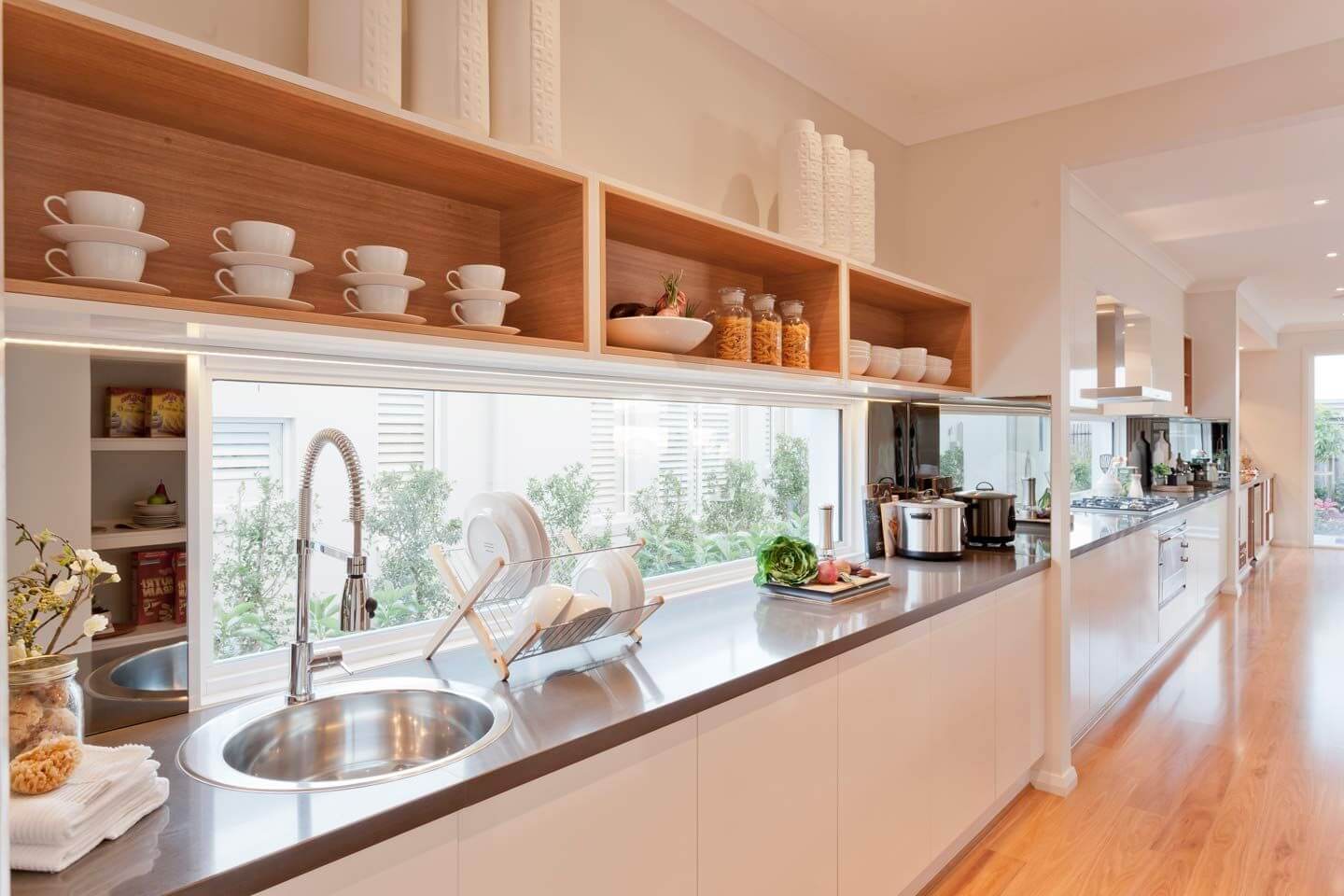 Hanging utensils such as pans or silverware overhead if you have tall kitchen windows can be a brilliant idea for extra storage space as well as kitchen aesthetic.
Usually, these are found in large and expensive kitchen spaces, but with a bit of creativity and labor, you can achieve that "fix one's gaze" look.
12. Window Awnings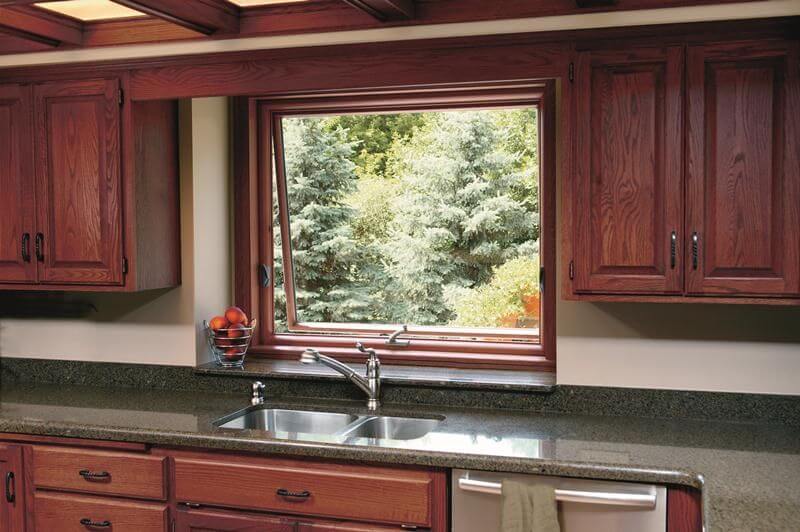 Window awnings cut off heat and sunlight. While protecting from rain and snow, they also add grace to the windows.
They can be substituted for window curtains or drapes, being more space-saving and efficient in use. Awnings directly cast a flowing design if chosen well according to the other kitchen decor, such as the color of walls or cabinets.
13. Window Nook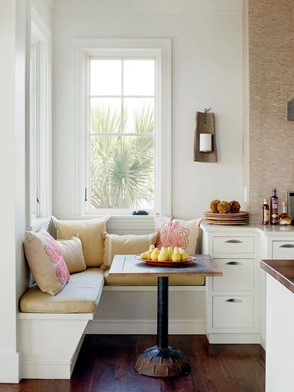 This can be interestingly fun and will sell off your whole kitchen design. People swear they feel envious when they come across something so simple yet so creative.
Of course, this can be an option only if you have your kitchen window in a corner or at a place that can be easily transformed into a cozy nook.
You can try and manage some space for creating this one if you have got small space because built-in seating and the window are highly desired by some people looking through kitchen window ideas.
Adding some pillows and a styled mattress on the seating can be equally enhancing.
14. Wooden Frame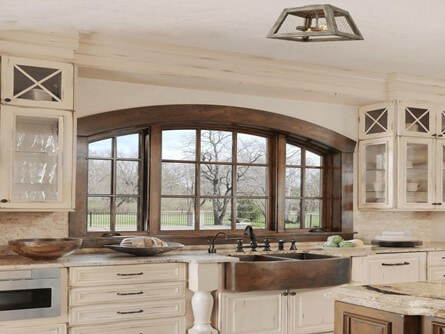 Instead of going for bold black or white or any usual style window, try going for a wooden frame.
Wooden frames are trendy these days. You can create a wooden-style kitchen matching with the window frame. Using warm colors for cabinets and kitchen stools could go with wooden framed windows, yet another one of simple and rustic kitchen window ideas.
15. Nordic Style Windowsill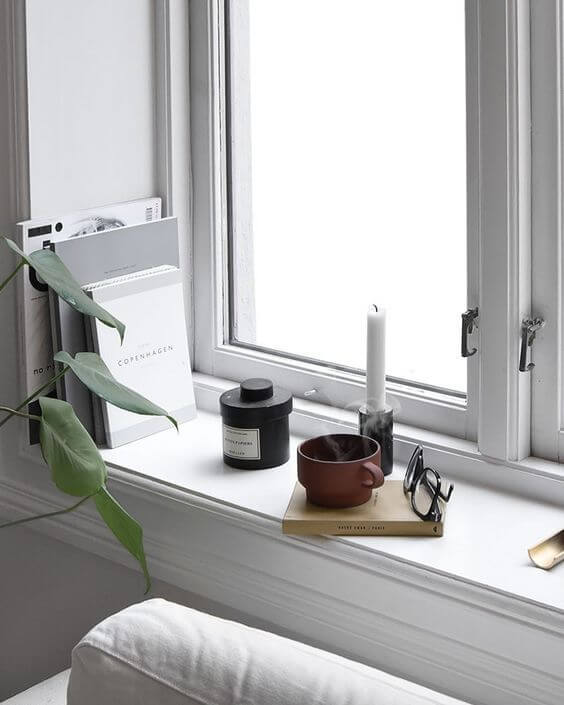 Are you someone who loves simplicity and minimalistic designs? If yes, then surely, decorating your windowsill with a nordic style will do everything regarding simplicity, minimalism, and functionality.
You can put white color candles of different styles paired up with beige-colored vases, and some baskets can also do the job of keeping things well organized over there.
FAQs About Kitchen and Kitchen Window Ideas
Q. How Do I Cover A Small Kitchen Window?
The best option to cover a small kitchen window can be using roller blinds in various lengths, fabrics, and styles. Window films and Roman shades are also good options.
Q. What Color Makes A Small Kitchen Look Bigger?
White color is known to be visually opening the space. Hence, considered to be the most chosen one for painting a kitchen.
Q. What Window Treatments Are in Style For 2020-2021?
Pastel Neutrals, Indoor Gardens, Bold Design Statements are some of the trendy window treatments this year. It depends on your creativity as to how you decorate your personal space reflecting your personality.
Q. Should Kitchen Cabinets Be Lighter or Darker Than Walls?
Light-colored cabinets open the space, and your kitchen appears large while dark cabinets give out a vivid, dramatic look to the kitchen. You can choose contrasts for cabinets or contemporary. Contrast, though, look more appealing.
Q. What Type of Kitchen Window Frames Are in Trends These Days?
Wooden frames are famous for proffering a rustic look, and bold colored frames are in talks for presenting a modern and stylish look.
Q. How Can I Brighten My Kitchen Without A Window?
Adding mirrors will brighten up the space creating an illusion of a larger space as well. You can use some brighter bulbs and lighting. Also, metallic hangings or showpieces could do the trick.
So, the next time you are renovating or thinking about giving a makeover to your kitchen window, try considering and trying out one of these ideas. Who knows, you might come across a more extraordinary idea getting inspired from one of these kitchen window ideas? Happy decorating!