Setting up a home decor has always been more exciting than challenging. Setting up a home decor allows you to feel powerful and confident with your choices and presentations. Home is not just a four-wall; it is your escape place from the world. It is a place where you smile without hesitation, sleep without fear, and wake without worrying.
So, it is essential to maintain the decor of your house. After all, it is the only partner you celebrate joys and sorrows with. So, I am sure you would not risk up with anything that ruins your home decor.
To make your home look the best, one tries to add up and manage several things like paintings, plants, chimes, furniture, and many, many more. But well, everything only looks good if it is well arranged. Keeping your home appliances in any mismatched manner can ruin the entire appearance of the house. Therefore, it becomes essential to understand the arrangements of the home appliances.
Sometimes we have the best furniture, but still, the arrangements look shabby. That is because we fail to understand what goes well with what. Today in this article, we will be discussing one of the most used and stylish furniture and the things that can complement its presence.
Well, it is the Red Couch addition to your interior which catches everyone's sight. Red is a super strong color radiating love, sensuousness, and royalty. The color itself is eye-catchy. So, it is a massive responsibility to match amenities that goes perfectly well with a red couch.
If you ever dropped your plan of getting a red couch because of the insecurities of balancing it with other interiors, then do not worry. We are right here for you to help. Continue to scroll down to find out some fantastic combinations of amenities that go exceptionally well with your red couch. You never know; maybe by the end of the article, you begin adoring red again.
Medley of Black and White Pillows
Pillow arrangements are the most comfortable going amenities that can make living rooms with red couches look more beautiful and royal. Black and white pillows are best in managing the contrast that a red couch in your living room creates. 
Black and white pillows compliment the entire look of the living room with red couches, and it goes exceptionally well managing the entire interior decor.
Long Green Plants
Another amenity that can pull off a living room with a red couch is dark green plants. Either it could be a palm tree or a cactus or any other with tremendous catchy shape and color.
Including plants in the setup of a living room with a red couch can balance the contrast of the red color and complement the entire look of the living room with the red couch in the most efficient way.
Black and Grey Background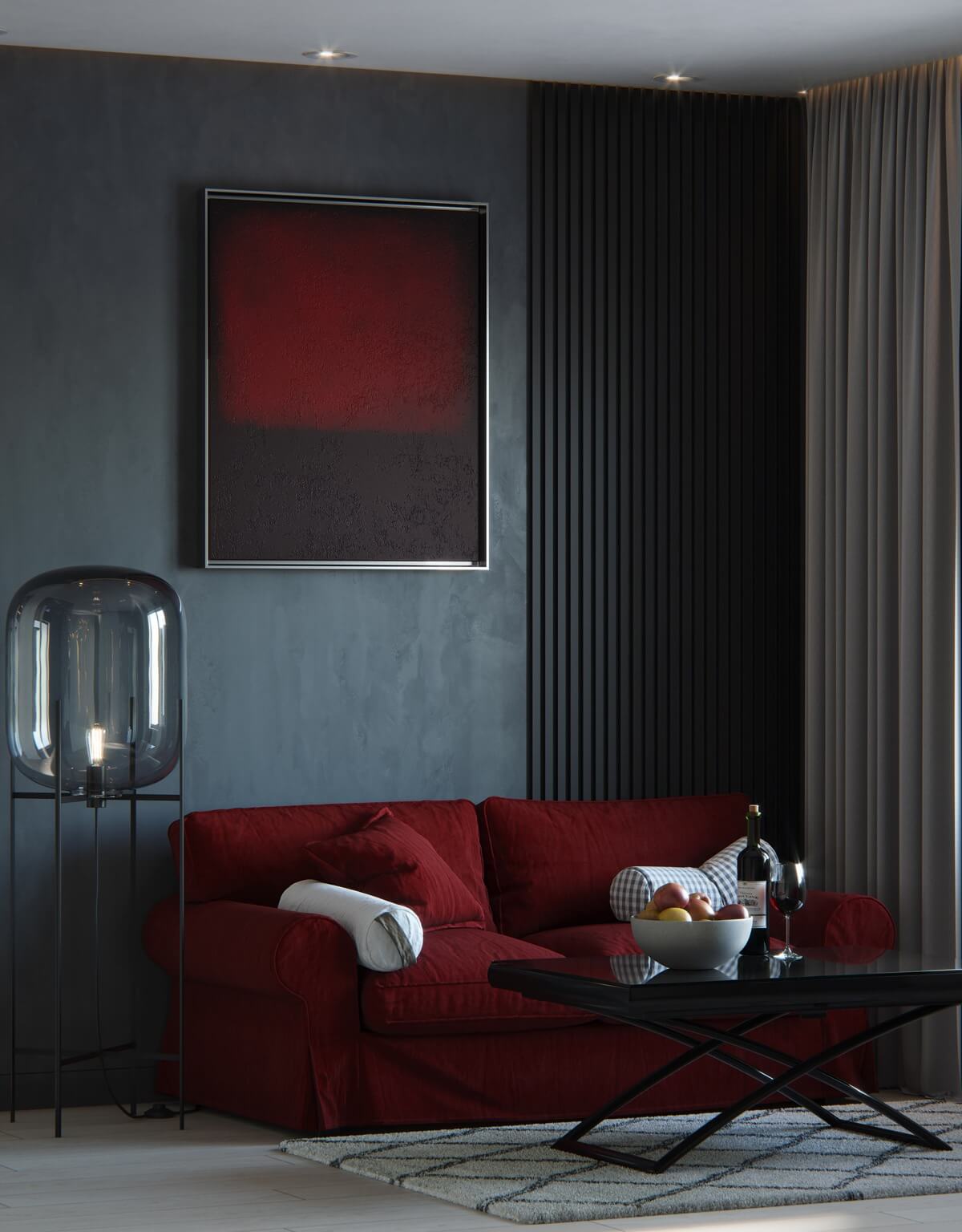 Black shade walls with red and black texture amenities like painting, lamp, or table would be a perfect fusion that will magnify the living room's royal appearance with red couches.
Black perfectly balances the vibrant red contrast and mixes well with the setup, thus adding a pleasant view to the entire living room. So black is the immortal color that can pull red very well.
Lamps
Black never goes out of fashion, which is why black still manages to remain the favorite of many even with the changing times. If red is the symbol of love, then black equally defines strength and mystery.
Adding a black lamp in the living room with a red sofa makes the entire setup look formal and striking. It is a perfect blend that manages to stand out as compared to other amenities of different colors.
The red couch will always go well with black lamps. One can be tall in the middle while the other can be a little short and acquire a place at the other end.
White Sofa
The other way of giving a striking look to your living room with a red couch is placing it with a white sofa. When placed together, the setup gives you an immense peaceful environment with a perfect color blend and balance.
The combination of the red couch with a white sofa is eye-catchy and trendy. It is the easiest yet the perfect way to get your living room done.
Decorative Cushions
Different colored cushions are a great combination that can go amazingly well with a living room with a red couch.
The different colored cushions like green, blue, yellow, and other balance the living room's look, giving it an eye-catchy and moderate view. Hence pairing your red couch with different colored cushions is a great idea and less expensive.
Pair with Paintings
Paintings never go out of fashion. It always fits in your arrangement, and sometimes your entire living room setup is complimented due to the presence of the painting. But it is equally important to understand what painting to bring home and what adjustments with other amenities of the living room can make it look best.
When you talk about giving your living room a royal look, paintings with white shade, black shade, red, or mixup of different shades go amazingly pleasing. Adding paintings to your living room can prove a promising idea when matching it with a red couch.
Golden Cushions
Golden Cushions are of great choice when pairing it with a living room with a red couch. The color contrast of the gold and the red makes the entire setup look elegant and promising. 
Adding gold and red in one frame is very eye-catchy and trendy. So, go ahead pairing the two best colors together and mark a statement-making your living room look its best.
Couch and Flowers
Flowers are great healers. But did you know it also marks a great view when you add it to your living room? Flowers go along very gracefully with every amenity that you pair with. Red Couch? Wonderful idea. If you have a living room with a red couch and wonder what a great match could be along with it, then here is your answer.
Pair you are living with a red couch, with beautiful fresh flowers. Generally, lilies, sunflowers, orchids, or any other flower would do great and create a great fragrance, calm and elegant fashionable view. So, shop for your flowers today!
Red and White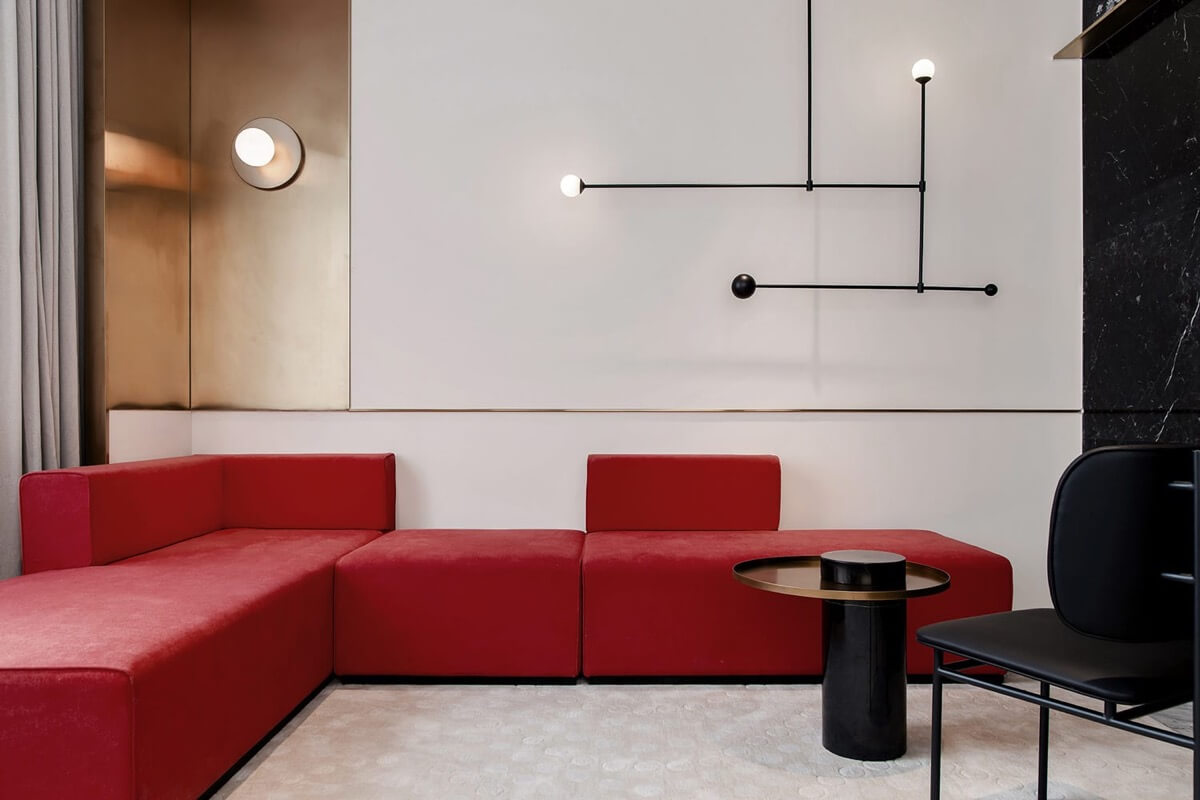 Red radiates elegance, while white radiates peace, and together, they bring peaceful elegance to your living room. Well, pairing your living room with a red couch along a whitewashed wall will create an immense impactful view.
The combination will radiate peace, calmness, and satisfaction. At the same time, the overall view of the living room will be beyond words. So, this is a fantastic idea to make your living room with a red couch look ravishing.
Long Vases
Adding long red vases to your living room with a red couch is a fantastic choice to match your living room's color contrast and other amenities.
Vases in combination with the red couch throw a royal well-arranged look. Adding some flowers, real or fake, in the vases will make the environment look super professional and calm. So red vases along with the red couch in your living room will not disappoint you.
Formal Decors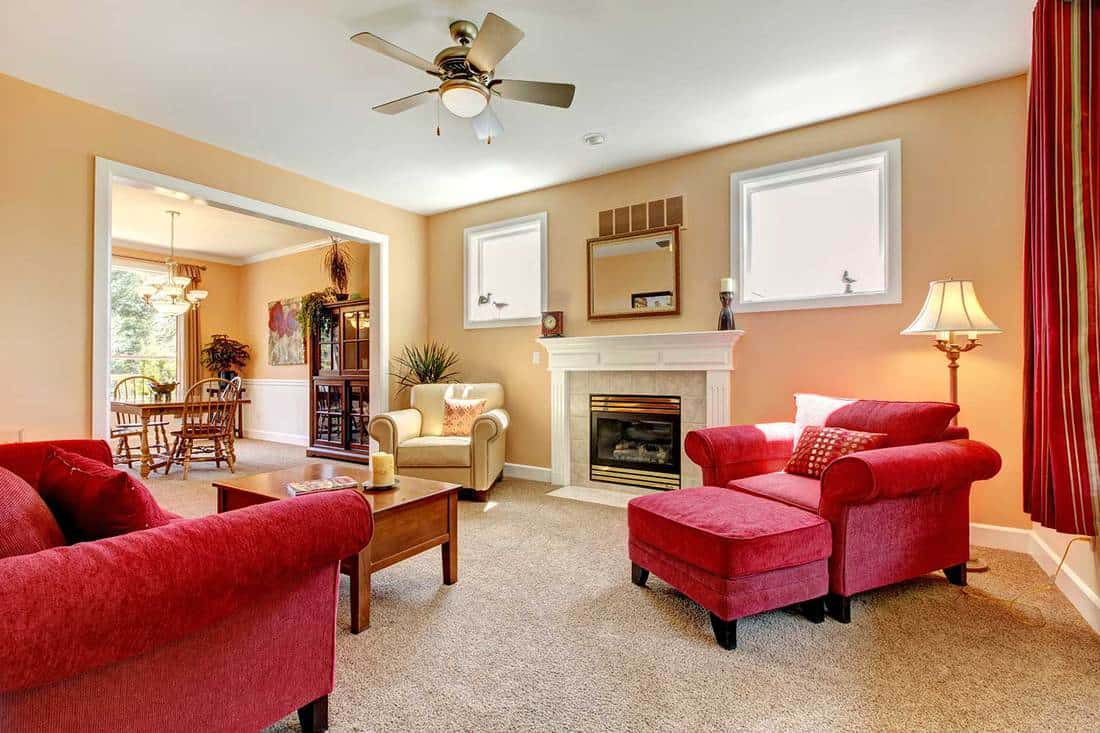 Matching your living room with a red couch along a formal decor is another beautiful idea of pairing and rocking the red couch. When you have a formal decor background, then the red couch's addition balances the contrast and creates a strong view for a living room.
Such setups are very eye-catchy and calm giving. The guests often enjoy such a well-arranged view that makes you feel like a home away from home. So, matching your red couch with a pinch of proper setup is a great idea.
Pairing with Wooden Artifacts Arrangement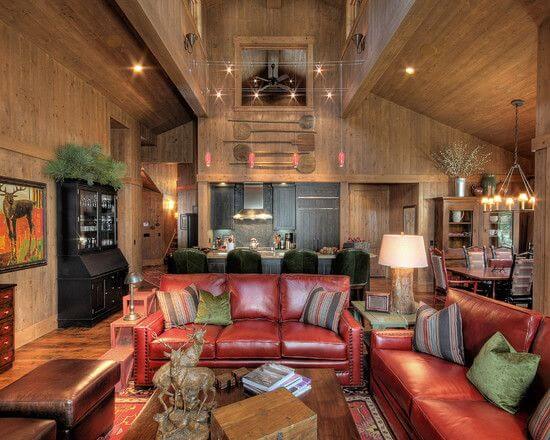 Pairing your living room with a red couch along the side of a wooden arrangement or artifacts can be a great idea of color balance and sleek style. The shades of red and brown in combination will create a sleek environment giving a charming view.
So, try pairing a red couch in your living room with a shade of wooden artifacts.
Rugs
Placing rugs of different colors, like grey, blue, white, and black, goes exceptionally well in your living room with a red couch. Rugs have always stayed in fashion and pull off almost every color with sleekness and elegance.
Hanging lights
Hanging lights is another beautiful way of getting your living room with a red couch to looks stunning. Hanging lights grab the attention quickly and act as a complimenting amenity alongside the red couch. It looks amazingly formal and radiates positivity.
Minimal Amenities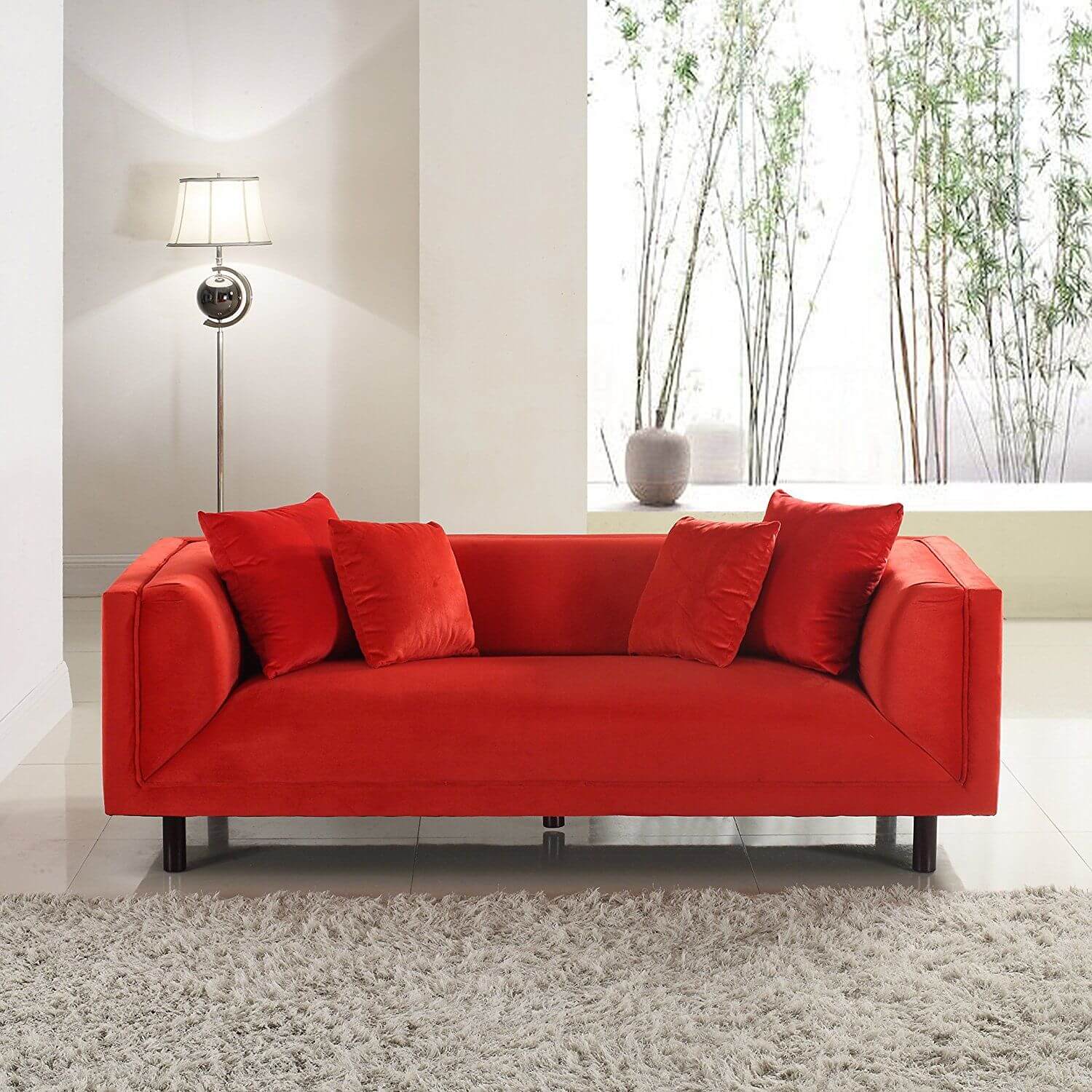 Too much of anything always spoils the game. So, it is sometimes better to play safe. Usage of Minimal Amenities never goes out of fashion. It instead makes it look perfectly blended. So sometimes, pair your living room with a red couch along with a white background with just a single lamp or a single dark green plant. It will amazingly carry your living room and provide a great view.
Using Photographs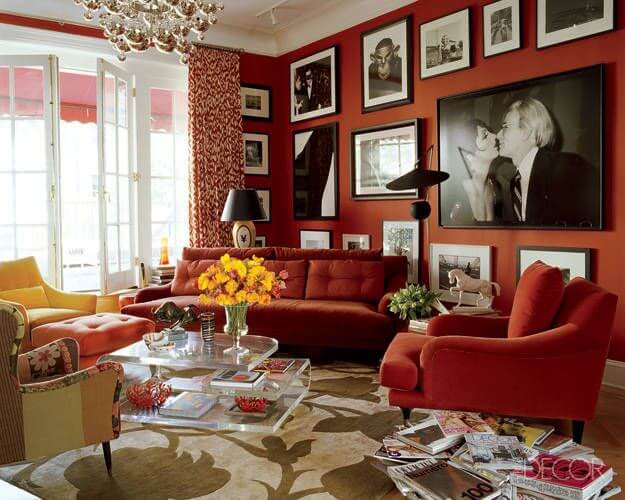 Another way of matching amenities with your living room with a red couch is using photographs in the background. The red couch and the photographs in the background hanging on the wall will complement the living room in the best possible way.
So, go ahead and use the best photographs in the background and dazzle your living room.
Using Artifacts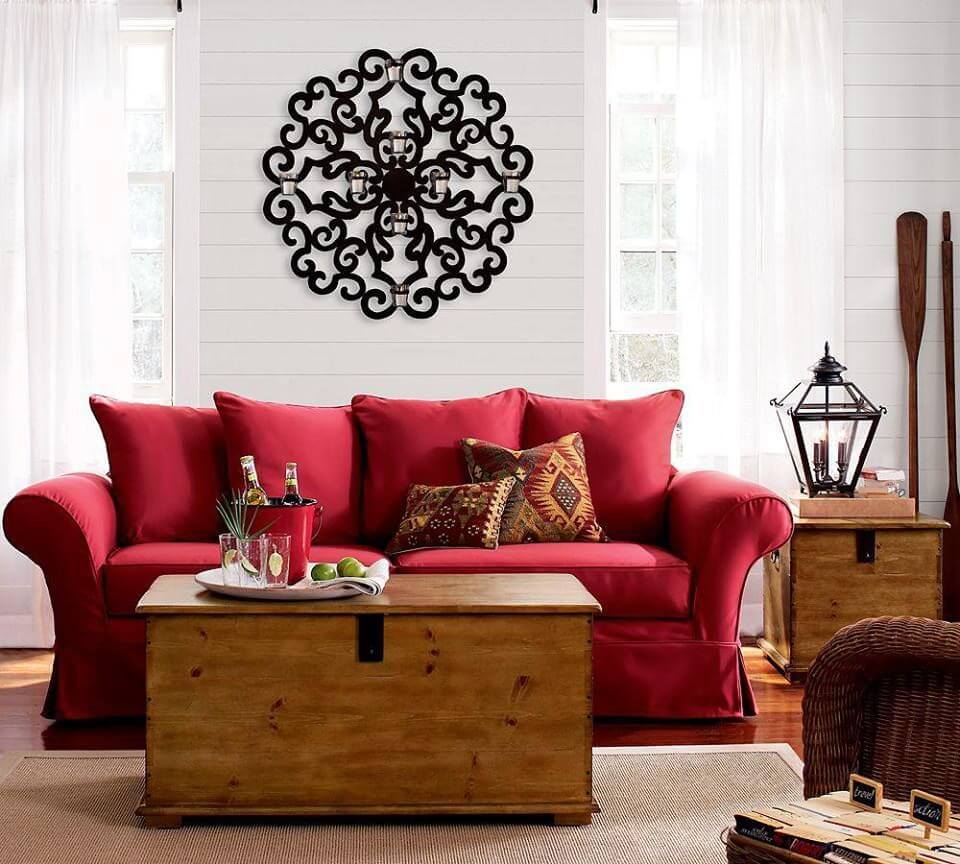 We all are fond, in fact, very fond of decorative artifacts. We often buy them, and they preserve them in our showcase. Use the same tactics in your living room with a red couch and make it the best sight to catch. Go ahead and use some antique artifacts that you adore. Every artifact will go excellent with the red couch.
Conclusion
Remember, your house is your emotion, so protect it like you protect your emotions. Red is a color of love, vibrance, and good luck. Make sure to place it in the best possible way and create an impactful living room.
You can always choose to create your comfortable way of matching your red couch with the other amenities. Your comfort and satisfaction should always be the main priority. Using the above ideas of rock a living room with a red couch, we are confident that you will create an equally impactful living room.