There is a growing trend of seamlessly blending indoor and outdoor spaces. Especially after the great lockdown, people have started appreciating the outdoors more with palm trees and other amenities. Now, people make an extra effort when choosing the furniture for their patio and backyard.
Whether you wish to spend your mornings in your garden or your evenings by a fire pit, maybe you are hosting a pool party. Such occasions require great seating that is comfortable and enhances the general look of the house. Rattan Sofa Set offers an endless range of outdoor furniture designs and styles for you to choose from. Let's have a look!
Ethos Corner Sofa Group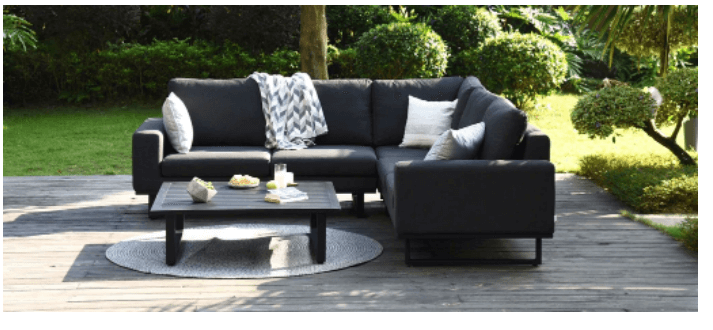 This compact sofa set does the needful without demanding too much space. The charcoal sofa is all bold lines and has a thick armrest for maximum comfort. It welcomes you just like your living room sofa but does not look out of place. Perfect spot to sit back and read a book. It has a quick-dry foam and is water and stain-resistant. So, no worries if you spill your wine or coffee. This rattan sofa set can take it all.
Della 4 Seat Sofa Set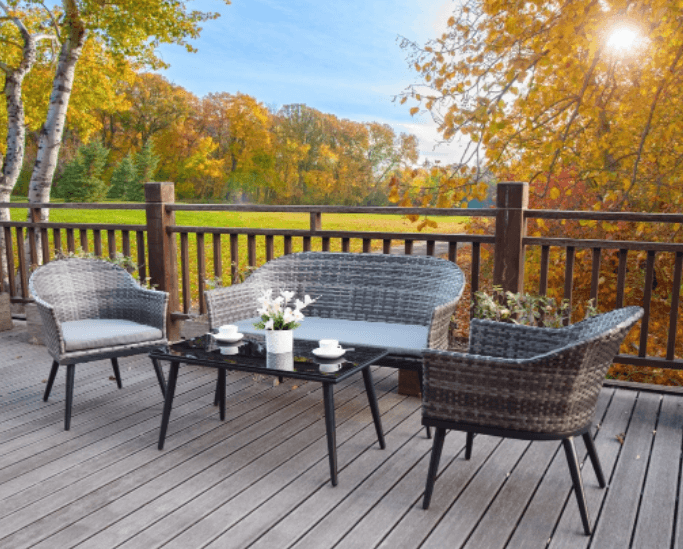 This grey weave four-seater sofa set comes with a coffee table. It is a beautifully simplistic set made from non-rust aluminum frames and UUV-treated wicker so that it doesn't become brittle or fade in the sunshine. The stylish seating is also comfortable and relaxing. You can attach the legs of the powder-coated chair frames on delivery. The extra firm cushions are showerproof and also removable. So, no need to panic with spillages as these can be easily washed.
Dallas Sofa Set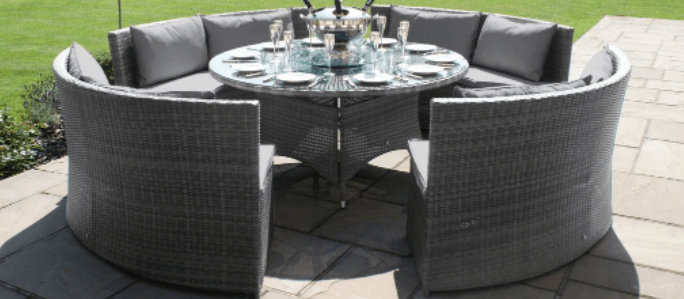 The Dallas Sofa Set is the ideal mix of sofa and dining sets, fusing to create the perfect combination of utility, comfort, and style. Made up of four curved sofas placed around a generous circular table, this is the best way to spend time with friends. The luxurious cushions are made from 100% polyester, and the flat grey weave with a grey carpet can be left outside for a year around. This rattan furniture sofa set is uniquely designed for modern outdoor space.
Half Moon Sofa Set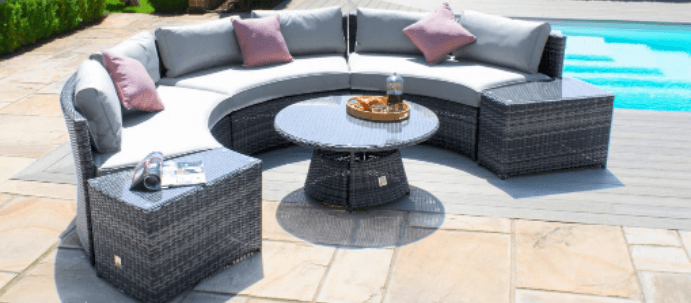 The Half Moon Sofa Set is something quite unique. It is made up of three curved sofas, two trapezoid side tables that slot in perfectly, and one large circular coffee table, so there is always somewhere to put your drinks. The flexible design allows you to arrange the tables and sofas in the best way to suit your garden while maintaining the social element. The set includes the back and base cushions, but you will also receive extra scatter cushions that accentuate the beautiful weave color.
Fuzion Cube Sofa Set with Fire Pit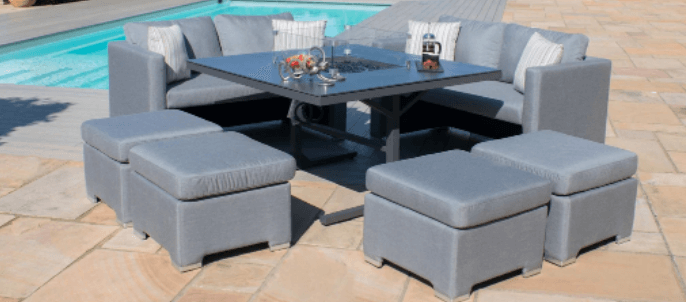 Limited space but love the fabric range? Then the Fuzion Cube Sofa with Fire Pit should meet your needs. Two stylish sofas pull out from around the table with four footstools adding seating. They provide a Spray Stone Effect inlay that covers the Fire Pit when not in use, and everything then tucks away again, leaving a neat cube. The table has an integral Fire Pit, making it easy to relax from daytime well into the night. The cushions are water and stain-resistant, making them maintenance-friendly.
Harper Stacking Rattan Sofa Set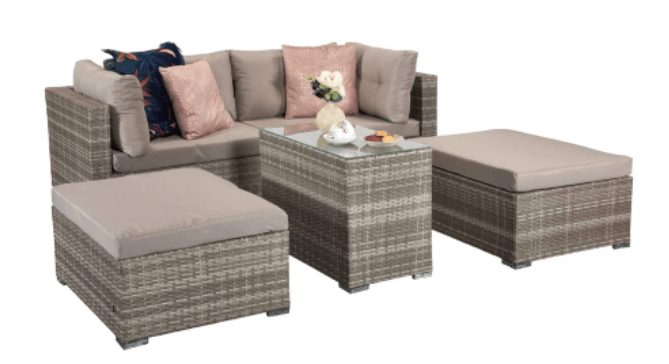 Harper modular stacking set in grey is unique. You can configure it in multiple ways. It is versatile and adds beauty however you set it. You can arrange the pieces to create a space for relaxing in the sun and communing with family and friends. The flexible options come in handy depending on various occasions and moods. You can use the narrow table either as a center or side table. Stack the two footstools in front of the sofa and stretch your legs after a long day. Unwind yourself and enjoy the evening with a drink in hand.
Outdoor Fabric Ethos 2 Seat Sofa Set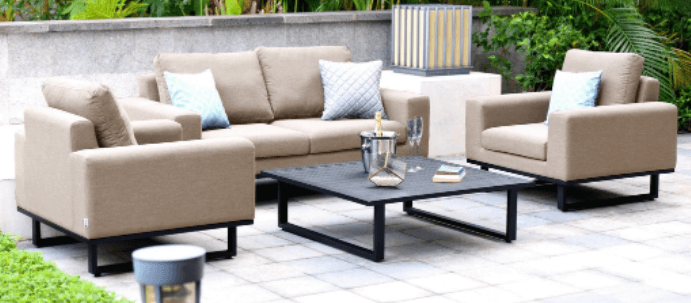 This taupe sofa set with a coffee table looks elegant, professional, and comfortable. Don't coup in your home office all day. Bring your work outside and hold meetings with a great backdrop. This rattan furniture sofa set gives you a great option to expand your home space and creatively use it for the same purposes but differently. Bring your colleagues over and enjoy a productive day at home.
Summary
The importance of the outdoors boils down to your activities and lifestyle. You can do so much by adding the right sofa set in your garden or backyard. When the space is left empty, the house looks uncharacteristically bare. Your outdoor space should look inviting as well. Therefore, you can make it functional by adding unique styles of furniture offered by Rattan Sofa Set. From compact designs to large sofa sets, there is a sofa for every space and need. They are comfortable, elegant, and practical.
Ready to invest in your dream rattan furniture? At Modern Rattan, we specialise in high-quality rattan furniture. We have a wide variety of options to suit every taste, space, and need.