Terrazzo tiles are a popular choice for the home, providing a strong, durable and colourful pattern tile option for all areas, from the kitchen to the dining and more. These tiles have been a standout design selection for decades, proving themselves to be a timeless choice as a result of their many impressive qualities and ability to withstand high amounts of traffic and wear. You will find that these tiles provide many more benefits in the home from allowing you to easily put together a complete colour scheme in your interior design project to providing a renewable surface finish that will never go out of style!
What are Terrazzo Tiles?
Traditional terrazzo tiles are created using small chips of marble, granite, coloured glass or quartz that are embedded into a cement base. The end result is a thick and durable tile that can usually be used as either a floor or wall option, creating a stunning visual point of difference in any application thanks to the uniquely varied patterns present in the tiles.
Caption: Terrazzo tiles can be used in all areas of the home for a highly durable and super strong surface finish, This modern living space creates a striking feature of the unique, speckled finish featured in the terrazzo floor tiles which are perfectly complemented with the neutral coloured furniture pieces.
Using Terrazzo Tiles in the Home
Terrazzo tiles are available in a vast range of colour combinations with options ranging from simple black, greys and whites to more modern speckled navy blues, terracotta tones and more! These timeless tiles offer many uses throughout your home's interior design scheme however, it is important to specify your intended application while making your tile selection to ensure the perfect fit for your needs. High traffic areas such as a home's entry ways, corridors, kitchen and living spaces will benefit from terrazzo floor tiles as they provide a strong and durable option that can handle the increased amount of wear these spaces will experience.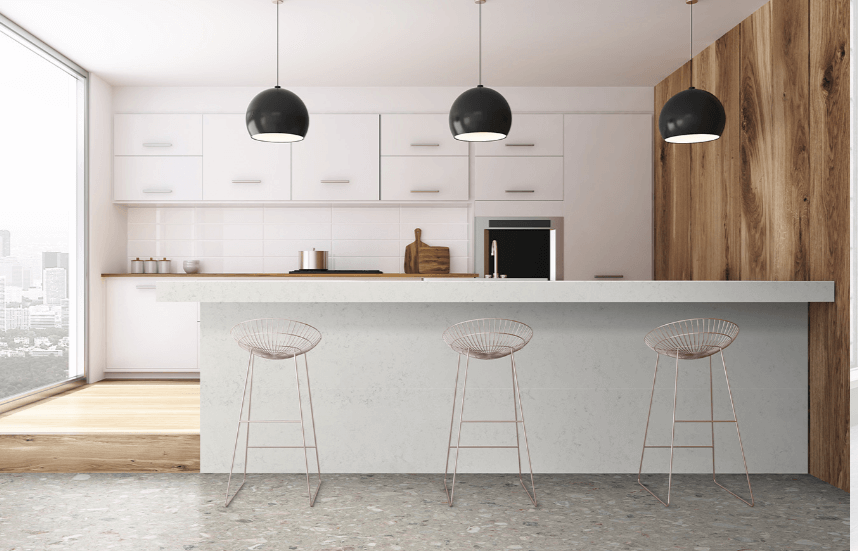 Caption: Terrazzo tiles make for a wonderfully durable and long lasting floor finish in the home kitchen,or a sunroom providing a colourfully patterned option that will last a lifetime!
If you are hoping to use terrazzo floor tiles in the bathroom however, porcelain look alike alternatives may be the better choice. These modern tile solutions offer a similar look and feel to authentic terrazzo tiles however, as their surface is non-porous and therefore more resistant to staining or discoloration, porcelain bathroom tiles will stand up well against soap scum, ingredients and chemicals used in shampoos, etc.
Creating a Colour Scheme with Terrazzo Tiles
Terrazzo tiles offer a unique advantage when it comes to creating the perfect colour scheme in your home's interiors thanks to the wonderfully varied colours present in the tile's patterns. Using the colourful chips in your selected tiles as a starting point for your interior colour scheme, you can effortlessly coordinate each and every colour in your home for a perfectly balanced and cohesive colour palette. For example, if your selected terrazzo tiles include black speckles in their pattern, you can then match this colour with smooth black finishes in your colour scheme to create a sense of continuity in your design.
Cleaning Terrazzo Tiles
Harsh or acidic cleaning products (such as vinegar for example) should best be avoided when cleaning terrazzo tiles as these can damage their luxurious finish and the sealing product used across their surface. Instead, you will find specific cleaning products available at your local hardware store or tile shop that are gentle enough for these gorgeous tiles while still providing a deep and thorough clean. In general though, you can use warm water with a soft cloth or mop on your terrazzo tiles for regular cleaning and incorporate specialised cleaning products every so often for a deeper cleanse.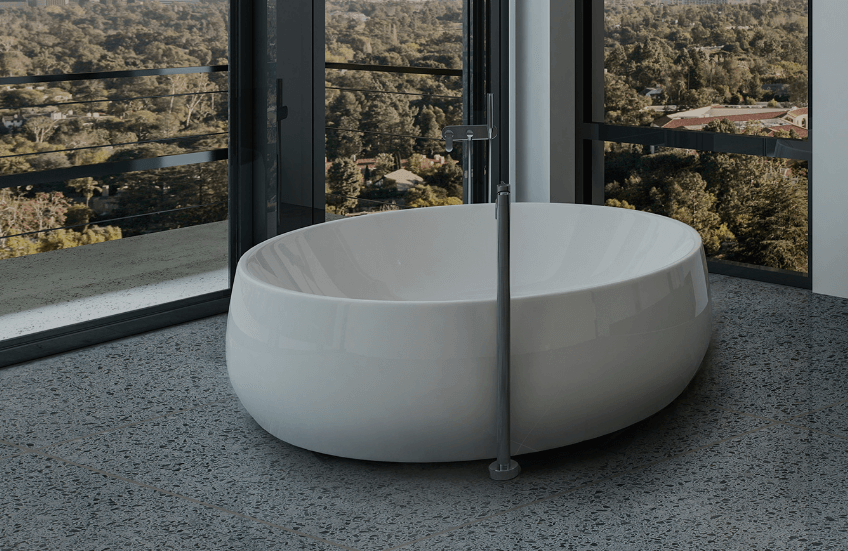 Caption: Terrazzo floor tiles are an excellent option for your home's interior spaces. As they are porous however and more susceptible to marking or discoloration, it is important to ensure they are kept well maintained in the high moisture area of the bathroom for the best finish over time.
Sealing Terrazzo Tiles
Terrazzo tiles are a porous material which means that they can easily absorb liquids or oils that fall onto their surface. For this reason, it is important to ensure your tiles are regularly sealed using the right products to ensure their longevity. It is usually recommended that terrazzo tiles be sealed using an impregnating type tile sealing product as this will not clog up the pores in the material and allow the tiles to 'breathe', ensuring any trapped moisture does not get caught in the body of the tile as this can lead to issues with mould as well as staining. Your tiles should be sealed prior to installation in order to avoid them from being damaged as a result of coming into contact with tile adhesives and grout and then once installed, they can be sealed once again for a a high quality and long lasting finish. You should also re-seal terrazzo tiles every few years or so (depending on how much wear they experience) in order to best maintain their ability to hold up against staining or discoloration over time.
Restoring Terrazzo Tiles
In high traffic areas, terrazzo tiles can start showing some signs of wear over the years. Thankfully, these tiles provide the benefit of being able to be brought back to life using professional restoration and terrazzo maintenance services. These professionals will restore and treat your terrazzo tiles to ensure they continue to provide a strong and durable surface finish in the home, making them a wonderfully long lasting material that will not require replacing as readily as other options would.
As you can see, terrazzo tiles provide a vast range of benefits in the home whether they are used as a kitchen floor tile or bathroom wall tile option. These tiles are even strong and durable enough to withstand the higher amounts of foot traffic your home's entry ways and walkways will experience making them a highly versatile design choice for your entire interior design scheme.