Tropical Rainforest Animals are living in the rainfall.  Tropical rainforests receive an annual rainfall, at least receive 60mm rainfall. It has a rich biodiversity.
More than 70% of species are living in this type of rainforest. Fauna is the one type of rainforest. There are different layers are available in tropical rainforest.
It has jaguar, tapir, okapi, boa constrictor, African gray parrot, keel-billed toucan, crowned eagle, three-toed sloth, spider monkey, large flying fox, king colobus are tropical rainforest animals. Types of tropical rainforest animals are explained below.
Tropical Rainforest Animals
Large Flying Fox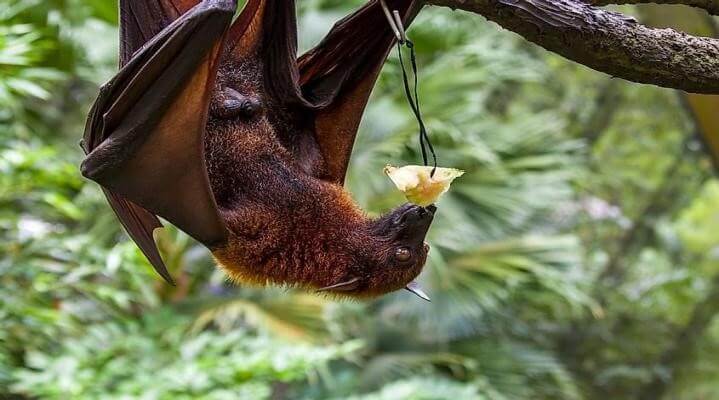 It is one of the largest species in the world. It uses eyesight to detect food sources. It lives in the canopy layer of the tropical rainforest. It feeds on nectar, fruits, and flowers. It has keen eyesight.
King Colobus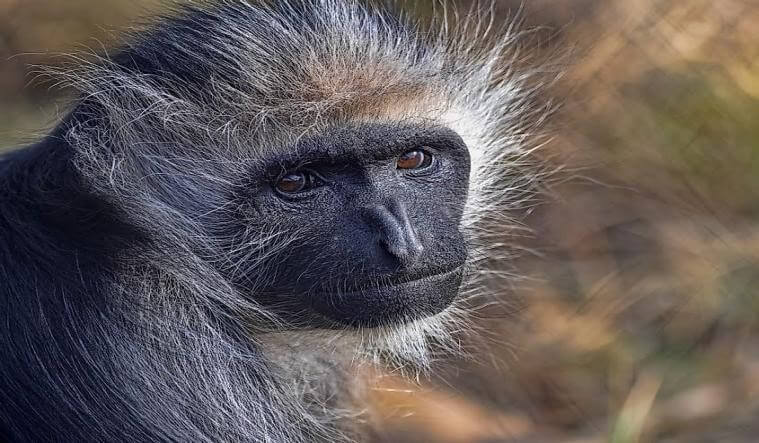 It also lives in tropical rainforest. It is found in the African countries of Senegal, Liberia, Guinea, Sierra Leone, Guinea Bissau, and the Ivory Coast. It lives in an emergent layer of the tropical rainforest.
Crowned Eagle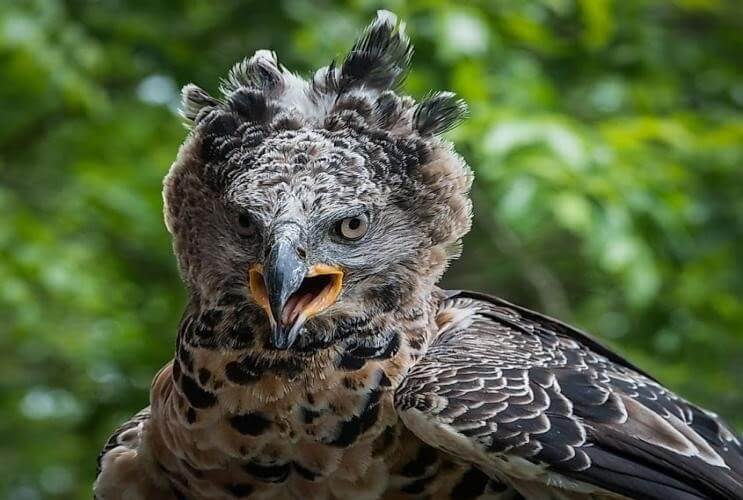 It is a massive and ferocious bird. It is found in the emergent layer of the rainforest. It feeds on mammalian prey like small ungulates, small primates, birds, and lizards. The crowned eagle is one of the powerful eagles of Africa. It is classified as threatened.
Emergent layer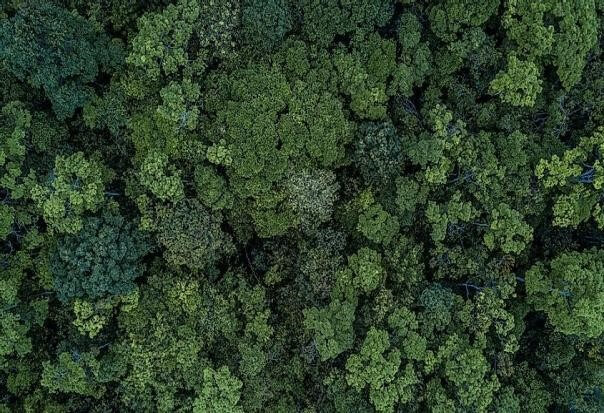 It has giant trees that reach heights up to 45 to 55m. The canopy layer is well adapted to the temperature. Emergent layer trees are collapse; it forms gaps in the canopy.
Kinkajou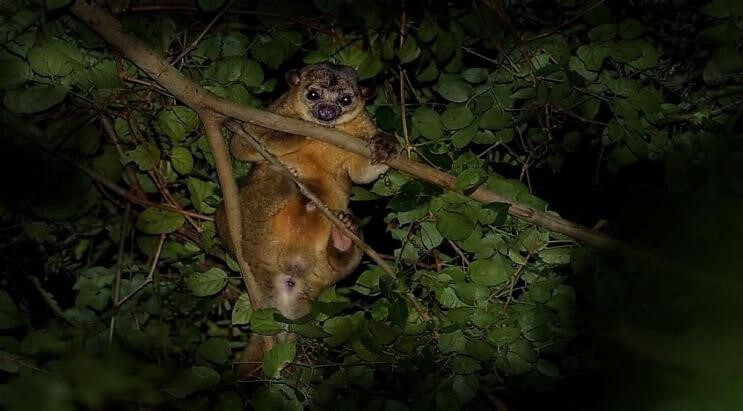 Kinkajou is the type of tropical rainforest animal. Central South American rainforest is the native of Kinkajou. These are nocturnal, frugivorous, and arboreal in nature. They are hunted for many purposes.
Great Hornbill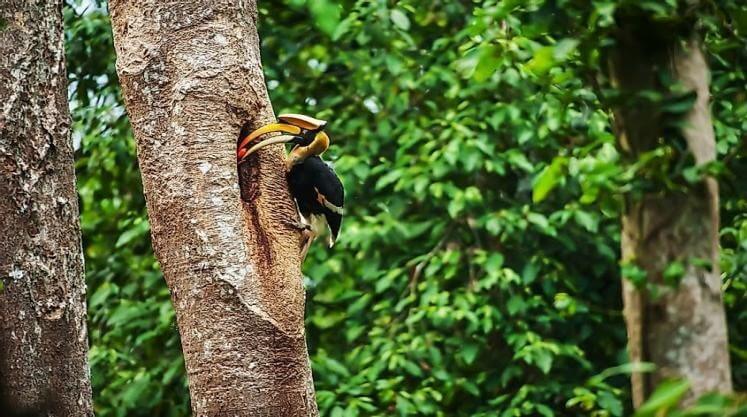 It is one of the vulnerable species found in the tropical rainforest of the Indian subcontinent and Southeast Asia. It is one of the largest species in their family. It feeds on small mammals, birds, and reptiles. Its lifetime is around 50 years in captivity.
Three Toed Sloth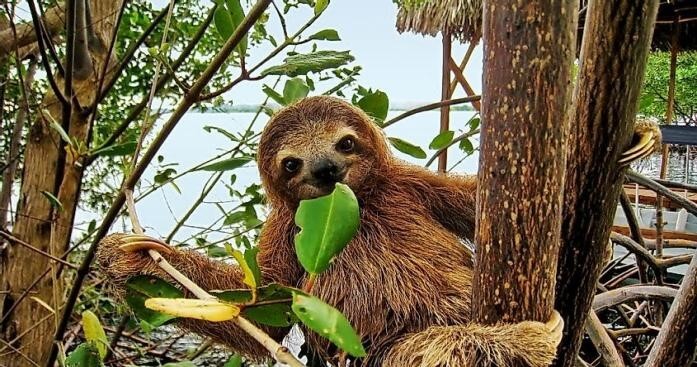 It is one of the arboreal mammals found in south and central America. It is also one of the tropical rainforest animals. It conserves the energy for adaptation. These sloths have size of a small dog or big cat.
Spider Monkey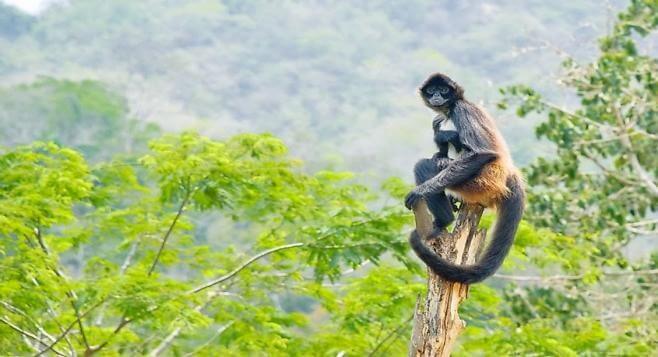 They are found in the central and south American rainforests from Mexico to Brazil. These are live in large groups of about 35 individuals. They are split into smaller groups.
Keel Billed Toucan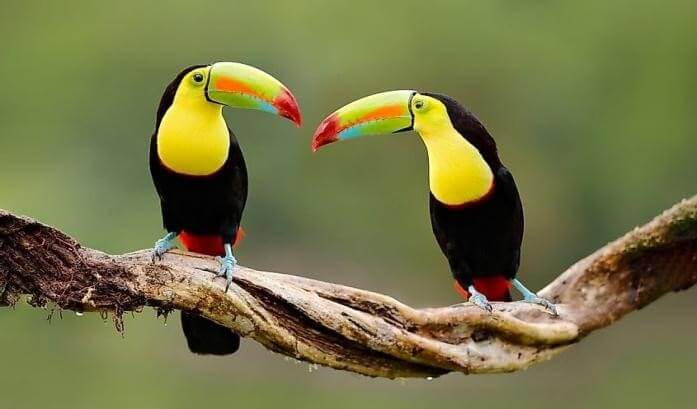 It is found in tropical rainforests of Latin America. Their beaks and tails are their bodies to save space. They are living in holes of trees in rainforest canopy layer.
African Gray Parrot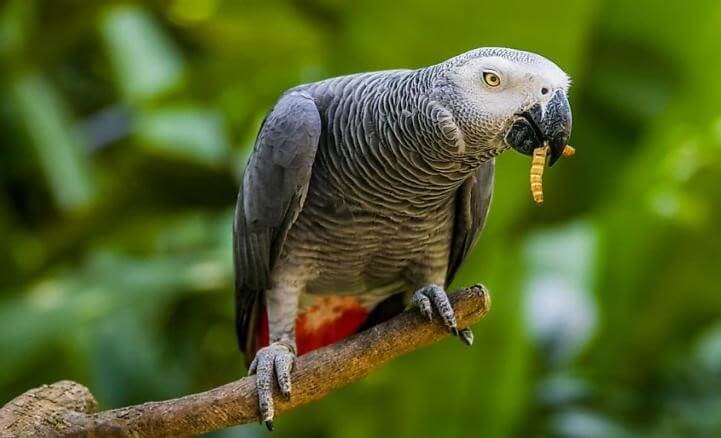 They are medium-sized, gray, black-billed birds found in equatorial Africa. It is one of the tropical rainforest animals. They are classified as vulnerable.
Canopy Layer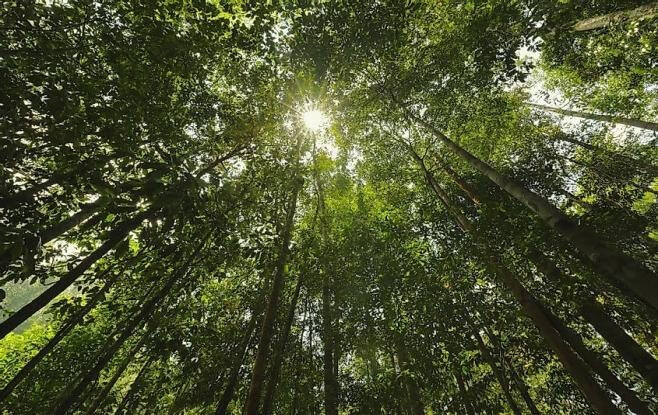 It is one of the most distinctive layers of the rainforest. The trees are growing up to 30 to 45 m in height are found in this layer. 20 million arthropod species are living this layer. Mammals, invertebrates, and reptiles are also found in this layer.
Boa Constrictor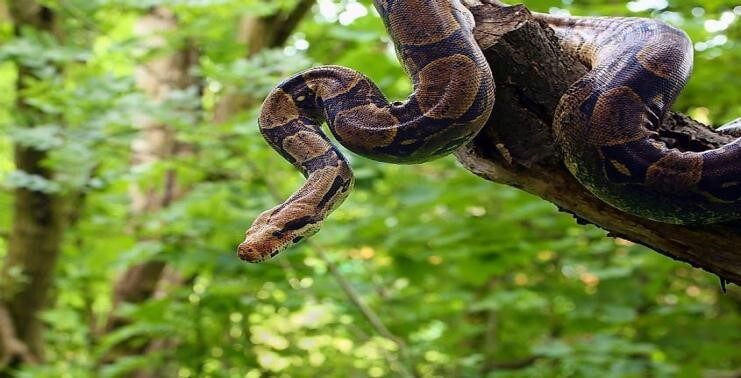 It is a massive snake found in the rainforests of Americas and the Caribbean islands. It requires high humidity and temperatures. Tropical rainforests provide sufficient cover and prey options for these snakes.
South American Coati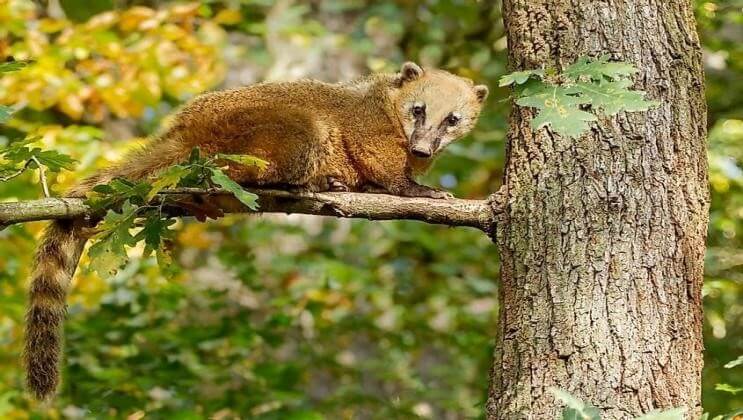 It is always called as ring-tailed coati. They are found in the lowland rainforests east of the Andes from Colombia ti Guianas to Uruguay and Northen Argentina.
Poison Dart Frog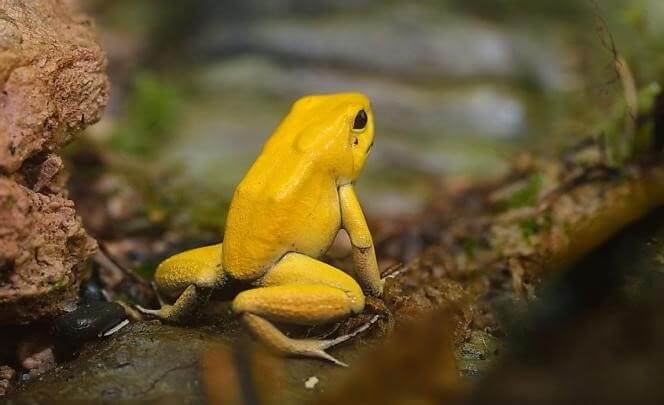 Three species of this frog are living in rainforest. The golden arrow frog is dangerous frog among the three species. These colours are gold, red, green, blue, and yellow. This feature is called as aposematic coloration.
Jaguar
It is one of the biggest cat species living in the Americas. It is the third-largest animal in the world. It is found across Central America and south to northern Argentina and Paraguay. It is sturdier than leopard and larger than latter. It is the apex predator of the ecosystem.
Understory Layer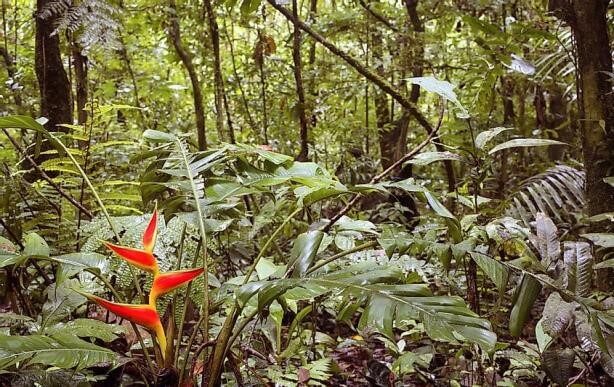 The layer between the forest floor and canopy is called as understory layer. It receives only 5% of sunlight. Small mammals, birds, reptiles, and predators like jaguar are living in this layer. Shade tolerant shrubs, small trees, woody lines, and herbs are living in this layer. In this layer, plants are growing up to 10 feet in height. The trees have broad leaves, which provides a greater area for photosynthesis.
Western Lowland Gorilla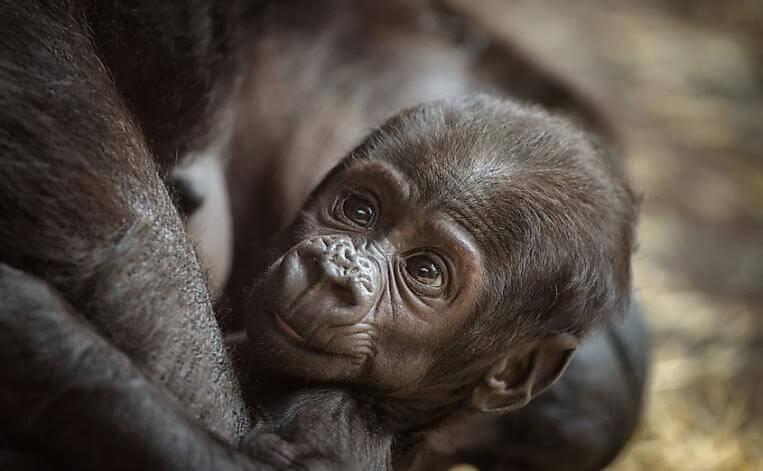 It is found in forests of central Africa. It gathers more foods from natural objects. It was critically endangered. Hunting and logging are two primary threats to Gorillas.
Sumatran Rhinoceros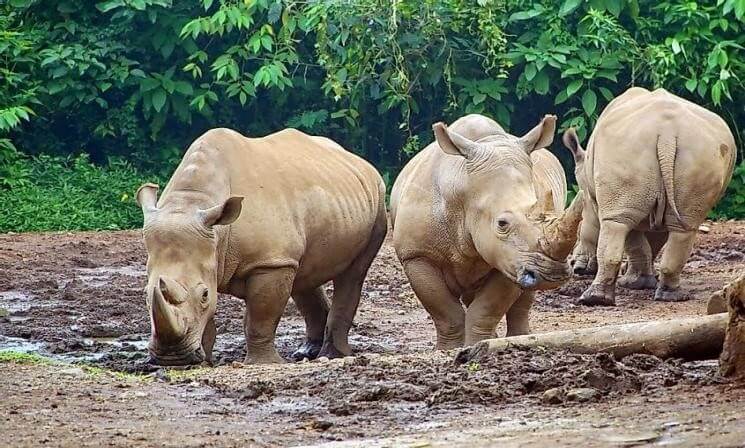 It is found in tropical rainforests of Borneo and Sumatra. It is a little rhinoceros' species in the world. It was a critically endangered species. It has been hunted easily. It is used to prepare the traditional medicines in China and Vietnam.
Tapir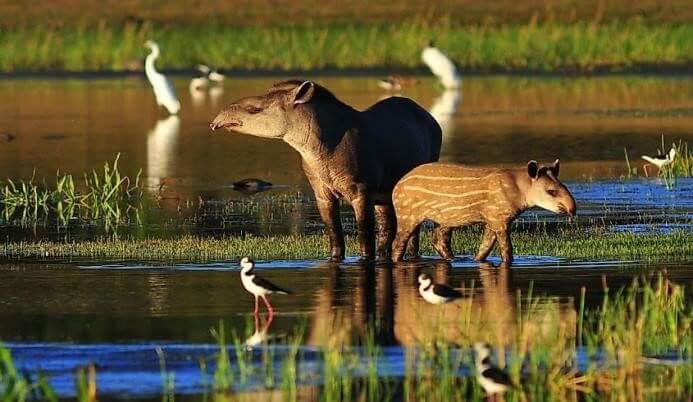 It is an herbivorous mammal with a short, prehensile snout. It is found in the rainforests of South and Central America as well as Southeastern Asia. It is also one of the tropical rainforest animals.
Okapi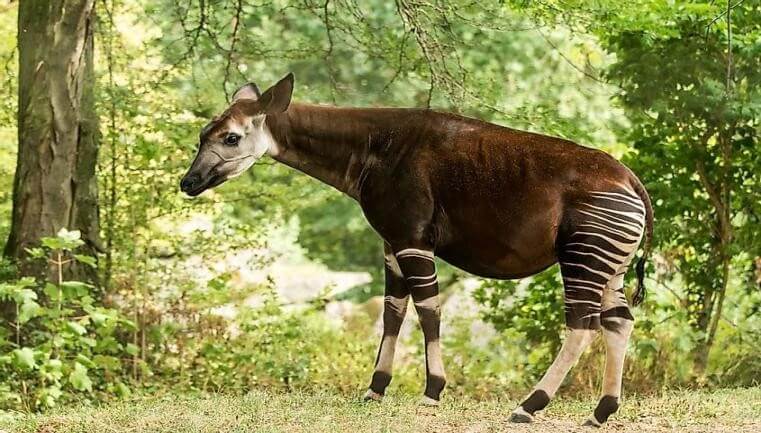 It is a unique mammalian species. It is found in forests of the Democratic Republic of the Congo in Central Africa. This animal is closely related to Giraffes. It feeds on tree leaves and buds, fruits, ferns, and fungi. It is one of the tropical rainforest animals.
Forest Floor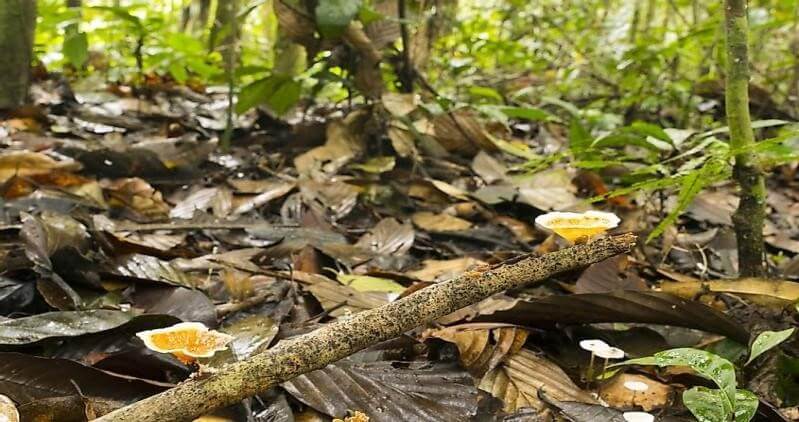 It is the rainforest's bottom-most layer. It receives only 2% of the sunlight. This layer is adapted for light conditions and the forest floor is clear of vegetation. The larger animals of rainforests like okapi, the tapir, the Sumatran rhiniceros, etc. Reptiles, insects, and amphibians also living in this layer. In this layer, animal matter is decomposed into bacteria and fungi.
Tropical rainforests have a large number of plants and animals. 90% of animals and plant species are in tropical rainforests. It has a constant supply of water and huge amount of food for the animals. Many of the animals are move among freely the many trees. The trees act as food and shelter for the animals. Some of the animals and birds are adapted for tropical rainforest's climate conditions. Because they are very specialized and only eat type of plants and insects.
Tropical Rainforest Plants
There are many types of plants are available in tropical rainforests. It has 170,000 of the world's plant species. Plants like ferns and fungi thrive are living in the tropical rainforest. The tropical rainforest is suitable for some of the coolest and most unusual plants in the world.
Trees like rubber trees, giant trees, Shorea trees, Banana Trees, cecropia trees, and giant red cedars are some important rainforest trees. Plants are important for animal life. Plants provide animals shelter and a place for predators. The Amazon Rainforest is the best example of Tropical rainforest.
Epiphytes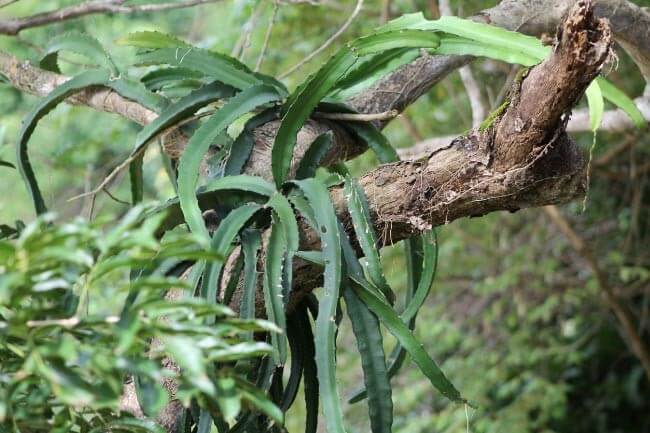 It is a plant the live on other plants. It has no roots in the ground, and various strategies for making water and nutrients. Many of the plant types are available in Epiphytes.
Bromeliads
It is a most common Epiphytes. They are flowering plants, and it has long leaves. They host the tree by wrapping their roots around its branches. The water is saved in central tank of the tree. The water is used by rainforest animals. Birds and mammals are use this water from the tank.
Orchids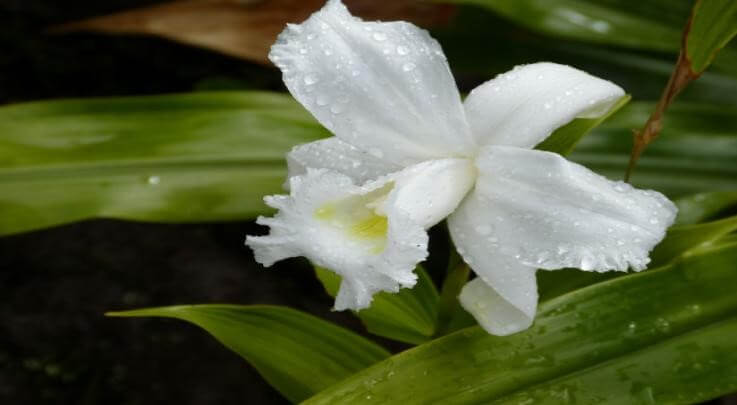 Orchids are often epiphytes. It is the individual species. It enables to capture the water and nutrients from the air. Some orchids have spreading roots, capturing water without needing to bury into the ground.
Acai Palm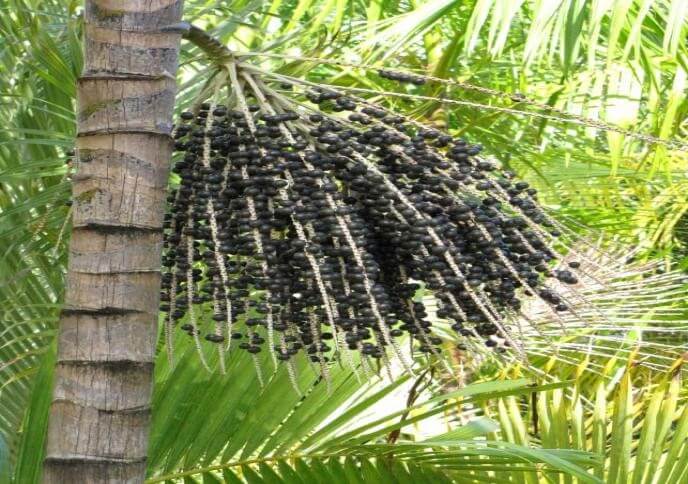 It is most common tree in the Amazon Rainforest. 390 billion tresses are Acai Palm. Its fruit is very sweet, and it is an important food in Amazon Region.
Carnauba Palm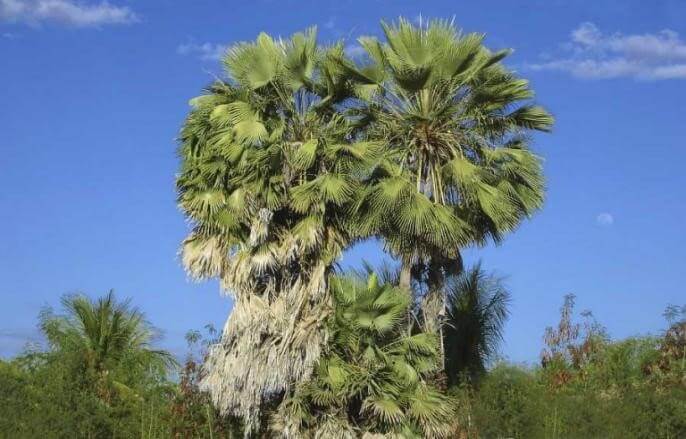 It is also called as the tree of life. It has so many uses. Its fruits are sweet and eaten, and its woods used in building. It is a best source of carnauba wax. It is used in car polish, lipstick, soap, and in many other products. It is helpful in water saver.
Rattan Palm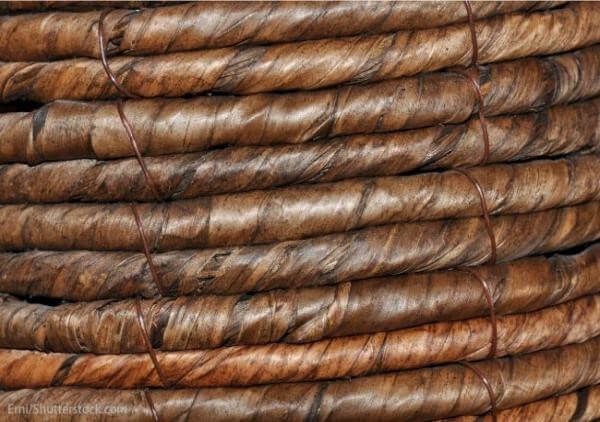 600 species are available in Rattan Palm. They are found in African, Asian, and Australasian rainforests. They are vines and long plants. Stems allow them to climb up the other tress towards sunlight. They are cultivated and used in furniture construction.
Walking Palm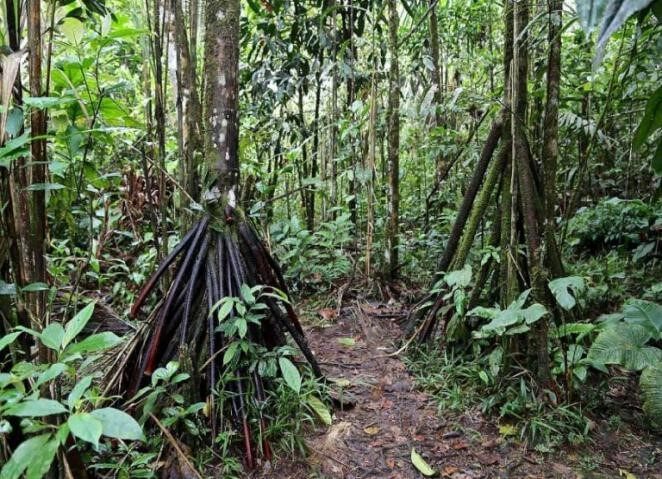 They are found in the tropical rainforests of Central and South America. It has stilt roots. The roots are unable to walk to a new position. It improves the tree's stability.
Amazon water lily
It is aquatic plant; they are found in lakes and rivers of South American rainforests. Leaves has up to 3 meters in diameter. It has sharp spines. Animal such as manatees eating the leaves.
Rubber Tree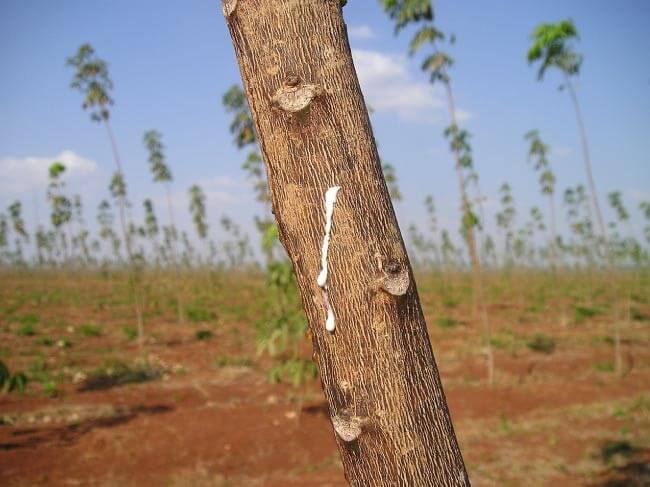 It was found in Amazon Rainforest and in tropical areas of Asia and Africa. It was cultivated for Latex; a milky fluid found in vessels. The vessels are opened, the latex is collected from the buckets. It is called rubber tapping. Latex is useful to make natural rubber. It is used in car tires, hoses, and clothing. 1.9 million trees are found in the Amazon rainforest.
Bougainvillea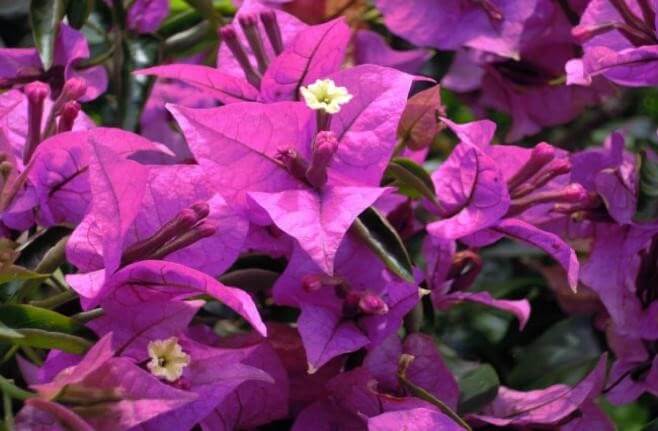 The native of Bougainvillea is South America. It has beautiful flower-like leaves. These plants are growing as vines and shrubs. They are called ornamental plants.
Indian Timber Bamboo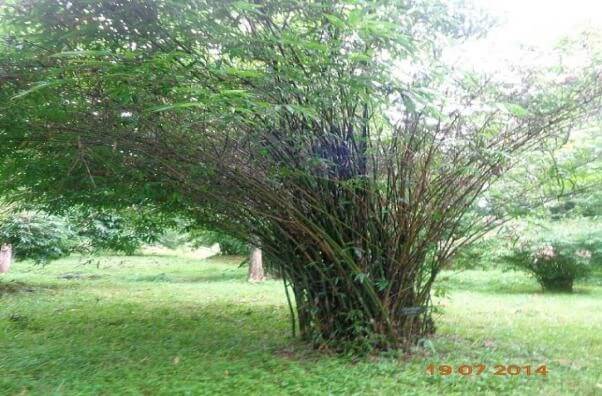 It is the largest number of grass families. It can grow up to 90cm in one day. Indian Bamboo is a useful species. It is used to make furniture. It was found in South Asian Rainforests. It is also useful to make paper and musical instruments.
Vanilla Orchid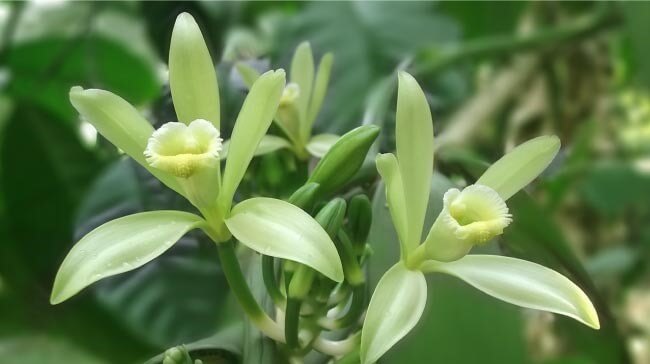 It is used as a flavoring by the Aztecs. The word 'vanilla' describes a flavor. It is growing like vines, climbing up other trees. They are found in Central and South America. They are pollinated by hummingbirds and melipona bees.
Bucket Orchid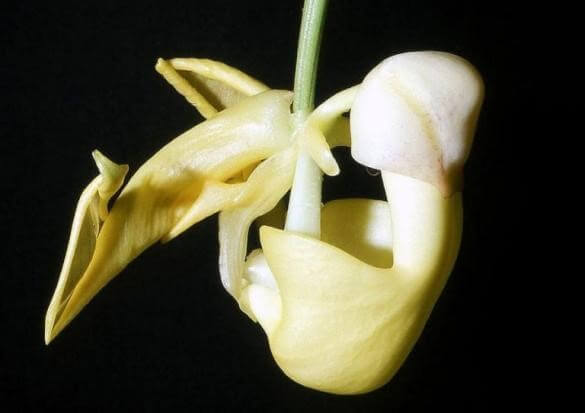 The genus Coryanthes are known as Bucket orchids. It can be used by male bees to attract females. The flower's scent attracts the male bee. The female bees occasionally fall into the flower's bucket. The bucket is a part of the flower. The reproduction is happening in this bucket.
Silky Oak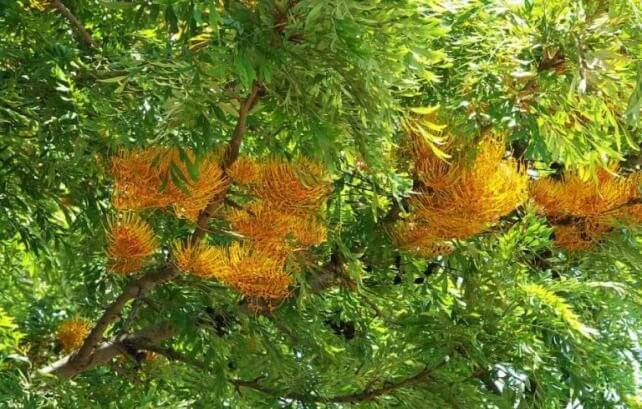 It is a big tree that is found in Australian Rainforests. It is not related to original oak trees. Its timber is resistant, it is used in carpentry and joinery.
Tualang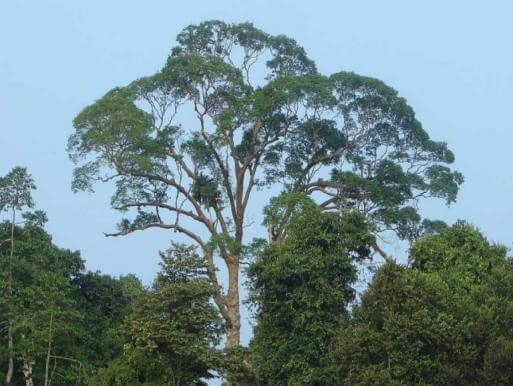 They are found in the rainforests of Southeast Asia. They are also growing in Thailand, Indonesia, and Malaysia. Its height is 80m. It is the tallest tree among all the rainforest trees. They are growing in the emergent layer of the tropical rainforest. It has a very smooth bark. It makes it very difficult for animals to climb. Insects also living in tree branches.
It has buttress roots; it makes it stable and able to reach more nutrients.
Strangler Figs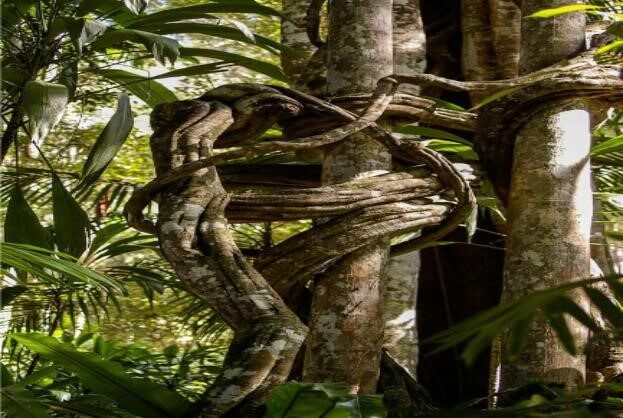 Epiphytes are avoid harming the plants. It starts life in a branch of another tree. It can capture the sunlight for making more nutrients. The lattice is formed by using fig stem. It is important to plant in the rainforest ecosystem. Its fruit is the main food for many rainforest animals.
Corpse Flower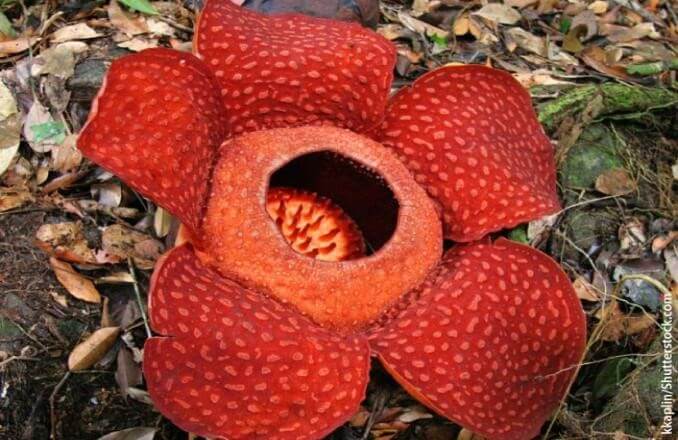 It is the biggest flower in the world. It was found in the rainforests of Borneo and Sumatra. The flower has 1m in diameter. It is a rare plant that grows on vines. It creates a smell like rotting flesh, so it got the name 'Corpse Flower'. Rafflesia arnoldii is another name of Corpse Flower.
Pitcher Plants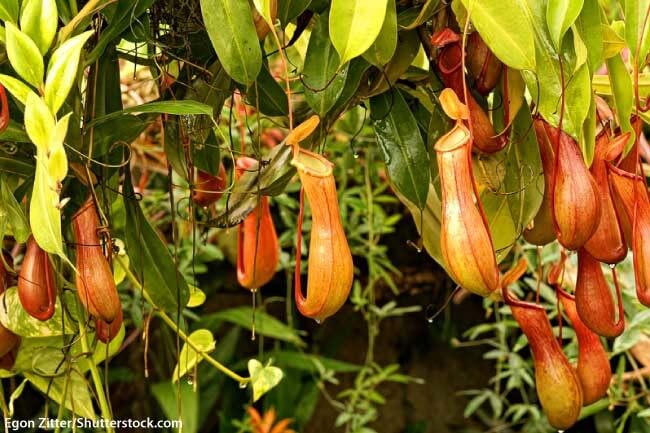 They are found in the areas in which the soil is low in nutrients. There are many different types are available in Pitcher plants. Insects fall into the plant's tube. They produce the nectar for food. The plant gives the nutrients from bodies. The best-known pitcher plant is Nepenthes.
Heliconia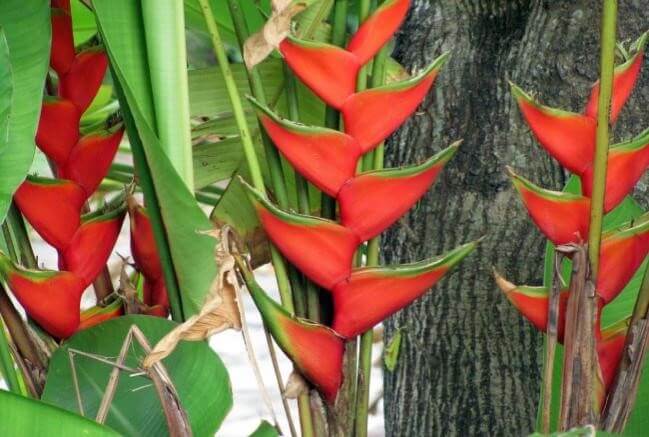 It is a flowering plant. It was found in the rainforests of the Americas. They are pollinated by hummingbirds. It was attracted by their brightly colored flowers. It is a very popular ornamental plant in the world. Due to the shape of the flower, it is called 'lobster claws.
Kapok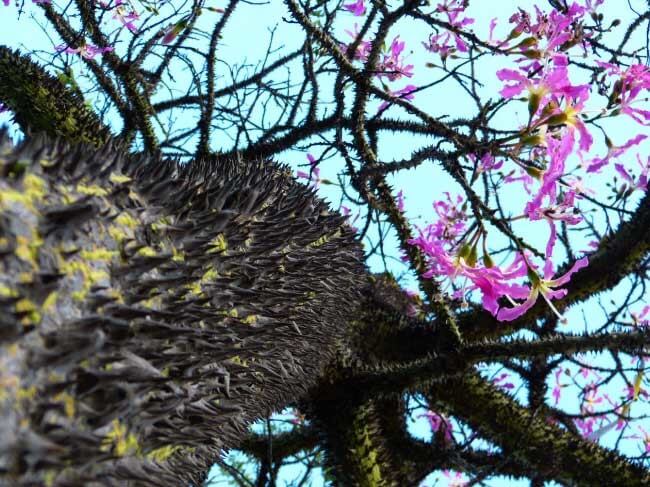 It is a tall and rainforest tree. It is living in an emergent layer. It has buttress roots. It was found in the rainforests of South America, Asia, and Africa.
Durian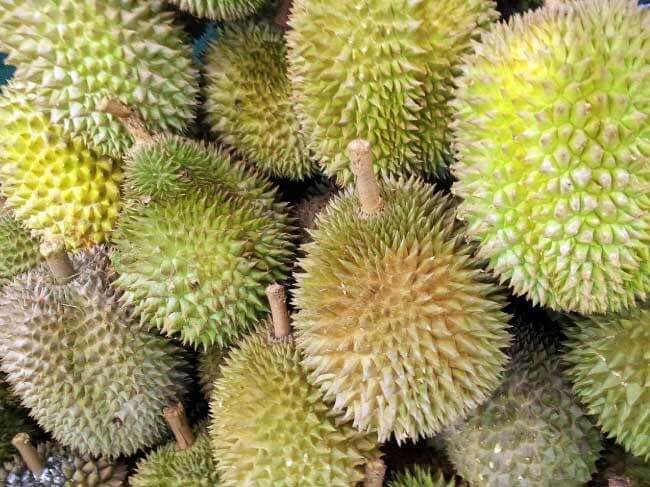 It was found in Southeast Asia. Their fruits are popular for being very strong smelling. This fruit is a popular food. Some people like this fruit's smell.
Mahogany
They are harvested for their food, which is called mahogany. It has red-brown colour. It is a beautiful color. They are found in rainforests of the Americas.
Brazil Nut Tree
It is one of the most iconic trees in the tropical Rainforest. It has a fantastic height and unique shape. They are growing up to 50 meters tall with a trunk 2 meters wide. It is one of the biggest trees in Amazon Forest. Their nuts were found by Alexander von Humboldt in the 1800s on the Amazon River. The nuts are very hard. The tree will be pollinated by euglossine bees. The brazil nuts are linked to the health of the rainforest.
Cocoa Tree
They are found in tropical regions of the Americas. Their seeds are grown by many ancient cultures. They are growing up to 6 to 11 meters. Its seeds are used to produce chocolate. It is also useful to make cocoa drinks in trade for thousands of years.
Passionflower
It is one of the favorite flowers in the rainforest. These flowers are worn by Jesus for his crucifixion leading to their name. Bees, wasps, hummingbirds are pollinating the flowers. There are many varieties of passion flowers are available in South America. It is a most familiar species, and fruits are used in juices and desserts. It has been used in traditional medicine.
Orchids
They have many loved flowers. The flowers have a unique shape, and many varieties are available. Charles Darwin wrote an entire book dedicated to orchid pollination in 1862. The most popular orchid is a vanilla orchid. It is available for commercial use. It includes ornamental varieties, slipper orchids, and Cymbidium. It is one of the fragrant species found in the tropical rainforest.]
Monkey Brush
It has a unique appearance. The flowers have small bright red and yellow brushes. They have a fantastic appearance due to impressive flowers. It can often be seen near waterways.
Meta Description
Some animals can swim and cope with wet and swamp-like environments. Some animals are very specialized because they eat only one plant and insect.