There are almost more than 50 types of ground squirrels in America that you can come across in your very own backyard garden or any nearby forest. Those mischievous little creatures are not only intelligent but also can keep you entertained all day long with their antics and acrobats.
Well, I know that they can be a nuisance to you if you are a gardener or someone who has a big backyard. So, you might not be very fond of them and think of those little fellows as critters or pests.
But you cannot deny that they are adorable and have melted your heart more than once. Whether you are tired of squirrels digging out your garden and ruining your harvest or a squirrel love, this article will give you the perfect solution for all your squirrel problems.
No matter what you do, those cute little thieves always squeeze their way into your garden and eat from your bird feeder. They do not even leave your favorite tree and scrape off the bark. To keep the squirrels at bay, the best option is to give them what they want. Food! Have you ever thought about why the squirrels rampage through your garden?
Well, they are just merely looking for food. Surviving in the wild is not so easy, especially if you a small creature. The simplest solution to your problems can be feeding the squirrels yourself. If you feed them, then there is no need for them to hunt for it in your garden or steal it from the bird feeder.
This way, you can save your garden, have pets with almost no responsibilities, and free entertainment all around the year. Before you go out to feed your fellows, please go through the list to know exactly what to feed them.
 Ideal Diet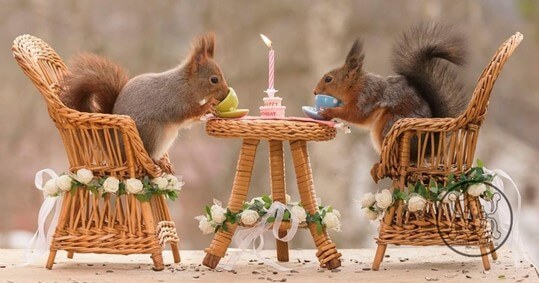 Whenever we think of squirrels, we think of nuts. Peanuts, to be more exact. Well, first of all, a peanut is not a nut. It is a legume. Plus, they are not that good for your little fur friends as they have low nutritional value.
You might see them binging on peanuts more than often, but it not be their ideal all-time go-to snack. Raw peanuts can be dangerous for them as they can have mold on them, which can be very harmful.
Like any other animals, squirrels need a balanced diet full of protein, fat, vitamins, and minerals. If you are taking the responsibility of feeding the local squirrels regularly to your garden, make sure they are eating proper food according to their nutritional needs.
Diet tends to change according to the squirrel you are feeding. If you are feeding a residential squirrel that doesn't go up and down a tree or run about in the forest, it's better to cut down on carbs and give a small portion of food. The same goes for old squirrels. If you are fostering rescue squirrels, then stick to fresh fruits and vegetables along with some nuts and seeds.
Squirrels will eat almost anything and everything they can get their hand on, but that doesn't mean that it is beneficial for their health. Make sure that they get a balanced diet and keep them away from sugary and processed food. Never give then anything that is salted. High sodium is not too good for your little ones.
We often forget that other animals need water, just like we do. So, do not forget to get some water for your plush babies. Remember to change the water and fill it up with fresh water every day.
What to Feed?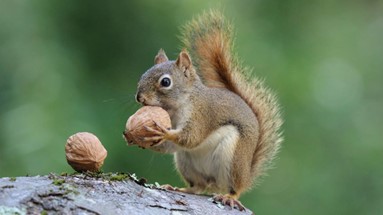 Squirrels can eat almost anything and everything. The list can go on and on if I start. You would not need to buy anything separately for feeding your squirrels, as you will probably have it around the house. Here is a list of their go-to food that you can feed them without a worry.
Nuts- Beechnut.
Butternut, Hazelnut
Hickory Nuts
Pistachios
Roasted Peanuts
Walnuts
Acorns
Almonds
Pecan Nuts
Macadamia Nuts 
Make sure the nuts are not artificially processed or salted. Keep the shell on as they love to shake them around and gnaw on them before cracking them open and eating them. It way more fun to even watch them do it. You can pile them up in a dish near the tress or spot that frequently visits or, and you can put up a squirrel feeder.
Seeds- Pumpkin Seeds
Sunflower Seeds
Hornbeam Seed 
We all have caught glimpses of squirrels trying to sneak out food from the bird feeder, right? They love to snack on seeds and, when food is scarce and nowhere to be found, the bird feeder seems like a perfect stash to steal from.
Try giving them their pile of seeds so that you can keep them away from the bird feeder. Also, try looking up a few of the squirrel-friendly bird feeders. It very much on the trend, right.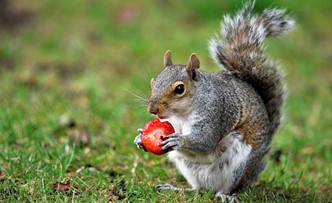 Fruits- Apple
Strawberry
Grape
Watermelon
Cucumber
Apricot
Avocado
Banana
Berries
Plums
Pears
Peach
Orange
Melon
Mango
Kiwi
They also tend to feed on juicy fruits quite well. They also like all fruits, but apples, banana, and berries are their most favorites. Cut them up into small pieces and dish them out for them. If you notice then, you will see that they visit or hunt for food at an exact time.
Try to place the cut-up fruits right around the time when they come. If you feed them at an exact time and an exact spot every day, they will make sure to be there on time always. They might even bring a few friends along with them.
Vegetables- Broccoli
Carrot
Pea
Zucchini
Squash
Corns
Asparagus
Broccoli
Cabbage
Cauliflower
Leafy Greens
Mushroom 
Feeding squirrels can almost be like feeding children. They will always choose nut and other tasty food options, most vegetables, but they need to have enough vegetables to maintain their diet. Vegetables like pumpkins, mushrooms, carrots, peas are a few of their favorites.
The tough job would be to make them eat their leafy green. Try giving them a small portion and rotate the vegetables so that they get to have a taste of all kinds.
 What Not to Feed?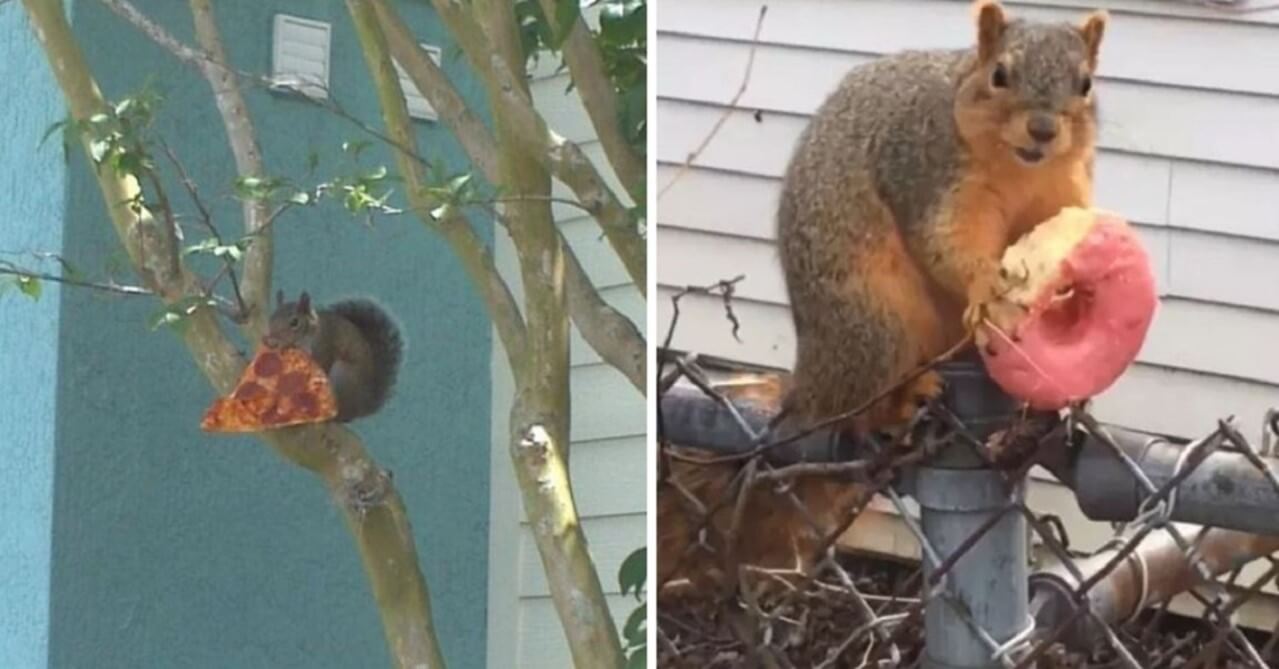 Since I already told you, squirrels will eat anything that you will give them, but there are certain food items that you should never give to the squirrels. There is a list below of food times that you should keep away from your fur friends at all costs if you wish them well.
Salted nuts
Raw peanuts
Bread
Expired or moldy nuts
Processed food
High in sugar food
Chocolates
Too many sunflower seeds
Niger seeds
Chilies
Food with raw onion and garlic
Alliums, daffodil, snowdrop, and hyacinth flower buds.
Squirrels can suffer from something called MBD or Metabolic Bone Disease. Make sure you keep a check that they don't get their hands on any junk food as it may cause them health complications or even result in their death.
Best Treats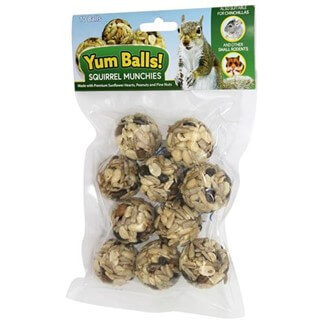 Who does not like to snack, right? But squirrels are such a creature who can snack all day long. Even though they are small creatures, they tend to eat a lot throughout the day. Few things that you can keep in hand to feed them when they visit you or, you can place some in your squirrel feeder for leisure time nibbling is listed below.
Squirrel Biscuits
Nut Balls
Dried Corn
Rodent block
Peanut Butter
Nut or seed blend
Feeding During Winter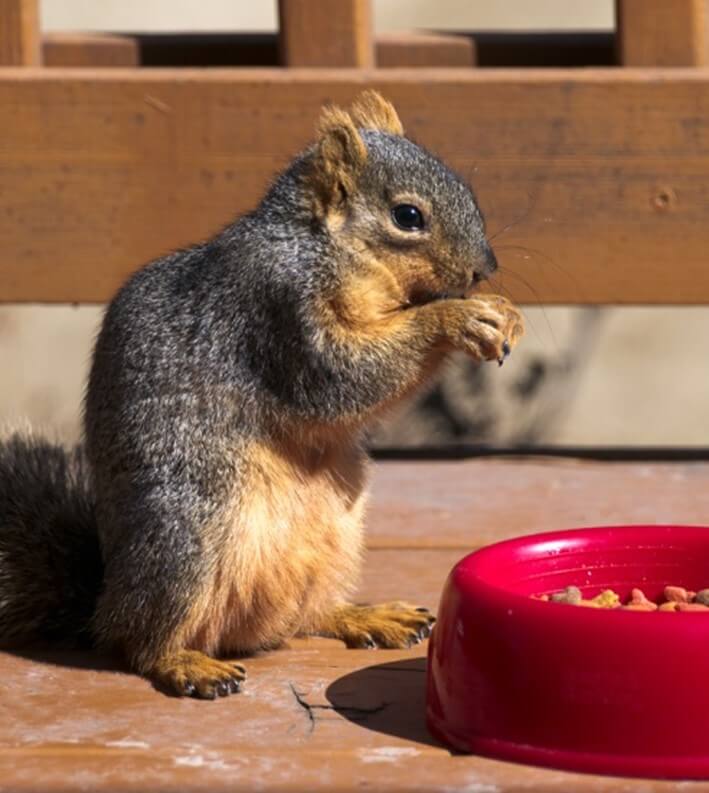 Squirrels do not hibernate during winters but then stock up food as the weather gets harsh and food gets scarce. Scouting for food in the snowing harsh winters is not only challenging but almost impossible.
Right before winter, they will dig up holes to store their stack of food. They also tend to store their food in multiple places. Sometimes they dig holes to fool other animals so that they do not find their actual treasured food.
Another favorite place is hollow trees, where they take shelter most of the winter and come out only when needed. You might not see them much around the winter, but just when the spring breaks in, they will revisit you.
You might see them rarely during the winter scurrying around the garden and playing in the snow. Try to give them more food than you usually give them just before winter starts. Give them more dry food that they can store and survive on throughout the winter.
The female usually goes into gestation during late January, so it is never a waste to give them a few extra foods.
What to Use to Feed Squirrels
You can find tons of squirrel feeders now a day in the market. From hanging feeder to cute little tables with benches, the variety goes no. Few of the squirrel's feeders are so cute that it looks like a garden décor.
If you have a habit of putting up a bird feeder, try upgrading it into a dual feeder so that both squirrels and birds can feed in the same place. Since feeders are only suitable for dry food items, try to use dishes or bowls for fruits, vegetables, and water.
If you do not feel like spending extra dollars on buying a new squirrel feeder, you can make one at home easily. You would need a plastic bottle, a cutter, and some wire or strings. Cut holes on the top of the bottles big enough so that the big nuts can pass through.
Fill it up and hand it somewhere where they can quickly come and get the food. Click on the link below to check out a few squirrel feeders.
Safety Measure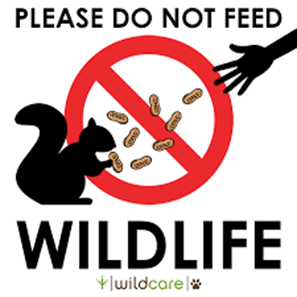 Not when it comes to feeding squirrels. There are lots of safety measures that you need to keep in mind. First off, check if feeding squirrels is legal in your state or not. In many places, it is illegal to feed wildlife.
Squirrels fall under wildlife unless they are domesticated. The legal bodies have deemed feeding wildlife illegal as many don't consider the diet of the animal and feed them other rubbish that affects their health
If you Google squirrels, you will notice that they are marked as dangerous animals. They cannot inflict any serious harm to you directly but, they can chew through almost anything. The squirrels might look innocent and cute, but they are much more than that. They are brilliant and intelligent, and they can sneak into your house and raid your cupboards any day.
If you are having a cupboard or a separate place where you store food for the squirrels, birds, and other animals, make sure you keep it under a check. They can find the place in no time if you are reluctant about it. If they find the place, then it would be a total mess.
Since they usually feast on flower buds and garden vegetables, they have an old habit of destroying gardens. Make sure you secure your garden beds well enough to keep the little monsters away. Try to keep their feeder far away from your garden bed, preferably under or near a tree. Also, add a lot of gravel around the place you don't want them to be around.
Whether you are trying to keep the squirrels at way or feeding them just out of love and adoration, make sure you respect their natural habitat and regular food habits. Give them foods that are good for their health and open space where they can be themselves.
They will not be much of harm to you if they are fed well. They are pretty good companions to have when you are working all alone in the garden. Make friends with nature's gardener, and you will have a much lesser worry to deal with in your garden!