It's no secret that Canadian summers always end too soon. With autumn and winter never really that far off, it's important to take full advantage of the nice warm weather while it lasts; and that means uncovering your trusty grill and preparing a spread of burgers, hotdogs, and baked potatoes worthy of family and friends. So whether you're looking to take your outdoor culinary experience to the next level, or adding functionality to your outdoor cooking area, let this article inspire you with the best summer kitchen appliances that goes with the grapevine trellis thems of the backyard.
Things to Consider
For most, barbecuing consists of relatively simple fare that can be prepared on a relatively simple grill. But if you truly enjoy cooking outside and feeling the sun on your face as you do it, it may be worthwhile to evaluate your outdoor cooking area and ask yourself whether or not you're getting the most out of the experience. In terms of effort, there's a bit of a difference between firing up the grill for some beer can chicken for you and your buddies and preparing a slow roast brisket and all the trimmings for your extended family to celebrate an anniversary or milestone. Either scenario can be enjoyable provided you have the right equipment and cooking area.
With that being said, there are a few things to consider before you go shopping for new outdoor kitchen appliances:
Do you need outdoor prep space?
Do you have easy access to utilities (gas/electricity)?
How many people do you typically cook for?
What kind of food do you cook outdoors?
What's your budget?
There are plenty of great products that will meet your needs and your budget; let's take a look at some of those items.
Outdoor Refrigerators
When it comes to enjoying your time cooking in your backyard, enough cannot be said for having everything you need close at hand. Not only will an outdoor refrigerator keep extra drinks cold, side dishes chilled, and condiments at the ready, it also means you won't have to go back and forth to your indoor refrigerator to get that "one last thing". Fewer trips into the house mean fewer bugs making their way inside and less of a chance that someone will try to usurp your duties if the grill is unattended. Outdoor refrigerators come in many different shapes and sizes and often include additional features like ice makers.
Outdoor Kitchen Range
You might think an outdoor grill is the only heat source you need, but depending on what type of food you're preparing, an outdoor range can be used quite a bit. For large family gatherings, an outdoor range can be used to keep side dishes or desserts warm and close enough to monitor without having to remain in the kitchen while your guests mingle outdoors without you. From a technical standpoint, outdoor ranges can either be electric or gas, meaning that you have options to choose from that will work with your existing utilities.
Cleaning Up: Outdoor Sinks and Dishwashers
As much as you might enjoy cooking and reveling in your backyard, there's always the inevitable cleanup that goes along with it. Once the dishes begin getting cleared, it tends to signal to your guests that the fun has come to an end. By incorporating an outdoor sink and/or dishwasher, the party can continue while the space gets cleaned. Additionally, having to haul dirty dishes back into the house increases the likelihood that one of the hastily stacked items might get broken. An outdoor sink, while less extravagant than a dishwasher, also allows you to contain your cleanup duties outdoors.
Of course, adding a dishwasher or sink will require an extension to your home's water line and, depending where you live, consideration should be given to where and how the water will drain, how deep the water line needs to be buried to avoid freezing, and whether or not it can be disconnected entirely over the winter months.
Meat Smokers
Finally, an appliance that is exclusively at home outdoors. Meat smokers are often a showstopper in terms of the colouring and flavour that they give food. The nice thing about adding a meat smoker to your outdoor kitchen is that because it cooks meat slow and low, it allows you to tend to other more pressing matters before your guests arrive. When it comes to preparing food – whether it's chicken, brisket, ribs, etc. the smoking process is a relatively low effort way to wow your guests.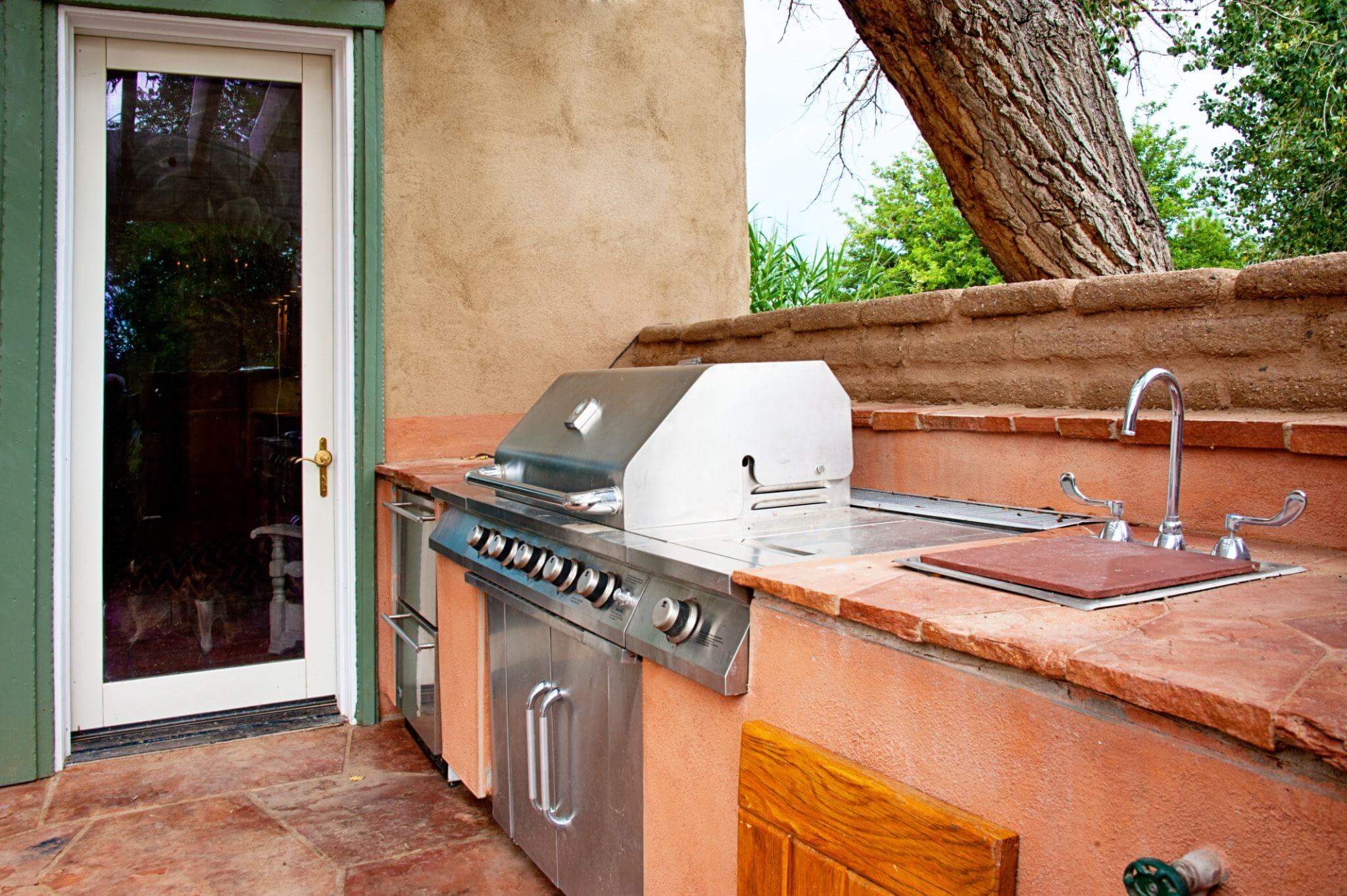 Built-In Grills
And so we get to the piece de resistance: the built-in grill. Charcoal or gas powered, built-in grills look great with outdoor cabinetry and really ties all the outdoor appliances together. The grill will always be the focal point of the outdoor kitchen, and built-ins are designed to handle anything that a traditional barbecue can, albeit with more visual appeal.
Yes, the Canadian summers are short, but that doesn't mean that your outdoor cooking adventures have to be anything but magnificent, provided you outfit your outdoor kitchen with the appliances that will keep you loving cooking and hosting for your family and friends.