Air Gun shooting is a fun activity among both amateurs and adults alike. It is also among the popular shooting sports played in USA and UK. But is it something that you can practice in your yard or garden?
Let us find out through this article.
The simple answer is yes, but with certain rules. If you have a yard, backyard, or a private space, you can practice air gun shooting there. Also, you need to be over 18 years old and hold the permission for the same. Speaking of general rules, it is illegal to practice shooting within 15m of any public place, road, or any highly populated area.
Air guns are low powered when compared with other gun types. This is probably the reason for why they can be used for backyard practice. But still they can life-changing accidents if not handled carefully.
We understand that practicing air gun shooting in backyard can help you improve your target skills, which is why we are providing you a complete guide about the laws for safely setting up a range in your yard. 
Things to Consider before Shooting.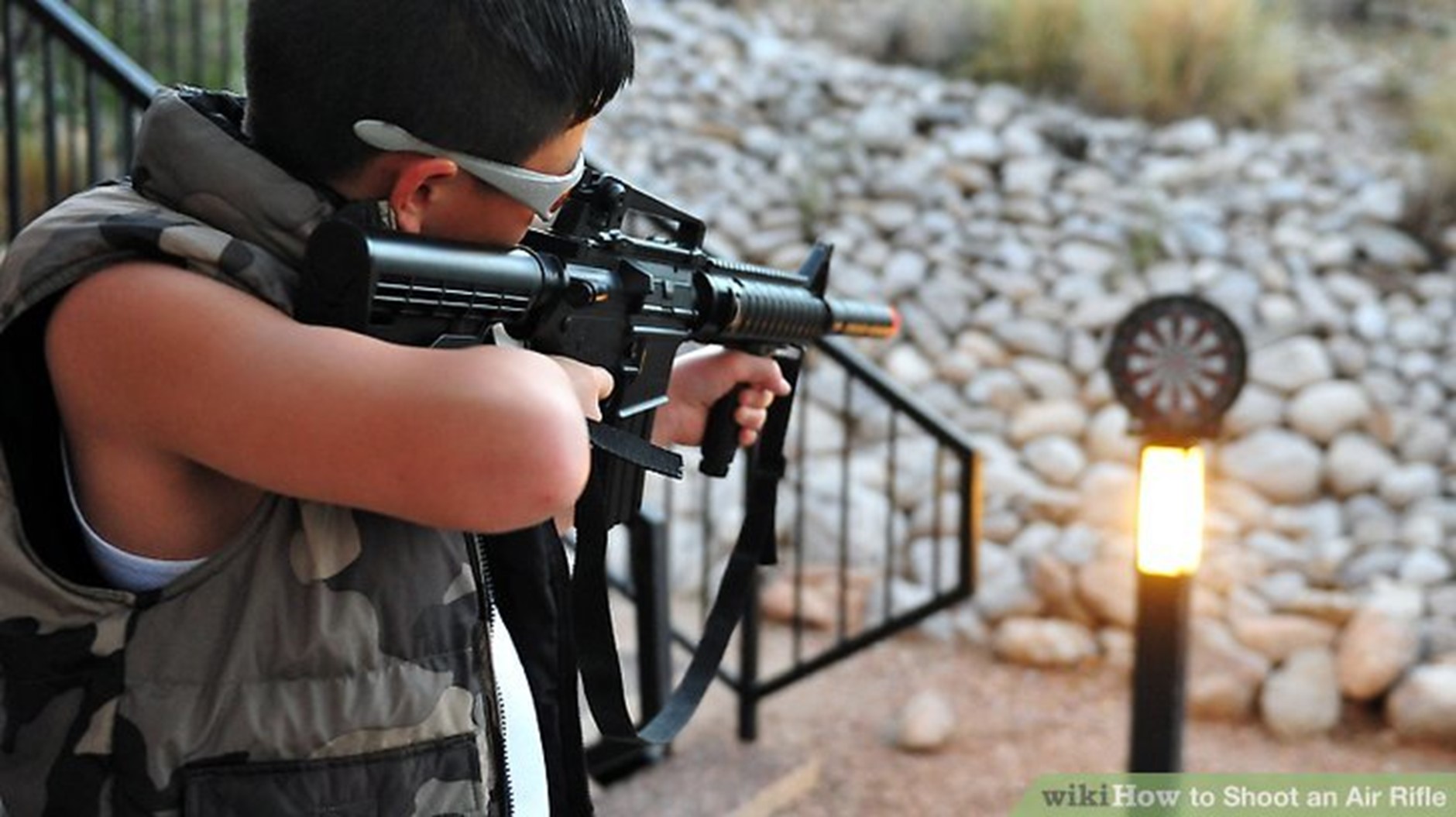 It is true that air gun shooting in your backyard/garden is not illegal but there are several rules and restrictions as to how and who should practice it.
Using it within your premise is legal or not depends on where you live, and the national and local laws and rules. The restrictions vary from state to state, some even class the air guns differently.
Although you are practicing it within your premises, it is very important to be aware of the local rules and regulations and know where the boundaries lie.
If you are not sure about any of it, it is better that you get that cleared from the local authorities, if possible, get in writing and ensure that you have the necessary rights and permissions.
Is Garden a Good Choice for Shooting?
Air guns are used both for recreational and for formal shooting purposes. Especially for young shooters who wish to pursue shooting as a sport can get an ideal introduction with air guns.
Air guns are used by amateurs and adults alike. It is also used by pest controllers. The reason behind its vast usage is its low cost and relatively noise free operation.
You can practice using air guns in your backyard to become best at shooting and establish a shooting range for an air gun.
What are the Laws?
There are no such federal laws that exist for regulating the possession, transfer, or usage of air guns. The law virtually does not make any specific difference between typical powerful guns and air rifles; hence you necessarily do not need a license. All of them are generalized under the term firearms.
However, air rifles fall under general statutory rules. This means that if you commit any offence, you may have to carry a hefty penalty. So, it is better if you just adhere to the codes and be on the right side of the law.
If you are not aware about the firearm licensing provisions, you should always get that clarified from the local authorities.
Is it Legal?
Including UK and USA, most government provisions where shooting air guns is a popular activity, allow sale of air guns and you are free to buy them. You can use it any setting, but you should have attained the legal age to use it.
If you are interested and want to purchase an air rifle for yourself, we have provided below some of the best-selling air rifles from which you choose the best for yourself.
5 Best Air Guns You Can Buy Online
1. DPMS Full Auto SBR CO2-Powered BB Air Rifle with Dual Action Capability
Crosman M4-177 Tactical Style Bolt Action Variable Pump .177-Caliber Pellet and BB Air Rifle
3. Daisy 880 Air Rifle with Scope, Brown.177 Caliber
No products found.
4. Gamo 6110017154 Varmint Air Rifle 
5. Crosman 1077 RepeatAir Semi-Automatic CO2-Powered .177-Caliber Pellet Air Rifle
General Rules and Regulations About Shooting
Rules vary from state to state, but there are some general rules and restrictions that are common to ensure both yours and others safety.
The most common and most important rule is to ensure that not a single pellet is straying beyond your boundary. If it does, you are breaking the law. Make sure you are taking proper precautions and have separated your garden from neighbors by nothing more than fencing panels.
So, though we understand that air gunning can be exciting, it is better if you keep the shot within your premises.
Then there is noise. Although air gunning sounds are less disturbing than grass cutting machines, you should make sure it is not creating any issues.
United State Laws
In the United States, standard air guns are not regulated by the Federal government. However, this does not apply to all states as some local and state governments have restricted the use of air guns.
Also, to prevent individuals using the highway from getting, endangered, injured, or interrupted, discharging an air gun or any firearm within 50ft range of highway is against the rules in the US.
United Kingdom Laws
Specifically Hazardous Firearms, includes firearms like pistols that can generate over six ft. /lb. or those that can make over 12 ft. /lb. worth of muzzle energy.
To own such rifles, you need to have a distinct Firearm Certificate (FAC); and under the Firearms ACT of 1968, owning such type of firearms is prohibited.
However, rifles and pistols which are below such outlined levels do not need you to have any license to own, provided you have attained a minimum age of 18 years.
These rules also differ from state to state. For instance, in countries like England you do not need to have any license to virtually own all air guns. However, countries like Scotland mandates a firearm certificate for any air weapon.
Are Kids Allowed to Shoot?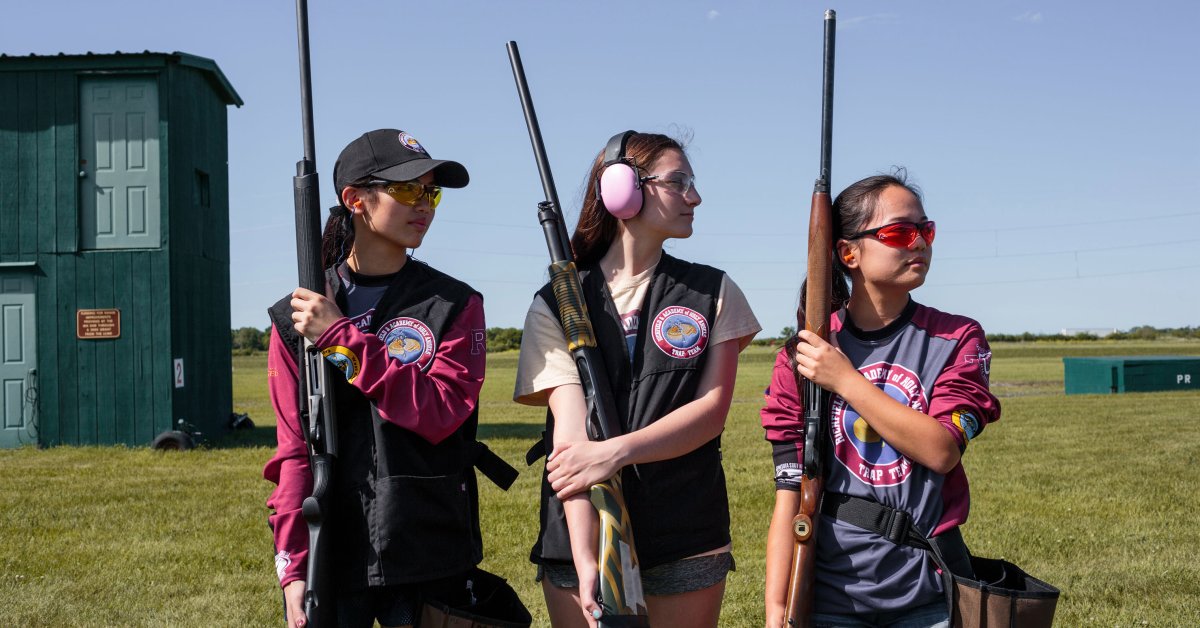 Learning something and then teaching it to your kids is an exciting feeling.  Explaining the responsibility of handling guns and watching them turn from amateurs to proficient shooters gives an amazing experience.
Although with certain rules and restrictions, but you can engage in air gun shooting with your kids or young adults.
For instance, in UK, an individual aged 14 and above can use air guns on private property but under the close supervision of adult and permission of landowner.
However, it is still not legal for kids to purchase such firearms until they have attained a minimum age of 18 years.
Unlike UK where the age is set at 14 years, in USA a young individual, whether they are supervised or not, can operate an air gun only once you attain a minimum age of 16 years.
Shooting Safely in Backyard
If you are considering getting in any form of shooting, safety should be your key priority. Especially if you are in areas of residence, where there can be people nearby when you are shooting.
As already mentioned, air guns are low powered when compared to other typical guns; this is what makes them ideal to be used in backyard. However, if not handled with precautions they may cause severe injuries or major accidents.
So, to avoid any such extremities all you need to do is follow certain straightforward guidelines and your common sense.
To help you out with the same we have provided below some essential tips that you should keep in mind while air gunning.
Be on Good Terms with Your Neighbors
If you are planning to have your own private air gunning set up in your garden or backyard, it will be best you inform your neighbors prior itself to avoid any unforeseen conflict.
You can start by telling them that you plan backyard plinking before you start shooting and reassure them of the precautions you will be taking.
Ensure that you will not make any noise nuisance. You can offer them to have a look at your set up and ask them to join in. If things work fine, you might end having a companion for your shooting practice.
Lay Out the Range Safely
Before setting up your range in your garden, backyard, or any private property, inspect that place well. Make sure that it does not comprise of any unlocked downrange access points and ensure that you shoot in the safest direction possible.
To ensure safety, make sure all individuals around your home are aware of what you are doing. This is even more important if you have kids or pets at your home.
Most air gun shooters use telescopic sights having a blinkering effect at what is potentially the most dangerous time. So, it is important to eliminate all risk factors in front of the gun.
You can make some signs or boarding saying "Shooting in Progress" as a precautionary measure for the trespassers. You can hang it on the fate of your garden or a tree as a clear warning for unexpected visitors.
Safe Air Rifle Backstops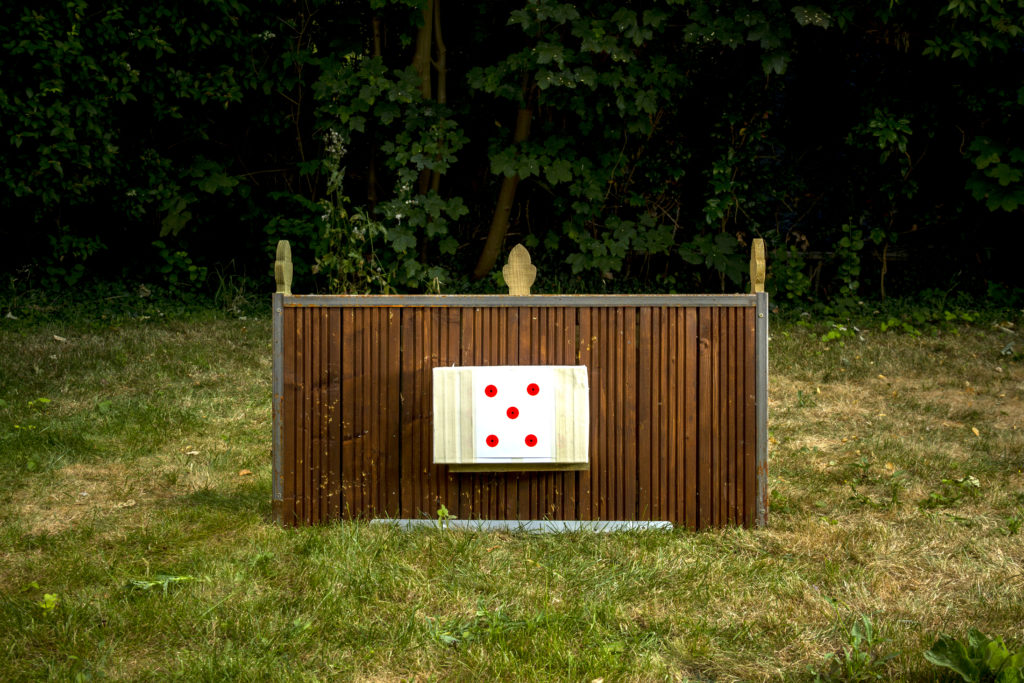 Pellets must stay within the limits of your garden. If they go beyond the target, you might risk breaking the law.
Speaking of backdrop, you can use stone, concrete, or wall of solid brick as a backdrop. Avoid using wood as a backdrop since it can cause dangerous ricochets, sending pellets back towards the shooter.
On using stone, or concrete as backdrop when the pellets meet the solid resistance, they are left with scant energy to bounce even a foot or two. This helps keep the spent pellets within the boundaries of your garden and keeping you on the right side of law.
If you do not have such solid backdrops, a large paving slab can also get the work done. It creates the same effect and can also be carried around. You can get them no minimal cost from any garden center or DIY store.
Thick steels are also excellent choice for backdrops. They also come in combined target holders and pellet catchers. However, you need to take extra care as the noise coming out of it might annoy your neighbors.  
What Can You Shoot in Your Backyard?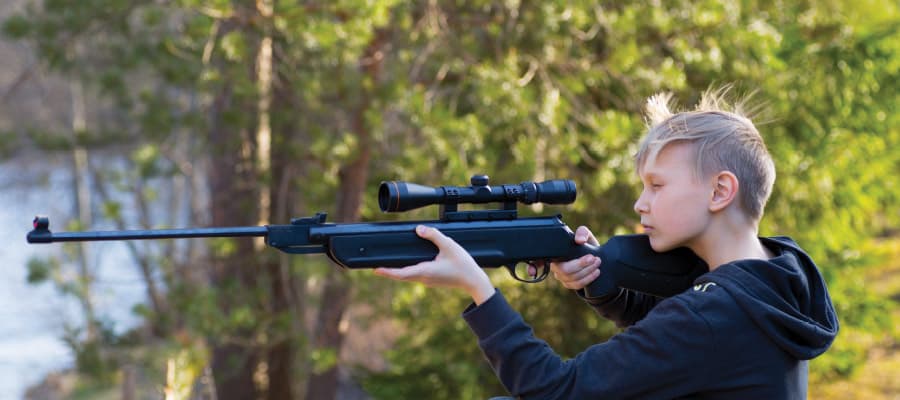 Now that you have decided the range and ensured a backdrop, you need to consider targets. It is also one of the most exciting things about shooting. There are a range of challenging and exciting targets for shooting in your garden.
Card and paper targets are best choices for targets if you are looking to do some zeroing in as well as work out your pellet's downrange performance. They also provide clear indication of precisely where the pellets are striking.
If you do not have to worry about neighbors and noise, you may consider trying knockdown targets. They fall over with a clang when you hit them. They are fun to have. There are also some models which automatically pops back up when you land the next shot on their reset disc.
Another option is getting spinning targets. When you hit the kill area, it sends them whirring around before they are automatically reset by gravity.
Reactive targets are another option. They, when hit area goes off with a bang and a flash of sparks. Therefore, they are not recommended for use in built-up areas.
Finally, if you can get your hands on Extra Strong Mints. The best part is, they do not make noise. They shatter with a pleasing puff of white dust just like mini clays.
Conclusion
So, finally to answer your question of whether you can shoot in your yard or not, is yes. You can shoot air guns air guns in your garden provided you are eligible for that and you follow local rules and regulations.
Air gun shooting is an exciting sport and is attracting numerous individuals. So, if you are thinking to get started off with it, this is the time.
However, make sure you are taking all precautions and practice all safety guidelines and your backyard shooting should be worth it.