Bored with the layout of your patio? Often feel that your patio is too empty without great outdoor furniture? Break it up by adding a decent outdoor bistro set with beautiful shrubs.
The hectic lifestyle today makes people do not have so much time to spruce up their yards or gardens, so the courtyard looks like a quiet and cold island without people's care. The situation might be a little embarrassed when you stay at home on the holiday break and want to have a leisure afternoon tea on your patio, especially you have guests over. To a certain extent, a nice home layout and design can reflect your living habits and personality.
Here comes the role of the elegant bistro set that makes difference to your quite dead backyard and brings it to life.
Several Things You Should Do Before Taking The Bistro Set On Your Patio:
1. Clean up your patio/yard
2. Be familiar with the domestic outfit style of your homes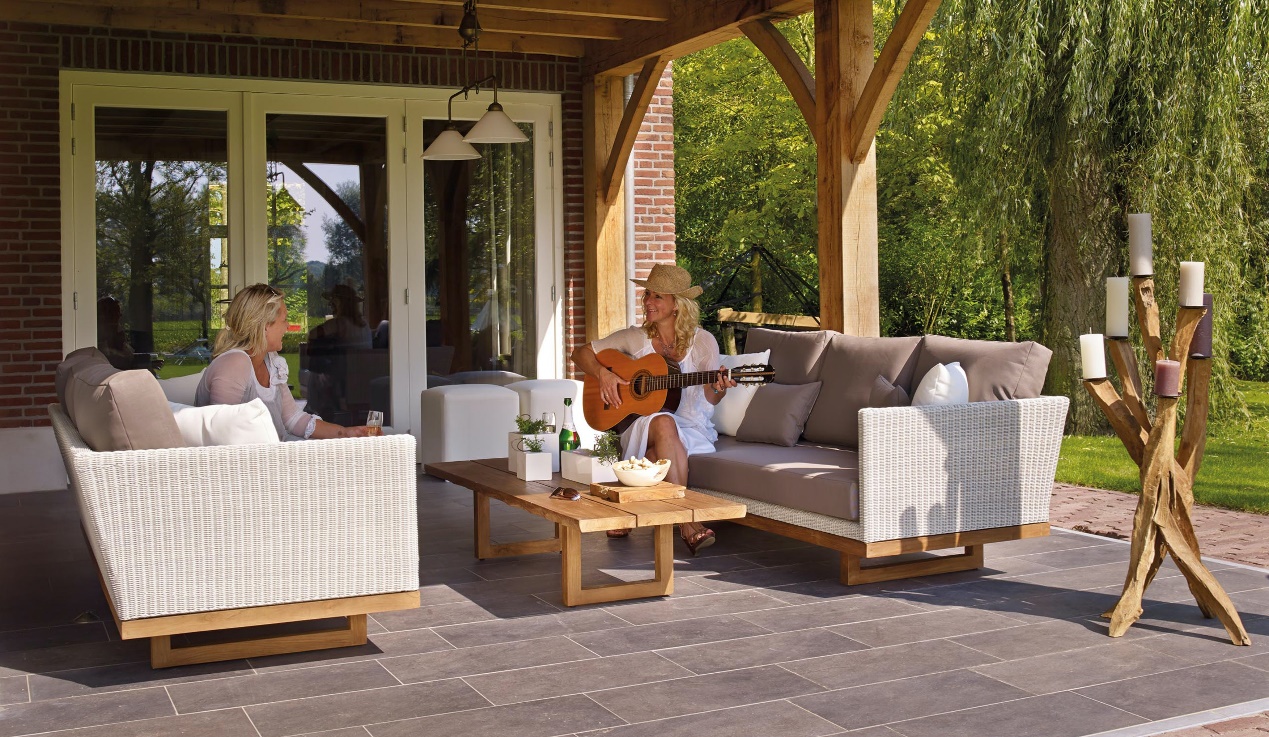 3. Clean up your patio/yard
It's the idle work to put the stylish bistro set into your messy patio. To own a beautiful yard, the prerequisite is to clean it up and get enough available space to accommodate the bistro set or some other outdoor furniture.
4. Be familiar with the domestic outfit style of your home
Do not choose blindly! You must be familiar with the domestic outfit style and patio layout of your home first. Only the proper size and style of the bistro set can go well with your backyard. You can choose a well-matched outdoor bistro set according to the floor color and material, and the overall style of your patio/garden/balcony.
Tricks About Choosing The Right Outdoor Bistro Set:
1. Rustic style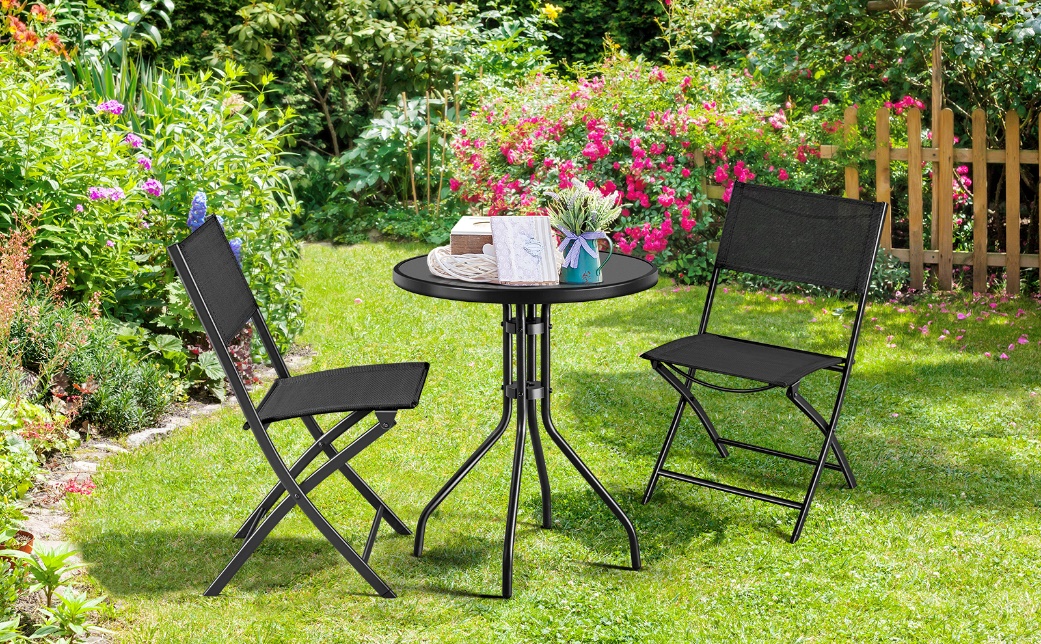 The rustic bistro set matches with fresh flowers and plants, which can create a realistic nature in your patio and make you embrace nature at any time. The tempered glass tabletop is extremely hard and does not break easily with a smooth and scratch-resistant surface. Textilene seat and back of chairs are highly fade-resistant even under sunlight exposure, also provides high intensity for long-term use. Want to take it out for camping? That's also a piece of cake! Foldable chairs are convenient to carry around and take less space in your trunk.
Note: For aesthetics of the whole yard, it is suggested that to spend time trimming your lawn or plants in advance. Also, you can lay pieces of wooden floor tiles on the ground if it's uneven.
Suggestion: Try to make your compact space cozier by installing a decorative fence or a folding screen.
2. Vintage style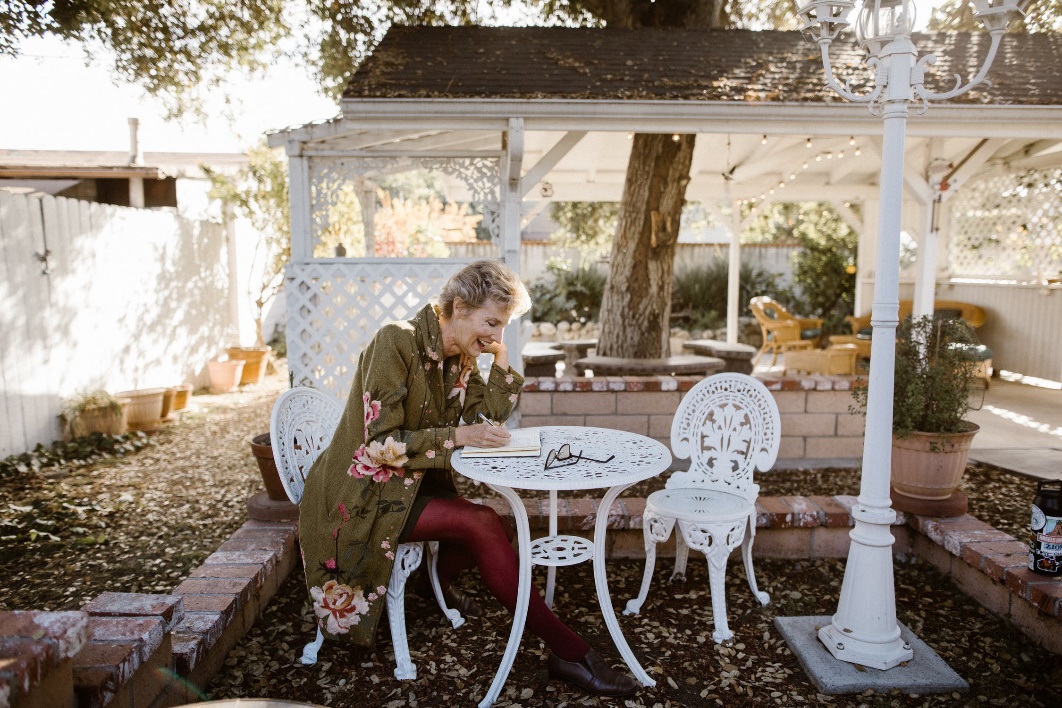 Believe it or not, a small breakthrough in your home could change a lot. The gracefully designed bistro set brings your outdoor space a whole new level of vintage looks that gives your décor a high-end atmosphere. That's also the first choice of the well-mannered person. The vintage bistro set has a floral detailed design, which adds more antique charm to your patio or other designated place; Made of sturdy aluminum, the table and chairs are stable and durable. If your home is designed with European classical style or vintage style, this retro table set could not be more suitable. With this elegant table set, your patio will suddenly become a good place for afternoon tea or parties. Just make sure that the dimensions of the coffee table are correct.
Note: If your kids feel a little hard to sit on, you can also match a decent small cushion for them.
3. Leisure style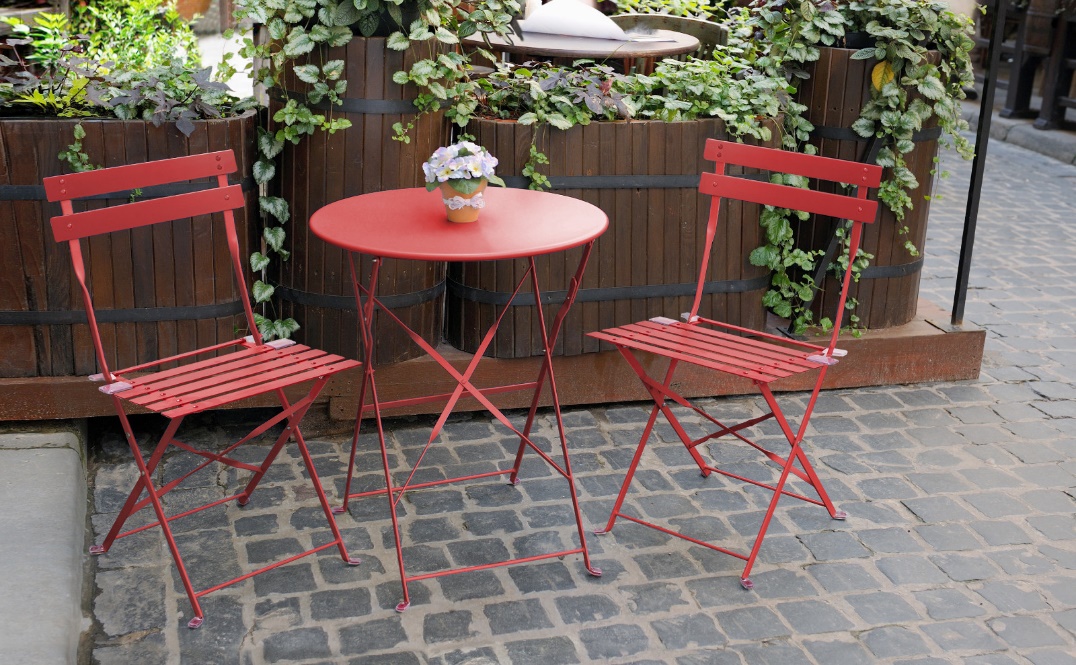 Tired of the fussy design of outdoor furniture? Take a look at this folding bistro set. You deserve a special spot for your backyard to take sunbathing, read books and have cozy afternoon coffee with your buddies, this lovely folding table set is a great choice. You don't have to ignore them just because they look flimsy, solid iron construction ensures a long lifespan and great load capacity. Concise and modern design made this outdoor bistro set become the highlight in your patio, the bright color makes your yard looks more playful. Certainly, it's hassle-free to carry this folding table set outside or go on a short trip, they will lay quietly on the trunk.
Note: Due to the thin legs of folding chairs, it is suggested that put on the flat floor to make sure stability.
According to what I said above, I believe you've already had some ideas in your mind. There are a variety of outdoor bistro sets which are both attractive and practical for you to choose from. Based on your preferences and needs, it's time to give your yard a new look. No matter what type of bistro set you select, remember to consider does the style of your patio tone in with these adorable table sets.
Don't hesitate! Just do it, now!
About Yaheetech
Yaheetech, established in 2003, is a professional brand specializing in home and office furniture. With 39 self-own warehouses worldwide, we deliver a wide selection of quality furniture products within 3 days locally and support 30 days no reason to return and exchange goods policies.
Operating our markets in 10 countries covering Northern America and Europe for more than 15 years, we have successfully become an industry-leading furniture brand with 1.9 million global sales.
Through continuous effort, we gain Best Seller among Furniture Supplies on over 10 online shopping platforms, including Amazon, Walmart, eBay, Wayfair, Wish, Cdiscount, ManoMano, OTTO, Rakuten, Real and more.
We commit to providing the best comfort and enjoyment for your home and office.