Having an outdoor space is a great advantage and with proper care and carefully selected ornaments, it can easily turn into your personal sanctuary ideal for meditation, relaxation and spending quality time with friends and family. The use of flowers and greenery gives every garden its unique charm, but adding statues can certainly elevate the whole feel of the space.
The trend of decorating gardens with statues dates back to the birth of the garden as an extension of the house, royal residence or the temple. Beyond its practical use for cultivation of plants, fruits and vegetables, the garden has always been considered a place that could convey peace and calmness. Religious garden statues are an ancient, but yet current tradition and a growing trend.
Why Decorate Your Garden with Religious Statues?
A tradition that has been around for thousands of years, religious statues and sculptures add some depth and sacredness to an already flora-filled environment. You can choose religious statues for your garden and enhance the entire space beautifully and uniquely.
Whether setting the tone for a new garden or serving as the final touch on a masterpiece, these statues can easily become a part of the scenery. Statues of saints, mythological figures or deities can help you create a restful and reflective garden area. One of the most important features of Roman gardens was that they were embellished with statues depicting sacred objects, but chosen for ornamental purposes.
However, in the centuries that followed the fall of the Roman Empire, most of these places were torn down and the materials retrieved were used for constructing buildings. Over time, Roman gardens were erased by barbaric invasions until the time of the Renaissance, when a new concept of the garden grew in Italy. In the Italian garden, architectural elements such as religious statues and fountains merged with hedges and tree-lined paths, arranged in a natural and harmonic order.
Next to the revival of historical gardens, new design waves were born and some elements are still present, including garden statues, which are certainly the ones with the most ancient history and charm. Statues depicting saints, or sacred statues in general, are quite popular these days together with classic statues depicting deities, nymphs, fauns and more.
Tips on How to Choose Your Religious Garden Statues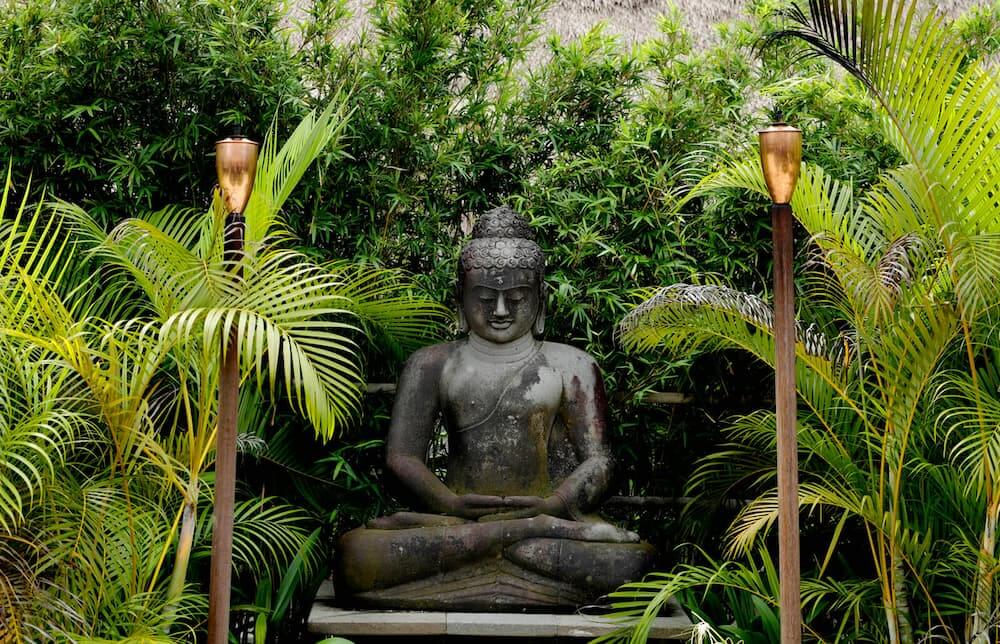 The garden has always been a place near to divinity, a cosy area where many people feel it's easier to talk to their inner side, pray or meditate. When choosing outdoor religious statues, you can find different styles and sizes, suitable for any type of garden and religious beliefs. From Saint Mary and Jesus's statues or garden angels to the dimension of your coffee table to Buddha and more, you can choose whatever you find most suitable for your garden ambient.
Garden statues are placed outdoors throughout the year, so you need to consider the effects of sun, rain, wind, bird droppings and more. The material that your religious sculptures and statues are made of can play a big role in the overall look of your garden, but also it can impact how long they will last. Religious garden statues come in many different options and the following are some of the most commonly used materials.
Stone
Stone is probably the favourite material used for making religious garden statues thanks to its long-lasting properties. Another reason is that even though it weathers, it will still look good as it gets an ancient and well-aged appearance that gives authenticity to the statue and the overall garden look.
Marble
Marble statues are the ones that last the longest and preserve their beauty over time. They are particularly suited for outside areas and gardens. The clean and smooth texture of marble gives the religious statues a clean and divine look.
Bronze
Bronze is a popular garden ornamentation material, but it's hard to make statues out of it and therefore more expensive. Nevertheless, it can be a great investment since this material creates long-lasting ornaments which can withstand any kind of weather or outdoor factor. Bronze statues are relatively easy to maintain and over time they get an attractive natural green hue which gives a certain charm to the garden's final look.
Resin
Resin is a relatively new material for garden statuary. It's light, easy to move and requires low maintenance. Thanks to its durability, it's ideal for outdoor use.
How to Find the Best Placement for Your Garden Statues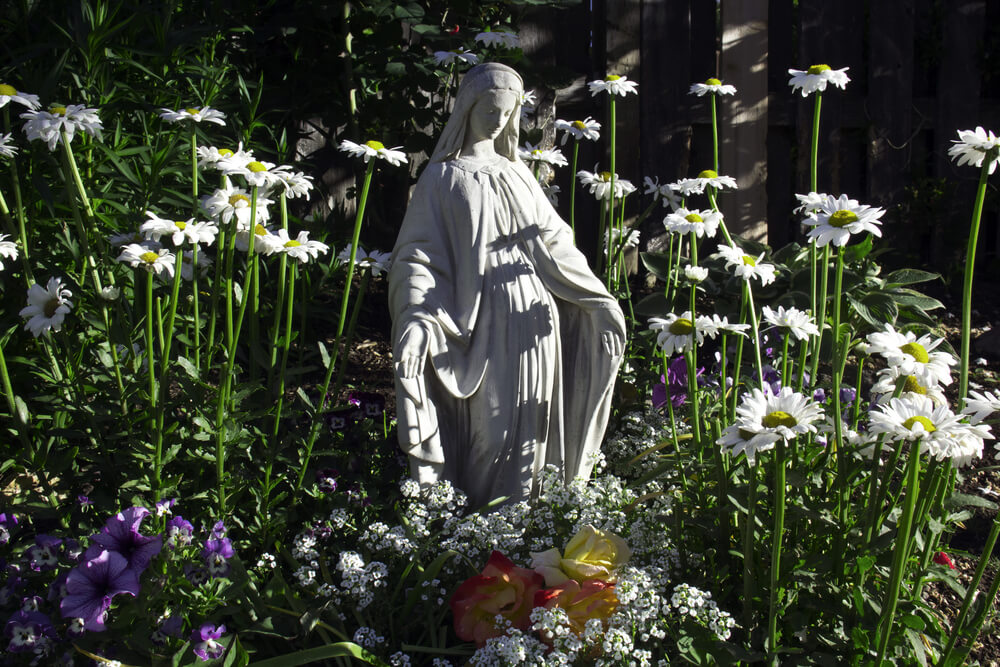 Garden statues add a touch of sophistication to your home exterior and the most important thing when working with them is to find the best placement. There are statues about 20 to 30 cm tall that can decorate a green corner or a small votive cave and very big statues up to 2m tall. Setting up a corner in your garden that can host a sculpture or a statue depicting a sacred object you particularly love, can be a very comforting and enriching experience.
To make sure you place them right, you will need to consider any existing trees, plants and shrubs. Bushes and hedges can complement a religious statue very well as their soft lines can soften the rough edges of the statue.
If you want your statue to stand out and become the focal point in your garden, then place it prominently at the centre of a flower bed or floral arrangement. It can be used as a complementary decoration for the flora and fauna of your garden can contrast with the bold colours of the flower beds.
If you prefer adding a large statue to your garden, then make sure to choose a corner space that's unused and empty. This can help you turn every corner of your garden into a nice surprise for the eyes of your visitors.