Meal delivery services gaining popularity all over the globe. It's no wonder that there are now so many to choose from. When you're looking for meal prep delivery services in West Palm Beach, there are 5 top companies to consider. These food services offer a wide range of meal plans to any taste. For those on a weight gain or on a weight-loss diet plan, these delivery services will help you reach your goal.
1. Ideal Nutrition
Ideal Nutrition is at the top of our list of best food delivery in West Palm Beach. These meal plans are created by an expert team of nutritionists, dieticians, and personal trainers. Ideal Nutrition offers a wide range of meal preps based on healthy eating habits. They will help keep your body in shape while enjoying every meal. Apart from traditional dishes, you can find paleo, keto, and vegan meal plans. You're able to compile your own menu by adding various foods like berries, cheese, eggs or even chicken.
Ideal Nutrition's efficient delivery mapping software ensures that their meals are delivered at lightning speed, so you can enjoy only the freshest ingredients every time. You can order one meal as well as a completed menu for the whole day and more.
This West Palm Beach food delivery comes with great customer support too. In case you need a helping hand or have any questions about anything regarding this dining experience. Looking for a gift idea for your busy friend? The Ideal Nutrition Gift Card is just the right thing to present.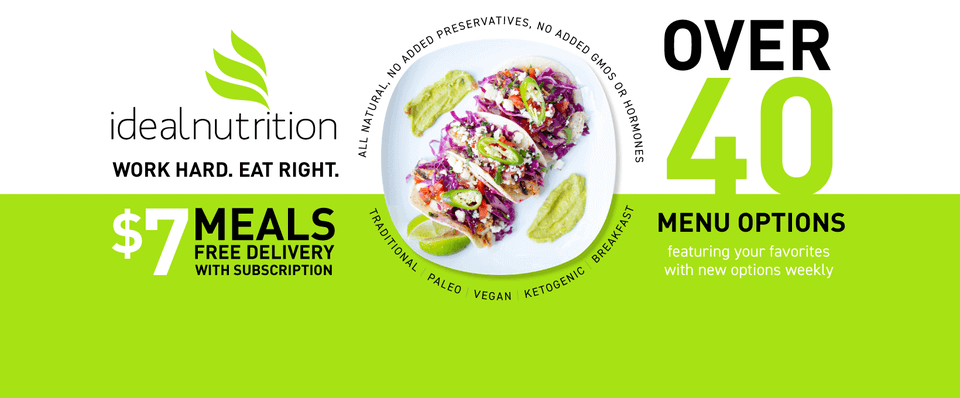 2. Fit Food Fresh
Fit Food Fresh is another great meal plan provider in West Palm Beach. It is well known for its high-quality diet plans. You can sign up for their weekly meal plan and get the food delivered straight to your home. Fit Food Fresh offers a wide array of menus. These include keto, vegan, kids' menu, and more. Here, you can also find tasty desserts and snacks if you crave more treats.
The Fit Food Fresh company offers various menus that are gluten-, dairy-, nut-, and soy-free. So you're able to choose what fits best with your health objectives and needs. The most popular dishes include Flame Grilled Chicken Breast Bowl and Turkey Chop Suey Stir-Fry.
3. ChefFIT Meal Plans
The ChefFIT meal prep service offers meal plans for those who are on the Keto, Paleo, or weight loss diets. This meal delivery service in West Palm Beach is perfect for athletes and fitness junkies. ChefFIT offers meals to fit any type of food preference.
ChefFIT Meal Plans offers weekly menus with a range of diet plans. The average cost is $100 for 10-12 meals weekly. You can choose the number of meals per week to set your fitness goal. Some of them are focused on providing a wide range of meats. While others offer limited-calorie meals with healthy saturated foods.
You can contact ChefFIT Meal Plans to compile your own plan. Here, you're able to list all food allergies and restrictions that must be followed.
4. Meals By Chef-B
Meals By Chef-B serves Palm Beach, Broward, and Martin Counties. It was founded to help people achieve a healthy lifestyle through meal planning. It offers meal preps with an average price of $12 per meal. Here, you can easily order a meal plan for the whole family. Kids' menus are included too.
A great perk of Meals By Chef-B is that every meal contains a detailed description. You can check the fat, carbs, and protein as well as the total calories of the ordered food. There are three serving sizes to choose from: lunch, dinner, and family size. A wide range of menus is provided by Meals By Chef-B. Paleo, keto, vegan, gluten-free diets are all included here.
Meals By Chef-B offers gift cards that can be sent via email. There's no expiration date, which is a great plus.
5. Befit Nutrition
Befit Nutrition offers five meal plans to choose from. But each of them can be customized to find the one that fits your fitness needs best. You can choose the meal plan length: weekly or monthly. You can be delivered up to 6 meals daily. The menus are well-balanced offering a complex of proteins, complex carbohydrates, and healthy fats. Apart from classic plans, there are low-calorie diets, keto, and vegan meals.
While choosing the meal plan, you're able to mention food allergies that must be taken into consideration. Befit Nutrition delivers food in West Palm Beach. The meals are packed into cooler bags with ice packs inside. You'll get nutritional fact information about the foodies you ordered.
You can get your healthy nutrition guide for free. Befit Nutrition offers their customers to sign up and download the guide on their device.
Palm Beach Food Delivery Revealed
When you don't want the hassle of cooking, food delivery can be a lifesaver. Here, we listed the top-notch meal prep services in West Palm Beach that will help keep your diet plan. Thanks to the wide range of foods, such services provide various menus to every taste. Thus, you can rest assured you won't spend all evening cooking dinner.