Getting an l-shaped sofa for your living room is a great decision. It is a space-saving and functional sofa that provides for your seating needs and gives you optimum comfort.
Now that you have your sectional sofa, the next challenge would be to create the perfect look for this furniture with coffee table dimensions. Achieving the ideal impression involves placing the couch in the right spot, creating a style with other furniture pieces, and accessorizing your couch. Let's begin!
Where to put an l-shaped sofa
You may already have envisioned where to set your l-shaped couch before buying it, so let us just assess your idea.
If you have a small living area, your l-shaped sofa will work best in the corner of your room, against the wall. This setup is practical and space-saving. If you have a big room, on the other hand, you may put your couch somewhere in the center. This layout will balance the space in your room, allowing you to put more furniture pieces in the area for additional seating and decorating.
What to decorate around your sofa
Creating a unique look with your l-shaped sofa involves decorating around it. Here are some unfailing ideas:
Decorate with a rug
Laying a rug on the floor adds impact to your l-shaped sofa. But, more than that, it gives more comfort and warmth to your living room. A rug also gives you the chance to showcase your unique style. You can choose a color, print, and texture that matches your personality and your home style. For instance, if the color of the wall is grey then choosing a carpet might get difficult.
When it comes to selecting the size of your rug, you need to consider the placement of your sofa. If it is against the wall, the rug must cover the front legs of your sofa and other furniture pieces in the set. These pieces may include armchairs and side tables.
If your l-shaped sofa is in the center of your living room, your rug must be large enough to accommodate all four legs of your furniture and all other pieces in the set.
Complement with an armchair or two.
Depending on the dimensions you choose, your l-shaped sofa can seat at least three persons. For additional seating, you can match it with one or two armchairs to complete the look of your living room. Ensure there is enough space to walk comfortably in the area, considering there are also center and side tables in the set.
Match with an ottoman.
If you want a more versatile alternative to an armchair, you can get an ottoman to pair with your l-shaped sofa. You can use this piece of furniture as additional seating space and as a side table or a footstool when you need one. Plus, it's space-saving too. You may also get a storage ottoman for better functionality.
Complete the look of your l-shaped sofa with a table.
You can use three types of tables to complete the look of your l-shaped sectional sofa – a side table, a center table, and a console table. These tables have both aesthetic and functional purposes. They can add style, create balance, and provide for storage and decoration in your living room. You can use all three tables depending on your needs and your space.
If you have limited space, you may settle with a side table that can style one corner or the end of your l-shaped sofa. You may also use a center table if it does not hinder comfortable foot traffic in your living room.
A bigger space may allow you to use both a side table and a center table.
A console or sofa table works best if you want to create a dividing space between your living room and your hallway or another part of your house. You may set your console table behind your sofa. Just make sure that your console table is shorter or about the height of your sofa's back.
How to accessorize your sofa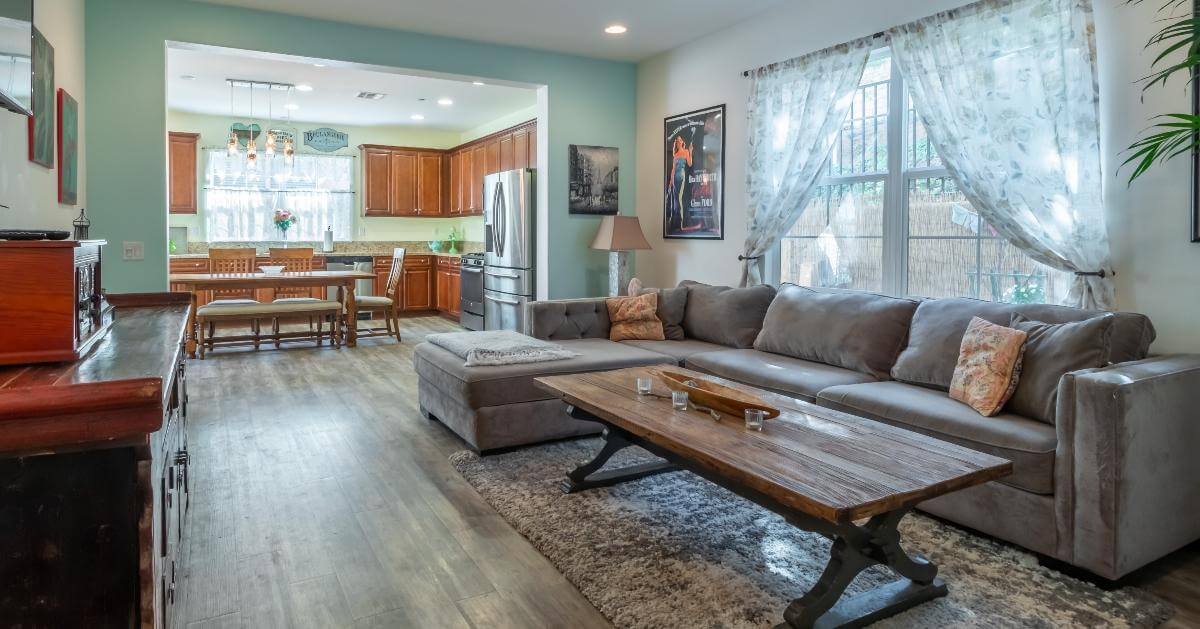 Now that we are done decorating around your l-shaped sofa let us turn our attention to styling your couch.
Your sectional sofa can give you more comfort and style if you add throw pillows and a throw blanket to it. Use three to six pillows if you have a smaller sofa, and go for ten or more pillows if you have a larger couch. You can choose uniform colors and sizes of pillows if you want to create a neat and formal look. But if you want a vibrant and rather casual feel, you can mix and match different colors and sizes of pillows.
To make an attractive statement, hang a throw blanket on the back of your l-shaped sofa.
Bottom line
When decorating your l-shaped sofa, remember that it is not just styling the couch itself but also decorating around it with other furniture pieces and accessories. We hope that these tips will help you create the perfect look for your l-shaped sofa.