If you're picturing your ideal bathroom, the type of bathtub you want is almost certainly at the top of your list. And so it should be: it's perhaps the most important design decision you'll make, and it'll have a major impact on the overall look of the bathroom.
Your new tub needs to be functional and, at the same time, attractive. Any bathtub style can make a statement; even a simple alcove bathtub can turn into a focal point when surrounded by a feature wallpaper and beautiful decor accents. To help you choose the perfect tub for your bathroom, here's a guide that explains the most common types of baths and what to consider.
Freestanding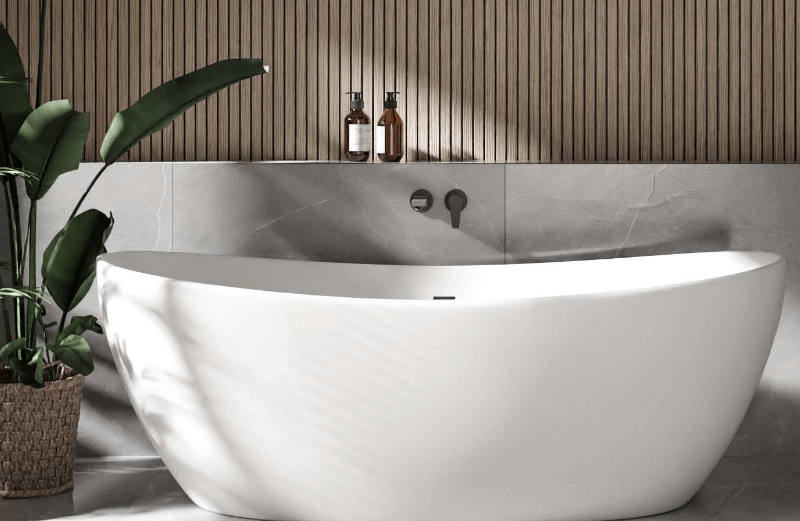 Freestanding bathtubs can make a statement with their modern style and use of cutting-edge materials. As they can be installed away from the wall, their central location adds extra glam while also improving the room's sense of proportion.
According to interior design experts, the importance of balance and symmetry in creating an appealing, calm atmosphere cannot be overstated. Installing a stunning bath in the centre of the room will create a central axis that serves as a natural focal point. In addition to adding a touch of luxury to your bathroom, you'll also love the spacious bathing experience these tubs offer.
Manufacturing advancements have resulted in sleek oval baths constructed of sophisticated composite materials that function pretty well in modern bathrooms but can also create contrast in a traditional setting.
Clawfoot
The classic clawfoot, roll-top bath first appeared when bathrooms became more popular among the middle classes. It was often a single-ended bath with ball and claw cast iron feet, parallel-sided or tapering like a coffin in shape and it could be anywhere from 1.5 to 2.5 metres long. The larger ones, which were called plunger or canopy bathtubs, used to have shower attachments.
Nowadays, clawfoot tubs with roll-top designs are still a popular option that can be placed against a wall with a shower above or be used as a freestanding design. These tubs will show more of your bathroom flooring, which increases the sense of space. But this also means you'll need to keep the area beneath clean, so consider your plumbing carefully.
Because clawfoot baths are often made of cast iron, you need to make sure your bathroom floor is strong enough to support not only the weight of the tub but also the weight of the water used to fill it and the person who will be using it.
Alcove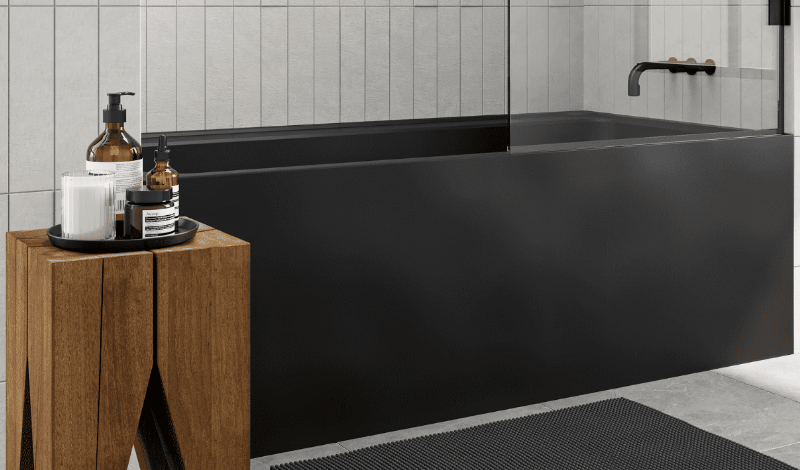 If your bathroom is on the small side, an alcove bath could be a good fit for you.
Instead of being a type of bathtub, an alcove is more about the way it's installed. The term means installing the bathtub into a recess in the bathroom, which can be three joining walls or a pocket alcove in your bathroom, though some modern designs feature only two walls or a huge window to eliminate the constrained nature of this installation approach.
The main benefits of choosing this bathtub style are space and efficiency. The unique design of these tubs allows them to be converted into shower combinations, making them a lot more practical for daily usage. The walls around the bath also provide increased storage space.
But these tubs don't come without their cons as well. Because they are limited by their position on the wall, this can limit the size of the bathtub you can buy.
Walk-In
This type of tub is ideal for those who have difficulties clamping in and out of the bathtub. It has a watertight door that allows the user to walk straight into the tub. The problem with this tub is that it needs to be drained before you walk out. This, of course, means you need to pay attention to water temperature to make sure you get it correct the first time. The great news is some walk-in baths feature thermostatic-controlled mixers to provide a steady temperature.
If you decide to go for this style, consider a model with a heated seat to ensure you stay warm during the filling and draining, as well as with a quick drain feature.
Walk-in baths are often available in two sizes: full-length for traditional bathing and shorter baths with seats for ease of access. However, most bathroom designers would recommend a walk-in shower or wet room idea with a shower bench instead.
Japanese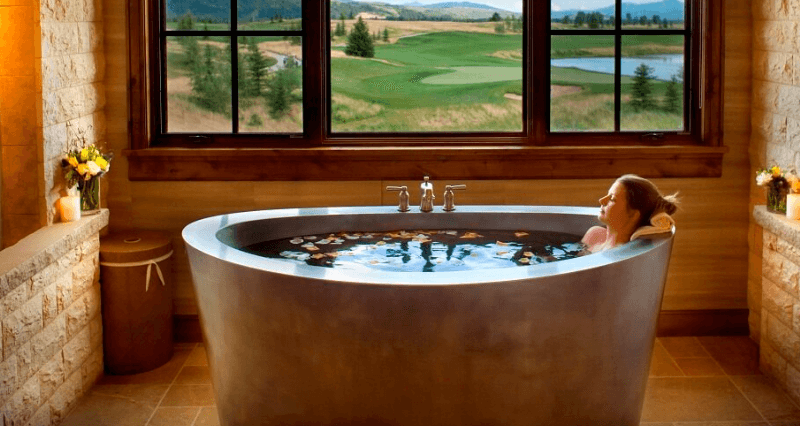 Japanese bathtubs are the pinnacle of luxury, literally taking the concept of a freestanding or deep clawfoot tub to new heights. Featuring a deep, round design, these tubs allow the bather to relax while sitting upright. Their smaller footprint makes them ideal for compact bathrooms.
In addition to being great for soaking, the sleek lines of these baths add to the overall aesthetic of any bathroom. Placed in the centre or a prominent location, Japanese tubs instantly become the focal point of the room.
One Piece of Advice Before You Buy a Bathtub
There is one thing you'll want to do before you buy your bathtub – sit in it to test it out. Not doing so, is a common mistake homeowners make.
No matter how much you love the look of your bath, if you don't find it comfortable, you'll never fully enjoy it. How you usually bathe will determine your choice. For example, some baths are better for sitting upright, while others are more comfortable for lying back into it.
When it comes to how to test the bathtub, it can be done in a showroom. Simply climb into it and try it out for comfort. Check if it provides a good width at shoulder level so you can sink and keep your body warm. Alternatively, if you enjoy sitting in a bath with your elbows resting on the rim instead of reclining, try it also. For the best soak experience, make sure the bathtub allows for full submersion; the water should reach your shoulders.